Dolmades (pronounced: dohl-MAH-thes) are the Greek version of stuffed grape leaves. Stuffed grape leaves are a beloved food consumed all throughout Greece, the Balkans and the Middle East. This recipe for dolmades gialantzi is from my friend Peter Minaki a.k.a. Kalófagas. I first discovered Peter's Greek food blog many years ago while learning more about my hubby's culture. My in-laws were not initially accepting of me when I married their son (because I am not Greek). In an effort to prove to them that I was, in fact, committed to preserving their heritage, I studied their language, culture, and cuisine every day. Kalofagas.ca became a vital resource for me as I cooked my way into my in-laws' hearts.
I am forever grateful to Peter for the incredible archive of recipes he has shared over the years. And I am truly honored that he has allowed me to share his recipe for these delicious dolmades gialantzi – stuffed grape leaves from his first cookbook Everything Meditteranean.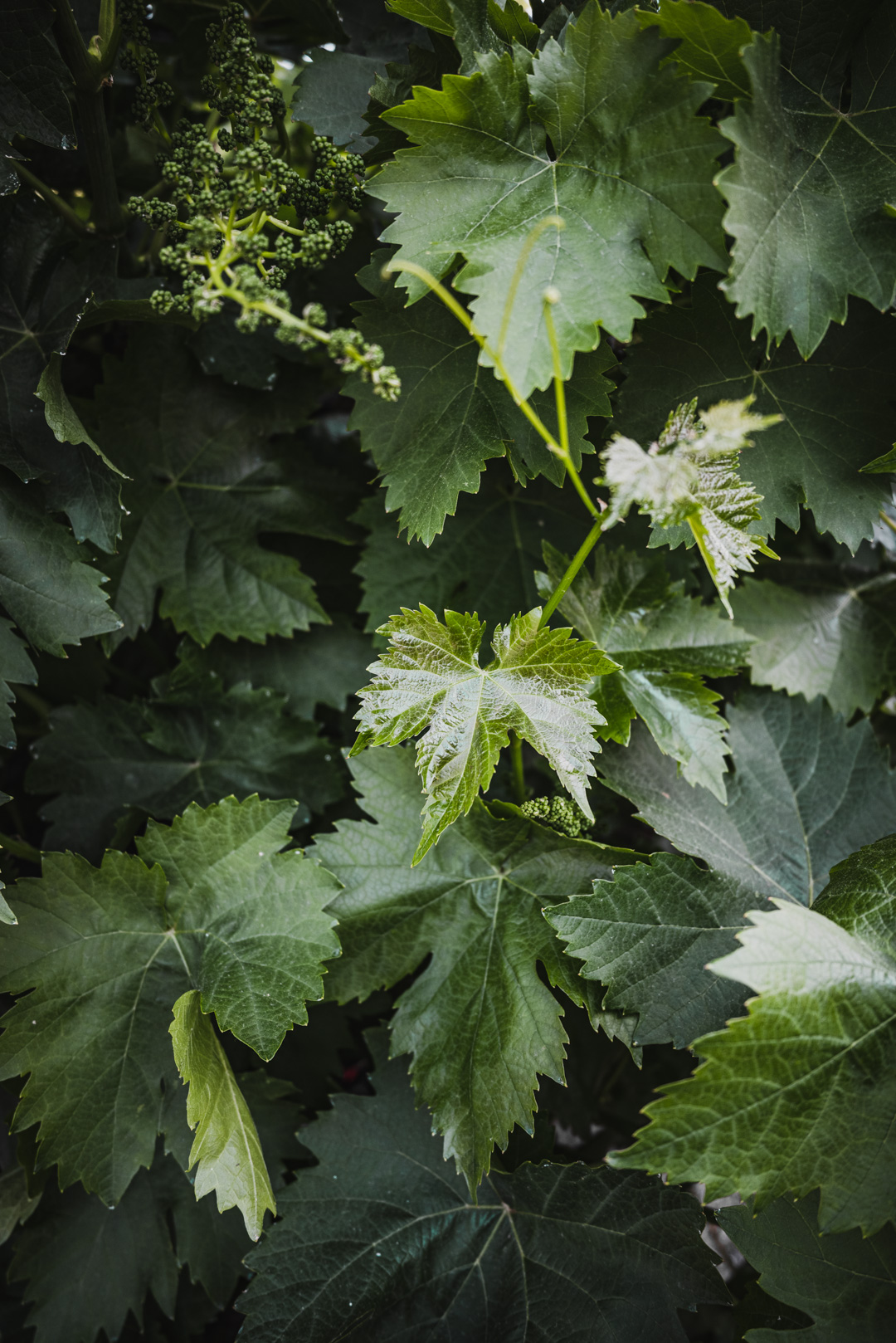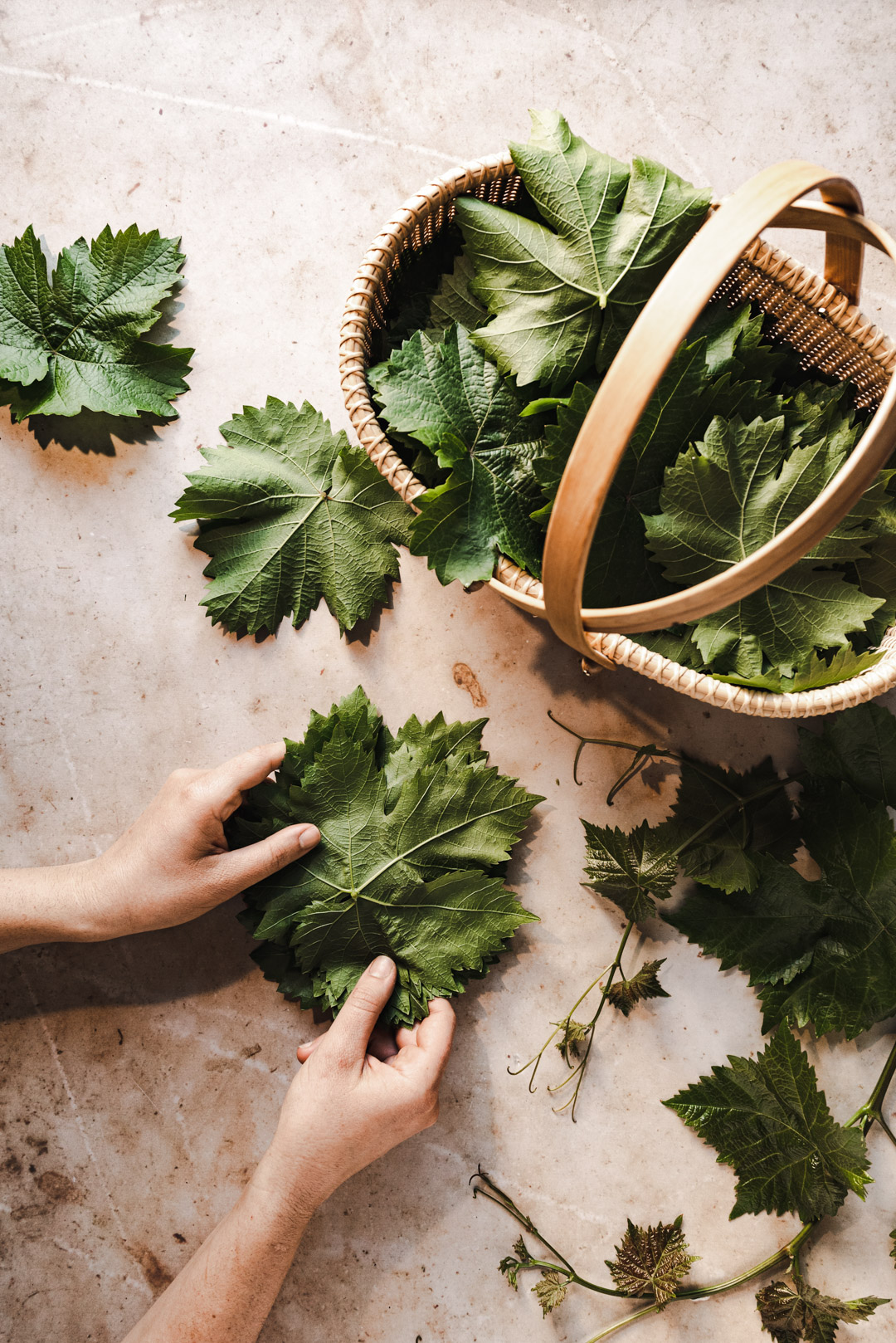 A BRIEF HISTORY OF STUFFED GRAPE LEAVES:
The first known stuffed leaf recipe was recorded circa 350 BC. It was known to the ancient Greeks as thrion which were made using fig leaves rather than grape leaves. Fig leaves were pickled and stored in much the same way as grape leaves are today and were commonly filled with cheese or fish. Τhe first written mention of a dish similar to dolmades actually appears in the diaries of a symposiast at one of the banquets of Iranian King Khusrow II at the start of the 7th century. The widespread use of the Turkish term dolma in the Mediterranean basin is a testament to the fact that the dish known as dolma was spread through the Ottoman conquests during the 15th and 16th centuries.
"There in short is the long and winding history of one of our favorite foods. We might claim it as our own, as every one of our neighbors does, but the dolma followed its own fateful path through history and time. It is a dish that belongs both to everyone and, alas, to no one."

On dolmades from gourmed.gr via foodtimeline.org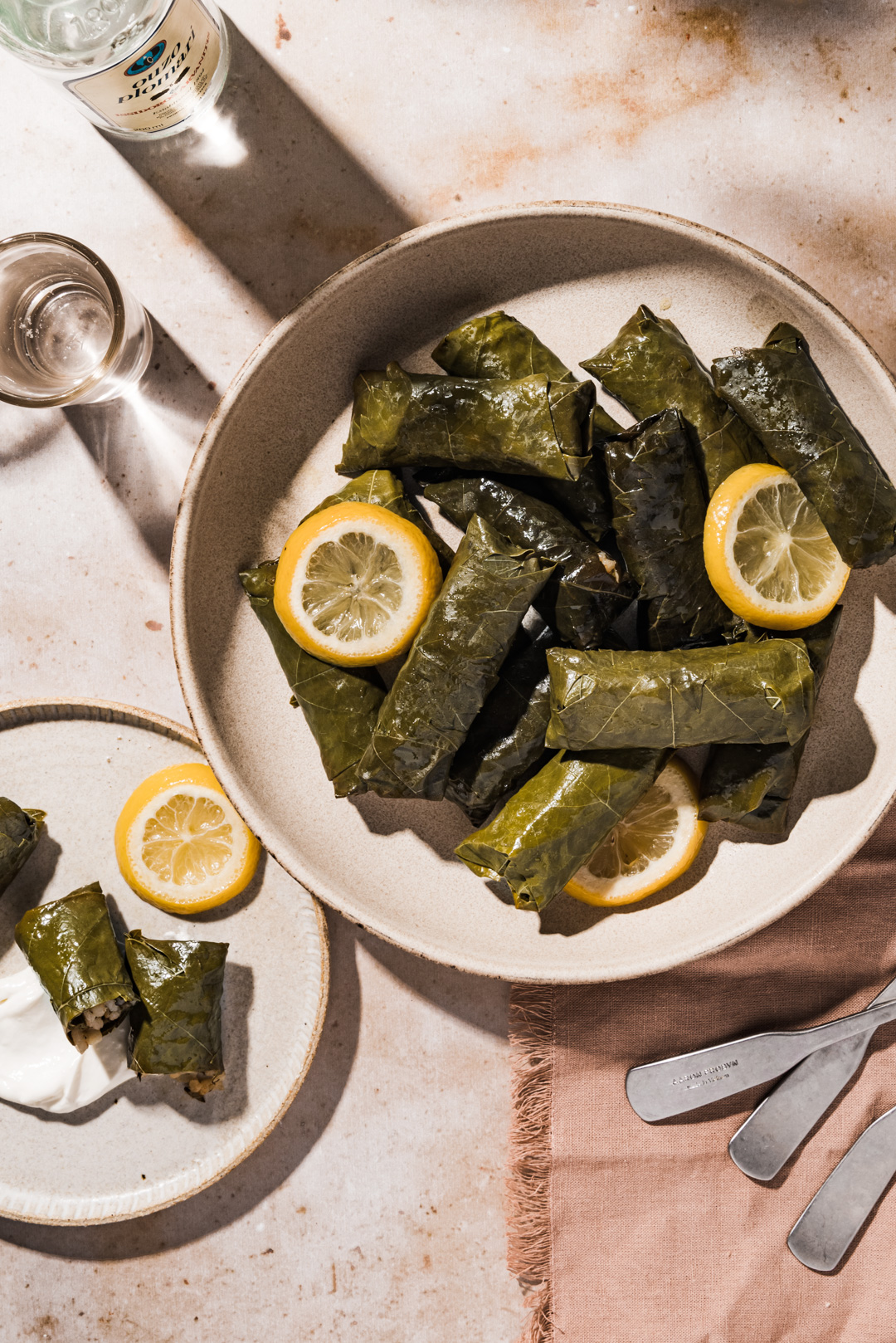 WHAT MAKES DOLMADES GIALANTZI SPECIAL?
"Dolmades" is the Greek plural form of the word dolma. Gialantzi is the Greek spelling for the Turkish word "yalancı" which translates to "fake." So dolmades gialantzi technically translates to "fake dolmas" because there is no meat in the filling (lol)! Dolmades gialantzi are filled with a blend of rice, fresh herbs, onion, tomato & pine nuts (and they are actually vegan)!
If you have never tried a meatless dolma then you are in for a real treat! The flavors of the ingredients in the filling really shine in the absence of meat. And the texture is smooth and creamy thanks to the use of arborio rice in place of the typical long grain rice. Dolmades gialantzi, like any meatless dolma, are best enjoyed slightly warm or at room temperature with yogurt and lemon.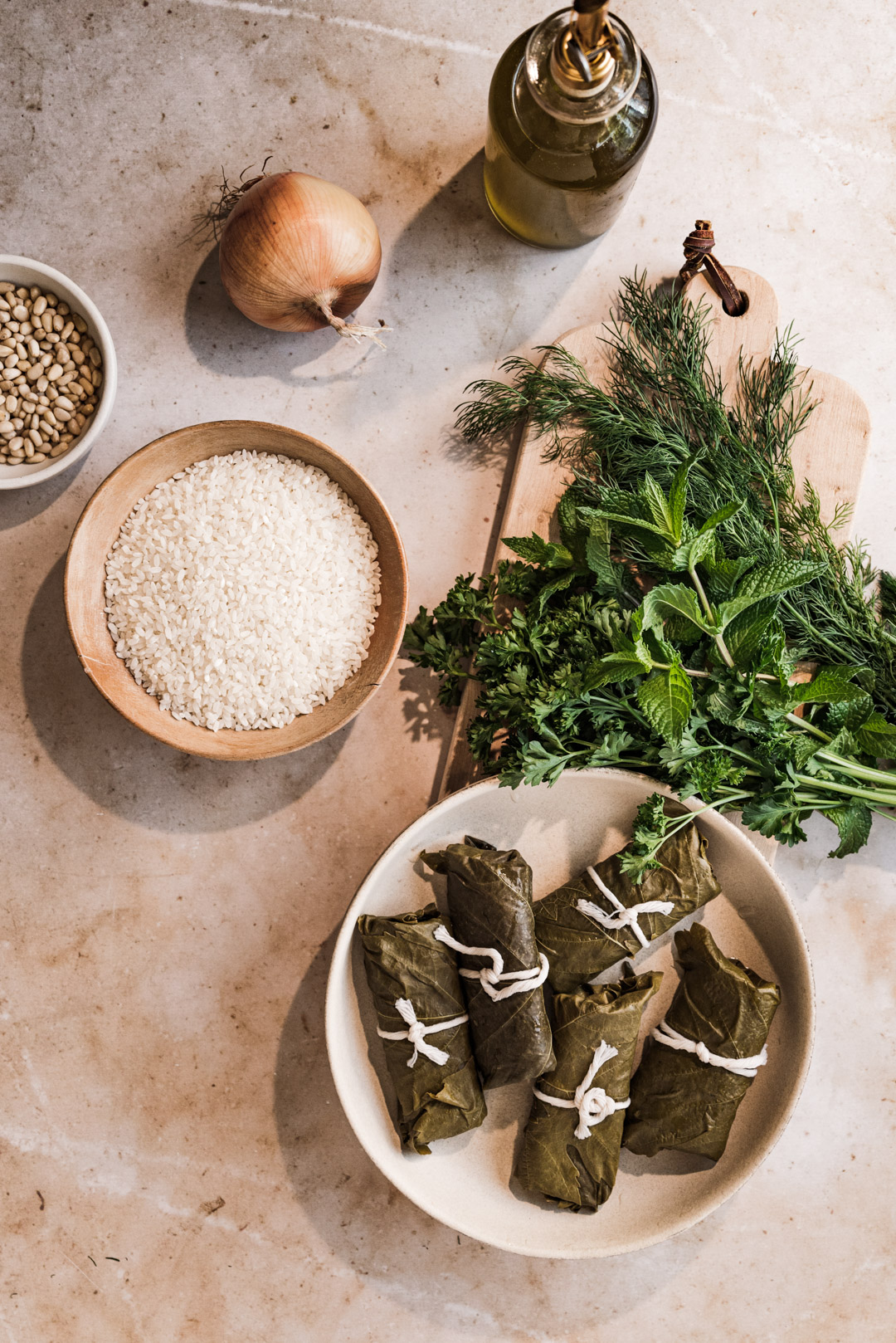 HOW TO MAKE DOLMADES – STUFFED GRAPE LEAVES
Making these glorious parcels is definitely a labor of love, but they are so worth it! Once you get the hang of how to wrap them, they actually start to come together pretty quickly.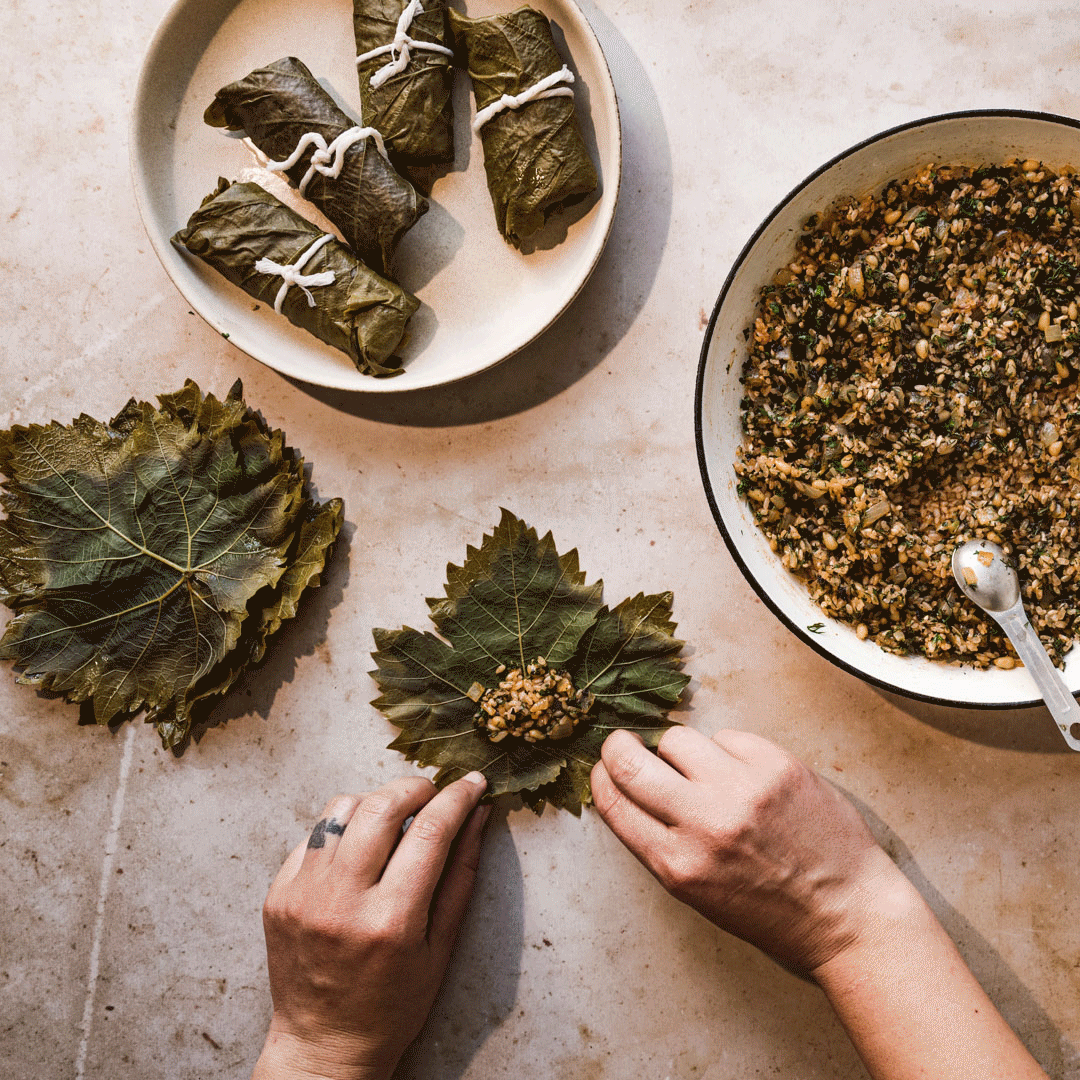 Now that you know how to wrap a dolma, the next step is to layer them in a large oven safe covered vessel. Then they get topped off with olive oil, lemons & vegetable stock. The final step is to place an inverted plate over the dolmades. This acts as a weight to keep the dolmades fully submerged while they bake.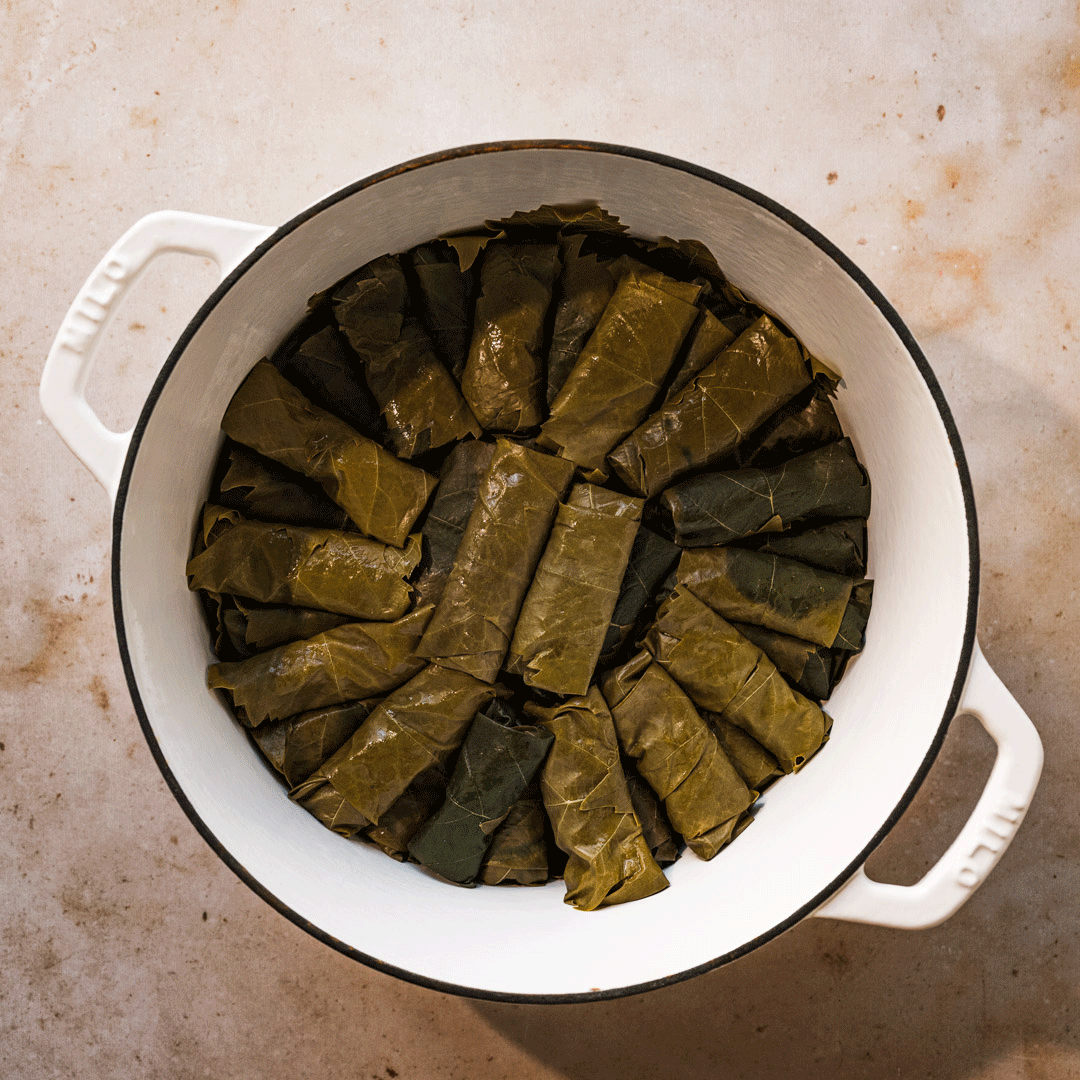 Dolmades may not be the most visually appetizing of foods, but they are beloved the world over for good reason. There is something so special and satisfying about food in a parcel! They are like little bundles of love. Maybe it's the fact that they must be made by hand that makes them so memorable <3
Another huge thank you to Peter Minaki | Kalofagas.ca for allowing me to share this recipe from his cookbook Everything Meditteranean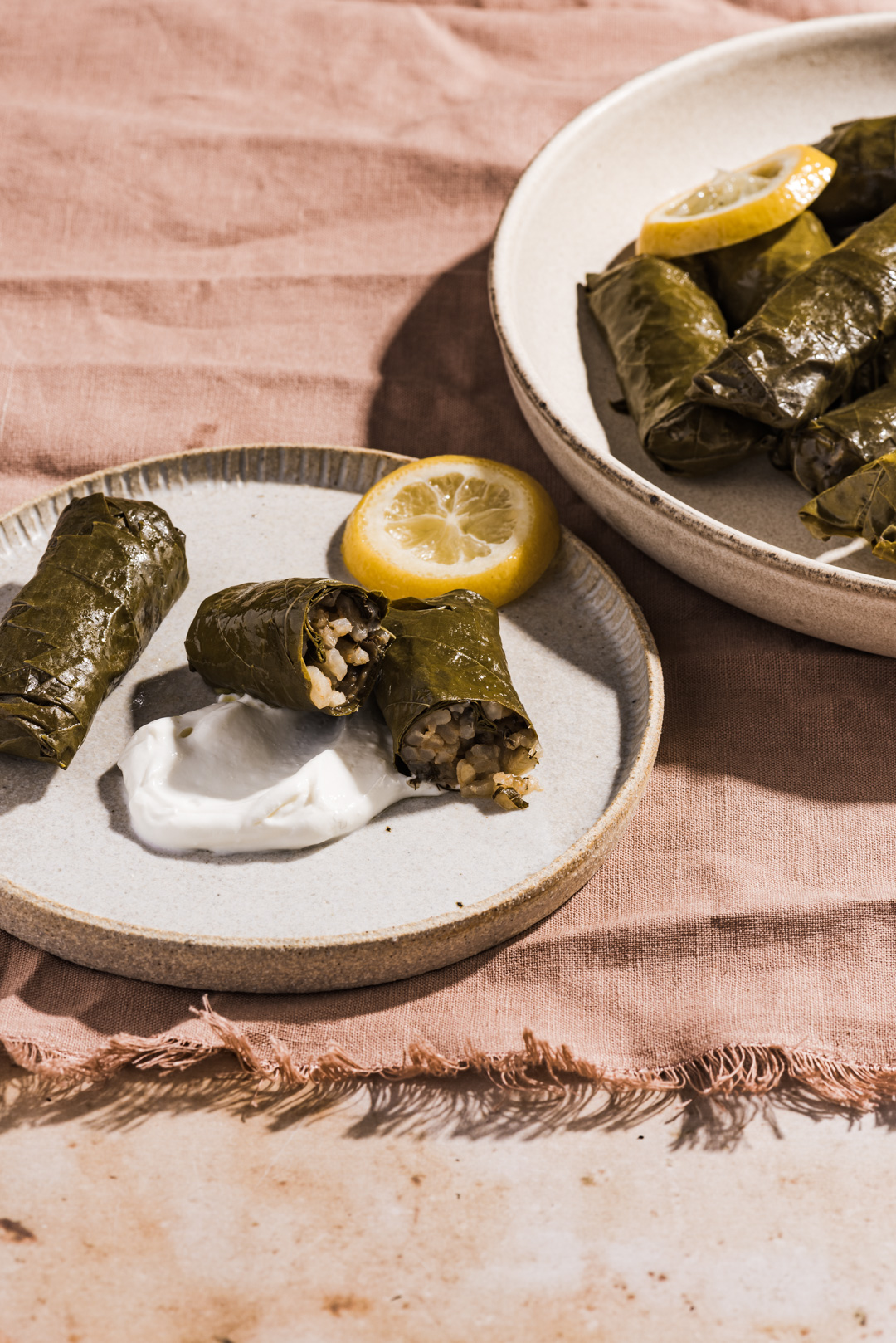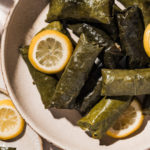 DOLMADES GIALANTZI – STUFFED GRAPE LEAVES
---
Total Time:

1 hour 35 minutes

Yield:

10

1

x
40

–

50

grape vine leaves (if from a jar, rinsed and pat dry or blanche for

5

minutes if fresh)

2

tbsp

. of

cup

extra-virgin olive oil + 1/4 cup

1

medium onion, finely diced

1

cup

arborio rice

1 tsp

. of tomato paste diluted in 1/2 cup of warm water

1/2

cup

chopped fresh parsley

1/2

cup

chopped fresh dill

1/4

cup

chopped fresh mint

1/3

cup

pine nuts
juice of half lemon
salt and pepper to taste

1 1/2

cups

of low-sodium vegetable stock
slices of lemon
---
Instructions
Take the leaves out of the jar, snip the stems off the leaves and discard. Rinse leaves under cold water and and drain. Set aside. IF you have fresh grape vine leaves, rinse and then place in boiling salted water for five minutes. Drain and place in an ice-cold water bath, drain. Snip the stems off and set the grape leaves aside.
In the meantime, place a skillet on your stove-top and add the 2 tbsp olive oil along with the onions and sauté over medium-low heat for 5-7 minutes or until translucent.
Add the rice to the skillet and stir for a couple of minutes to toast. Now add the diluted tomato paste and stir until most of the liquid has been absorbed by the rice. Remove skillet from heat, add the parsley, dill, mint, pine nuts, lemon juice and stir. Season lightly with salt and pepper, stir & taste and adjust seasoning once again. Allow to cool.
Pre-heat your oven to 325F.
Place your grape vine leaves on a work surface with the skillet full of the rice filling nearby. Place a grape leaf on your work surface (seam side up) and place a tsp of the rice mixture on the middle bottom of the leaf. Fold the bottom of the leaf up, then tuck in the sides of the leaf. Now roll up the leaf to make a cigar containing your rice filling.
Place a layer of grape vine leaves on the bottom of an oven-safe pot/cooking vessel. Place your rolled dolma in the vessel. Continue rolling the rice filling in the grape vine leaves (as instructed above) and arrange the dolmades in the cooking vessel in a circular fashion.
Pour the remaining 1/4 cup of olive oil over the pot of dolmades, add some lemon slices on top and then add the hot stock (enough to just cover the dolmades). Cover and place vessel in the oven for 30-35 minutes.
Remove the vessel from the oven and allow to cool (keep it covered) to room temperature.
Serve dolmades with yogurt and lemon.
Prep Time:

1 hour

Cook Time:

35 minutes

Category:

Appetizer

Cuisine:

Greek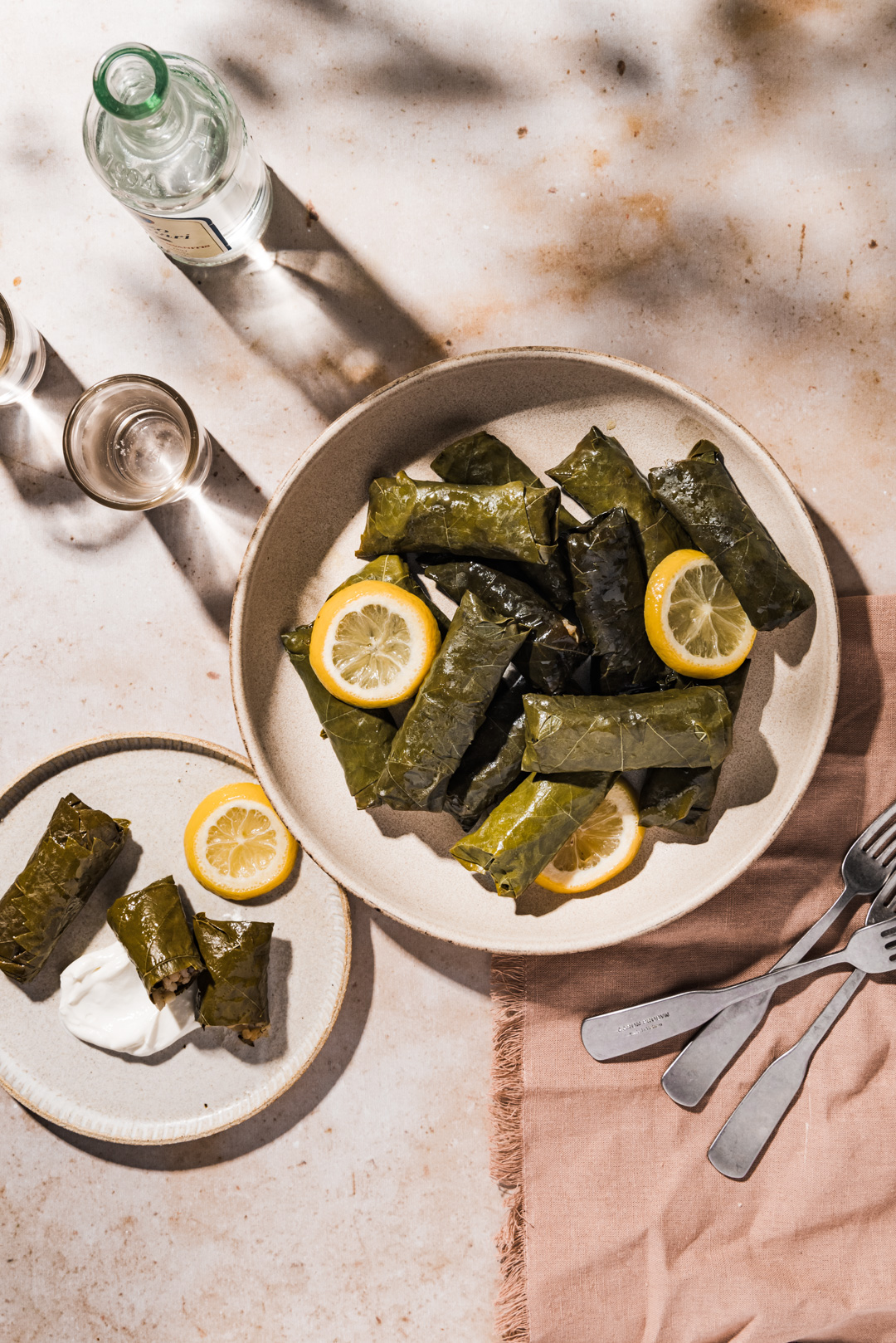 MORE GREEK RECIPE INSPIRATION: