Stuffed vegetables are a beloved food to so many different cultures in the Mediterranean, Balkans & Middle East. In Greece, we call them gemistá (pronounced: yeh-mee-STAH) and they are a warm-season staple. Out of all of the vegetables that get stuffed and baked, red peppers are our absolute favorite. Gemistá typically have a rice-based filling, but today I share our favorite version, which features ground lamb & cauliflower rice. And trust me, while we love traditional gemistá, these cauliflower rice stuffed peppers have stolen our hearts.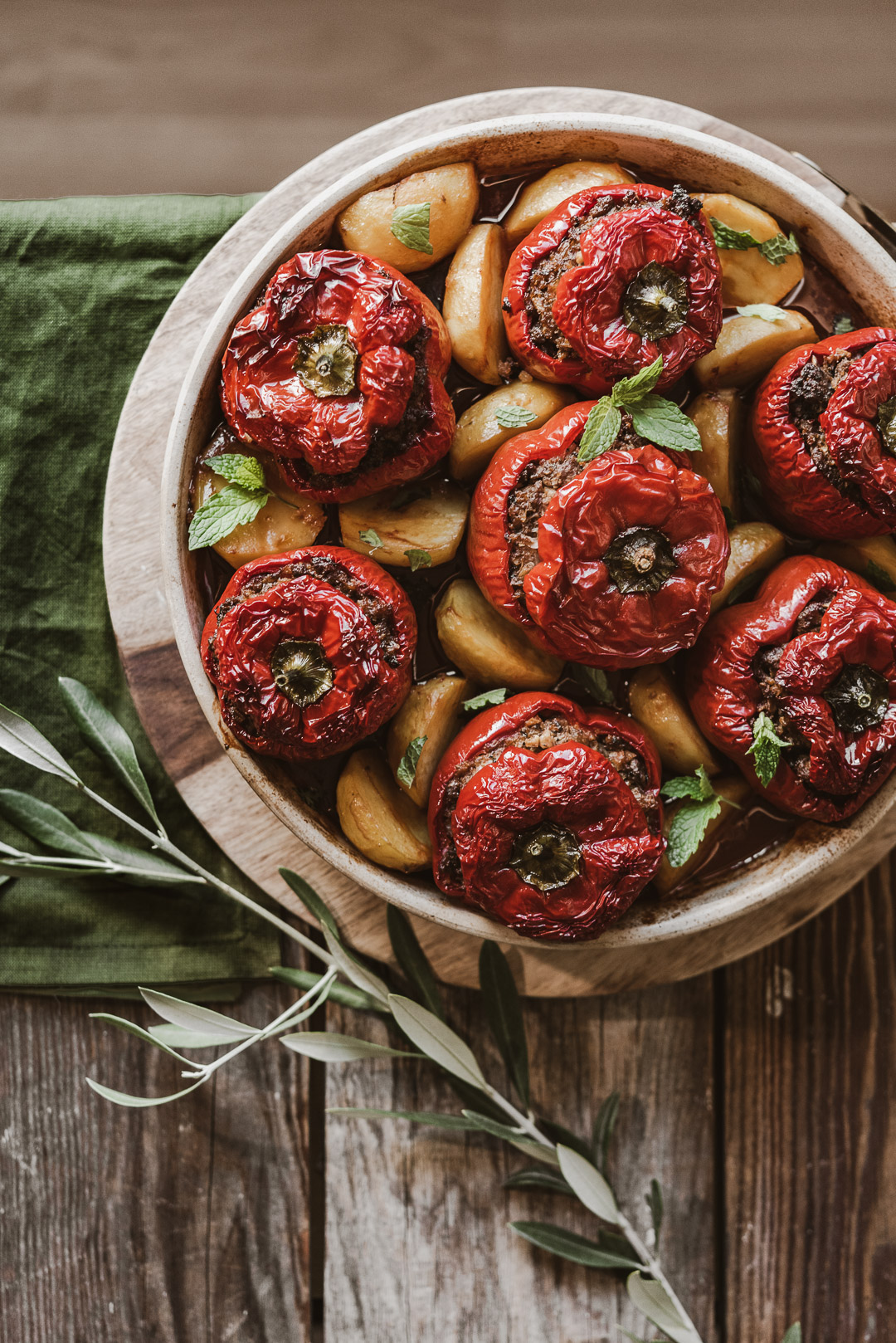 KEY FEATURES OF STUFFED PEPPERS
Stuffed peppers are delicious no matter which way you choose to fill them. Of all the various ways we have eaten them, the following key features are what makes for perfect cauliflower rice stuffed peppers.
LOTS OF HERBS: Most of the flavor in gemistá comes from the bounty of fresh herbs that are used in the filling. The main herbs used throughout Greece are a combination of parsley, mint, dill, and oregano.
LONG ROASTING TIME: Especially when you are using bell peppers as your vessel, a long roasting time is key. Adequately roasted peppers develop a deep concentrated flavor & should be so soft that yield to a fork when they are done.
LETTING THEM REST: Once finished roasting, the peppers are best eaten when they have been allowed to rest until cooled to almost room temperature. The wait is difficult but SO worth it. The cauliflower rice absorbs so much flavor as the peppers cool down.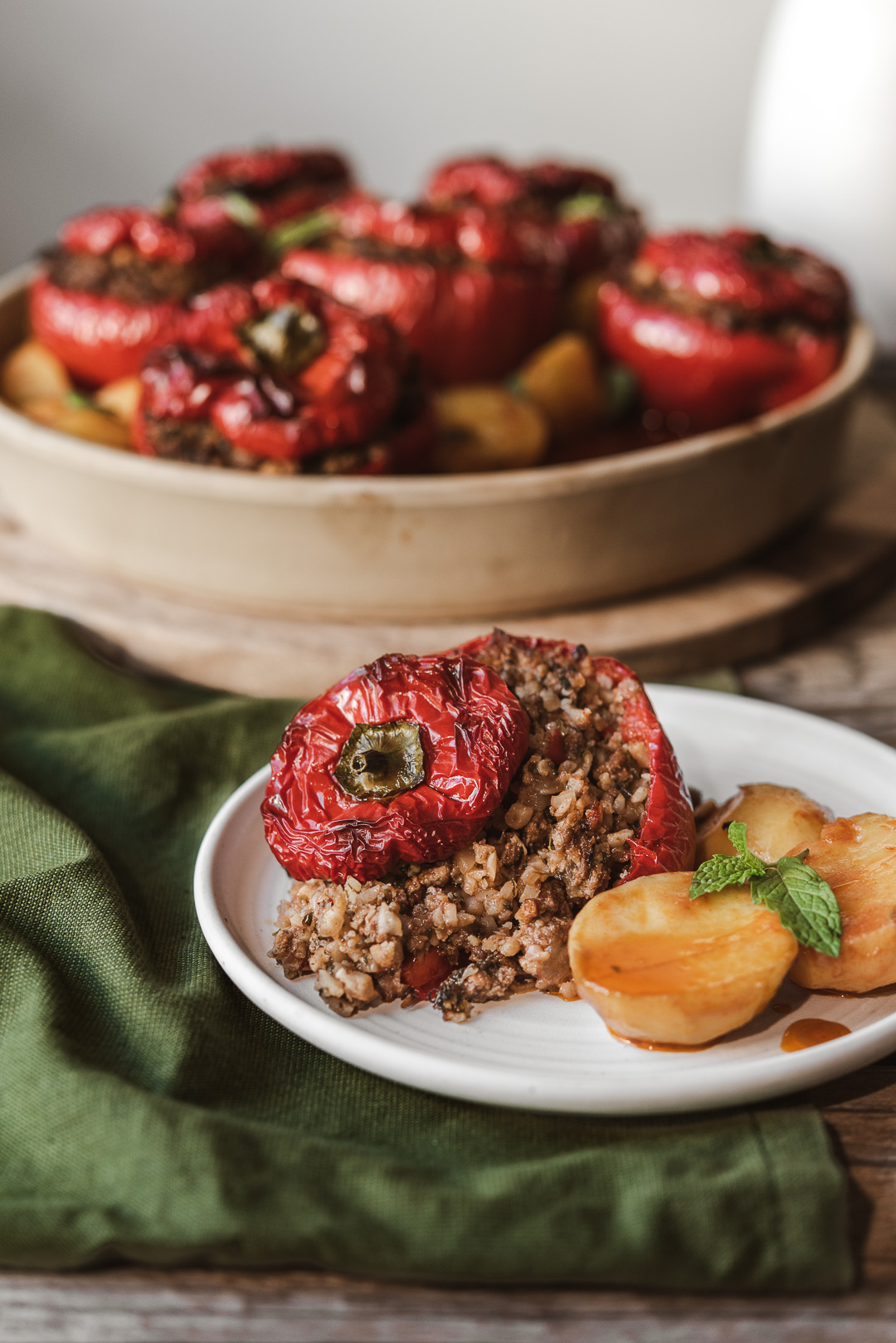 While we haven't yet tried to make these cauliflower rice stuffed peppers vegetarian, they are incredible with ground lamb. The richness of lamb pairs so well with the riced cauliflower and the bounty of herbs used in the filling. Especially with the mint, which our garden is just bursting with at the moment. If you aren't a fan of lamb, or can't easily procure it, ground beef is a good substitute.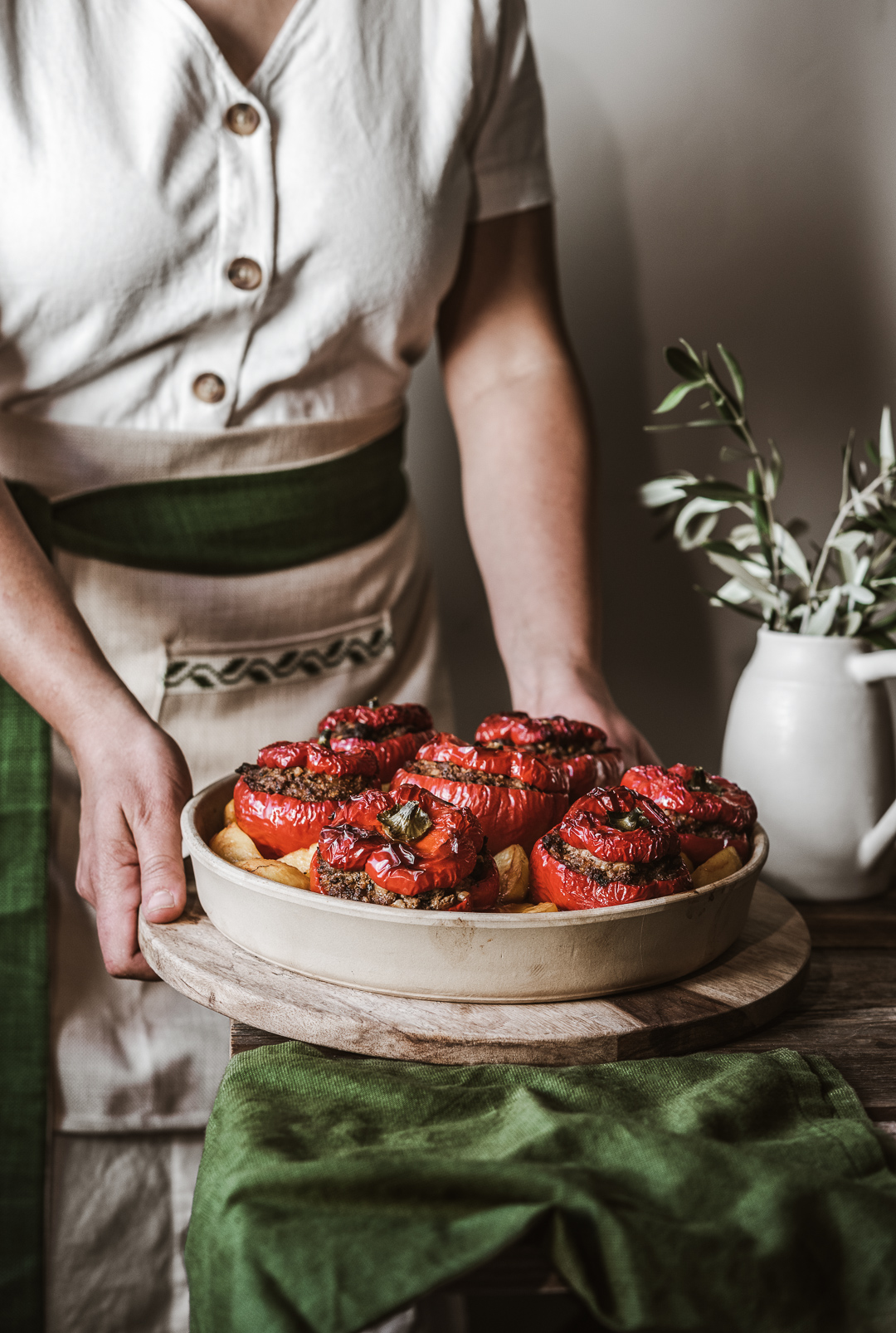 THOUGHTS ON WHAT WE SHARE…
In closing, I couldn't help but think about current events in Palestine & Israel. In Greek we call these stuffed peppers Gemistá, in Arab they are Mahshi, in Hebrew they are Memulaim. The heaviness in my heart was lifted as I meditated on just how much we have in common. While every culture on earth is unique & different in its own ways, our similarities PROVE that we are all INEXTRICABLY CONNECTED TO ONE ANOTHER. And it is this inherent connectedness that we must hold on to. We must look each other in the eye, human to human, and choose to FOCUS ON WHAT WE SHARE together as humanity, rather than the politically contrived diversions that are meant only to create division and hatred. 
The way that we choose to share our work with the world MATTERS and actually can make an INCREDIBLE DIFFERENCE. Take the gorgeous apron that I am wearing in the photo above. It was created as a collaboration by my friend Haifa from fufuskitchen.com and non-profit Darzah.org. This handmade apron comes all the way from Palestine. It was stitched & embroidered by Palestinian women in the West Bank. By wearing this apron, we are not only supporting the Palestinian women whose hands created it, but we are holding onto an olive branch. The Tatreez hand-stitched embroidery of the olive branch on this apron is an ancient symbol of peace. Peace, something we almost uniformly profess to desire, but WHY IS PEACE SO ELUSIVE? Perhaps…
"We have not peace because we have forgotten that we belong to each other."

Mother Theresa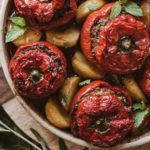 CAULIFLOWER RICE STUFFED PEPPERS
---
Total Time:

1 hour 30 minutes

Yield:

7

1

x
7

medium-sized red bell peppers (If your peppers are larger, you may only need 5)

6 tbsp

olive oil, divided

1

large yellow onion, finely diced

1

lb

. ground lamb (or use ground beef or vegan ground meat substitute)

4

cloves garlic, minced

1 tsp

salt

1/2 tsp

black pepper

1/4

cup

fresh mint, finely chopped (or substitute with 1 tbsp dried mint)

1/4

cup

fresh parsley, finely chopped (or substitute with 1 tbsp dried parsley)

2 tbsp

fresh oregano, finely chopped (or substitute with

2 tsp

dried oregano)

2 tbsp

fresh dill, finely chopped (or substitute with

1 tsp

dried dill)

1

lb

. riced cauliflower *see note

3/4

cup

(6 oz. can) tomato paste, divided

1/2

cup

chicken broth
yellow potatoes, peeled & sliced into wedges (enough to fill gaps around peppers)
---
Instructions
Preheat the oven to 375°F
Heat 2 tbsp of olive oil in a medium-sized pan and sauté finely diced onion for 5-7 min, until they start to soften.
Add the meat to the pan, brown it, and season with salt and pepper to taste. Add the garlic and herbs & cook for a few minutes until the garlic is nice and fragrant.
Add in the riced cauliflower & cook for a few minutes. Next, add in the tomato paste and stir until the tomato paste is well distributed. Remove pan from heat and set aside.
Meanwhile clean and cut the tops off the peppers and remove the seeds and ribs.
Prepare your pan or casserole dish. Mix the chicken broth with the remaining tomato paste and pour onto the bottom of your dish. Place the peppers into the pan cut side up so that they are ready to fill.
Generously fill each pepper with the filling. Put the tops on the peppers and arrange the prepared potatoes around the peppers (if using)
Drizzle the remaining 4 tbsp olive oil over the peppers & potatoes and season with salt and pepper.
Roast for 1 hour or until the edges of the peppers are slightly charred, softened and withered.
Remove from oven, and allow to cool as long as you can possibly wait. Serve peppers along with potatoes and some sauce from the bottom of the pan.
Notes
If you cannot procure riced cauliflower, you can pulse cauliflower florets in a food processer until you achieve a small, rice-like texture.
Prep Time:

30 minutes

Cook Time:

1 hour

Category:

DINNER, GREEK, LUNCH, SUMMER, VEGETABLES

Cuisine:

Greek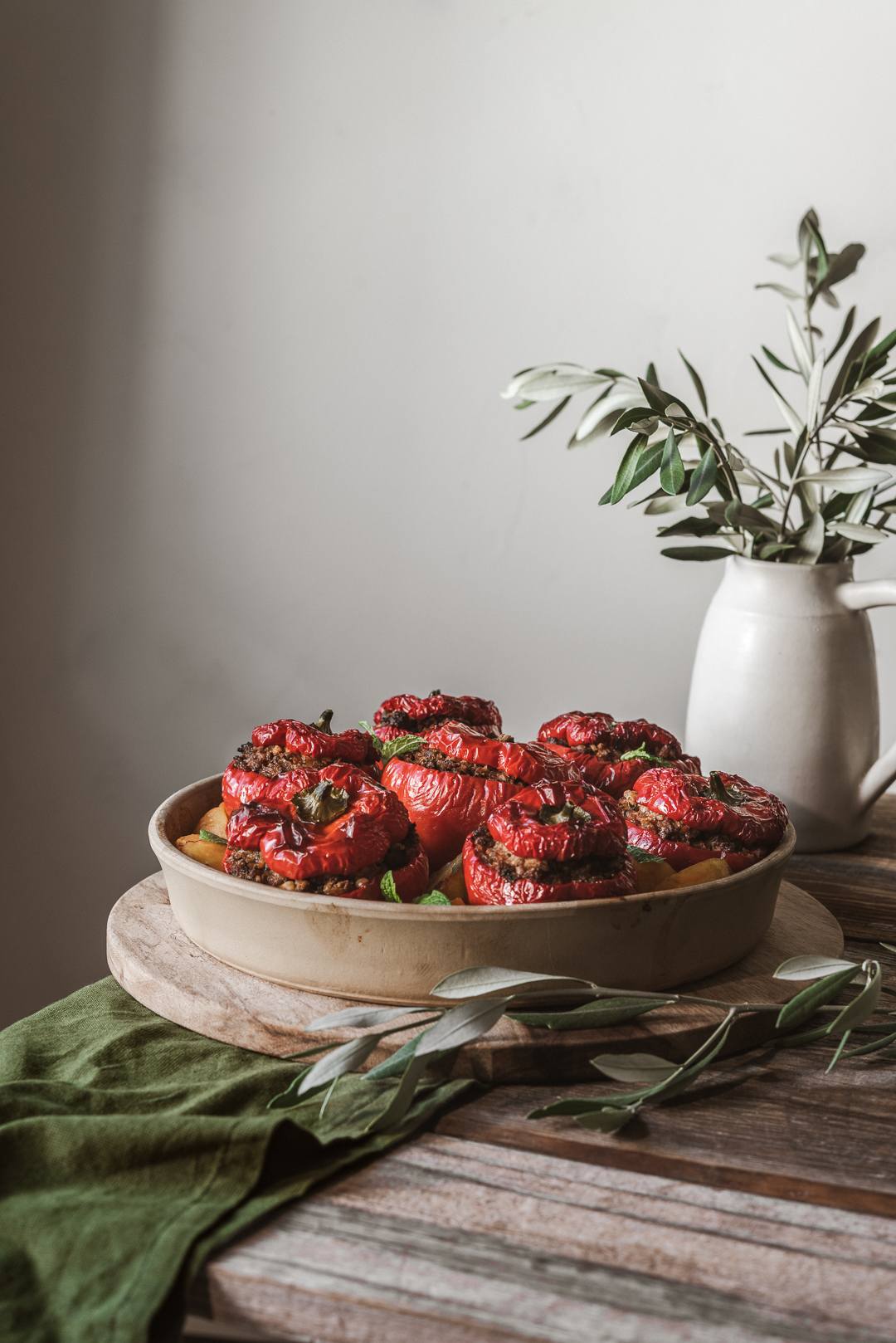 MORE SEASONAL GREEK RECIPE INSPIRATION