I was eight years old when I first visited Mexico. It was an especially significant trip for me, as it was the first time I ventured outside of the US. I have several vivid memories of my experience in Mázatlan. But nothing pervades my memory quite like the traditional Mexican tortilla soup I ate during that trip. I can still remember every little thing about that morning: the gloomy weather, the soccer game that was on the t.v. as I sat with my dad waiting for our breakfast. The moment I had my first taste of tortilla soup, it was the best meal I had ever experienced.
TORTILLA SOUP: LOVE AT FIRST TASTE
Even to this day, I credit that bowl of tortilla soup as one of my most significant food memories. It deeply influenced my passion for food and helped lead me to my current path of sharing food through my blog & photography. I recently found myself craving a bowl of tortilla soup and I knew exactly who to turn to for a traditional recipe…
I would like to introduce you to my dear friend, Lorena Masso. Born and raised in Mexico, Lorena relocated to the Bay Area of California 15 years ago. Lorena and I met through my food photography mentoring last year and have since grown close. I reached out to Lorena to see if she would be willing to share a recipe for tortilla soup with me (and all of you). Thankfully, she was more than happy to transcribe her recipe, capture it in photos and share the history of this beloved soup here on the blog! Without further ado, I present to you Lorena Masso and her Traditional Mexican Tortilla Soup: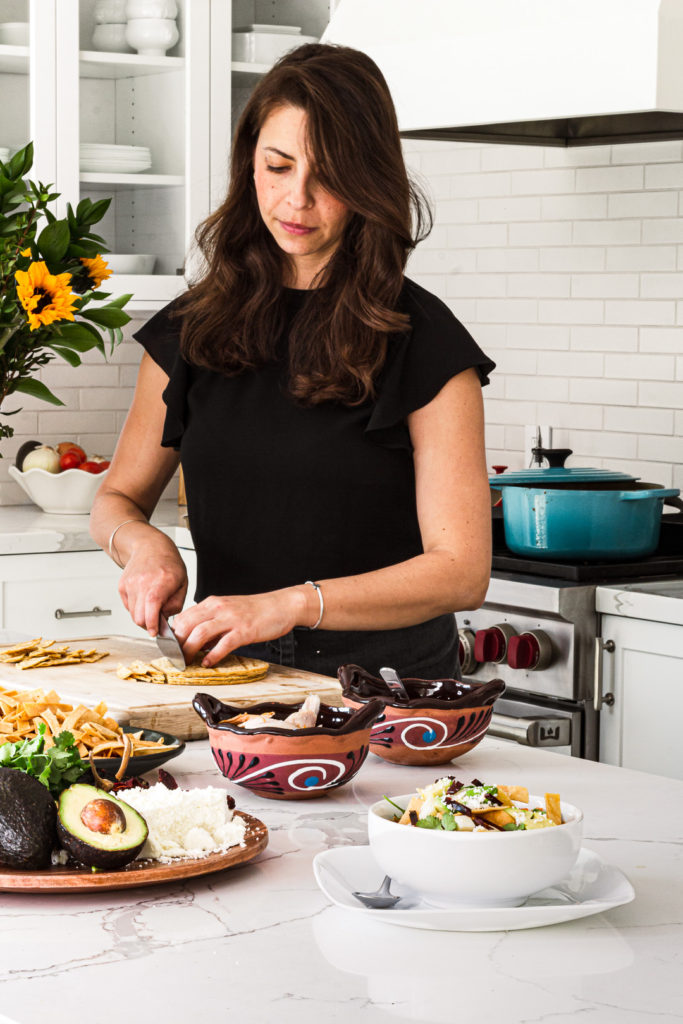 One of the things that we Mexicans love is our food. For us, food carries so much meaning. Food means family, home, friends, traditions, and celebrations. Living far away from home has taught me to appreciate my Mexican culture, our traditions, and especially our food. There is no doubt that we take pride in our beans, chiles, and tortillas!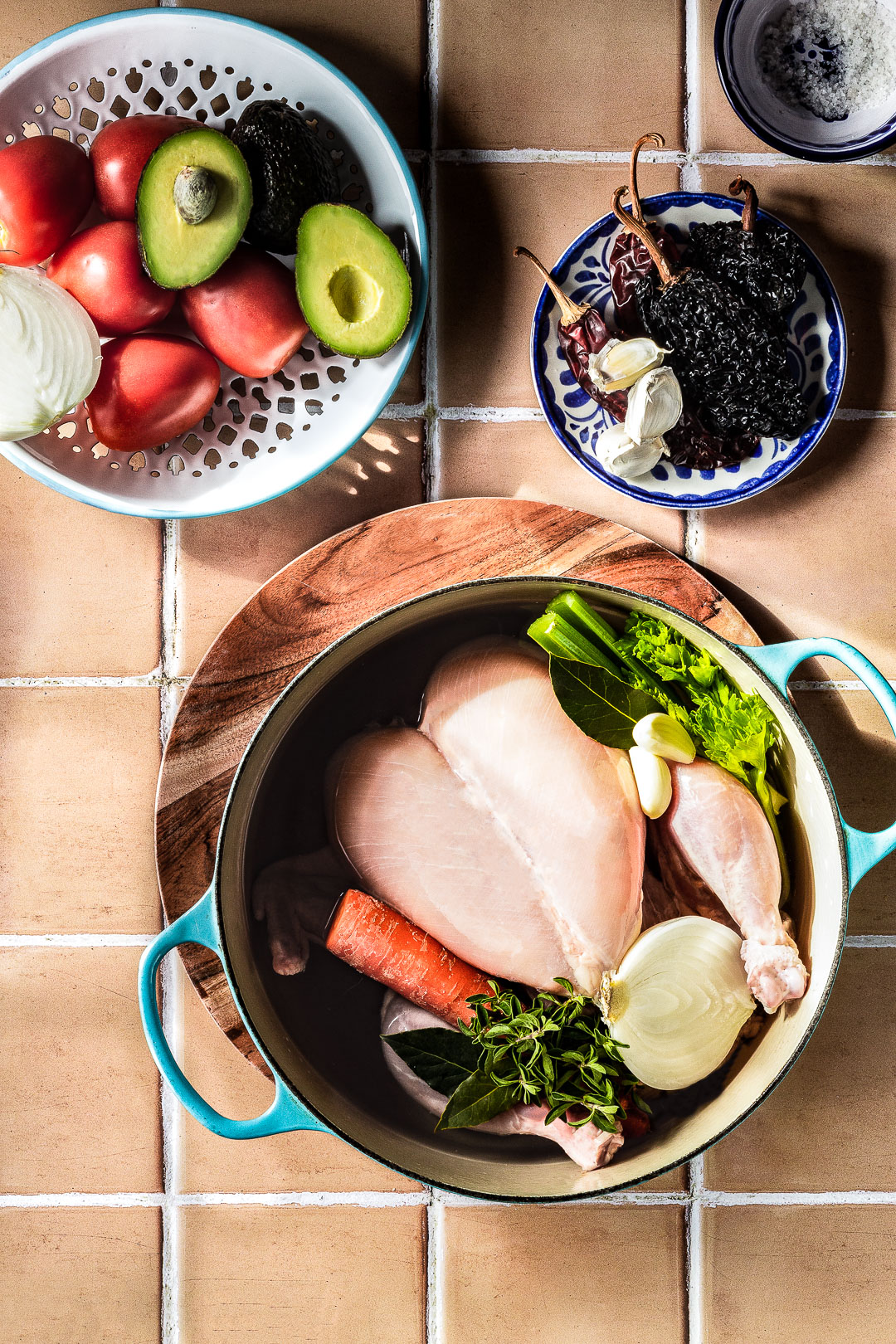 Mexican cuisine, like our culture, is based on the blending of indigenous and Spanish customs and native resources. Mexican cuisine is a melting pot of different cultures. The Spaniards brought to Mexico the concept of soup, broths, dairy products, and many other foods that we use today. They are now considered an important part of Mexican cuisine, along with many other cultures that we love! But, like any other great cuisine, a strong and solid base is what makes it shine! The roots of Mexican gastronomy take us back to pre-hispanic times. To the Mayas, Aztecs, and Incas, where corn was one of the most important ingredients in their food. The vital role of corn in native culture is what later brought us the tortilla, and eventually, tortilla soup.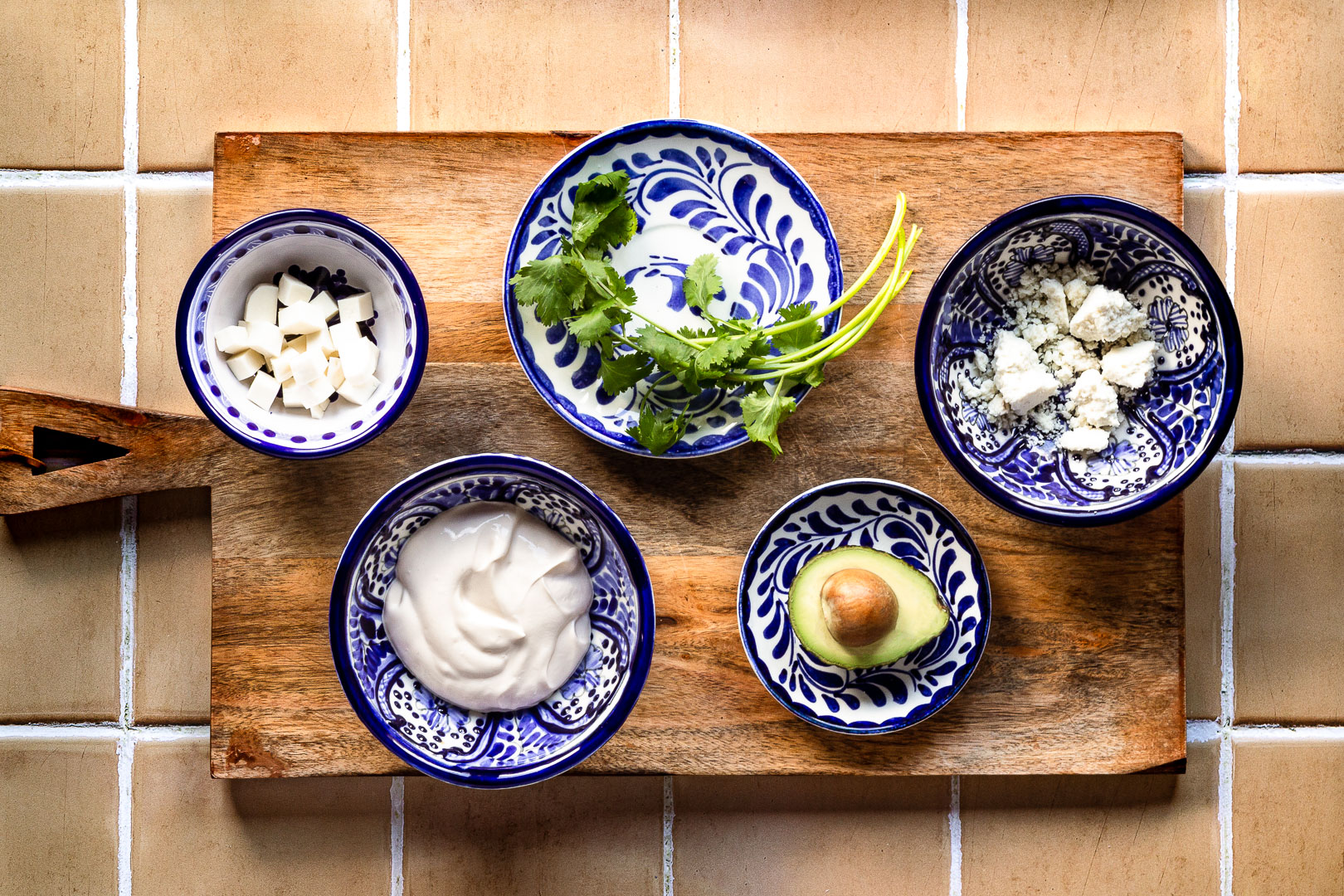 Tortilla Soup was born in the state of Tlaxcala near Mexico City. In fact, Tlaxcala in Nahuatl means "the land of the corn" or " the place where tortillas abound." Tlaxcala was one of the first places where the Spaniards settled. Even though you can find tortilla soup all around Mexico, the toppings and herbs used vary from state to state. Some include crema, varying types of cheese and some even use epazote, an herb that most people from Mexico City absolutely love! But, no matter where you go in Mexico, the base for a delicious tortilla soup is always the same. A nice, warm chicken broth mixed with a sauce of tomatoes and dried chiles and of course, the crispiest tortilla strips!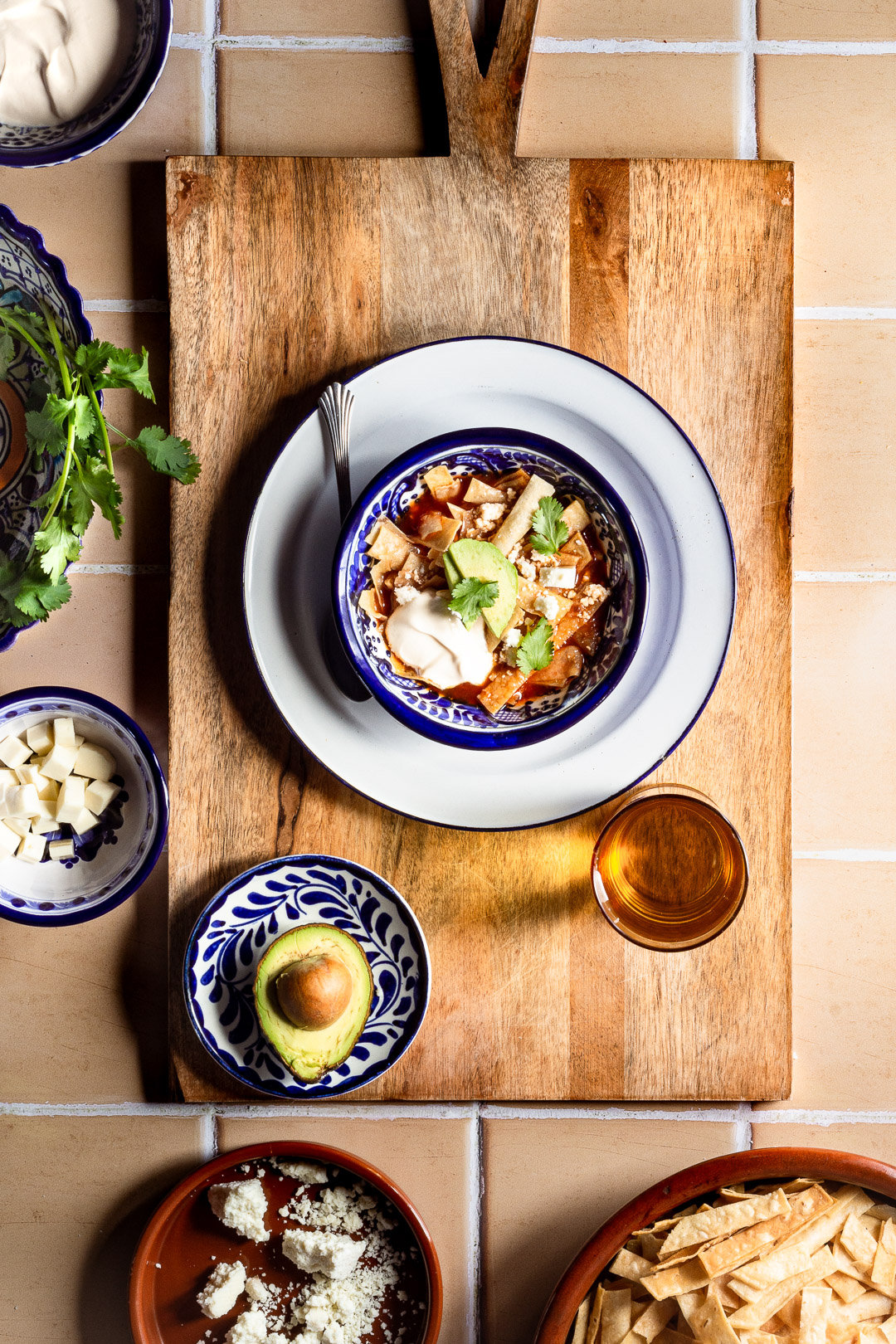 A Mexican without a tortilla is like a flowerpot without flowers! It's part of our meals, our dishes and it brings us the feeling of home. Tortilla soup is one of the most loved dishes in Mexico, it's so simple but, at the same time, so satisfying! For me, tortilla Soup, like for many other Mexicans, brings back memories of great family meals, comforting moments, and the warm feeling of home. Buen provecho! (enjoy your meal!)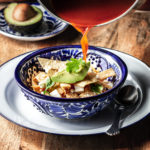 TRADITIONAL MEXICAN TORTILLA SOUP
---
Total Time:

2 hours 20 minutes

Yield:

6

persons

1

x
FOR THE CHICKEN BROTH:
1

whole chicken (about 4lbs)

8

cups

of water

3

bay leaves

3

garlic cloves

4

sticks of celery

1/2

white onion

1

large carrot

3 tbsp

kosher salt

1 tbsp

oregano
black pepper to taste
FOR THE TOMATO CHILE SAUCE:
2

dried guajillo peppers

2

dried ancho peppers

5

roma tomatoes

3

garlic cloves

1/2

white onion, peeled
salt and pepper to taste

2

cups

of water
FOR THE CRISPY TORTILLAS:
1

lb

white corn tortillas, cut into small strips (about 1cm or less than 1/2″)

1

–

liter

canola oil for frying (sunflower oil is a good substitute)
FOR THE TOPPINGS:
3

cups

shredded chicken

10

oz

. soft white cheese, cut into small cubes (fresh panela is traditional, but good substitutes are Oaxaca cheese or mozzarella)

1/3

cup

cotija cheese, crumbled (queso fresco is a good substitute – if you can't find either, just omit)

6 tbsp

, Mexican crema (substitute with creme fraîche or sour cream)

1

avocado cut into

6

sections or into small chunks
fresh cilantro leaves for garnish
optional: 2 pasilla chiles cut into tiny pieces and fried in the same oil as the tortillas. (these burn fast, so flash fry for just 2-3 seconds)
---
Instructions
FOR THE CHICKEN BROTH:
In a large pot, add the whole chicken along with 8 cups of water and the rest of the chicken broth ingredients. Bring to a boil and then simmer for 1 1/2 hours. Reserve the chicken and strain the broth through a colander, reserve. Once the chicken has cooled down, shred the meat and reserve.
FOR THE TOMATO CHILE SAUCE:
In a cast iron skillet set over medium heat, add the guajillo and ancho chiles and toast them for 2- 3 min, turning them occasionally to prevent them from burning, until they get a little bit brown and have developed more flavor. Remove from the pan, chop off the tops & remove the seeds.
In a medium pot set over medium heat, add the whole roma tomatoes, the toasted & de-seeded chiles & 2 cups of water. Boil until the tomatoes are soft and the chiles have hydrated completely, about 10 minutes.
Strain the tomatoes and peppers, reserving about 1/2 cup of the water. In a blender, combine the cooked tomatoes & chiles, 3 garlic cloves, 1/2 white onion and blend until smooth (add some of the reserved water if needed to achieve a smooth texture). Pass the sauce through a strainer into a medium bowl, using a spatula to push all of the liquid through the strainer.
FOR THE TORTILLA STRIPS:
In a deep pot, add the canola oil and heat up to 370*F. Cut the tortilla into little strips ( around 1cm ). Fry the tortillas, one handful at a time, until nice and lightly golden (about 1-2 minutes). Reserve on a tray with some paper to absorb the oil, reserve.
On high heat in a deep pot, combine 4 cups of chicken broth along with the tomato chile sauce, and an additional 2 cups of water. Let this boil for 15- 20 min. Season with salt and pepper to taste.
TO SERVE:
In a soup bowl add some shredded chicken, a generous amount of crispy tortilla strips, a small handful of cubed cheese, a light sprinkle of cotija. Pour about 1 1/2 cups of hot broth into the bowls, top with avocado, crema and a few sprigs of fresh cilantro. Enjoy!
Notes
While nothing quite compares to homemade chicken broth, you can substitute with store-bought chicken broth or bone broth to make this soup in less time. Lorena also recommends using day old corn tortillas rather than fresh ones, because they will fry up crisper if they have less moisture to begin with.
Prep Time:

20 minutes

Cook Time:

2 hours

Category:

DINNER, LUNCH, SOUP

Cuisine:

Mexican
MORE SOUPS FROM AROUND THE WORLD: