This is the drink that we will be sipping on all summer long! A simple riff on matcha lemonade, this triple citrus version was love at first sip! I would have never thought of adding orange & lime juice to matcha lemonade, but thanks to a dear friend who introduced this triple citrus matcha lemonade to us, I now get to introduce it to all of you!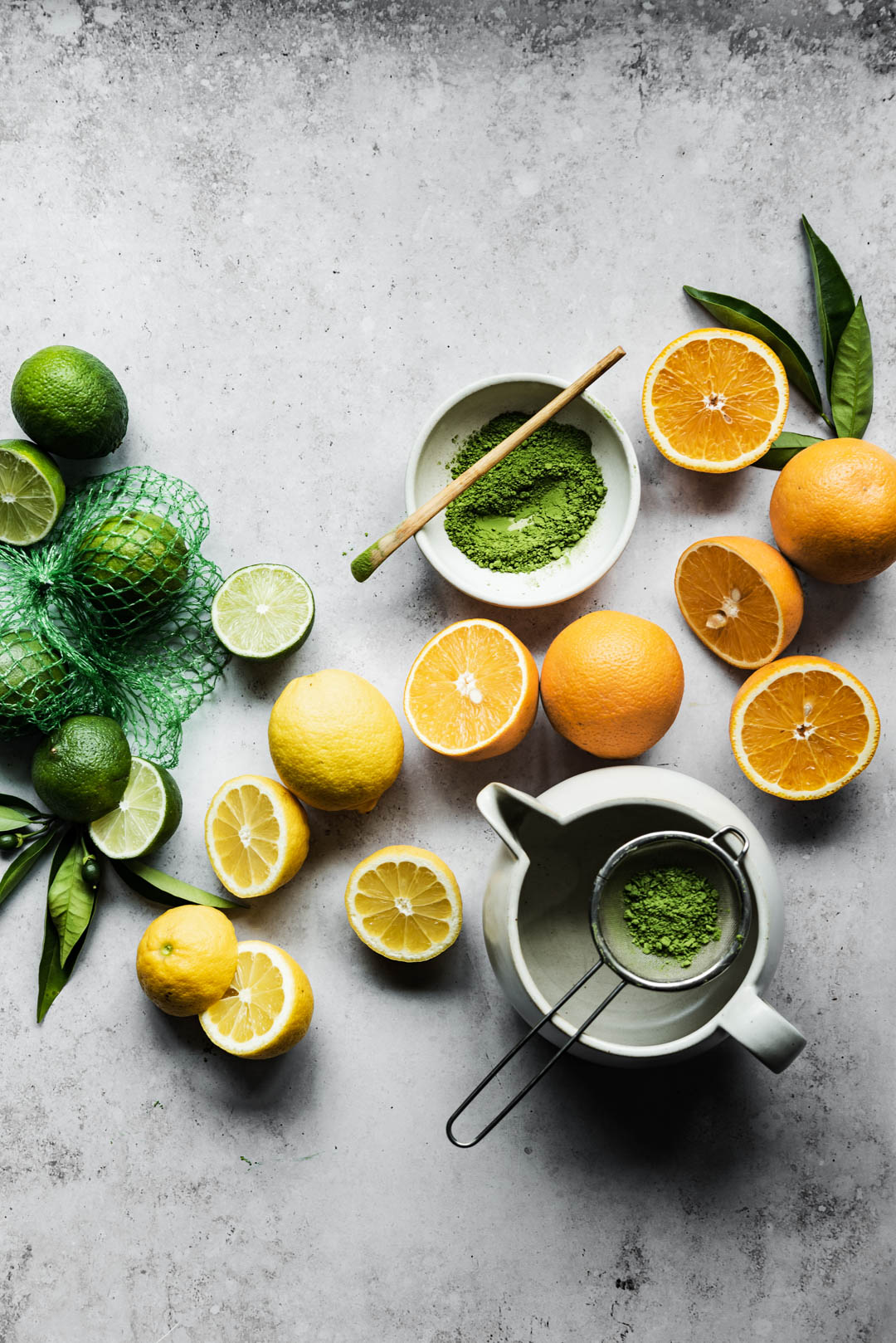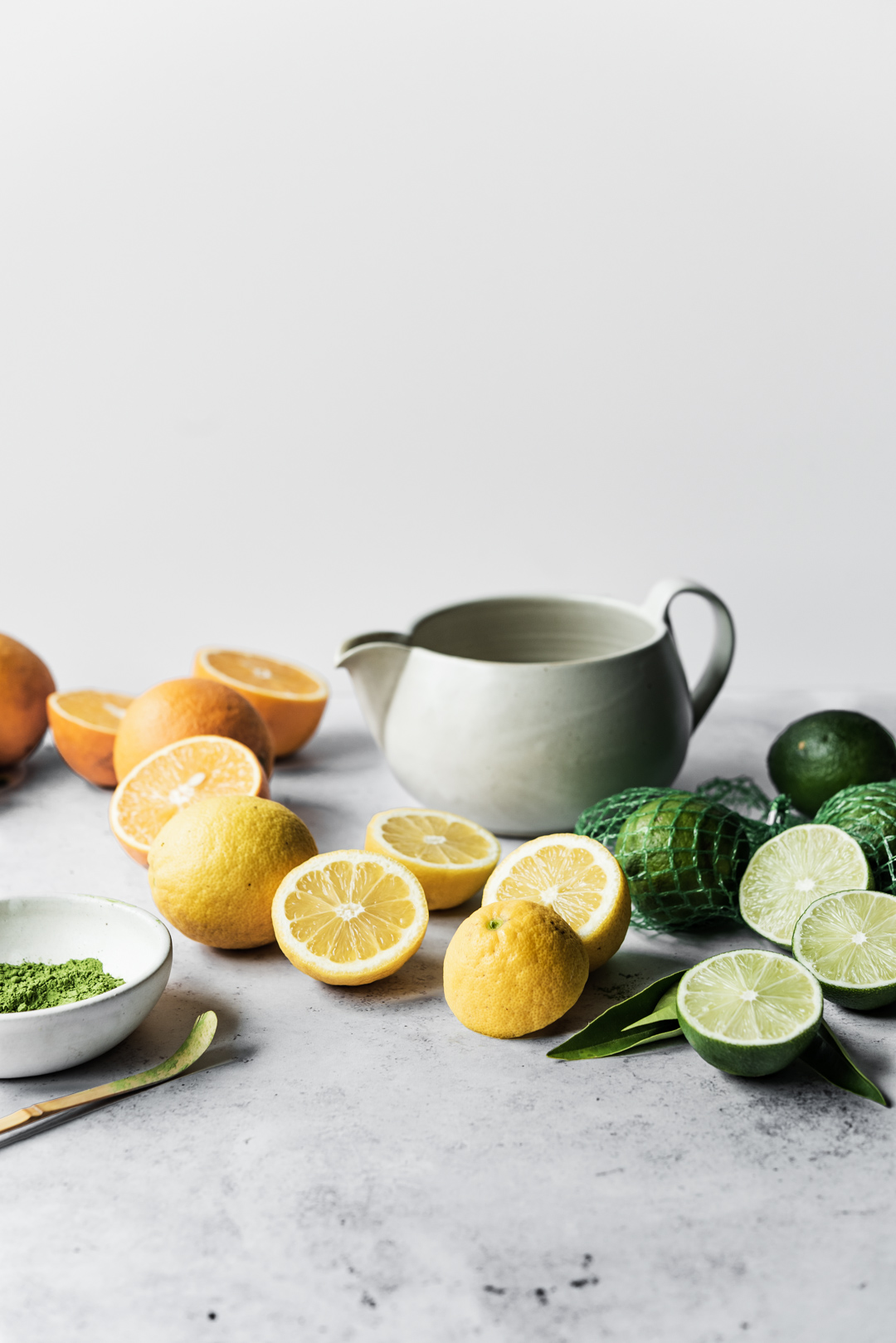 thoughts on matcha:
Now for any of you skeptics out there who may be thinking that it is odd to combine matcha with citrus – keep reading! Matcha's aromatic grassy notes, sweet nuttiness, and pleasant bitter undertones make it a most delightful addition to lemonade. And if you are someone who has tried matcha before and did not like it, I would encourage you to try a high-quality matcha powder before completely writing it off. There are huge variances in the quality of matcha powders available on the market. So getting to experience the incredible flavor of real deal matcha is a game-changer for those who think they don't like it! (you can learn ALL ABOUT MATCHA here)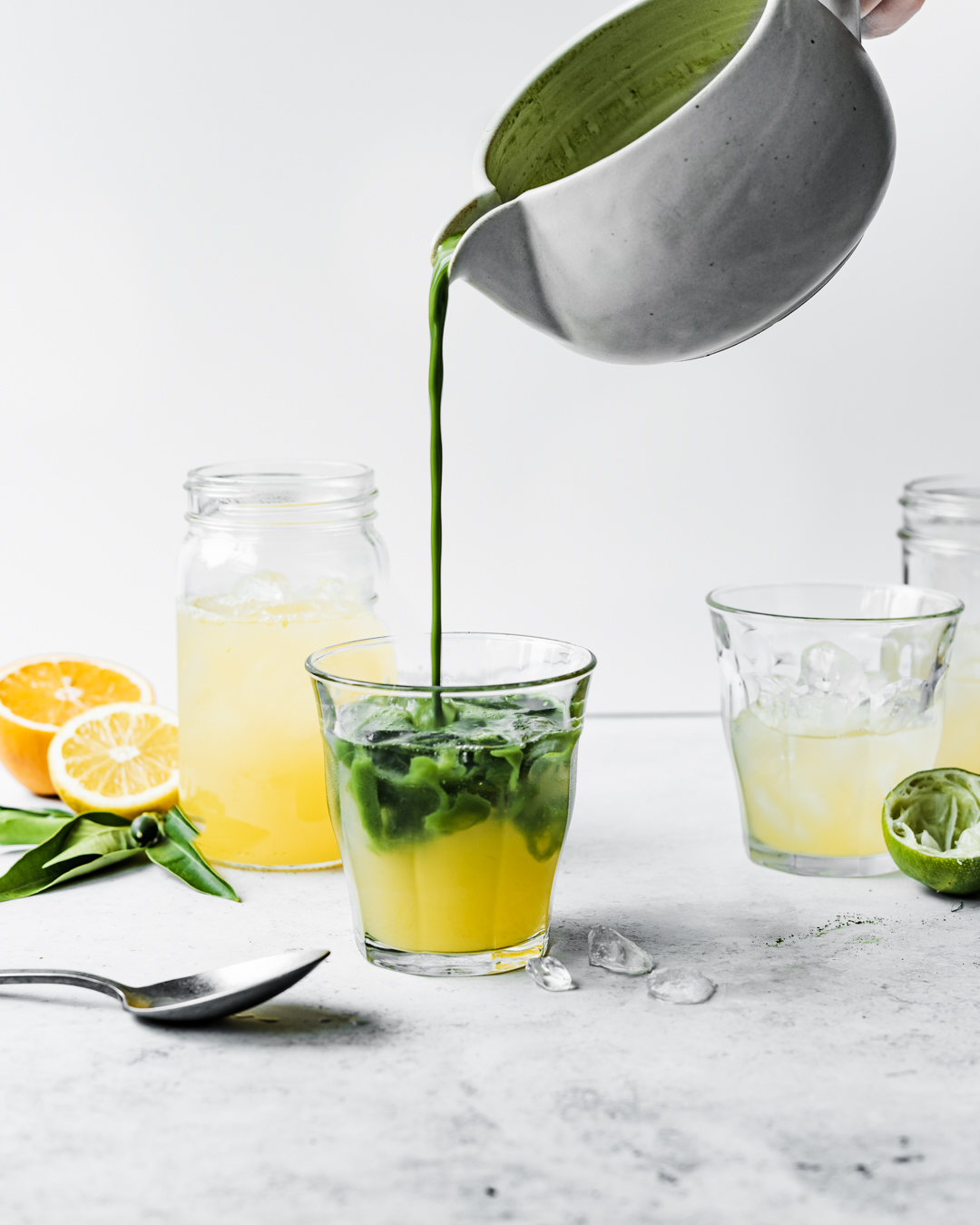 This is the kind of recipe that is customizable to your personal preferences. Some people like their lemonade more zippy and sour. While others may prefer a more sweet & subdued lemonade. Whichever way you enjoy your lemonade, you are most definitely going to be intrigued by the addition of orange & lime juice in this triple citrus matcha lemonade! Not only does the flavor of orange juice pair really well with matcha, but orange juice adds natural sweetness to this lemonade. And as for the touch of lime juice, its gentle bitterness perfectly balances all of the sweet & sour notes of this lemonade.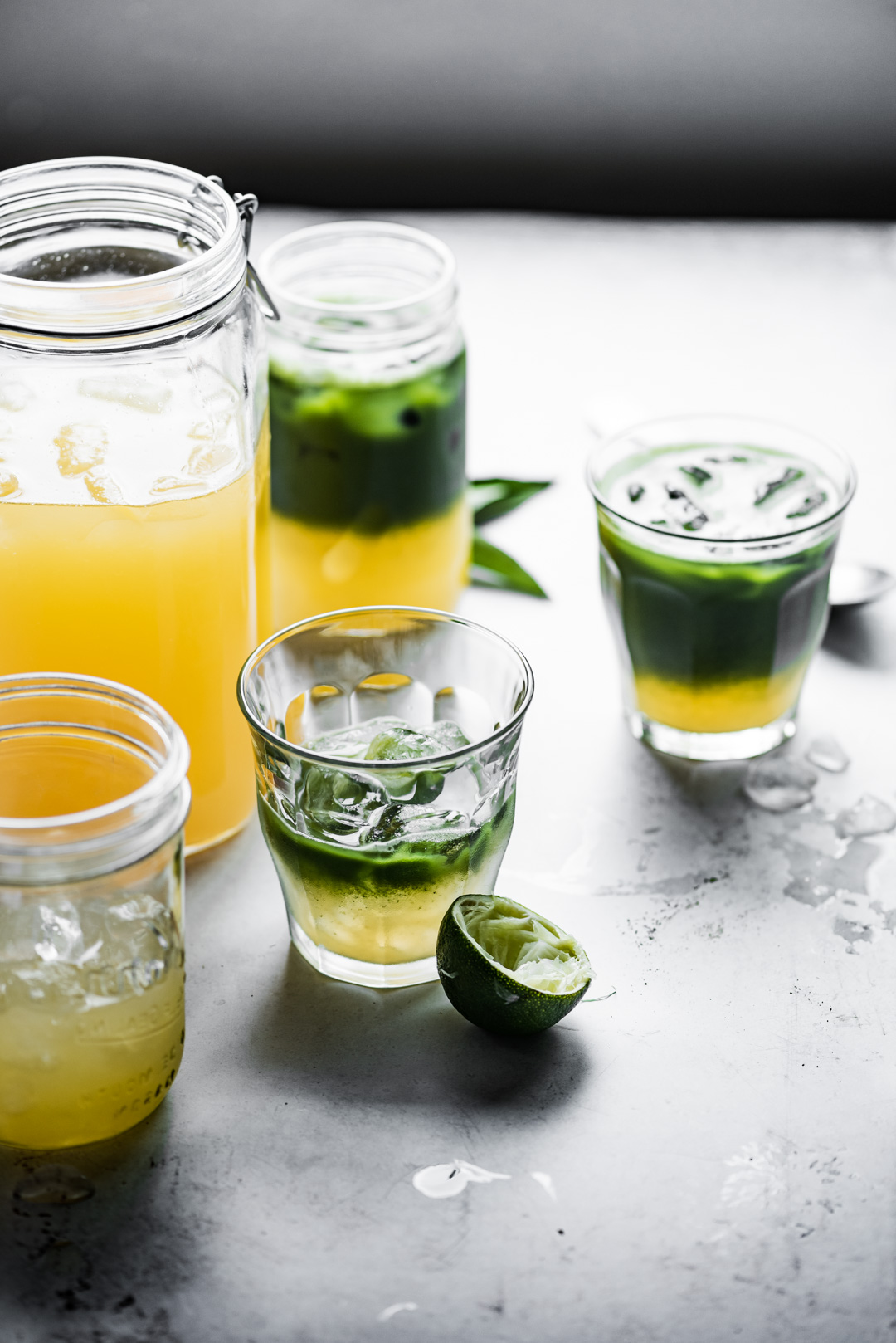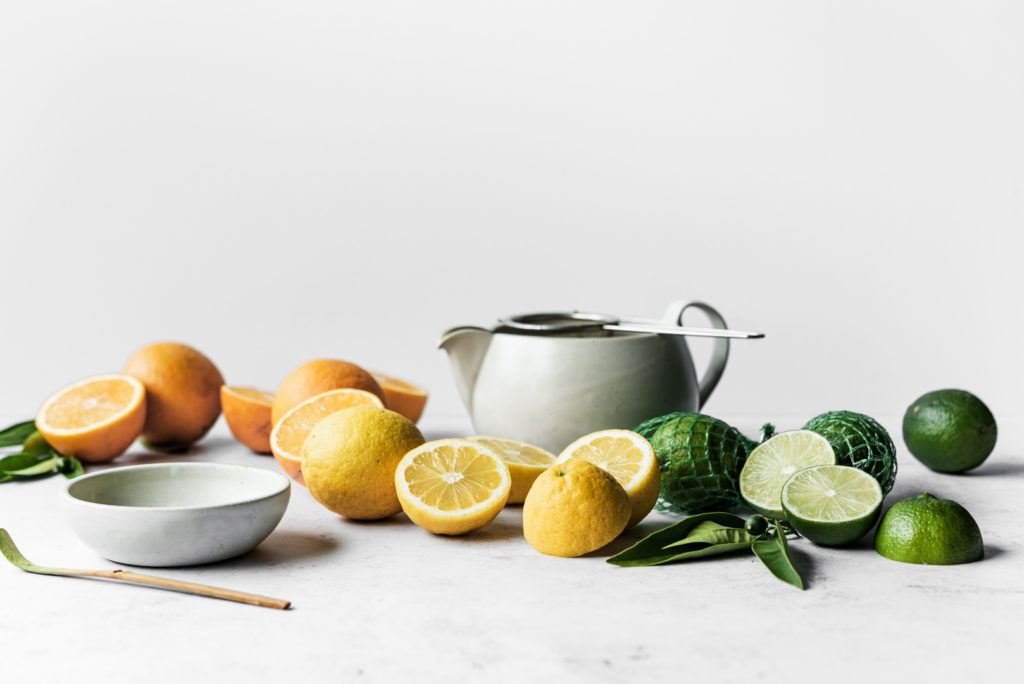 the gift of triple citrus matcha lemonade
Before we get to the recipe, I just have to take a moment to thank our dear friend Aubree for introducing us to this genius combination! I would have never thought of inviting orange and lime juice to matcha lemonade, but it was Aubree's innovation that deserves to be shared with all of the world! So, thank you Aubree for allowing me to share your triple citrus matcha lemonade recipe here on ful-filled ;)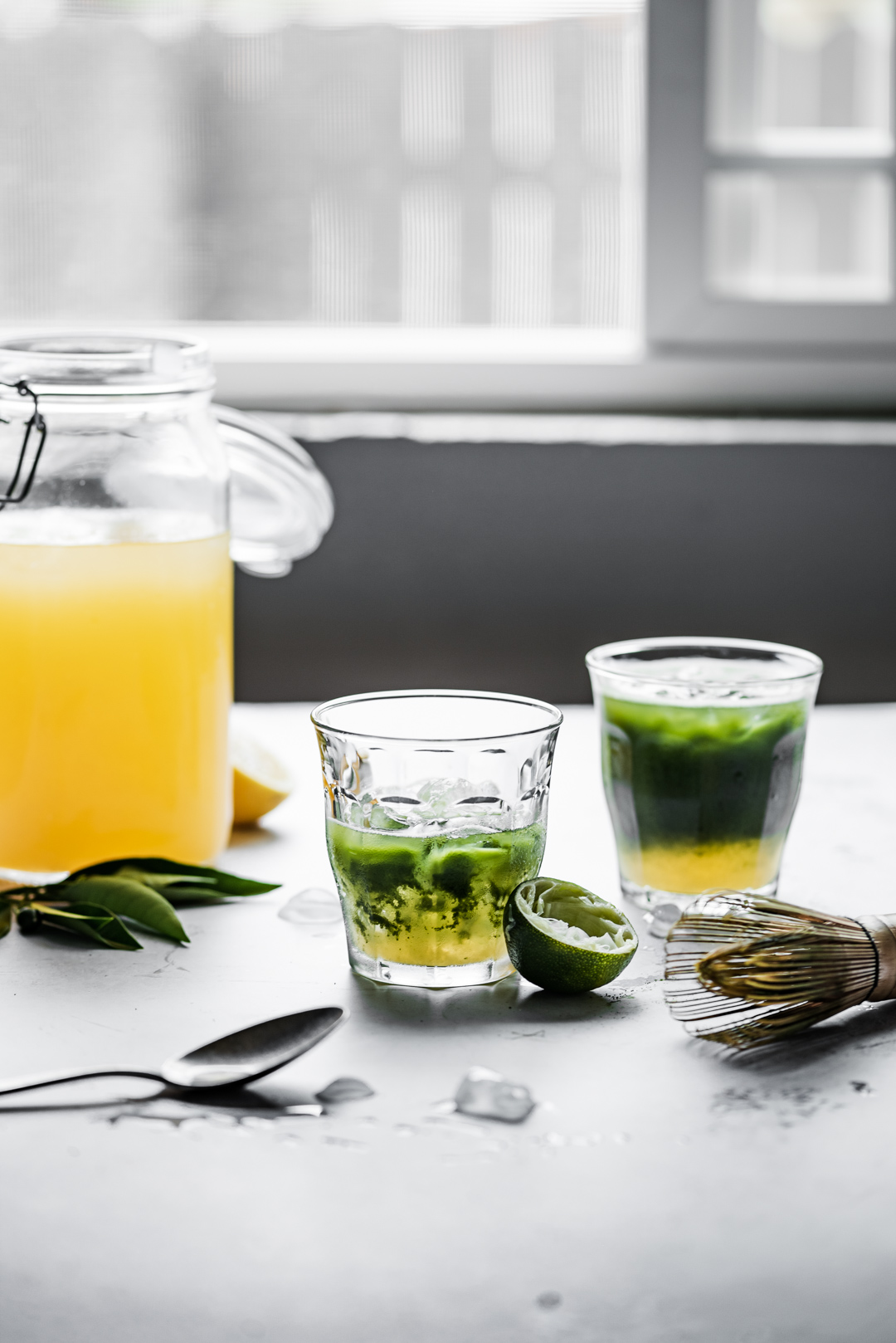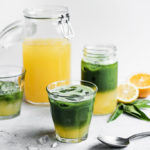 TRIPLE CITRUS MATCHA LEMONADE
---
Total Time:

15 minutes

Yield:

10

1

x
1 1/4

cups

(12 oz) fresh squeezed orange juice

1/2

cup

(4 oz) fresh squeezed lemon juice

1/4

cup

(2 oz) fresh squeezed lime juice

7

cups

water

1

cup

liquid sweetener, we use light agave syrup (or use 1 cup sugar dissolved into 1 cup of the water)

4 tsp

matcha, divided (we use Encha)
Ice for serving
---
Instructions
FOR THE TRIPLE CITRUS LEMONADE
Start by combining all of the citrus juices in a large jar, that has at least a 10 cup (80 oz) capacity
Add the water and liquid sweetener, stir well to combine. Taste the lemonade at this point and adjust sweetness and or amount of water as necessary. Citrus can vary in its acidity and sweetness, so this is the stage you want to adjust the lemonade to your liking.
Refrigerate triple citrus lemonade until ready to serve.
Rather than adding the matcha powder into the lemonade, I highly recommend adding the matcha into each individual glass when you are ready to serve. This keeps the matcha from oxidizing and it makes for a really incredible presentation to see the layers of matcha and lemonade in the glass!
TO ADD MATCHA:
Heat 2 oz. of water per 8 oz. of lemonade that you are going to serve.
Add 1/2 tsp matcha powder per 8 oz. of lemonade that you are going to serve to a small bowl
Pour hot water (175°F is ideal) over matcha powder and whisk until smooth and frothy
Fill each of your serving glasses with a handful of ice and 8 oz. of triple ctirus lemonade. Pour 2 oz. of the matcha concentrate over each glass of lemonade.
Serve and enjoy!
Prep Time:

15 minutes

Cook Time:

0 hours

Category:

Drink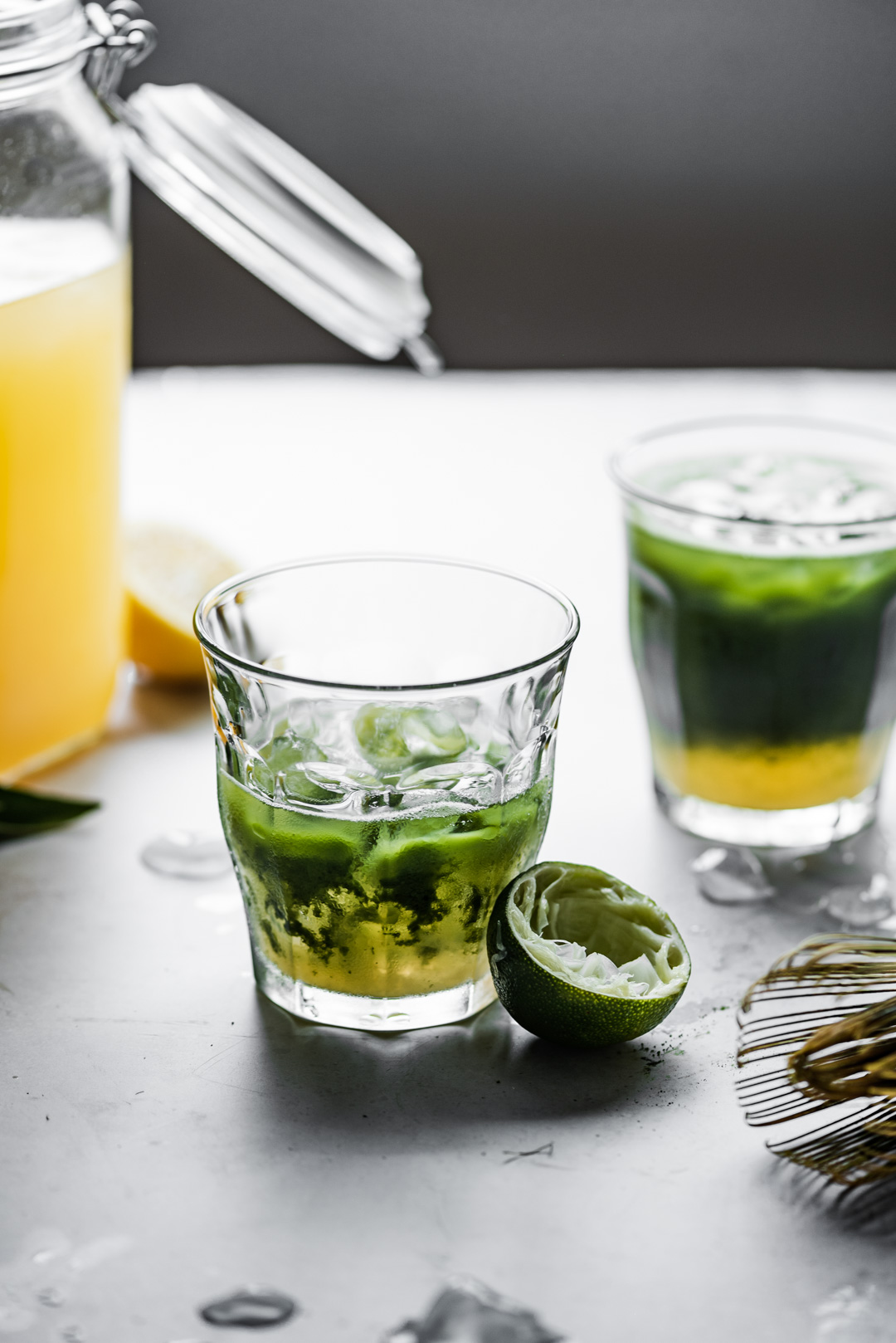 more matcha inspiration: