This recipe was inspired by a toaster. Yes, you read that right, a toaster! But not just any toaster, the most innovative toaster in the world! Specifically BALMUDA The Toaster – a groundbreaking toaster that hails from Japan. Since I have the great honor of being a part of launching BALMUDA The Toaster here in the US, I wanted to create a bread recipe that would garner the same kind of excitement that I have for this revolutionary toaster! I knew that Japanese milk bread would be ideal, with its incomparable crumb and buttery taste. And since the world is experiencing a sourdough revival at the moment, it only made sense to create a recipe for Sourdough Japanese Milk Bread.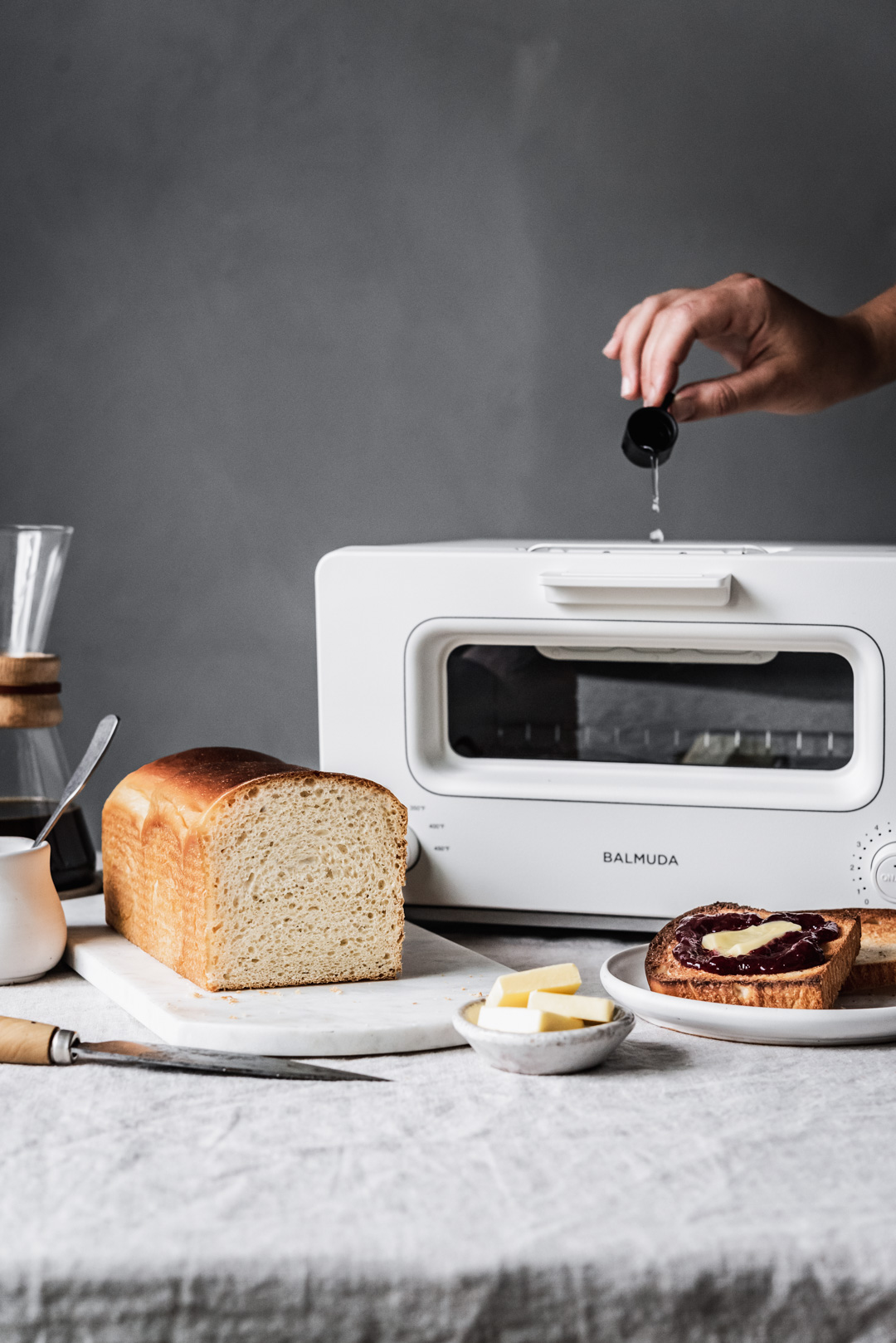 How BALMUDA has redefined the toaster:
You may be thinking to yourself, how can a toaster be revolutionary? Well, BALMUDA The Toaster has redefined what a toaster can accomplish. The decisive factor is the 5 cc of water that gets poured into the toaster. Because water heats more rapidly than air, a thin layer of steam envelops the bread, lightly toasting its surface, while keeping its inner moisture and flavor from escaping. The combination of steam technology along with precise temperature control allows BALMUDA The Toaster to create superb contrasts of flavor and texture for every kind of bread: crisp and savory on the outside, moist and fluffy inside.
The perfect bread for the perfect toast: Sourdough Japanese Milk Bread
Now that you understand the hype behind BALMUDA The Toaster, its time for you to understand the greatness of this Sourdough Japanese Milk Bread! If you have not taken the leap into sourdough baking, I cannot recommend it more highly! It seems that more people are baking with sourdough now than ever due to worldwide shortages of commercial yeast. What most people end up discovering when they embark on their sourdough journey is a deep love for the art of baking with wild yeast! Harnessing the natural power of flour, water, salt & patience to create all manner of baked goods is one of the most satisfying endeavors you can pursue! As is the case with this Sourdough Japanese Milk Bread. With a superbly fluffy crumb and the most wonderful flavor, it is one of my favorite sourdough breads to bake! And while this bread is super soft & fluffy after it gets baked in a conventional oven, toasting a slice of it with BALMUDA The Toaster is even better!
One of the signature characteristics of Japanese Milk Bread is its unique shape. The dough gets divided into three sections and then rolled into thin ovals with a rolling pin. These thin ovals of dough then get rolled up into coils. You repeat this process one more time before adding your dough coils to your bread pan to rise. *If you want to achieve the classic Japanese milk bread shape with super straight edges, then I recommend you use a Pullman loaf pan.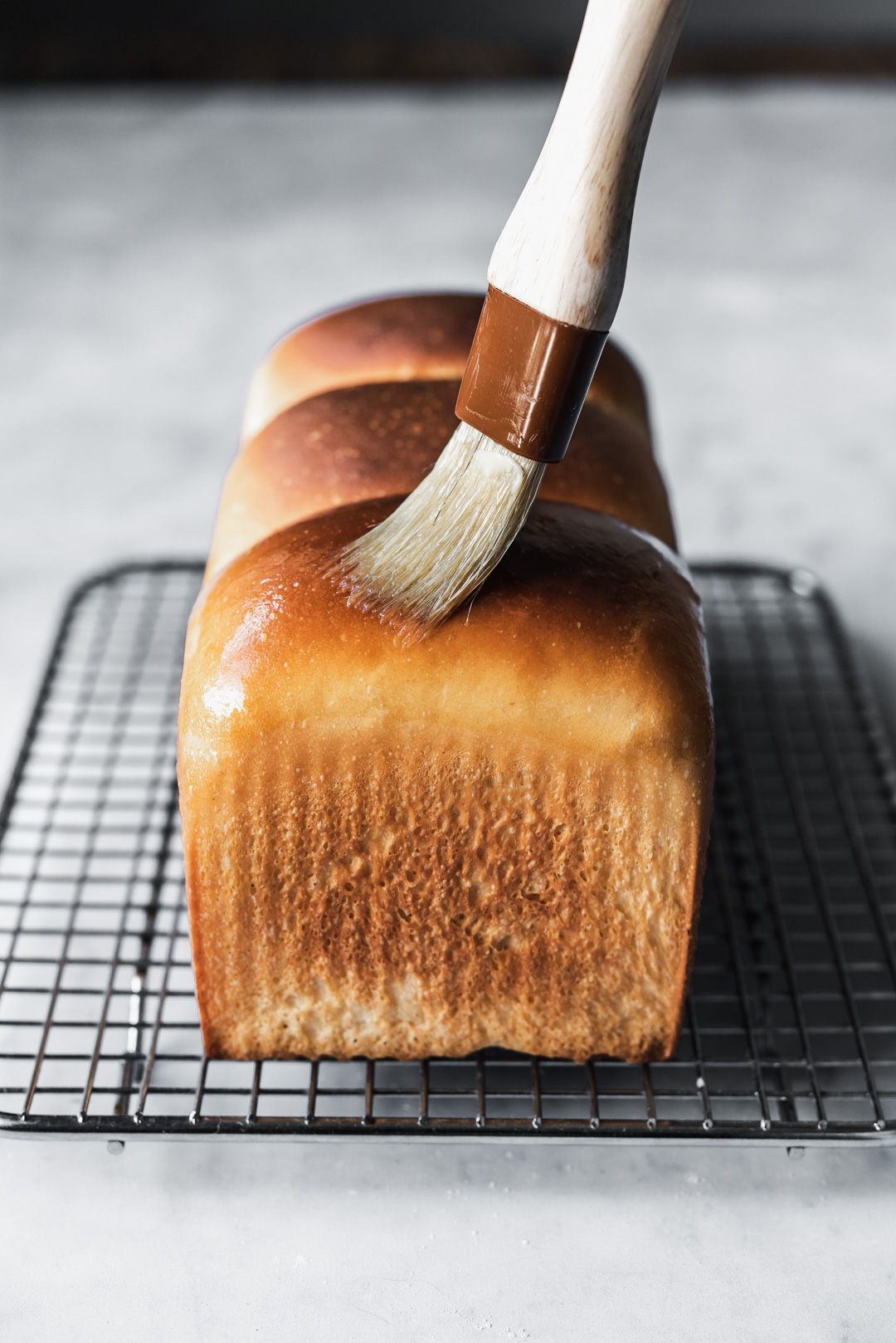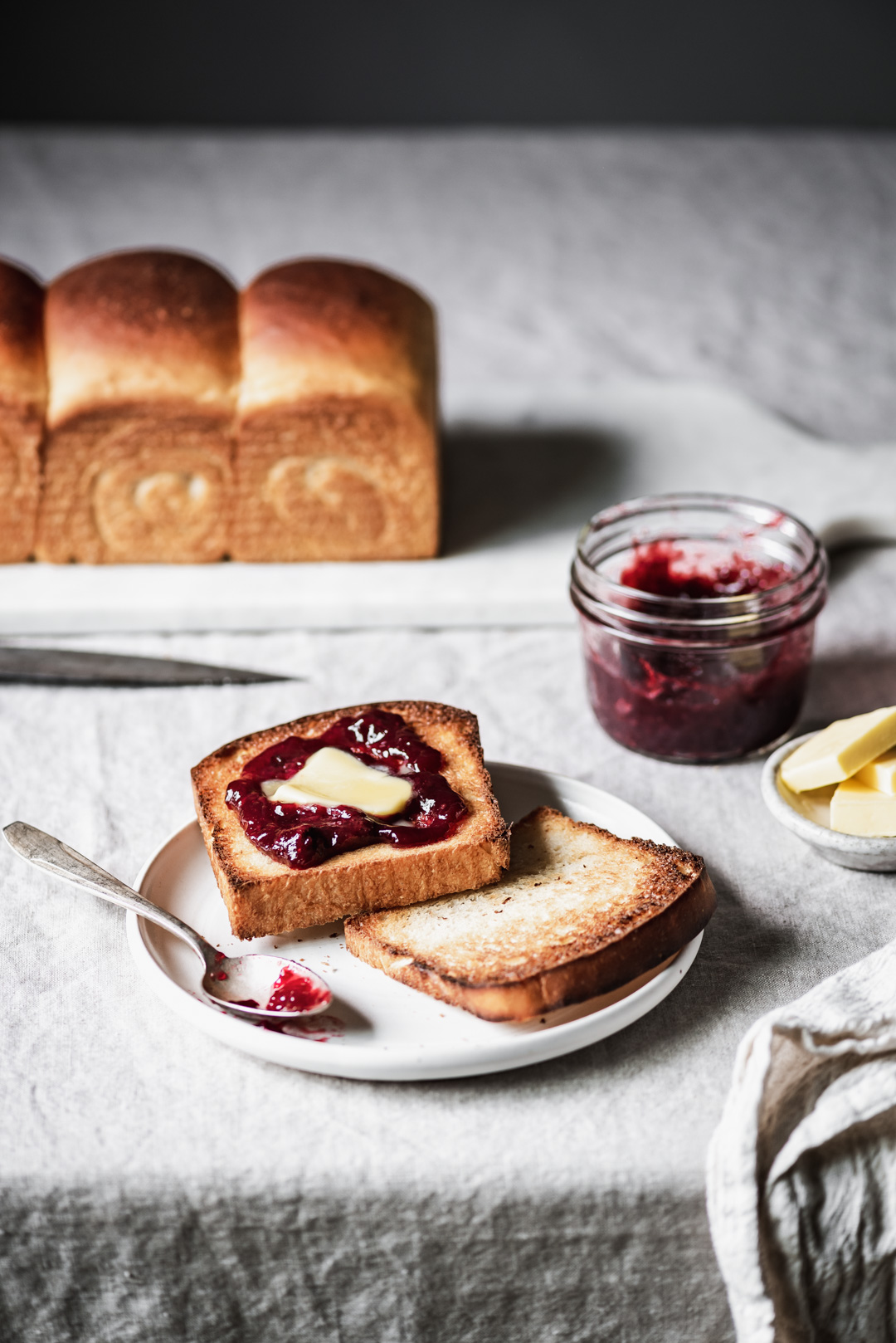 The art of toast:
Toast comes in many different forms, but there is something so perfectly satisfying about a simple slice of toast topped with butter and jam. While you can eat your Sourdough Japanese Milk Bread as is, toasting it really brings out its full flavor and texture. When I tasted my first slice of Sourdough Japanese Milk Bread toast from BALMUDA The Toaster I was blown away! Not only was the exterior perfectly golden, but the contrast between the crisp exterior and the moist and fluffy interior was absolutely magnificent! When I initially read about BALMUDA's mission to create appliances that deliver a thrilling and wonderful experience, I was intrigued but honestly skeptical. I thought to myself – can using a toaster really be a moving experience that sparks joy? And the answer that I came to find out was, yes it can!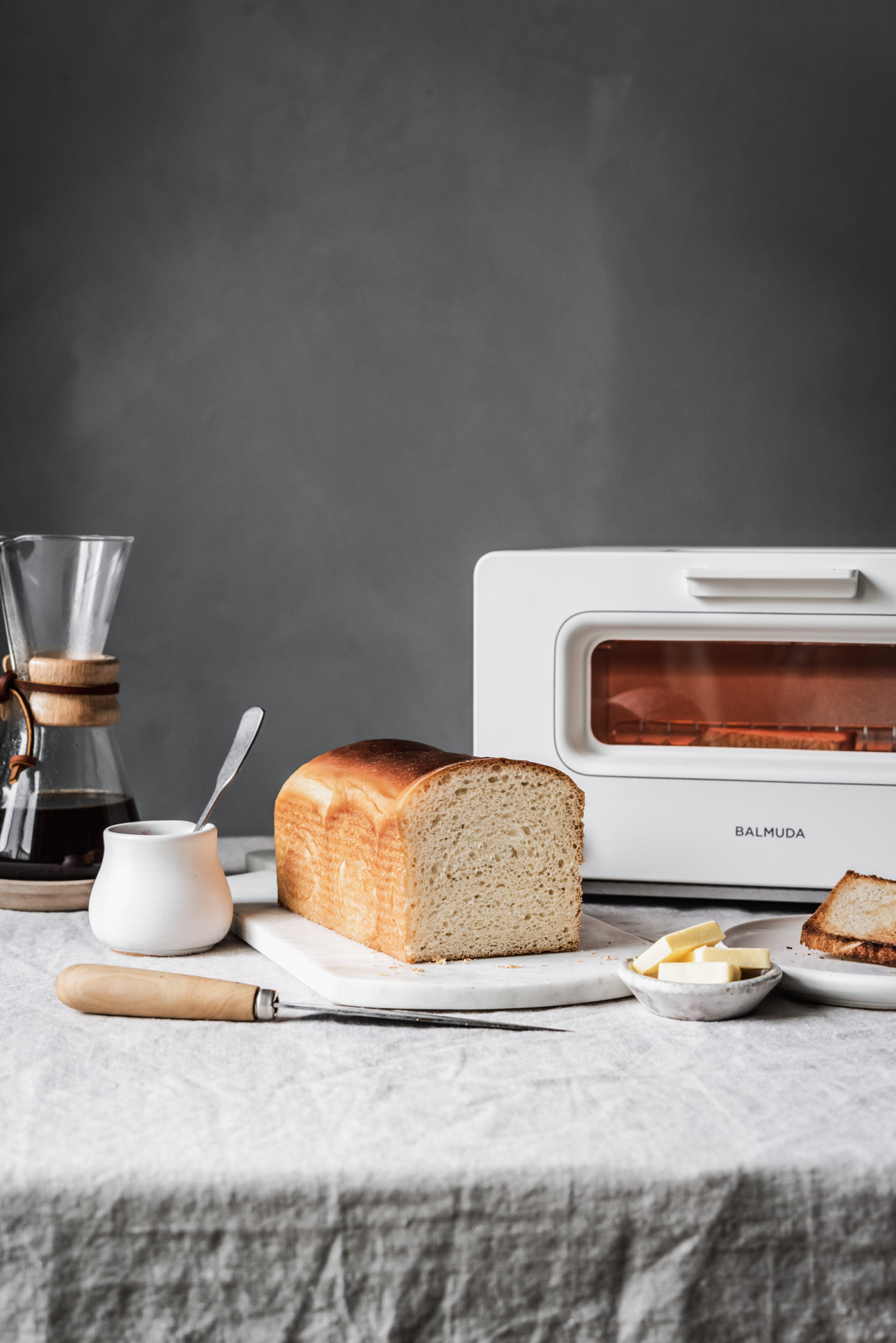 If you're looking for a sourdough bread recipe that evokes cozy memories of super-soft, lofty white bread that transforms into the very best toast, then this Sourdough Japanese Milk Bread is just what you need. And to learn more about all of BALMUDA The Toaster's abilities, click HERE.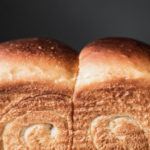 SOURDOUGH JAPANESE MILK BREAD
---
Total Time:

1 hour 20 minutes

Yield:

12

slices

1

x
FOR THE LEAVEN:
15

g

ripe sourdough starter (at 100% hydration)

25

g

water

40

g

bread flour
FOR THE FINAL DOUGH:
290

g

flour (I used 50% all purpose flour & 50% bread flour)

25

g

sugar

30

g

butter, softened

2

large egg whites (about

60g

)

5

g

salt

140

g

milk, at room temperature
All of the leaven
---
Instructions
DAY ONE:
FOR THE LEAVEN: (start in the morning)
Mix together your ripe sourdough starter, water & bread flour and let ripen at room temperature (73-75°F) for about 12 hours.
FOR THE FINAL DOUGH:
Mix together the flour, sugar, milk, egg whites and leaven until just combined. Cover and allow this mixture to rest (autolyse) for 30 minutes.
Once the dough is done resting, add in the salt and knead the dough until the gluten is moderately developed. When the dough comes together and starts to feel smooth and stretchy, add the butter in two additions, mixing the first addition in completely before adding in the second.
Continue kneading until the gluten is very well developed and the dough passes the windowpane test as pictured above. The windowpane should be very extensible. It should stretch super thin but should also be very tough to break. When you poke a whole in the windowpane it will have smooth edges. Getting to the windowpane stage will take quite some time (15-20 minutes in a stand mixer), even longer if done by hand.
Transfer the dough to a clean, lightly oiled bowl. Cover the bowl and allow the dough to rise at room temperature for 2 hours. After 2 hours, the dough will have expanded, but not doubled in size.
Fold the dough into itself, cover the bowl tightly with plastic wrap, and refrigerate overnight.
DAY TWO:
Take the dough out of the refrigerator and transfer it to a lightly floured surface.
Divide the dough into 3 equal parts (I use a kitchen scale to get perfectly even portions) and lightly shape each portion into a ball. Cover with lightly oiled plastic wrap and allow to rest for one hour.
After the hour, use a lightly floured rolling pin to roll each dough portion into an thin oval and roll up into a coil. Rest the coils for 10 minutes before rolling each piece into an oval again, seam side up. Re-roll each oval into tight coils.
Transfer the coils to a non-stick loaf pan, seam sides down. Cover the loaf pan loosely with plastic wrap and allow the dough to rise about 6 hours at room temperature. The dough should be super puffy and have risen, to fill almost to the top of the Pullman pan about 90% (*if using a standard bread pan, allow the dough to rise to just before the top of the pan).
1 hour before baking, preheat your conventional oven to 400°F. Once the dough has finished rising, transfer the pan to the conventional oven and bake for 20 minutes.
After the initial 20 minutes, reduce the oven to 350°F and continue baking for 15-20 minutes (the internal temperature should be at least 195°F). *If your loaf seems to be browning too quickly, tent it with a piece of foil to prevent it keep from burning.
When the loaf is done baking, turn it out of the bread pan and allow it to cool on a rack. Brush the top and sides of with melted butter while the loaf is still warm. Allow the loaf to cool before slicing.
TO MAKE THE PERFECT TOAST:
Toast 1/2″ slices of bread in your toaster (*BALMUDA The Toaster if possible ;) and top with your favorite jam & then a dab of softened butter gently spread into the jam. Enojy!
Prep Time:

45 minutes

Cook Time:

35 minutes

Category:

Bread
This post is in partnership with BALMUDA. As always, all opinions expressed are purely my own. Thank you so much for supporting the companies that support this blog.
more sourdough recipes: