I've been dreaming of creating a beautiful whole cranberry recipe like this for a long time. The challenge, though, is that whole cranberries need to be cooked to counter their bitterness and soften their texture. But when whole cranberries are cooked, they lose their structure. Which is great if you are turning them into a sauce or jelly, but doesn't yield the visual result I have been dreaming of. Then there are sugared cranberries, which make a beautiful garnish. But because sugared cranberries are not cooked, they just aren't that enjoyable to eat.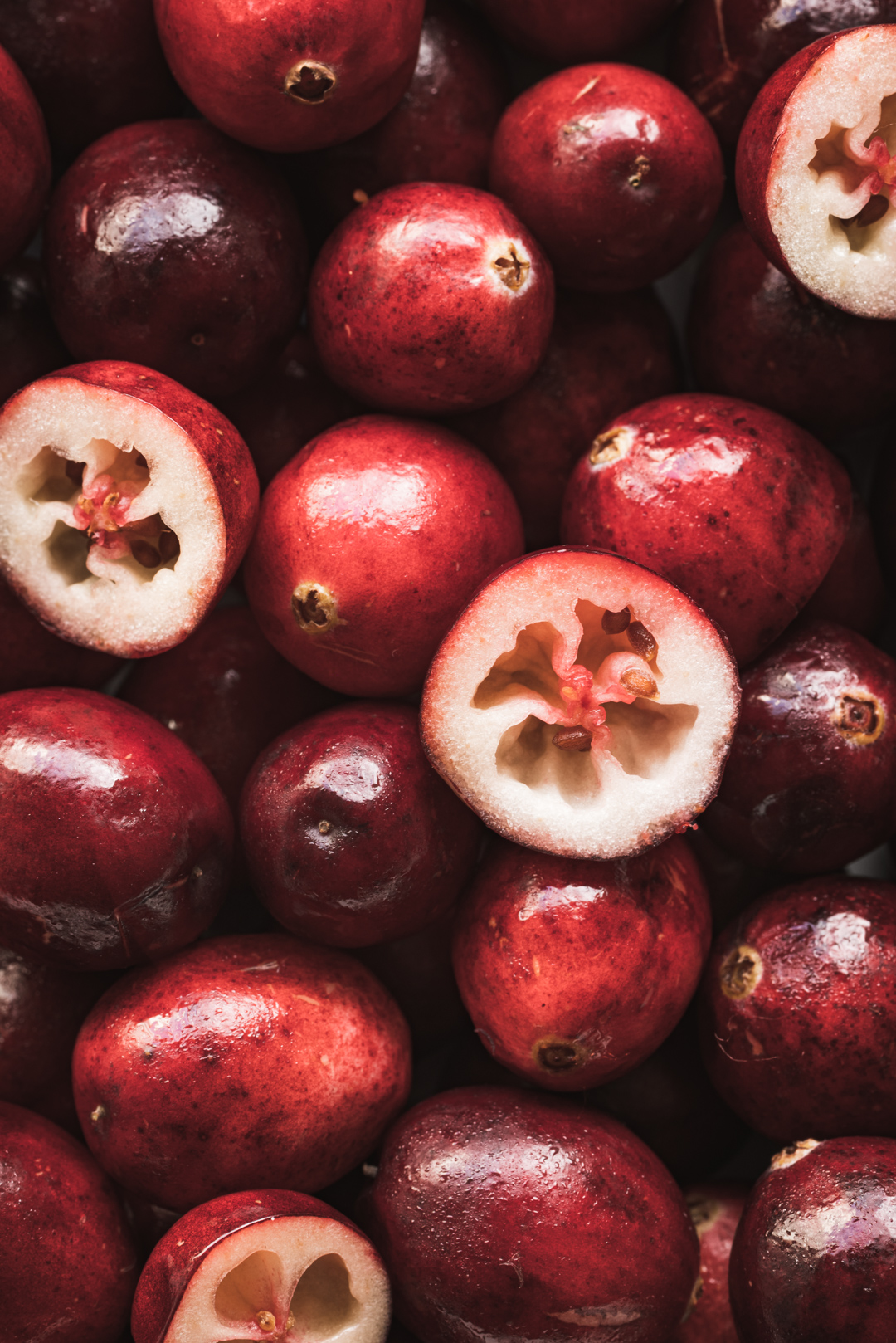 Considering these factors, I wondered if there was such a thing as soft candied cranberries. You know, like the soft, vibrant cherries in syrup that adorn cheesecakes and such. I then discovered that candied cranberries do exist, but the only recipe I could find requires steaming the cranberries, which seems a bit fussy. So I set out to create an easier way to make soft candied cranberries, and it was a success :)
TIPS FOR PERFECT SOFT CANDIED CRANBERRIES
PREPARE EACH CRANBERRY: Since the cranberries are not going to be cooked with direct heat, it's important to prepare each berry. You want all of the cranberries to be similar in size, so cut any especially large berries in half. And for all of the other berries, use a toothpick to prick through each one. This will allow the sugar syrup to penetrate through each cranberry.
USE CRANBERRY JUICE: I tested this recipe with just water & orange juice and was not satisfied with the final color of the syrup. To achieve a beautiful ruby colored cranberry syrup, you will want to use cranberry juice rather than water.
PATIENCE PAYS OFF: While the candied cranberries will be soft enough to eat after just a few hours of soaking in their syrup bath, they really taste best the next day. Time gives the cranberries a chance to deeply absorb the syrup and achieve a texture similar to candied cherries.
I have not yet mentioned just how simple it is to make these soft candied cranberries. You bring the syrup ingredients to a boil and then add the prepared cranberries & orange zest (this is the zester I use to get those beautiful little strips). Cover the pot with a lid and wait. A day later you are blessed with the most gorgeous whole cranberries and their syrup. The possibilities for these soft candied cranberries & syrup are endless. From garnishing holiday cakes like this sticky gingerbread cake or a cheesecake. As a simple topping for creamy Greek yogurt or vanilla ice cream. And the syrup is perfect for cocktail/mocktail making. Delicious and beautiful, these soft candied cranberries are my dream finally come true.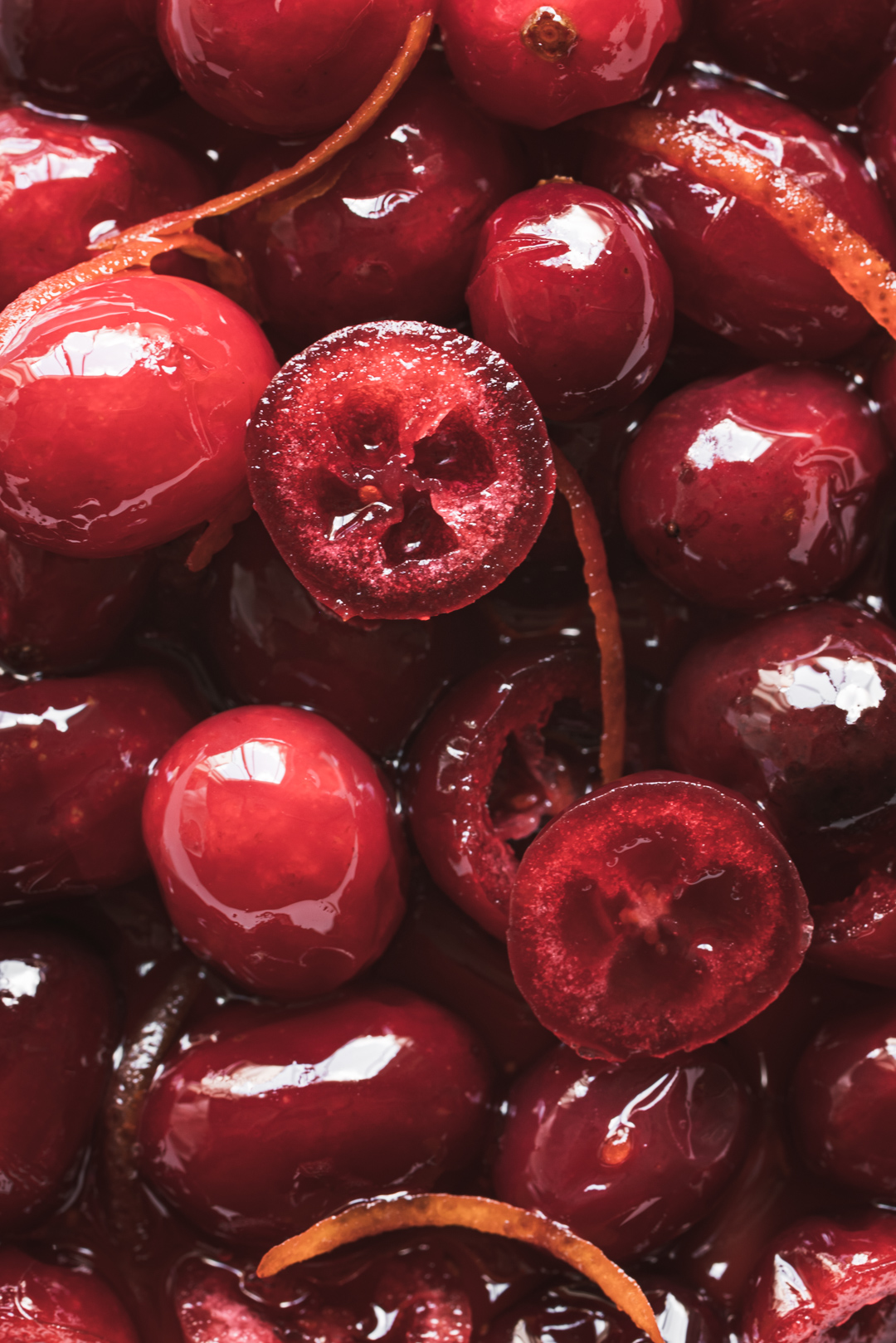 Print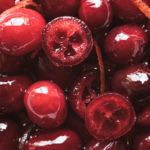 SOFT CANDIED CRANBERRIES
---
Author:

Total Time:

13 minutes
2

heaping

cups

(80z or 225g) fresh cranberries
zest & juice (about 1/2 cup) of 1 large orange

1

cup

(236ml) cranberry juice (unsweetened or sweetened cranberry juice, both work fine)

1 1/2

cups

(250g) granulated sugar
---
Instructions
Prepare the whole cranberries by sorting through and discarding any that are soft or spoiled. Rinse cranberries under cold water. Slice any especially large cranberries in half and prick the rest with a toothpick, adding each prepared cranberry to a bowl to keep them sorted. Use a citrus zester to zest the orange peel, add zest to the bowl of prepared cranberries.
Set a heavy bottomed pot over medium high heat. In a liquid measuring glass, add juice from the orange. Add enough water to the measuring glass to bring the amount of orange juice up to 1/2 cup (118ml). Measure out 1 cup of cranberry juice (you should have 1 1/2 cups (355ml) of liquid in total). Bring sugar and liquid to a boil.
Once sugar and liquid mixture has boiled for several minutes, turn off the heat and add in the prepared cranberries and orange zest. Stir to coat the cranberries and immediately cover with a lid to trap the heat.
Allow cranberries to soak in syrup for at least 3 hours and preferably overnight for best results. 
Store candied cranberries in their syrup in a glass jar with a lid in the refrigerator (they will keep for one month).
Prep Time:

10

Cook Time:

3
MORE CRANBERRY INSPIRATION: