Bread – it's one of life's greatest pleasures. And nothing quite compares to the satisfaction of baking your own bread. Which is why I am so excited to share my personal adaptation of Bake From Scratch Magazine's trusted boule recipe. Inspired by the colors and flavors of the holiday season, this cranberry pistachio white chocolate loaf is absolutely incredible! Every slice will delight you & everyone that you share it with.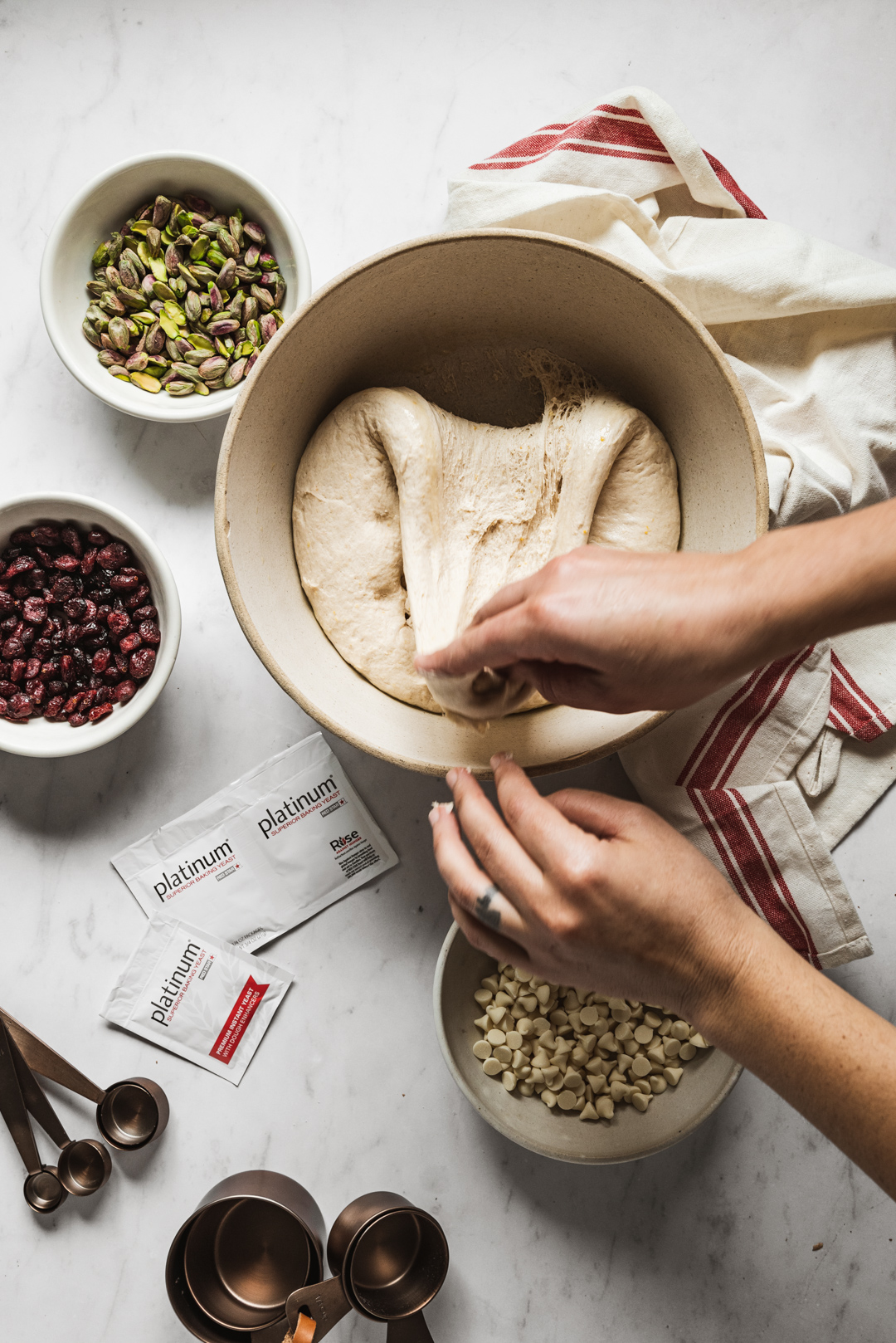 TIPS FOR BAKING CRANBERRY PISTACHIO WHITE CHOCOLATE BREAD
Bakery-style bread is, by far, my favorite thing to bake. There is nothing to fear about this type of bread baking and following these tips will ensure your loaves turn out amazing.
Firstly, USE HIGH QUALITY YEAST. The quality and freshness of your yeast is the most important factor in baking bread. Yes, even more important than technique. Yeast is what gives life to your loaf, but it also has an affect on the flavor and texture of your final dough. Platinum Yeast from Red Star is a unique, 2-in-1 premium instant yeast that includes natural dough strengtheners. Platinum Yeast has been my go-to yeast for many years. And I love how it enhances this cranberry pistachio white chocolate bread.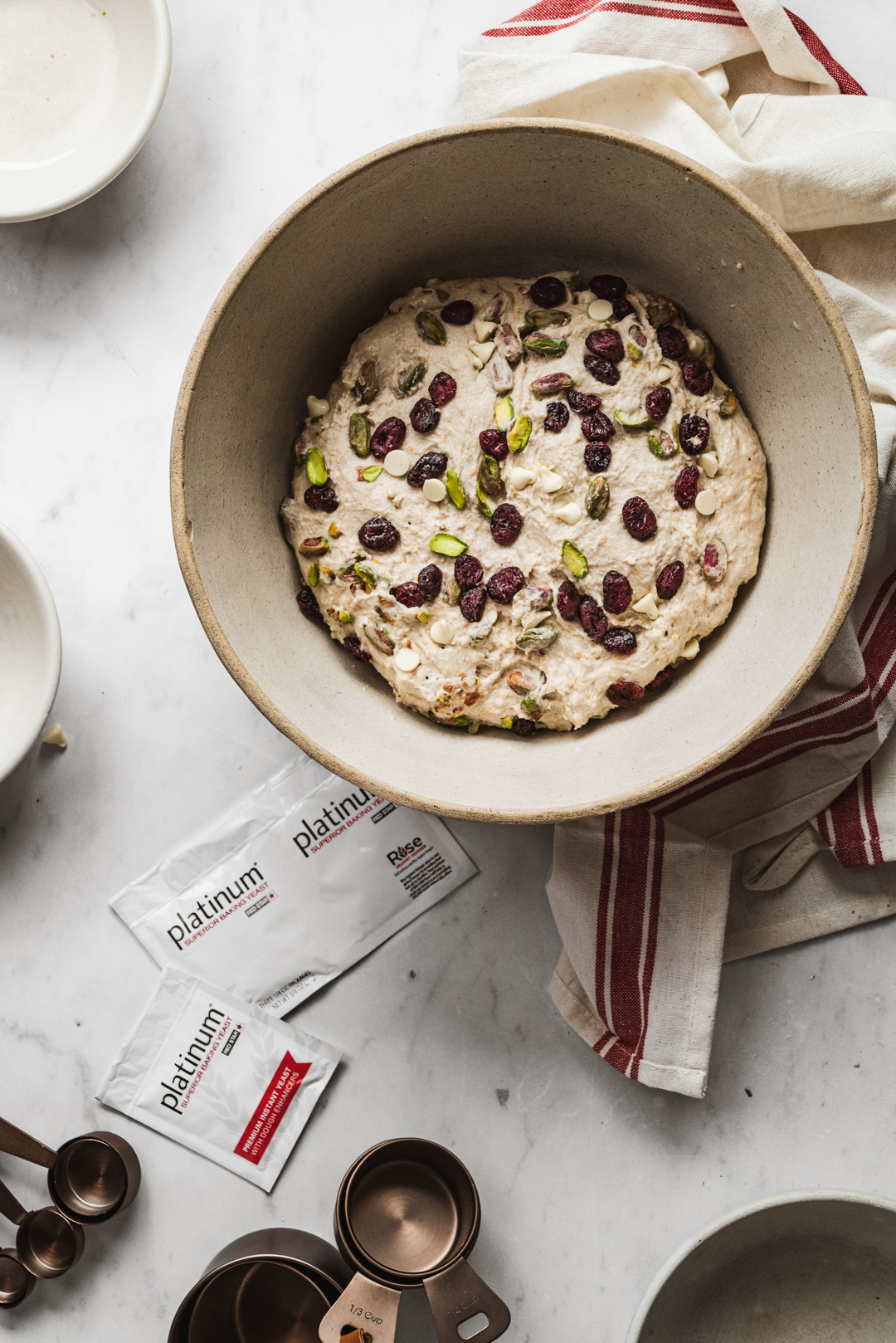 Secondly, START WITH A POOLISH. This pre-ferment of water, yeast & flour develops overnight. A poolish makes your bread taste more complex with improved structure, deeper-colored crust, and an extended shelf life.
Thirdly, MIND THE DETAILS. Baking is a science. And while your technique will improve the more that you bake, your bread baking success is all in the details. Specifically for this cranberry pistachio white chocolate bread: you need to make sure that there aren't any loose pieces of fruit/nuts/chips on the outside of the loaf. Any bits on the outside of the loaf will burn during baking. So, simply pluck off any loose bits after your final shaping.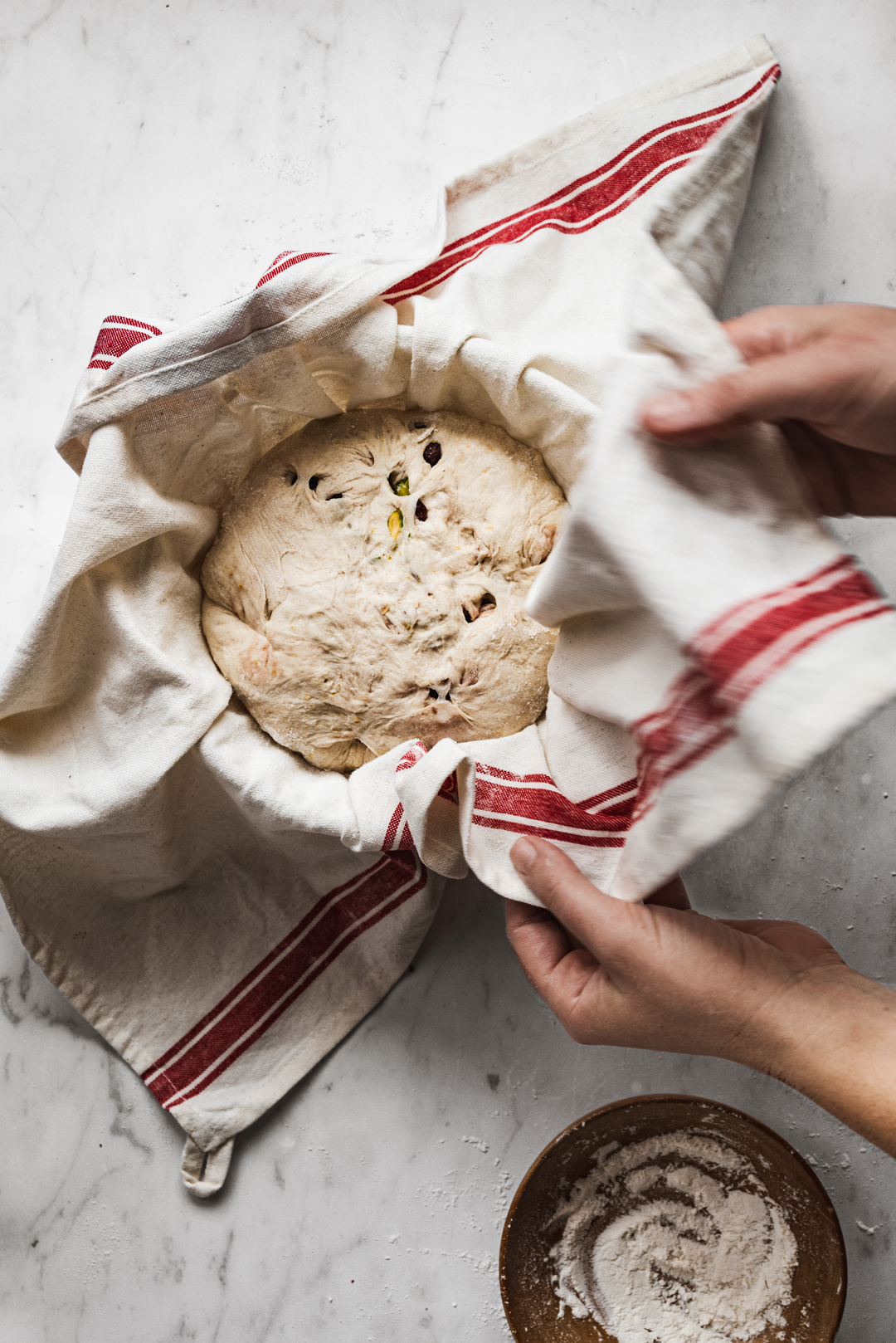 Scented with orange zest and studded with dried cranberries, pistachio nuts and rich white chocolate chips, this crusty bread is absolutely incredible toasted. The white chocolate adds the perfect amount of sweetness that accentuates the orange zest & balances the tartness of the cranberries. For the best experience, spread toasted slices with lightly salted butter and enjoy with a hot cup of coffee or tea (earl grey preferably).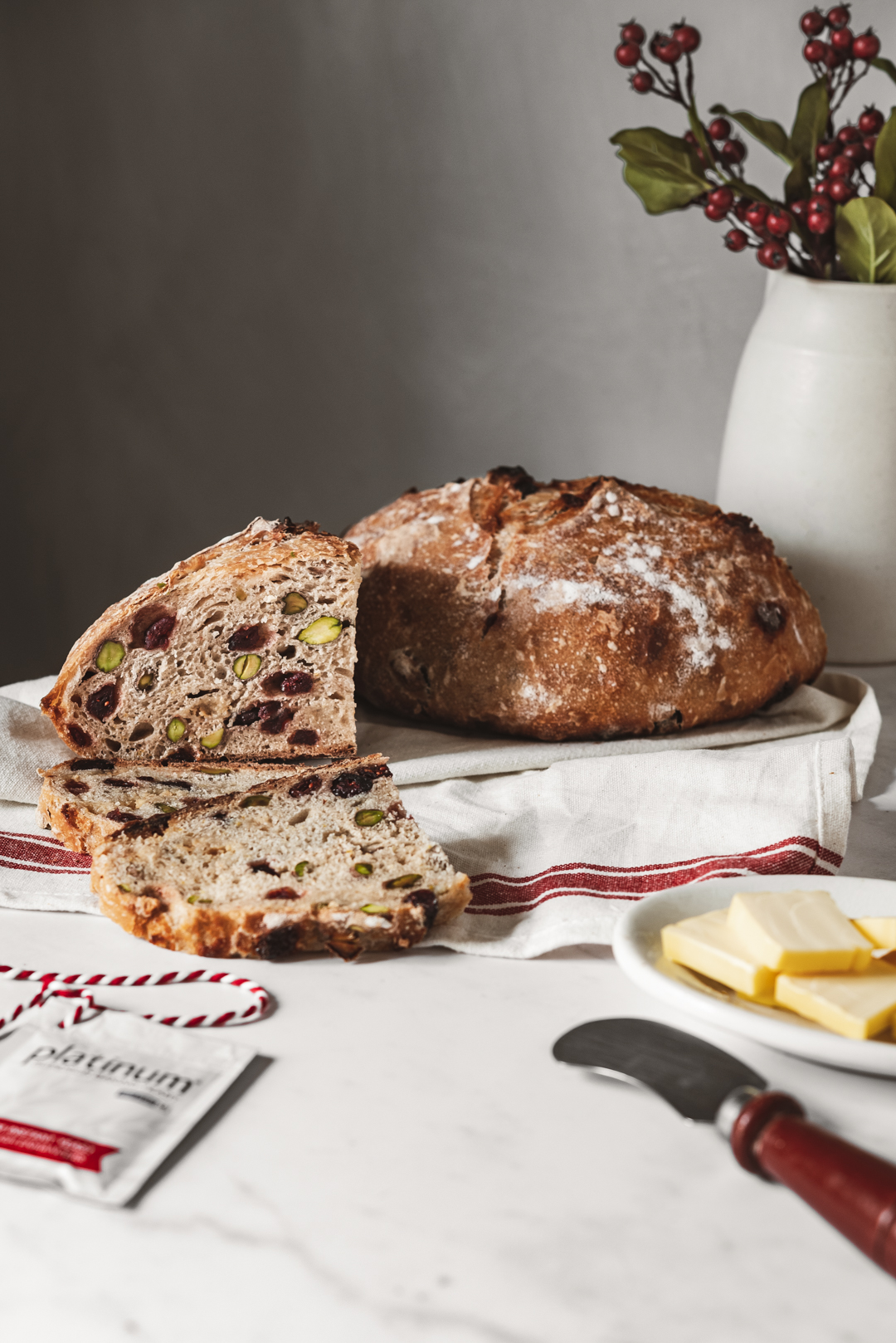 HOMEMADE BREAD – A GIFT THAT KEEPS ON GIVING
And while you may not want to share your loaf, do consider making more than just one. Gift wrapped in a tea towel, this cranberry pistachio white chocolate loaf makes the loveliest holiday gift! Share it along with a pack of Platinum Yeast & a print out of the recipe for a special gift that will keep on giving.
This recipe is my unique take on the harvest loaf from Bake From Scratch's newest column Bread Box. Powered by Red Star®, this new feature is an extravaganza of bread that can be found in Bake From Scratch's magazine and website. Featuring yeast-leavened baked good recipes with videos that take a deep dive into technique to help you bolster your bread-baking skills. And follow along over @thebakefeed for a bevy of Instagram giveaways, each one supplying you with a chance to win coveted baking goodies :)
This recipe was created in collaboration with Bake From Scratch Magazine & Red Star Yeast. As always, thank you for supporting the brands that support ful-filled.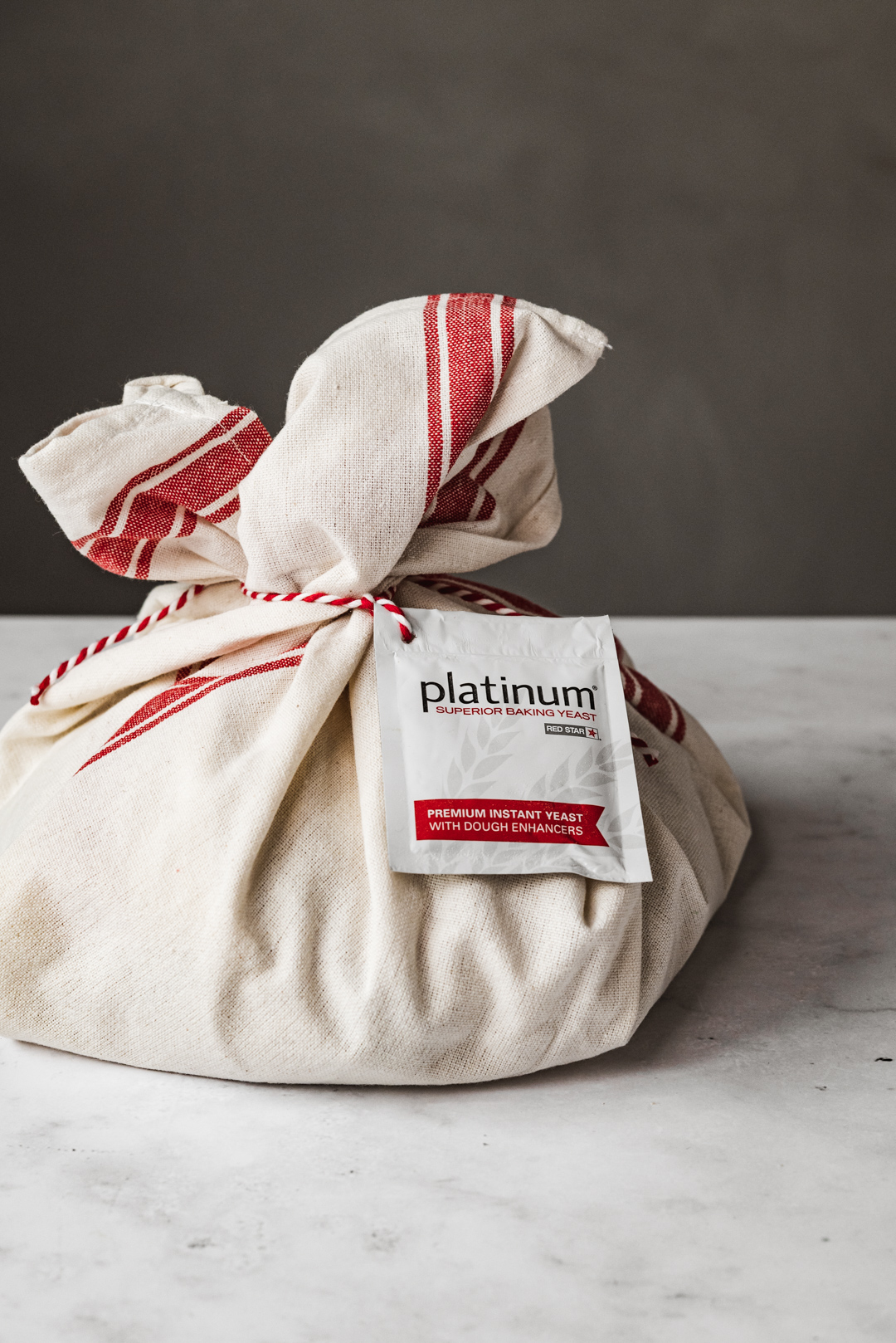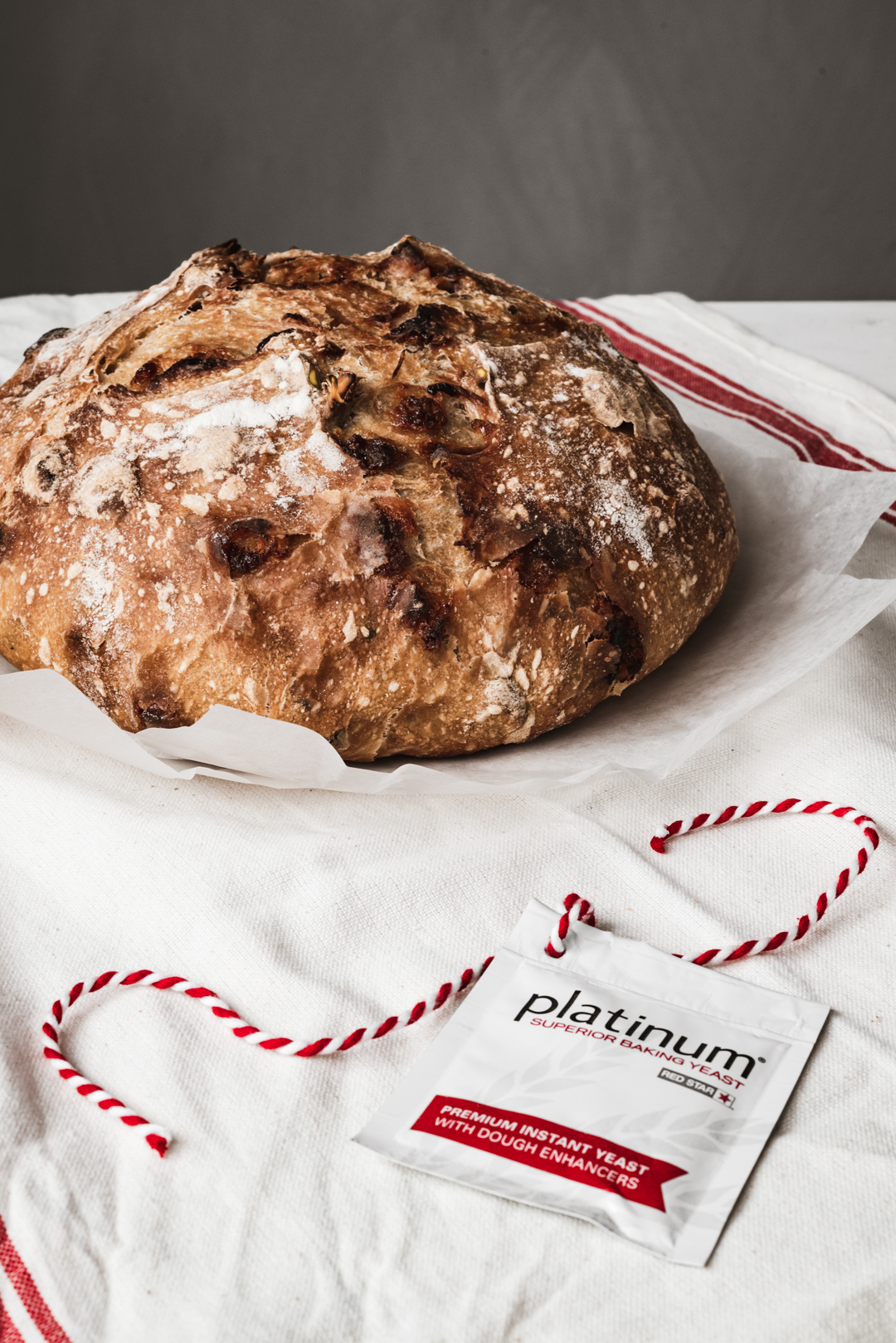 Print
CRANBERRY PISTACHIO WHITE CHOCOLATE BREAD
---
Author:

Total Time:

3 hours 5 minutes

Yield:

1

boule

1

x
FOR THE POOLISH:
½ cup

(120 grams) lukewarm water (80°F/27°C)

1

(0.25-ounce) package Red Star Platinum Yeast

½ cup

(64 grams) bread flour

½ cup

(63 grams) whole wheat flour
FOR THE DOUGH:
1 cup

(240 grams) lukewarm water (80°F/27°C)

2¾ cups

(349 grams) bread flour

½ cup

(63 grams) whole wheat flour

3½ teaspoons

(10.5 grams) kosher salt

1 teaspoon

(3 grams) tightly packed orange zest

¾ cup

(75 grams) pistachios

¾ cup

(96 grams) dried cranberries

3/4 cup

(125g) white chocolate chips
---
Instructions
FOR THE POOLISH:
In a large bowl, whisk together ½ cup (120 grams) lukewarm water and a pinch of yeast. Add flours, and stir thoroughly until smooth and no dry bits of flour remain. Cover bowl loosely, and let stand at room temperature overnight. Reserve remaining yeast in an airtight container, and refrigerate until ready to use.
FOR THE DOUGH:
In the bowl of a stand mixer fitted with the dough hook attachment, whisk together 1 cup (240 grams) lukewarm water and remaining yeast; add poolish. Add flours, salt, and orange zest, and beat at low speed for 4 minutes. (Dough will come together; it will not be smooth but should not tear when pulled gently.)

Lightly spray a large bowl with cooking spray. Place dough in bowl. Cover and let rise in a warm, draft-free place (75°F/24°C) for 30 minutes. 

Using wet hands, fold dough in bowl by grabbing underside of dough, stretch it up, and fold it to center of dough. Do this 4 times around bowl. Add nuts and dried fruit to dough; using wet hands, squeeze nuts and fruit into dough until evenly distributed. Cover and let rise in a warm, draft-free place (75°F/24°C) for 30 minutes, repeating folding dough in bowl. Cover and let rise until smooth, soft, and doubled in size, about 30 minutes more. 

Line a proofing basket or a medium bowl with a linen dusted with flour. 

Turn out dough onto a lightly floured surface. Using your fingertips, gently press dough into a disk (about 1 inch thick). Grab bottom edge, and gently stretch and fold bottom third over center third. Stretch right side out, and fold right third over center; repeat with left side. Finish by folding top third over previous folds. Roll loaf away from you to seam side down, and using both hands, cup dough, and pull it toward you to seal. Rotate dough 90 degrees, and pull until a tight smooth boule forms. Make sure to remove any white chocolate, cranberries or pistachios that have poked through to the outside of the boule. Place boule in prepared basket or bowl. Cover and let rise in a warm, draft-free place (75°F/24°C) until dough is puffed and jiggles when basket or bowl is gently shaken, 45 minutes to 1 hour.

When dough has about 20 minutes left to rise, preheat oven to 450°F (230°C). Place a Dutch oven in oven to preheat.

Turn out boule onto a piece of parchment paper lightly dusted with flour. Using a lame or razor blade, score top of loaf. Carefully remove Dutch oven, and using parchment to help, place boule with parchment into hot Dutch oven. Cover with lid, and place in oven. 

Immediately reduce oven temperature to 400°F (204°C). Bake for 40 minutes. Remove lid, and bake until bread is golden and an instant-read thermometer inserted in center registers 205°F (96°C) to 210°F (99°C), 5-7 minutes more. Immediately remove from Dutch oven, and let cool completely on a wire rack.
Prep Time:

20 minutes

Proofing Time:

2 hours

Cook Time:

45 minutes