My love affair with all things cranberry continues. With two big jars of soft candied cranberries in syrup standing by in our refrigerator, I am constantly thinking of ways to use them. While most of my ideas are for some type of festive holiday dessert, I can't help but think of how perfect these candied cranberries & their syrup are for Shirley Temples.
CRANBERRY SHIRLEY TEMPLE INSPIRATION
It is said that in the late 1930s, a bartender at Chasen's in Beverly Hills invented this sweet concoction. The bartender created the drink for the young actress Shirley Temple during the height of her fame. The alcohol-free cocktail was named after the young actress and became a beloved treat enjoyed by kids and adults alike.
My dad ordered me my first Shirley Temple drink when I was around 5 years old. I adored everything about the drink. It's vibrant pink color, its sweet & tart flavor, and of course, the cherries on top. A classic Shirley Temple features lemon-lime soda and/or ginger ale and a splash of grenadine syrup. For my grown-up take on this drink, I swap the lemon-lime soda for lime sparkling water to dial back the sweetness. Instead of grenadine, I use my homemade cranberry syrup, which is the by-product from making soft candied cranberries. And finally, a garnish of soft candied cranberries take the place of maraschino cherries.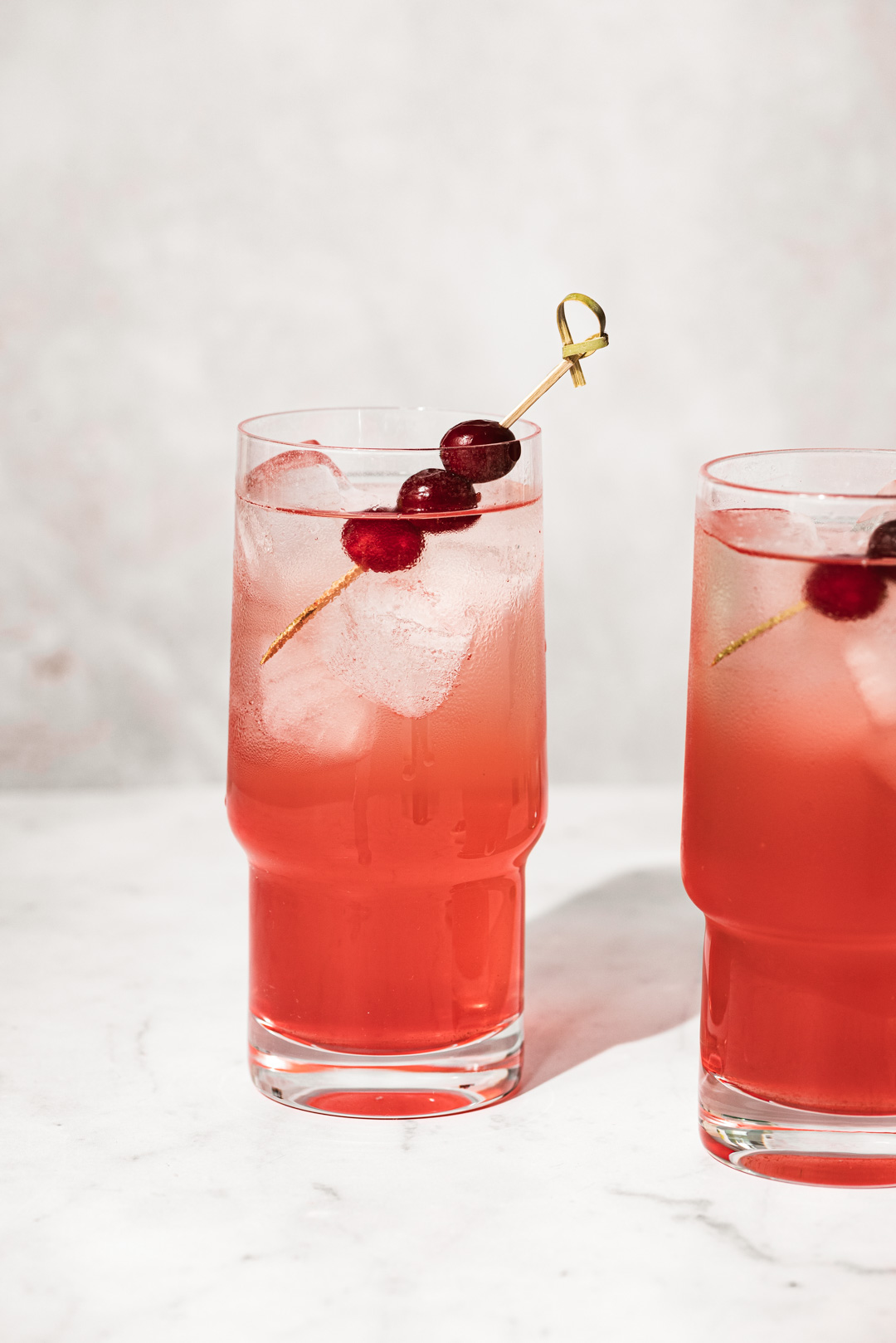 These candied cranberry Shirley Temples taste just sweet enough thanks to the tartness of cranberry. For an even more adult version, you can simply add a shot of vodka in your glass. Either way you choose to serve these candied cranberry Shirley Temples, they make for a delicious, festive fizzy treat for your holiday celebrations.
Print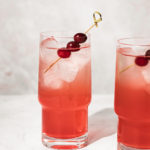 CANDIED CRANBERRY SHIRLEY TEMPLES
---
Author:

Total Time:

3 minutes

Yield:

(2) 8 oz drinks
---
Instructions
Fill two tall highball or collins glasses with ice. Pour 6oz. lime flavored club soda or sparkling water in each glass. Add 1 1/2 oz of cranberry syrup to each glass. Skewer three candied cranberries onto a cocktail toothpick and garnish each glass accordingly. Serve with a straw & enjoy.