In my opinion, this is the perfect bundt cake! Perfectly tender & moist and just sweet enough to be enjoyed with or without the glaze. Sarah Copeland, author of the celebrated cookbook 'Everyday is Saturday' graciously allowed me to share the recipe for this Almost-Famous Cranberry Bundt Cake from her cookbook with all of you!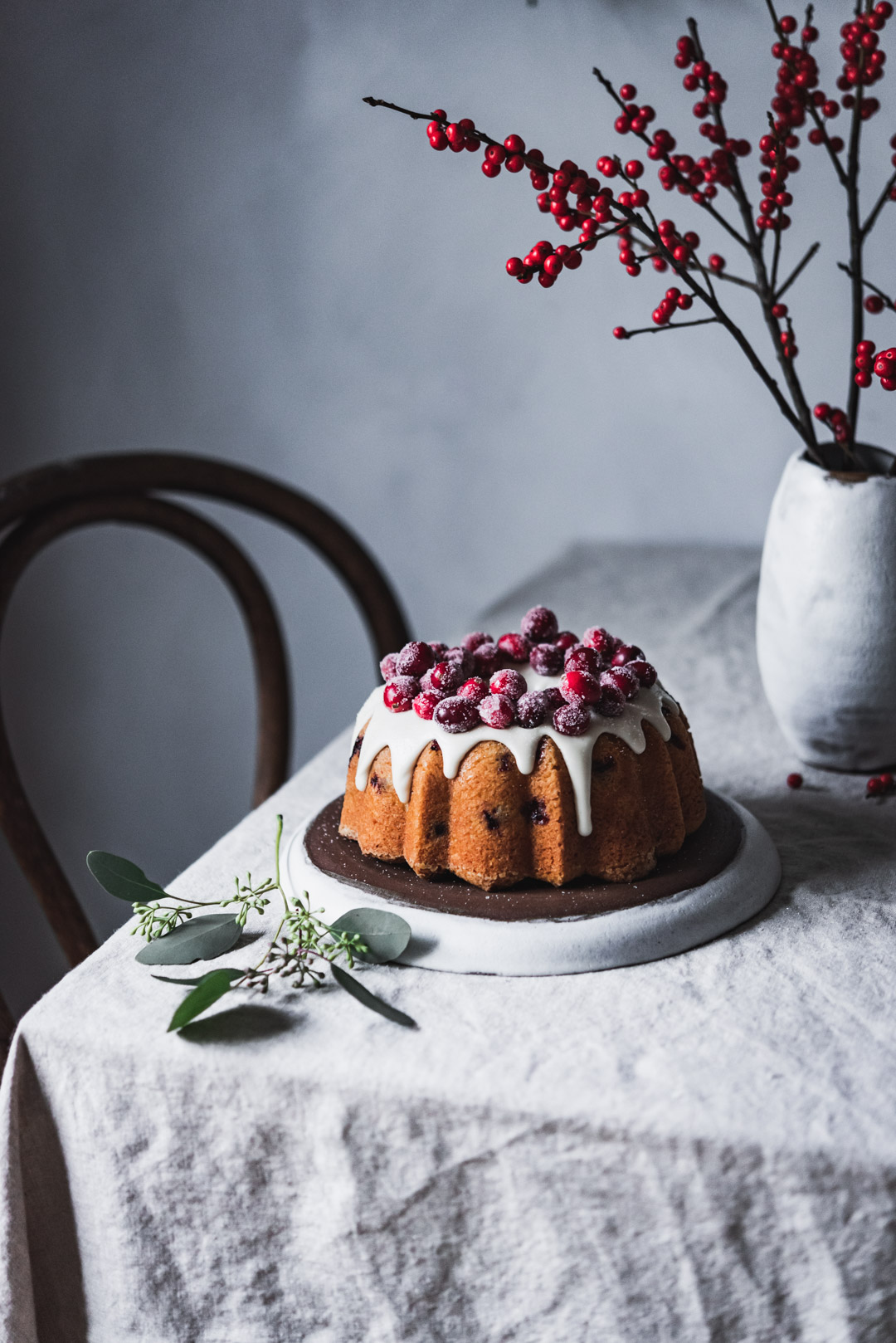 New Year Birthdays
The first days of a new year can always bring on mixed feelings. Any feelings of hope & resolution can often get intermingled with feelings of disappointment following the holiday season. Personally, the first days of the new year have always been awkward because my birthday is on January 4th. Typically forgotten and overlooked, my birthday was far from an exciting time for me as a child. The typical birthday celebrations that my friends and siblings had were epic in comparison to my own, which led me to feel pretty depressed when my birthday rolled around.
As a young adult, I was able to put any birthday expectations behind me and focus on what the day meant to me personally. Being married to a very thoughtful guy also meant that my birthday slowly morphed from a celebratory day into a week and now, 15 years later, an entire birthday month! Knowing that my January 4th birthday was always pretty gloomy, my hubby now declares every January as my birthday month. This means that pretty much anything that we do, simple or special, is because it is my birthday month (lol)! It is extremely sweet and always makes me smile, which I think is exactly what my hubby hopes to accomplish with his silly annual birthday month declaration.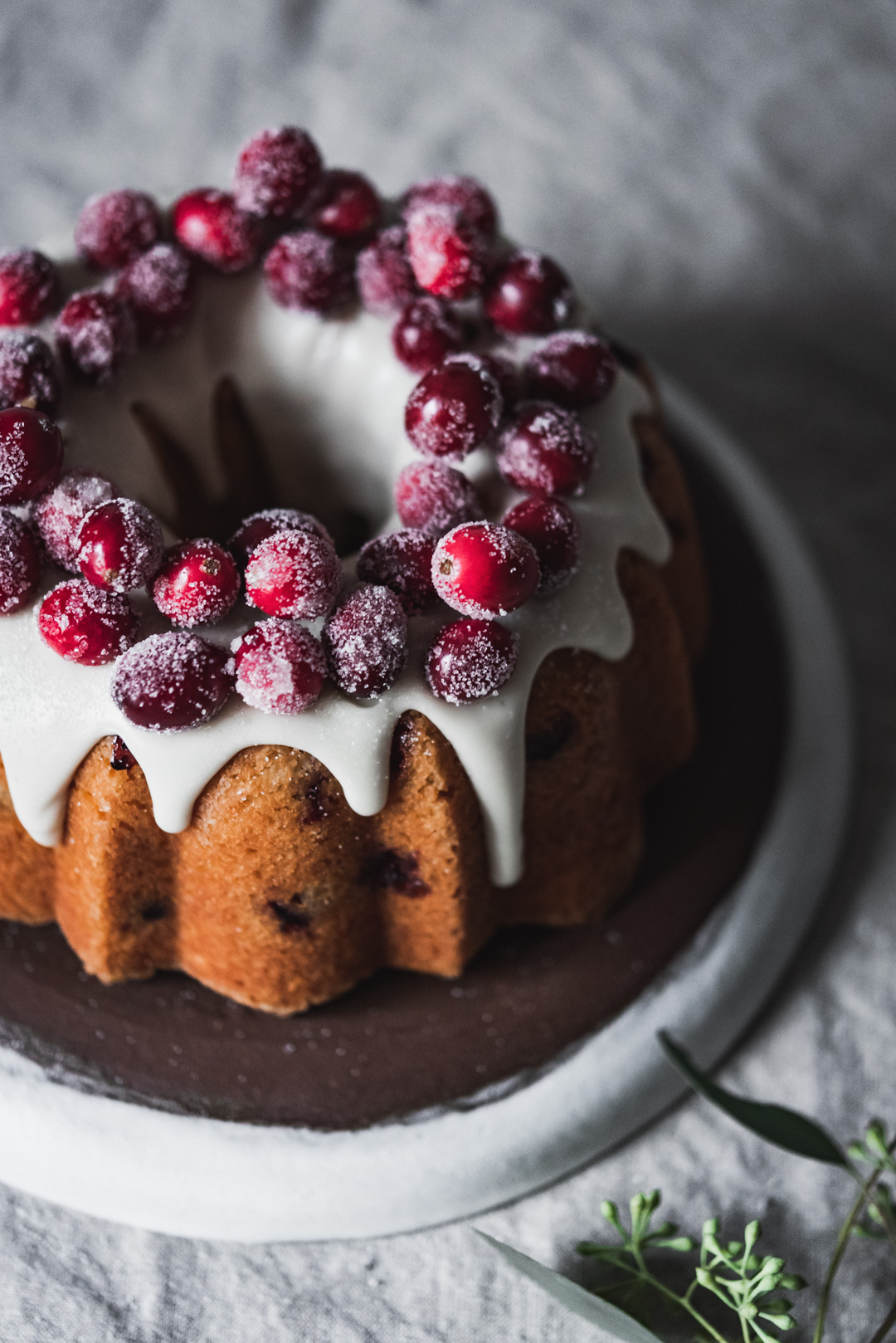 Having your cake
Now it should be clear why I am sharing this Almost-Famous Cranberry Bundt Cake with you during a time when most people are focused on new year's resolutions and clean eating. I always feel a tinge of awkwardness sharing a sweet recipe here on the blog during this specific time of year, but I quickly realize that my hubby and I are not the only ones with something to celebrate. We should all be able to enjoy this most delicious cranberry bundt cake for reasons greater than any resolutions. Because, after all, cranberries are on grocery store shelves for just a little while longer and because life is unpredictable, to say the least. None of us can possibly know how many days or years we have left before us, but to be able to live each today without regrets is truly living our life to the fullest. So if that means baking a cake, have your cake and enjoy every bite!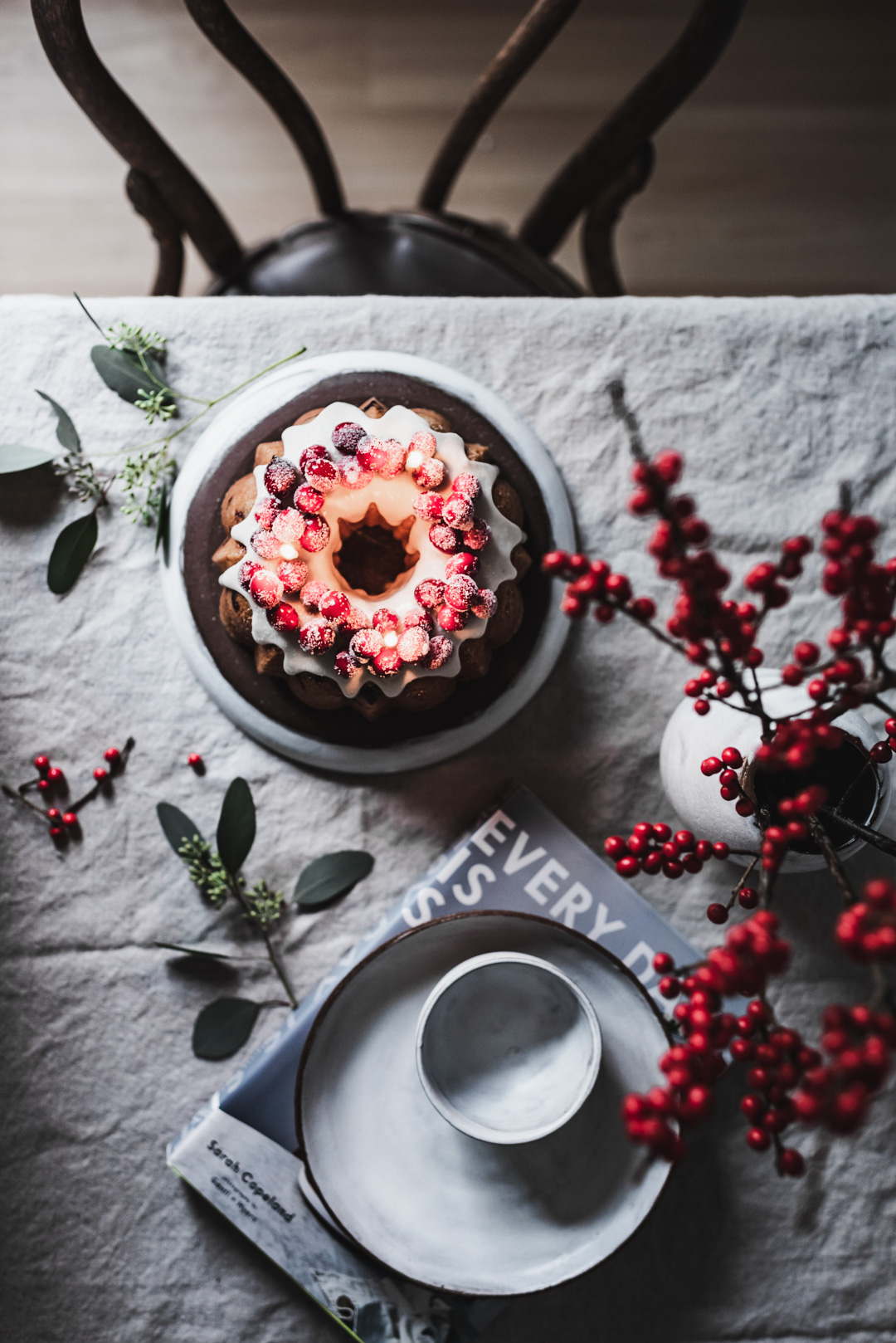 The perfect bundt cake
Sarah's cranberry bundt was dubbed 'almost-famous' because she ended up making it a half a dozen times in a month at the behest of her family and neighbors! This cake has the perfect moist and tender interior crumb with a golden and slightly crisp exterior. The sweetness level is just right, whether you glaze the cake or not. And this recipe is a super adaptable foundation for flavor adaptations. If cranberries aren't in season, try swapping in blueberries and lemon zest! And for the record, everyone we know who has tried this almost-famous cranberry bundt cake has nothing but praise for how perfect it is!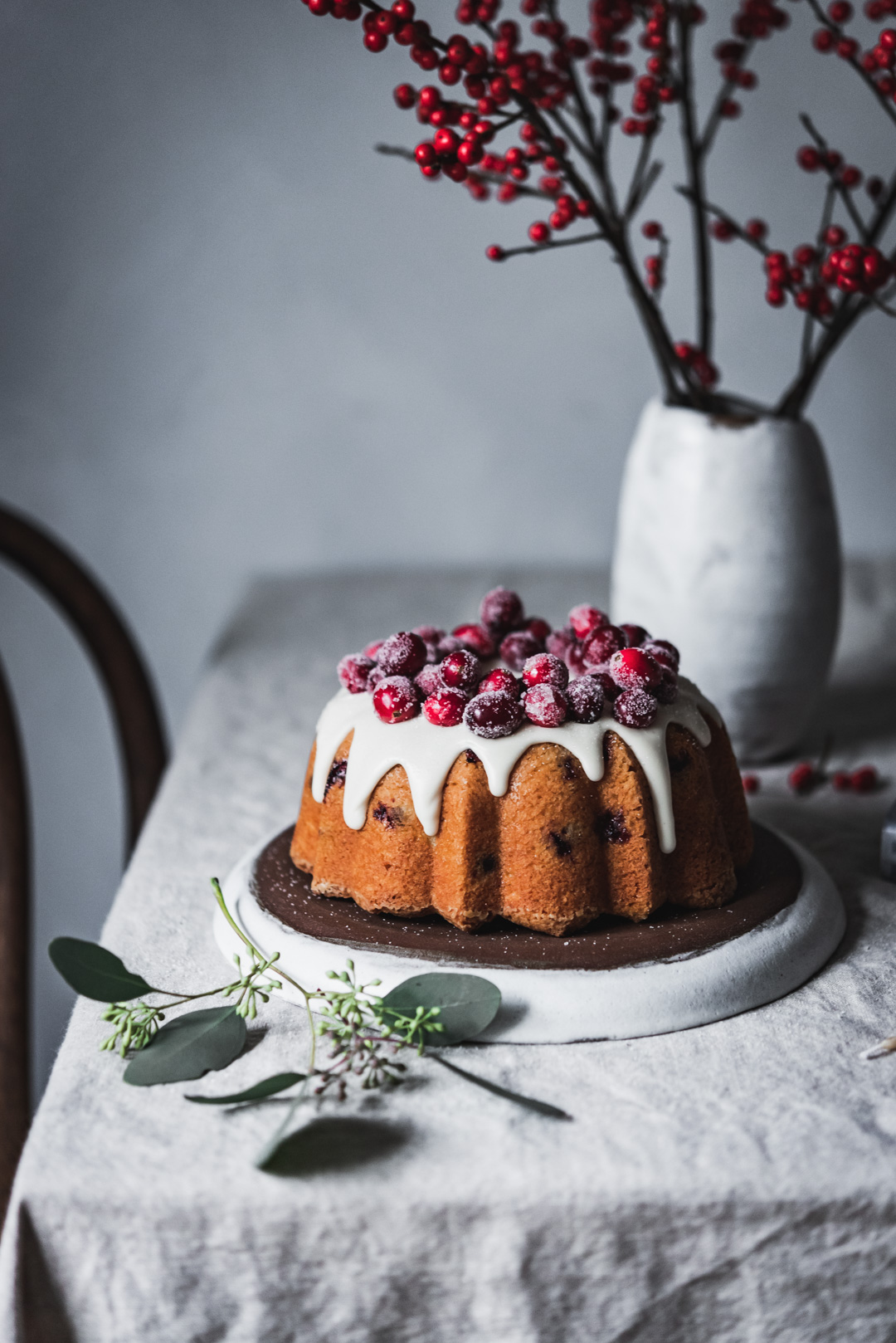 some quick tips & resources:
TWO FOR ONE: I decided to make two smaller Bundts rather than one large one! Simply adjust the baking time to about 45 minutes per 6-cup Bundt cake. Here is a link to the smaller bundt pans that I used!
GET AHEAD: This Bundt can be made ahead in two stages. Make the batter, then store in an airtight container in the refrigerator for up to 2 days. Or bake the cake and let cool completely on a metal rack, then freeze well wrapped, for up to two weeks, adding the glaze after thawing it.
GOOD TO KNOW: Be sure to butter and flour your Bundt pan really well – those cranberries burst and want to stick if they hit the pan. Use an angel food cake pan for a cleaner, modern look. And get all Jackson Pollack if you want – this cake is awesome with raspberries, blueberries or a mix of berries, splattered and streaked ever so slightly.
BITTERS: As the name suggests, bitters are a blend of herbs, barks, roots, and fruits (like orange peel) that lends a pleasantly bitter depth to cocktails and, as in this case, baked goods. If you don't have bitters at home, make your tablespoon of orange zest a heaping one.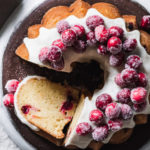 ALMOST-FAMOUS CRANBERRY BUNDT CAKE
---
Total Time:

1 hour 50 minutes

Yield:

12

people

1

x
FOR THE CAKE:
1 1/2

cups

(3 sticks/336 g) unsalted butter, at room temperature, plus more for the pan

2

cups

(400 g) granulated sugar

1 tbsp

grated orange zest

5

large eggs, at room temperature

2 tsp

pure vanilla extract

1

hearty dash bitters (or omit and add another

1/2 tbsp

orange zest)

2

cups

(280 g) all-purpose flour or (310 g) gluten-free flour, plus more for the pan

1

cup

(120 g) almond flour

1/4 tsp

baking soda

3/4 tsp

fine sea salt

1/4

cup

(60 ml) fresh squeezed orange juice

1 tbsp

fresh lemon juice

1/4

cup

(60 ml) half-and-half

2

heaping

cups

(200 g) cranberries or (280 g) wild blueberries, fresh or frozen
FOR THE GLAZE (optional)
1 1/2

cups

(180 g) confectioner's sugar

2

–

4

tbsp half-and-half
seeds of

1

vanilla bean, scraped, or

1/4 tsp

vanilla bean paste
pinch of fine sea salt
FOR THE SUGARED CRANBERRIES (optional)
1

cup

(100g) fresh cranberries

2

cups

sugar, divided

1/2

cup

water
---
Instructions
TO MAKE THE CAKE:
Pre-heat the oven to 350°F (180°C). Position a rack in the lower middle. Butter and flour a 10- inch, 12 cup (25cm, 2.9L) nonstick Bundt pan (I split the recipe into two 6-cup Bundt pans)
Beat together the butter, granulated sugar, and zest in a large bowl with an electric mixer on medium-high speed until light and fluffy, about 2 minutes. Add the eggs one at aa time, beating after each until uniform. Scrape down the bottom and sides of the bowl, add the vanilla and bitters (if using), and stir to combine.
Ina a separate bowl, stir together the flours, baking soda and salt. Add to the butter mixture in thirds, alternating with the juices and half-and-half, and beat on low to combine, scraping the bowl after each addition. Stir in the cranberries.
Pour the batter into the prepared pan (it will come to the top of the Bundt pan) and bake on a baking sheet until a wooden skewer inserted into the center comes out with a tiny crumb, 1 hour to 1 hour 10 minutes. Transfer to a wire rack to cool for 20 minutes (bake for 45 minutes if you split the recipe into two smaller Bundt pans). Remove from the pan, and let cook completely on a rack.
TO MAKE THE GLAZE:
Whisk together the confectioners sugar, half-and-half, vanilla seeds, and salt to make a slightly runny glaze. (I only used about 2 tbsp to create the thick glaze that you see pictured). Set the cake on a wire rack on parchment paper and drizzle the glaze over. If you are garnishing with sugared cranberries, you will add them at this stage (*see below). Otherwise, let the glaze set slightly before slicing and serving.
TO MAKE THE SUGARED CRANBERRIES:
While the cake bakes, combine 1/2 cup sugar and 1/2 cup water in a medium saucepan over medium heat, stirring, until sugar is dissolved. Do not allow the mixture to boil.
Add the cranberries to the saucepan and stir to coat all of the cranberries. Use a slotted spoon and transfer the cranberries to a wire rack (set it on top of a lined baking sheet for easy clean up). *Reserve the leftover syrup, it is great added to cocktails.
Let the cranberries dry for 1 hour. After one hour, roll the cranberries in the remaining sugar until nicely coated. Garnish the freshly glazed cake with sugared cranberries. Allow the glaze to set slightly before slicing and serving. Any leftover sugared cranberries will keep in an airtight container in the fridge for 2-3 days.
Prep Time:

25 minutes

Cook Time:

1 hour 25 minutes

Category:

Cake

Cuisine:

American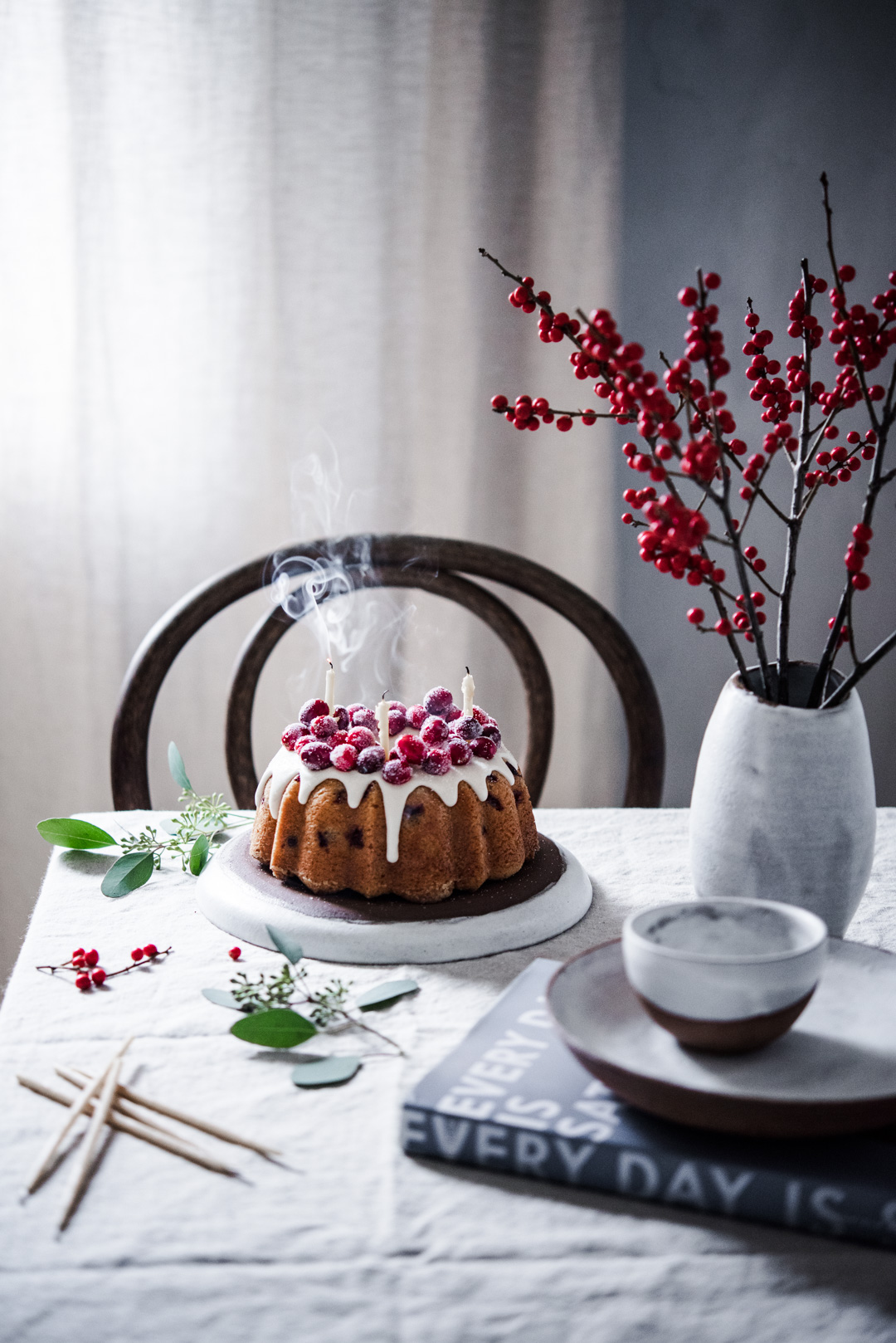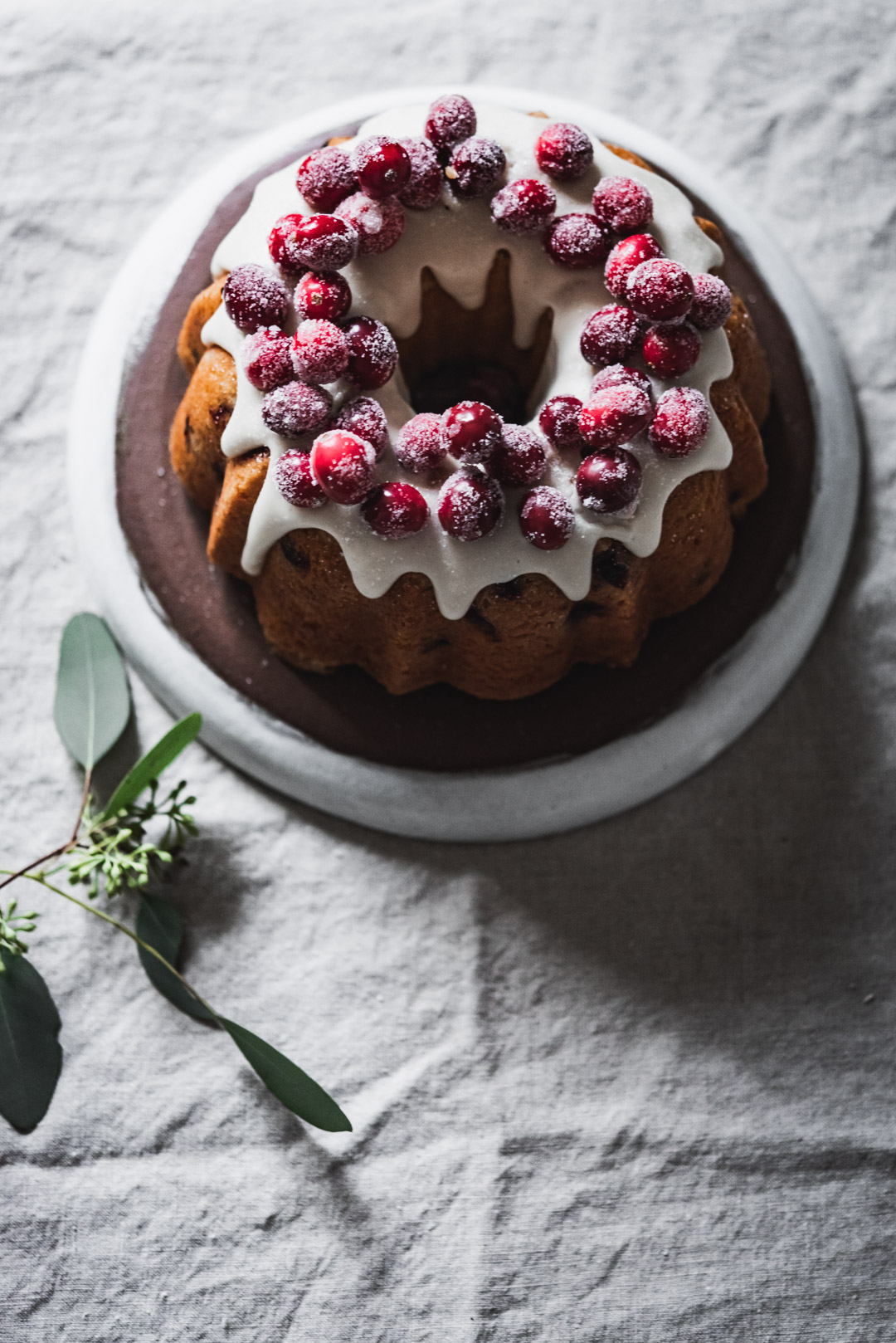 more cake inspiration: