Gingerbread has a very long history, evolving over time from its first known origins in ancient Greece. Over thousands of years gingerbread has transformed from preserved ginger to sweet cakes and cookies. With a massive amount of recipes for gingerbread cake already in existence, why add another one? For the same reason that ancient preserved ginger evolved into the sweet gingerbread that we know today – innovation.
My hubby and I are not a big fans of gingerbread cookies. But we love the flavor of gingerbread and we are both fans of cake. Especially my hubby – he loves cake. But not just any cake. Hubby's perfect cake has several requirements. Firstly, it must be moist and stay moist. Secondly, it must be just sweet enough on its own to be enjoyed without frosting. And thirdly, it should hold up to refrigeration well so it can be enjoyed nice and cold if desired. All of these preferences factored into the development of what we believe is the perfect sticky gingerbread spice cake.
WHAT MAKES THIS GINGERBREAD CAKE DIFFERENT:
OIL INSTEAD OF BUTTER: most traditional and modern gingerbread cake recipes call for butter. And while gingerbread made with butter is good, gingerbread cake made with oil is SO much better. While butter does add flavor, in a richly spiced cake like gingerbread you don't miss it when you switch to oil. Not to mention, cakes made with oil stay moister longer & their texture remains soft & light even when refrigerated.
NO EGGS NECESSARY: eggs are used in baking for many reasons. Eggs provide structure, leavening, richness, color and flavor to baked goods. From my personal baking experience, simply adjusting the liquid, fat & leavening allows the omission of eggs without jeopardizing the quality of the cake's texture, structure or rise.
BRING BACK SOME HONEY: before the production of sugar, gingerbread was most commonly made with honey. Today most of us recognize gingerbread as a deep brown baked good thanks to molasses. Molasses is a by-product of sugar production and, to me, it is a vital ingredient in modern gingerbread baked goods. During recipe tests for this sticky gingerbread spice cake, we found that using honey in addition to molasses yields better flavor & improved texture.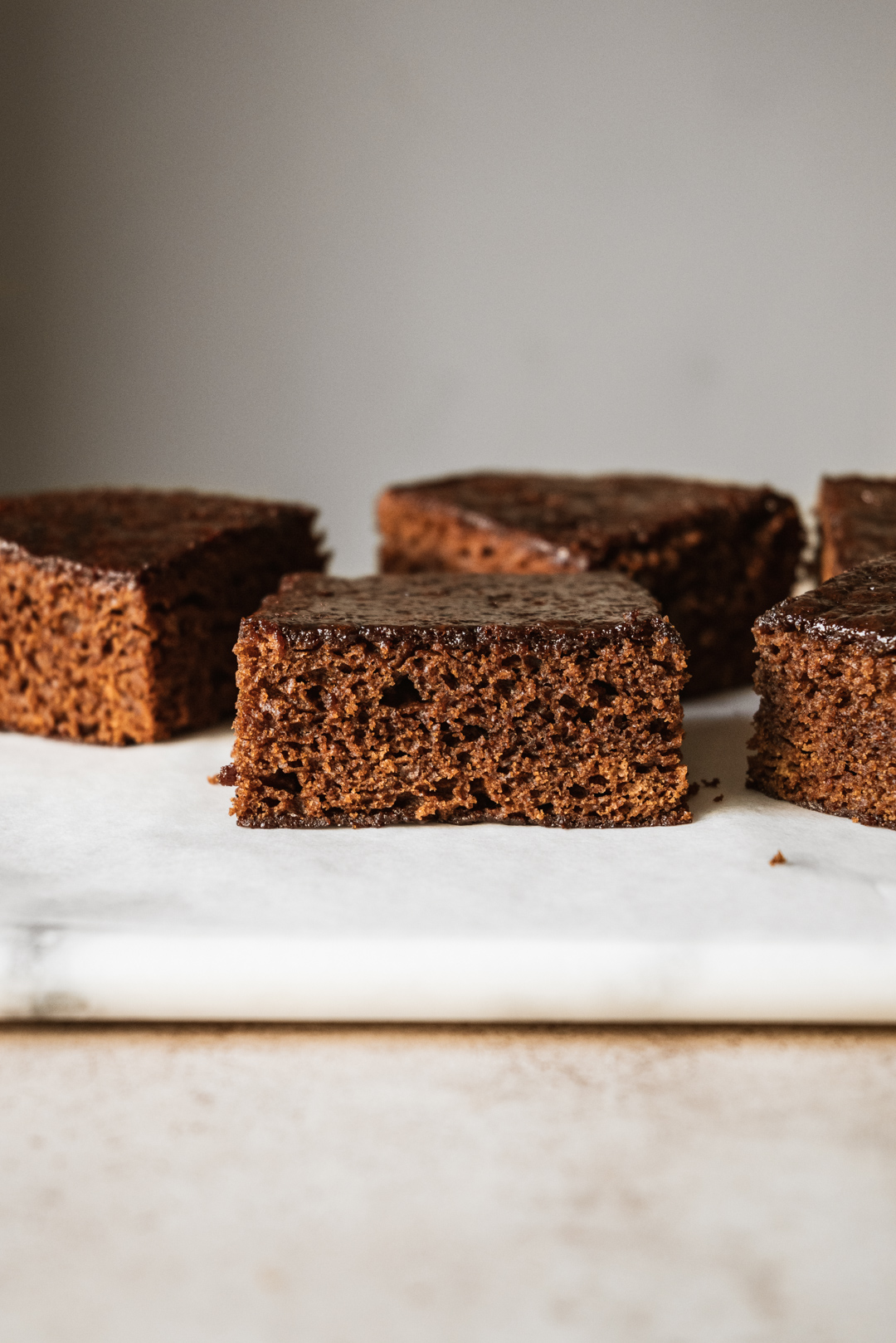 TIPS FOR MAKING STICKY GINGERBREAD SPICE CAKE:
USE MILD MOLASSES: There are a lot of variations of molasses and the type you choose greatly affects the flavor and texture of this cake. The best molasses for this recipe will be a light unsulphured molasses like Grandma's Original. If you can't get molasses where you live, black treacle is a good substitute.
ROOM TEMPERATURE INGREDIENTS bond together easier and quicker since they're warmer. The temperature of your ingredients is especially important in this cake because molasses and honey are thick and seize up when they get cold. If you are baking this recipe in the winter time, use a glass or ceramic mixing bowl and warm it slightly before getting started. This will keep the syrups nice and fluid while you work.
USE A SCALE FOR BEST RESULTS: you've most likely heard this before, but weighing ingredients guarantees a successful result. You don't need an expensive kitchen scale, a simple one (like this) will do the trick. Weighing also eliminates the sticky mess of measuring out ingredients like honey and molasses.
ACCEPTABLE SUBSTITUTIONS: because this gingerbread cake does not have eggs, it can easily be made vegan. For the buttermilk, simply stir 1/2 tbsp of lemon juice or apple cider vinegar into 1/2 cup of soymilk and leave to curdle. For the honey, a thick syrup like golden syrup or brown rice syrup are the best substitutes. And finally, for gluten-free or whole grain options: the flour can be swapped to an all-purpose gluten free blend or whole wheat pastry flour.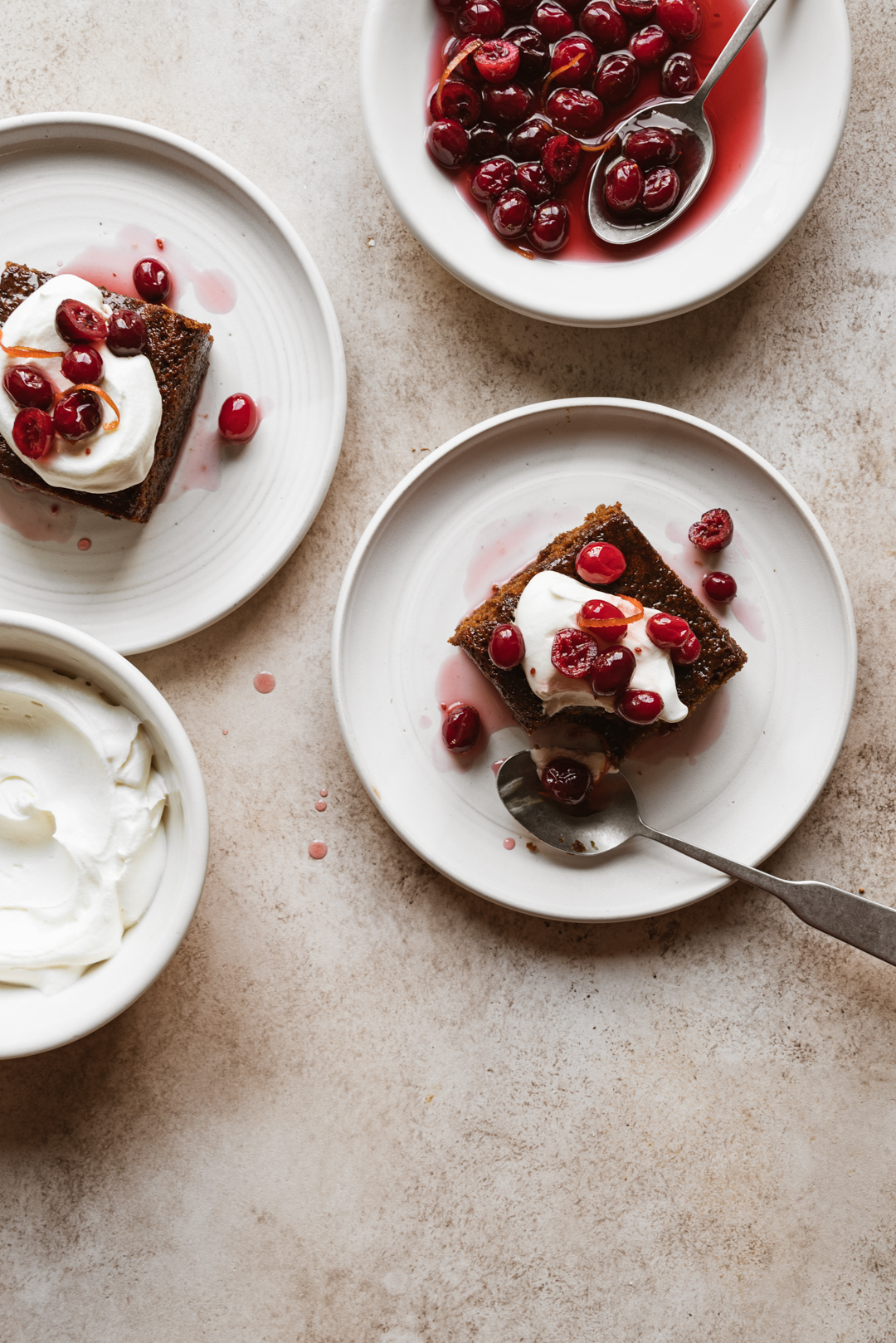 HOW TO STORE & SERVE STICKY GINGERBREAD CAKE:
The lovely sticky-ness of this cake develops as it rests. And while you can enjoy a slice once cool, I highly recommend you wait until the next day. Slice the cake as soon as it is cool and set the slices on parchment paper to prevent the bottom from sticking to your storage container. Store cake at room temperature for several days, refrigerate for up to a week, or freeze for up to three months. Finally, if you want to double the recipe, you can simply use a 9×13 cake tin for the perfect batter volume to tin ratio.
This sticky gingerbread cake is delicious served on its own, with a dusting of powdered sugar or a dollop of soft whipped cream. To balance the richness of the cake, try adding a bit of citrus marmalade along with the whipped cream. Or for an especially festive look, top with soft candied cranberries. And for a stunning holiday dessert, try using this cake in my gingerbread cranberry cheesecake trifle.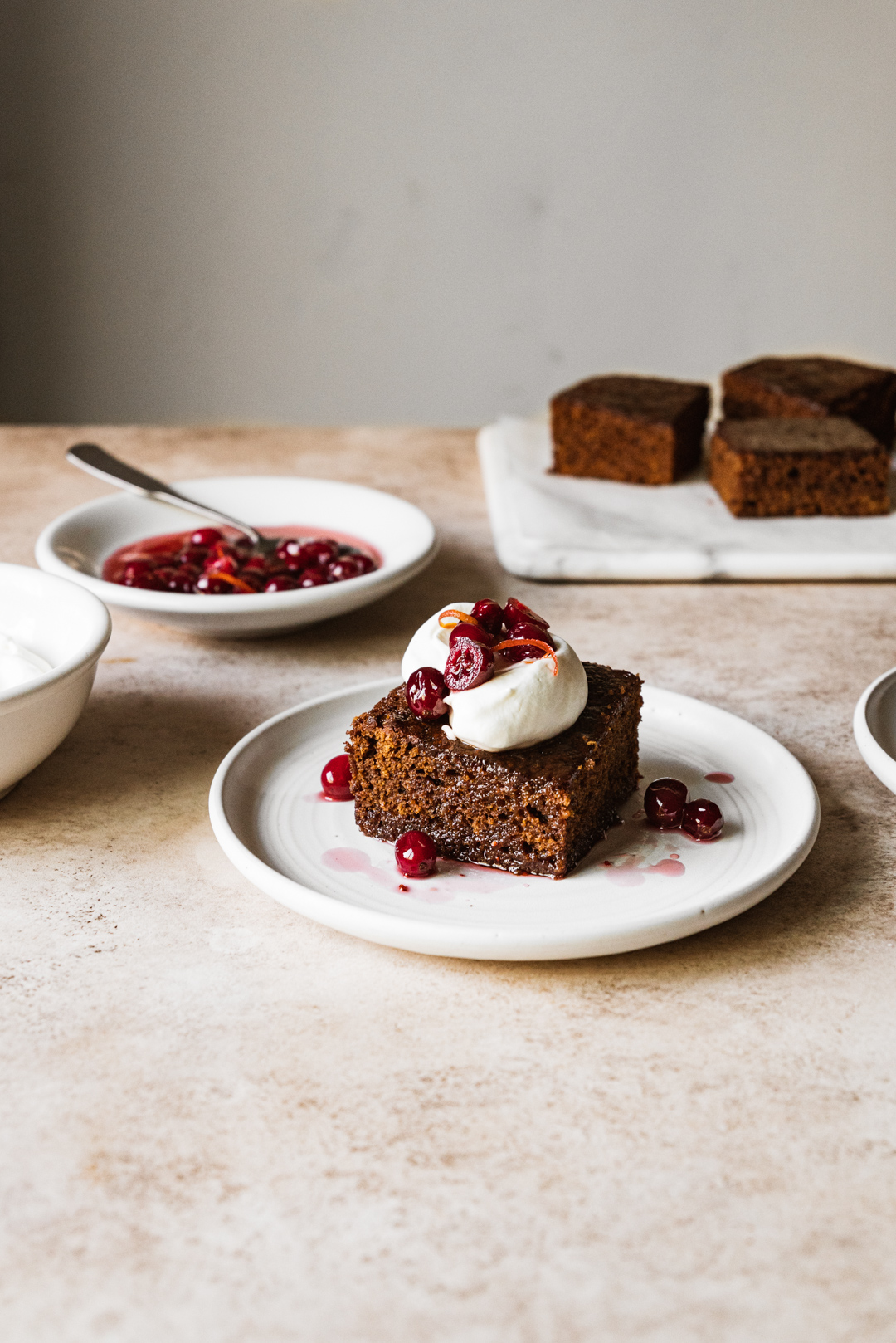 Print
STICKY GINGERBREAD SPICE CAKE
---
Description
This sticky gingerbread spice cake features warm flavors with a sticky exterior that yields to a soft & tender crumb
---
1 1/2

cups

(190g) unbleached all-purpose flour (whole wheat pastry flour or AP gluten-free flour work well)

2 tsp

. ground ginger

1 tsp

. ground cinnamon

1/4 tsp

ground allspice

1/4 tsp

ground nutmeg

1 tsp

baking powder

1/4 tsp

salt

1/3

cup

(70g) neutral cooking oil (avocado or sunflower oil work well)

1/2

cup

(100g) packed dark brown sugar (muscovado sugar works well)

1/2

cup

(140g) unsulphured mild molasses (black treacle works well)

1/4

cup

honey (85g) (or golden syrup)

1 tsp

baking soda, dissolved in 2 tbsp hot water

1/2

cup

(115g) buttermilk, at room temperature (*see note for dairy-free substitute)
---
Instructions
Preheat oven to 350°F/180°C. Grease and line an 8×8″ baking tin with parchment paper.
Sift dry ingredients into a medium sized bowl, whisk well to ensure all ingredients are well combined.
In a separate mixing bowl, add oil and brown sugar, whisking to combine until mixture is well combined. Add in molasses, honey & dissolved baking soda, whisk until mixture is homogenous. Whisk in room temperature buttermilk.
Add the flour into the liquid mixture and gently stir the flour into the liquid with the whisk until just combined. Pour the batter into the prepared baking dish and bake for 30-35 minutes. The top will be a deep brown and a toothpick inserted into the center will come out clean.
Allow cake to cool in baking tin on a cooling rack for at least 10 minutes before removing the cake to continue cooling outside of tin. Once cooled down to room temperature.
Slice the cake into 9 even squares, setting the cake slices on a parchment lined plate or storage container. Store covered at room temperature for at least one day to allow stickiness to develop.
Serve plain, dusted with powdered sugar, or with soft whipped cream & soft candied cranberries.
Notes
*FOR DAIRY-FREE BUTTERMILK: stir 1/2 tbsp lemon juice or apple cider vinegar into 1/2 cup room temperature soy milk. Leave to curdle for a few minutes before using in recipe.