This recipe is a tribute to a place with a food culture that deeply impacted me. Hawai'i is a sacred place that has a complex history of colonization & immigration. The intersecting trajectories of Hawai'i's history have contributed to the fusion of local culinary culture in Hawai'i (referred to as local Hawaiian food). My hope in sharing this recipe with you is to not only invite you to try this meal that I fell in love with during my time in Hawai'i but to invite you to learn about the real Hawai'i and the ever-present struggle for native Hawaiian cultural survival.
Like many of the local foods in Hawai'i that have become wildly popular, chili is a dish that was influenced by the islands' many immigrated cultures. From my first taste, local Hawaiian-style chili became my favorite chili and it is still my very favorite chili to make all these years later.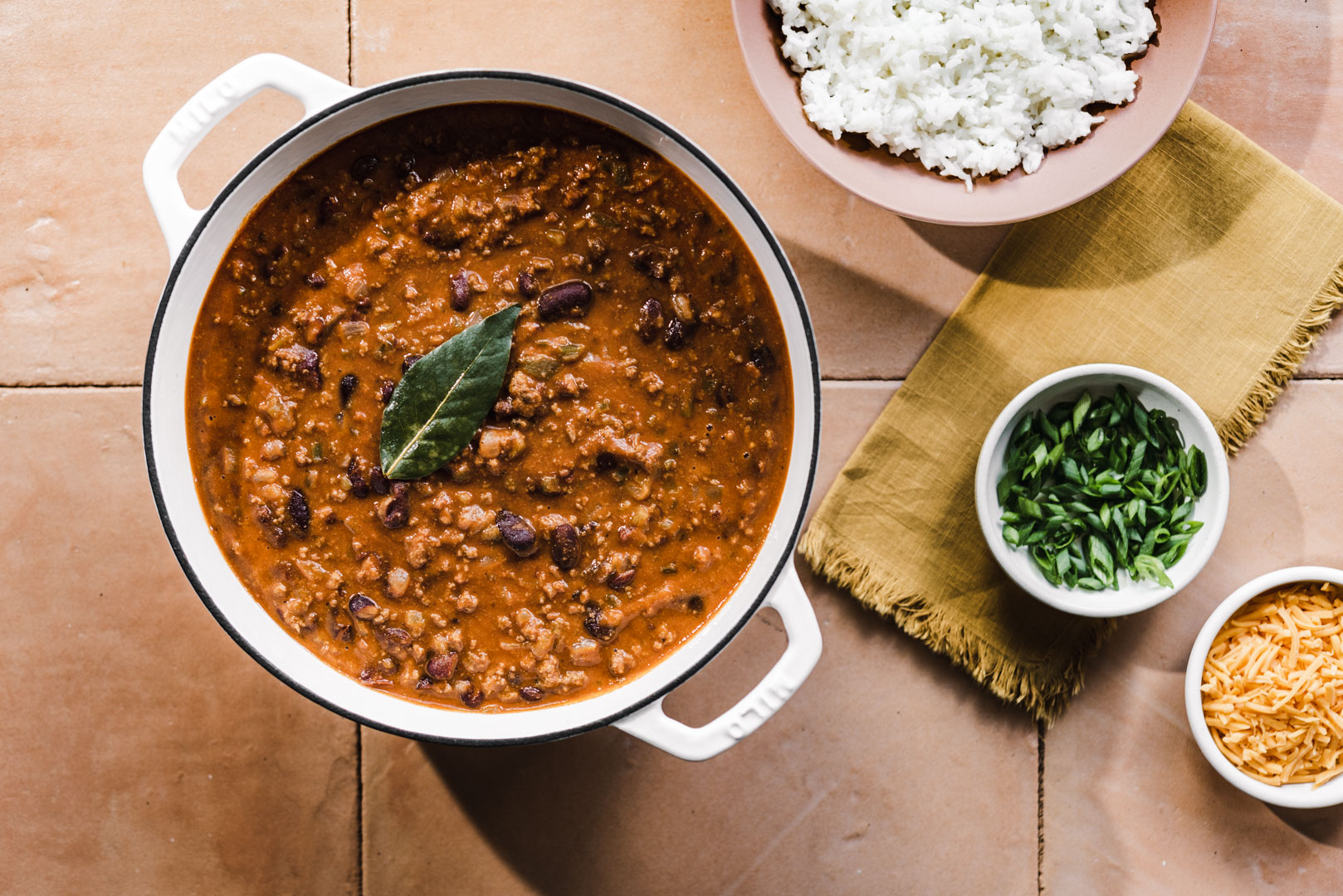 I first experienced local Hawaiian-style chili at the famous Hawaiian chain restaurant Zippy's. My local friends insisted that I order the chili (served with steamed rice & cheddar cheese) so I complied with their demands. It was love at first taste. This moment, along with my collective experiences of local Hawaiian food during my time in Hawai'i initiated a love affair with this unique and diverse food culture.
Over the years I longed to re-create the local Hawaiian foods that I fell in love with. I was able to adapt from recipes that I found online with success, but I did not really understand local Hawaiian food culture until my friend Alana Kysar wrote her cookbook ALOHA KITCHEN. In her beautiful cookbook, Alana provides an extensive history of the complex, intersecting trajectories of colonization, immigration, and culinary culture in Hawai'i. I cannot recommend her cookbook more highly if you are interested in understanding the rich history behind the delicious foods of Hawai'i.
WHAT MAKES LOCAL HAWAIIAN-STYLE CHILI SPECIAL: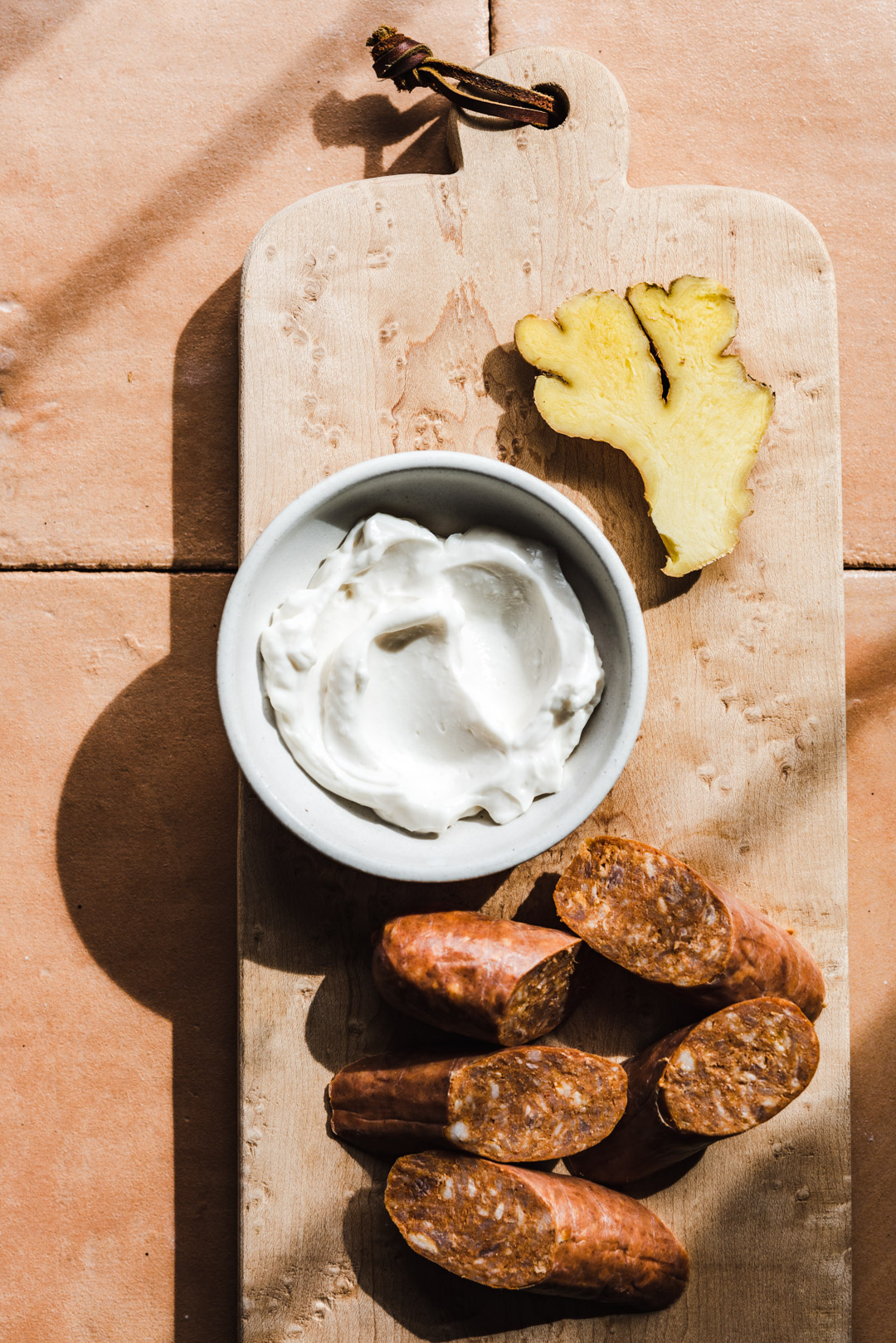 PORTUGUESE SAUSAGE: Commonly known as linguica, this sausage is a foundational flavor in local Hawaiian-style chili. Portuguese sausage is a smoke-cured pork sausage with predominant flavors of paprika and garlic. The influence that the immigrated Portuguese population had on the local Hawaiian food that you experience today can be seen in local Hawaiian favorites like this chili, malasadas & pão doce.
GINGER: While this recipe is intended to be a recreation of the popular Zippy's chili that I fell in love with, no one can know for sure exactly what is in Zippy's chili. (Unless of course you work at Zippy's and know the secret recipe ;). I have tried making this chili both with and without ginger. Based on what my palette could remember, ginger most definitely belongs in Hawaiian-style chili.
MAYONNAISE: I KNOW IT SOUNDS WEIRD, BUT YOU MUST TRUST! Sorry for the shouting, but please hear me out before you judge! Mayo is the final ingredient that gets added to local Hawaiian-style chili when it is all done cooking. Something incredible happens when you incorporate a few tablespoons of mayo into this pot of chili. The liquid of the chili becomes thick & luscious. The ever so slight flavor that the mayo adds to the pot works wonders. If you still feel weird about it, I challenge you to make this chili and taste it without mayo and then try some with a touch of mayo mixed in. You will be very surprised at the difference that the mayo makes.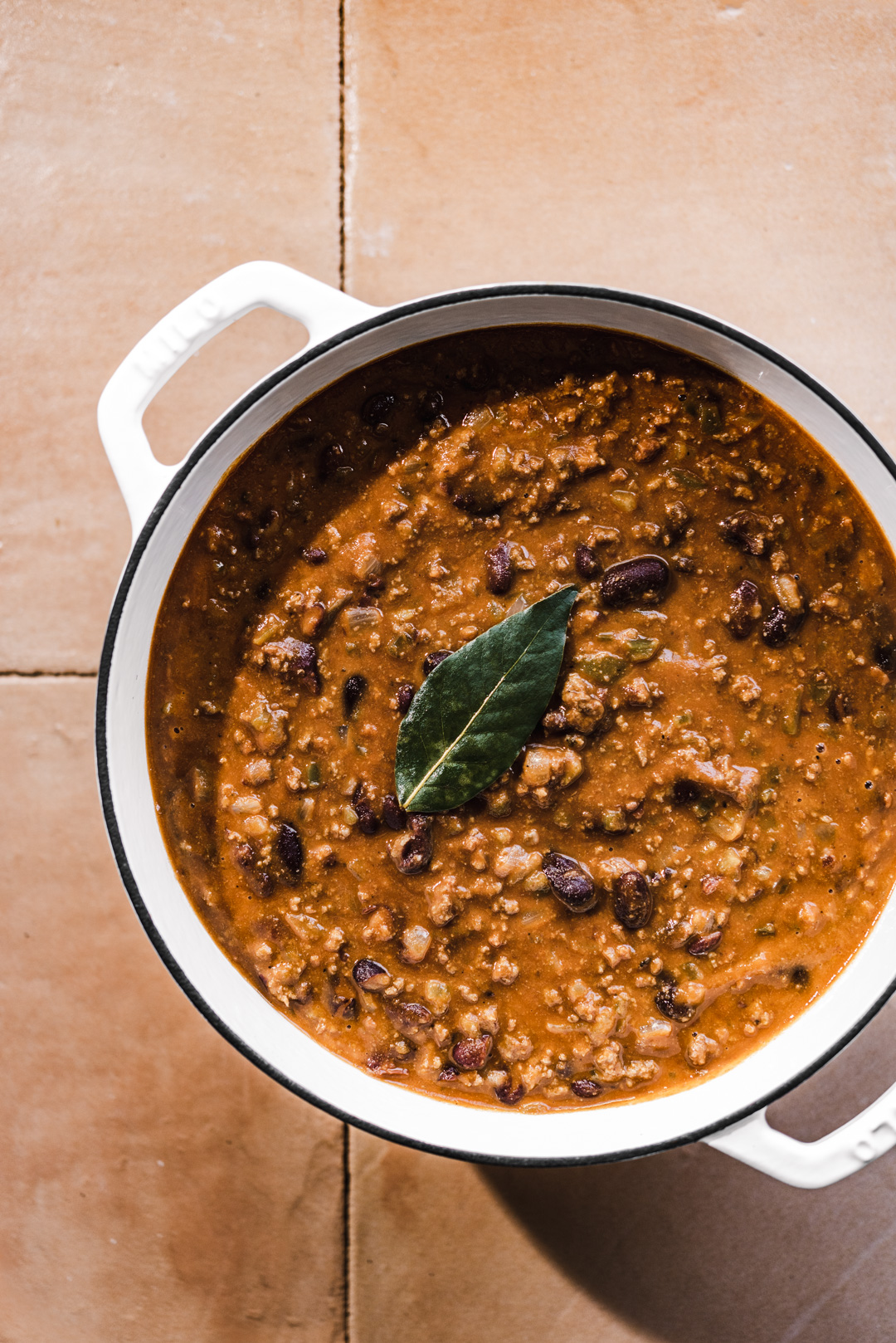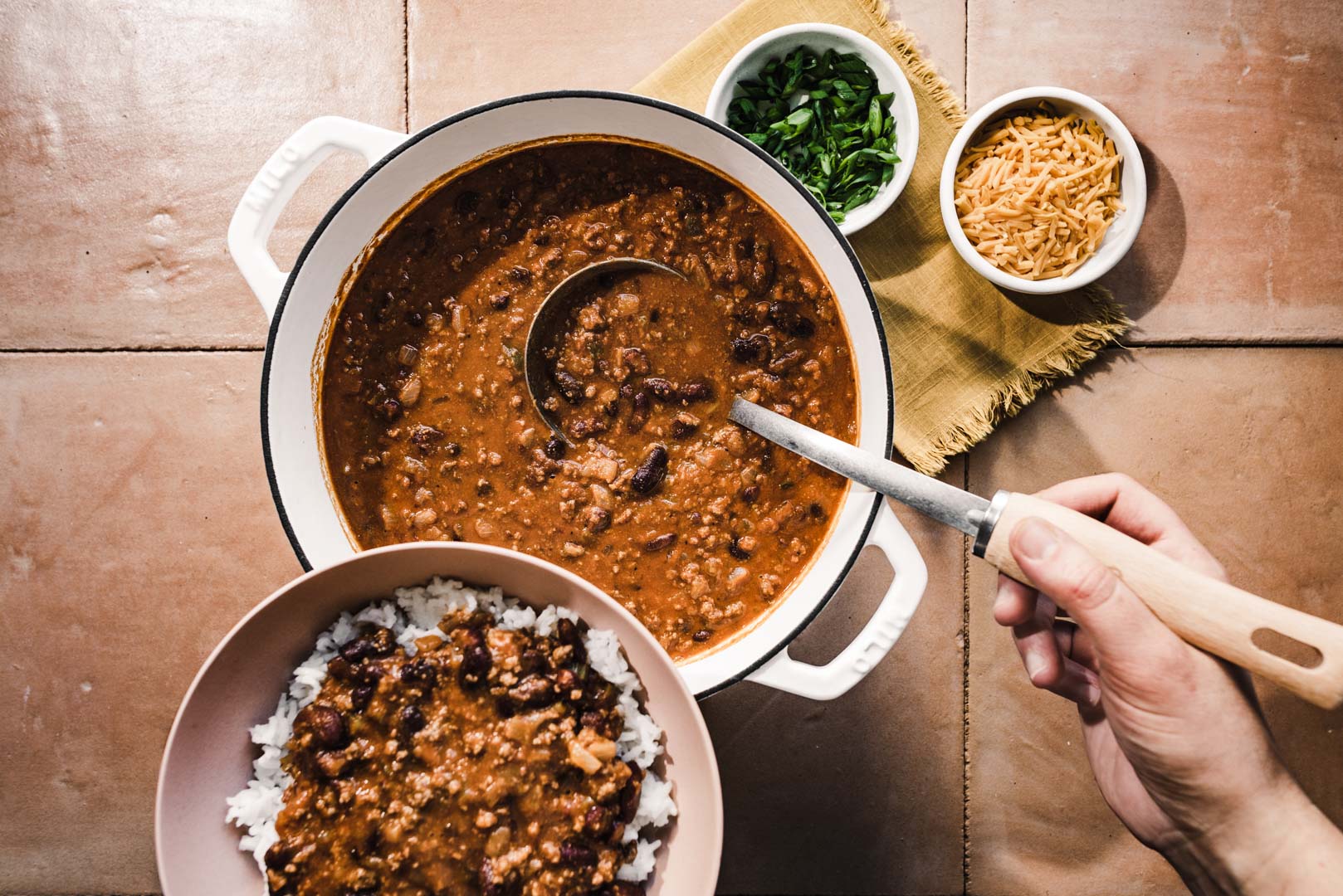 After spending the summer after I graduated high school living on the island of Oahu, I returned home a profoundly different person. It was the first time I lived away from my family and I grew so much as a young woman. After experiencing the melting pot of cultures contained within local Hawai'i food, I fell in love with food on a whole new level. I've written about my deep admiration for local Hawaiian cuisine here on the blog before (see: loco moco & malasadas).
However, the fact that I waited this long to share my take on local Hawaiian-style chili here actually shocks me! It was a staple meal for me while I resided in Hawai'i and has been a favorite meal of mine ever since. Specifically, eaten as chili rice. Which is simply chili served over steamed white rice. Cheddar cheese & onion are optional but highly recommended ;).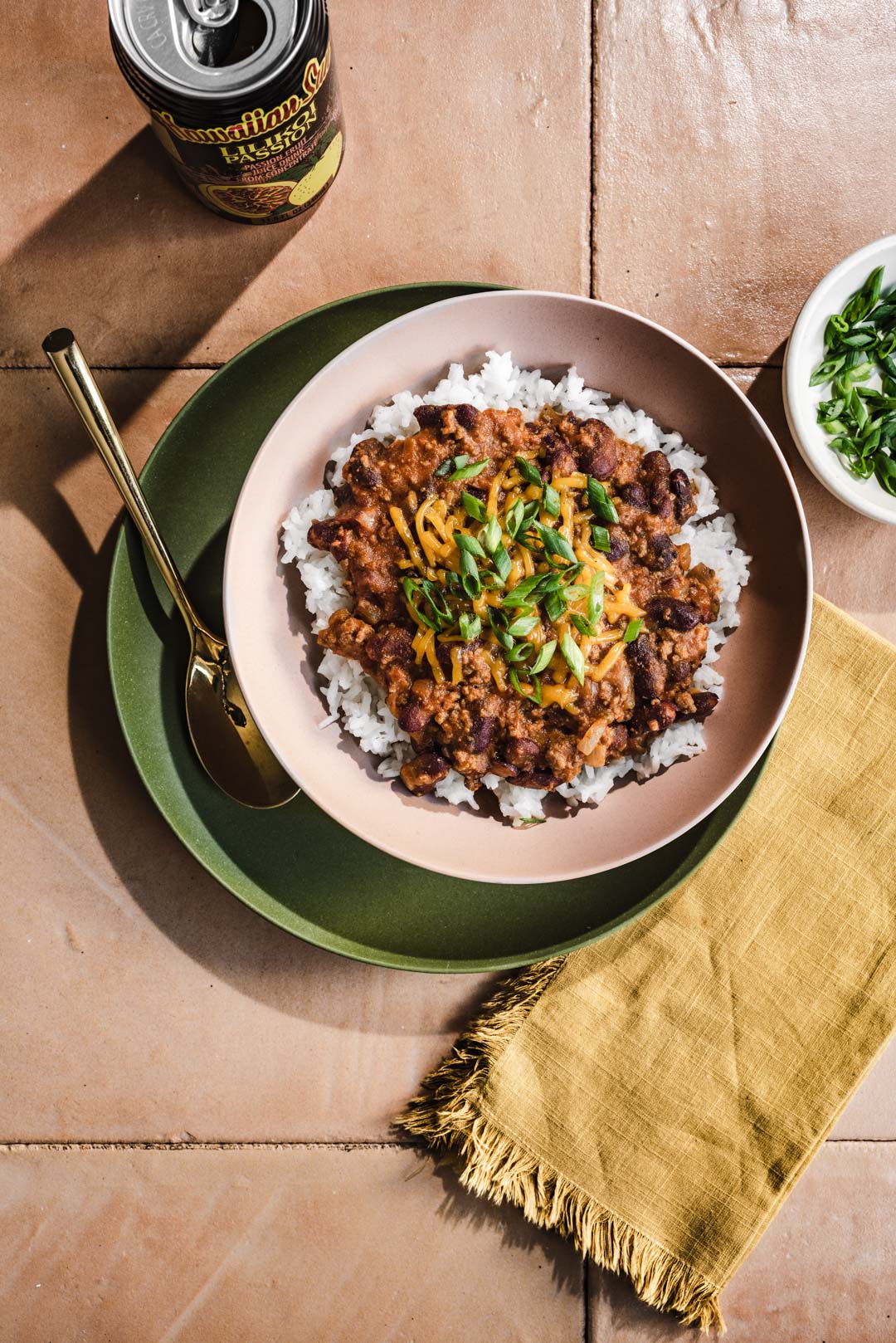 I genuinely hope that you give this local Hawaiian-style chili a try! And that in doing so, you will be inspired to discover more about the ethnically diverse portfolio of foods that exist within local Hawai'i food culture.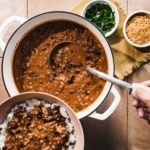 HAWAIIAN STYLE CHILI
---
Total Time:

1 hour

Yield:

8

servings

1

x
2

lbs. ground beef (85/15)
(1) 5oz. mild Portuguese sausage (linguica), finely chopped (I chop it in a food processor)

1

cup

celery, finely chopped (about 4 stalks)

1

large sweet onion, finely chopped

1

green bell pepper, finely chopped

1 tsp

grated fresh ginger

4

cloves grated fresh garlic

3 tbsp

chili powder

2 tsp

paprika

1 tsp

cumin

1 tsp

oregano
(4) 15.5oz. cans kidney beans, rinsed & drained
(2) 6oz. cans tomato paste

2 tsp

. chicken boullion

5

–

6

cups

water

2

bay leaves

2 tsp

. sugar, to taste

1

T. Worcestershire sauce

2 tsp

. red wine vinegar
salt and pepper to taste

1/4

cup

mayonnaise
FOR SERVING:
6

cups

steamed rice
shredded cheddar cheese & chopped green onion
---
Instructions
Heat a large pot or dutch oven over medium high heat, add the ground beef & season with salt & pepper. Stir often while also breaking up the meat into small pieces, until browned. Turn off the heat & remove the beef with a slotted spoon into a bowl. Drain all but 1/4 cup of fat from the pot (reserve the excess beef fat for another use).
Set the pot back over medium heat and add the finely chopped Portuguese sausage. Cook until browned, about 5 minutes. Add in the finely chopped onion, celery and green bell pepper. Cook, stirring often, until the vegetables are softened, about 5 minutes. Add in the spices along with the fresh grated garlic & ginger, cook for a few minutes, stirring often.
Add in the tomato paste, water, chicken bouillon, bay leaves, sugar, Worcestershire sauce, kidney beans, cooked ground beef & vinegar. Stir to combine and season with a bit of salt & pepper. Once the chili has come to a low boil, turn the heat to low and leave to simmer for 15 minutes. Taste at this point and adjust seasoning with salt as necessary. Cook for another 15 minutes to allow flavors to come together. When chili is done cooking, remove the pot fro the heat and mix in the mayonnaise. Serve chili over rice and top with cheddar cheese & green onion.
Prep Time:

30 minutes

Cook Time:

30 minutes

Category:

Dinner
MORE LOCAL HAWAIIAN RECIPE INSPIRATION: