The world of 'pita' in the Greek cooking culture is vast. Pita is most commonly known as "pita bread." Which is a flatbread used for things like gyros. Then there are the pitas that are essentially phyllo encased pies. Which are filled with savory or sweet fillings. There are so many variations of pita in Greek cuisine! One of the most popular pitas is filled with Greek cheese, which is called tirópita in Greek. The recipe I am sharing with you all is for the mini version – our easy Greek cheese triangles (known as tiropitákia).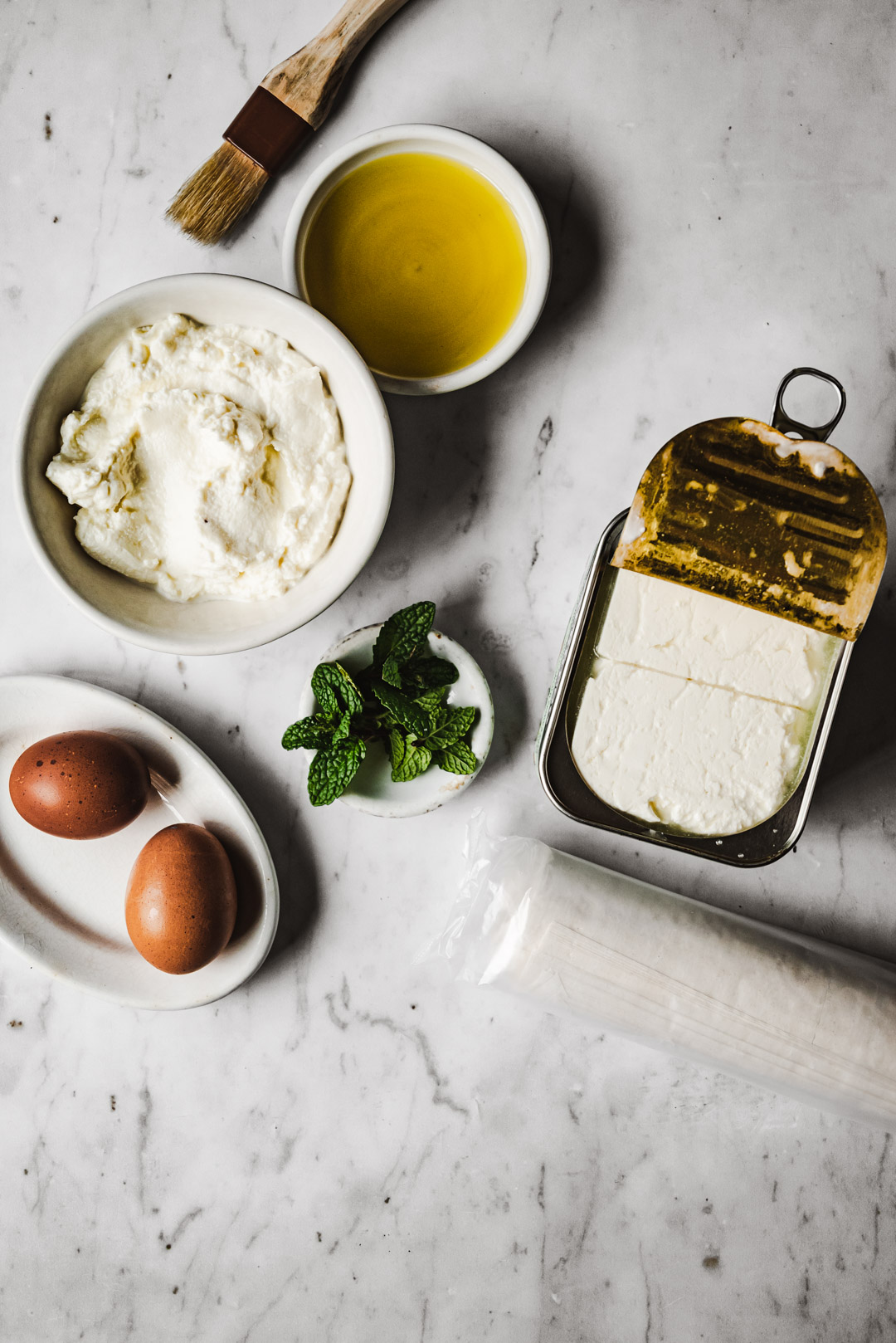 WHAT YOU NEED FOR EASY GREEK CHEESE TRIANGLES:
Even within the realm of tiropitákia, there are SO many versions! Each region of Greece has its own way of making these small cheese pies. For these easy Greek cheese triangles, we are going to keep things simple and traditional:
FETA CHEESE: I highly recommend using a whole milk feta cheese for this recipe. In order to have a creamy filling, you need to use creamy feta cheese. Here in America, our favorite feta is the Valbreso sheep's milk feta.
SOFT NEUTRAL CHEESE: In Greece, the typical soft cheese for cheese pies is anthótyro. It is a difficult cheese to find here in America, so we recommend using whole milk ricotta or whole milk farmer's cheese.
FRAGRANT HERB: The two most common herbs used in tiropitákia are either fresh spearmint or fresh dill. We personally use fresh spearmint because that is the traditional addition in Crete, where my hubby's mom is from.
EGG: This is a necessary addition to keep the texture of your filling from being too loose or runny once cooked.
PHYLLO DOUGH: Do not be intimidated by phyllo dough! It is so much easier to handle and work with than it seems! The most readily available phyllo doughs are #4 or #7. Either of these thickness phyllo doughs will be good for these easy Greek cheese triangles.
OLIVE OIL: It is important to use a good amount of olive oil when you are brushing your phyllo dough. This will ensure a super crispy and golden finish on your phyllo dough. We love Greek extra virgin olive oil for its low acid content and golden, buttery flavor. g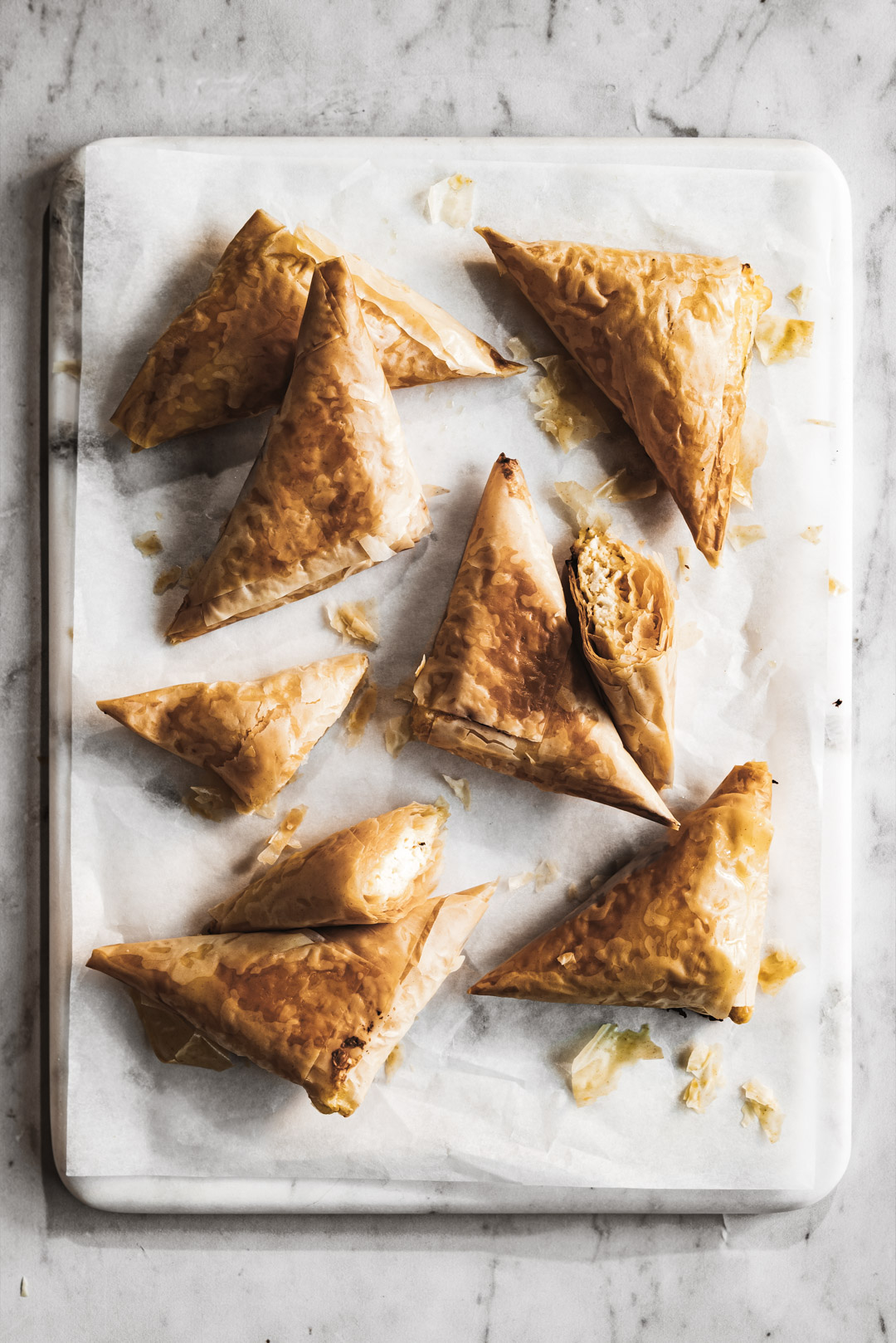 This is the basic formula for a traditional Greek cheese pie. Many people like to add a little grated melty cheese to the mixture and/or some grated hard cheese as well. The possibilities are really endless and as long as you use the basic formula above as your foundation for making Greek cheese pies.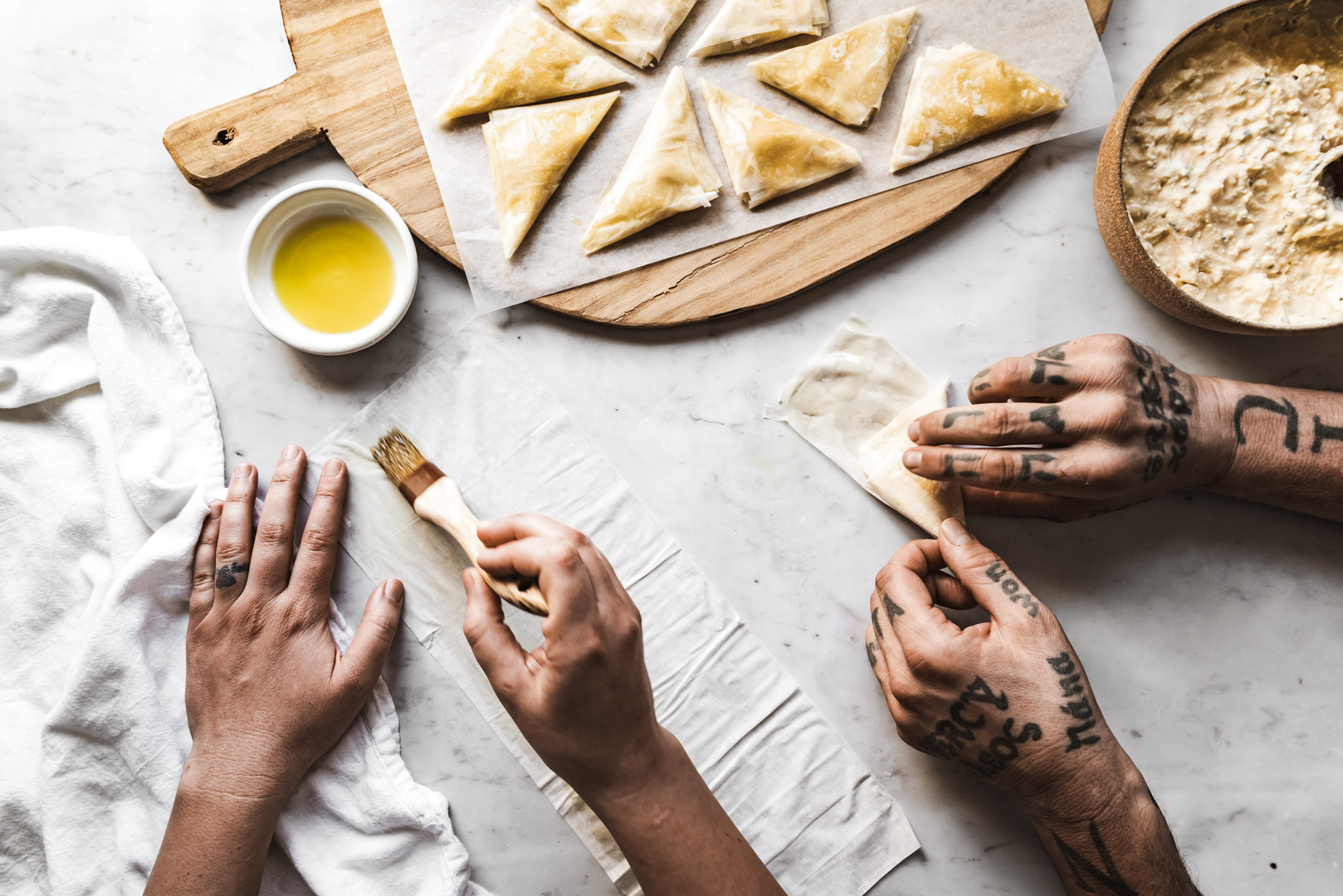 A FAMILY AFFAIR…
My long-time readers know that assimilating into my hubby's Greek family was no easy feat for me. I had to earn my way into my Greek in-laws' hearts. And one of the main ways that I accomplished this feat was through learning how to cook Greek. My hubby was my first Greek cooking teacher. And tiropitákia was the first Greek food he taught me to make. We would make a big bowl of cheese filling and then fold an endless amount of phyllo into pitákia. Freezing our bounty to be easily baked for future meals. It's actually a great dish to make with the family. Folding the phyllo into triangles is an especially great task for kids :)
My hubby considers himself a cheese pie expert ;). He actually has an un-traditional version that he wants me to share here on the blog. I let him know that we will share his special version after I have shared these traditional easy Greek cheese triangles, lol!
WHAT TO EAT WITH EASY GREEK CHEESE TRIANGLES:
These easy Greek cheese triangles are the perfect accompaniment to SO many meals. They make an incredible appetizer or side dish! Enjoy them with a hot bowl of soup or grilled meat & salad. There is one Greek recipe in particular that we cannot eat without tiropitákia on the side; fakés. Fakés is the traditional Greek lentil soup. While it is traditionally served with feta cheese, my hubby and I discovered years ago that tiropitákia pair incredibly well with this comforting lentil soup. As you are reading this I am working on getting our fakés recipe ready for the blog! So stay tuned ;)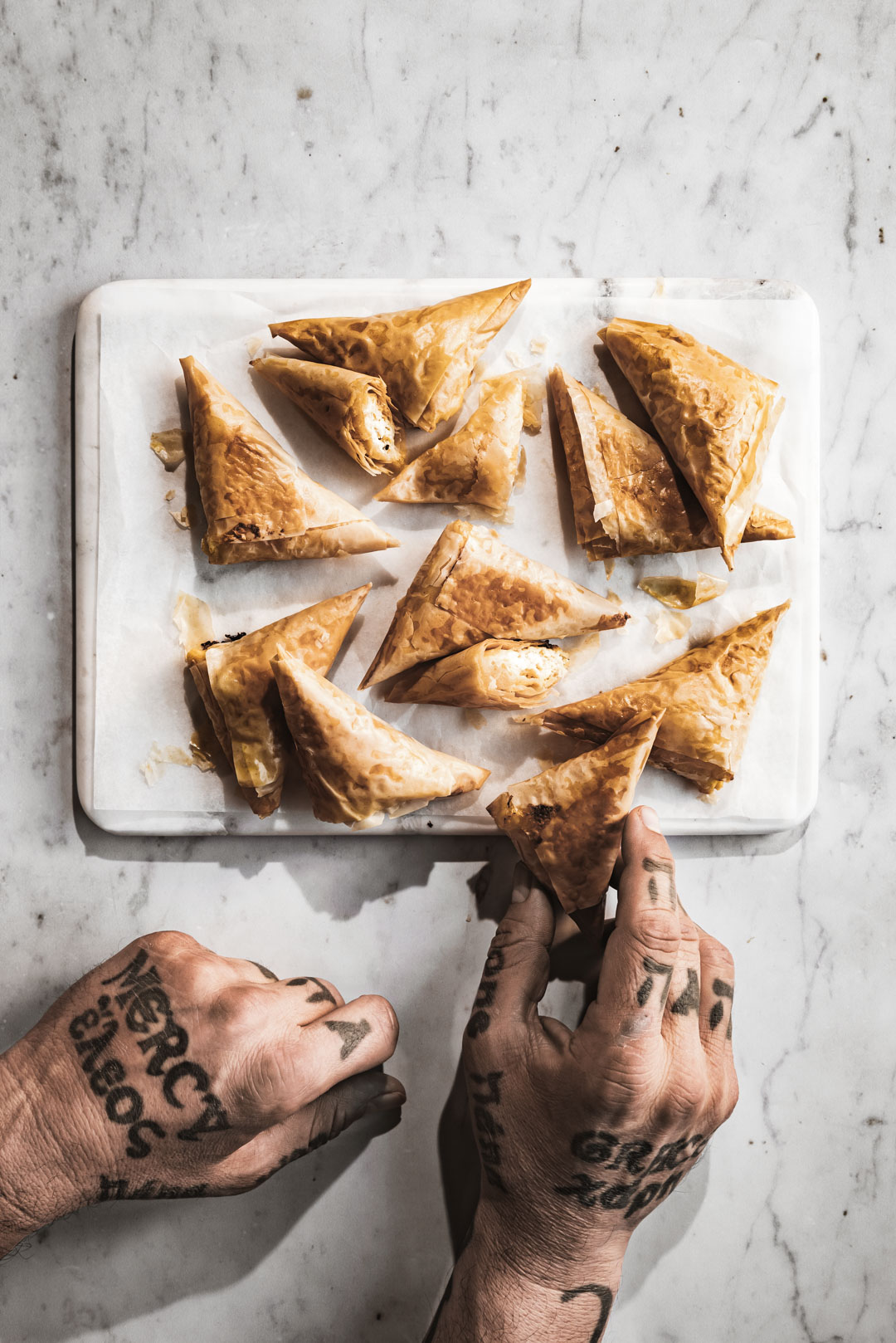 In closing, I truly hope that you give these easy Greek cheese triangles a try! They are such a tasty treat that pair well with so many meals. They may be simple, but these tiropitákia will always hold a special place in my heart. And I hope they do the same for you <3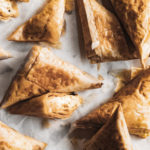 EASY GREEK CHEESE TRIANGLES
---
Total Time:

1 hour

Yield:

20

triangles

1

x
200

g

(7oz.) feta cheese, crumbled (we recommend sheep's milk feta)

185

g

(6oz.) whole fat ricotta cheese (or use anthótyro if you can source it)

2 tsp

fresh spearmint, finely chopped

1

egg

10

sheets frozen phyllo dough (thawed per package instructions)

1/2

cup

olive oil, plus more if needed
---
Instructions
Crumble your feta into small crumbles. Combine the crumbled feta with the ricotta cheese, fresh chopped spearmint and the egg in a bowl. Stir until the mixture is well combined and homogenous.
Prepare your phyllo dough by carefully removing 10 sheets from the stack of dough (roll up any leftover phyllo and freeze to use another time). With the phyllo dough sheets in an even stack, cut them in half lengthwise to create two long rectangular strips of phyllo. Combine these strips into one stack and keep covered with a barely damp linen towel (I use a spray bottle of water to barely moisten the linen).
TO ASSEMBLE:
Carefully remove one sheet of phyllo from the stack (cover the remaining phyllo to keep it from drying out). Use a pastry brush to brush 1/2 the sheet of phyllo lengthwise with olive oil. Fold the phyllo over itself lengthwise in half and press to seal. You now have a long, narrow double-layered strip of phyllo.
Brush the phyllo dough again with olive oil. Use a spoon to scoop about 1 tbsp of cheese filling onto the bottom of the phyllo dough strip.
Starting with one of the bottom corners of the phyllo dough, gently fold up at a 45° angle to create a triangle (see the video above for a visual). Continue folding from the opposing corner to encase the cheese filling with phyllo.
Once the phyllo dough has been folded completely into a triangle, brush both sides of the triangle with a bit of olive oil and set it aside on a parchment-lined baking sheet.
Repeat this process until you have used all of the filling. (At this point you can freeze the cheese triangles for future use: simply freeze them while still on the parchment-lined baking tray until solid. Then layer the frozen triangles in an airtight container with sheets of parchment or wax paper in between layers to prevent them from sticking together).
TO BAKE:
Pre-heat oven to 375°F. Bake triangles until they are nicely golden, about 20-25 minutes. (If baking from frozen add an extra 5 minutes of bake time). Enjoy!
Prep Time:

35 minutes

Cook Time:

25 minutes

Category:

APPETIZERS & SPREADS, FOOD, GREEK, PASTRY, QUICK & EASY

Cuisine:

Greek
MORE TRADITIONAL GREEK RECIPE INSPIRATION: