This dish holds a very special place in my heart.
Loco moco
and I met after I had just graduated high school and was set to spend my summer on the island of Oahu, Hawaii at
Surfing the Nations
 (STN). I remember landing at the airport and walking from the plane through the open air terminal, the humid island air enveloping me. I was greeted by two ladies holding up a sign with my name on it, they were sent from STN to pick me up. They both embraced me and one of them placed a plumeria lei around my neck, wrapping me in the most beautiful fragrance – covering me with aloha and welcoming me to my home for the summer.
The ride from the airport to Kalihi Valley where STN was based, was long and rather quiet. The ladies tried to make small talk with me while I stared out the window, amazed at the beauty of the island – but I was really just trying to take it all in. I was only 17 years old, I had never been away from my family for more than a week and now I was starting a journey all on my own in a far away land where I was a stranger to everyone and everyone was a stranger to me. Overwhelmed would be an understatement, but underlying all that was an immense excitement and sense of purpose – I knew this was where I was supposed to be.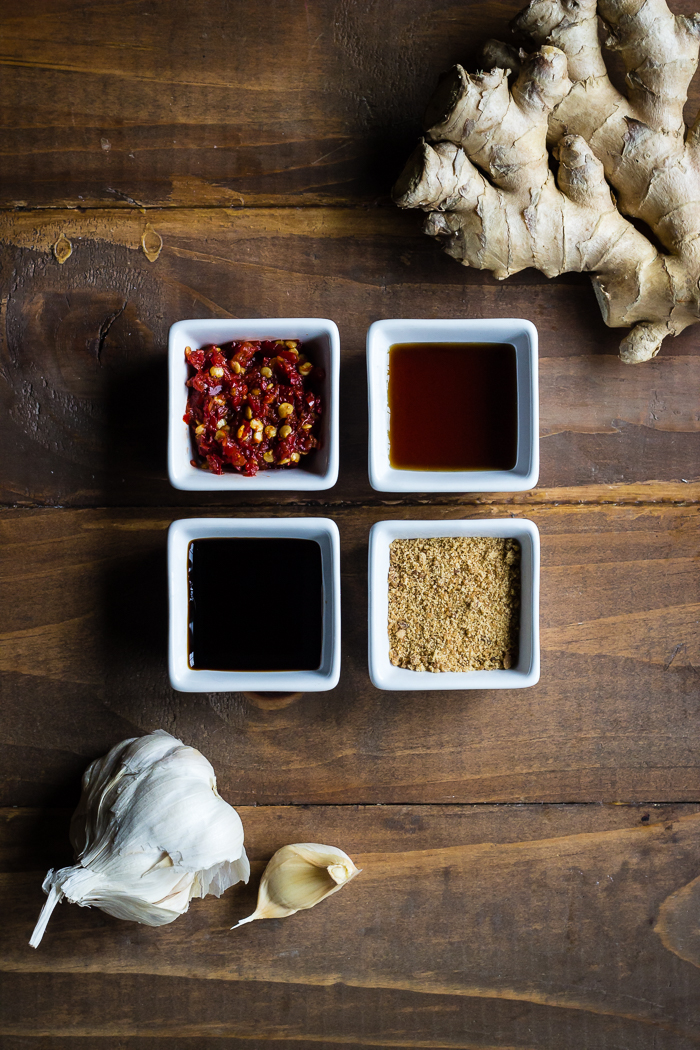 When we arrived at the property of STN I was welcomed by all of the staff and other people living and working there. I was given the tour of the property, buildings, etc. and eventually was led to my room. I got settled in to my bunk bed and was eventually told by one of my roommates that I was invited to go out to dinner with a small group of people and attend a bible study afterward. I followed along, not knowing what else to do and the group of us ended up at Zippy's, a local restaurant chain that I would soon fall in love with. I had no idea what to order, so I asked the person next to me what they recommended and they told me they were getting loco moco, so I followed suit and ordered the same. The plate arrived, a pile of steamed white rice topped with a burger patty, brown gravy and a fried egg. I had never consumed such a concoction before, but was blown away- the combination was unexpectedly delicious.
Loco moco, being the first meal I ate on the island, eased me into the unknown and comforted me from any unsettled feelings the way that only food could. I tried out loco moco a few more times during my stay on the island, but none of the other times compared to that first experience. After leaving the island and coming home to California, I never ate loco moco again – I would have to make it at home if I wanted it, but that meal was so attached to my time in Hawaii that the thought never even occurred to me to try to recreate it. Until a few months ago, when a random memory and nostalgia hit me out of nowhere and my mind was set to make loco moco in our own kitchen.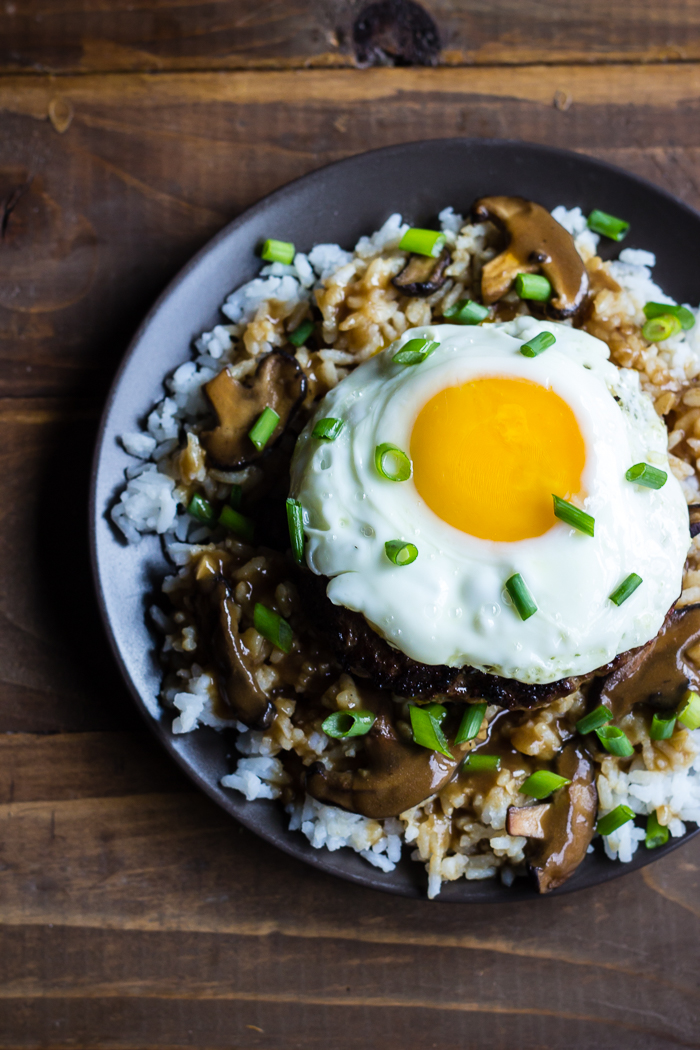 The version you see here has been fuzed with all of our culinary experience into a dish that smokes what I had my first night on Oahu all of those years ago. The patty has been glorified with Korean seasonings – soy sauce, fish sauce, sugar, chili, garlic and ginger add an umami punch to the patty that is one of the best things you will ever taste. The brown gravy gets elevated with the addition of garlic, shitake mushrooms and of course some soy sauce, fish sauce and a touch of sugar to compliment the flavors in the burger patties. The steamed rice is the perfect foundation to soak up all of the gravy goodness and that fried egg on top, well, back when I was just 17 it seemed bizarre to me to put an egg on it, but now its a given.
Our version of loco moco is seriously incredible- its like aloha on a plate. Hawaiian comfort food at its finest, loco moco will always represent the meal that welcomed me to the island where I figured out so much about myself and experienced a way of living that changed my life.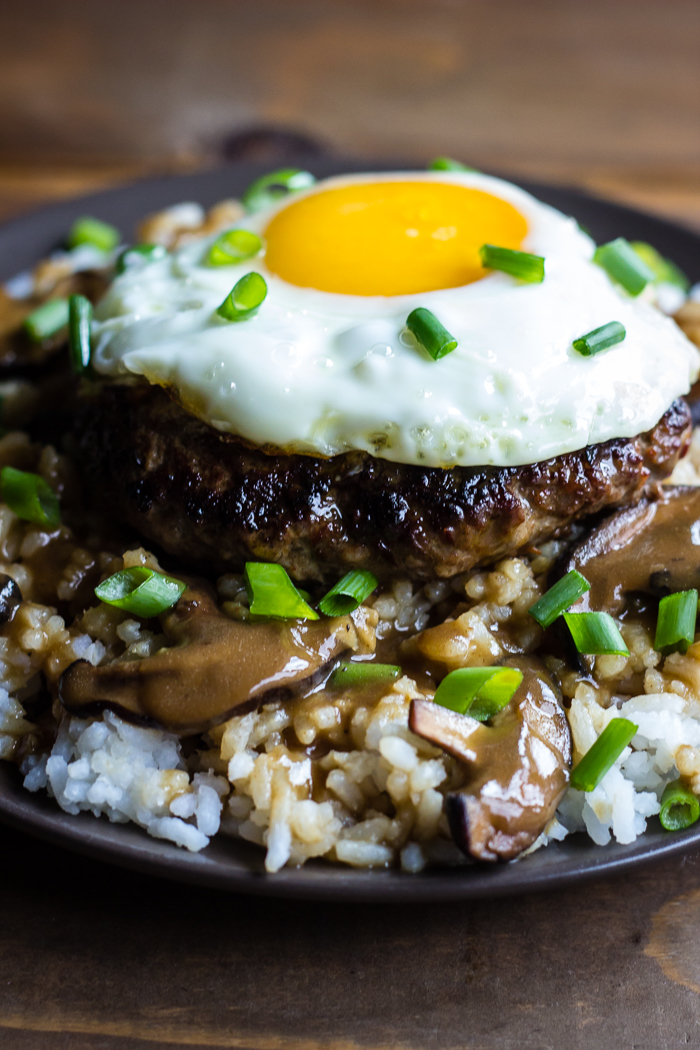 Print
Print