There is no dessert more associated with Greek cuisine than baklava. Sweet syrup-soaked layers of golden fillo dough filled with ground nuts & spices – baklava is loved by people the world over for good reason, it is absolutely delicious! There are so many cultures that make baklava, each with their own unique variations, and with its exact origins deeply disputed, I am not here to claim that baklava is Greek. I am simply here to share this classic Greek baklava recipe with you because I want you to be able to make & enjoy baklava with those you love!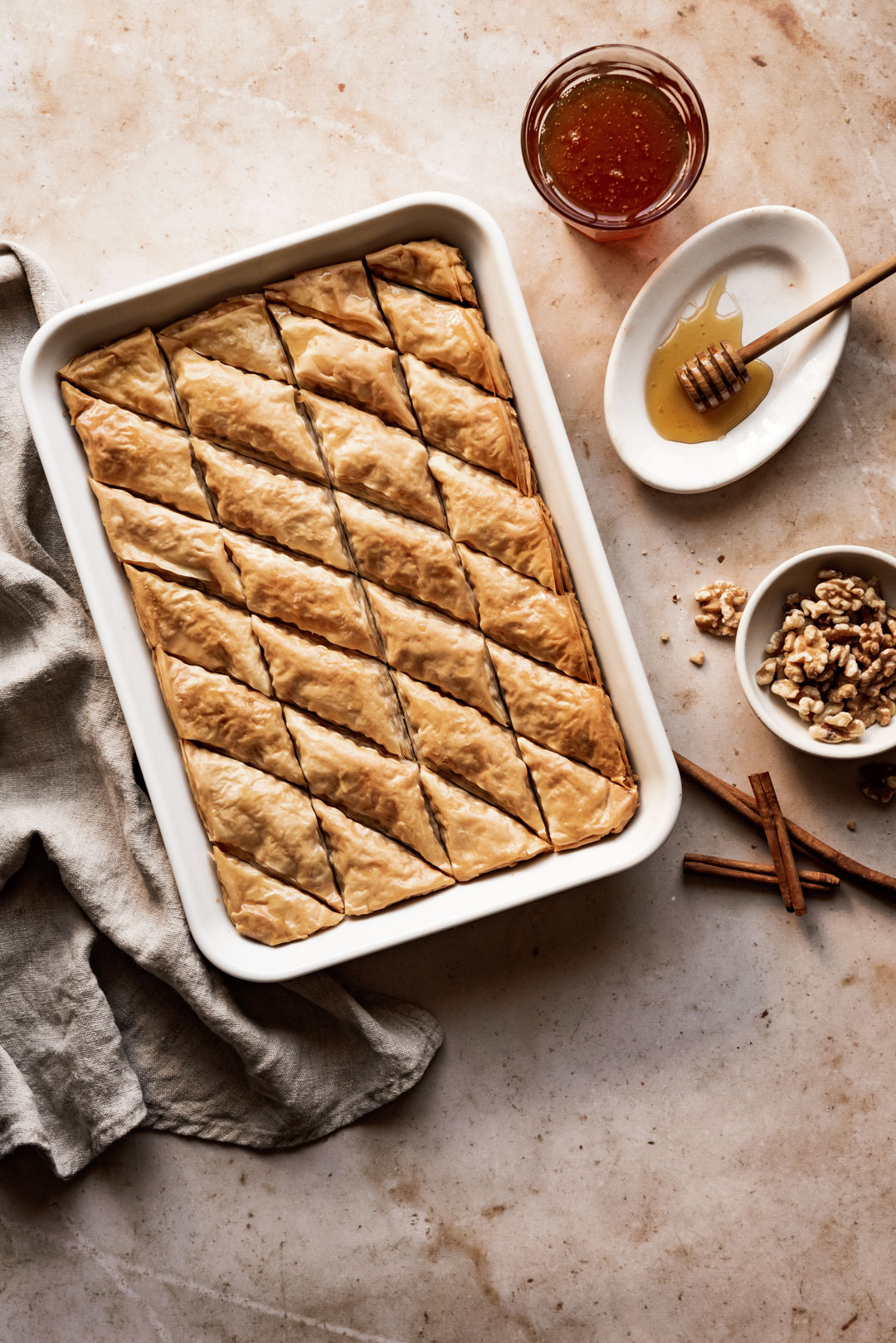 Every year when the holiday season commences, I look forward to making and gifting our classic Greek baklava. There are a handful of Greek cookies that are specifically made during this time of year, but none of them quite compare to baklava in our opinion. And because my hubby's Greek family has always made baklava for the holidays, it is only natural that it became a part of my life when we got married.
about classic Greek baklava
There are three things that are specifically characteristic of classic Greek baklava. First; honey is a key ingredient in the syrup (if you are vegan, you can substitute with agave). Second; walnuts are most commonly used for the nut filling. And third, the nut filling is flavored with at least one spice. For this classic Greek baklava recipe, we will be using both honey & sugar to sweeten our syrup and walnuts & cinnamon will make up our filling.
do not fear fillo dough
The number one thing that keeps most people from making baklava at home is the fear of working with fillo dough. Thin, paper-like sheets of fillo dough are much more resilient and forgiving than you may imagine. But, there are two very simple steps that you need to take to ensure that your fillo dough will be easy to work with. (THIS is my favorite fillo dough)
STEP 1: Thaw your frozen fillo dough by removing it from the freezer the night before you are going to make your baklava. Place the frozen fillo dough to defrost in the refrigerator overnight. 1 hour before using, remove your package of fillo dough from the refrigerator and leave it in the package at room temperature.
STEP 2: When you are ready to start layering your fillo dough into your baking vessel, use a lightweight, damp kitchen towel to fully cover your stack of fillo sheets to keep them from drying out while you work.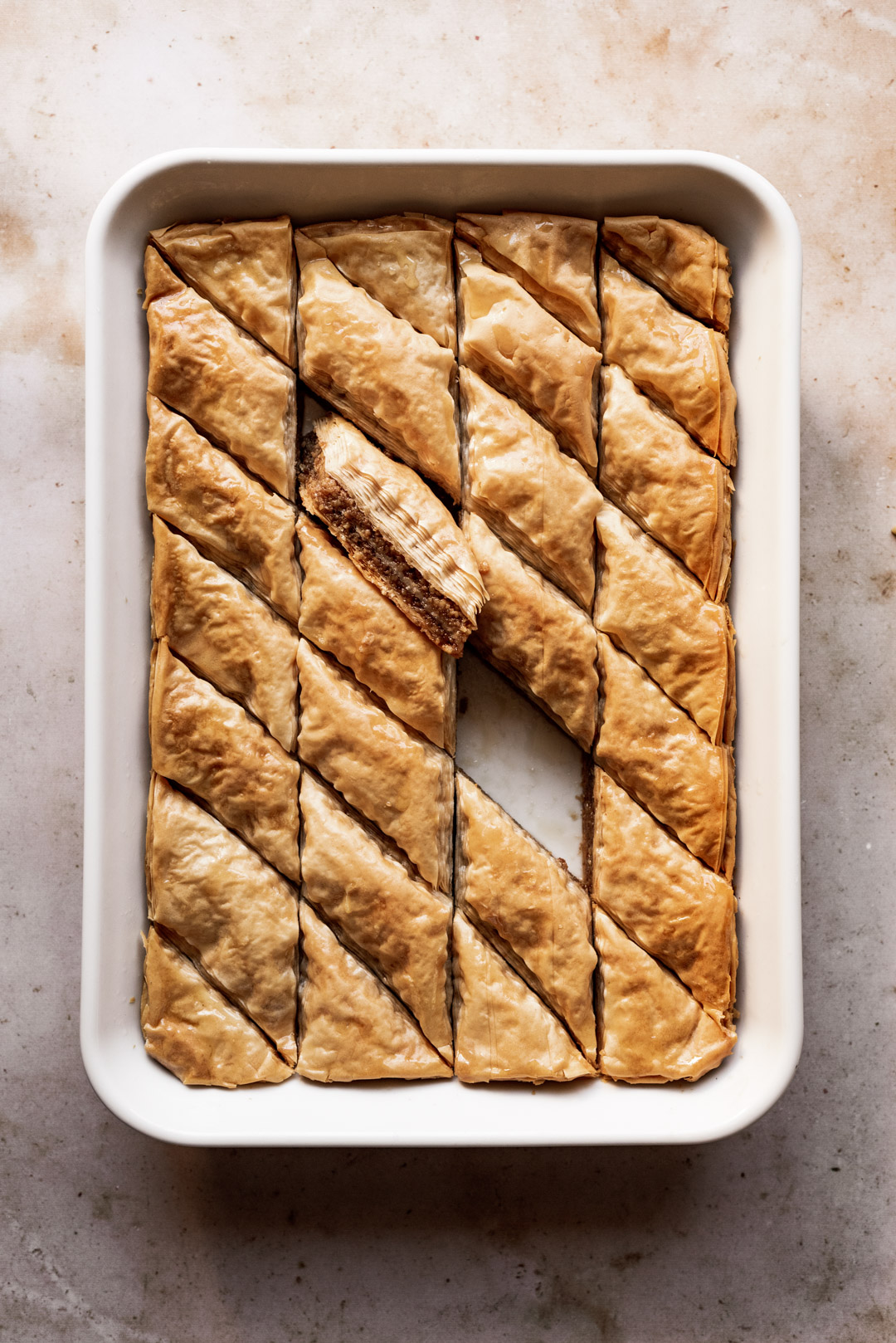 baklava de-mystified
Now that you no longer fear working with fillo dough, let's de-mystify the baklava making process. Baklava is not a technical pastry. You cannot ruin it by messing up measurements for example. It is simply layers of fillo, butter, and spiced nuts that get baked until golden and then soaked in a sweet syrup. Here is a simple breakdown of the process:
PROPERLY THAW YOUR FROZEN FILLO: *see above for explanation
MAKE YOUR SYRUP: the syrup needs to be cool before it is poured over the hot baklava, therefore, we start by making this first.
CLARIFY YOUR BUTTER: we remove the milk solids from our melted butter because they will negatively affect the flavor & aesthetic of our baklava
PREPARE YOUR NUT FILLING: 4 cups of finely ground nuts of your choice – *walnuts are our favorite. Add spices like cinnamon, clove, or even cardamom to flavor the nut filling. A bit of sugar added to the ground nuts helps them bind together while baking. And a pinch of salt balances the overall sweetness of the baklava.
BAKLAVA ASSEMBLY BREAKDOWN:
STEP 1: 14 layers of buttered fillo
STEP 2: Half of nut filling
STEP 3: 6 layers of buttered fillo
STEP 4: Remaining half of nut filling
STEP 5: 16 layers of buttered fillo
STEP 6: Score top layers of fillo into pattern of choice before baking
STEP 7: Bake at 325°f for 1 hour to 1 hour & 15 mintues
STEP 8: spoon cooled syrup over hot baklava
STEP 9: cool completely at room temperature to allow syrup to fully soak into baklava
STEP 10: cut through all layers of baklava to create individual slices and ENJOY!
By breaking down the baklava making process into specific steps, hopefully, you can see that it actually is not that complicated after all! And to further encourage you to make baklava, I produced a very detailed video of the entire process and posted it to IGTV. You can watch PART 1 HERE and watch PART 2 HERE.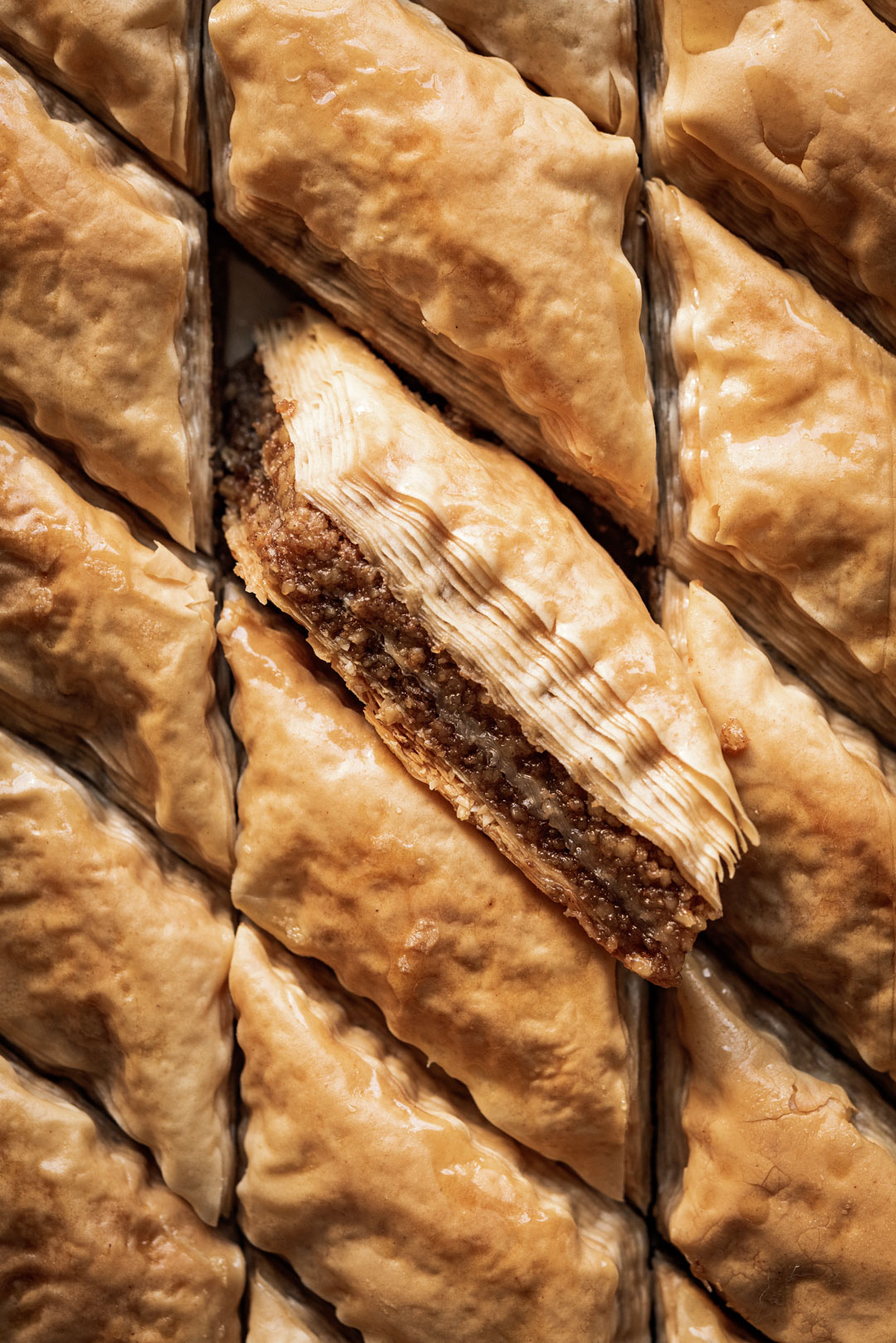 The greatest thing about baklava is that it is completely customizable! And because there is no baking chemistry involved, you have the freedom to really play with your flavor combinations, layering techniques, and scoring patterns! If you give my classic Greek baklava recipe a try, I would love to hear what you think in the comments! Your feedback means so much to me and helps me make sure I am providing you with everything you need to be successful in your kitchen endeavors!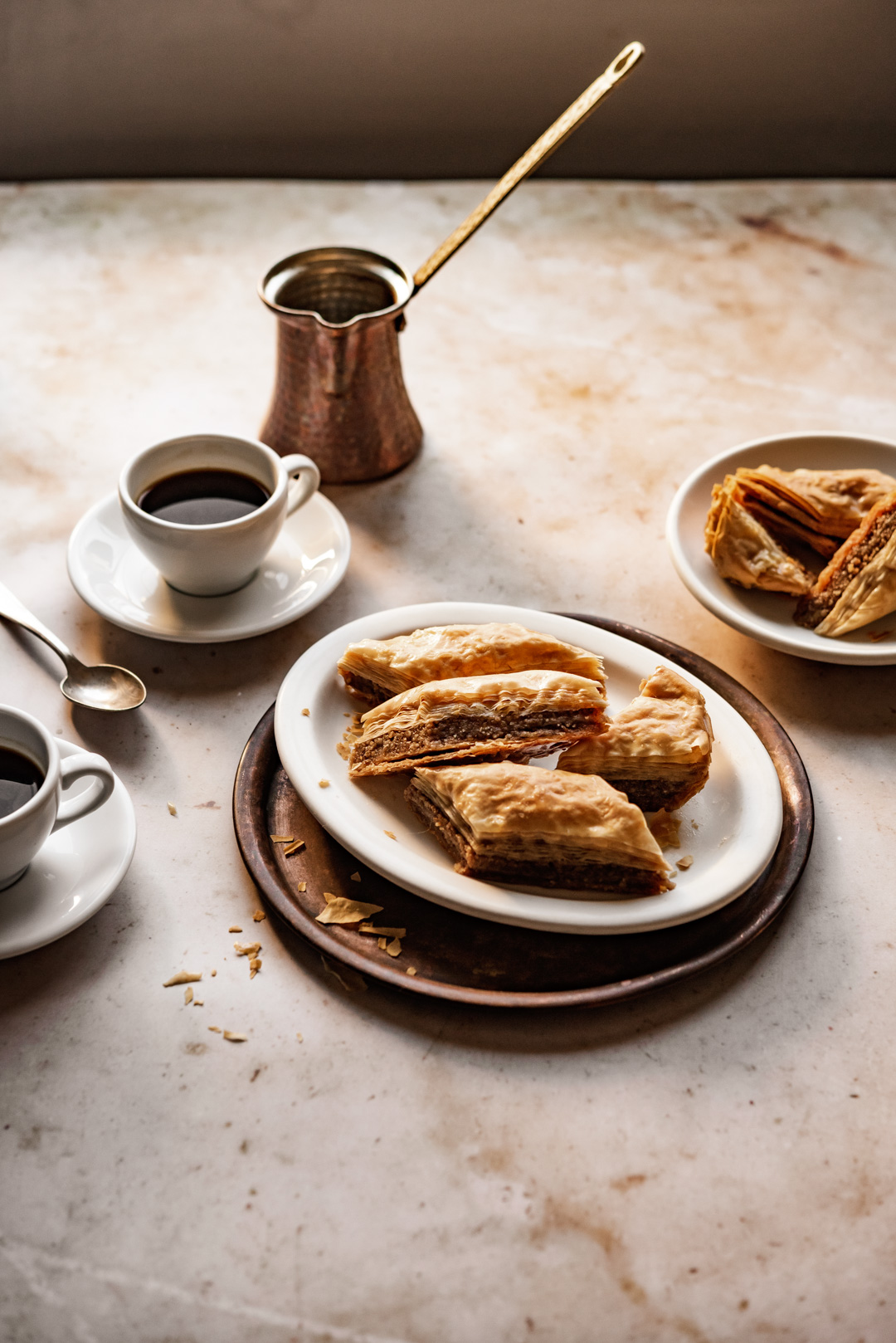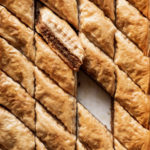 CLASSIC GREEK BAKLAVA
---
Total Time:

2 hours

Yield:

28

pieces

1

x
FOR THE SYRUP:
1

cup

water

1

cup

sugar

1

cup

honey (substitute with agave for a vegan version)

2 tbsp

fresh lemon juice

1

cinnamon stick
FOR THE BAKLAVA:
1

lb

. (454g) frozen fillo dough, thawed

2

sticks (227g) unsalted butter, clarified (use plant based butter for a vegan version)

4

cups

(500g) raw walnuts, finely ground

3 tbsp

sugar

2 tsp

ground cinnamon

1/2 tsp

fine sea salt
---
Instructions
FOR THE SYRUP:
Combine water, sugar, honey, lemon juice & cinnamon stick in a saucepan and cook over medium heat, stirring occasionally until simmering. Simmer for 5 minutes, turn off heat and leave syrup to cool completely.
FOR THE BAKLAVA:
Pre-heat your oven to 325°F
Butter a 9×13 baking dish with a pastry brush and some of your clarified butter.
Start your layers by adding 1 sheet of fillo dough into the baking dish, gently smooth it with your hands & using a pastry brush, butter the fillo sheet thoroughly. Continue this process until you have 14 layers.
Use a large spoon to evenly distribute 1/2 of the nut filling on top of your fillo layers, using the back of the spoon to smooth out the nut filling.
Add 6 layers of buttered fillo over the top of the first layer of nut filling.
Evenly distribute the remaining nut filling over the center layer of fillo.
Add the final 14 layers of fillo over the 2nd layer of nut filling.
Score the top layer of buttered fillo dough with a sharp knife. I typically score into diamond shapes or squares, but you can choose whichever shape you like! You can use a ruler if you want your slices to be very precise.
Bake scored baklava in the oven for 1 hour to 1 hour & 15 minutes until nice and golden in color.
Once you have removed the baklava from the oven, use a large spoon to slowly pour the cooled syrup over the baklava, making sure to evenly distribute the syrup nice over every area of the baklava.
Cool baklava completely at room temperature. Cut through all of the layers with a sharp knife before removing individual slices of baklava. Enjoy!
Notes
The fillo brand that I use comes with 18 sheets of fillo that is 13×18″ – this yields a total of 36 sheets of 13×9″ fillo dough for my baklava. Depending on the brand of fillo that you use, your total number of sheets may vary. But if you have a little more or a bit less, you will be just fine. Just make sure to calculate approximately how many sheets you have before you start so that you will know how many sheets of fillo to use for each section of the baklava.
Prep Time:

45 minutes

Cook Time:

1 hour 15 minutes

Category:

Pastry

Cuisine:

Greek
more recipes that feature fillo: