A generous harvest of late-season peaches from our very own tree inspired me to bake up something warm & comforting. This perfect peach tarte tatin is both a sweet farewell to summer and an earnest welcome to fall. 
While most people probably think of apples and pumpkin when it comes to fall produce, here in California, peaches hold on through the month of September. They are a staple in our home all summer long, where they mostly end up just getting eaten fresh out of hand. But once the long hot days of summer start to fade into cool mornings and evenings, I long for my peaches to be warm & cozy.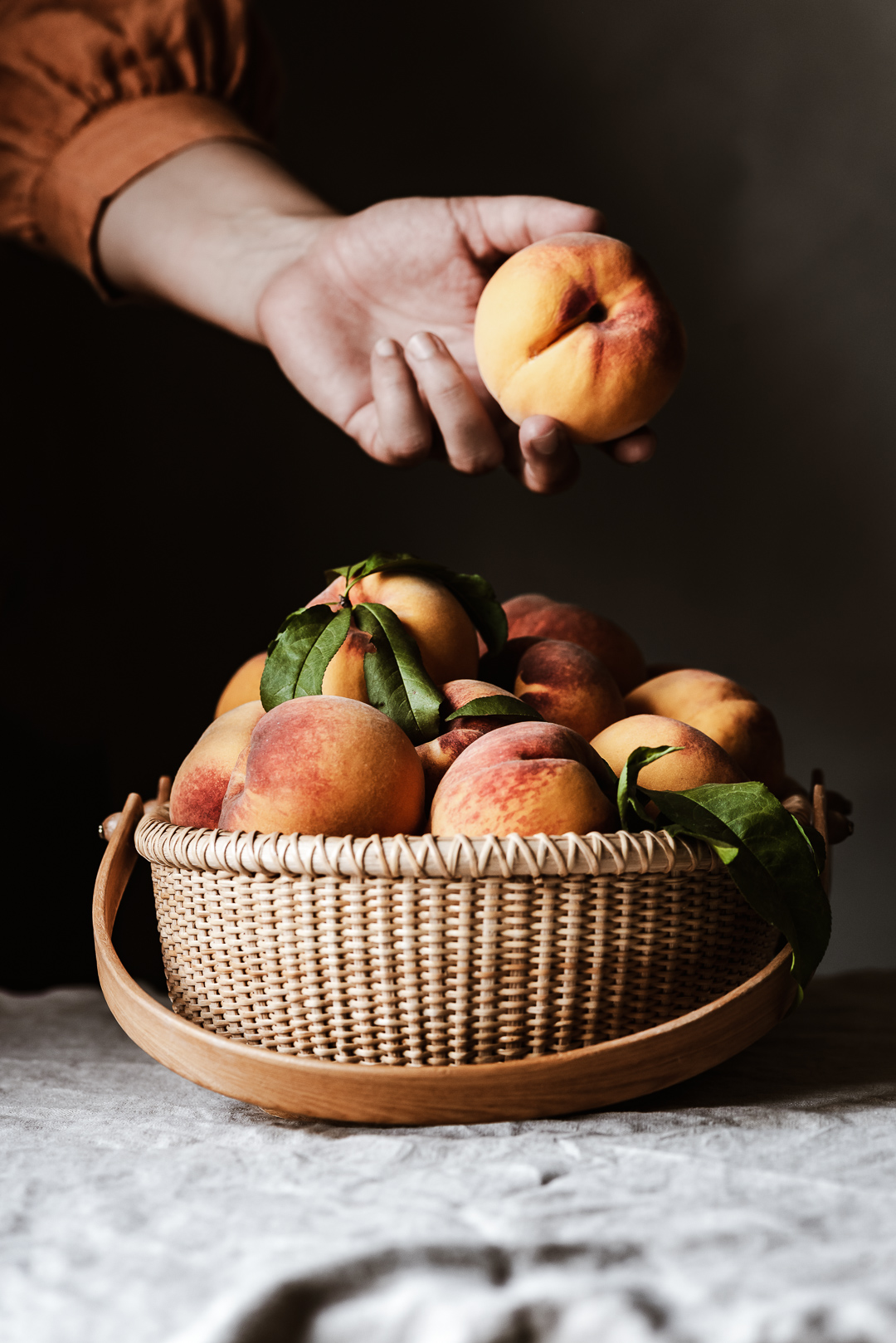 TARTE TATIN – THE SIMPLEST FRENCH DESSERT
Tarte tatin is traditionally made with fruit, sugar, butter & pastry. Yep, just four simple ingredients transform into this stunning dessert! Apples are the typical fruit found in a tarte tatin. But other fruits like pears, quince, and, in today's case, peaches can be used for an incredible tarte tatin.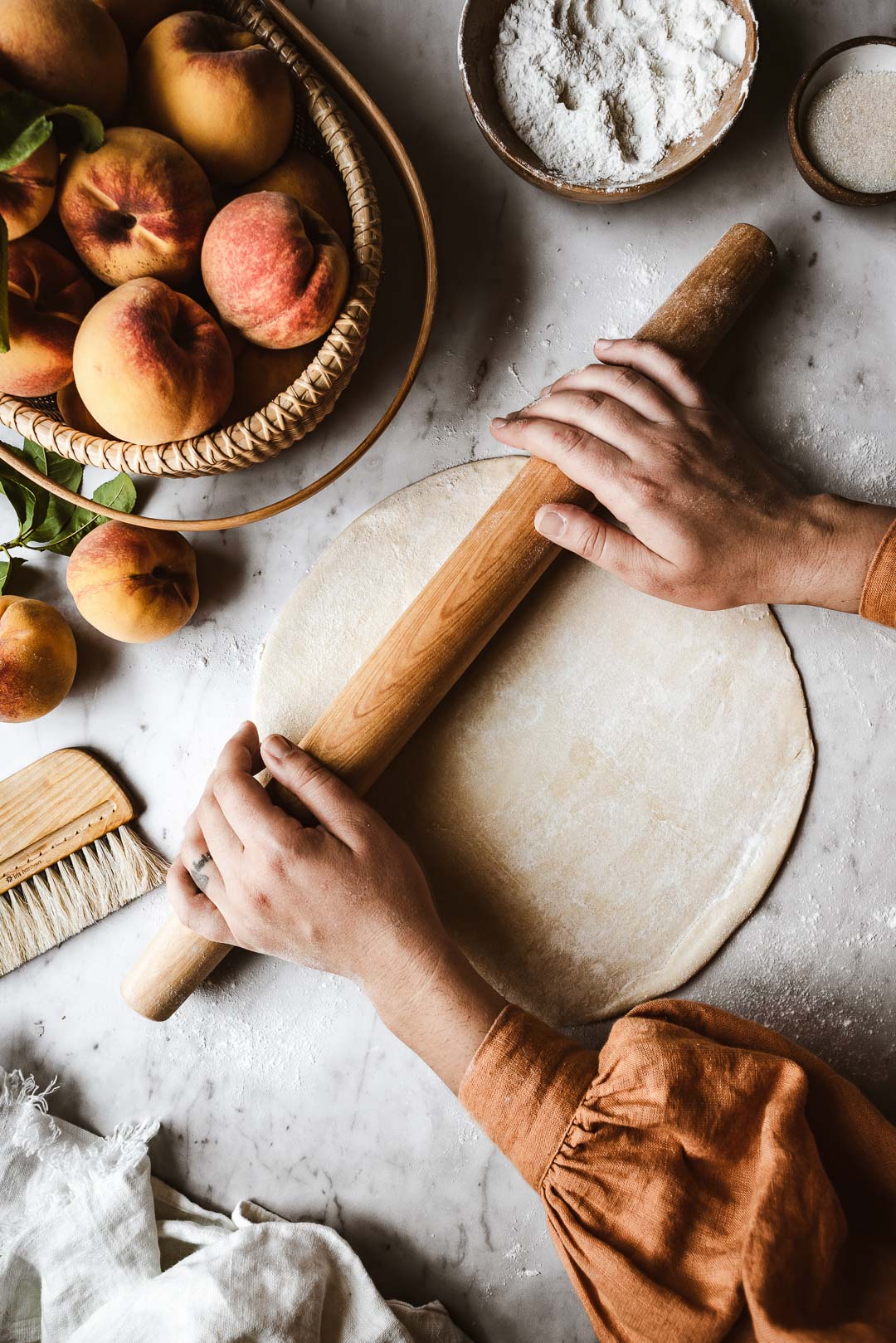 WHY THIS IS THE PERFECT PEACH TARTE TATIN:
FLAVOR: While a traditional tarte tatin does not include spices, for my perfect peach tarte tatin I highly recommend incorporating some spices into the sugar and butter. Fresh ginger, cinnamon, vanilla & a touch of allspice combine to lend this tarte tatin the perfect infusion of warm & cozy flavors.
TEXTURE: Peaches are inherently soft so they cook through much more quickly than apples. The key to achieving a perfect peach tarte tatin is not to cook the peaches in the butter and sugar. Rather you simply arrange your peach quarters atop your cooked butter & sugar mixture, set the puff pastry on top of the peaches, and bake. The 40 minutes that the tart spends in the oven combined with the cooldown time is more than enough time to cook the peaches to the perfect texture.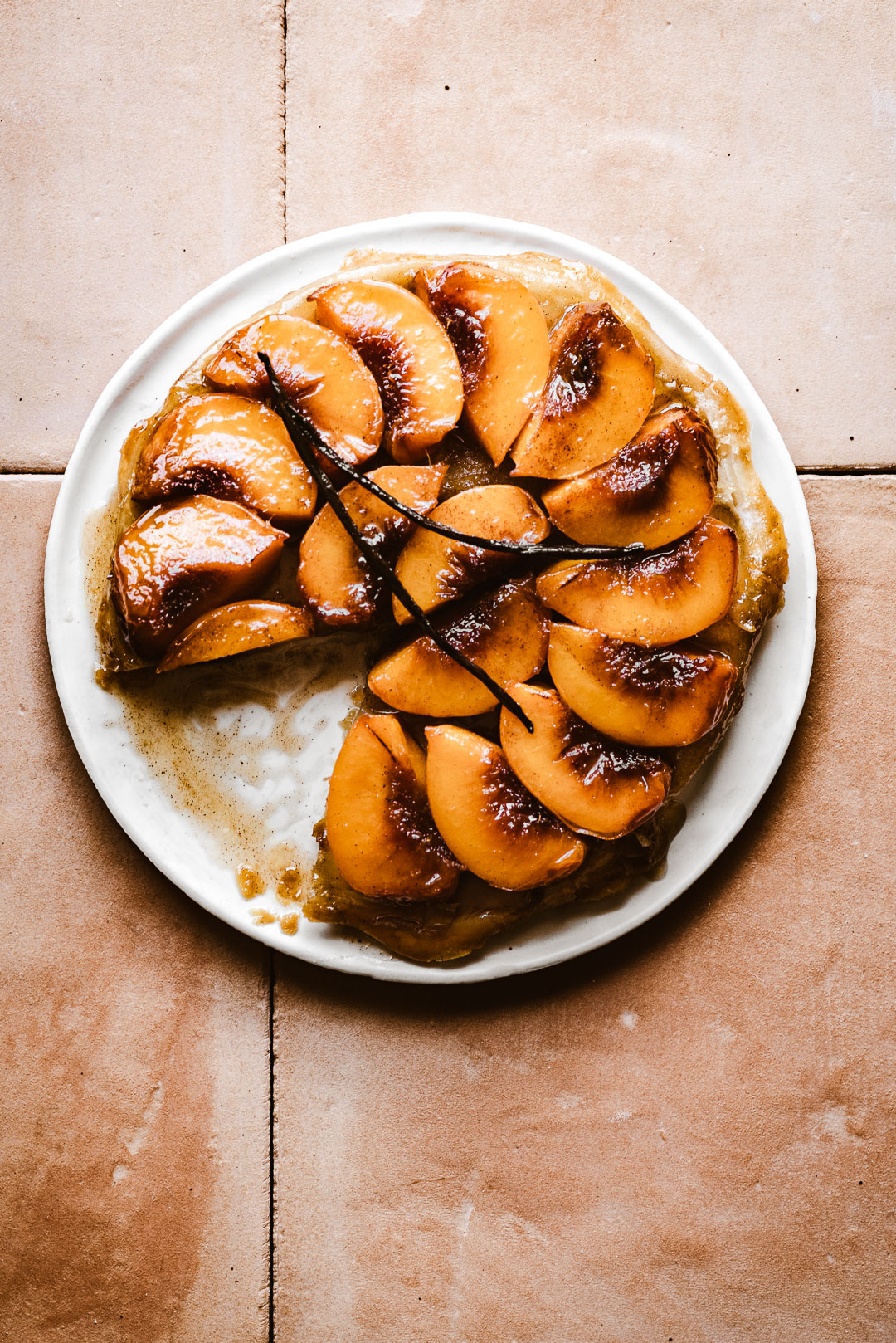 Served with a scoop of vanilla ice cream and a hot cuppa coffee or chai, this perfect peach tarte tatin is the ideal treat to commence your fall baking. Also, I could not think of a better way to enjoy the last of the peaches!
BEFORE YOU GO….
There are many internet memes that poke fun at food bloggers who carry on and on with their storytelling before getting to the recipe. Taking that into consideration, I do feel that my blog is a place for me to share life with whoever comes across my little corner of the internet. 2020 has been a year that many people probably want to forget, but we have just a few months left to make the most of what has proven to be the most challenging year known to modern times. And one of the best ways to make the most of what we have is to find joy in simple pleasures. So I hope that the recipes that I share here can serve as a source of joy and comfort to you and those you share them with <3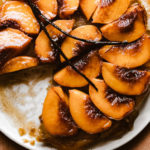 PERFECT PEACH TARTE TATIN
---
5

–

6

large firm peaches, pitted & cut into quarters

1/2

cup

(100g) sugar

1/4

cup

(50g) unsalted butter

1 tsp

freshly grated ginger

1 tsp

vanilla extract or 1 vanilla bean (seeds scraped and added to sugar)

1/2 tsp

ground cinnamon

1/4 tsp

allspice (nutmeg or cardamom are also delicious, use whatever you prefer)

1

sheet of frozen puff pastry, thawed according to package instructions
Vanilla ice cream, for serving
---
Instructions
Preheat oven to 375 degrees.
Melt the butter in a 9 or 10-inch oven-safe skillet over medium heat. Add the sugar to the melted butter and cook until the sugar caramelizes to a light amber color, swirling the skillet occasionally to ensure even browning.
Remove skillet from the heat. Add the grated ginger, vanilla & spices and stir to combine.
Arrange the quartered peaches pit side down in the skillet. Fitting as many quarters as snuggly as possible.
Roll the puff pastry sheet out on a lightly floured surface, so that it measures a 12×12 inch square or cut it into a 10″ circle. Gently transfer the rolled out puff pastry to cover the peaches in the skillet. Tuck the overhanging dough around the peaches. Use a sharp knife to slice three small slits in the top of the dough, this will allow excess steam and moisture to escape during baking.
Bake tarte tatin for 35-40 minutes or until the puff pastry is golden and puffy. Remove tarte tatin from the oven and allow the tart to cool for 15 minutes, to allow the caramel thicken.
Run a small, sharp knife along the outer edge of the pastry to loosen it from the pan. Carefully turn out tarte tatin onto a the platter that you would like to serve your tart on (make sure to wear oven mitts).
At this point you can let the tart cool a bit more if it still seems too hot. Serve warm with vanilla ice cream.
Prep Time:

10 minutes

Cook Time:

50 minutes

Category:

DESSERT, FALL, PASTRY

Cuisine:

French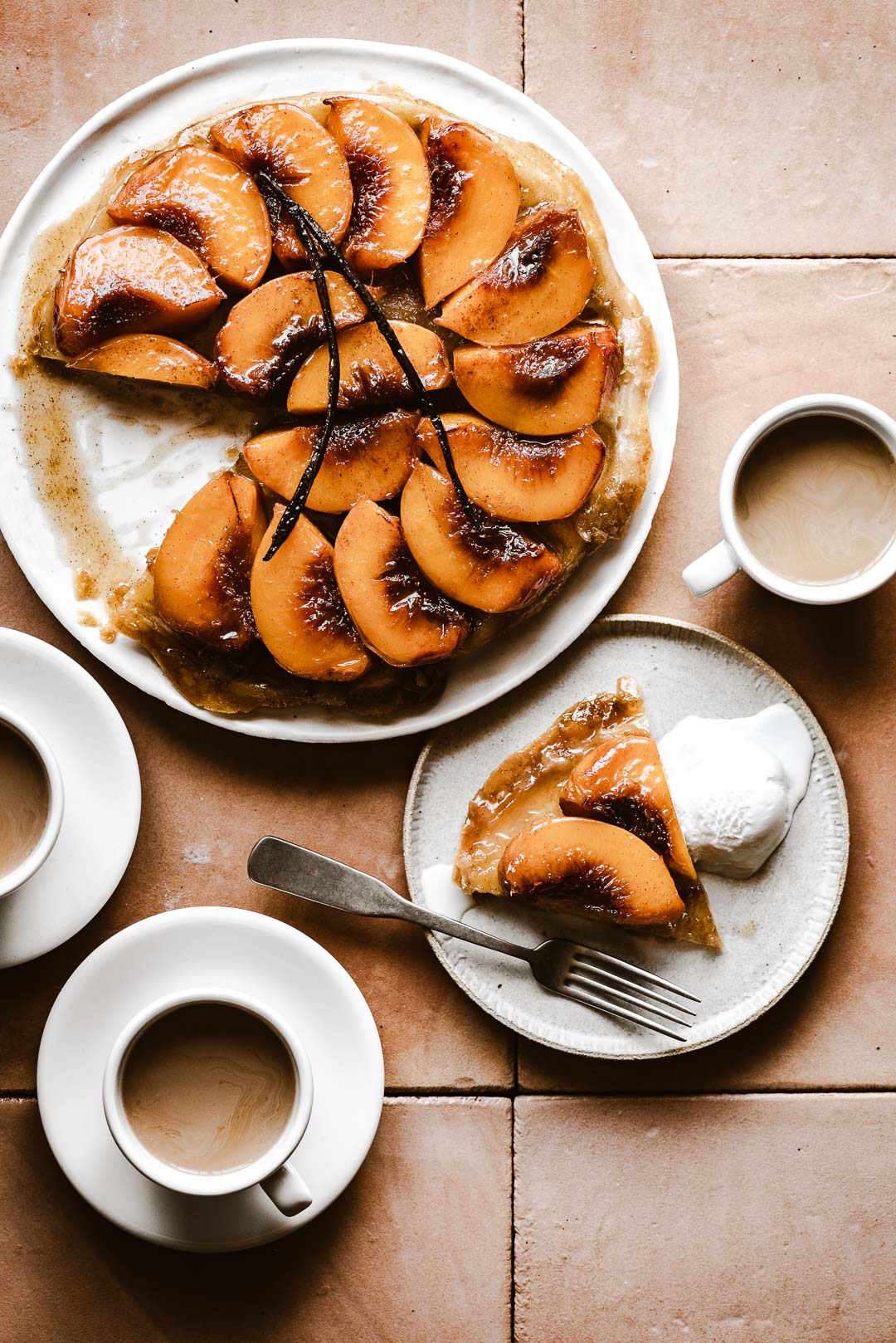 MORE FALL BAKING INSPIRATION: