Fall is most definitely approaching here on the island. Cool nights make way to perfectly warm days. Summer produce is fading as the fruits of autumn begin to ripen. Sweet grapes dangle from their vines and the wild fennel blossoms have gone to seed. With the passing of each day, the busy season is coming to a close. Summer is almost over and as a reminder to take some time to fully soak in this shift in seasons, I was inspired to make this roasted grape & fennel olive oil cake.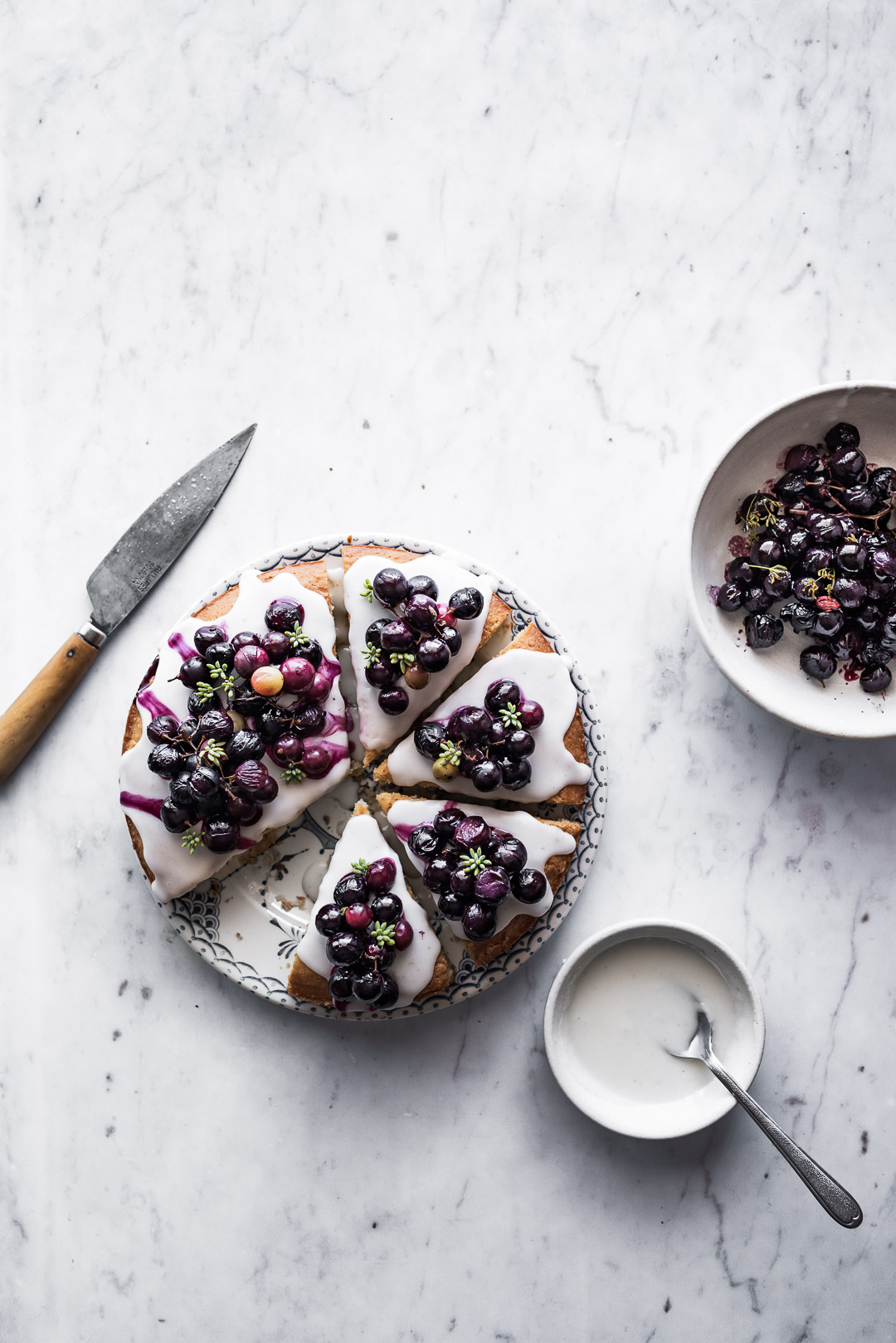 There is a feeling in the air here that is difficult for me to describe in words. September is the month that I came to Greece with my hubby for the first time 11 years ago. So there is a certain nostalgia that I feel being here again during this season. From the way the light of the sun glows to the smell of the sweet night flowers that infuse the breeze, my heart aches with gratitude to be here re-living those memories that I hold so dear. And now that we call this village home, we have been granted the privilege to make new memories as we settle into this sacred place that captured our hearts all those years ago.
As many of you reading this may already know, I made an announcement on Instagram last week that I am styling and shooting a cookbook for the most famous restaurant on our island! The owner of Agnanti approached me to help them put together a collection of recipes and images from our village as a tribute to his family's food legacy and I could not be more honored to bring their story to life through my photography! This project has left me extremely busy, which explains my absence from the blog, but I squeezed in some time to share this roasted grape & fennel olive oil cake with you guys because the grapes are at the peak of their season here and I was feeling especially inspired to create something with them.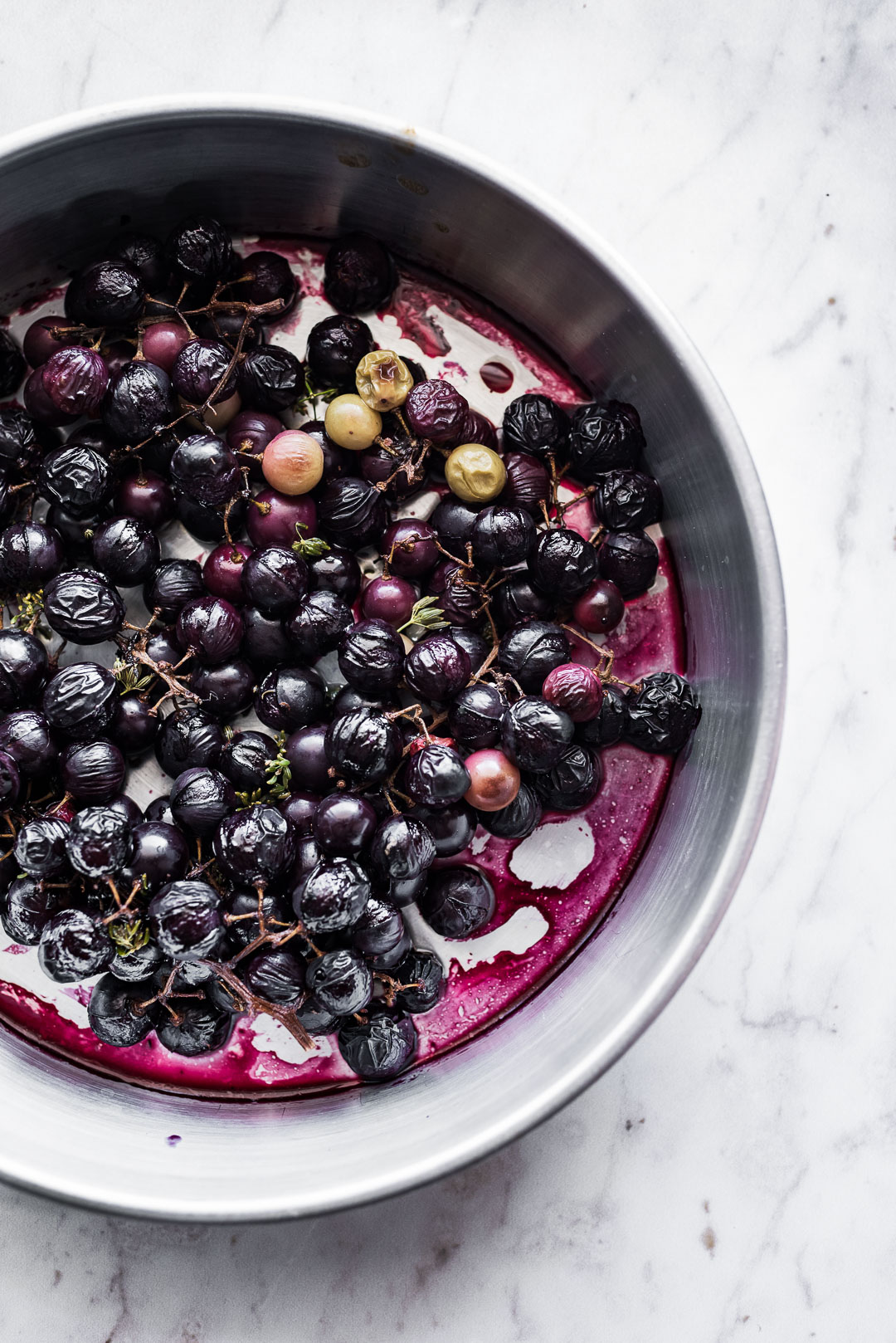 This cake is a variation of a pistachio cake that I made for a food photography workshop that I hosted in Point Reyes in 2017. This cake was received so well by the attendees, many of them telling me it was the best cake they ever had! This time around, I made some changes to reflect ingredients that are local here in our village: almond flour instead of pistachio, olive oil instead of butter and ground wild fennel seeds instead of rosewater –  and the result was just as good as the original (which I have yet to share here on the blog).
Roasting the grapes allows them to soften a bit and release some of their glorious juices. The flavor of fennel is an intriguing addition to the grapes that I absolutely adore.  Wild fennel covers our island and is a foundational ingredient in many of the local recipes. The scent of wild fennel alone is enough to remind me of everything I love about this island, so incorporating wild fennel into this dessert makes me feel especially sentimental.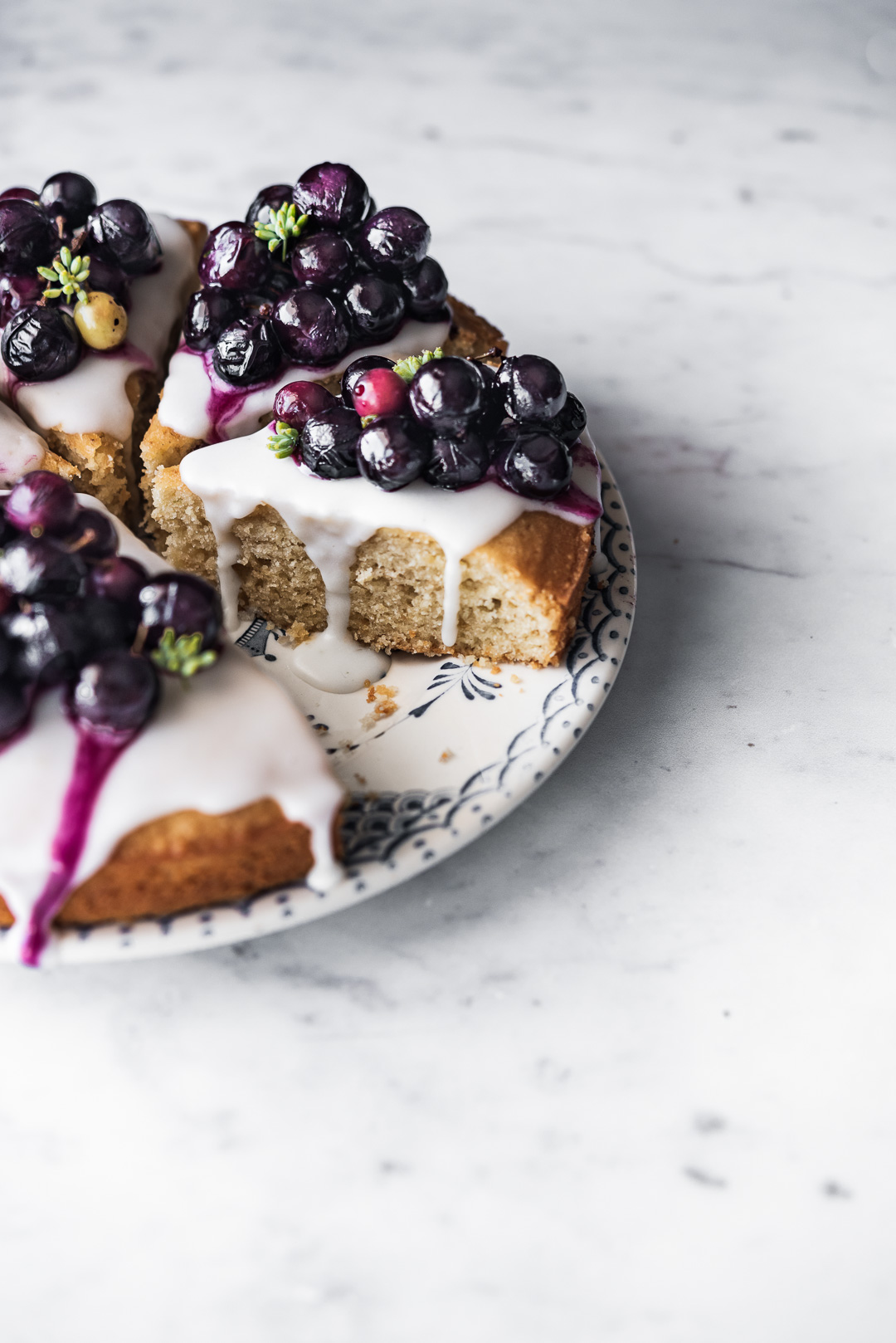 Sweet and fragrant, this roasted grape & fennel olive oil cake is my tribute to the transiton between seasons here on the island. When I eat this cake I think about the joy I feel each day to wake up in this quaint village that is filled with a distinct peace that permeates the atmosphere. With each bite, I feel deep gratitude for all that our village has given us and with the turning of the season I am reminded to make the most of what remains.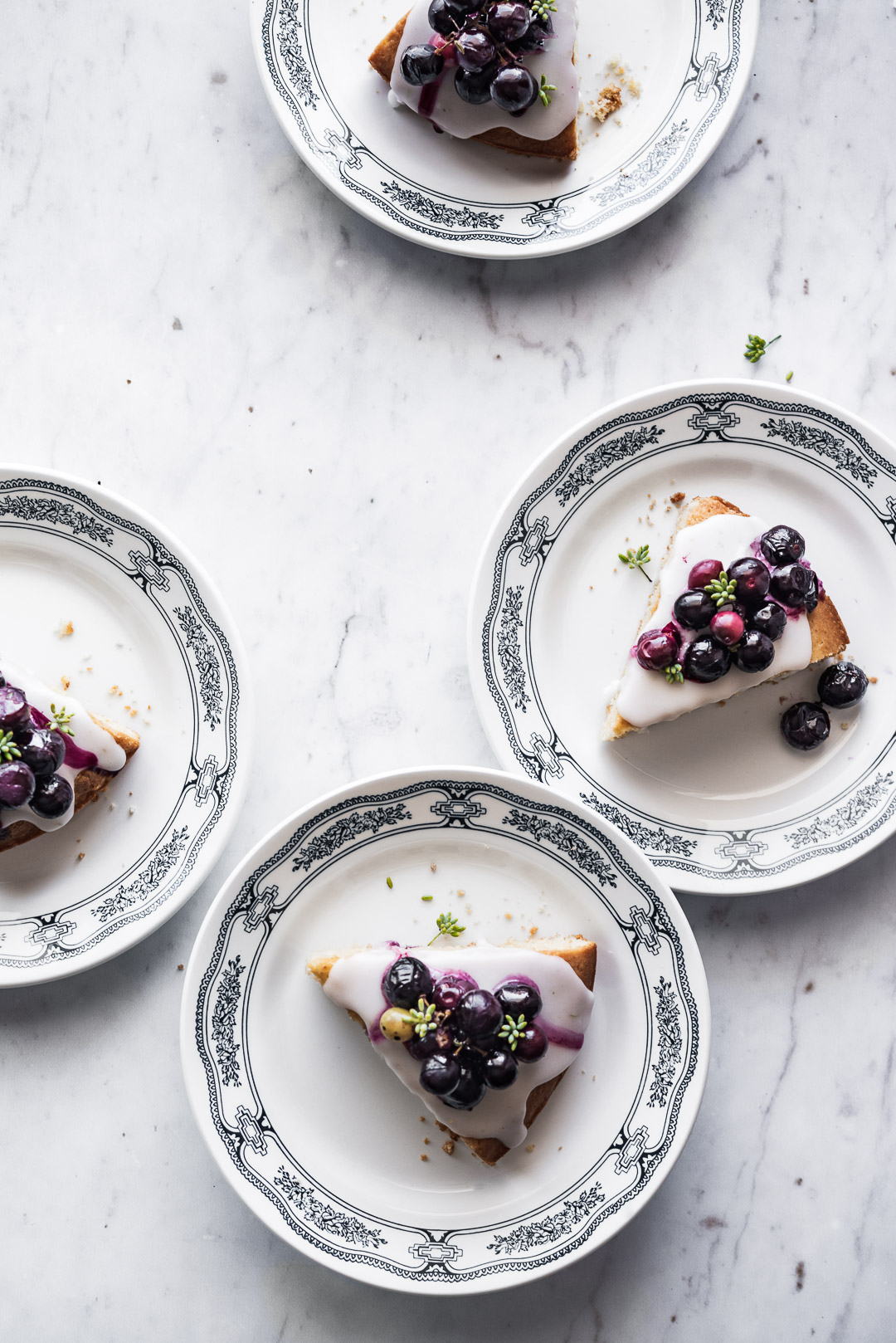 ROASTED GRAPE & FENNEL OLIVE OIL CAKE
---
Total Time:

35 minutes

Yield:

8

slices

1

x
FOR THE FENNEL OLIVE OIL CAKE
1 1/4

cups

(160g) sifted all-purpose flour (you can make your own with ap flour & cornstarch)

1/2 tablespoon

baking powder

1/4 teaspoon

salt

1/2

cup

(50g) finely ground almonds or pistachios (or substitute with nut flour of your choice)

2

large eggs

1/2

cup

+

2

tbsp

(140g) extra virgin olive oil

3/4

cup

+

1

tbsp

(162g) granulated sugar

1 tsp

fennel seeds

1 tbsp

vanilla extract

1/2

cup

(125g) Greek yogurt
FOR THE ROASTED GRAPES
1

lb

(500g) grapes, rinsed clean

1 tsp

fennel seeds

1 tbsp

olive oil
FOR THE GREEK YOGURT GLAZE
2 tbsp

Greek yogurt

1

cup

powdered sugar, sifted
---
Instructions
FOR THE FENNEL OLIVE OIL CAKE
Preheat the oven to 350°F (175°C). Grease an 8″ round cake pan with olive oil and line the bottom with a round of parchment paper.
Add fennel seeds to a mortar and pestle with 1 tbsp of sugar and grind until fine
Sift together the flour, baking powder, salt and fennel sugar. Add almond flour & whisk well, set aside.
Whisk the eggs and the remaining sugar in a medium bowl until fluffy and light in color, about 2 minutes. Slowly stream in the olive oil while continuing to whisk until all of the olive oil is incorporated well.
Add the dry ingredients alternately with the Greek yogurt. Mixing until just blended.
Pour the batter into the prepared pan and spread the batter out evenly with a spatula. Rap the pan on the counter 4 or 5 times to remove any pockets of air in the batter.
Bake the cake in the center of the oven, until a toothpick inserted comes out clean, approximately 22-25 minutes.
Remove the cake from the oven and allow to cool for 10 minutes on a wire rack. Remove the cake from the pan and allow to cool completely on the rack before icing.
FOR THE ROASTED GRAPES
Pre-heat oven to 400°F (200°C)
Add the grapes to a baking pan, drizzle with olive oil and sprinkle with fennel seeds
Roast for 15-20 minutes until the grapes have just started to release their juices and the skins have began to wrinkle
Remove grapes from the oven and allow to cool to room temperature before assembling the cake
FOR THE GLAZE
Sift the powdered sugar into a medium bowl, add the Greek yogurt and whisk until smooth
The glaze should be thick but spreadable
FOR THE ASSEMBLY
Once the cake and the roasted grapes have fully cooled, spoon the glaze over the cake. You can pre-slice the cake and glaze the individual slices, this allows for the neatest presentation.
Allow the glaze to air dry for about 15 minutes before arranging the grapes on top of the cake.
Garnish with young wild fennel seeds if you have access to them and serve :)
Prep Time:

10 minutes

Cook Time:

25 minutes