Sandwiches are my specialty. Don't ask me why this is the first sandwich recipe that has made its way onto the blog. But it is fitting that out of all of the different sandwiches that I make, that this one would be first. This slow-roasted tomato sandwich is probably my favorite sandwich of all time (*this is not an exaggeration), so I could not be more excited to finally introduce my most beloved sandwich to all of you!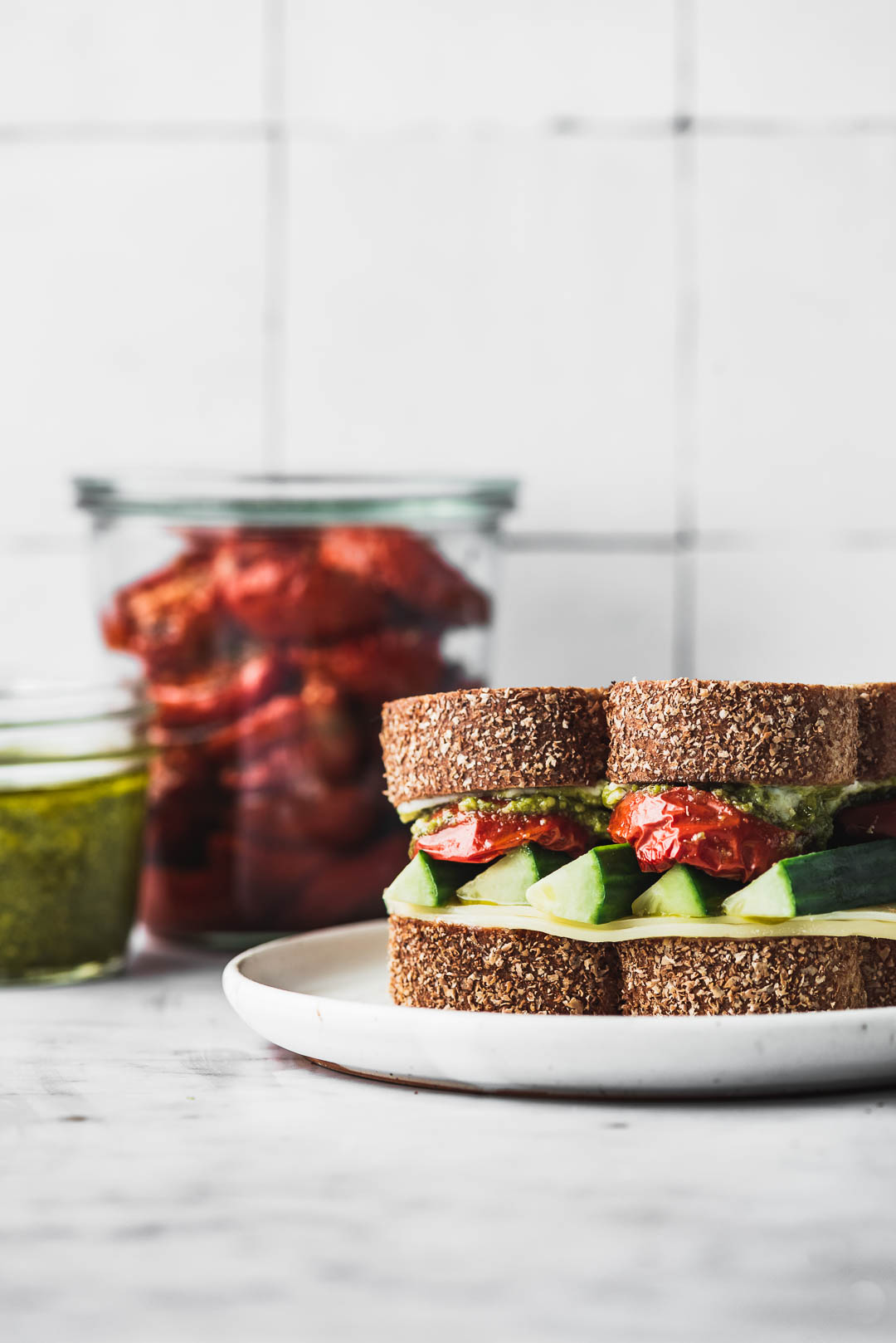 If you are a faithful reader of ful-filled, then you probably know the origin story of this blog. It all started because of the lemon poppyseed muffin that I used to eat at the college I attended. Funny thing is, this slow-roasted tomato sandwich is inspired by what I used to eat for lunch at that same college. I find it ironic that two of the most valuable things that I acquired from my short tenure in higher education were my favorite foods that I ate on campus each day. But low and behold, here I am, living life as a full-time food blogger and photographer. Proving that those two semesters in college were most definitely worth it.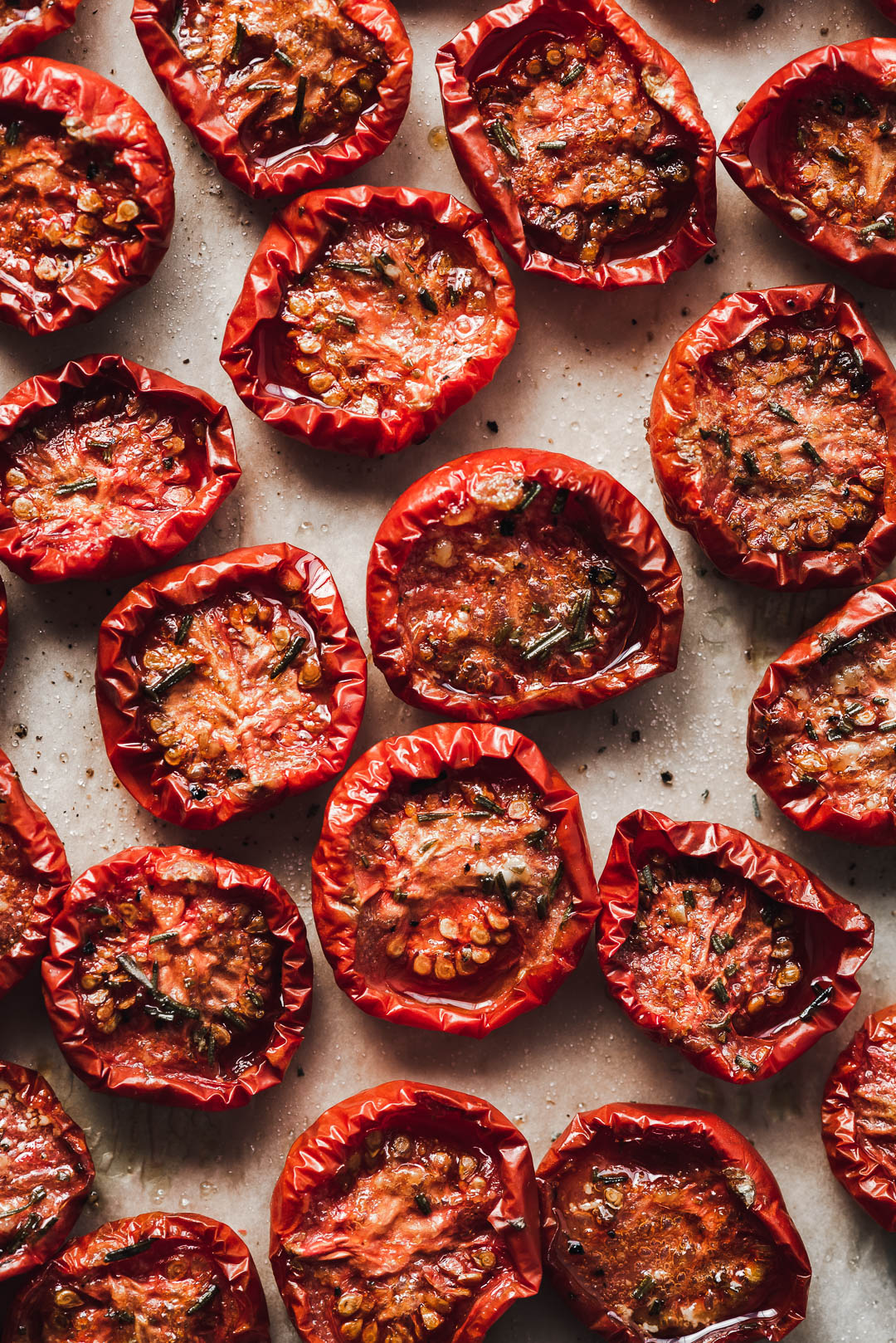 WHY THIS SLOW ROASTED TOMATO SANDWICH IS MY ABSOLUTE FAVORITE SANDWICH
My beloved sandwich from college was made with sun-dried tomatoes, which were delicious, but, what makes this version so special are the slow-roasted tomatoes. If you have never made slow-roasted tomatoes before, be prepared to experience culinary greatness! Juicier than sun-dried tomatoes, slow-roasted tomatoes have a concentrated sweetness and a depth of flavor that is truly amazing.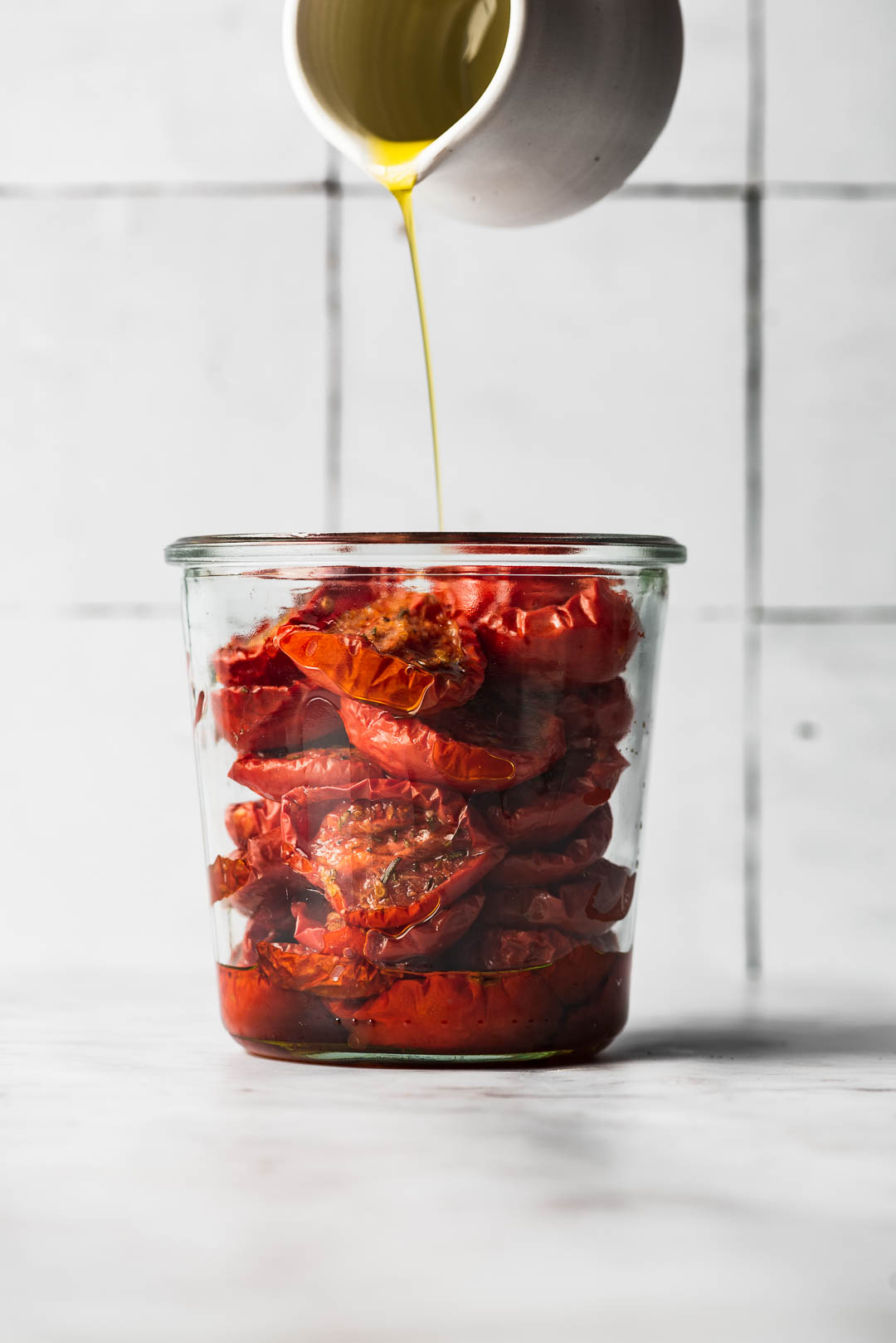 I have always been a fan of pesto. Bright and herby from the basil, salty, and rich from the parmesan cheese, pine nuts & garlic. Pesto is a great addition to all manner of sandwiches. But in the case of this sandwich, pesto joins with slow-roasted tomatoes to create the loveliest flavor pairing. 
With hints of nuts and salty undertones, provolone is smooth, mild, and full of character. Provolone's unique characteristics make it great for sandwiches in general, but especially for this slow-roasted tomato sandwich. If you're looking for a vegan alternative, VioLife makes the best vegan provolone.
Next to the slow-roasted tomatoes, the cucumber is the next ingredient that really makes this sandwich shine. Cucumbers add the most satisfying crunch to any sandwich, but here, the cucumbers are also key in balancing all of the strong flavors.
Last but not least, bread & mayo! These two elements are more up to your personal preference, but I do have an opinion of what suits this particular sandwich perfectly. I highly recommend a soft sandwich loaf for the bread. Here I opted for a thick-cut, super soft, whole wheat sandwich loaf (I got this one from Trader Joe's). As far as the mayo, we love Just Mayo or Veganaise in our household, but whatever mayo you love will do ;)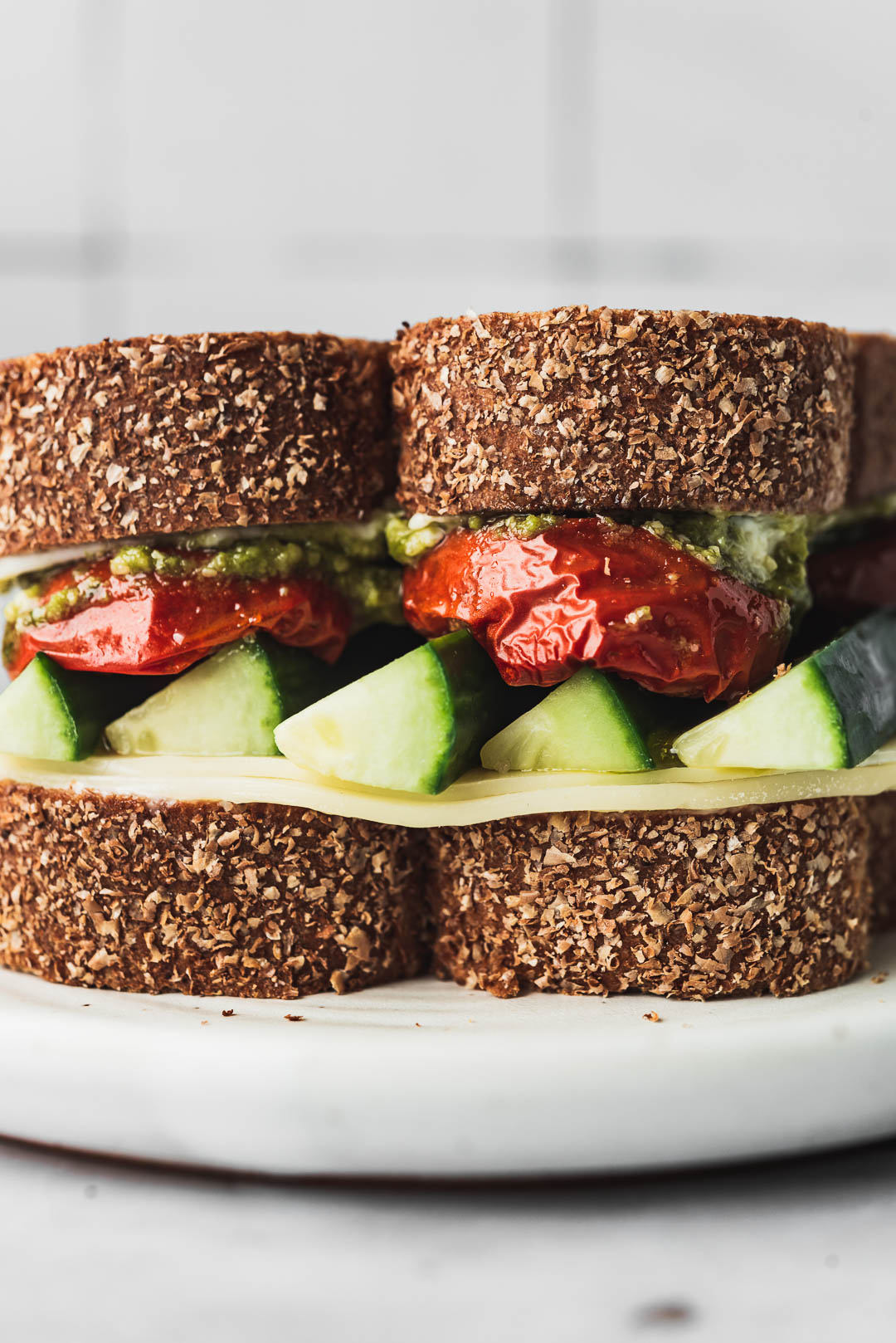 I could quite literally go on and on about why I love this sandwich, but you really just need to make it. After just one taste you will understand the greatness! And you will know firsthand why this slow-roasted tomato sandwich has even turned devout carnivores, into veggie sandwich lovers!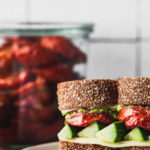 SLOW-ROASTED TOMATO SANDWICH
---
FOR THE SLOW-ROASTED TOMATOES
18

–

24

small to medium sized plum tomatoes (I used 2.5″ diameter, dry-farmed early girl tomatoes), halved

1

clove garlic, crushed

2 tbsp

olive oil

1 tsp

salt

1 tsp

sugar

1 tbsp

fresh minced rosemary
fresh ground pepper
FOR THE SANDWICHES
sliced, super soft sandwich loaf
mayo
pesto (make your own or use store-bought)
cucumber, sliced into spears to fit your bread
sliced provolone cheese
slow-roasted tomatoes
---
Instructions
FOR THE SLOW-ROASTED TOMATOES
Preheat oven to 250°F, arrange tomatoes on a parchment lined baking sheet face side up, leaving enough room between each tomato for heat to circulate evenly.
In a small bowl, mix together the olive oil & crushed garlic. Brush the tops of each tomato with the olive oil garlic mixture. Sprinkle the tops of the tomatoes with salt, sugar and finish off with the minced rosemary.
Place tomatoes in the oven and roast for 6-8 hours. The exact amount of time will vary based on the size of your tomatoes. You are looking for the tomatoes to be slightly dry to the touch but not excessively juicy in the center.
Once tomatoes are done roasting you can place them in a jar and store in the refrigerator, where they should last at least a week (if you don't eat them all within a day or two ;)
FOR THE SANDWICHES
Spread a layer of mayo on each slice of bread. Add pesto to one of the slices followed by an even layer of slow-roasted tomatoes. To the other slice of bread, add two thin slices or one thick slice of provolone cheese followed by cucumber spears.
Bring your sandwich halves together and enjoy!
Notes
Slow-roasted tomatoes can be stored longer if you completely submerge them in olive oil (up to two weeks). To store longer, you would need to can them.
Prep Time:

15 minutes

Cook Time:

0 hours

Category:

LUNCH, SUMMER, VEGAN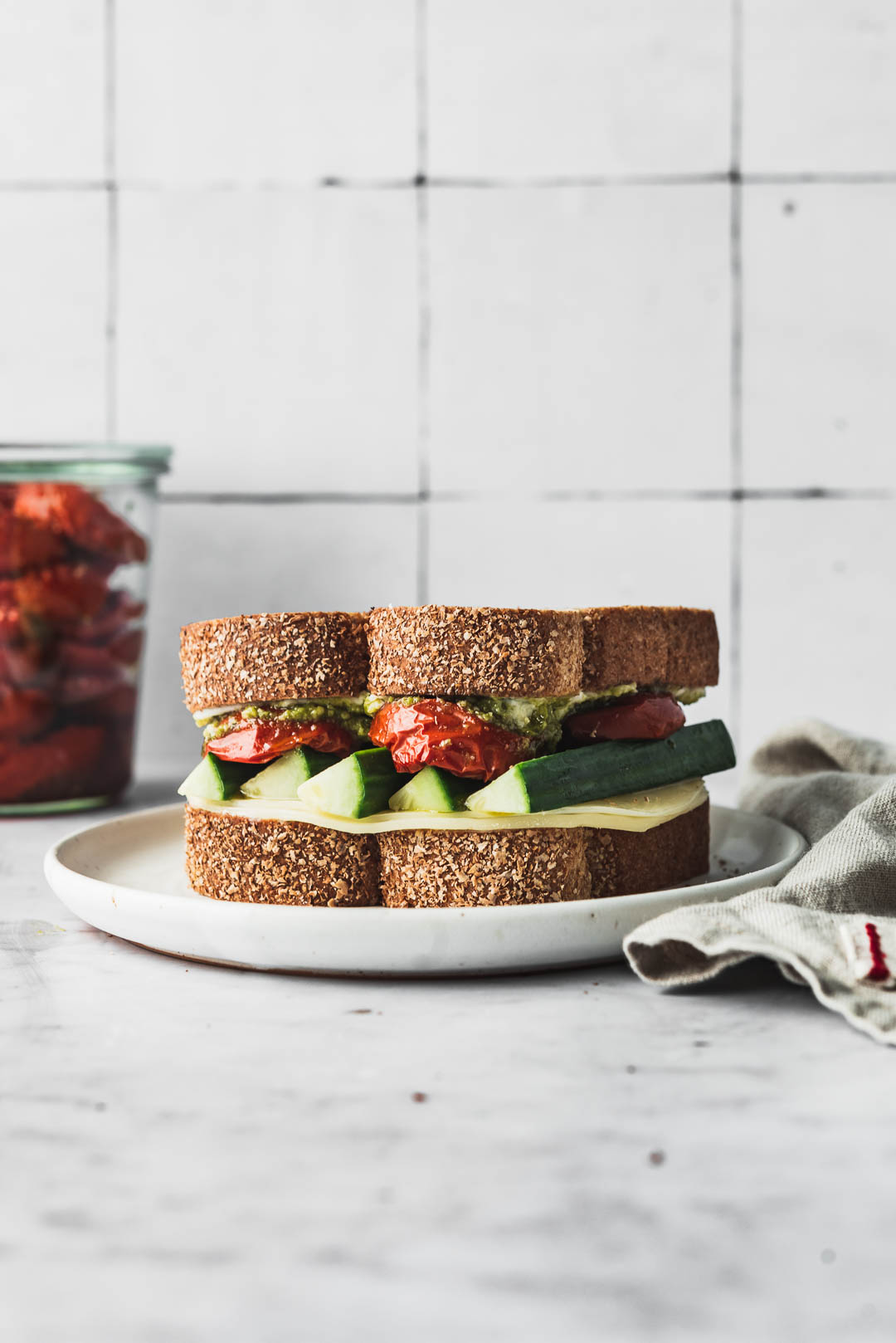 MORE TOMATO RECIPE INSPIRATION: