I am honored to be sharing a recipe from my friend Diala Canelo's debut cookbook "Diala's Kitchen." A diverse collection of plant-forward & pescatarian recipes inspired by Diala's travels combined with her passion for bringing people together. Out of all of the recipes in this vibrant cookbook, the one I just had to make first and share here on my blog is her recipe for sesame noodles with maple-harissa tofu.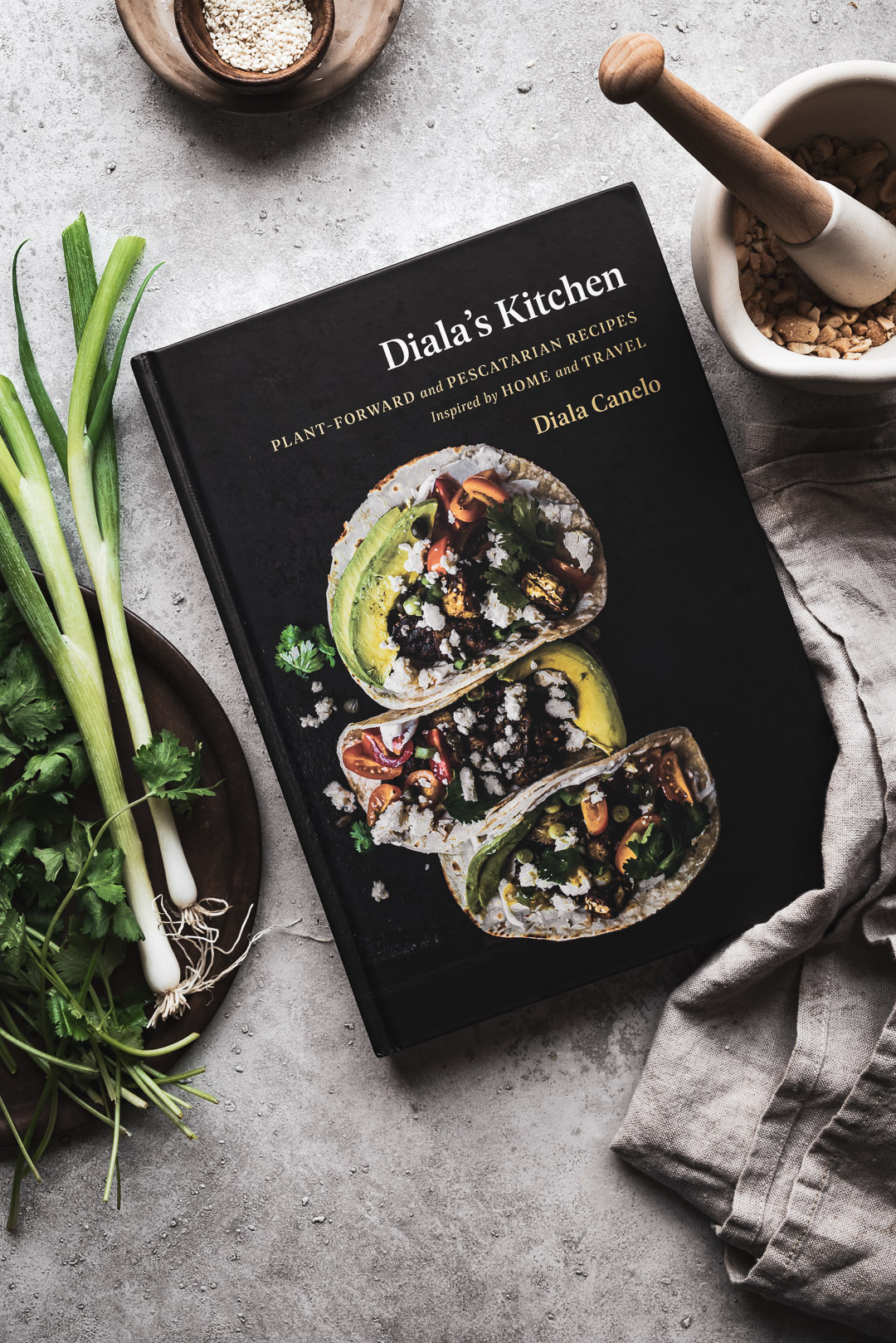 The moment I saw these sesame noodles with maple-harissa tofu I knew it would become a staple recipe that we eat time and time again. This recipe hits all of the points of what makes for a well-balanced meal, and it just happens to be vegan too! It is super adaptable based on your personal preferences. The rich spices of the harissa are balanced by the maple syrup and garlic which makes for seriously tasty tofu. Even my hubby loved it and he is not a tofu fan whatsoever! For the noodles, we opted for buckwheat soba which I highly recommend if you can procure them. But Diala also suggests whole wheat spaghettini as a substitute which would be equally delicious.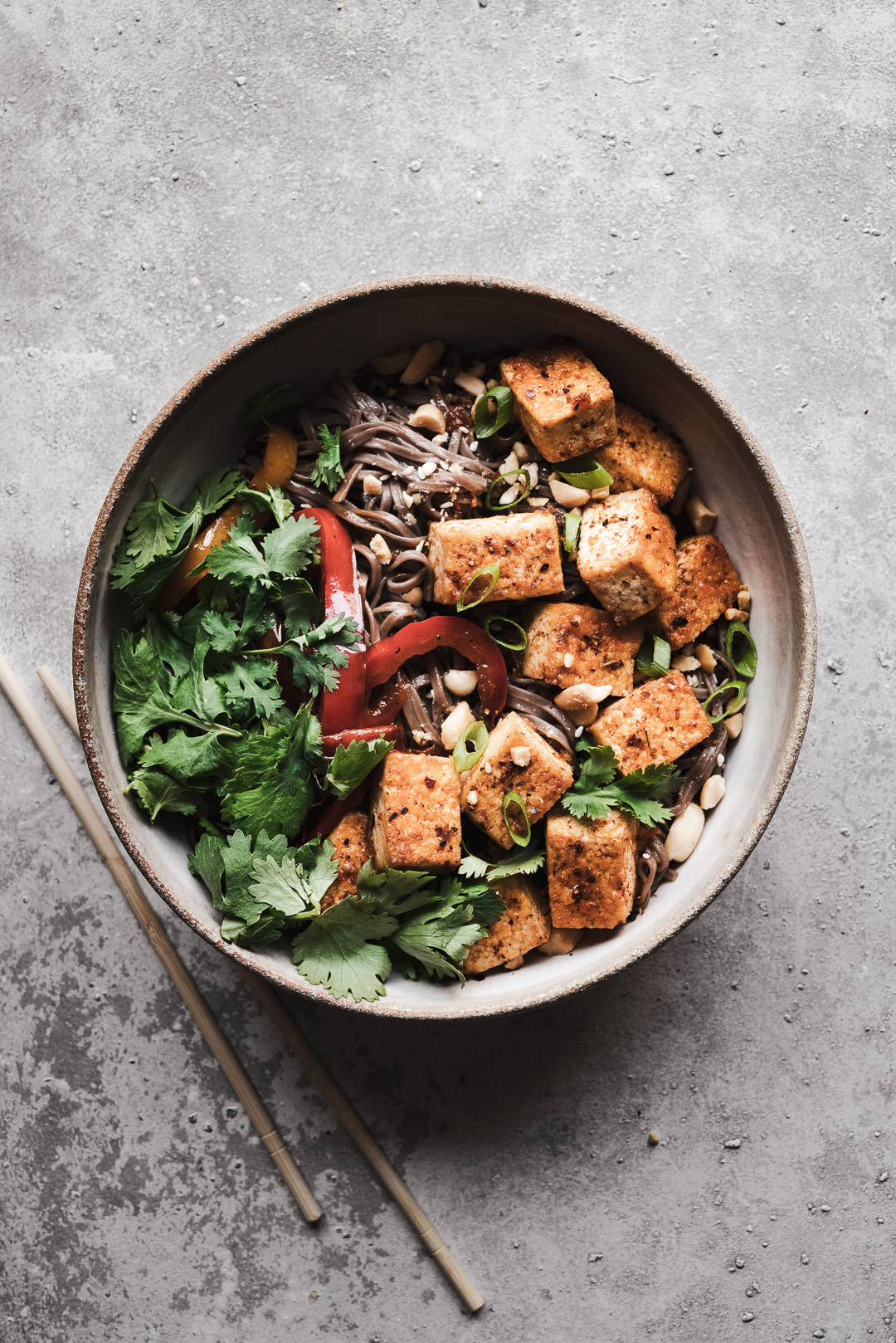 I could carry on and on about these sesame noodles with maple-harissa tofu. And how my hubby and I have already made plans for them to be on regular rotation in our kitchen. But I really want to take a minute to share more about Diala and why I chose to buy her cookbook.
This year continues to be incredibly challenging. Diala's cookbook release was majorly delayed because of COVID-19. And she lost her job as a flight attendant due to the pandemic as well. I knew that buying her cookbook would mean so much more than filling my kitchen with more recipe inspiration. In buying this cookbook, I am supporting Diala through a deeply difficult time. It means that I am amplifying the voice of a woman of color. Something that has not been done nearly enough for far too long in the food industry. Ultimately, this cookbook purchase is reinforcing a bigger message. A message of love and support, in a time when our world is more divided than ever.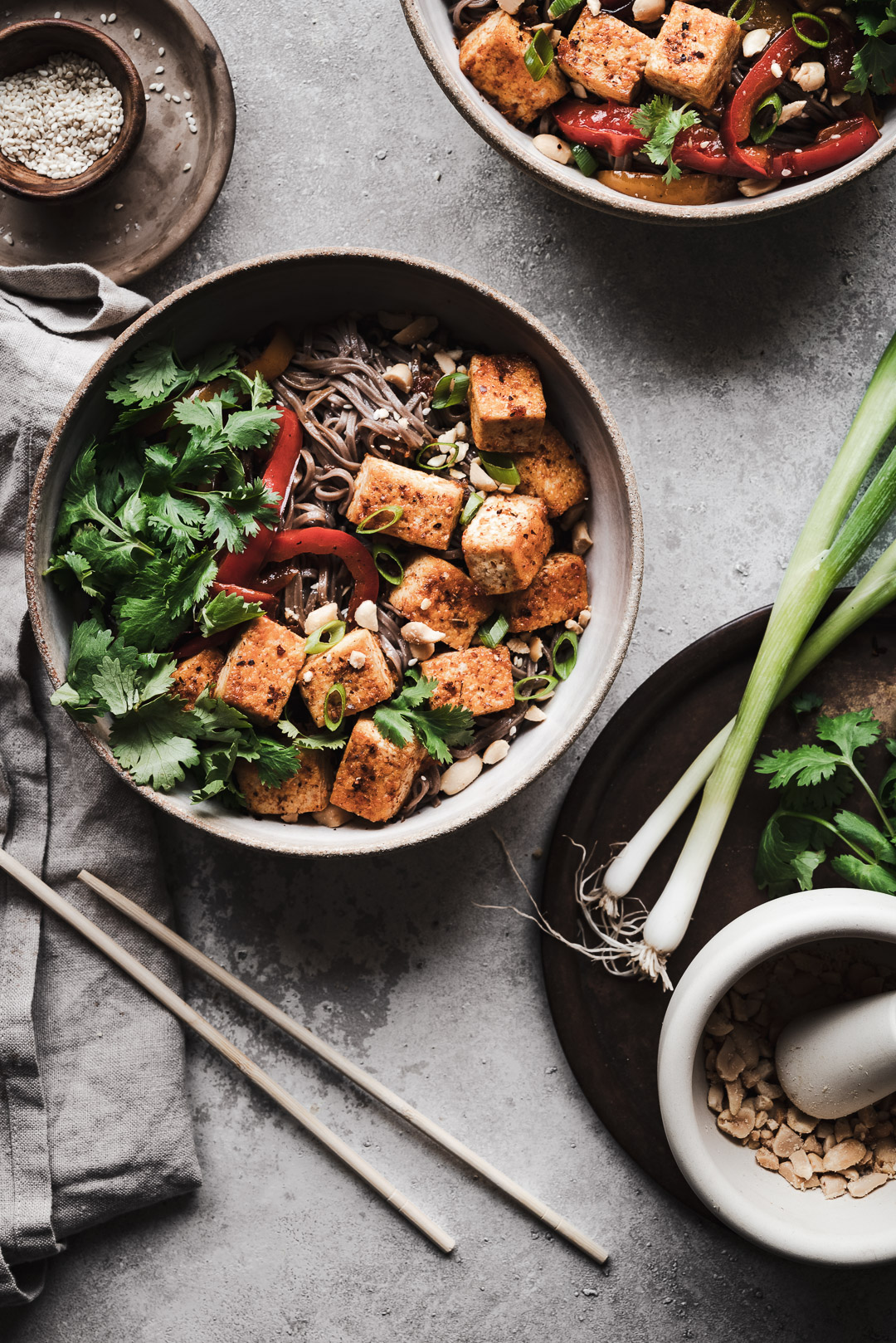 In conclusion, I have two hopes in sharing this recipe for sesame noodles with harissa-maple tofu. Firstly, that you are inspired to cook this most delicious meal. And secondly, that you are encouraged to look for ways to build others up. Because God knows our world could use more people looking for what good they can do for someone else.
Click HERE to learn more about Diala's debut cookbook.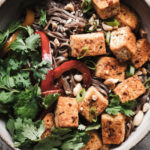 SESAME NOODLES WITH MAPLE-HARISSA TOFU
---
Total Time:

40 minutes

Yield:

4

servings

1

x
1

block (12 ounces/350g) extra-firm tofu

2 tbsp

(30ml) extra-virgin olive oil

1 tbsp

+ 2 tsp (25ml) pure maple syrup

1 1/2 tsp

(7ml) harissa paste

1/4 tsp

(1ml) sea salt

1

clove garlic, finely chopped

1 tbsp

+ 1 1/2 tsp (22ml) cornstarch

1

pound

(450g) soba noodles or whole wheat spaghettini

1/3

cup

(75ml) sesame oil

1/4

cup

(60ml) soy sauce

1/2 tsp

(2ml) grated fresh ginger

2

green onions (white and light green parts only)
FOR SERVING
1/2

cup

(125ml) raw peanuts, lightly crushed
fresh cilantro leaves

1/2

sweet red pepper, thinly sliced (we sautéed our peppers in olive oil until soft)

1/2

sweet orange pepper, thinly sliced

2 tbsp

(30ml) sesame seeds
---
Instructions
Preheat the oven to 375°F (190°C). Lightly oil a baking sheet.
Drain the tofu and pat dry with a kitchen towel. Cut the tofu crosswise into strips 1/2 inch (1cm) thick.
In a medium bowl, combine the olive oil, maple syrup, harissa paste, salt and garlic. Stir until smooth. Place the tofu in a large shallow dish and cover with the maple harissa marinade. Let marinate for 10 minutes.
Drain the tofu (*we reserved the marinade and added it to the noodle dressing) and transfer to the prepared baking sheet. Sprinkle the cornstarch evenly over the tofu slices. Bake for 15 minutes, or until lightly golden brown, turning once.
Meanwhile, boil the noodles in a large pot of salted water until just tender (about 8 minutes for spaghettini or 4 minutes of buckwheat soba). Drain the pasta and rinse under cold running water until the pasta is cool. Return the noodles to the pot.
In a medium bowl. stir together the sesame oil, soy sauce, ginger, and green onions.
Add the baked tofu to the pot with the noodles. Add the sesame oil mixture and mix with tongs until the noodles are well coated.
To serve, dive the tofu noodle mixture among bowls and top with peanuts, cilantro, sweet peppers, and sesame seeds. Enjoy :)
Prep Time:

20 minutes

Cook Time:

20 minutes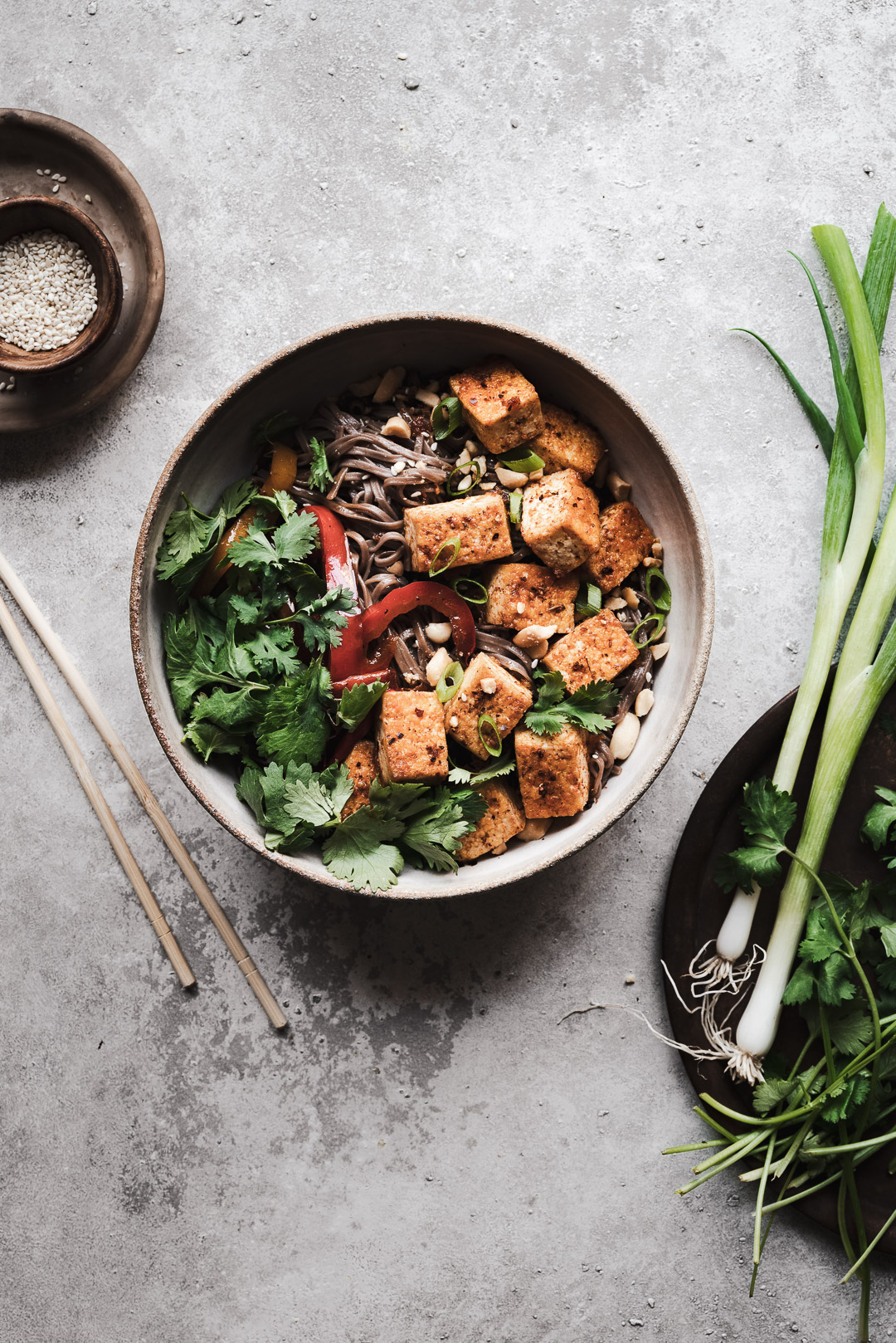 MORE RECIPES FROM COOKBOOKS CREATED BY MY FRIENDS: