The other day I found myself craving picadillo, a rich and savory Cuban meat sauce. This craving was most likely influenced by seeing two of my friends share about picadillo in the same week, lol! But once picadillo was on my mind, I absolutely had to make it happen! I put together these Cuban picadillo bowls that feature cilantro rice and the most delicious avocado citrus slaw and the combination was SO good, I just had to share the recipe here on the blog!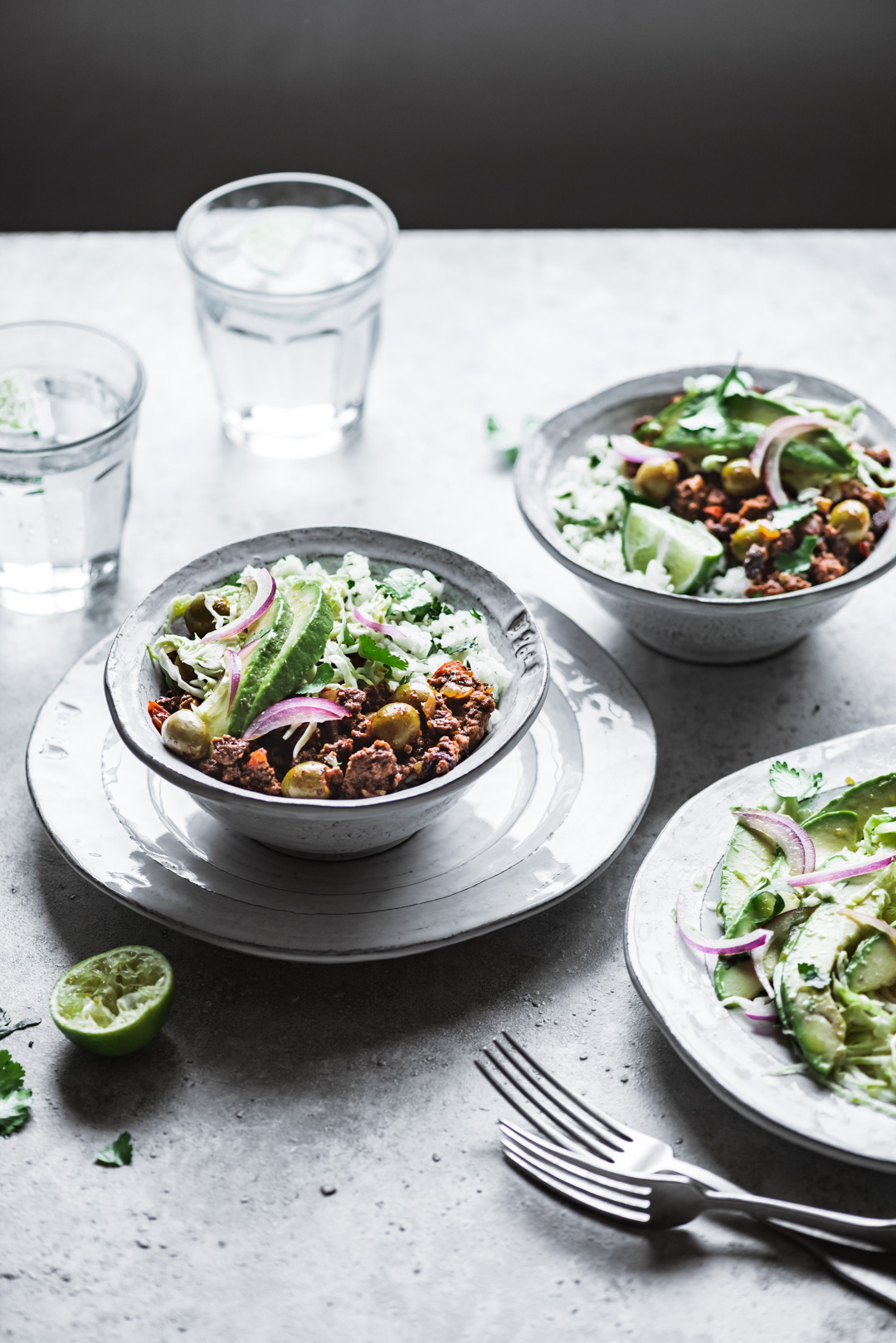 THOUGHTS ON EATING MEAT
If you've been following along here, you may have noticed that I typically share vegetarian fare here on ful-filled. This has been my food approach for some time because I really want to inspire people to eat less meat. But, I decided to share this recipe featuring grass-fed beef because it just felt right. We are currently living in a time when eating meat has come under extreme scrutiny, and truth be told, eating meat should be under extreme scrutiny. Our modern food system needs major overhauling and one of the most pivotal changes that needs to happen is to the meat industry. 
But, the truth of the issue is that the most important step to changing the meat industry is not to stop eating meat altogether, but is to instead, support regenerative agriculture. If you are not familiar with regenerative agriculture, I urge you to listen to this short podcast episode of The Doctor's Farmacy. This podcast episode does a great job of quickly, but thoroughly explaining regenerative agriculture and how it is the key to fixing our food system to be good for the earth, for the animals and for us. 
So I share this recipe for Cuban picadillo bowls featuring grass-fed beef as a way to bring awareness to this important topic during a pivotal time in our history. I hope that everyone who reads this takes the time to understand just how important our food choices are and that we truly can make a difference with the foods we choose to nourish ourselves with.
BUILDING A CUBAN PICADILLO BOWL
CILANTRO RICE: Picadillo is typically served with rice. In this case, we are serving it over cilantro rice because we LOVE cilantro and have a ton of it growing in our herb garden at the moment. But, if you are one of those people who can't do cilantro, simply leave it out & squeeze a bit of fresh lime juice into your rice when it is finished cooking!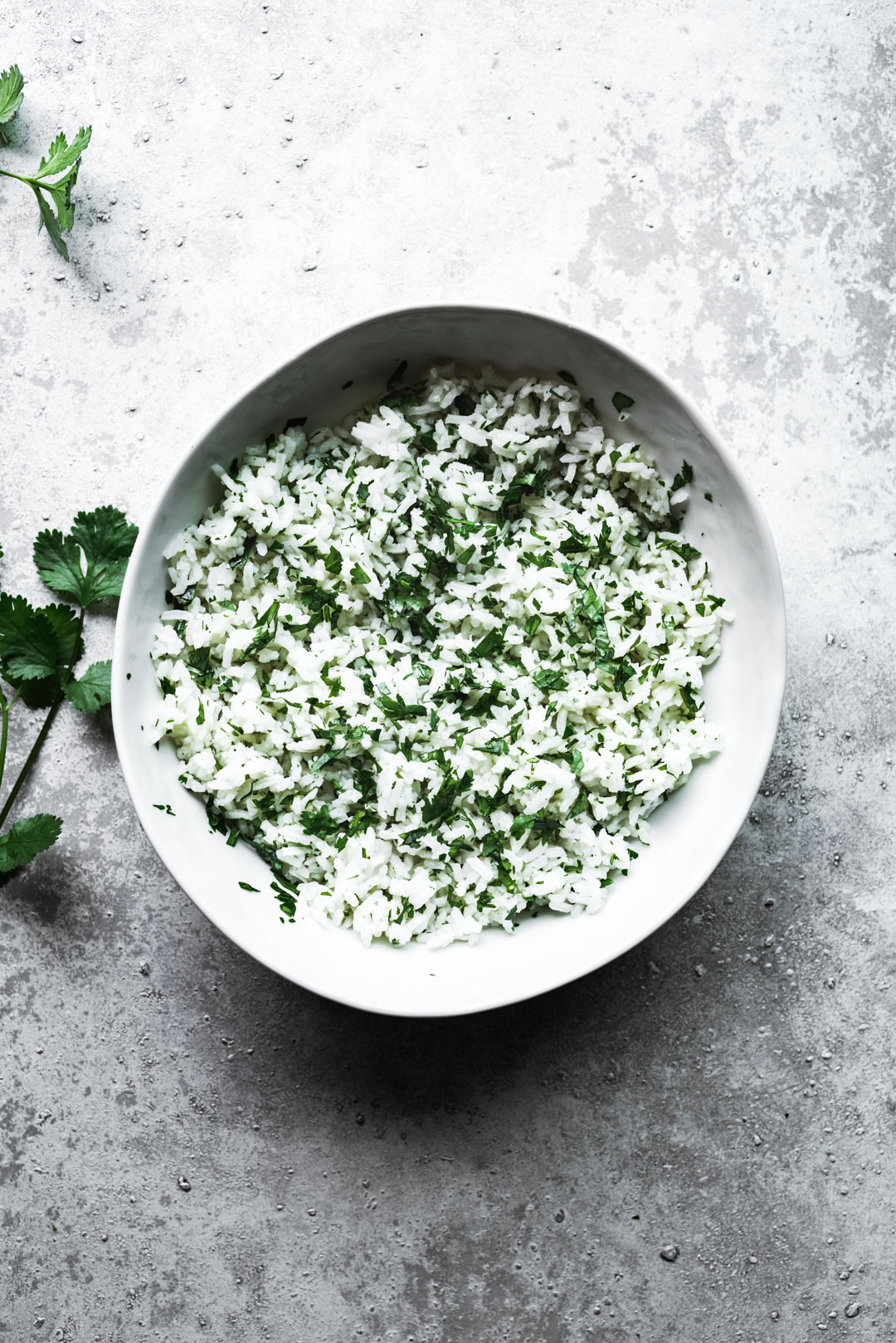 PICADILLO: is a traditional dish in many Latin American countries and the Philippines that is typically made with ground beef, tomatoes, raisins, olives, and other ingredients that vary by region. If you're not a fan of raisins, you may want to reconsider for picadillo's sake because they are the perfect complement to the briny olives and savory meat sauce. Our first picadillo experience was based on the Cuban way, so that is the version we are most fond of and what I am sharing with you here :)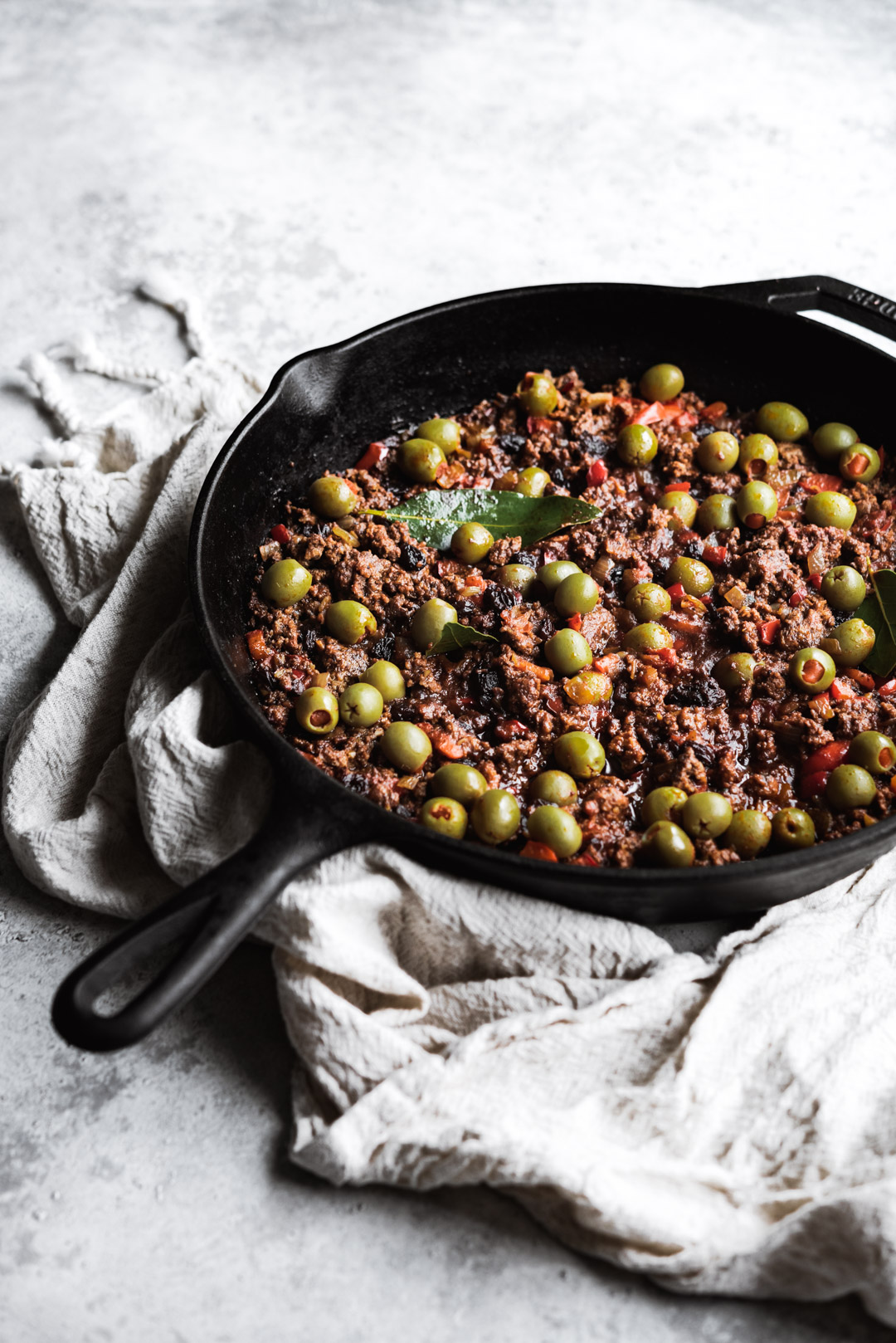 AVOCADO CITRUS SLAW – I am always looking for ways to incorporate elements of freshness to our meals, so I whipped up a version of a Cuban avocado salad to accompany the picadillo & rice. It features a most delicious citrus dressing, finely shaved cabbage for some crunch and some more cilantro, because, as I said above, we love it!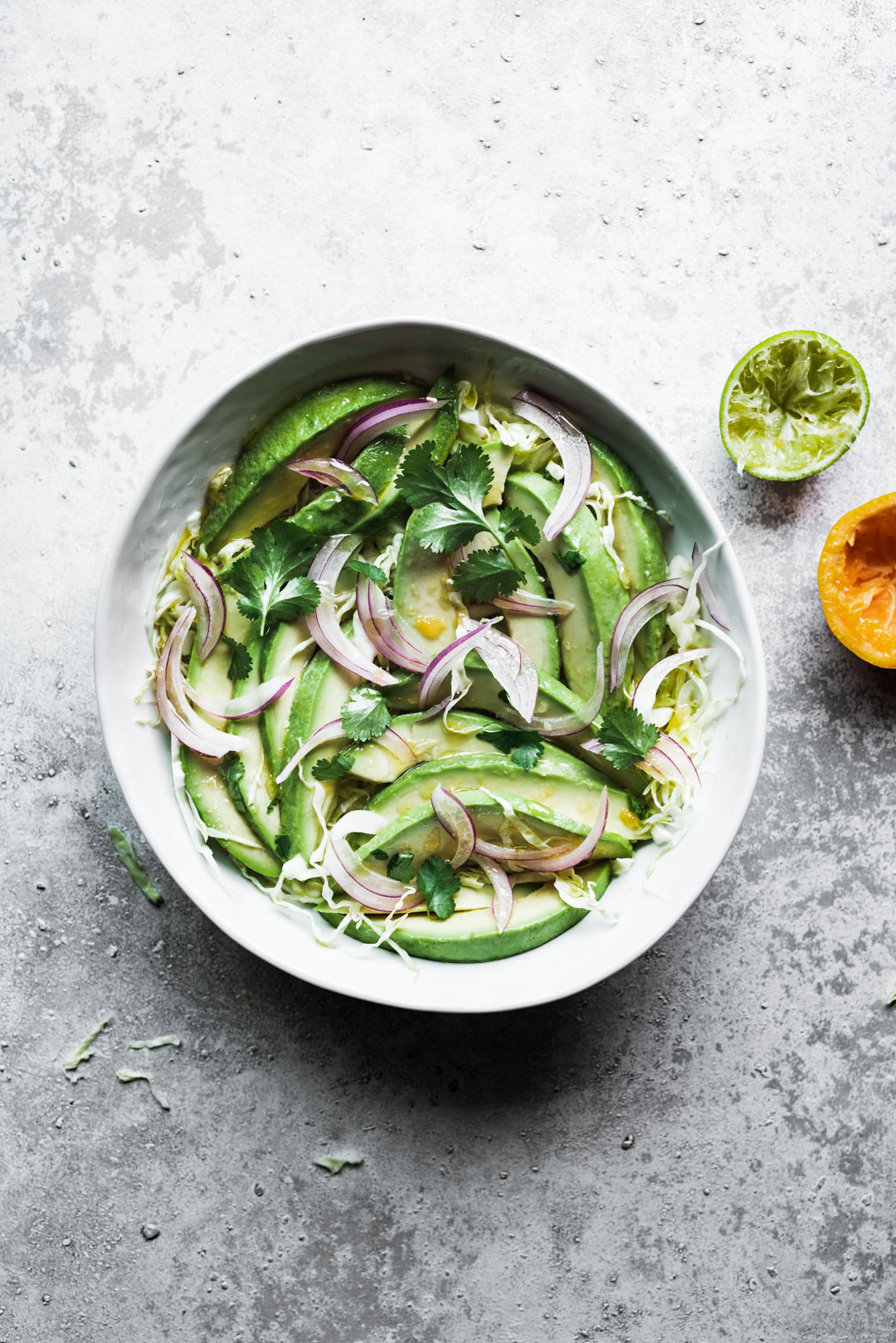 These Cuban picadillo bowls are a great representation of how we like to enjoy meat in our house. One pound of grass-fed ground beef turns into 4 adult servings worth of picadillo, which means that hubby and I get two meals out of this recipe. Grass-fed ground beef is one of the most affordable types of animal protein that is raised sustainably, so it is a great choice if you are looking to support regenerative agriculture on a budget.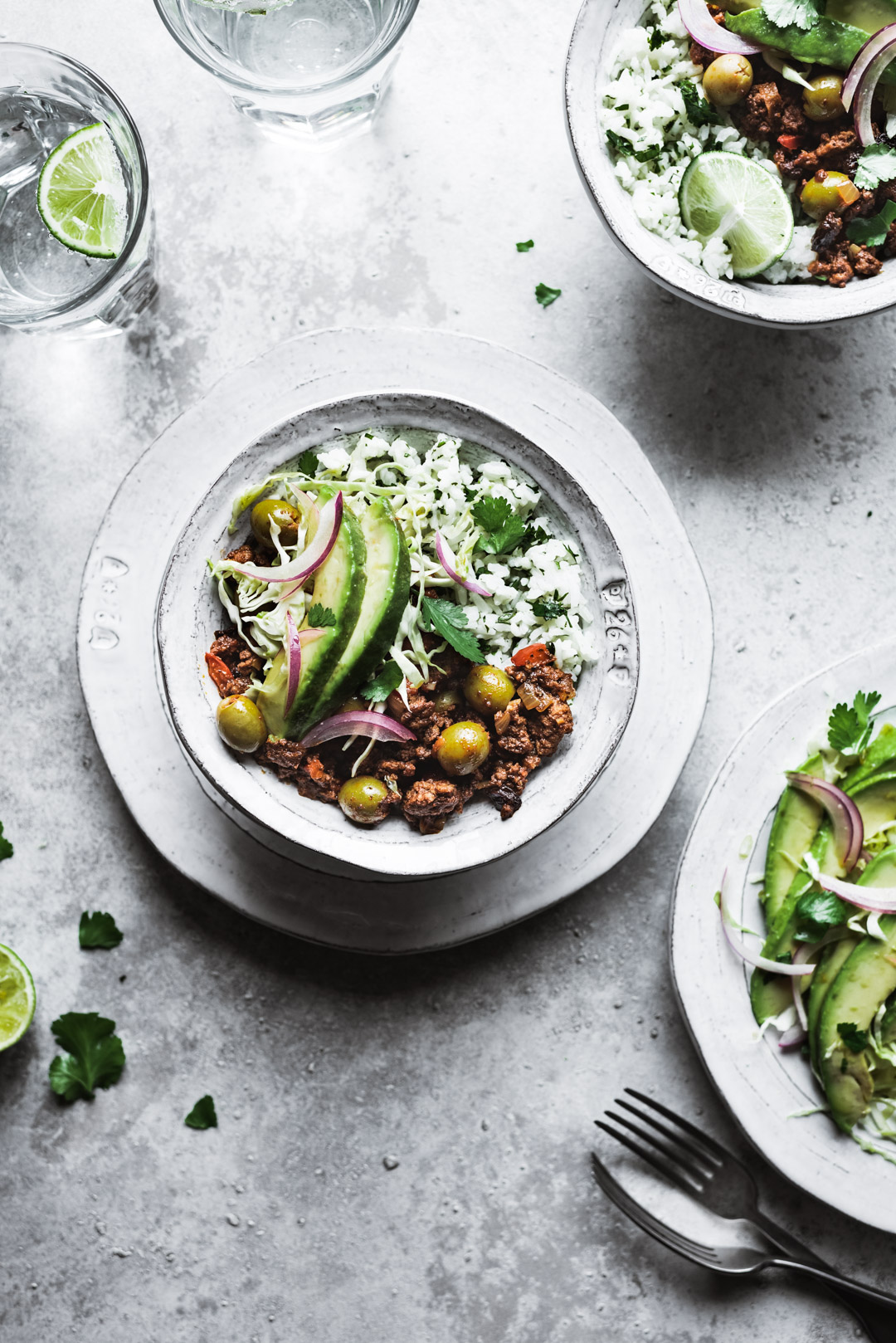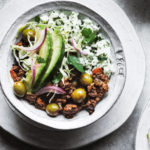 CUBAN PICADILLO BOWLS
---
Total Time:

40 minutes

Yield:

4

servings

1

x
FOR THE CILANTRO RICE:
2

cups

broth, vegetable or chicken (you can also use water)

1

cup

long-grain white rice, rinsed

1/2 teaspoon

salt

1/4

cup

finely chopped cilantro

1

lime, juiced
FOR THE PICADILLO
1 tbsp

olive oil

1

medium onion, chopped

1

medium red bell pepper

2

cloves garlic, minced

1

lb

. grass-fed ground beef

1/2 tsp

salt
fresh ground pepper, to taste

1/8 tsp

ground cinnamon

1 tsp

oregano

1 tsp

cumin

1 tsp

paprika (use smoked paprika if desired)

2 tbsp

tomato paste

1/2

cup

vegetable or chicken broth

1/4

cup

raisins

2

bay leaves

1/2

cup

pitted stuffed olives (if using small olives you can leave whole, or if using large olives, you will want to slice them into halves or quarters)
FOR THE AVOCADO CITRUS SLAW
2

avocados, firm ripe, sliced thin

2

cups

finely shredded cabbage

1/4

cup

thinly sliced red onion

1/4

cup

olive oil

1 tbsp

lime juice, fresh

3 tbsp

orange or mandarin juice, fresh

1/2 tsp

salt
cilantro for garnish
lime wedges for serving
---
Instructions
FOR THE CILANTRO RICE:
Add borth to a medium saucepan or deep skillet set over medium-high heat. Bring broth to a boil.
Stir in the rinsed rice and salt. Reduce the heat to low, cover and cook the rice for 15-18 minutes, until it is cooked through and the water is fully absorbed.
Remove the rice from heat and let stand, covered for 5 minutes. Fluff rice with a fork.
Add cilantro, lime juice, to cooked rice stirring gently to mix together.
FOR THE PICADILLO:
Add olive oil to a large skillet and heat over medium heat. Add onions, red pepper, and cook for 3 minutes. Add in the minced garlic and cook for another minute.
Add ground beef and cook, breaking the meat apart, until no longer pink, about 5 minutes.
Sprinkle in the salt, cinnamon, oregano, cumin, paprika, & fresh ground pepper, stirring to combine.
Turn the heat down to low, stir in tomato paste, broth & raisins. Cover & allow to simmer for 10-15 minutes and then add in the green olives.
FOR THE AVOCADO CITRUS SLAW:
While the picadillo & rice cook, prepare the avocado citrus slaw:
Add the finely shredded cabbage to a wide & shallow bowl. Add the avocado slices and red onion over the top of the cabbage. Mix the olive oil, citrus juices & salt in a small bowl until mixture is homogenous. Drizzle the dressing over the avocado, onion & cabbage. Garnish with cilantro if using.
TO SERVE:
Add some rice to a bowl, top with picadillo and some of the avocado citrus slaw. Garnish with cilantro and serve with a lime wedge. Enjoy!
Prep Time:

20 minutes

Cook Time:

20 minutes

Cuisine:

Latin
MORE MEAT RECIPE INSPIRATION: