Lahanodolamdes (pronounced: LA-ha-no-dol-ma-thes) are the Greek version of cabbage rolls. Rice and ground meat get flavored with seasonal herbs, wrapped in softened cabbage leaves and gently cooked in liquid until they are melt in your mouth tender. Cabbage rolls are a simple food that are made in different cultures all throughout Europe and the Middle East. Our family recipe for Greek lahanodolmades comes from our Yiayia Maria, a woman who is no longer with us, but whose legacy permeates our life and existence every day.
Yiayia Maria is the paternal grandmother to my hubby. She was born on the Island of Thassos in Greece, sometime around 1912. The eldest of two daughters to her parents, her family migrated to Turkey when she was very young to find work and a better life than their small village on Thassos could provide. This was an extremely sensitive time in history to be living in Turkey, as Christians were viewed as a threat to the integrity of a modern Turkish nation state. At the turn of the century, the once far-flung Ottoman empire was crumbling at the edges, beset by revolts among Christian subjects to the north. What became of all of this tension was the systematic elimination of Christians from the Ottoman region from the years of 1914-1922. (Read this article to learn more about this dark time in world history). The threat for Yiayia Maria's family became present in January 1917, when a decree was sent from the Turkish government for the deportation of Greeks from the greater Samsun district, making clear that there was to be no assaults on any people or property. This decree was not executed as ordered however, and instead Greek men were taken into labor camps, women and children were attacked, and villages were looted.
At this point, Maria's father Gregori left his wife and children to avoid being taken into a labor camp and to try to find hope for a new life for his family in America. Soon after her husband left, Maria's mother was raped and began to fear for her family's survival. Maria's little sister grew very sick to the point that their mother had to make the impossibly difficult decision to leave her children with the Kokkino Stavro, the Red Cross, in hopes that their lives would be preserved and that she would be able to recover them once she could provide them a better life. The nurses welcomed the girls with a bath, a hot meal and a warm bed – Maria felt so grateful. But her gratitude was met with deep pain and confusion when she woke the next day to find that her mother had left. Things grew even worse for Maria when just a couple of days later, her little sister succumbed to her sickness and died next to her in their bed in the middle of the night.
Maria stayed as an orphan with the Red Cross until they sent out an announcement for families that had been dispersed and separated to come claim their orphaned relatives. She was claimed by an uncle who took her to live with his family, but she was not treated well there and left that family as soon as she was able to find a job. She worked for a Kyria (a wealthy woman) who was married to a doctor. She worked as a maid and housekeeper for this couple, but left as soon as she was able because she was mistreated by the woman's husband (we believe she was repeatedly sexually abused by him).
A poor girl with no dowry to offer, Maria married a poor man named Lazaro at the age of 17. She proceeded to have 7 children, losing one of her daughters to sickness at the age of 3. Her husband Lazaro was not a good husband or father. The family was extremely poor – so much so that the children would often sneak spoonfuls of soup from their neighbor's kitchen because they were so hungry. Her husband Lazaro died young (we aren't sure how), leaving her to raise her 6 remaining children on her own. Her mother Koula had reunited with her husband Gregori in America and had gotten in contact with Maria through her relatives in Greece. She would regularly send money to Greece help her daughter Maria, but once she found out that Maria's husband had died, she began to search for a way to bring her to America.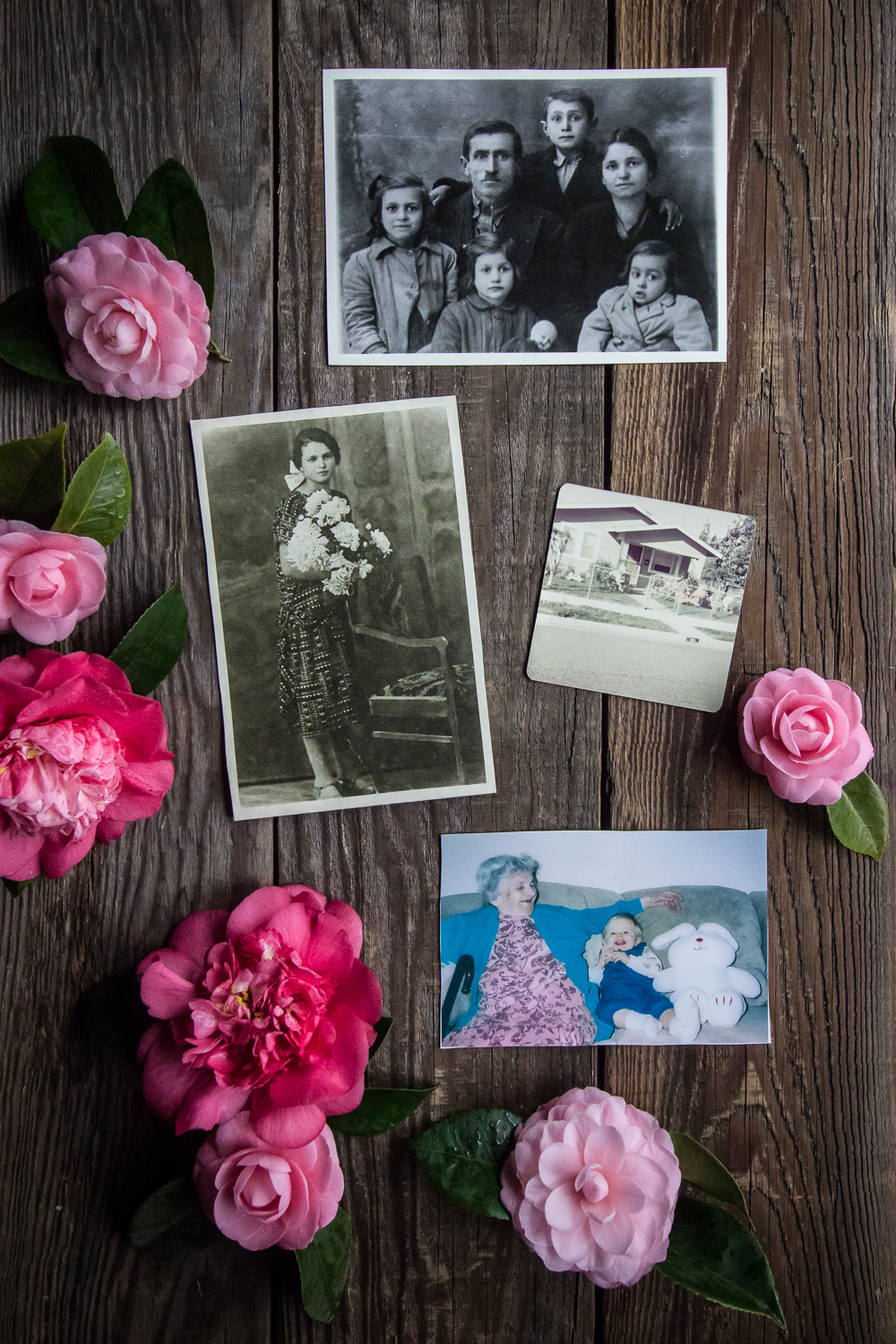 Maria's father Gregori used to regularly walk the streets of Roseville, California picking up litter (he couldn't stand "litterbugs" as he would call them). One day while he was picking up litter in his neighborhood, he ran into a man doing the same. His name was Demo Karadimon, an fellow immigrant from Greece, who worked on the railroad and lived nearby. The two men hit it off and as they got to know each other more, Gregori and his wife Koula eventually spoke to Demo about the prospect of him taking in their daughter Maria and her children from Greece. Demo had never married and found this as an opportunity to have a family, so he remodeled his home on Ash Street, building an addition to make room for his soon to be wife and her children. Maria only brought her three youngest children with her to America, as her eldest children were independent enough to provide for themselves and actually made the choice to stay in Greece.
Once in America, Maria and her children had things that they had never known, namely, a husband and father that loved them, cared for them and provided for them. Maria's children grew, married and had children of their own. Demo and Maria became Papou & Yiayia (grandpa & grandma) – being grandparents brought them so much joy. Papou Demo passed away when my hubby was only a few years old, but my hubby had a very deep relationship with his Yiayia Maria. He grew up knowing his Yiayia as a lover of pink flowers, Juicy Fruit gum, Kentucky Fried Chicken (which she called "Kontouko"), and the t.v. show Perry Mason. Her cooking was simple and unassuming, just like her. She was most well known for her lahanodolmades. She ate cabbage so often that her house pretty much always smelled like cooked cabbage.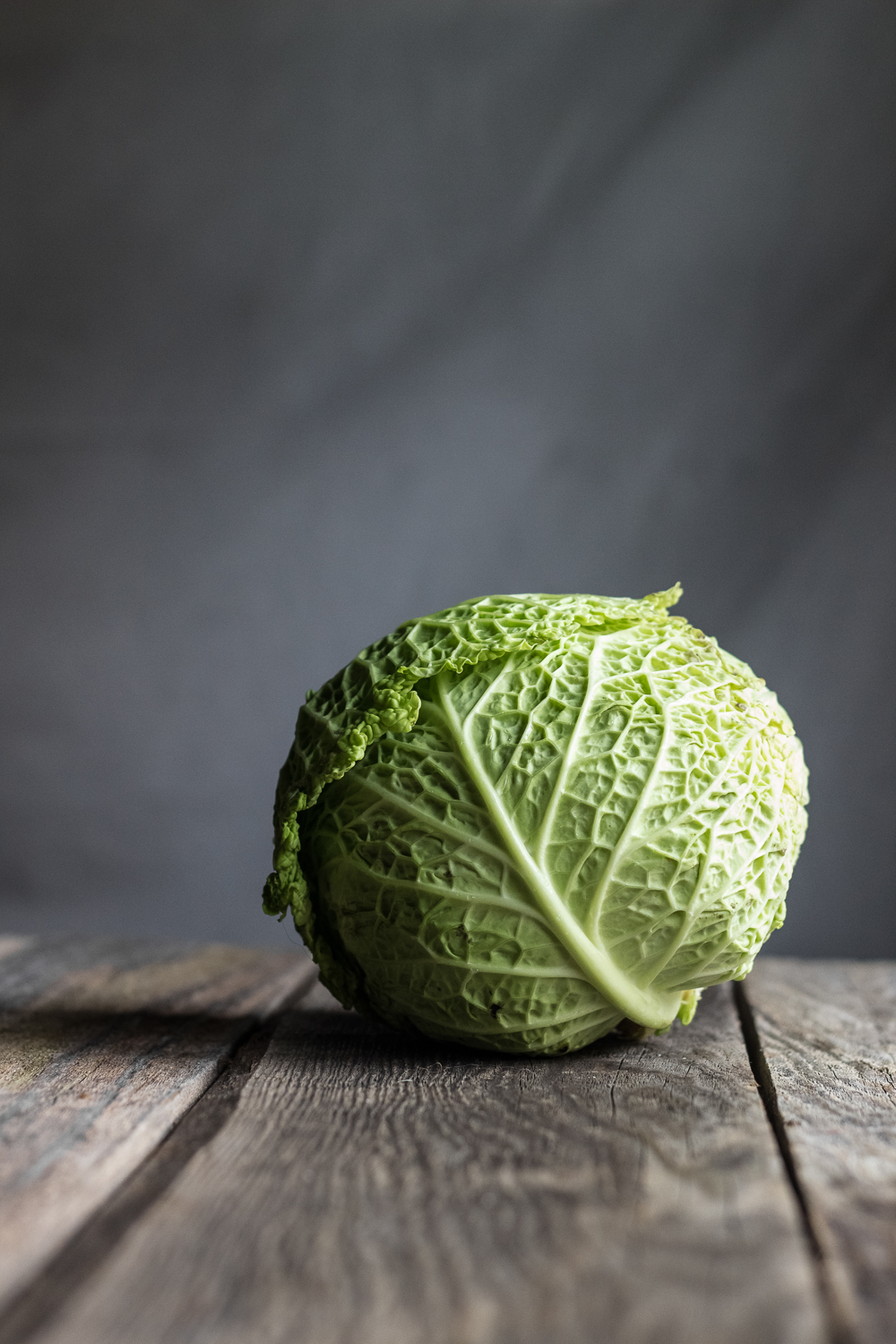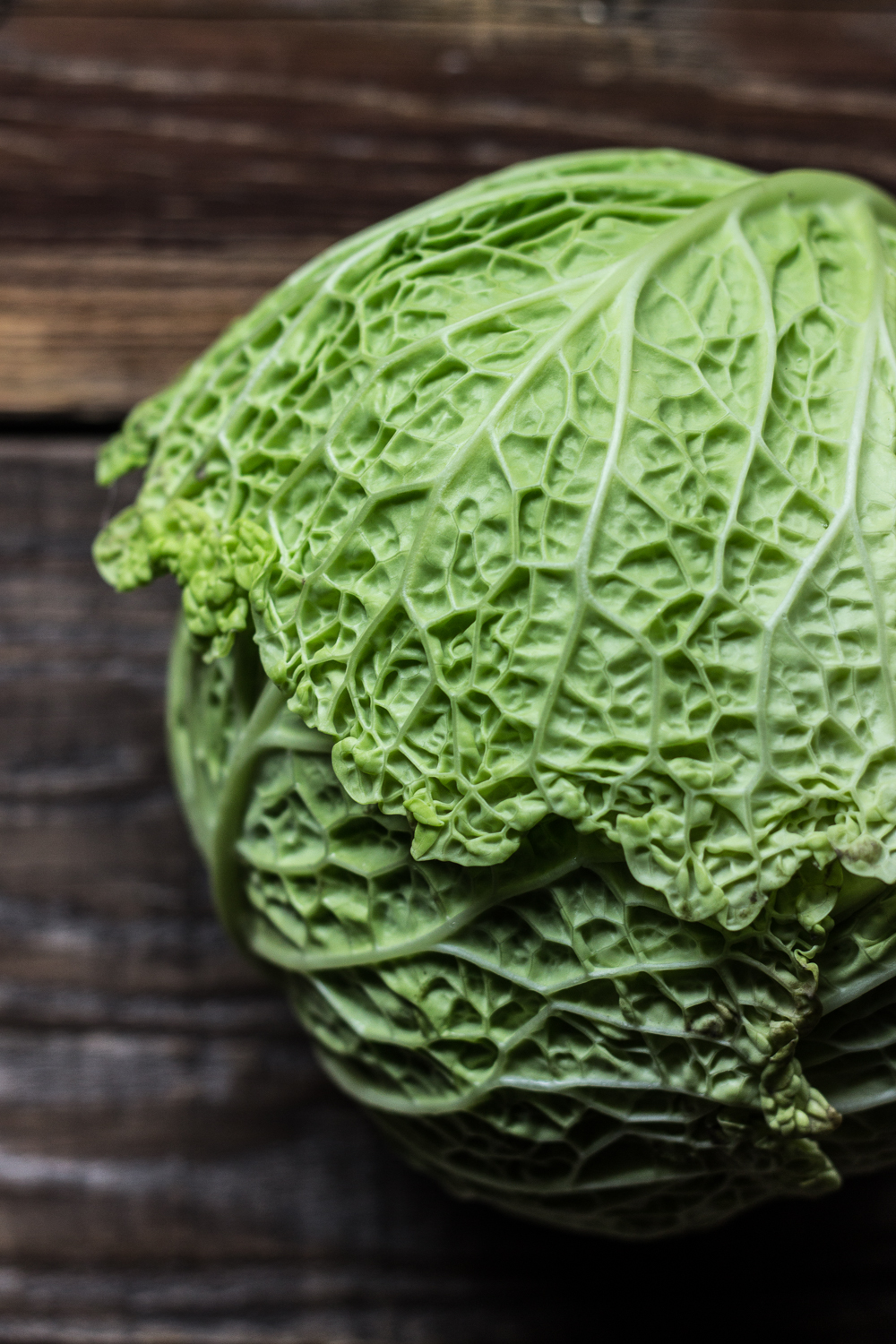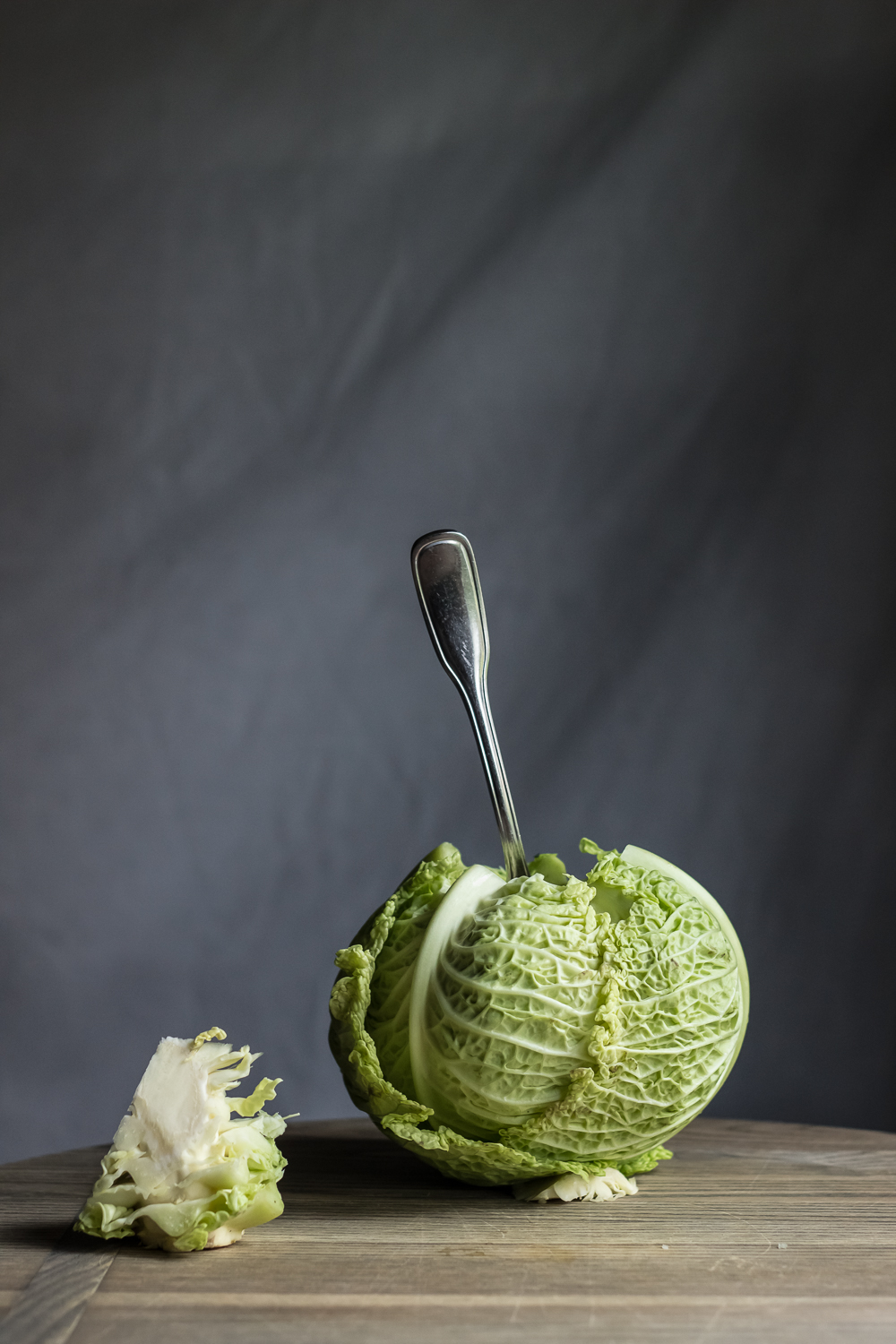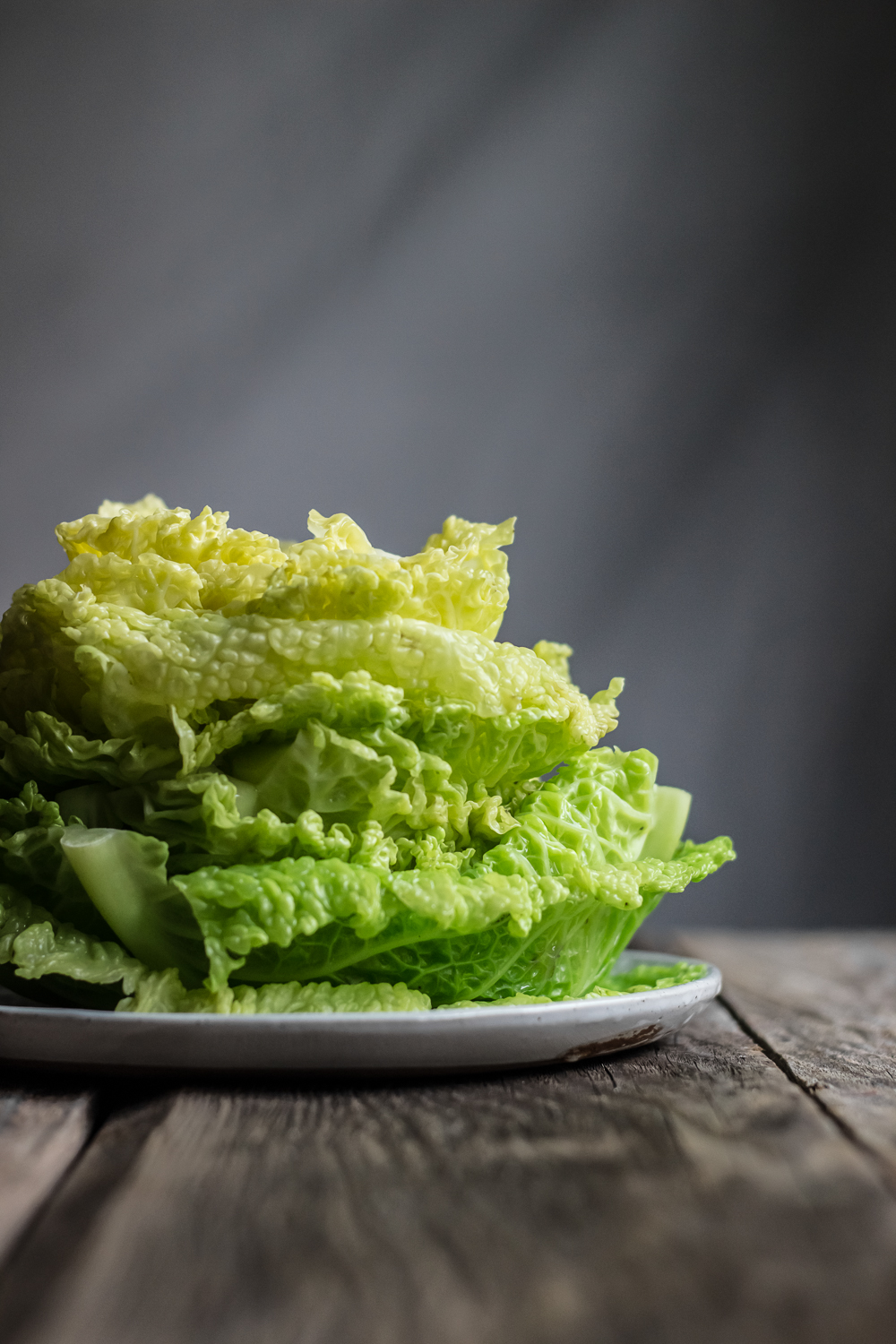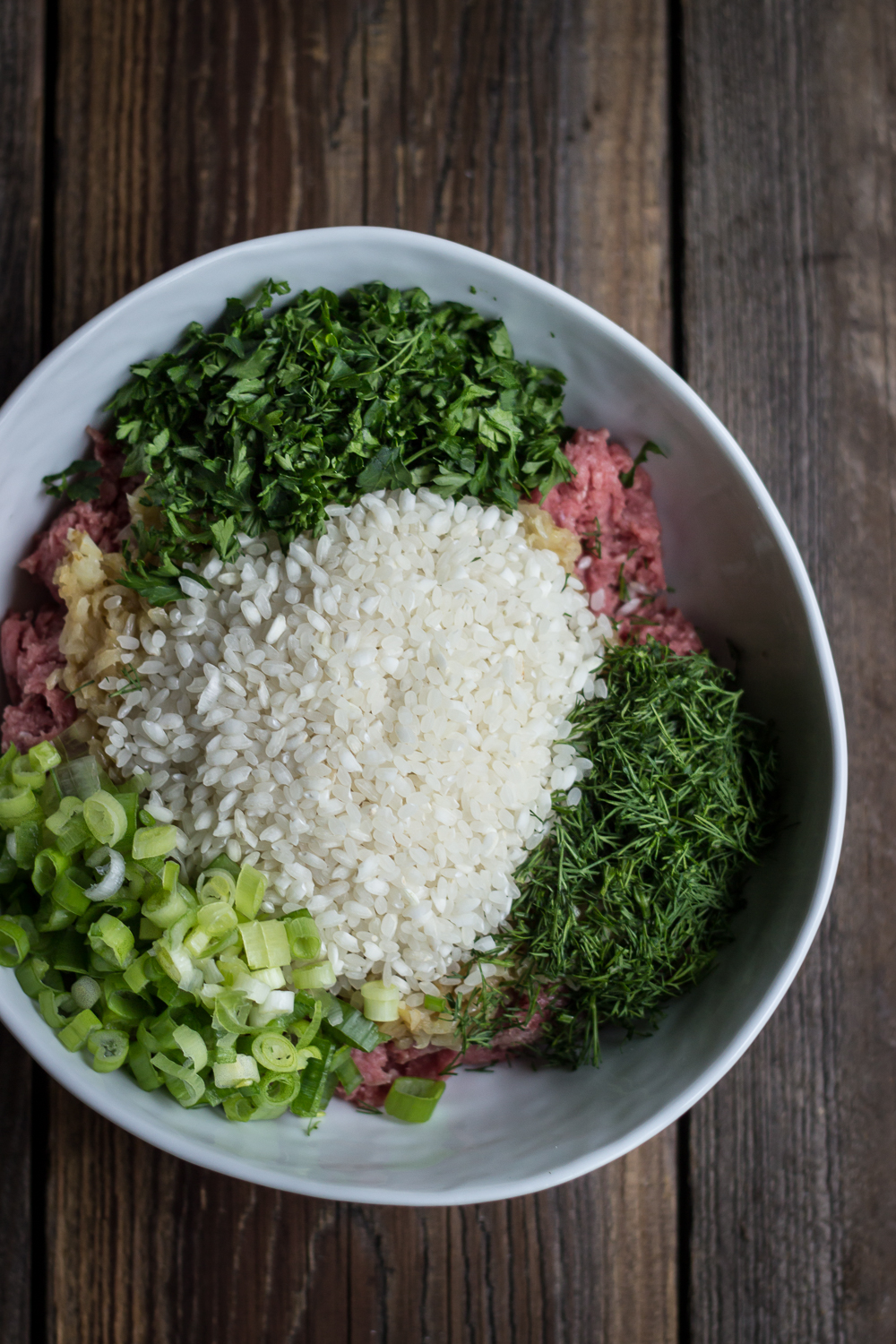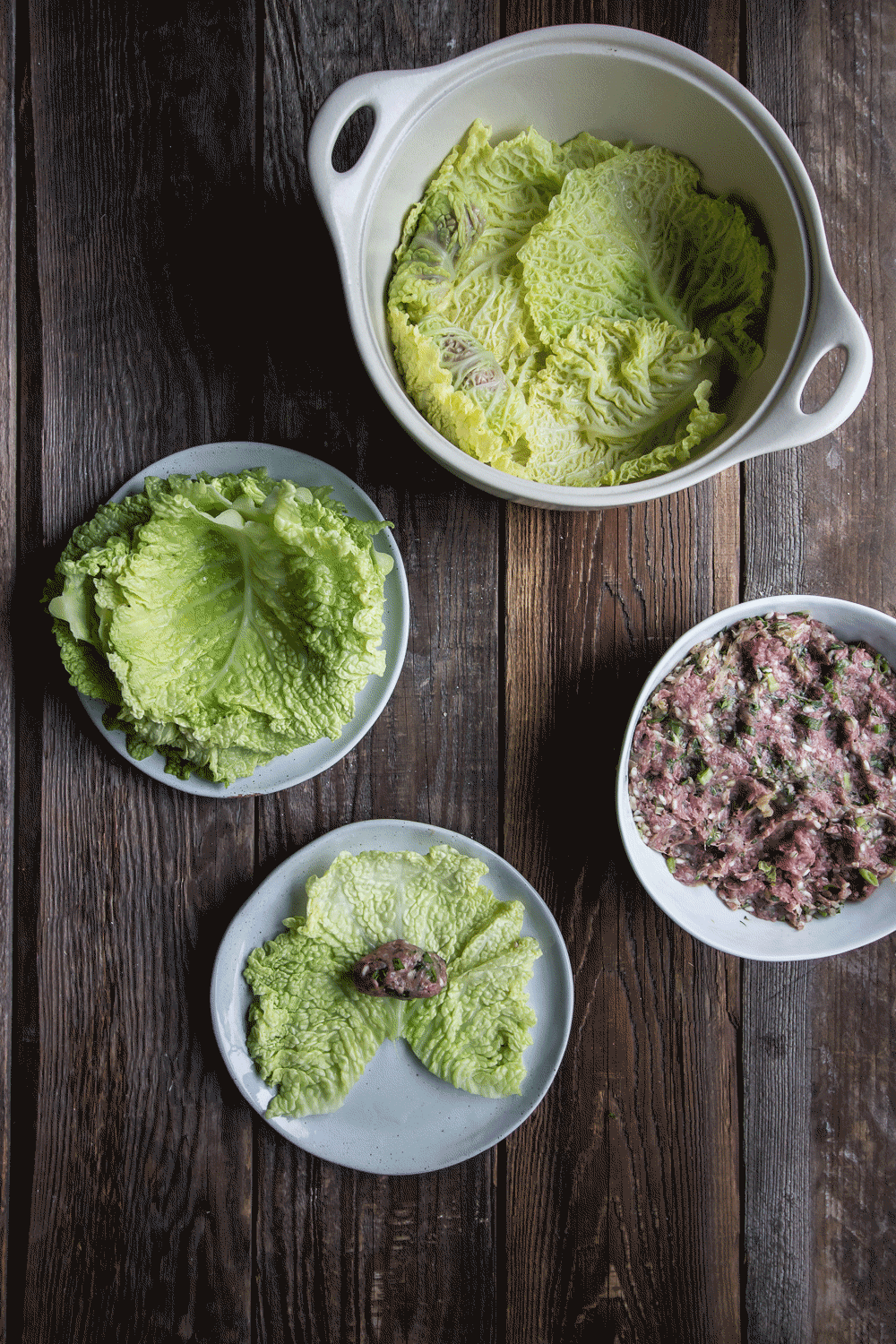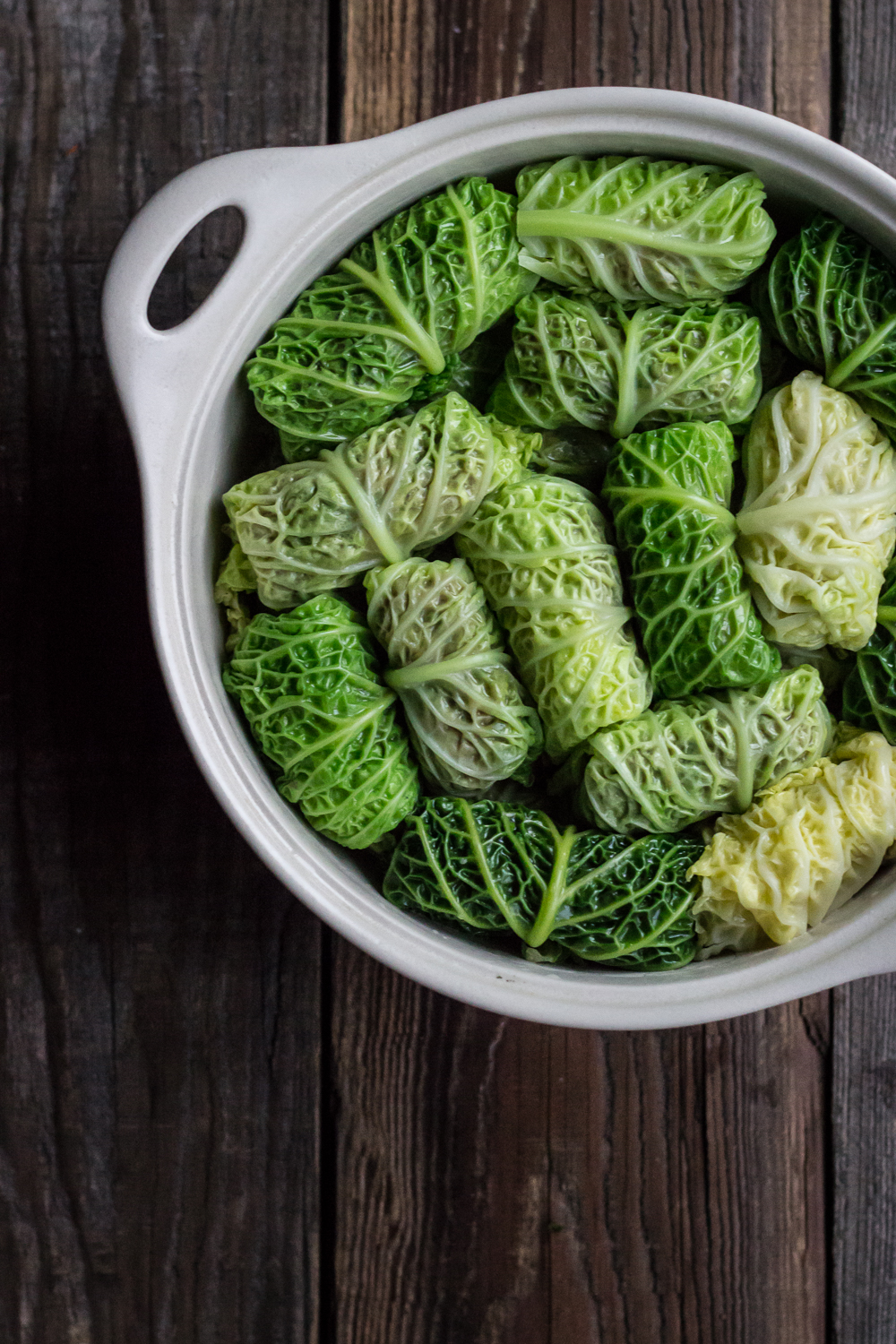 Throughout my hubby's life, his Yiayia Maria would tell him "μήν αφήσεις ξένο να μίνει στό σπίτι μου ποτές" (never let a stranger live in my home). These words were puzzling to his childish mind, but he would satisfy his Yiayia's persistence by promising her he would never let that happen. As they both grew older and Yiayia Maria's health was declining, she would still plead with him to never let a stranger live in her home. In December of 2001, Yiayia Maria took her last breath. My hubby immediately knew that he had to fulfill the promise he had made to his Yiayia. He sold his housee and bought Yiayia Maria's home from her three children that had inherited it when she passed away. Structurally speaking, the home was condemned. My hubby started demolishing the house by hand in order to re-build it. When we met, he was in the middle of re-building Yiayia's house. When we married the house was still under construction, so I began to work with my hubby on what would eventually become our home.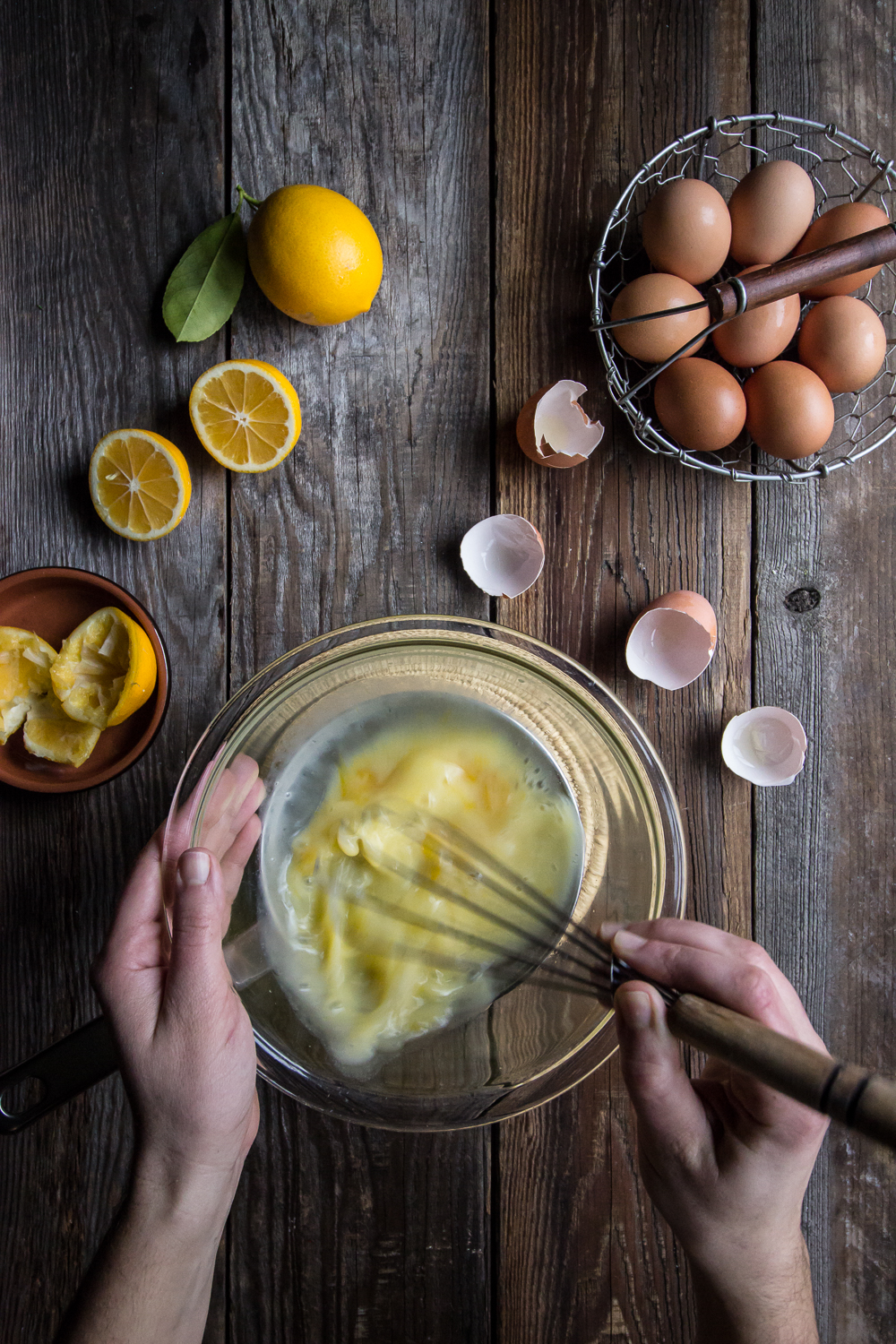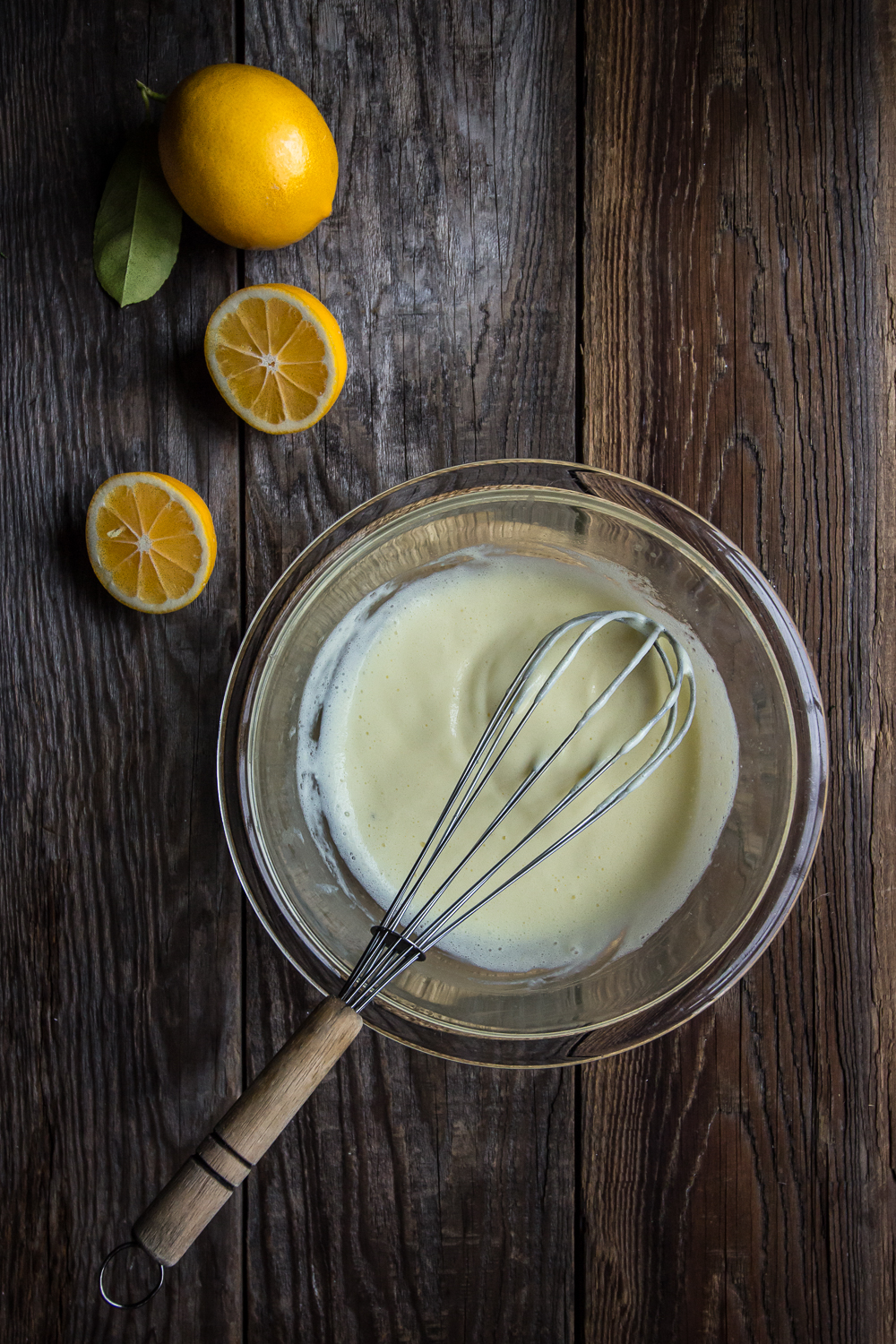 As I sit here and write this post remembering Yiayia Maria's life, I find it difficult to put into words just how special this home is to us. This home was so much more than a shelter to Yiayia, it was her ark. This home represented her salvation from the painfully difficult life she had in Turkey and Greece. This home is where she was afforded the opportunity to find joy in simple pleasures like growing a garden full of pink flowers and chewing on Juicy Fruit gum to her heart's content. This woman's perseverance through immense loss and suffering met with Papou Demo's generosity and compassion are the reasons why my hubby and his family are here today. The story of this immigrant woman is intricately intertwined in the story of our life.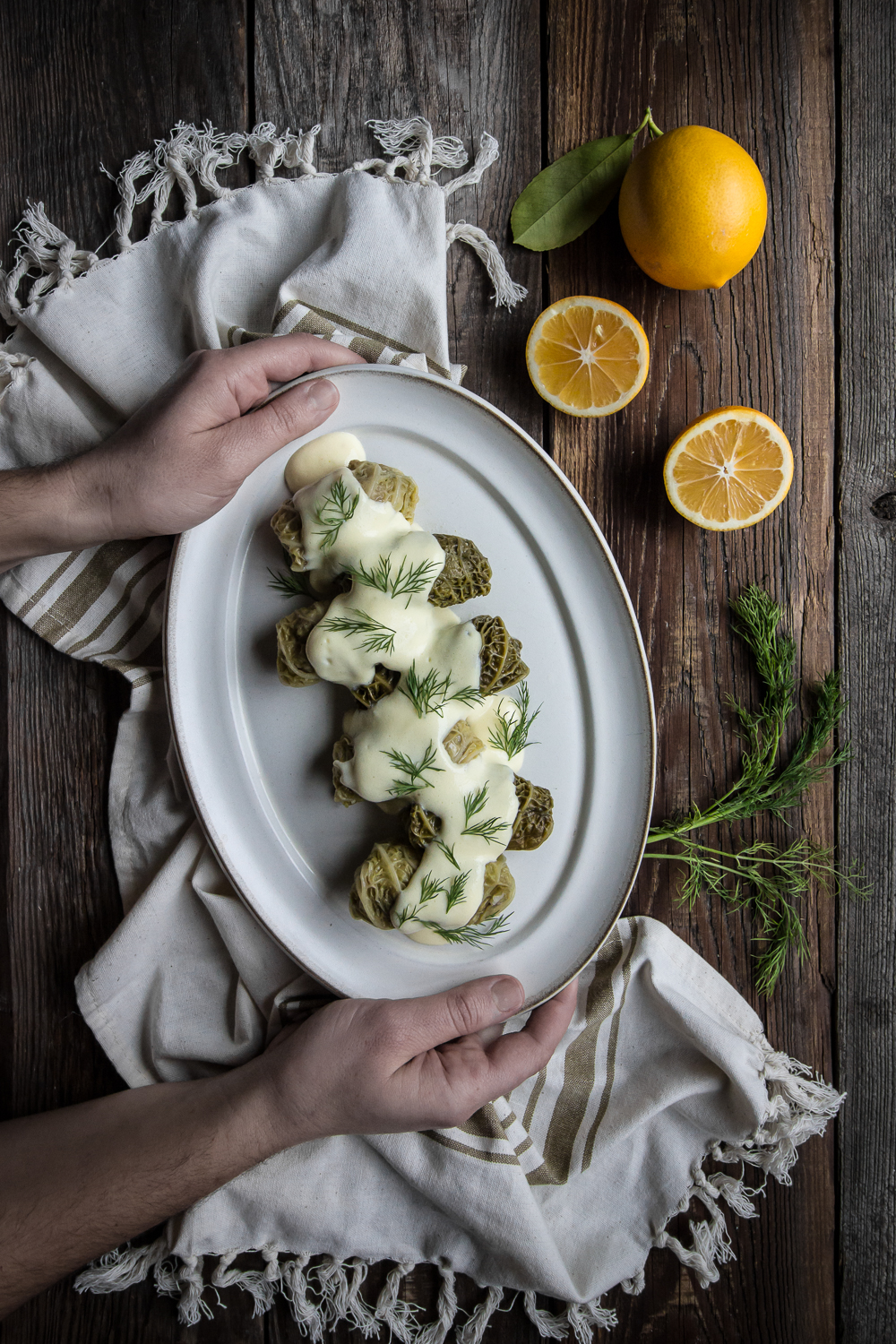 Sharing Yiayia Maria's story and her recipe for lahanodolmades is deeply meaningful during this time in our world. The earth is inundated with refugees of war and immigrants risking their lives for the hope of a new beginning. With political turmoil here in the US and abroad, the situation at hand continues to grow even more difficult. While there is no easy solution to this current crisis, the simplest action we can all take is to love unconditionally. Agape (from the Greek αγάπη) is the deepest expression of love; it is totally selfless, never expecting anything in return. In this profoundly troubled time, may we choose to empathize, to love our fellow man with no demands, and to simply serve one another with agape in whatever ways we are able.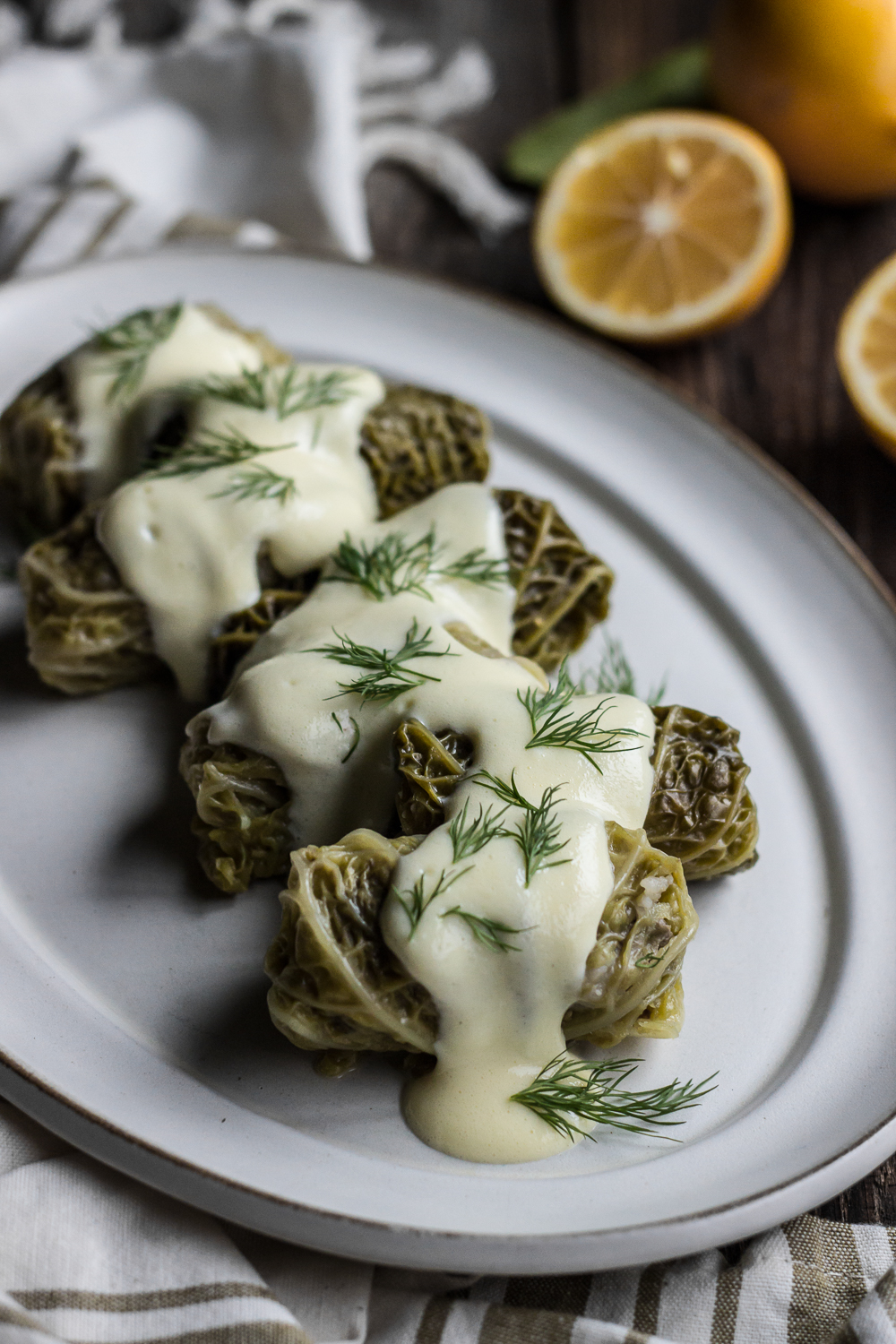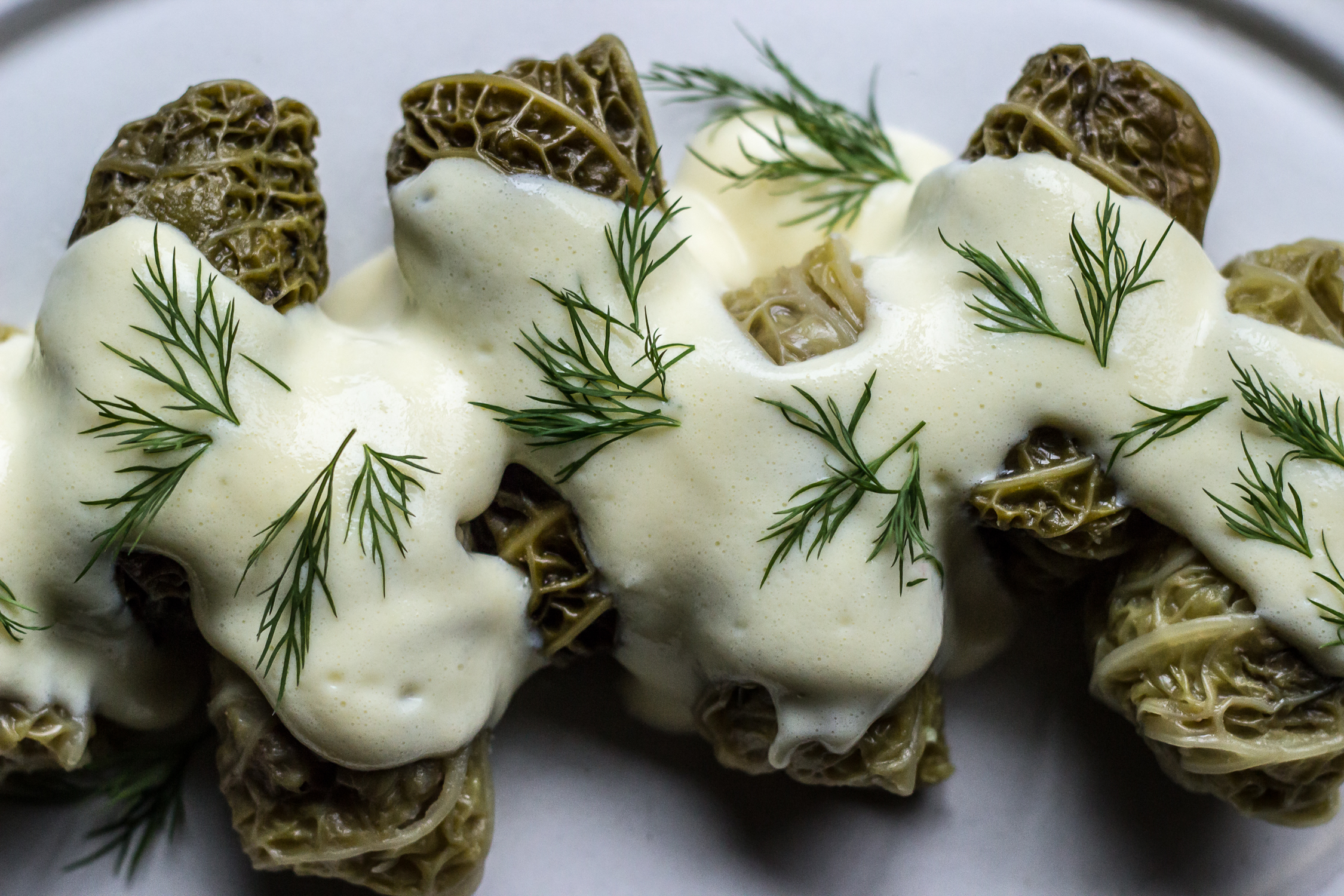 My fellow food blogger friends and I are sharing immigrant food stories as an effort to cultivate empathy amidst this increasingly difficult time in our world – here is a list of some of the other #immigrantfoodstories being shared:
Fix Feast Flair  |  Kale & Caramel  |  HonestlyYUM  |  Eat this Poem  |  My Darling Lemon Thyme
 Floating Kitchen  |  The Year in Food  |  Brooklyn Supper  |  Taste Love and Nourish
Crepes of Wrath  |  Foolproof Living  |  Nourished Kitchen  |  Farmette
Print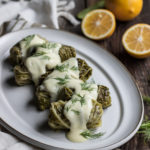 LAHANODOLMADES
---
Total Time:

2 hours 15 minutes

Yield:

4

servings

1

x
FOR THE CABBAGE ROLLS:
1

large (or 2 medium) head of cabbage (I used savoy cabbage, but common cabbage will work)

1

lb

ground beef or lamb (we use grass fed)

1/2

cup

arborio rice

2 tbsp

olive oil

1

medium onion, grated

2

cloves garlic, minced

1/4

cup

chopped fresh dill + more for garnish

1/4

cup

chopped fresh parsley

2

spring onions, chopped

1 tsp

salt

1/2 tsp

ground black pepper

3

cups

chicken stock
FOR THE AVGOLEMONO SAUCE
4

eggs
juice of

1

large lemon or 2 medium lemons (about

1/2 cup

)
pinch of salt
---
Instructions
FOR THE CABBAGE ROLLS:
Bring a large pot of water with a generous pinch of salt to a boil. While you wait for the water to boil, remove the core from the cabbage.
Stick a fork into the center of the cabbage (where the core used to be) and dunk the cabbage into the boiling water until the outer leaves start to become soft (this takes about 3 minutes)
Remove the leaves from the pot as they become soft and continue this process until all of the leaves have been softened.
Remove the thick portion of the main rib from each cabbage leaf with a knife & cut any especially large leaves in 1/2 if necessary
Heat olive oil in a skillet over medium heat and cook the grated onion & garlic for about 10 minutes, stirring often, until the onions soften and lightly caramelize.
Add ground beef, rice, chopped herbs, spring onions, salt, pepper & the cooked onion & garlic together in a bowl, mixing until well combined
Preheat the oven to 350F
Place a cabbage leaf on a work surface & add a generous tablespoon of filling (about the size of a walnut) near the bottom of the leaf. Fold the bottom end up over the filling, then fold the two side ends of the leaf inward & then roll the leaf into into a bundle – making sure not to roll too tight as the filling will expand while it cooks
Line a large baking crock with leftover cabbage leaves (this is where we use up all of the small or torn leaves) – this keeps the rolls on the bottom of the dish from over browning
Arrange the cabbage rolls in the baking crock, packing them in rather snuggly so that they cannot move around while cooking & top the rolls off with more leftover cabbage leaves.
Add the chicken stock to the baking crock, cover and bake for 90 minutes.
FOR THE AVGOLEMONO SAUCE
In a heatproof bowl, set over a small pot of simmering water (or use a double boiler) add the eggs, lemon juice & a pinch of salt
Whisk constantly until the sauce begins to thicken – the sauce is done when the whisk begins to leave a trail – remove from the heat
TO SERVE:
Spoon avgolemono sauce over the cabbage rolls & garnish with fresh dill
Prep Time:

0 hours

Cook Time:

1 hour 30 minutes