We're in the middle of winter and I've just reached the point in the season at which I find myself really craving warm weather. In full disclosure, I am not a winter person. But I am the kind of person that believes there is always, always something to be grateful for. And at this moment, when all that my body is craving is sunshine, I look to nature's remedy for this dreary season. Citrus, specifically, blood oranges! Beneath their peel, lies a vibrant ruby flesh, that has the bright flavor of a classic orange with lovely notes of raspberry. No matter how cold, wet or dark winter can be, blood oranges have a special way of giving me joy. Brightening my day with their beautiful splendor! Which is why I chose them as the inspiration for my latest recipe: a blood orange buttermilk dutch baby.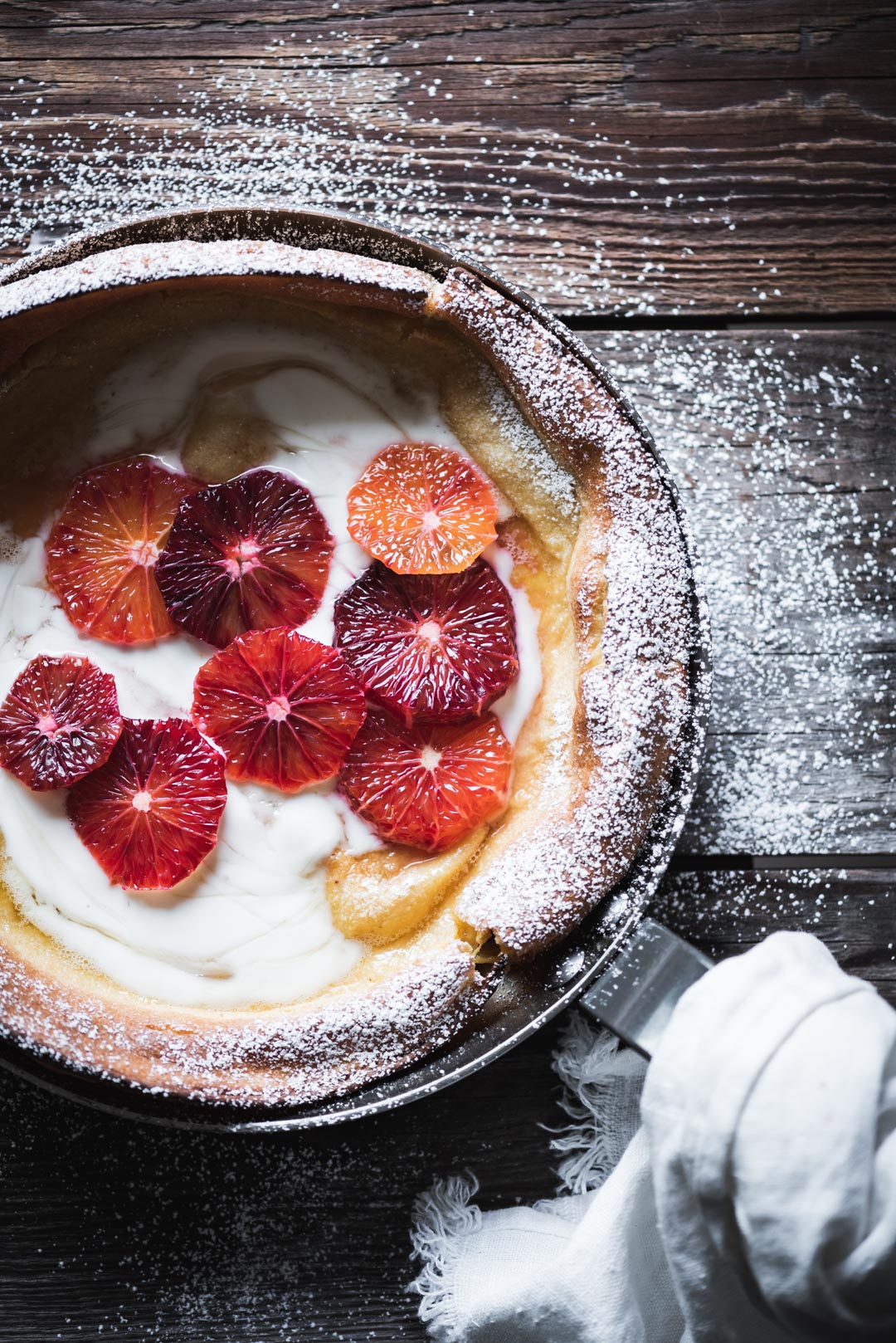 puffy pancake a.k.a. dutch baby origins:
This dutch baby recipe features another one of my favorite ingredients: buttermilk. I could wax on about my deep love for buttermilk, the way it lends its tangy flavor to all manner of carbohydrates ie; cakes, cornbread, pie crust, and of course, pancakes! In this case, we are making a big puffy oven pancake, lovingly referred to as a Dutch baby. The origin of this puffy oven pancake is actually German. "Derived from a German pancake dish, it is said that the name Dutch baby was coined by one of Victor Manca's daughters. Where "Dutch" perhaps was her corruption of the German autonym deutsch" – thank you Wikipedia ;) Now that we've clarified why this puffy pancake is called a dutch baby, let's talk about why you need to make one! This buttermilk one specifically ;)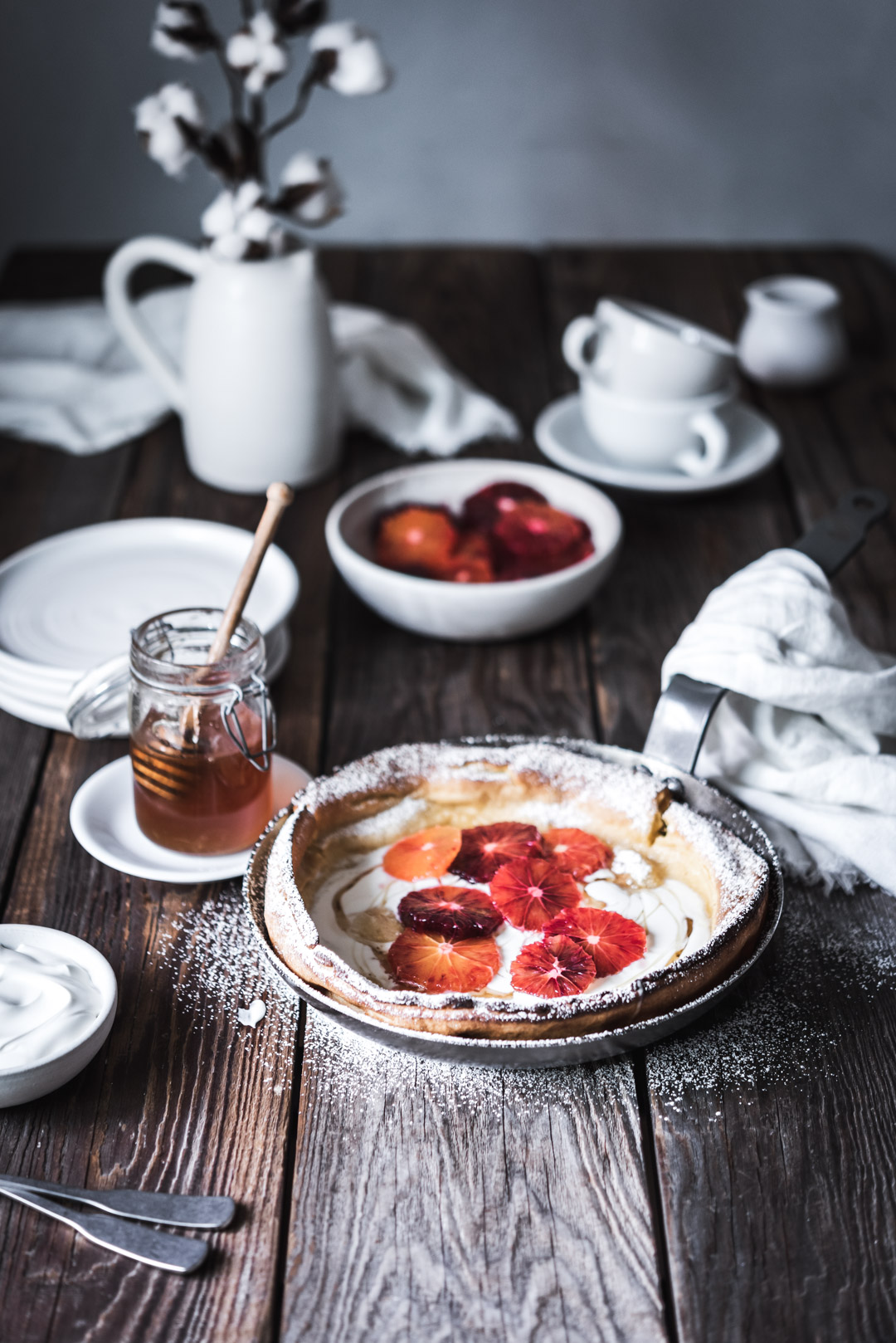 I'm actually surprised that I have never shared a dutch baby recipe here on the blog before now. They are probably the easiest breakfast treat there is! With only about 2 minutes of active time to put the batter together and then the oven does the rest of the work. No standing over a griddle flipping pancake after pancake. Just a quick whiz in the blender, 20 minutes in the oven and you have a glorious puffy pancake that you can top with whatever your heart desires. My typical dutch baby topping formula is as follows: a dusting of powdered sugar, a seasonal fruit, something creamy & a sweet drizzle.
blood oranges, creme fraîche, & honey – oh my!
Blood oranges, creme fraîche, and honey are the ultimate trio for a dutch baby. Like I should probably trademark this combination, lol! But in all seriousness, a buttermilk dutch baby topped off with rich creme fraîche, refreshing blood oranges and a generous drizzle sweet local honey. It's a food experience that is so simple, yet so divine.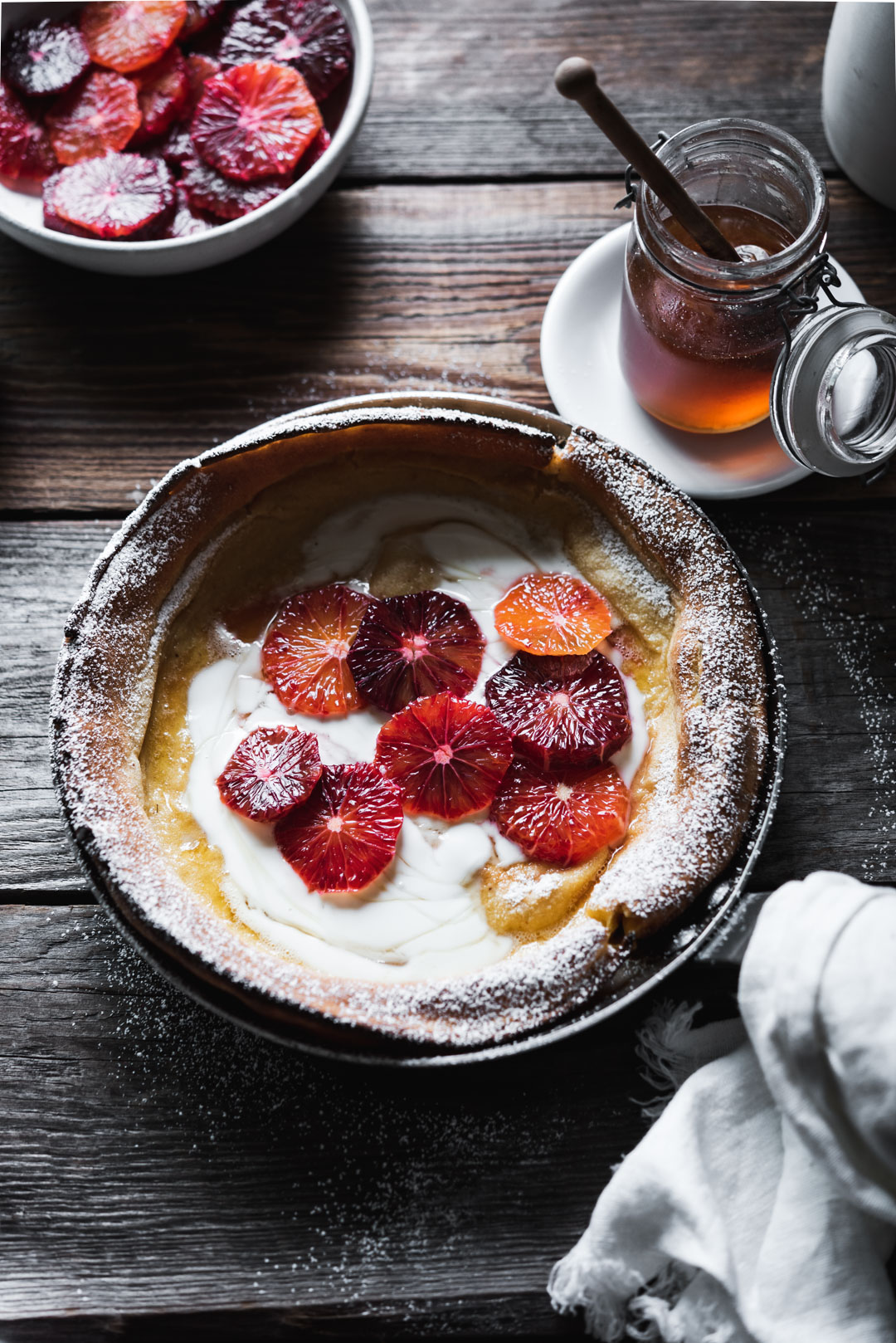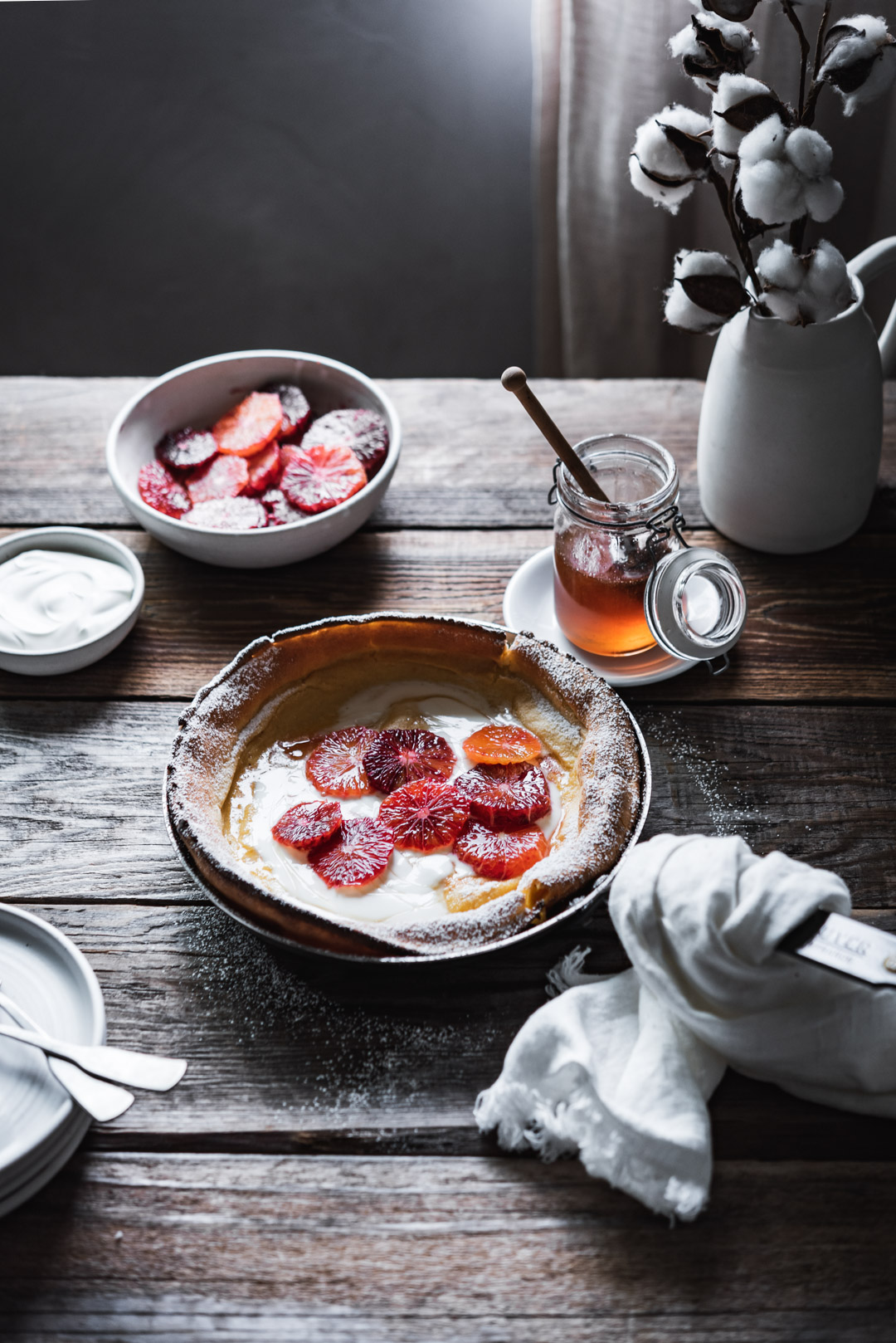 By now, you should be pretty convinced that you need to make this blood orange buttermilk dutch baby. Especially because with as long as winter may seem to drag on, but before we know it, spring will be here. The cold days of winter will fade and along with them, blood oranges will all be just a memory with another year of waiting before their return.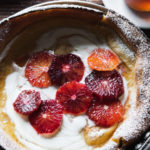 BLOOD ORANGE BUTTERMILK DUTCH BABY
---
Total Time:

30 minutes

Yield:

2

–

4

servings

1

x
FOR THE DUTCH BABY:
3

large eggs, room temperature

2/3

cup

all purpose flour

2/3

cup

buttermilk, room temperature (or add 2 tsp vinegar or lemon juice to 2/3 cup milk)

1/4 tsp

ground cinnamon

1 tsp

vanilla extract

1/8 tsp

fine salt

4 tbsp

unsalted butter, room temperature
FOR THE TOPPING:
1 tbsp

icing sugar for dusting

3

blood oranges, peeled & sliced into

1/4

" thick rounds, seeds removed

1/4 tsp

cinnamon

1/2

cup

creme fraîche

1/4

cup

honey
---
Instructions
FOR THE DUTCH BABY:
Place an 8-inch (20cm) heavy skillet in the oven and preheat the oven to 425°F
In a blender, pulse the eggs until frothy. Add in the buttermilk, flour, cinnamon, vanilla extract, and salt. Blend until smooth & let the mixture rest while the oven heats, for at least 15 minutes.
Once the oven is heated, remove the skillet and add the butter, swirling the melting butter to coat the pan, especially the edges.
Immediately pour the batter into the buttered pan. Bake for 20 minutes, until the dough puffs and is nice and golden. Do not open the oven while the dutch baby bakes or it will not properly rise.
Remove the dutch baby from the oven, dust with icing sugar, and top with creme fraîche, blood oranges slices & a generous drizzle of honey :)
Prep Time:

10 minutes

Cook Time:

20 minutes

Category:

Breakfast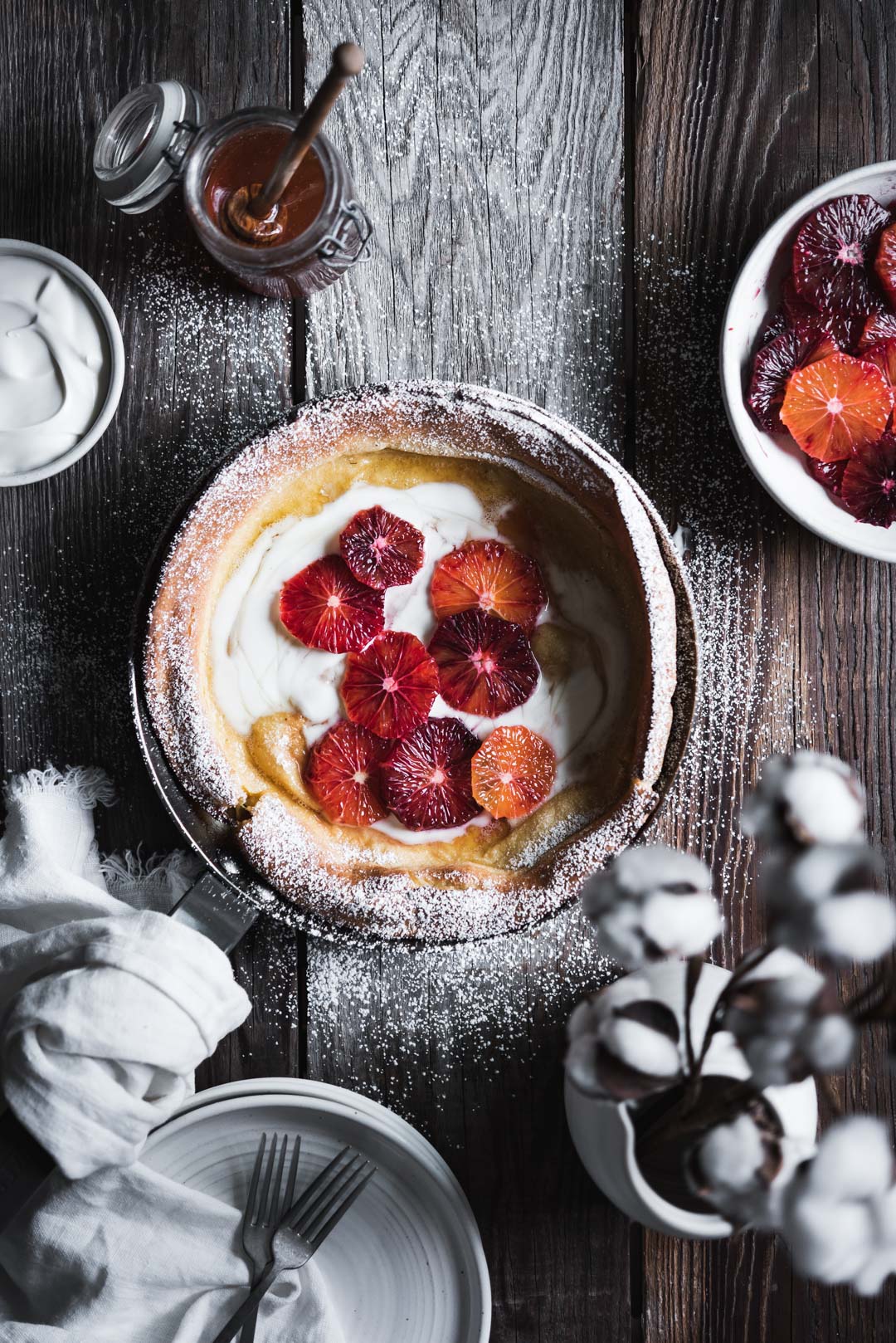 more winter citrus recipe inspiration: