A traditional Greek salad comprising of tomatoes, cucumbers, onions & feta is one of the most iconic dishes of Greece. And for good reason! It is the perfect combination of flavors, textures, and freshness. When most people think of Greece, they picture whitewashed buildings against the vibrant blue sky & sea. People flock to Greece for its warm, sunny weather and seemingly endless summer days. But outside of the warm season, there is a whole other Greece to be experienced. Albeit cold and often gloomy, the cold season in Greece is actually my favorite time to be there. When tomatoes & cucumbers are no longer in season, markets fill with the fruits of fall and winter. Persimmons, citrus, and pomegranates are the mainstays of the cold season there and they are the inspiration behind my winter Greek salad.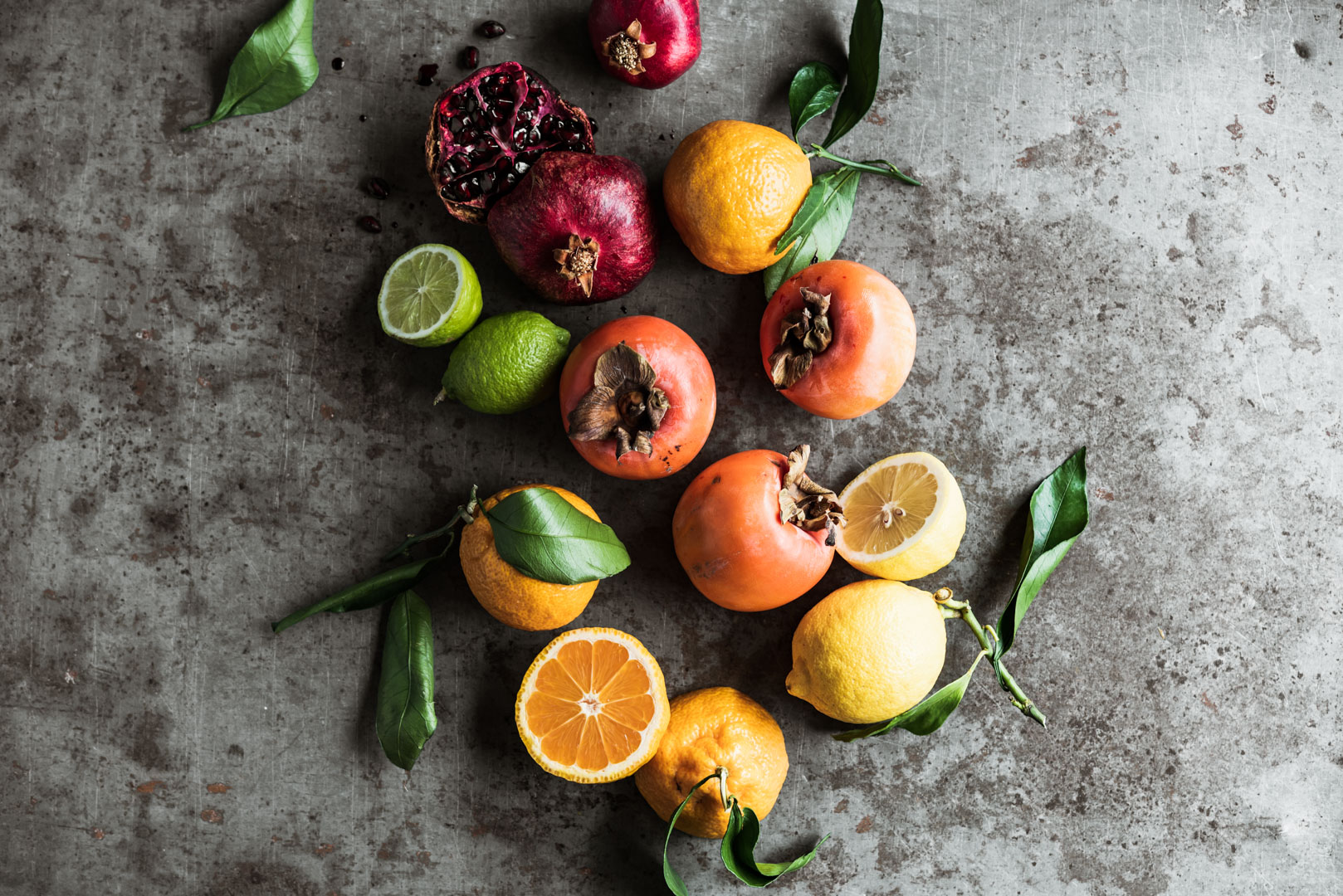 While Greece may be a world away, it does not keep me from thinking about our life there every single day. My heart craves the simplicity of village life. Although there were times that I struggled with just how little there was to choose from when it came to food, I always found a way to make do with what was available. Produce is hyper-seasonal on our island and in most of Greece for that matter. You won't find cucumbers in winter, just as you won't find broccoli in the summer. So in turn, you relish in the harvest of each season. Inspired by the way we had no choice but to eat with the seasons in Greece, the concept of this winter Greek salad came to me the other day.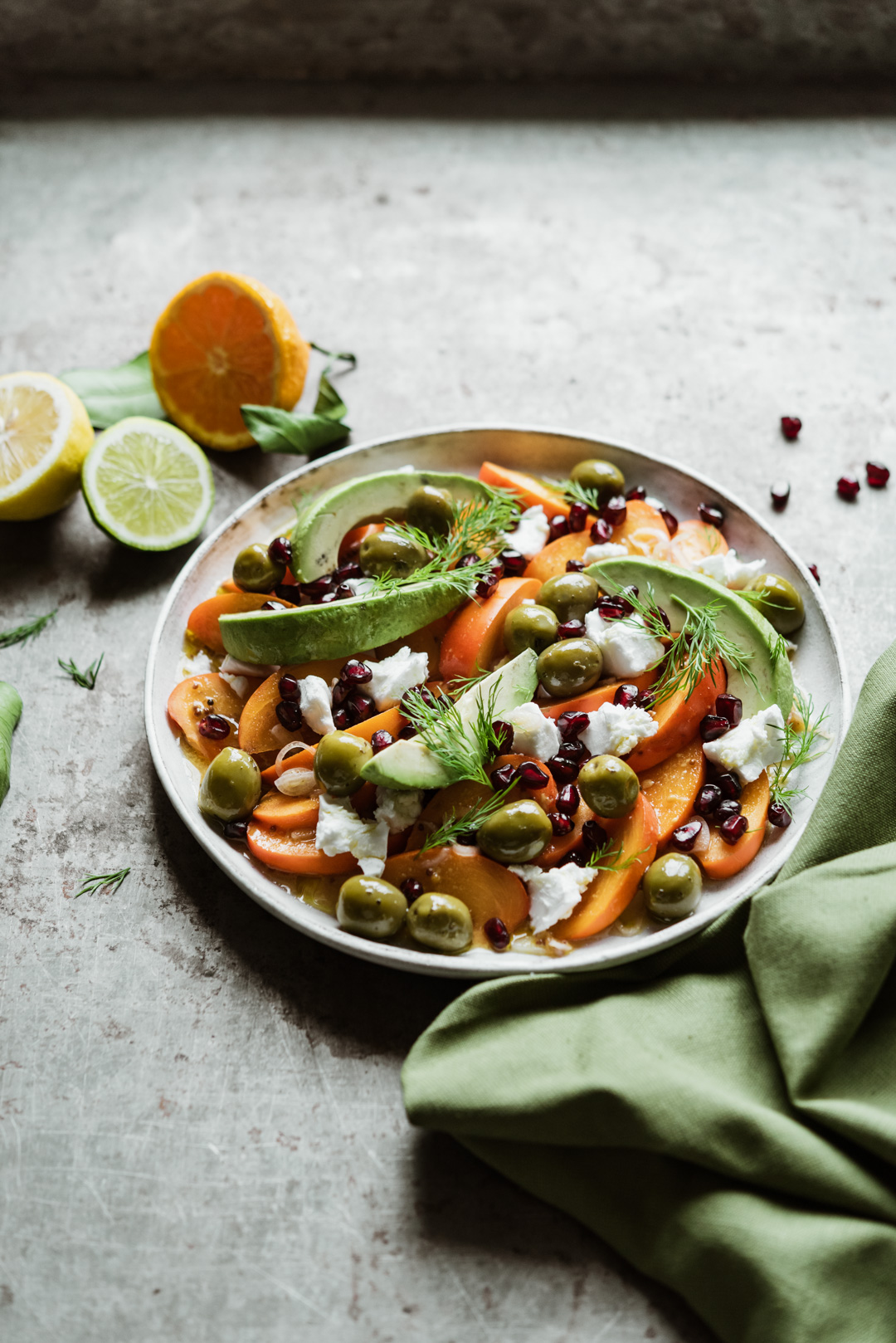 winter Greek salad breakdown:
PERSIMMONS: There are two varieties of persimmon: astringent & non-astringent. Astringent varieties, like hachiya, must be very soft before eating. Non-astringent varieties, like fuyu, can be eaten firm like an apple or allowed to ripen until the flesh is as soft as you like. Persimmons have a very sweet but clean taste with a semi-firm texture that is similar to a melon. Unripe persimmons will make you pucker from the tannins, while ripe ones are absolutely delicious and make the perfect winter substitute for tomatoes in our winter Greek salad.
CITRUS: By far and large, citrus is the most abundant fruit in the cold season in Greece. Oranges, lemons, mandarins & bergamot are amongst my favorite citrus that grows on our island. For this winter Greek salad, citrus is going to stand in as the acid for the dressing. I used mandarin, lemon & lime because that is what we have growing in our neighborhood here in California, but feel free to use whatever citrus you can get :)
POMEGRANATE: A fruit that has been revered by the Greeks as a fruit abundance since antiquity. If you have never tried one, pomegranate arils (the little pods that lie behind the hard shell) have a wonderful taste, both tart and sweet. The way that the arils kind of burst when you bite into them, lends a delightful texture and bright flavor to this Greek winter salad.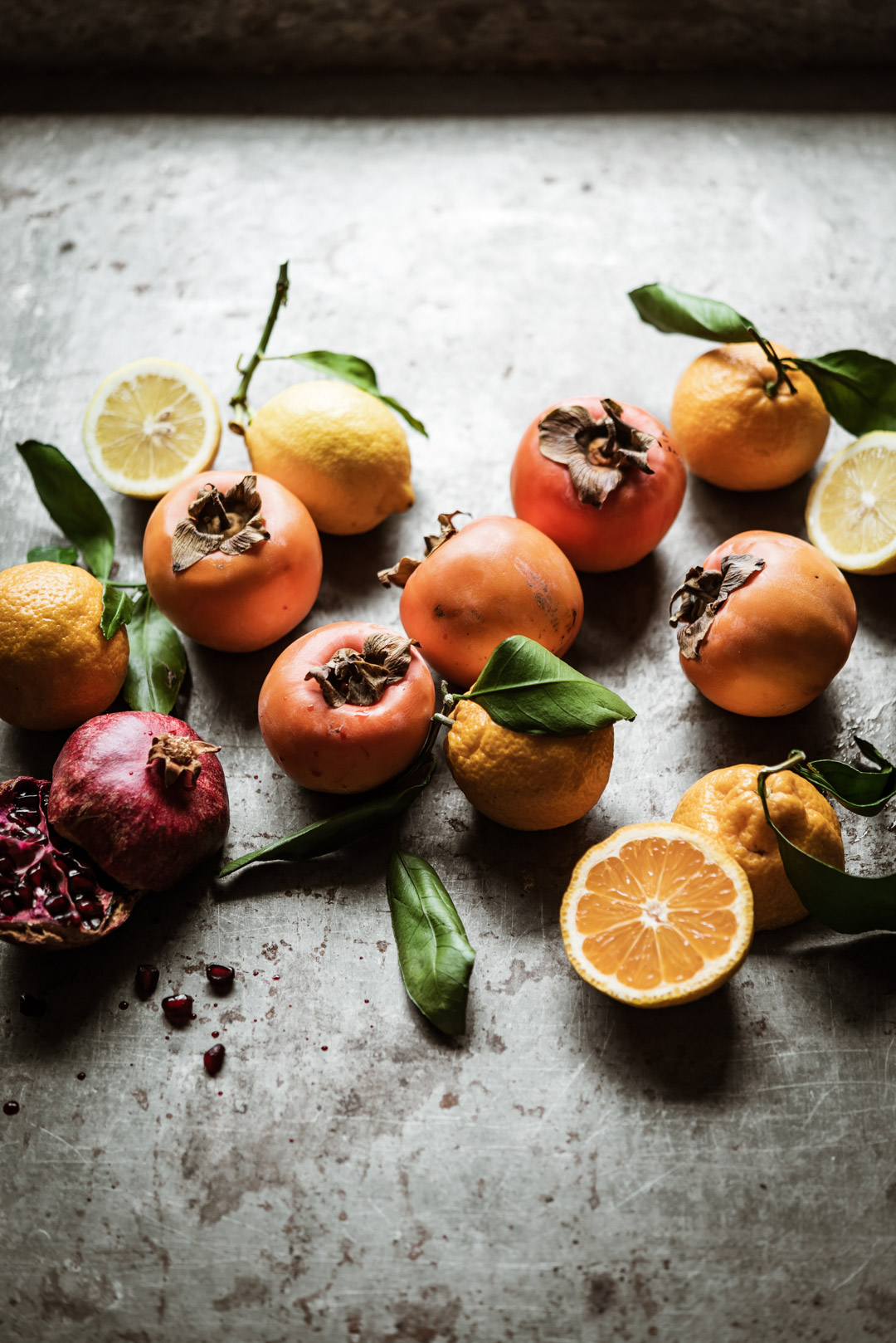 THE USUAL SUSPECTS: Olive oil, feta, olives, onion & herbs. A traditional summer Greek salad will consist of all of these things. The only difference with this winter Greek salad is the type of these ingredients that I chose. Green olives are my hubby's favorite, shallot has a gentler flavor and texture than red onion, and fresh dill stands in for the dried oregano.
*THE UNUSUAL SUSPECT: Avocado – most definitely not a traditional Greek ingredient. However, we have a HUGE avocado tree that grows in our village in Greece, so it is most definitely a wonderful addition to this winter Greek salad.
All of these flavors and textures combine to make a winter Greek salad that tastes nothing like the traditional Greek salad of summer but trust me when I tell you, that it is perfect in every way! Feel free to use this recipe as a basis with whatever winter produce you have available to make your own seasonally inspired Greek salad!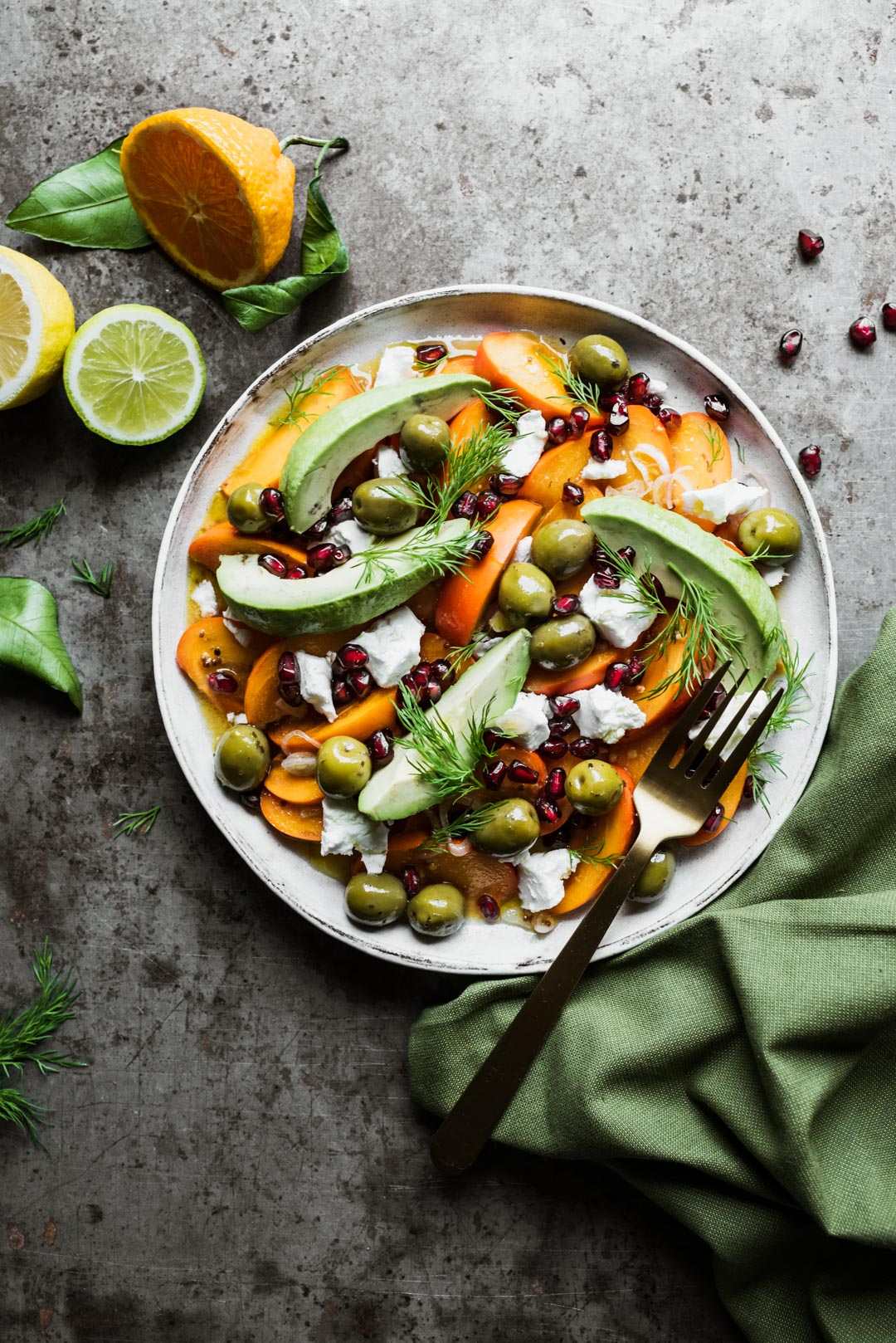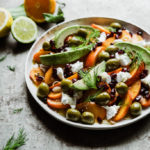 WINTER GREEK SALAD
---
Total Time:

10 minutes

Yield:

2

–

4

people

1

x
FOR THE SALAD:
4

Non-astringent persimmons, such as fuyu or amagaki

1

avocado

8

oz

. feta cheese (we used VioLife vegan feta)

1/2

cup

green olives

1/4

cup

pomegranate arils

2 tbsp

dill sprigs, to garnish
FOR THE DRESSING:
1 tbsp

, thinly sliced shallot

1/4

cup

fresh mandarin or orange juice

1 tbsp

lemon juice

1 tsp

lime juice

1 tbsp

honey, add more to taste

1 tbsp

whole grain mustard

1/4

cup

extra virgin olive oil
salt, to taste
---
Instructions
Start by making the dressing by whisking all of the ingredients together in a small bowl. Taste for seasoning and desired sweetness, adjust if necessary and set aside to allow flavors to mingle while you prepare the salad.
Remove the stems of the persimmons and slice the persimmons into about 1/4 inch thick slices, removing any seeds you encounter. Arrange the sliced persimmons on a shallow bowl. Add slices of avocado and olives.
Drizzle the citrus shallot dressing over the salad. Garnish with crumbled feta, pomegranate arils & dill sprigs.
Prep Time:

10 minutes

Cook Time:

0 hours
*This salad is easily made vegan if you use a quality vegan feta cheese. While there are recipes to make it yourself, we absolutely love VioLife Foods Just Like Feta! This is not sponsored in any way, we just adore their feta and love supporting Greek companies like VioLife Foods!
more Greek recipe inspiration:
HARISSA ROASTED RED PEPPER FETA SPREAD – HTIPITI