It's that time of year when all things pumpkin enter the food scene and a whole bunch of us bloggers have joined together to share our pumpkin inspired creations for the annual #virtualpumpkinparty hosted by Sara Cornelius of Cake over Steak! I am really excited to share my recipe for this pumpkin spice ruffled milk pie amongst so many other incredible pumpkin creations <3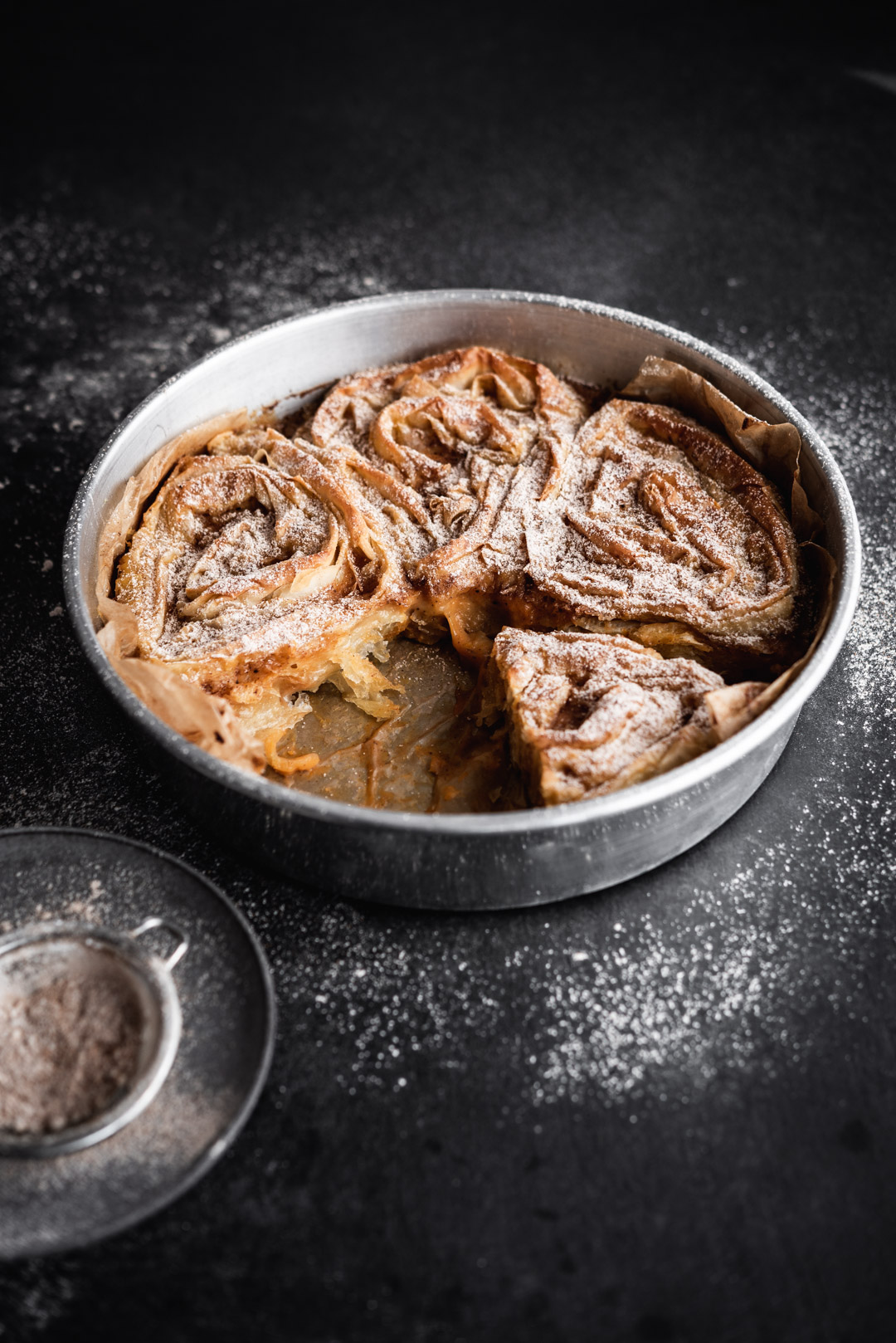 Honestly, I am not someone who goes crazy for pumpkin-flavored desserts. I know that there are probably millions of people who wait in anticipation for pumpkin-spiced anything and everything to re-appear each year, but I am just not one of them. I do enjoy certain types of pumpkin dishes, especially savory ones, so in order for a pumpkin dessert recipe to show up here on the blog, it has to be something really special – and there are several things that make this pumpkin spice ruffled milk pie so special:
#1 – The pumpkin I used came from our little village garden! It is a Greek heirloom variety that I grew from seeds given to me by our sweet neighbor Tasoula. You don't have to use homegrown pumpkin for this dessert, a can of plain pumpkin or butternut squash puree will do!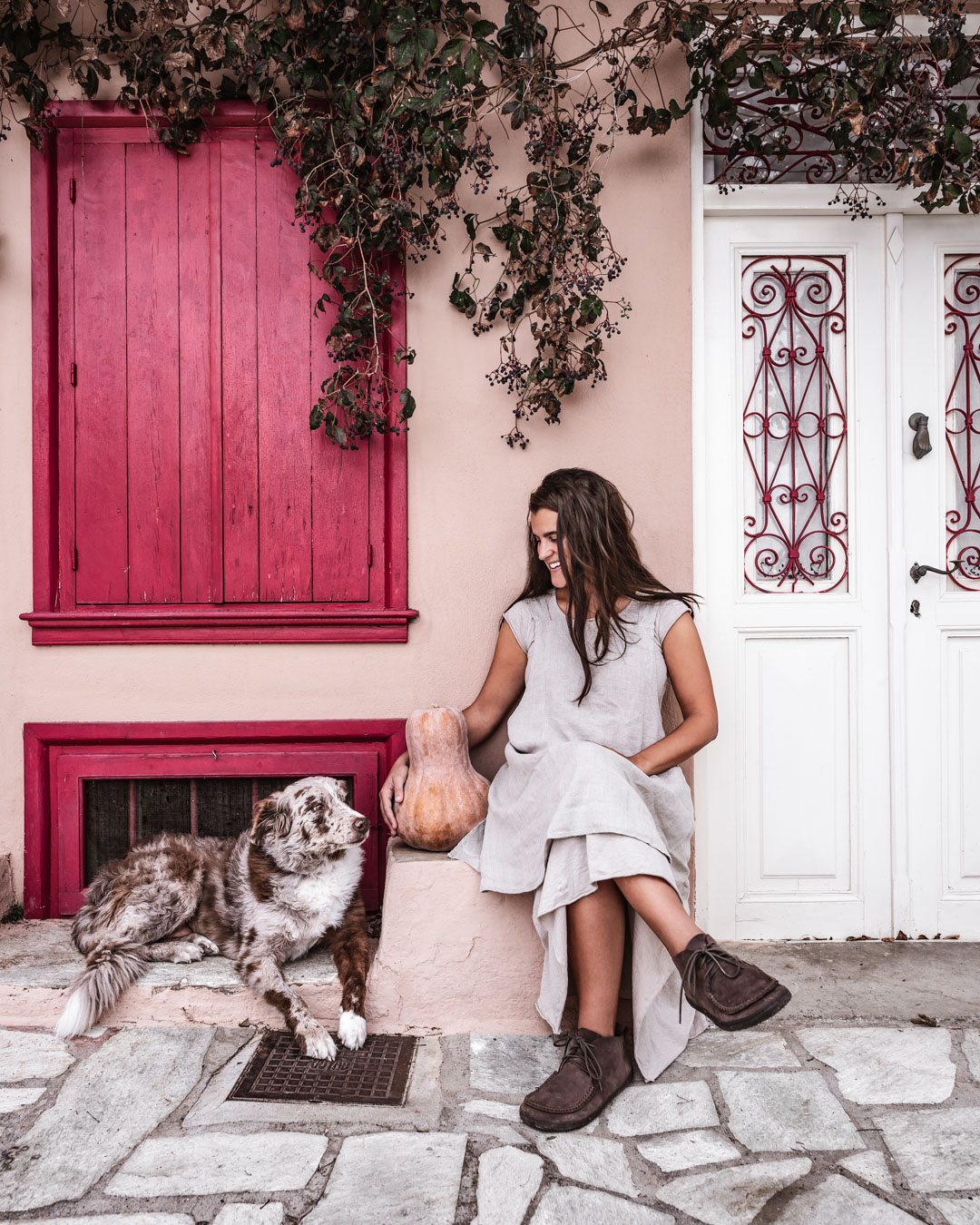 #2 – This pie is SO easy! I know many people are intimidated by phyllo dough, but I guarantee you that this recipe will enable you to conquer your fears!
#3 – The recipe is vegan! I really wanted this pumpkin spice ruffled milk pie to be vegan-friendly because it is just too good and I wanted anyone and everyone to be able to experience it! So I developed a dairy-free and egg-free custard and I was beyond happy with the results!
#4 – It is SO delicious! If you have never experienced galotópita (sweet Greek phyllo & milk pie) then you are in for a treat. There are many variations of this dessert throughout Greece, but this interpretation includes pumpkin and spice, which takes this traditional dessert to a whole new level!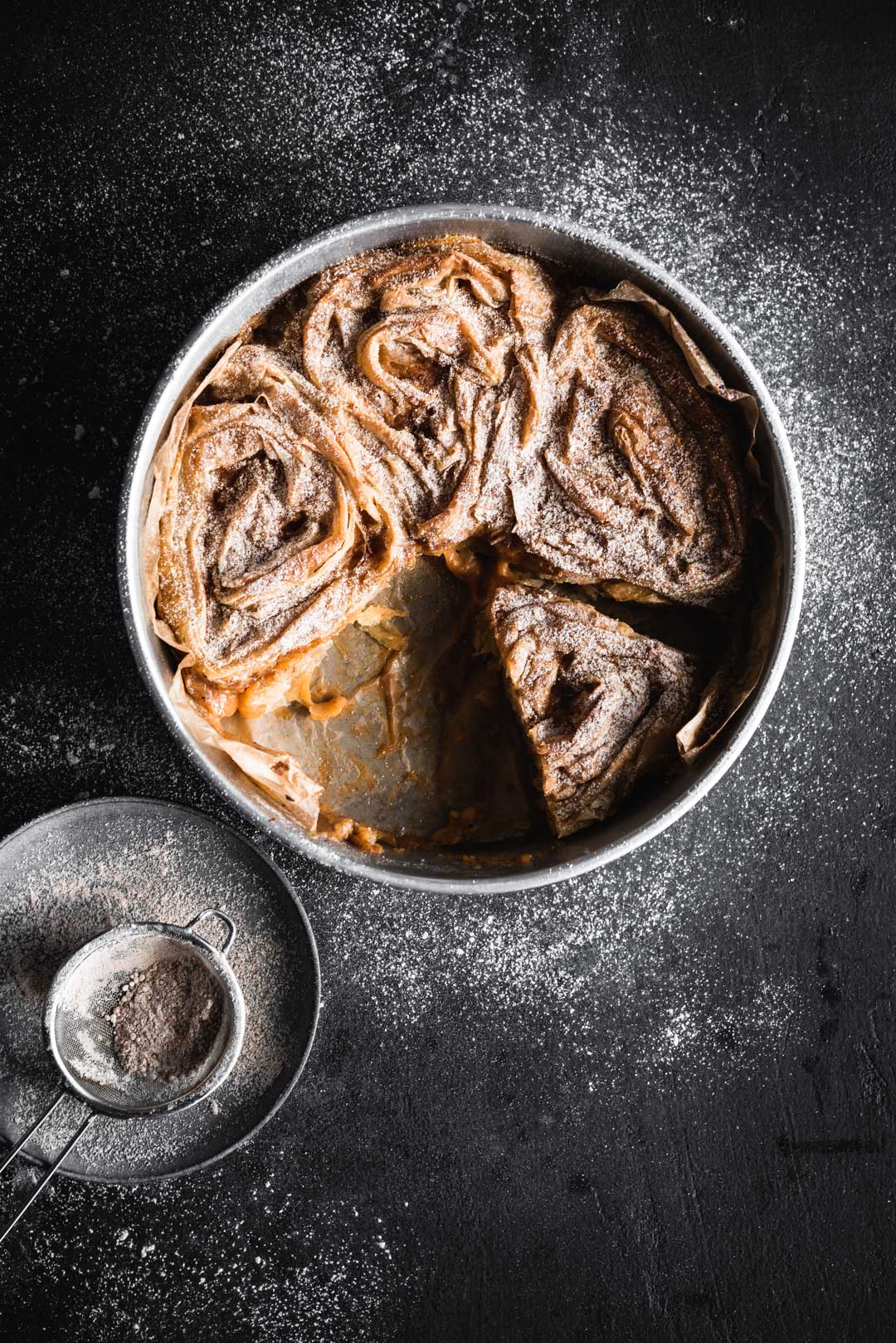 The sweet pumpkin custard surrounds the ruffled layers of golden crispy fillo which gets adorned with a dusting of powdered sugar and cinnamon just before serving. This pumpkin spice ruffled milk pie would make an impressive statement for brunch or dessert and would be especially great for Thanksgiving, because it is so simple and easy (and who wouldn't want to make their holiday meal prep simpler!?!)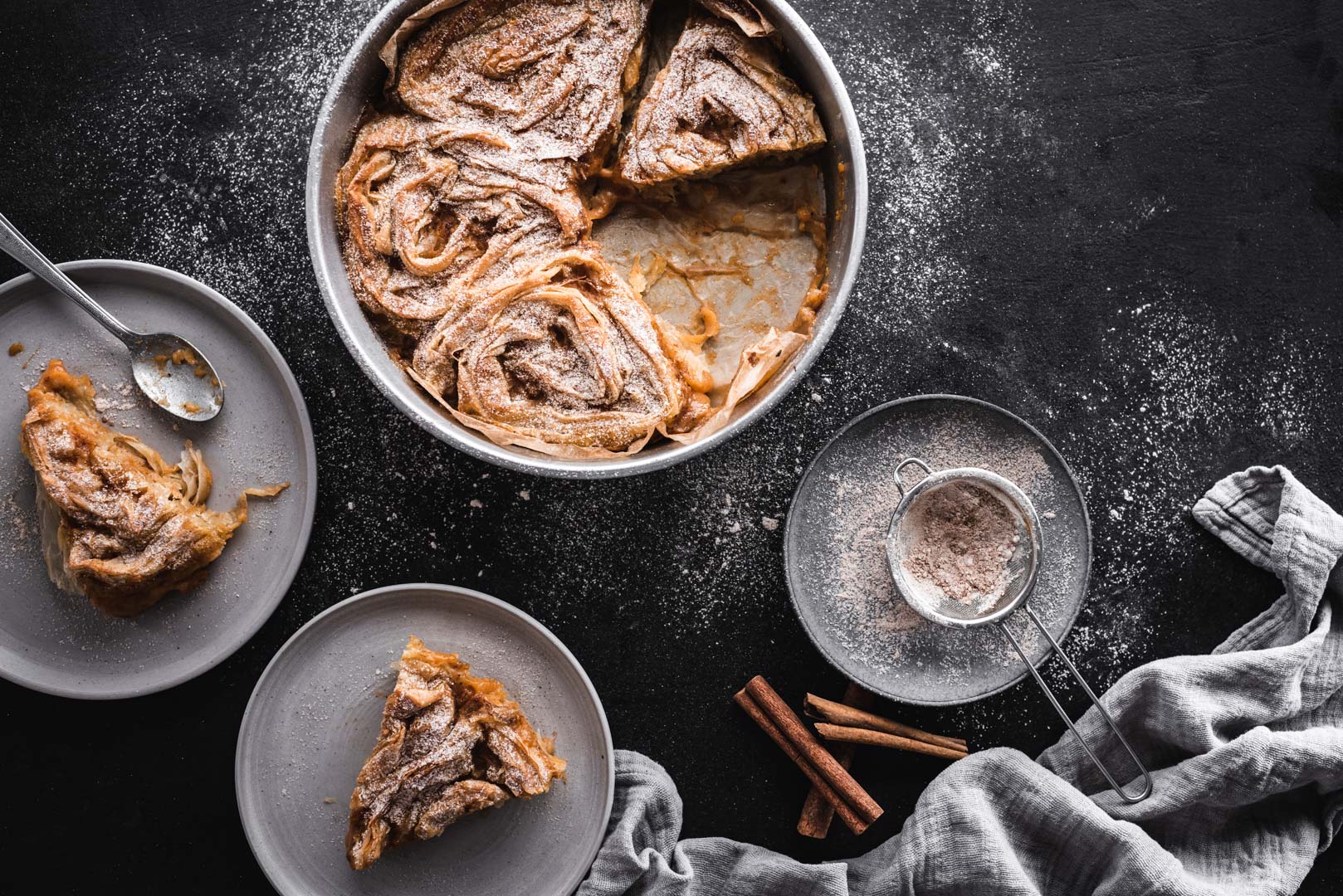 Now, I gave you 4 reasons of why this dessert is so special and I earnestly hope that I have been able to convince you that this pumpkin spice ruffled milk pie deserves a place on your table this fall. During and after you enjoy your first slice you will wonder how such a simple combination of ingredients could transform into something so glorious – you're welcome in advance ;)
And here's a stop-motion video I made to show how simple this dessert comes together!
For all kinds of pumpkin inspiration – you can visit the #virtualpumpkinparty landing page to see all of the recipes from this year and past years!
PUMPKIN SPICE RUFFLED MILK PIE
---

Total Time:

50 minutes


Yield:

8

–

10

slices

1

x
10

–

14

sheets frozen phyllo dough, thawed (*see note)

6 tablespoons

(

85g

) butter, melted (use vegan butter or olive oil for a dairy free option)

1 1/2

cups

(192g) milk (full fat coconut or nut milk for dairy free option)

3 tbsp

cornstarch

1 tablespoon

vanilla extract

1

cup

(225g)of pumpkin puree (about 1/2 of a 15oz can)

1/2

cup

(100g) sugar (I used light brown sugar)

1 tsp

cinnamon

1/2 tsp

ground ginger

1/4 tsp

fresh ground nutmeg

1/8 tsp

ground cloves

1 tbsp

powdered sugar +

1/2 tsp

cinnamon, for dusting
---
Instructions
Preheat your oven to 350°F (175°C). Brush a 9-inch round cake pan lightly with melted butter and line with a sheet of parchment that is large enough to come up the sides of the baking pan. Lightly brush the parchment with butter.
Place 1 sheet of phyllo dough on a clean surface and brush it with melted butter (a light coat will do just fine). Place another sheet of phyllo over the top of the first one and brush with butter. Use your fingers to scrunch up the fillo long ways, into a loose ruffled strip (its okay if the phyllo tears a bit). Wind up the dough into a loose, ruffled spiral, place it in your prepared pan and repeat with the rest of the phyllo dough until your pan is filled. (you should have 5-7 spirals depending on the size of your phyllo)
Brush the tops of the spirals with the remaining butter. Bake in the pre-heated oven for 20-25 minutes, until the phyllo is golden brown.
While the phyllo bakes, prepare the pumpkin custard by whisking together the milk, cornstarch, pumpkin, vanilla, spices and sugar.
Remove the pan from the oven and pour the pumpkin custard mixture over the spirals. Return pan to the oven and bake another 20-25 minutes or until the custard is set in the center.
Let cool for 15 minutes, then lift from the pan and serve dusted with cinnamon and powdered sugar. Best eaten warm, but leftovers store beautifully in the fridge for up to 3 days (if it even lasts that long ;)
Notes
*Frozen phyllo dough varies in measurement (a common size is 12×17″). For this reason the amount of sheets you will need can vary based on the size of your phyllo dough. Our sheets were quite large, so I only needed 10 to fill our cake pan. The pan should be loosely filled with the phyllo spirals, if you pack them in too tightly there will not be room for the custard to settle in between the layers of phyllo.
*This dessert is very light, so if you are serving a crowd, I would consider one pie good for 5 people at the most :)
Prep Time:

10 minutes

Cook Time:

40 minutes