I was overwhelmed by the response to my pumpkin spice ruffled milk pie that I shared here on the blog back in October. It has become one of the most popular recipes that I have ever created! The fact of the matter is that it is one of my favorite recipes too and that I actually have all kinds of ideas for variations swirling around in my mind. The first variation that I absolutely had to post here on the blog are these holiday nog ruffled milk rolls.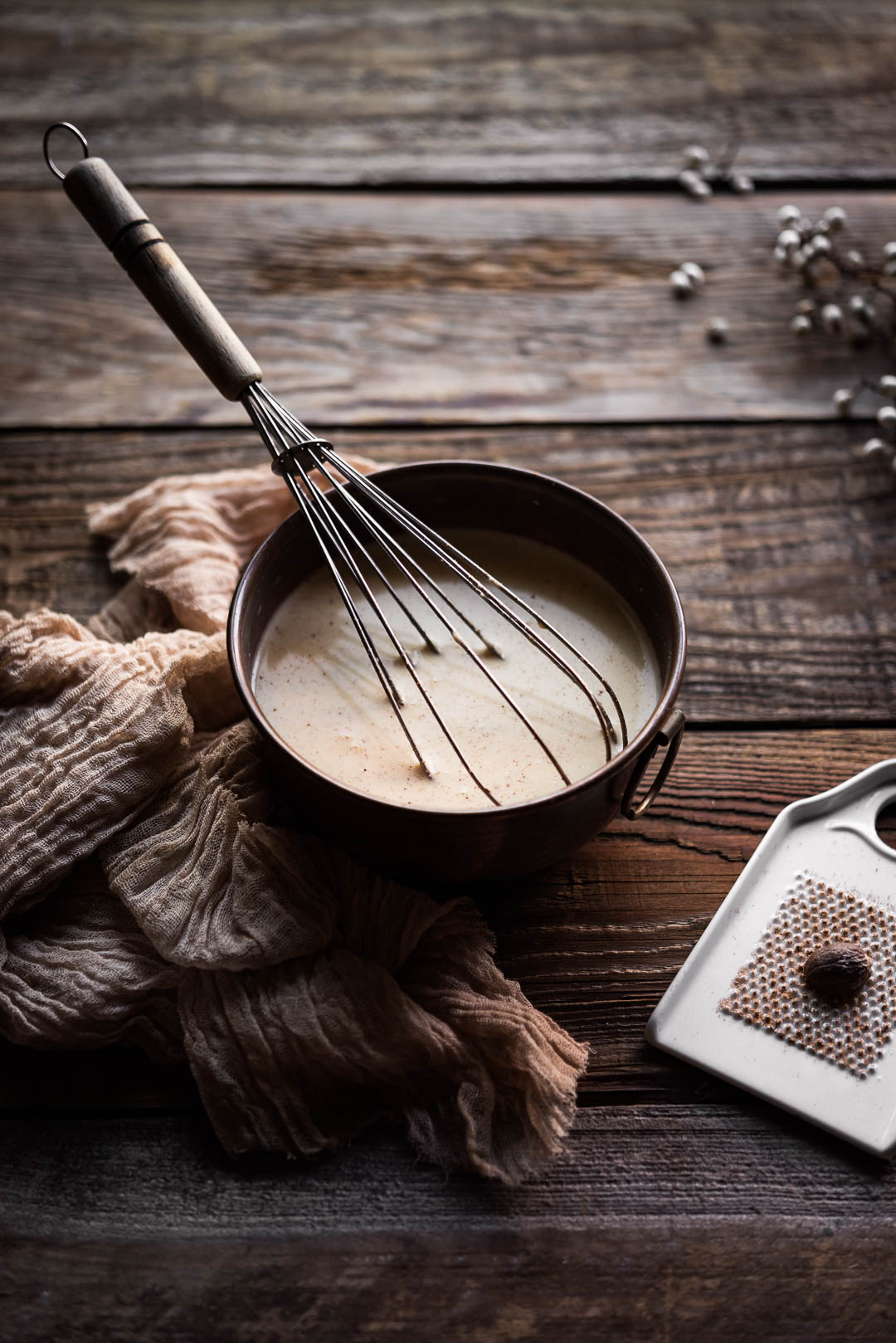 I have always looked forward to enjoying eggnog during the holidays and I knew that it would be the perfect foundation for my latest version of ruffled milk pie. For this recipe, I made a really delicious egg free and dairy free holiday nog, so that everyone can enjoy  (you can feel free to use whatever type of holiday nog or eggnog that suits you). I tested the holiday nog a few different ways, and my favorite version was sweetened with maple syrup and comprised of a combination of soy milk and coconut cream (and again, you can use any type of milk here).
When I first envisioned this recipe in my mind, I pictured big ruffled swirls of phyllo dough to be baked in a large pan similar to cinnamon rolls. And in baking them this way, they make for a really simple holiday breakfast, but the phyllo dough is really forgiving and can be formed or shaped however you wish! (you can click HERE to watch how to form the ruffled rolls)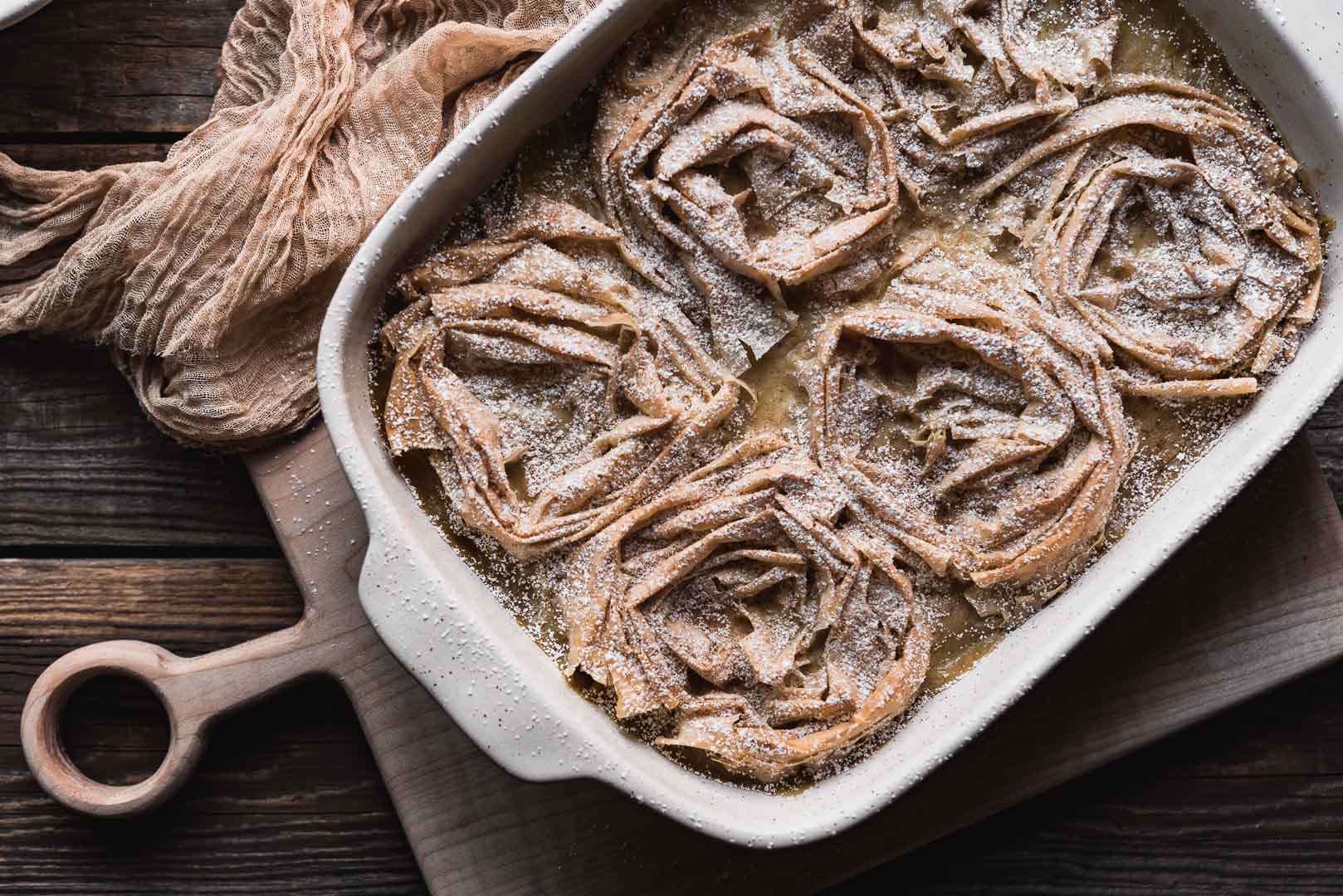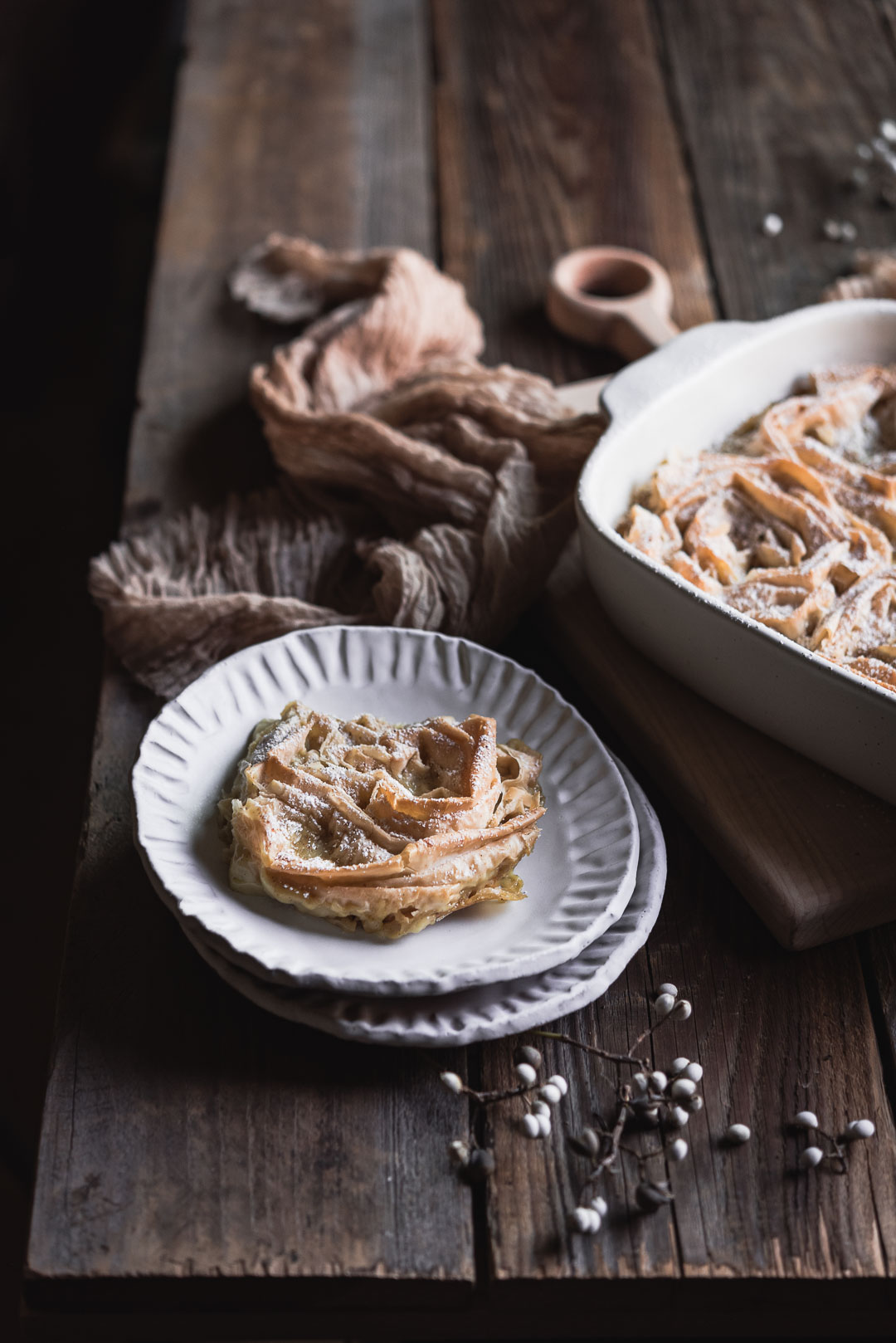 The phyllo gets golden and crisp in the oven before it gets surrounded by the holiday nog custard that bakes in between the ruffled rolls of phyllo…tender, crisp, flaky & custardy with just the right amount of sweetener – this recipe is gold, you guys! We could honestly eat these holiday nog ruffled milk rolls any time of day, they are irresistible but they would be the perfect holiday breakfast or dessert! And if you are making them for a crowd, I would highly recommend making 2 trays because they are surprisingly light and will disappear quickly!
In the meantime, I truly hope you give these holiday nog ruffled milk rolls a try and let me know what you think of them if you do! And I hope you all have a peaceful holiday season filled with love, peace and rest <3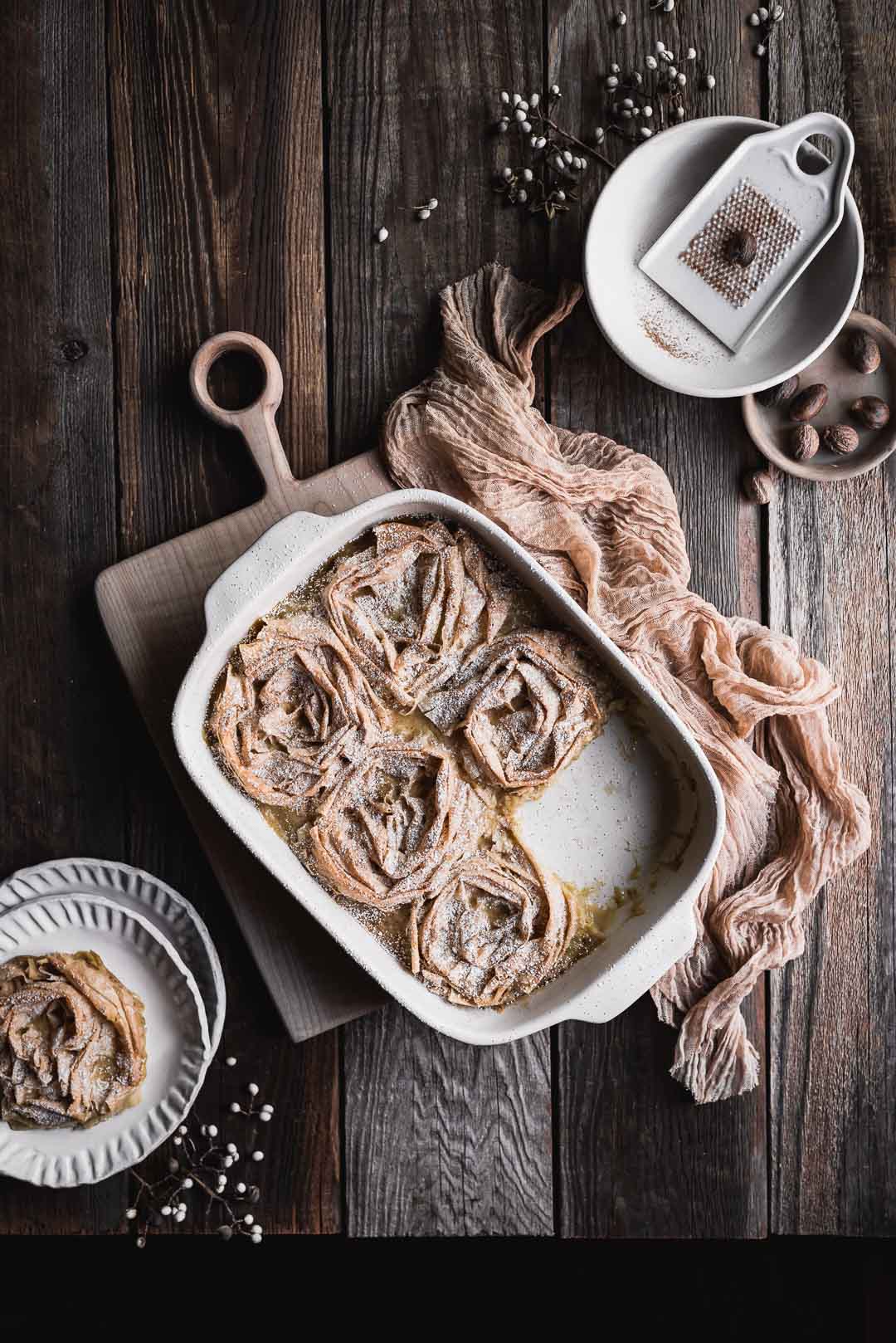 p.s.  I also wanted to take a moment to thank you all for being here, this blog would not be what it is if it was not for you, my faithful readers :) As a way to show my gratitude, I put together a giveaway for three people to each win one of these ceramic baking dishes, a hand-dyed linen, a ceramic nutmeg grater & some fresh nutmeg! You can enter the giveaway on Instagram – the winners will be chosen at random on Friday, December 21st.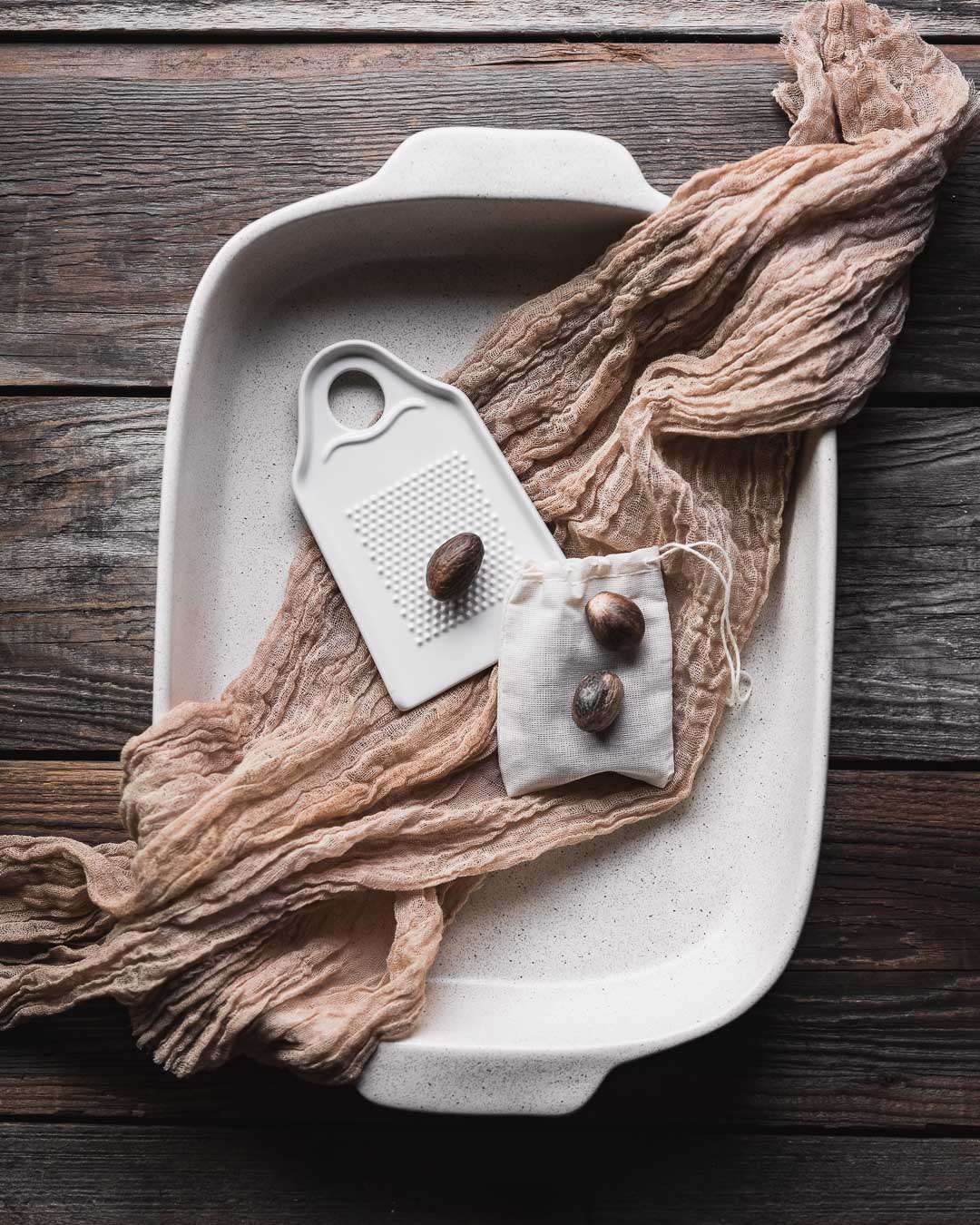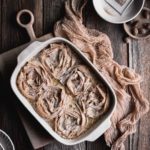 HOLIDAY NOG RUFFLED MILK ROLLS
---
Total Time:

0 hours

Yield:

6

–

8

rolls

1

x
12

–

16

sheets frozen phyllo dough, thawed (*see note)

8 tablespoons

(

110g

) unsalted vegan butter, melted (regular butter can be substituted if dairy free is not a concern)

2

cups

(486g) soy milk (any nut milk can be substituted for the soy milk, regular milk will work if dairy free is not a concern)

3/4

cup

coconut cream, melted (thick cashew cream can be substituted or heavy cream if dairy free is not a concern)

4 tbsp

cornstarch

1 tablespoon

vanilla extract

1/2

cup

(170g) maple syrup

1/2 tsp

fresh grated nutmeg

1/4 tsp

annatto powder (optional, for color)
(*or substitute homemade holiday nog with 3 1/4 cup store bought nog)
pinch of salt

1 tbsp

powdered sugar, for dusting
fresh grated nutmeg, for garnish
---
Instructions
Preheat your oven to 350°F (175°C). Brush a 9×13-inch baking dish lightly with melted butter.
Place 1 sheet of phyllo dough on a clean surface and brush it with melted butter (a light coat will do just fine). Place another sheet of phyllo over the top of the first one and brush with butter. Use your fingers to scrunch up the phyllo long ways, into a loose ruffled strip (its okay if the phyllo tears a bit). Wind up the dough into a loose, ruffled spiral, place it in your prepared pan and repeat with the rest of the phyllo dough until your pan is filled. (you should have 6-8 spirals depending on the size of your phyllo)
Brush the tops of the spirals with the remaining butter. Bake in the pre-heated oven for 20-25 minutes, until the phyllo is golden brown.
While the phyllo bakes, prepare the holiday nog custard by whisking together the soy milk, coconut cream, maple syrup, cornstarch, vanilla, nutmeg, pinch of salt and annatto if using.
Remove the pan from the oven and pour the pumpkin custard mixture over the spirals. Return pan to the oven and bake another 20-25 minutes or until the custard is set in the center.
Let cool for 15 minutes, then lift from the pan and serve dusted with powdered sugar and a touch of fresh grated nutmeg. Best eaten warm, but leftovers store beautifully in the fridge for up to 3 days (if it even lasts that long ;)
Notes
*Frozen phyllo dough varies in measurement (a common size is 12×17″). For this reason the amount of sheets you will need can vary based on the size of your phyllo dough. Our sheets were quite large, so I only needed 10 to fill our cake pan. The pan should be loosely filled with the phyllo spirals, if you pack them in too tightly there will not be room for the custard to settle in between the layers of phyllo.
Prep Time:

0 hours

Cook Time:

0 hours

Category:

Breakfast, Dessert

Cuisine:

Greek