My aunt Susie was never allowed to host holiday dinners because she was never on time. Every year the family would tell her that our holiday dinners would start several hours earlier than scheduled. It was all a ruse of course, an attempt to get her to show up even slightly close to on time. But alas, it never worked. Aunt Susie was perpetually late, but whatever food she eventually showed up with was always delicious. Hands down, Aunt Susie is the best cook on my mother's side of the family. But it wasn't until Thanksgiving 2003 that I finally got to enjoy a full holiday dinner made by her. And it was there, in her cozy little cabin, that I first experienced the greatness of this cider brined turkey with cider herb gravy. 
THE BEST TURKEY IS CIDER BRINED
Wet-brining came into popularity in the early 2000's and started falling out of popularity about 10 years later. Many have come along over the years to discredit wet-brining, however, this article from Food52's Emma La Perruque confirms, wet-brining does, indeed, produce a superior tasting turkey. This article just confirmed what I already knew for all of these years, but I felt it was important to share this evidence to support the bold claims that I make about our cider brined turkey recipe ;)
While there are many recipes for wet-brining, this cider version is really incredible. Unlike most brined turkeys, this one can be stuffed because the apple-cider brine contains less salt than the typical brine recipe. And while the flavor of cider in the final turkey is subtle, it really sets this turkey apart.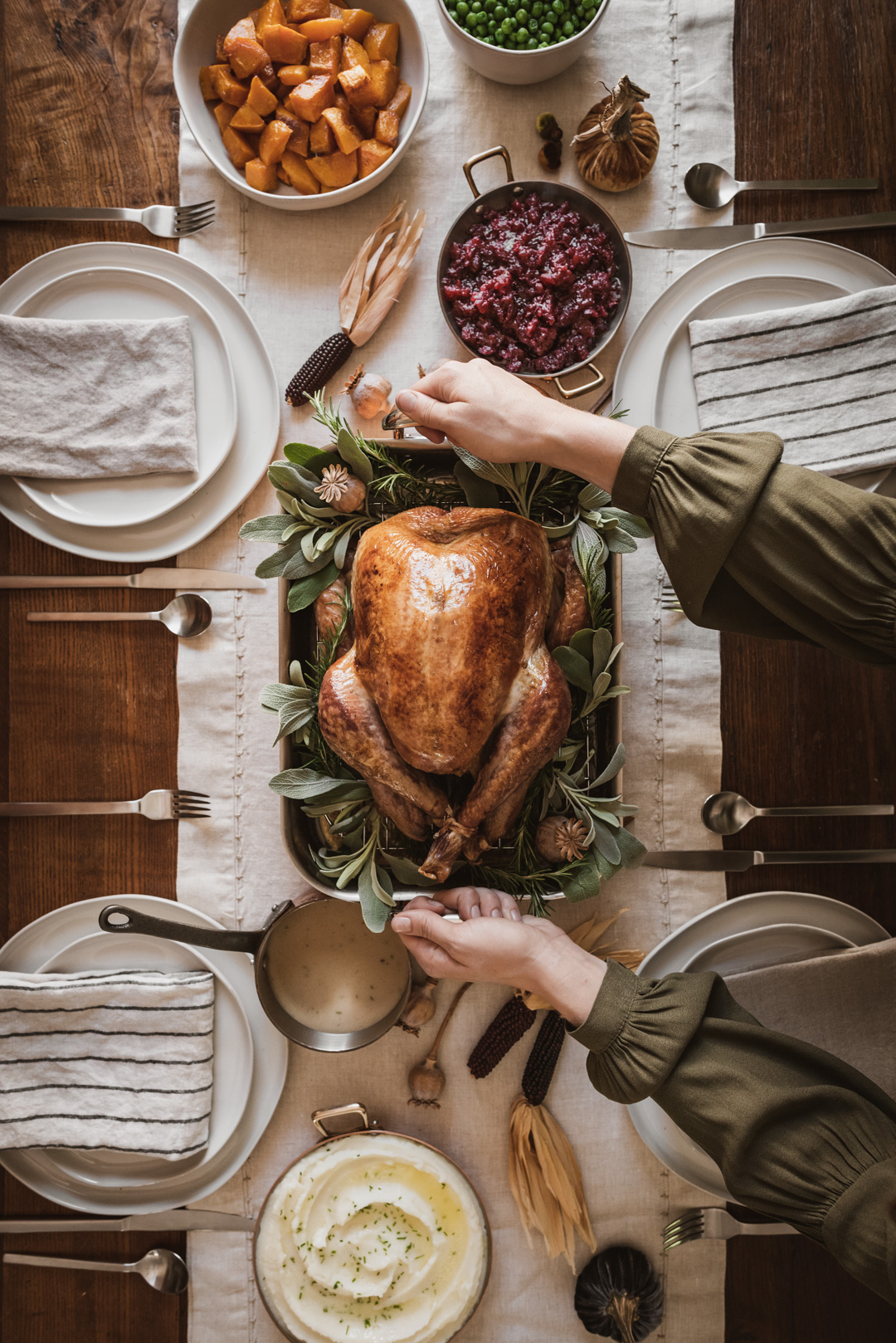 THE GREATEST GRAVY
Now, you can't have a perfect turkey without the perfect gravy. This cider herb gravy is the greatest gravy for turkey my friends. And it has stolen the hearts of many guests we've had the honor of serving. Gravy is the finishing touch to the turkey, the mashed potatoes and, of course, the perfect dipping companion to soft dinner rolls. Ever since this cider herb gravy was introduced to our taste buds, we cannot have Thanksgiving without it, it's that good.
GIVE YOUR TURKEY A BUTTER BLANKET FOR THE PERFECT GOLDEN SKIN
Now, this is the one step that my Aunt Susie did not utilize for her turkey because she cooked her bird in a smoker. But I absolutely advocate using this butter soaked cheesecloth method for roasting your turkey in the oven. It allows you to achieve perfectly golden skin while also keeping the turkey breast nice and moist. I can thank my friend Ciro for introducing me to this tip! It may seem *extra, but trust my friends, you've already wet-brined your bird, it deserves a butter blanket too.
CIDER BRINED TURKEY WITH CIDER HERB GRAVY SCHEDULE
Back to the life-changing Thanksgiving dinner at Aunt Susie's little mountain cabin. Even though we ate at her house, dinner was still late (lol). But is was absolutely worth the wait! Now, if you don't want to be late like Aunt Susie, you simply need to follow this timeline and your main attractions will be ready on time (adjusting according to your personal holiday schedule):
TUESDAY: make gravy base
TUESDAY EVENING: brine turkey
WEDNESDAY EVENING: remove turkey from brine and refrigerate overnight.
THANKSGIVING DAY 9am: remove turkey from refrigerator to sit at room temperature before roasting
10am: pre-heat oven & prepare turkey for roasting
11am: begin roasting turkey
3-5pm: the turkey will need 13 minutes per pound when roasted at 350F (about 3.5 hours for a 16-17 pound bird for example). When turkey is done roasting, cover with foil and let stand for 30 minutes. Prepare the gravy while the turkey rests.
In conclusion, I feel that I have made a strong case for you to adopt this cider brined turkey with cider herb gravy as your Thanksgiving or holiday standby recipe. And if you try this recipe please leave a comment to share what you & your guests think of it :)
[zrdn-recipe id="185″]
SIDE DISHES TO ACCOMPANY THIS TURKEY & GRAVY:
If you need more help building your Thanksgiving menu, my friends at SideChef created a super convenient menu builder that includes lots of Thanksgiving recipes, including some of mine :). Just select the recipes you'd like to add and receive a personalized menu for the big event that you can also check out with on Walmart.com. Get ingredients for your menu delivered to your doorstep or through Walmart delivery or store pickup.