Jump to recipe
There are some recipes that seem too simple to share here on the blog. But this is not one of them. While our recipe for buttered peas with leeks and mint may be simple, it truly is the perfect way to eat peas. An underrated vegetable that truly deserves to be a part of more meals, especially as part of your Thanksgiving table.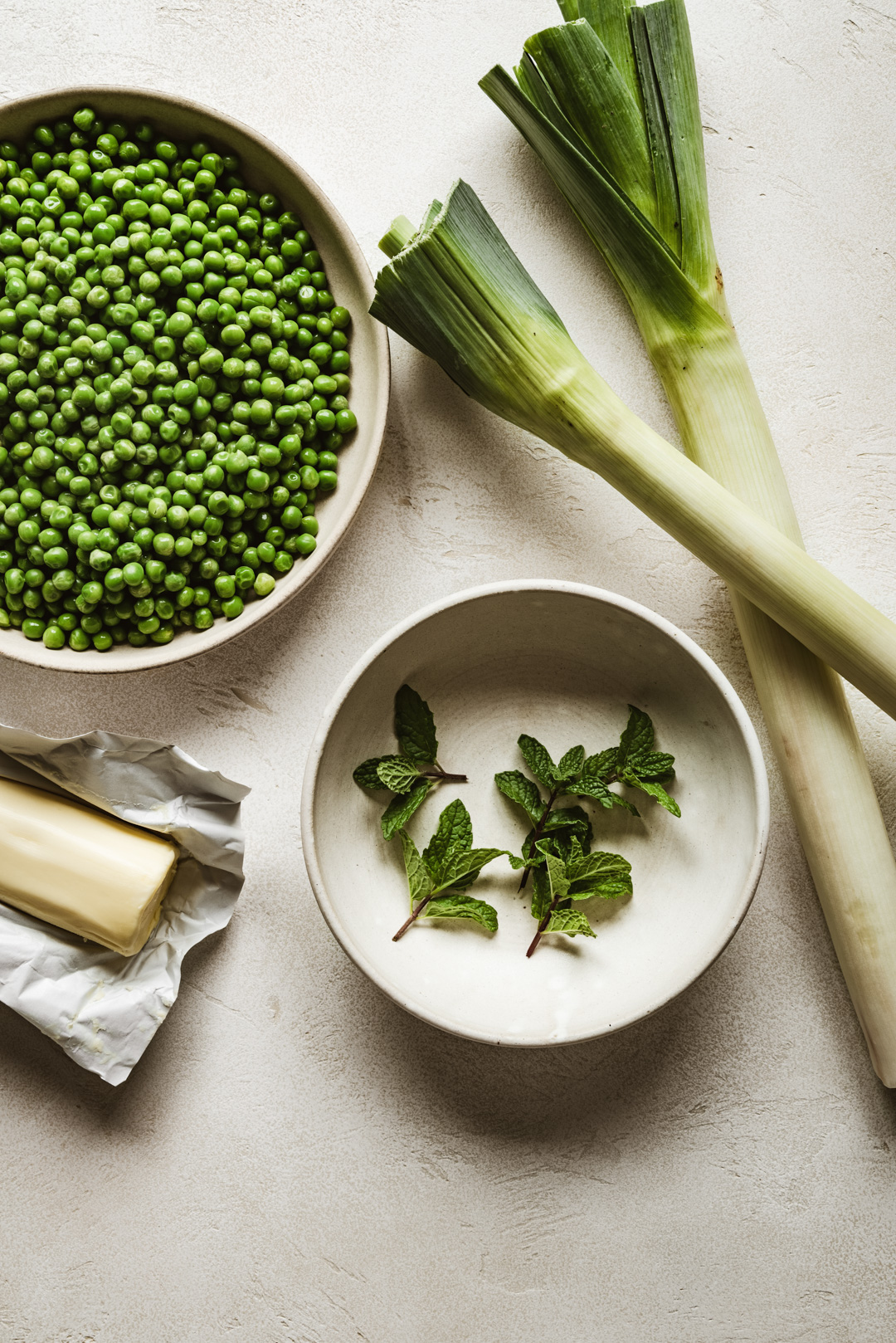 BUTTERED PEAS – A THANKSGIVING TRADTION
I did not know what to expect at my first Thanksgiving with my hubby's family. I thought I would surely encounter Greek food, but I was surprised at just how American their Thanksgiving meal was. And while their holiday spread looked similar to what I had grown up with, the big bowl of peas stood out right away. Peas were not a vegetable that I ate growing up. All I was ever exposed to were the dull, lackluster canned peas served at my elementary school cafeteria.
The buttered peas my in-laws served were vibrant green and so simple, yet so delicious. I came to learn that peas had been a foundational part of every Thanksgiving meal throughout my hubby's life. Therefore, every year since, we have continued the tradition. Once I was permitted to host Thanksgiving for the first time, I really wanted to elevate my in-laws' simple buttered peas.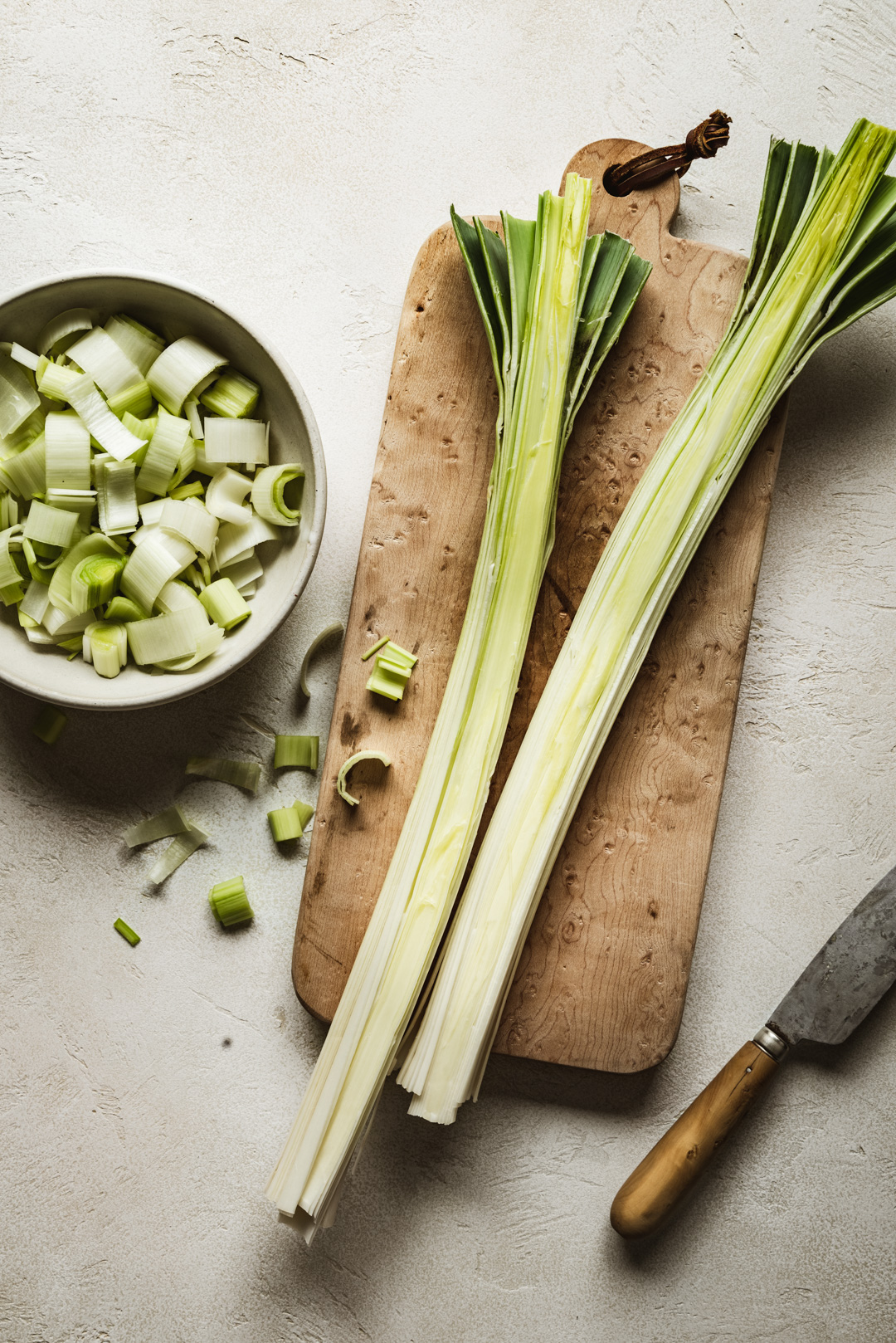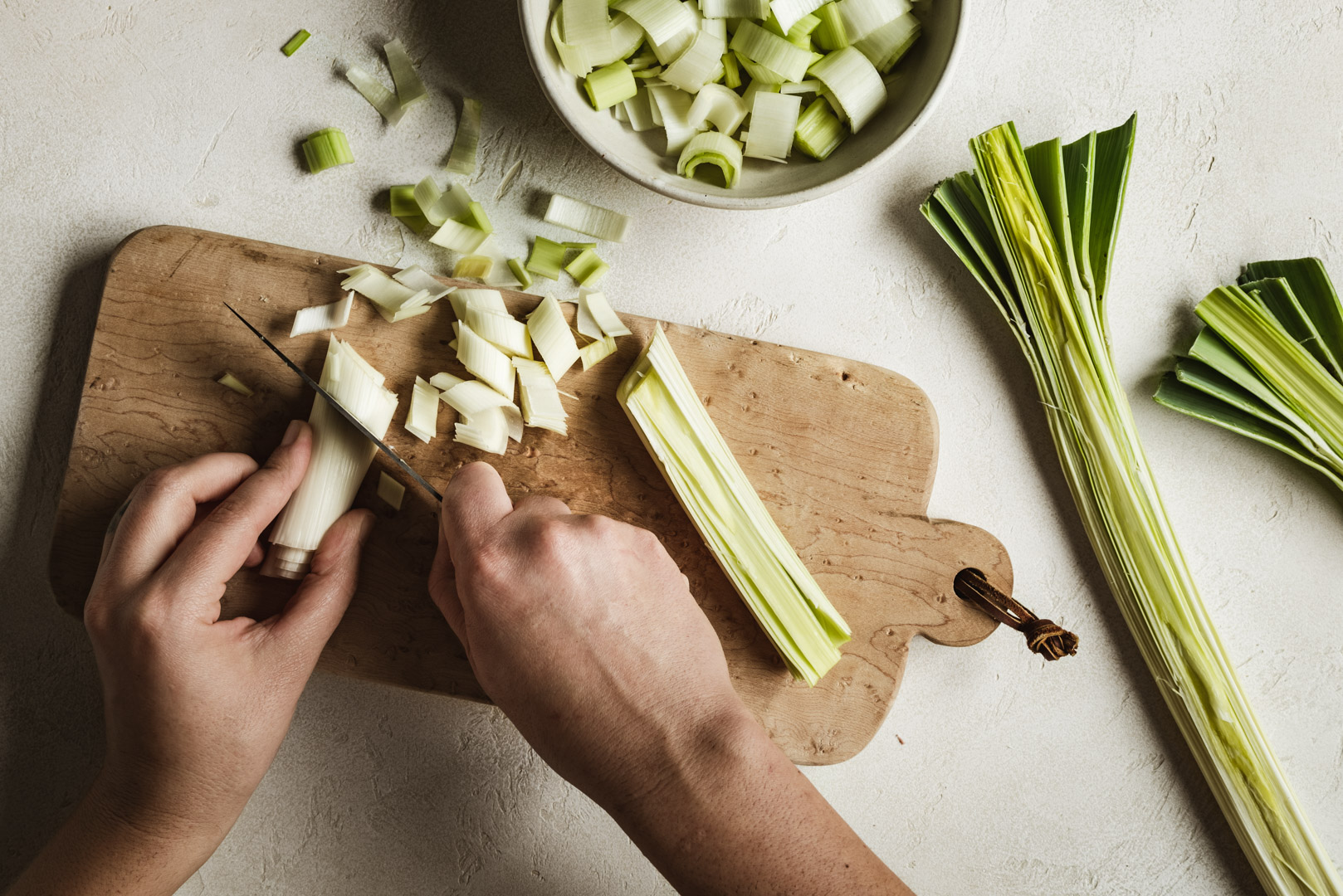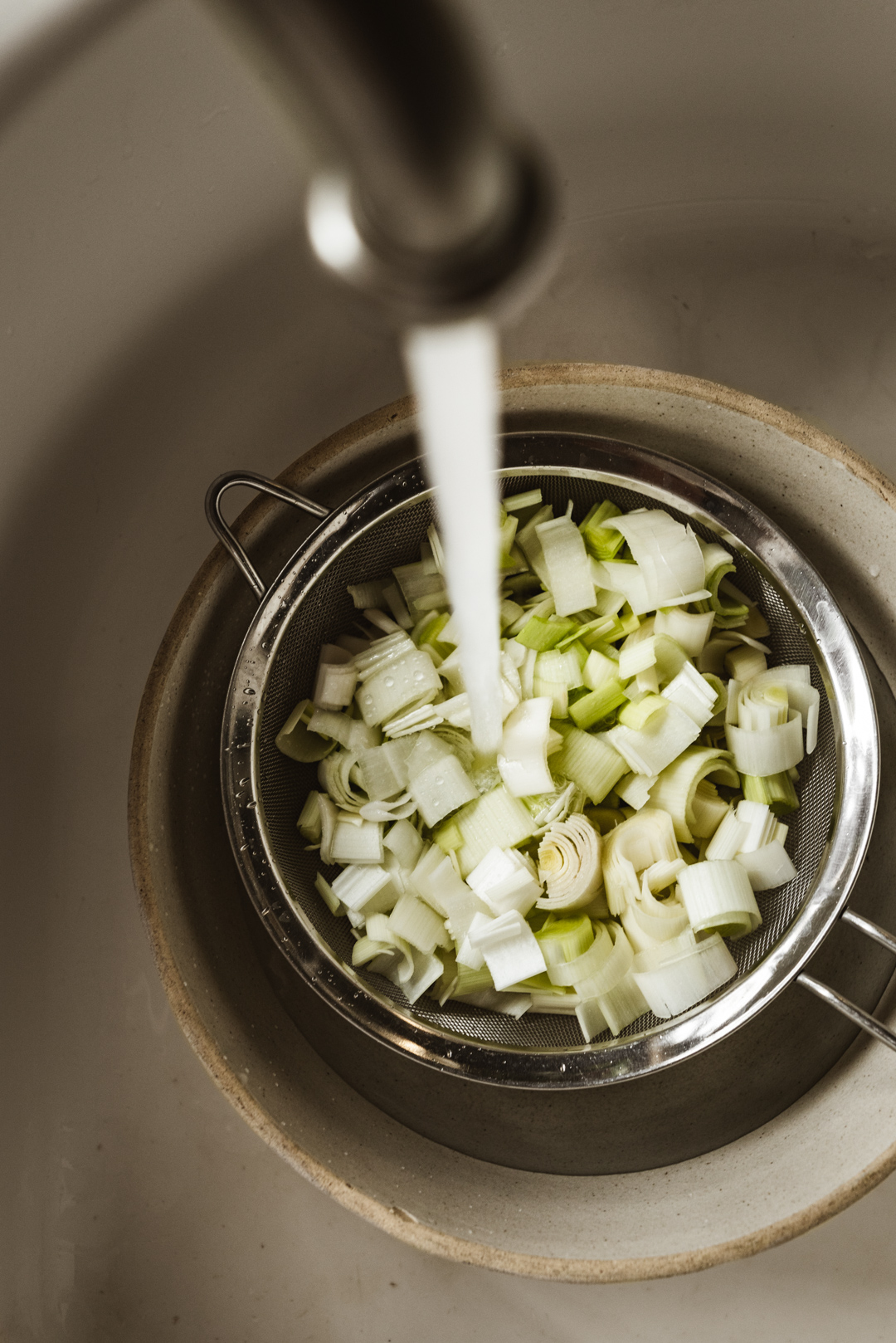 ELEVATING TRADITION
Tender sautéed leeks and a touch of fresh mint compliment the sweetness of the peas in the most perfect way. And high-quality cultured butter lends a special depth of flavor to the peas. Frozen peas are the ideal choice for this recipe because once cooked they retain their fresh flavor and deep green hue. Fresh peas would be wonderful as well, but please, do not used canned peas. They just won't do this dish justice. And while we could gladly eat these peas anytime of year, they have a permanent spot on our Thanksgiving menu. Both for the traditional aspect and because they are an effortlessly side dish that we thoroughly enjoy.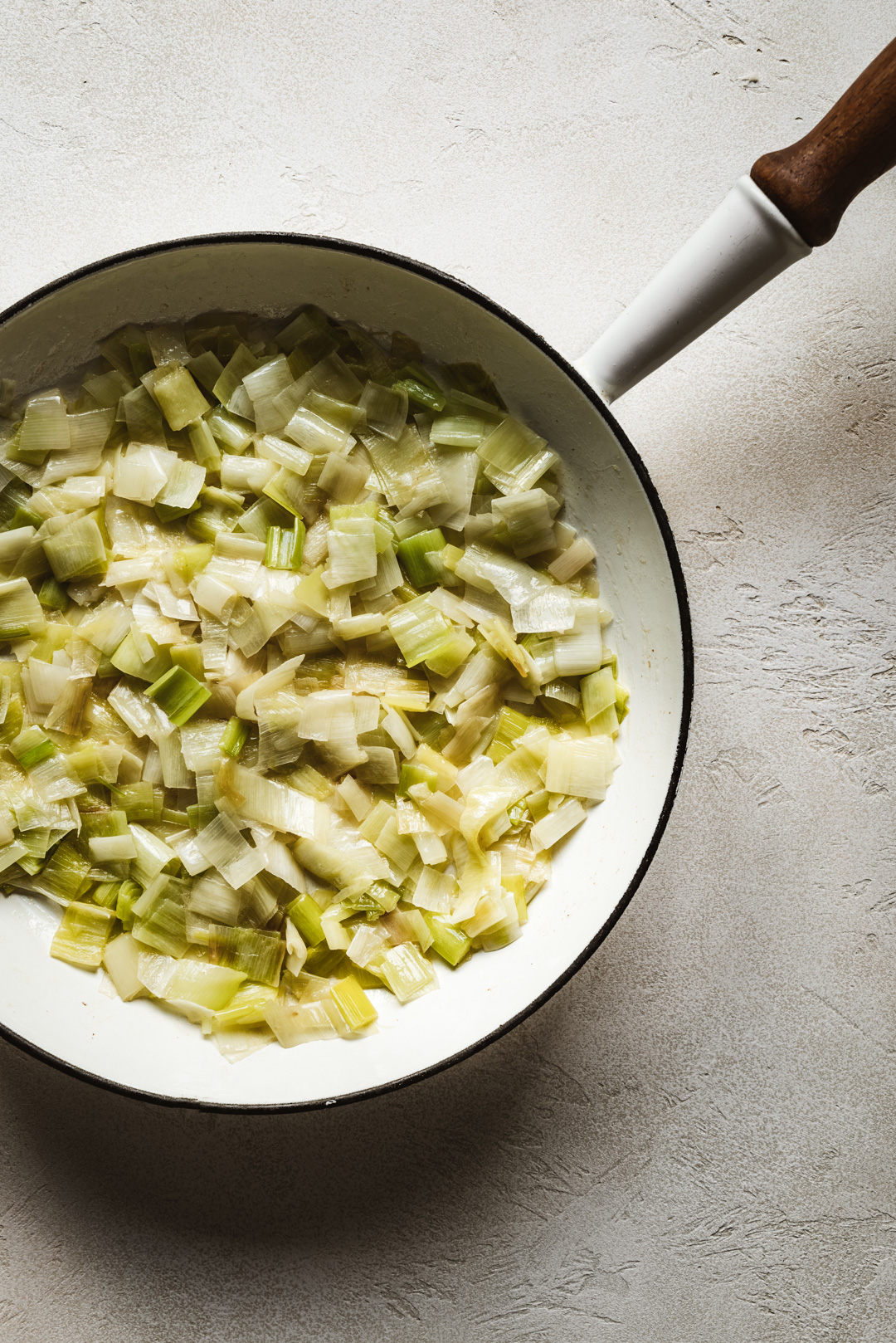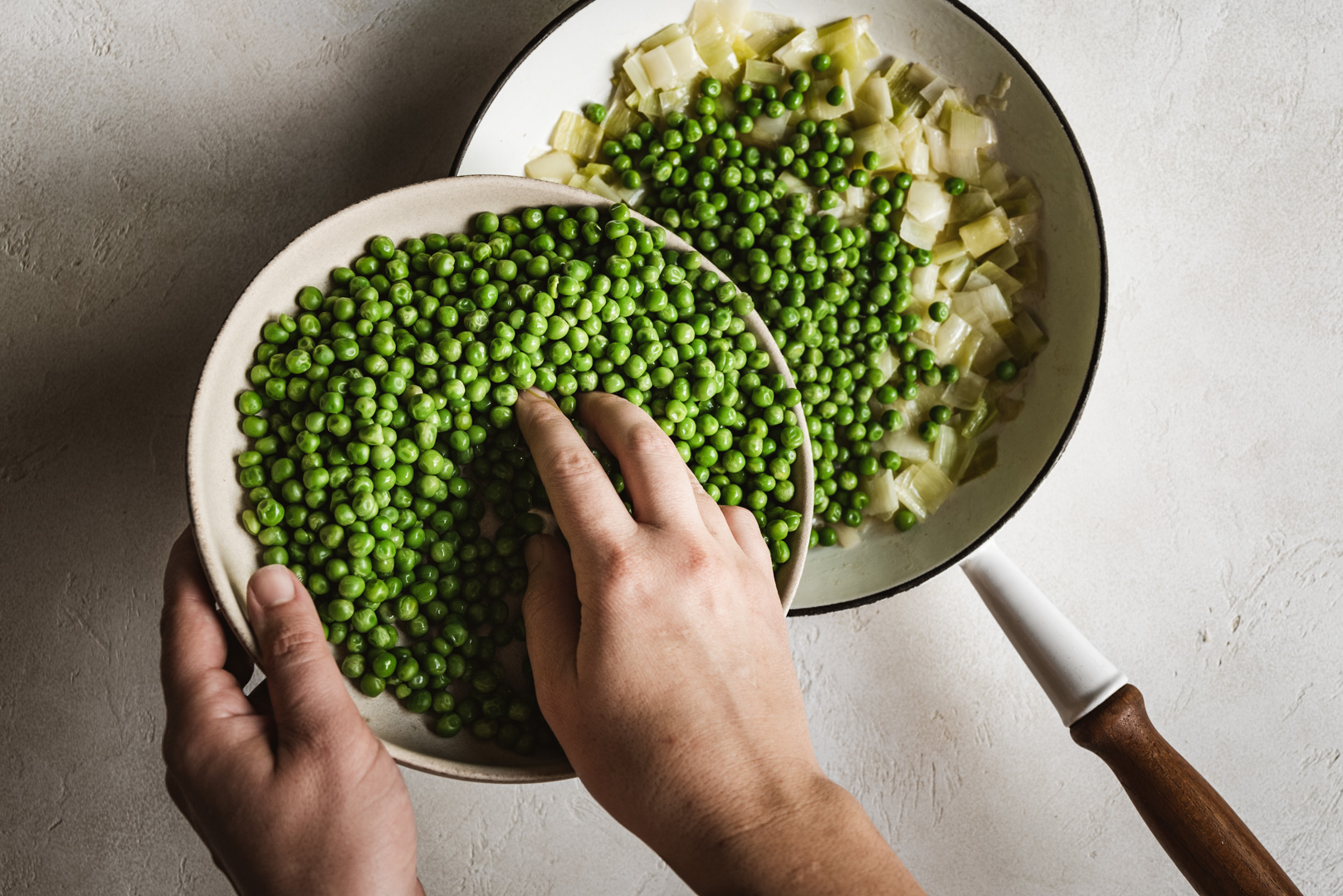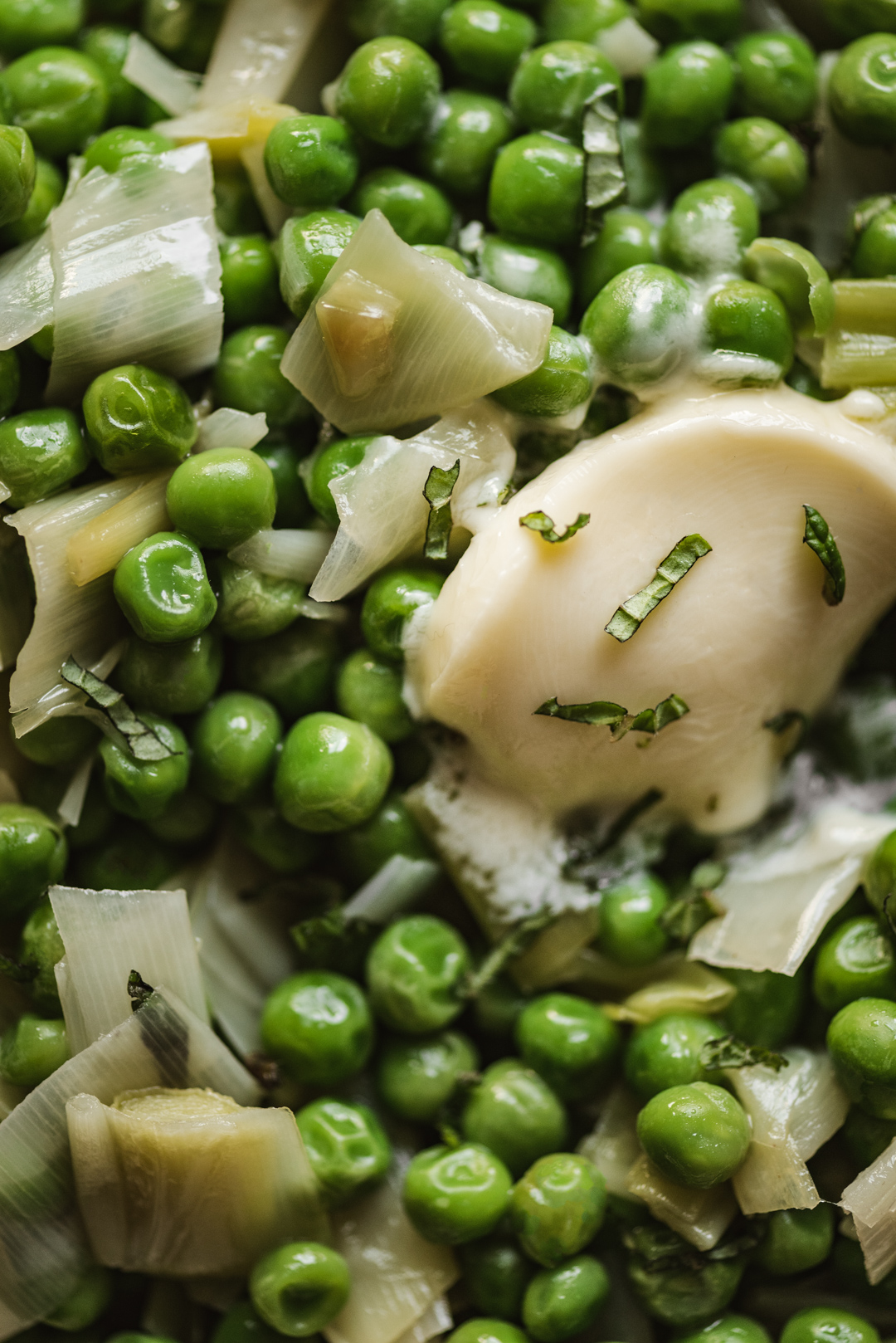 Amongst the richness of the Thanksgiving feast, these buttered peas with leeks and mint add a nice touch of green to your plate. The flavors are a wonderful accompaniment to all of the traditional dishes of Thanksgiving. These buttered peas with leeks and mint are so delicious, they should win over any pea skeptics that may be at your table.
BUTTERED PEAS WITH LEEKS AND MINT
Ingredients
16oz (454g) fresh or frozen peas (thawed at room temperature for 1 hour)
2 large leeks
4 tbsp (57g) high quality butter (we use Vermont Creamery lightly salted cultured butter ) or substitute vegan butter to make it dairy free
1 tbsp fresh mint, finely chopped at time of serving
salt to taste
Instructions
Slice the leeks lengthwise in half, remove a couple of layers of the outer leaves so that you are left with the tender center leaves
Cut off the root ends & the dark green tops & thinly slice the leeks into 1/4" slices - so you are left with the white & light green portions of the leeks
Place the sliced leeks in a bowl, fill with cold water & swish the leeks around to remove any dirt from between the leaves - pour the leeks into a strainer & drain well
In a medium pot, melt 3 tbsp (42g) of butter over low heat & add the sliced leeks to the melted butter. Stir to coat the leeks in butter & simmer over low heat for about 15 minutes, stirring often until leeks are soft & tender without browning
Once leeks are tender, add in the peas, turn heat up to medium low & gently stir to incorporate the peas into the buttery leeks
Cook the peas with the leeks for about 7-10 minutes, stirring often until cooked through. Test for seasoning at this stage & add salt as needed
To serve, place buttered peas & leeks in a serving bowl, top with remaining 1 tbsp of butter & finely chopped fresh mint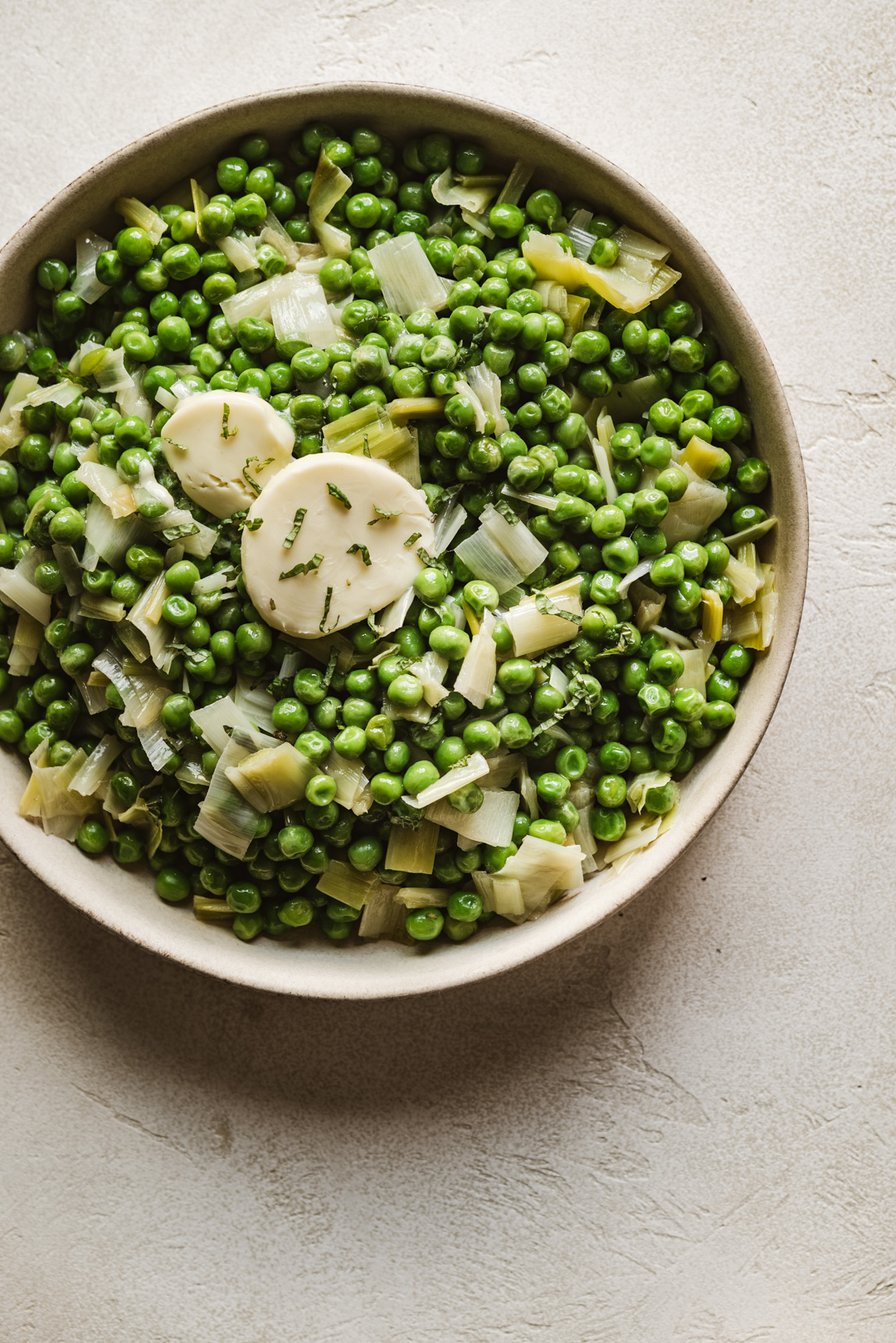 MORE PEA RECIPE INSPIRATION