Jump to recipe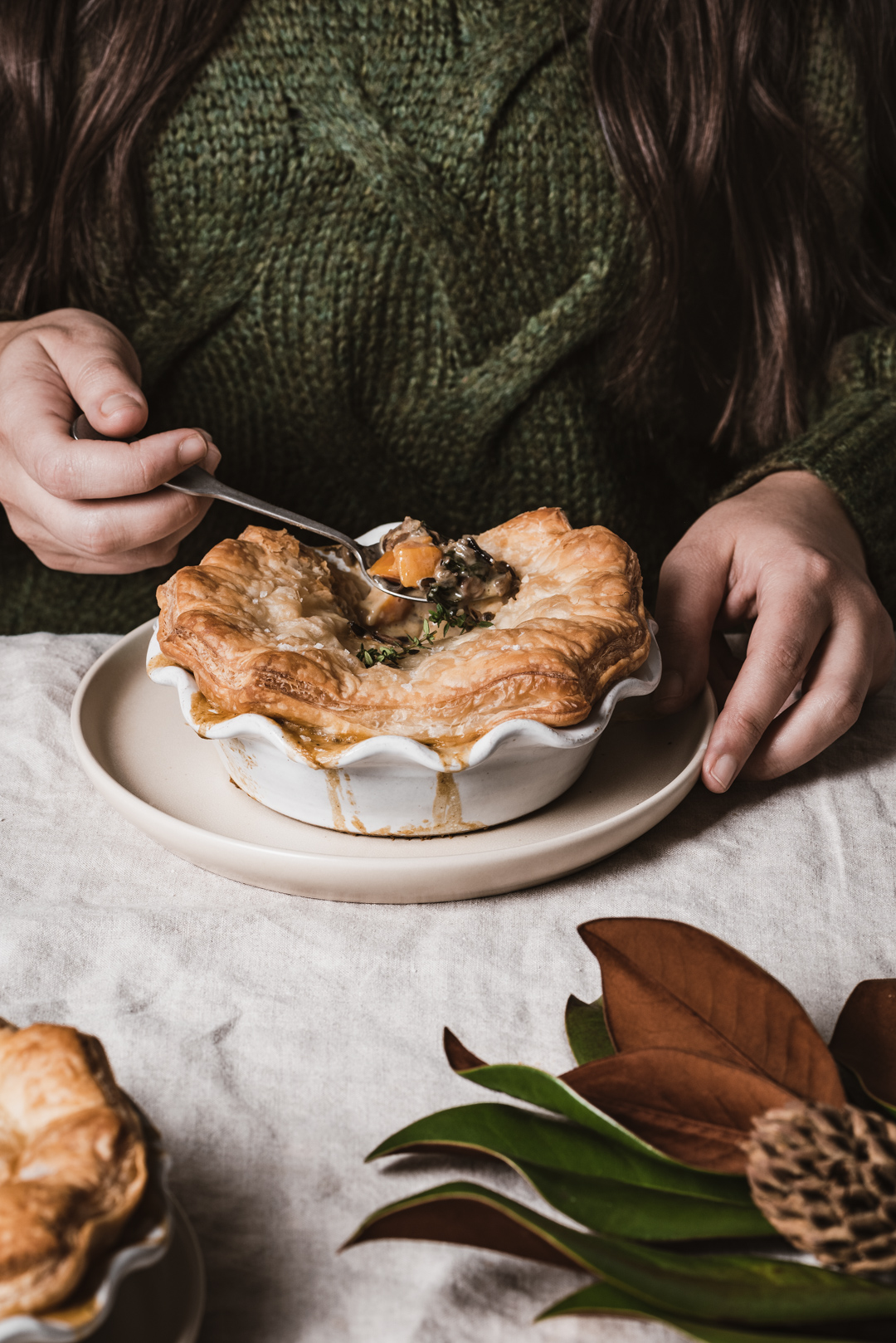 WILD RICE, CHANTERELLE MUSHROOMS & WINTER SQUASH
The star ingredients of these pot pies create a wonderful blend of flavors and textures: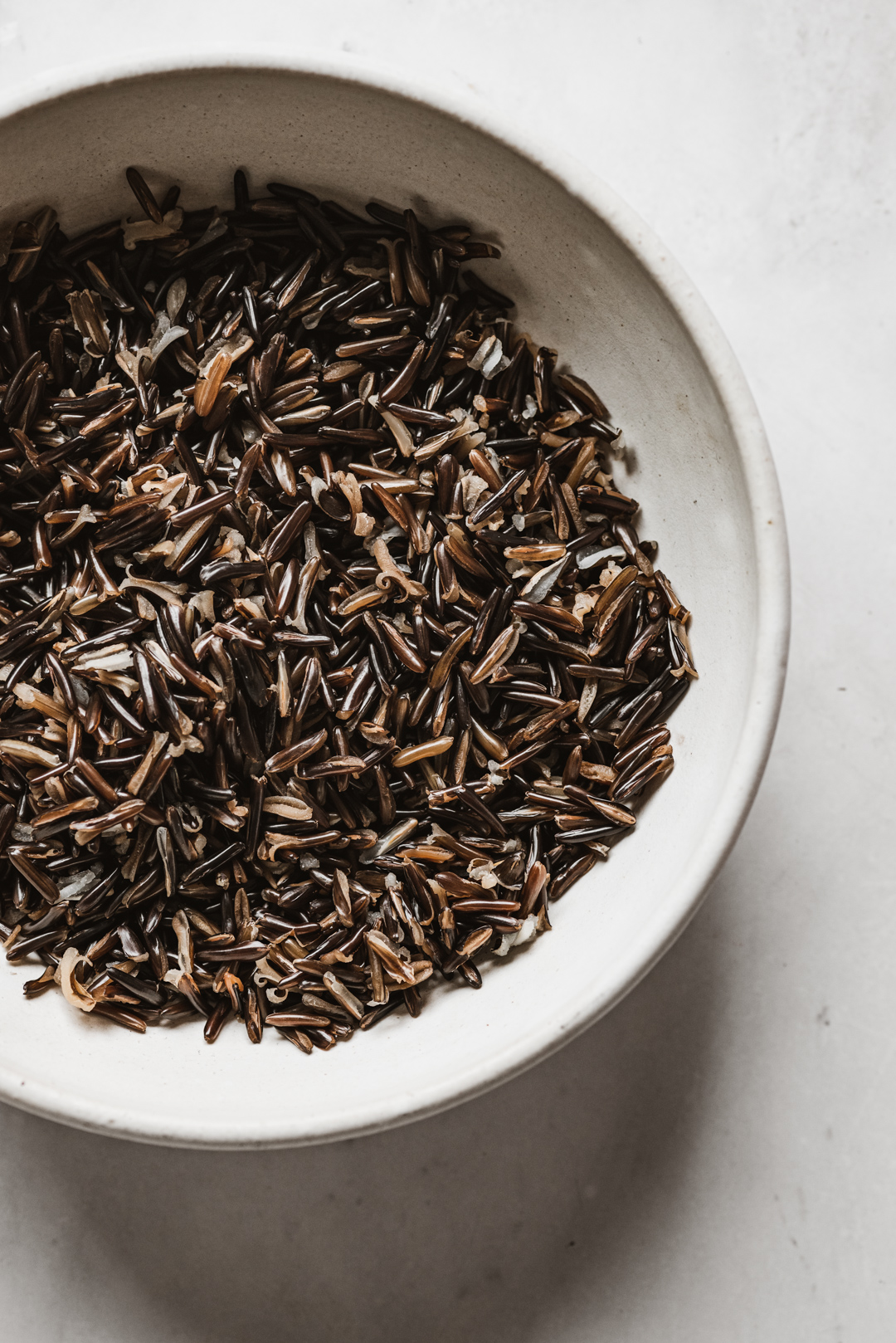 Secondly, there are WILD CHANTERELLES. Chanterelle mushrooms grow widely throughout the continental U.S. And they are one of the easier wild fungi to find & cook as well. Their flavor is peppery and lightly fruity. As you cook them, they soften and gain a melt-in-your-mouth texture. They are a truly special mushroom that I encourage you to try (here's a field guide for foraging chanterelles). You can find foraged chanterelles at Whole Foods Market, for example. Some other mushrooms that would taste great in these pot pies are crimini & porcini.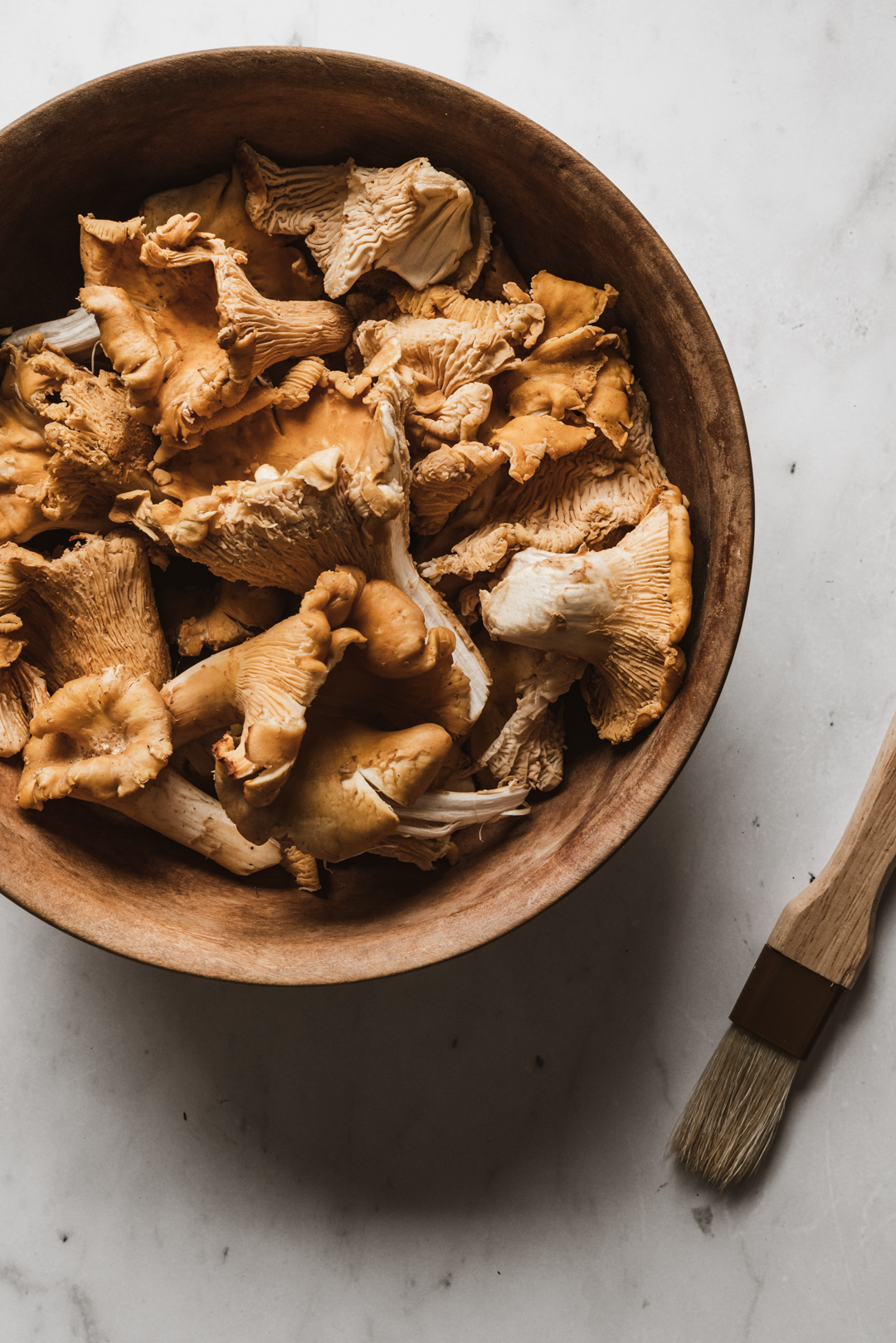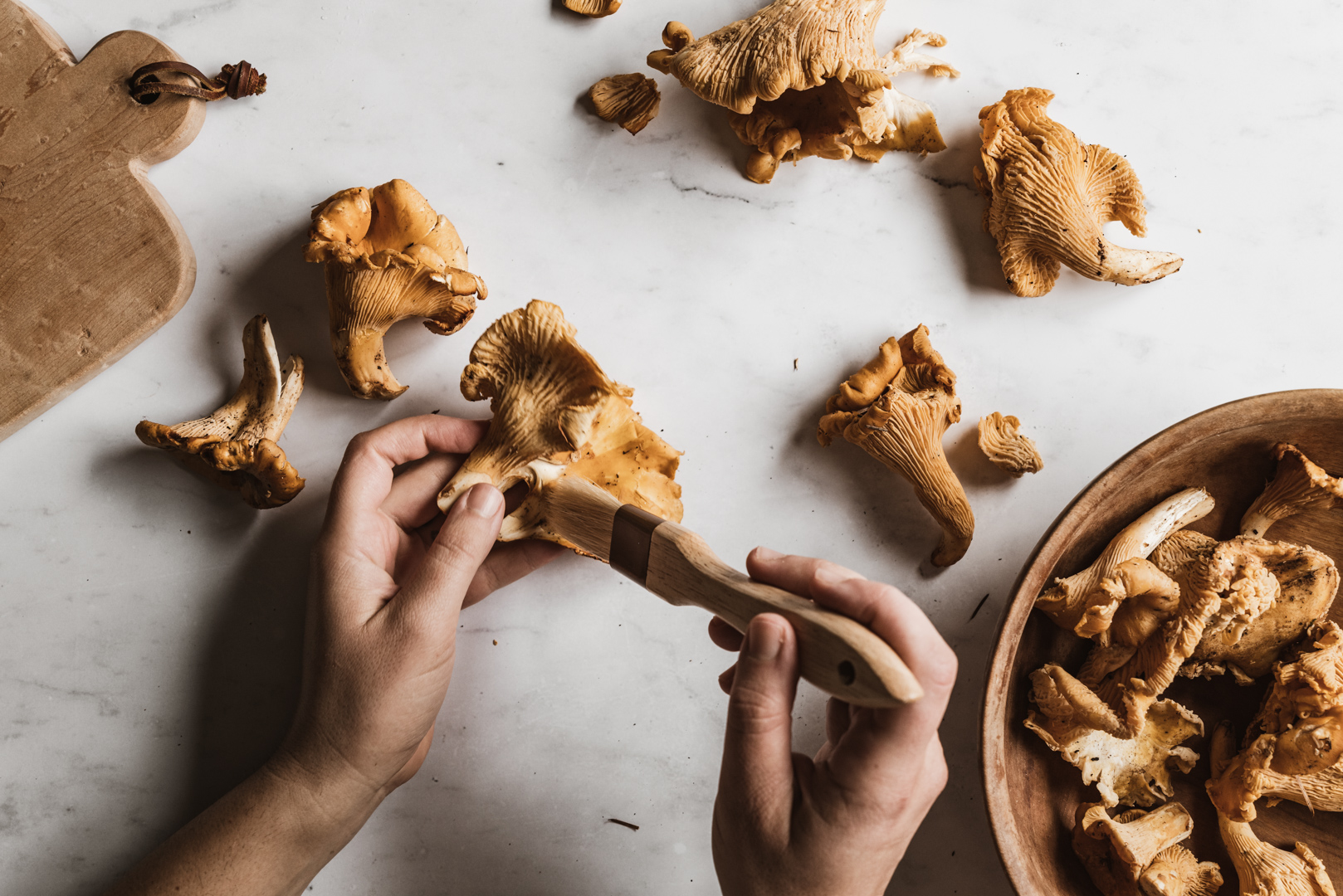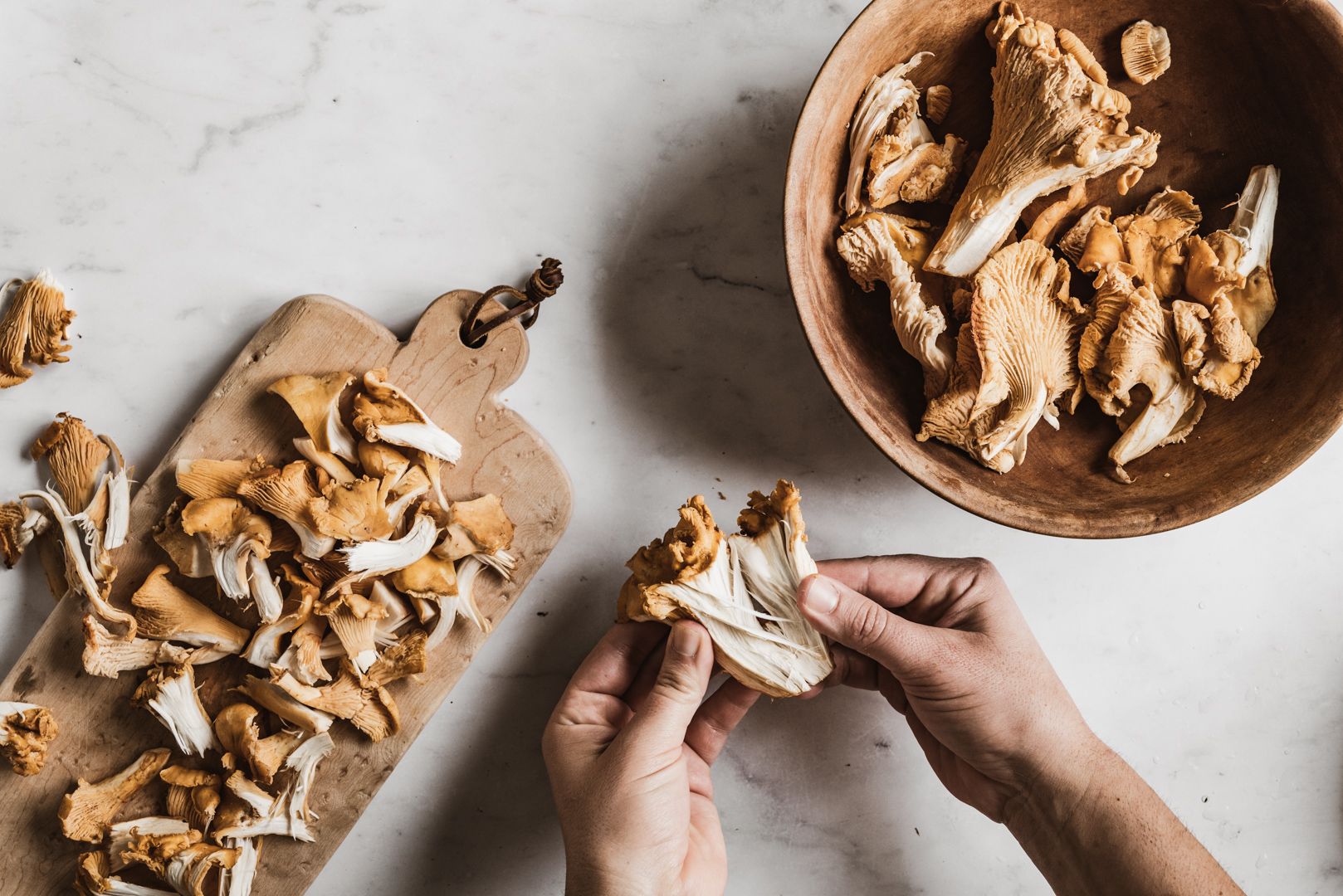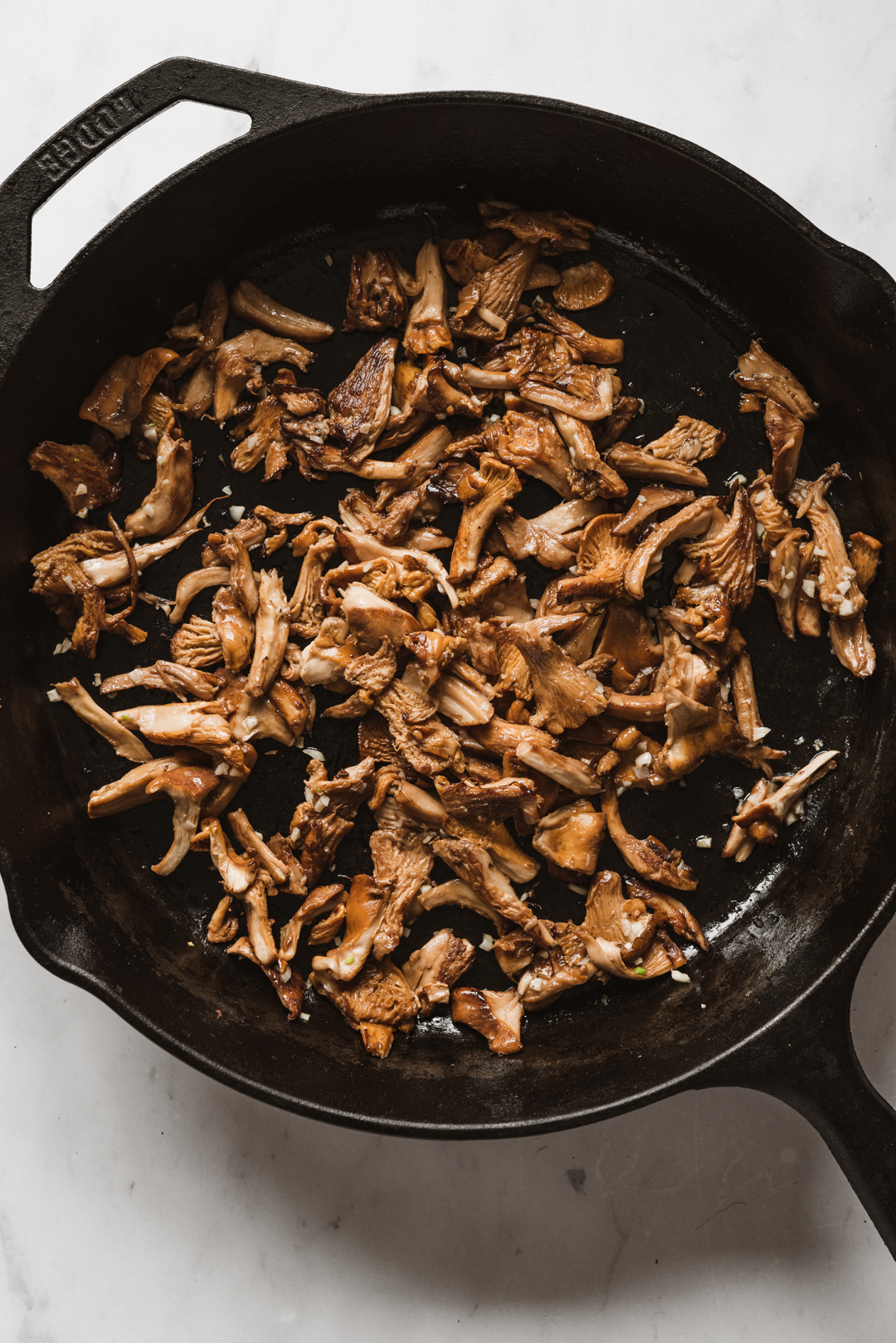 Thirdly, we have WINTER SQUASH. Indigenous to North America, these hardy vegetables are a mainstay of fall & winter meals and holiday celebrations. Tender, sweet honeynut squash lend rich pumpkin flavor & gorgeous color to the pot pie filling.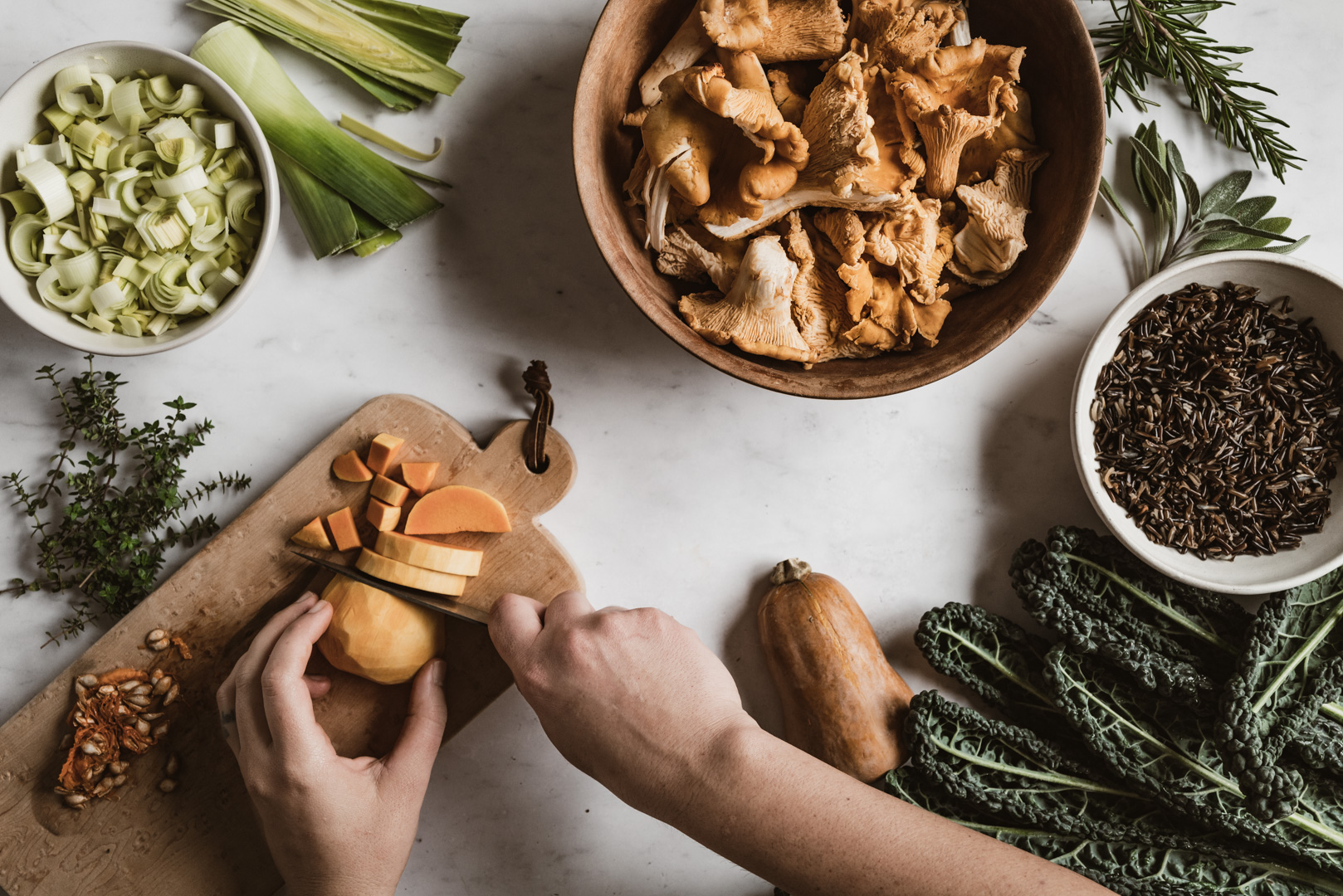 WHAT IS AMERICAN FOOD?
How would you describe American food? With such a melting pot of cultures, it's difficult to simply describe the American cuisine. My personal image of American food, however, dramatically changed after I learned more about the true history of my homeland. (Specifically the origins of America's biggest food holiday, Thanksgiving). So, I created this mushroom wild rice pot pie recipe as a way to have a heartfelt conversation about American food with you.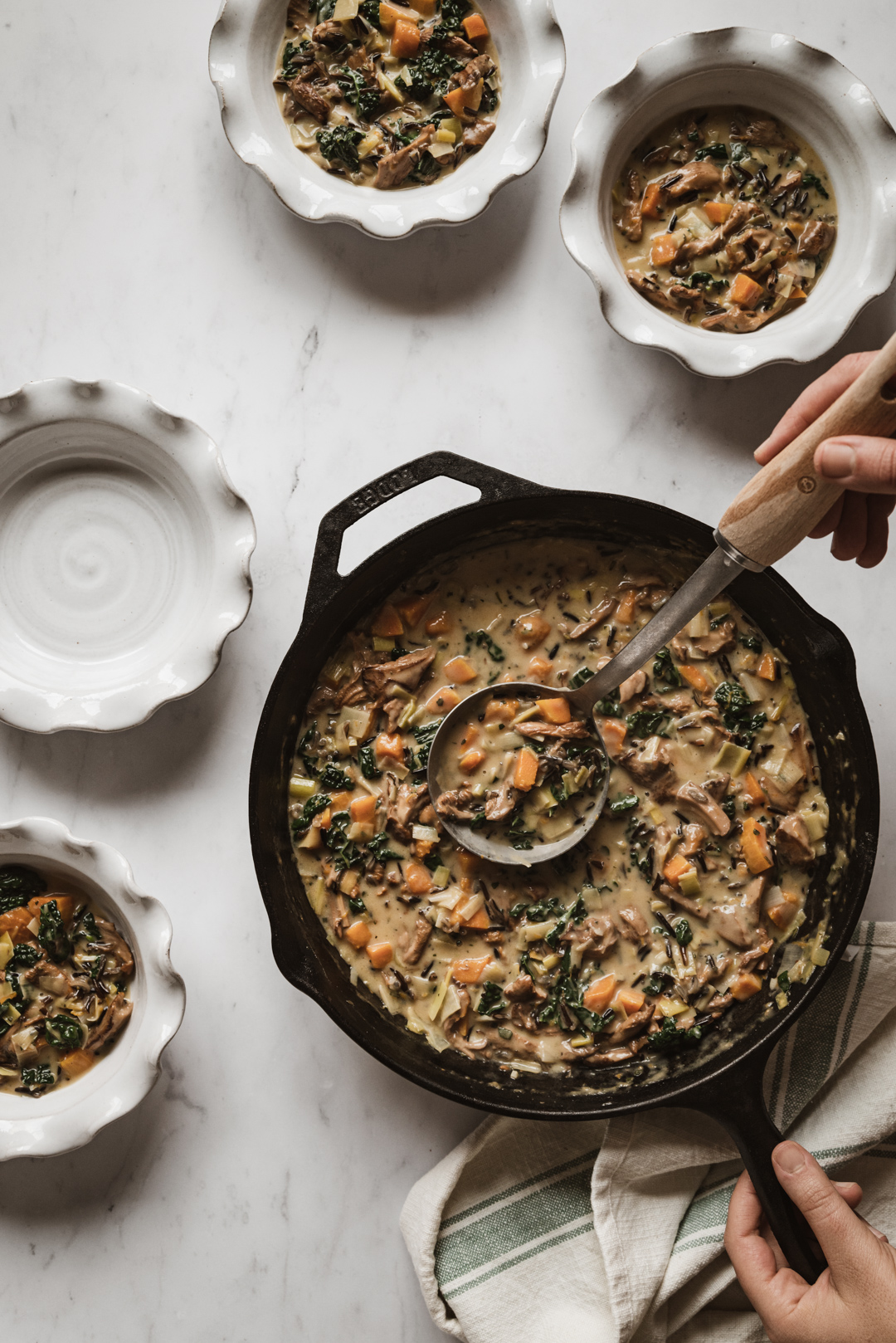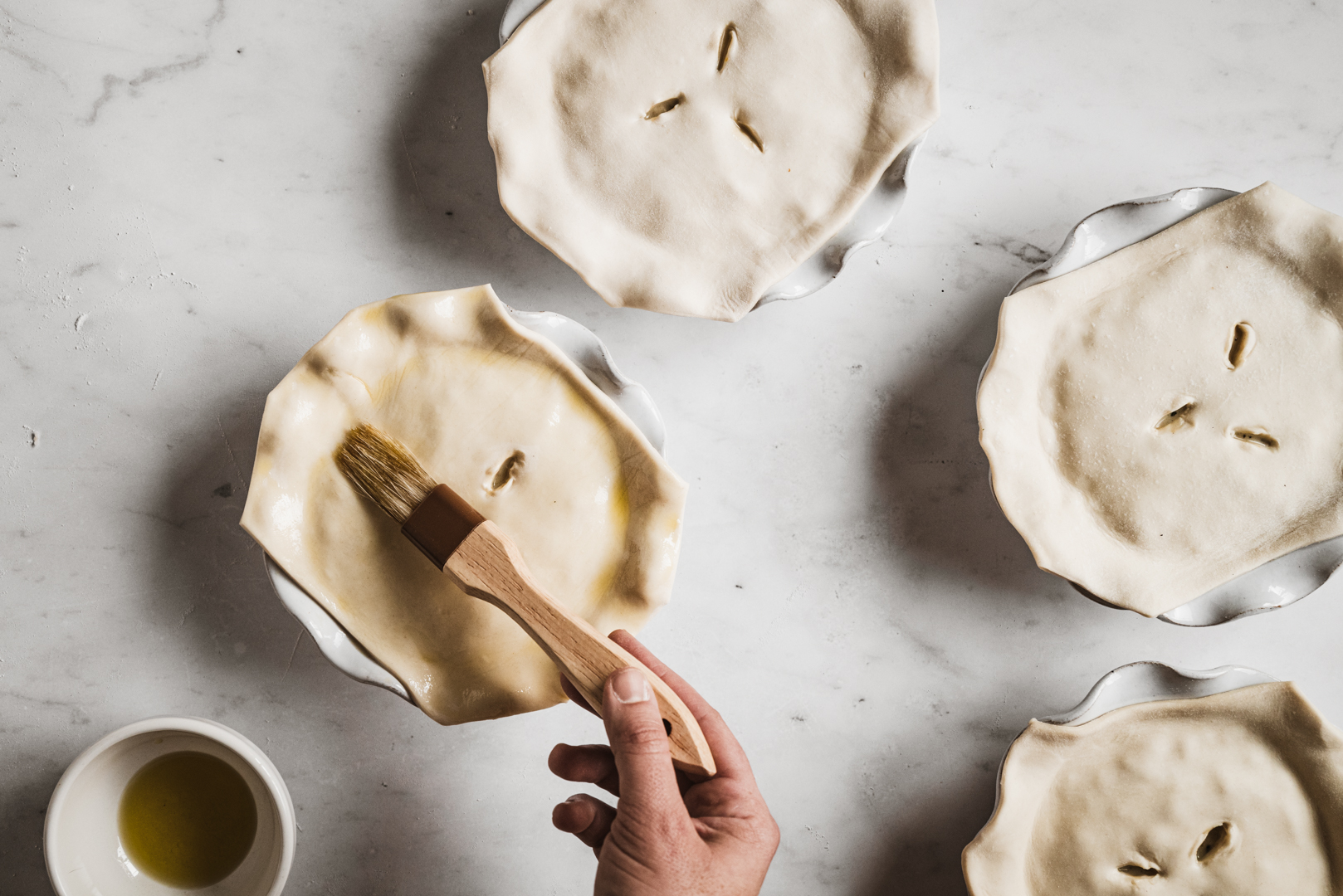 Reading the work of Native chef & author Sean Sherman inspired me to explore the indigenous foods of America. I now see how Native culture has been all but erased from the image of American food. And how, because of this, most Americans have missed out on the chance to deeply connect with the land they call home. As a result of this journey, I have a new appreciation for true wild rice and the people who are striving to protect it. And I earnestly look forward to exploring our local oak forests in search of the amazing California golden chanterelle mushroom. Above all, my image of American food has shifted. I now see just how much of our cuisine is made up of Native foods. And it is with great honor that I share this recipe for mushroom wild rice pot pies with you.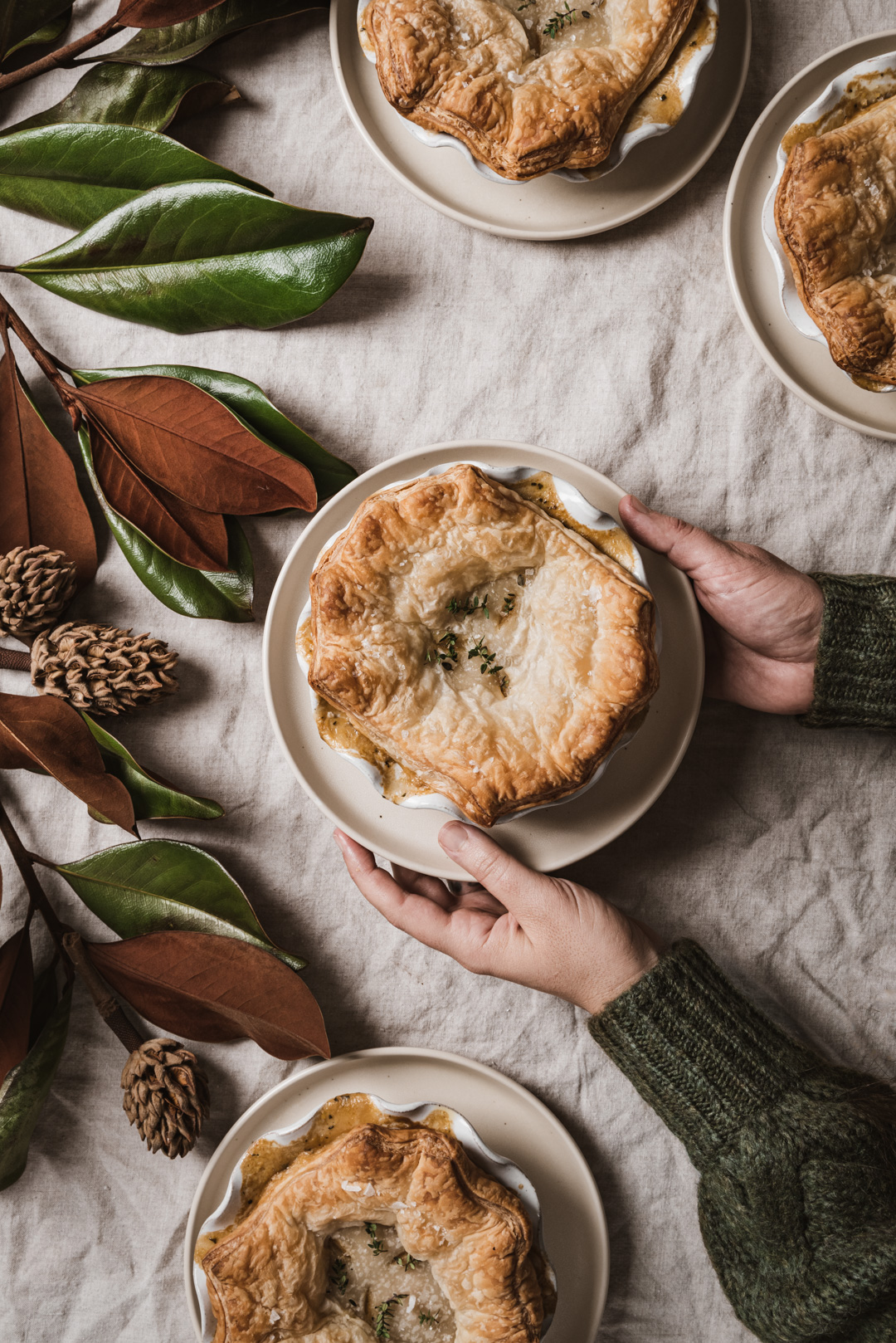 I sincerely hope that this post inspires you to learn more about the original foods of America and its Native people. This recipe would be a wonderful addition to your fall & winter celebrations. Whether its for your Thanksgiving table or as a cozy meal for the holiday season in general. These mushroom wild rice pot pies are a truly delicious and meaningful meal.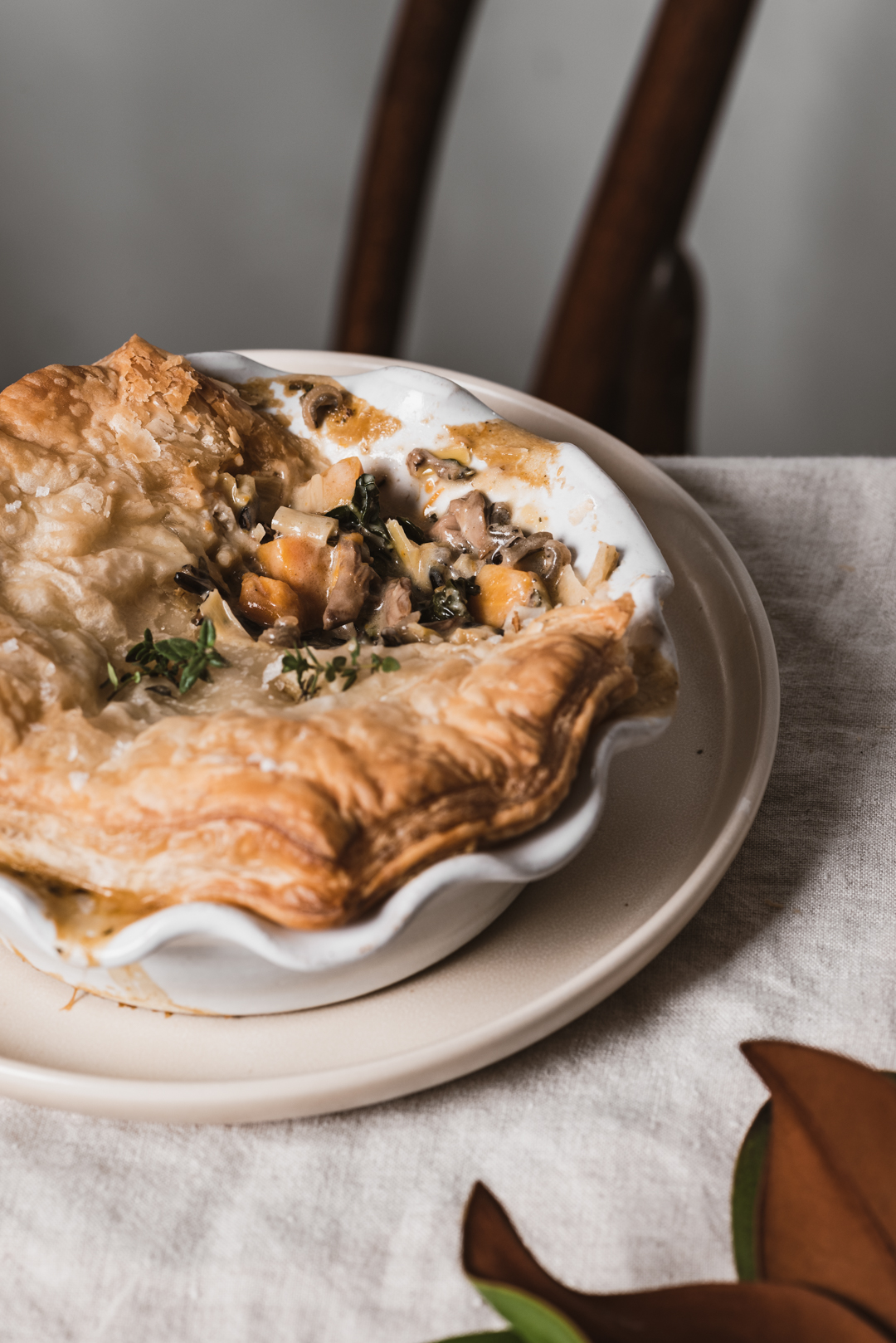 MUSHROOM + WILD RICE POT PIES
Total Time
1 hour, 15 minutes
Ingredients
1 lb chanterelle mushrooms
2 tablespoons extra virgin olive oil
2 cloves of garlic, minced
4 tbsp salted butter (for dairy free use vegan butter or olive oil )
1 large leek
1 honey nut squash, peeled, de-seeded & diced
2 tsp fresh thyme leaves, minced
2 tsp fresh sage, minced
2 tsp fresh rosemary, minced
1/3 cup all-purpose flour
4 cups vegetable broth
1 cup milk or half & half (for dairy-free substitute use oat milk)
1 cup roughly chopped kale
1 cup cooked wild rice (see below)
kosher salt and black pepper, to taste
1 package of frozen puff pastry (about 1.1lb or 490g), thawed per package instructions
1 tbsp olive oil for brushing pastry
Instructions
FOR THE WILD RICE:
1 cup (6oz) wild rice
2 cups water
1/2 tsp salt
Cook for 45-60 minutes at a low boil loosely covered with a lid. Drain excess liquid, let sit 5 minutes & reserve for the filling. (This will make more than you need for the recipe, add leftover wild rice to salads or soups).
FOR THE CHANTERELLES:
Use a pastry brush to remove loose dirt from the mushrooms. Use a damp paper towel if there is any stubborn dirt. Once the mushrooms are clean, tear the mushrooms into smaller pieces. Heat a large skillet over high heat. Once the skillet is smoking hot add half the prepared mushrooms to the skillet. The mushrooms will initially release moisture before they start to brown, this usually takes a few minutes. Once the moisture has cooked off, add 1 tbsp of olive oil to the pan along with half of the minced garlic, stirring to combine. Season with a pinch of salt. Cook the mushrooms until they are golden with slightly crisp edges, a couple of minutes more. Reserve cooked mushrooms in a dish while you repeat the above process with the remaining mushrooms.
FOR THE POT PIES:
Preheat oven to 375°F degrees.
Prep the leek: slice lengthwise in half, remove a couple of layers of the outer leaves so that you are left with the tender center leaves. Cut off the root ends & the dark green tops & thinly slice the leek into 1/4" slices. Place the sliced leeks in a bowl, fill with cold water & swish the leeks around to remove any dirt from between the leaves. Pour the leeks into a strainer & drain well.
Melt the butter in a large skillet over medium-low heat. Add the leeks and honeynut squash, cover skillet and cook until leeks and squash are softened, about 10 minutes. Add the flour and cook 1-2 minutes, until golden.
Add the herbs and gradually whisk in the vegetable broth and milk (or half & half). Bring to a boil, then reduce the heat and simmer, whisking occasionally, until mixture thickens slightly, about 7 minutes. Stir in the chopped kale and cook until just tender, about 5 minutes.
Remove from the heat and add the cooked mushrooms, wild rice, and season with salt and pepper to taste. Transfer mixture to four small pie dishes or 8 small ramekins. If using a cast iron skillet, you can bake the pie directly in the skillet.
FOR THE PUFF PASTRY:
Gently roll out the puff pastry on a lightly floured surface and cut into smaller pieces to fit your pie dishes or ramekins. If using a large cast iron skillet roll pastry to just the size of your baking dish. Place pastry over the filled baking dishes. Brush with olive oil, and cut 2 or 3 slits into the pastry with a sharp knife to allow pies to vent while baking.
Place the pies on a baking sheet. Transfer to the middle rack of oven and bake until the crust is golden brown, 30-40 minutes. Garnish with fresh thyme & serve.