Truth be told, I would not consider myself a cake person. Every time there was a birthday party growing up, I found myself pretty unimpressed once the candles were blown out and the cake was served. I think my biggest issue is the frosting, I have always found it to be just too sweet. There is one kind of cake that I can fully get behind though – and that my friends is a crepe cake. I honestly cannot believe it has taken me so long to share this with you all, but today is the day. This lemon poppy seed crepe cake is so incredibly amazing, I sincerely apologize for not sharing it here sooner.
If any of you reading this were here from the beginning of Ful-filled or even last year on our 1 year blog anniversary, then you probably read the story of how Ful-filled got started. It all started with a lemon poppy seed muffin – since I already told that story in the first post we ever published here, you can read all about how that muffin led to Ful-filled by clicking the link above. To put it simply, my love for lemon poppyseed runs deep, so turning it into a crepe cake was a very natural expression of my deep devotion to this flavor profile.
If you are not familiar with crepe cakes, they are comprised of layer upon layer of crepes spread with filling between each crepe. It may not sound too spectacular and they are very simple to be honest, but once you experience a slice of a crepe cake you will most definitely ask yourself the following two questions: "where has this been all my life?" and "will I ever want to eat traditional cake again?"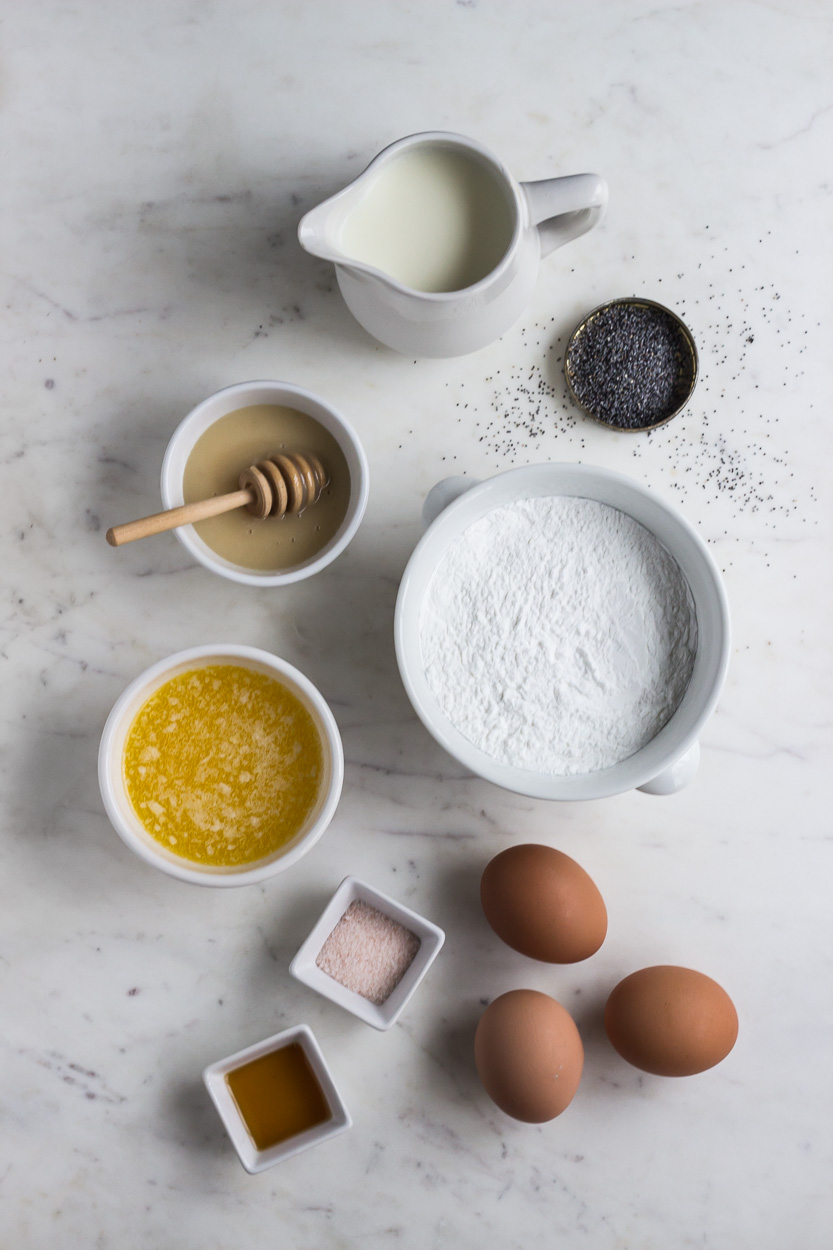 For our lemon poppyseed crepe cake, standard crepes (I made gluten free ones) have poppy seeds added to them and then they get spread with the most amazing lemon curd mousse. So, you are going to need to make a batch of lemon curd, but don't worry, I've got you covered with a super simple honey sweetened meyer lemon curd recipe. While the curd is slowly heating on the stovetop you can whip up the crepe batter, I used my new Vitamix Ascent A2500 to blend up the crepe batter in just a matter of seconds, which made this part of the recipe such a breeze!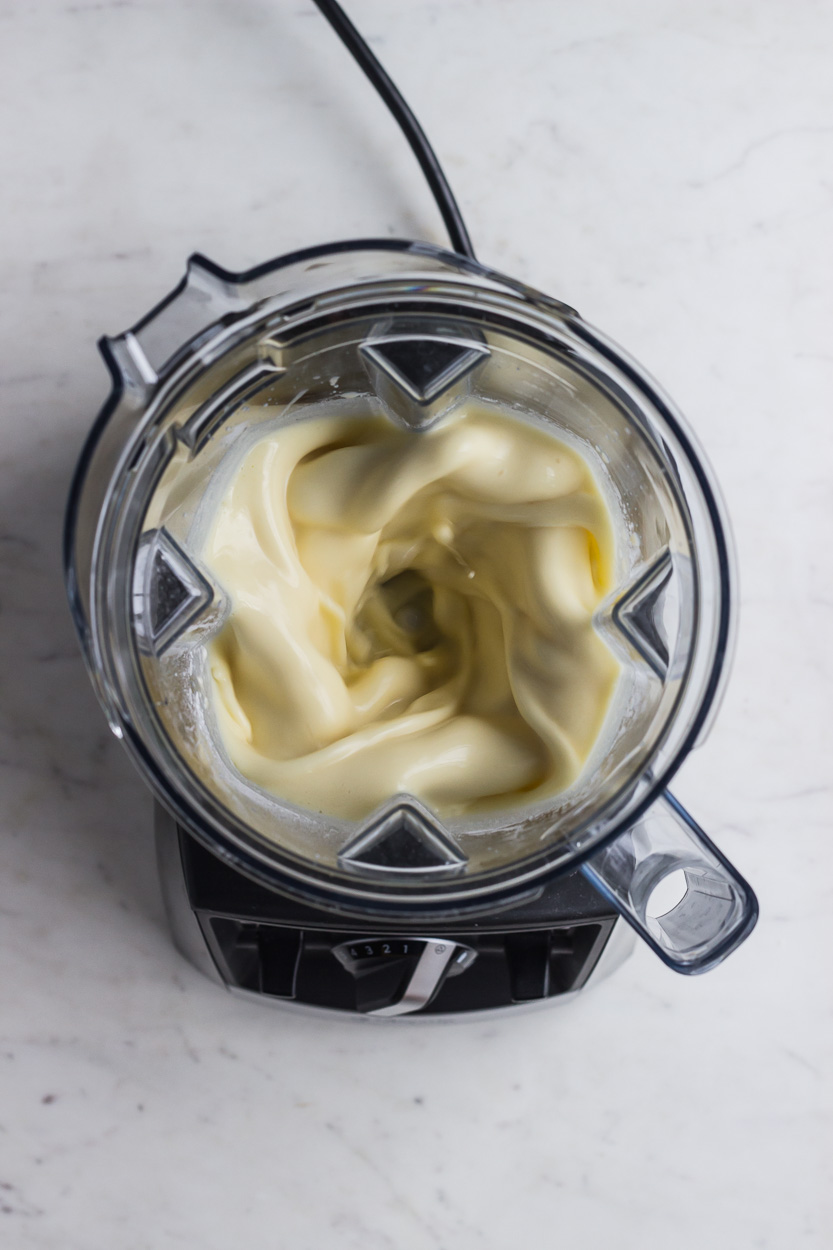 Once both the curd and the crepe batter are strained they take a chill in the fridge for at least 2 hours or overnight. This is a good time to make the candied lemon slices that decorate the top of the crepe cake. I made the candied lemons for this recipe with meyer lemons and honey and the result was delicious. Once your crepe batter is chilled and you are ready to get to crepe making, you are going to need to be ready to stand at your stovetop for about 45 minutes while you cook off all of your crepes (this is the most time consuming part of the whole crepe cake adventure). You could cut that time down in half if you get yourself two crepe pans, which would not be a bad idea because crepe cakes are wonderful and having two pans would mean you could churn out a crepe cake that much faster, but either way you are going to need at least one good crepe pan and this one is what we use – we have never had a crepe stick to this pan, even the very first crepe I ever cooked on this pan did not stick (and that is impressive for a pan that does not use a non-stick coating).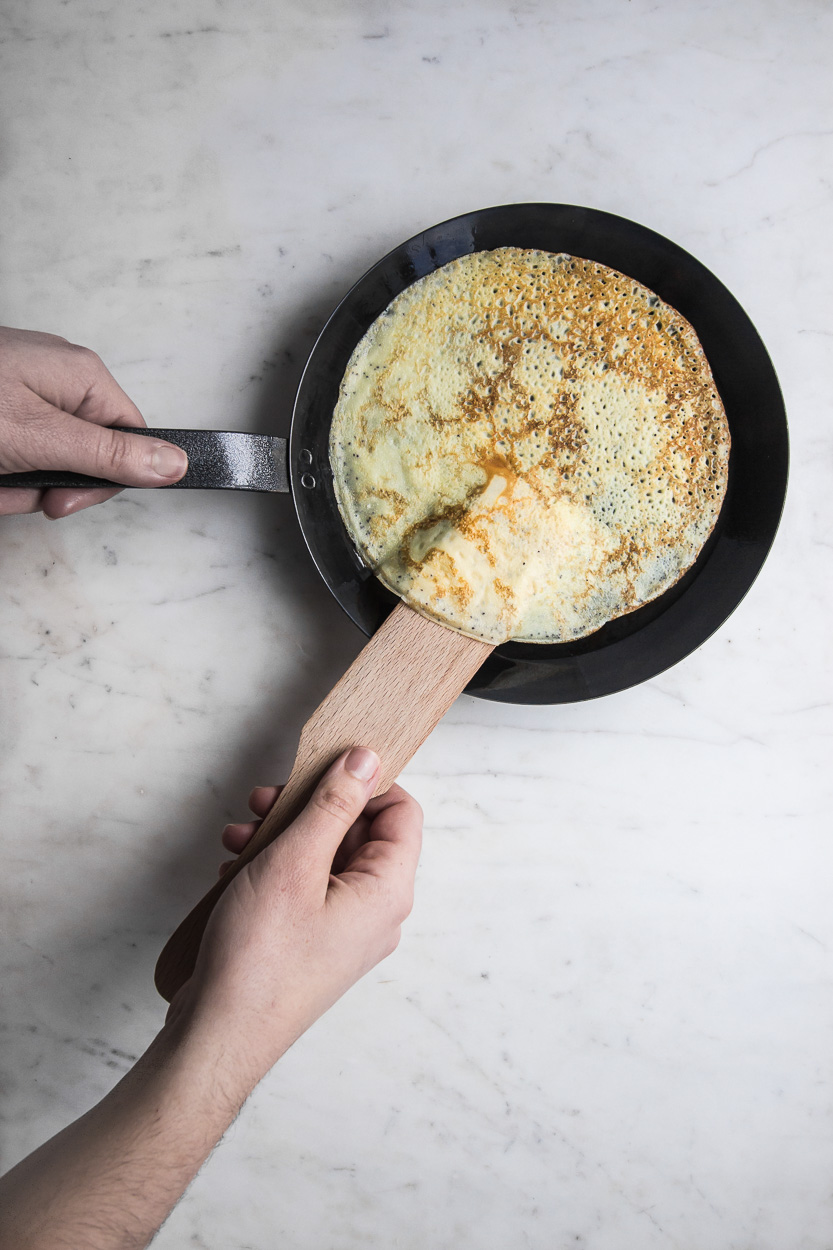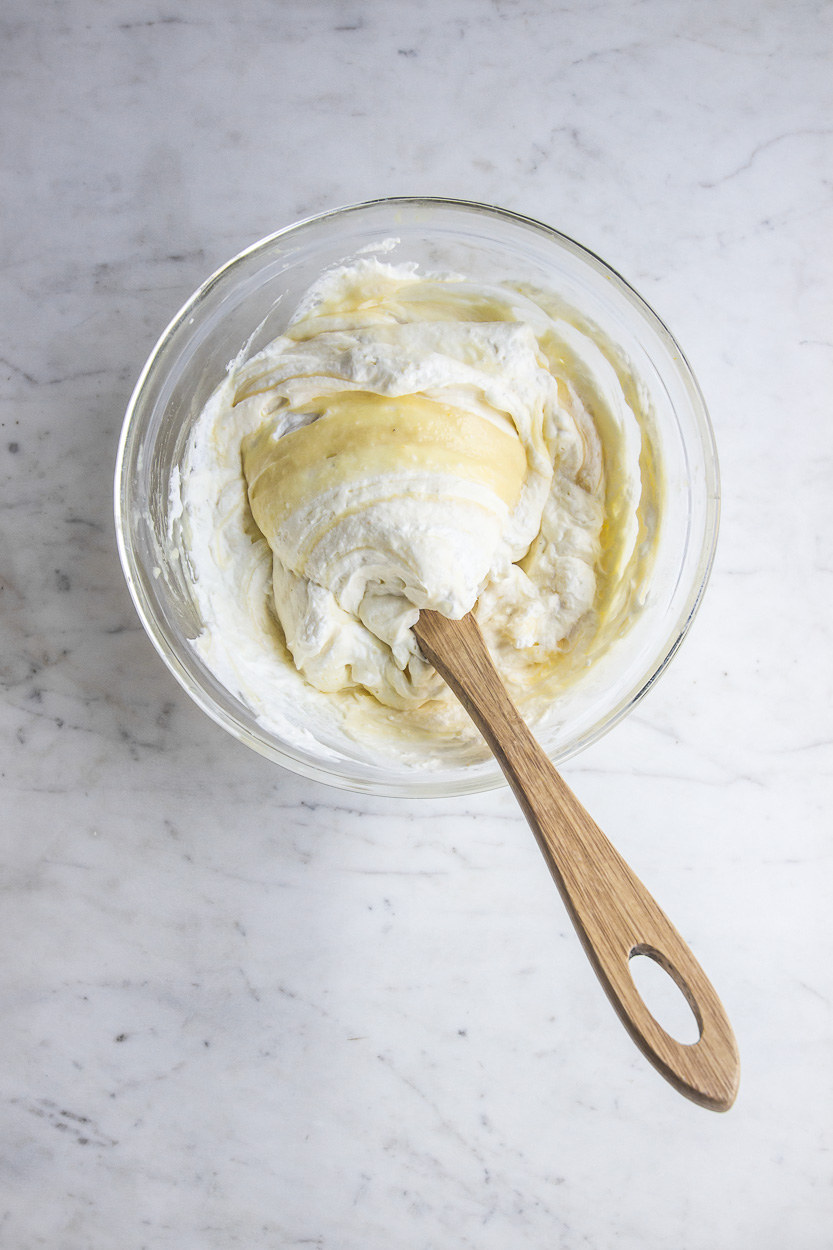 Once all of your crepes are cooked, it is time to build your crepe cake. Some whipped cream gets folded into the lemon curd turning it into mousse and then you get to layering.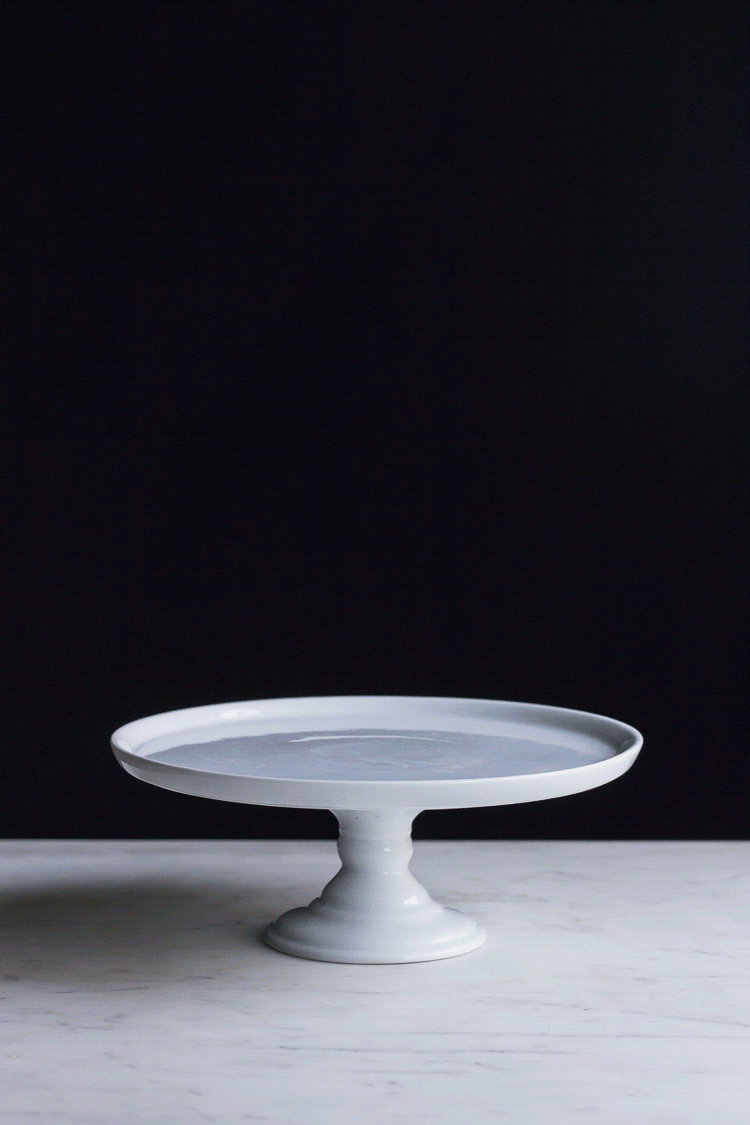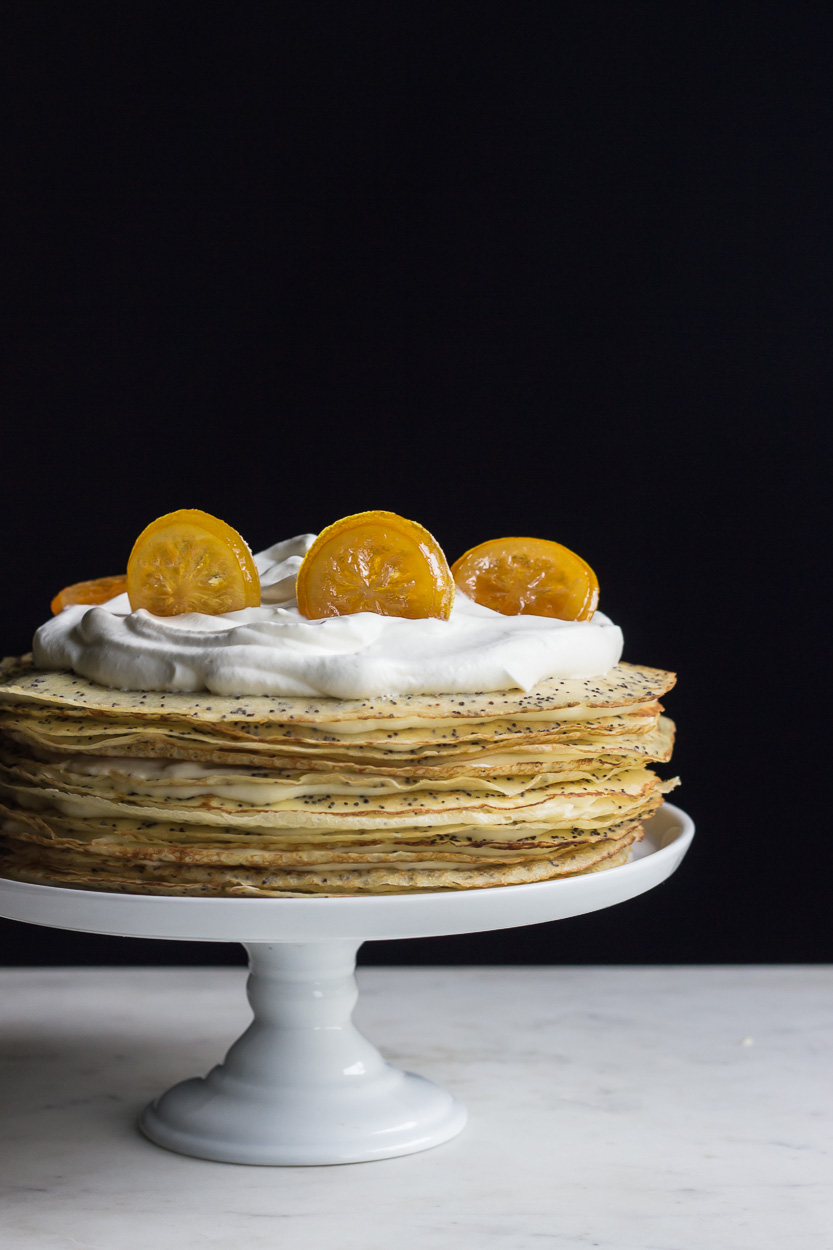 Once your crepe cake is complete in all of its glory you have arrived at the most difficult part of this whole crepe cake making process…you have to wait at least 12 hours before slicing into it. The cake has to take a chill in the refrigerator to allow all of those layers to come together, but it is so worth the wait (and PLEASE do not try slicing into it any sooner or else it will be too slippery and you will be greatly disappointed).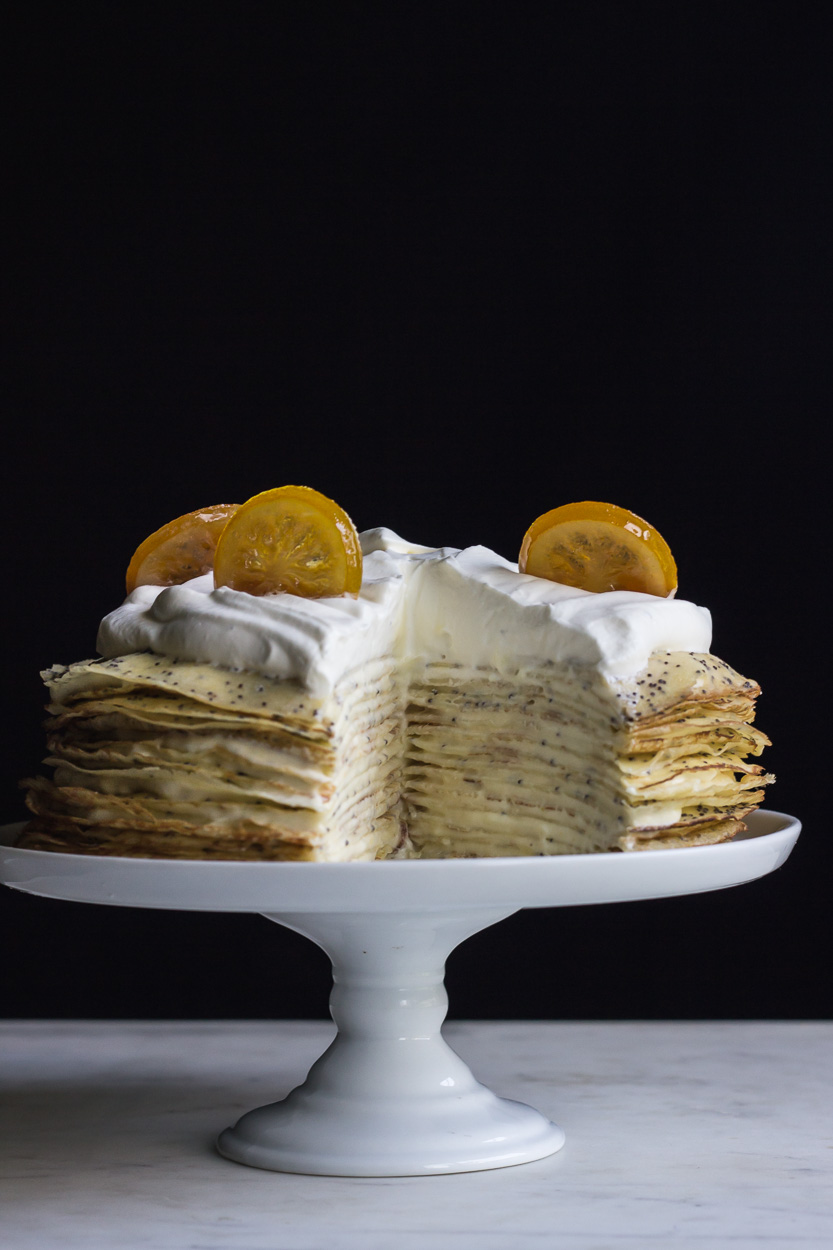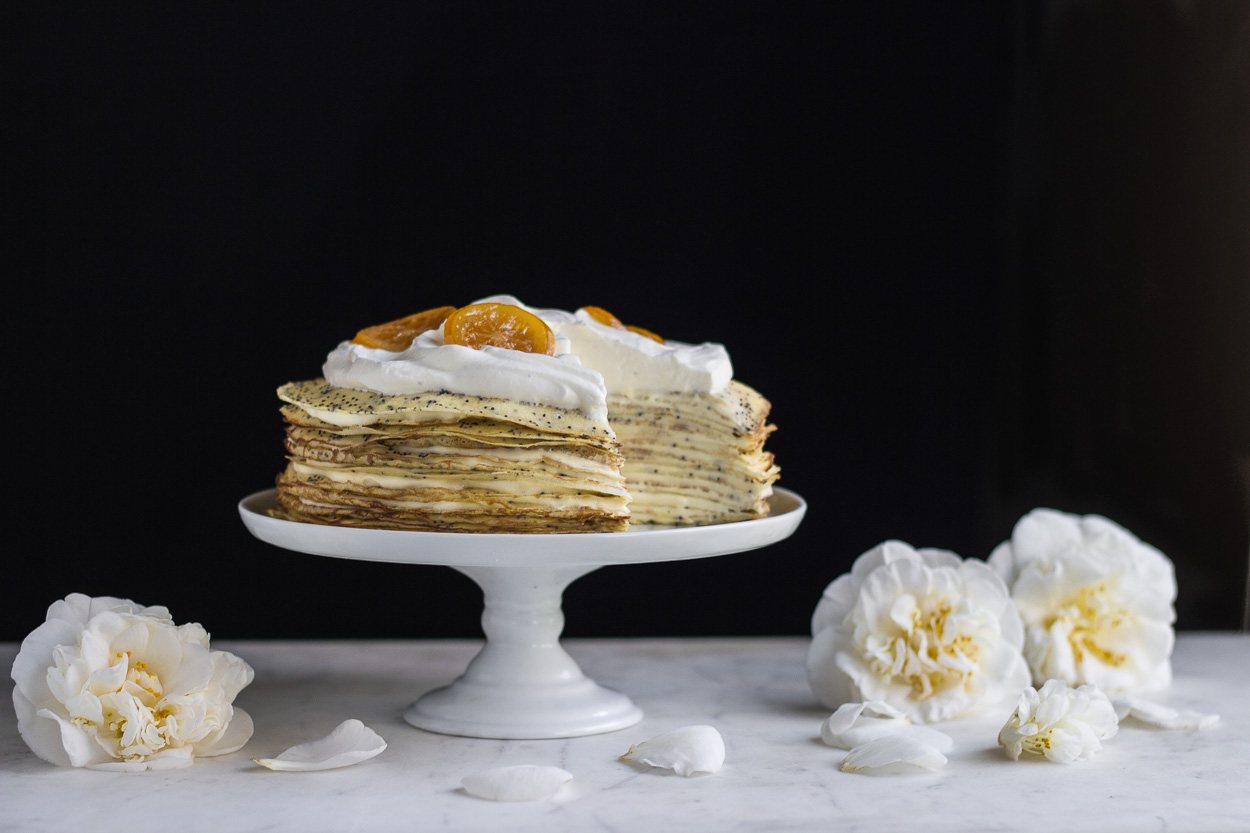 You could make crepe cakes with so many different flavor profiles, but I should not have to do any convincing here as to why lemon poppy seed is just an incredible choice. The brightness of the lemon combined with the distinct flavor of poppy seeds is culinary perfection and makes for a spectacular crepe cake. And since we are still in the thick of lemon season, there is no better time than now to celebrate this glorious citrus fruit than with a lemon poppy seed crepe cake.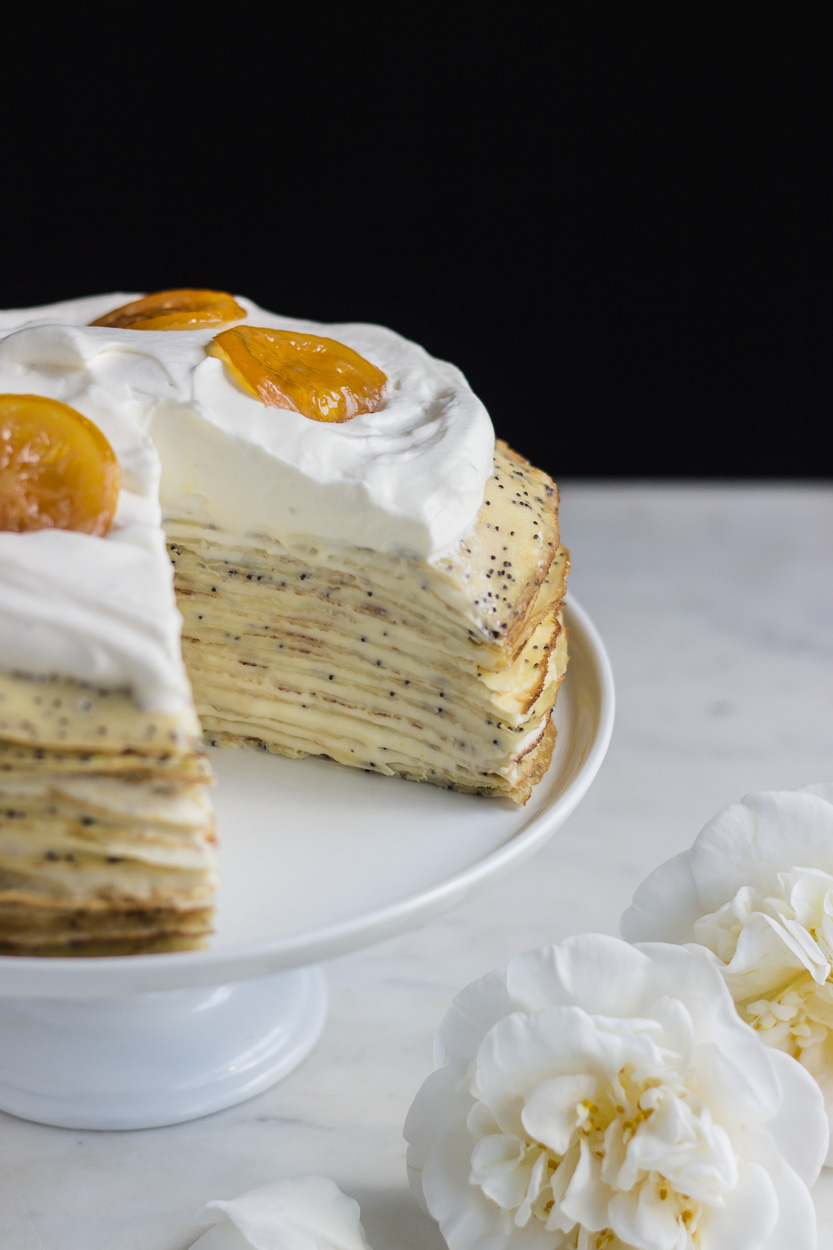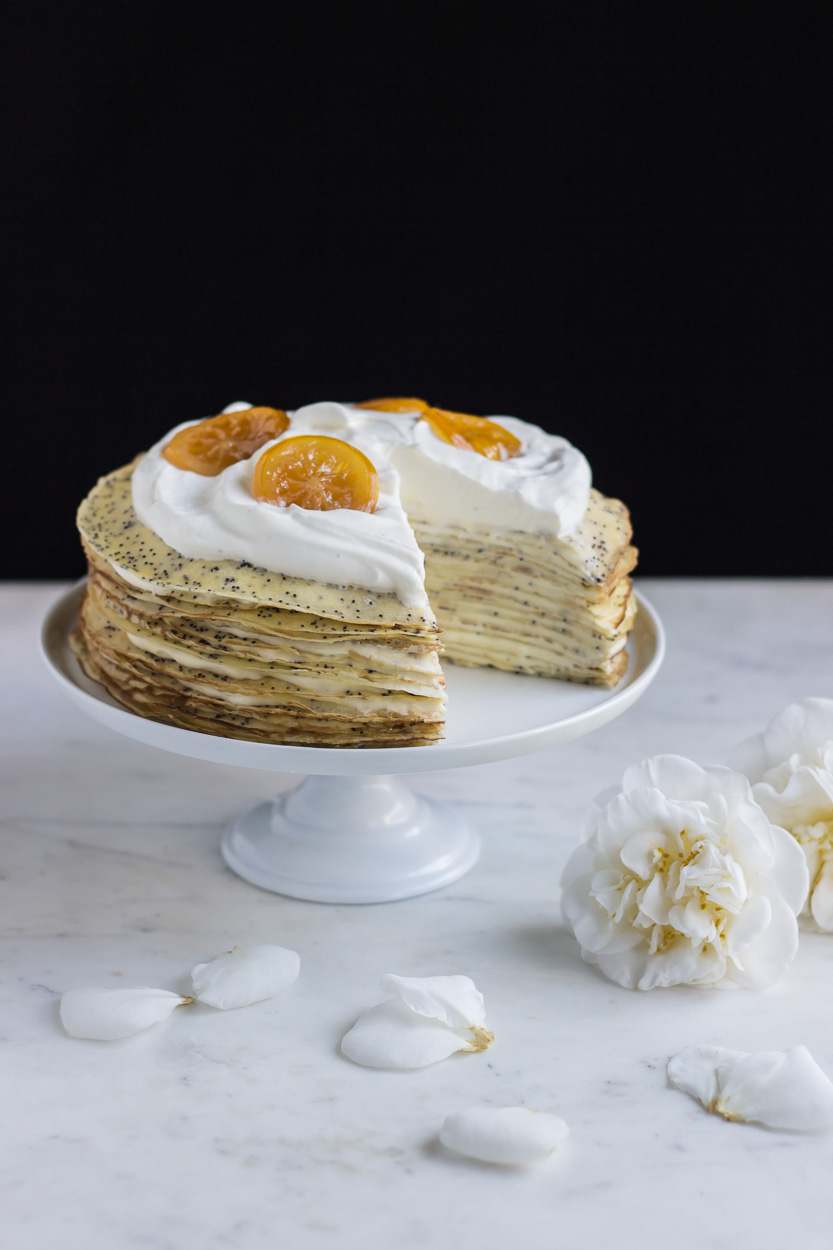 This post is sponsored by Vitamix – All opinions expressed are purely my own, as always. Thank you so much for supporting the companies that support this blog. 
Print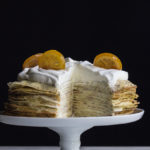 LEMON POPPY SEED CREPE CAKE
---
Total Time:

0 hours

Yield:

8

slices

1

x
FOR THE CREPES:
3

eggs

10

oz

whole milk

4 tbsp

unsalted butter, melted & cooled

2 tbsp

honey

1 1/2 tsp

vanilla

1

cup

(140g) gum free gluten free flour (see notes below)

1/8 tsp

salt

2 tbsp

poppy seeds
FOR THE FILLING:
1

recipe lemon curd (yields approx

24 oz

)

1 tsp

gelatin +

1 tbsp

water

1

cup

heavy whipping cream
FOR THE GARNISH:
1

lemon, thinly sliced into rounds

1/2

cup

honey

1/2

cup

water

1/2

cup

heavy whipping cream
---
Instructions
FOR THE LEMON CURD:
Start by making a batch of lemon curd
While the curd is heating on the stove mix 1 tsp gelatin with 1 tbsp water – let the gelatin bloom while you finish heating/whisking the lemon curd until thickened.
Add the bloomed gelatin to the lemon curd & whisk thoroughly – strain the curd & let cool to room temp & then transfer to the fridge to chill for at least 2 hours
FOR THE CREPES:
Add eggs, milk, melted butter, honey, vanilla, flour & salt to a blender jar & blend for about 10 seconds
Pour the crepe batter through a sieve into a bowl, whisk in the poppy seeds, cover & refrigerate for at least 2 hours
Once the crepe batter has chilled in refrigerator, heat a 7″ crepe pan over medium low heat & add a scant 1/4 cup of crepe batter the heated pan, swirling the pan to evenly coat it with the batter
Cook the crepe for approximately 1 1/2 – 2 minutes & then flip and cook for another 60 seconds (you want the crepes to be lightly golden brown)
Repeat until you have used all of the crepe batter (stir the batter between crepes to keep poppy seeds evenly distributed) – you should end up with 15-17 crepes
FOR THE CANDIED LEMON GARNISH:
Prepare an ice bath in a medium sized bowl
Bring 4 cups of water to a boil in a medium saucepan & blanch lemon slices for 1 minute
Remove lemon slices, placing them into the ice bath
Heat 1/2 cup water & 1/2 cup honey in a medium saucepan until simmering, turn down heat so that the syrup is barely bubbling
Add chilled lemon slices to the saucepan in one even layer – cook for approximately 1 hour, until the rinds are clear
ASSEMBLING THE CAKE:
Whip 1 cup of heavy cream until medium soft peaks and fold whipped cream into the chilled lemon curd
Spread a bit of the filling onto the plate or cake stand that you will be building the crepe cake on & lay the first crepe on top of it (this acts like glue to keep the base of the crepe cake from moving)
Add 1/4 cup of filling to the crepe & spread evenly and continue with another crepe followed by 1/4 cup of filling until you reach the final crepe
Cover crepe cake with plastic wrap & refrigerate for at least 12 hours or overnight to allow
When ready to serve, whip 1/2 cup whipped cream to soft peaks, top crepe cake with whipped cream and candied lemon slices & serve
Notes
GUM FREE GLUTEN-FREE FLOUR:
90g superfine white rice flour + 35g potato starch + 15g tapioca starch
= yields 1 cup (140g)
Prep Time:

0 hours

Cook Time:

0 hours