While we were in Greece last year, the spice company New York Shuk reached out to me for a very special project. They asked me to create a collection of images that would tell the story of how someone in our Greek village would use their spices in their kitchen. Because this project means so much to me, I have decided to share what I created for them here on the blog with all of you, but this post is in no way sponsored by them. I have also included a recipe for the harissa roasted red pepper feta spread-htipiti, that I developed to tell the story of New York Shuk in Greece.
village life…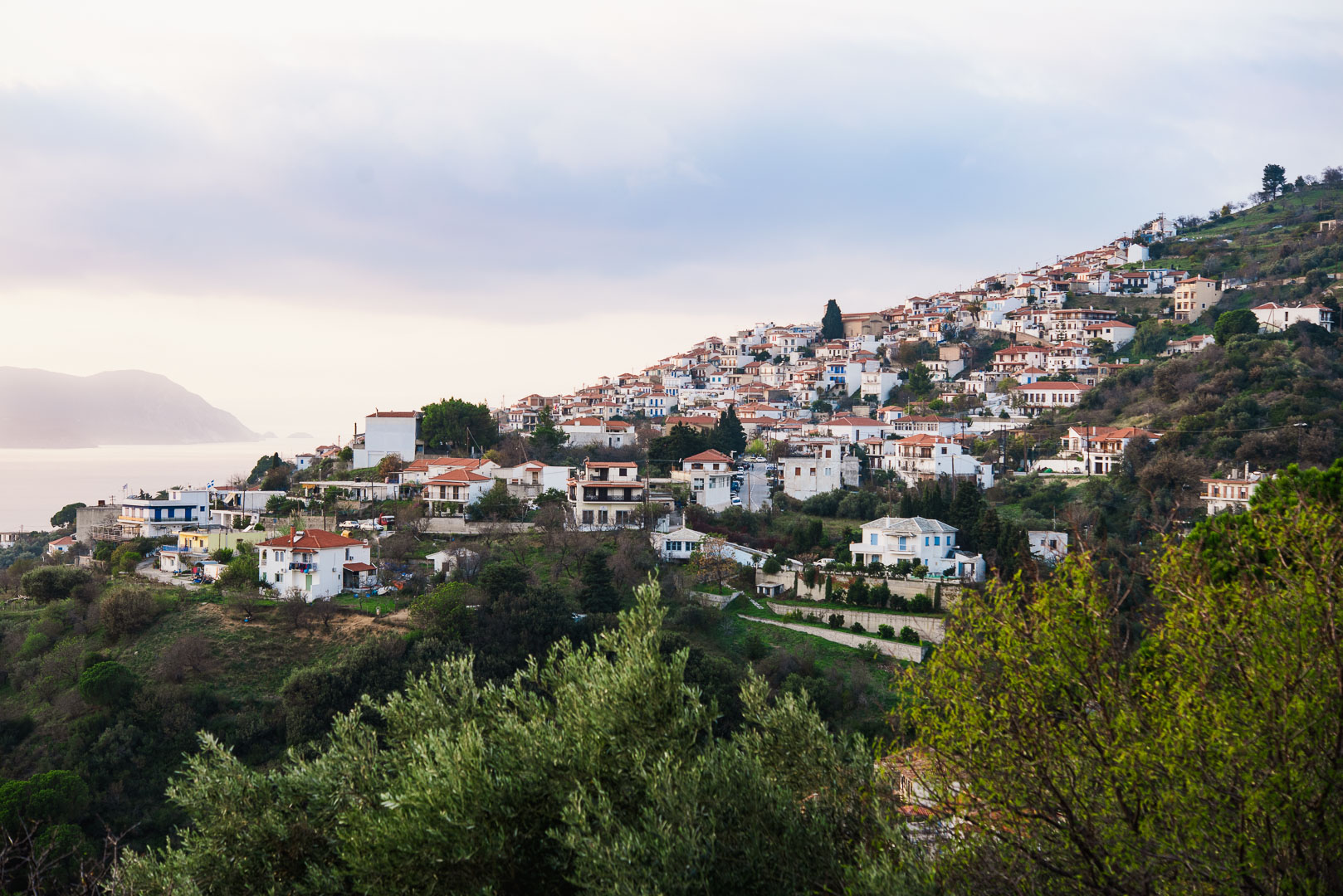 From a small village on a remote Greek island that you can only travel to by boat, I bring you a food story that speaks to the simplicity of life you experience in this place where time seems as though it does not exist. When you allow yourself to immerse into the way of life in a traditional Greek village, you discover such profound freedom from having so little to choose from.
Your life becomes unusually repetitive as each day you walk the same paths, see the same people and generally have the same limited amount of foods at your disposal. But there is an incredible peace that comes from this routine, your life is like a rhythmic love story, being continually enriched by the relationships you build with your fellow villagers and the deep connection you experience with the land and sea.
our daily bread…
The first thing on your mind when you wake up in the morning is to head to the baker to get your daily loaf of fresh bread. The walk to and from the baker is as important as actually getting your bread, as you cross paths with different neighbors along the way, catching up about life, the weather and always boding each other 'kali mera' (good day) before parting. The warmth and hospitality that Greeks are best known for, envelop you in an atmosphere of kindness and support that makes each day feel like a gift.
Mr. Karveli has been baking bread for over 60 years. At the sprite age of 80, he continues to bake fresh bread seven days a week for our village. When I asked him what keeps him baking at his age, he said: "when you love what you do, you don't think about stopping."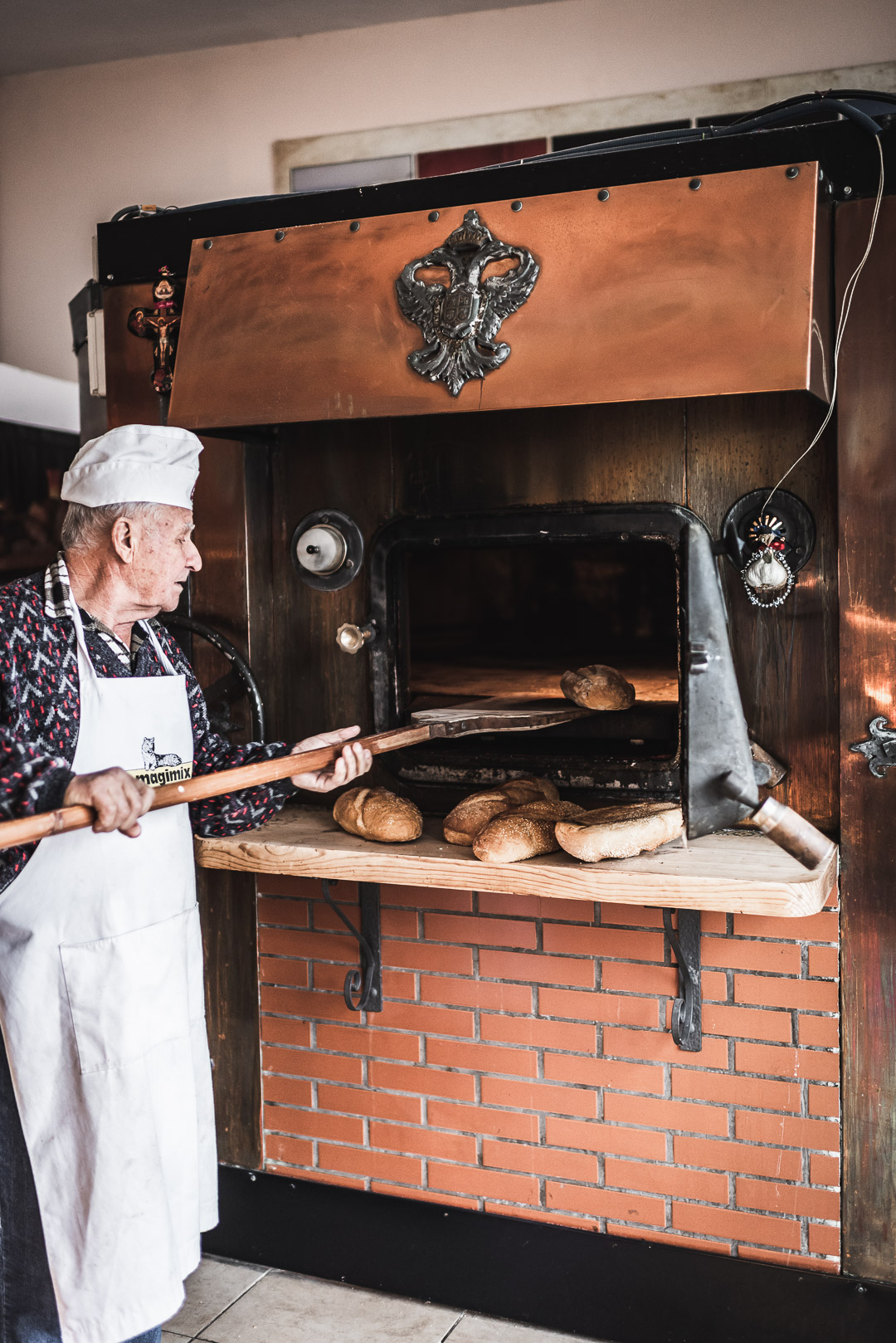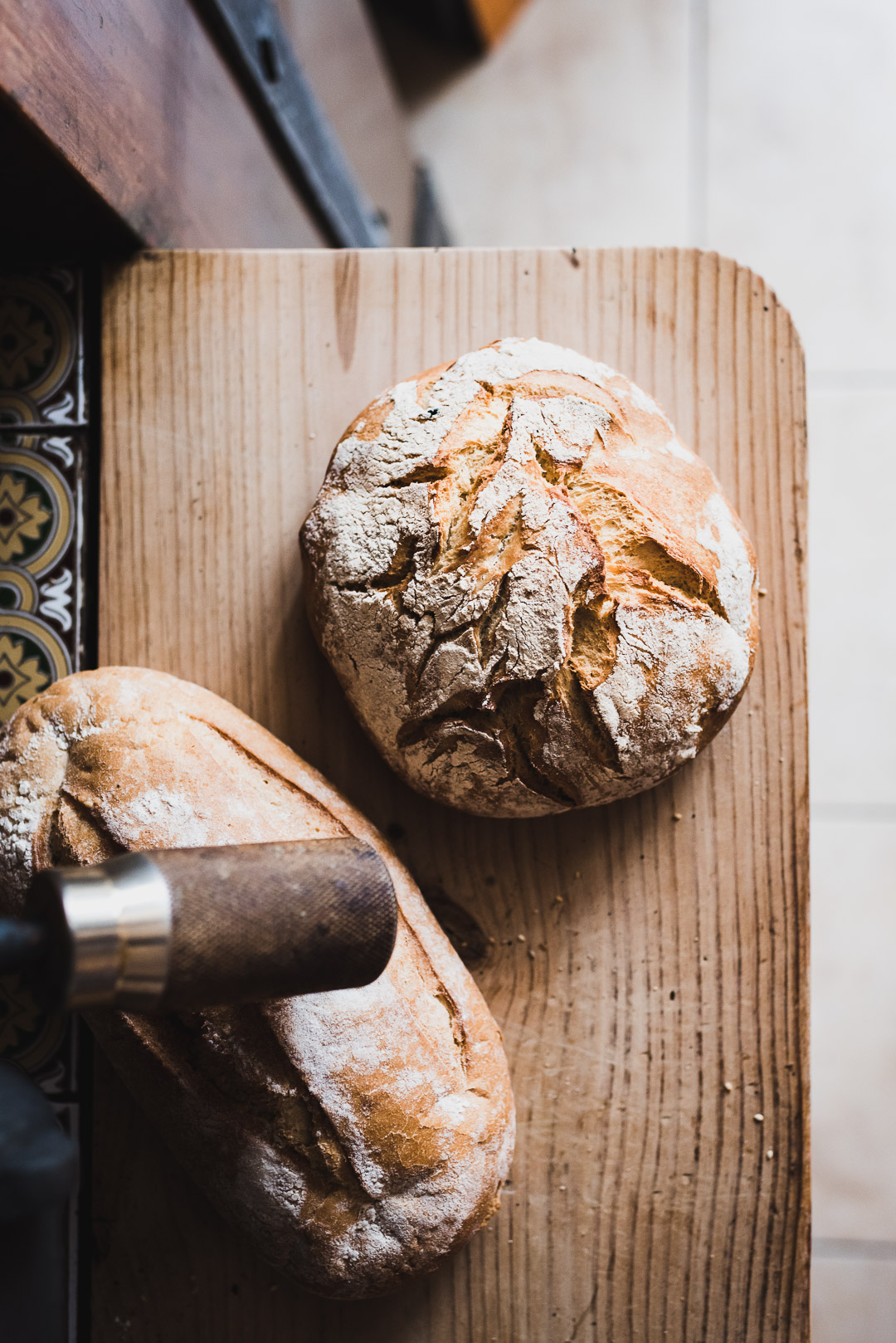 Bread is the foundation of almost every meal in the village. It is not a question of whether or not you will eat bread today, but rather, what you will eat your bread with. A natural accompaniment to the daily loaf of village bread is cheese, which is still made fresh daily by people all over our village, thanks to a sweet little old man named Dimitri. He wakes up before the sun rises, milks his goats and then walks to and fro through our village, delivering bottles of his fresh goat's milk.
a land flowing with milk…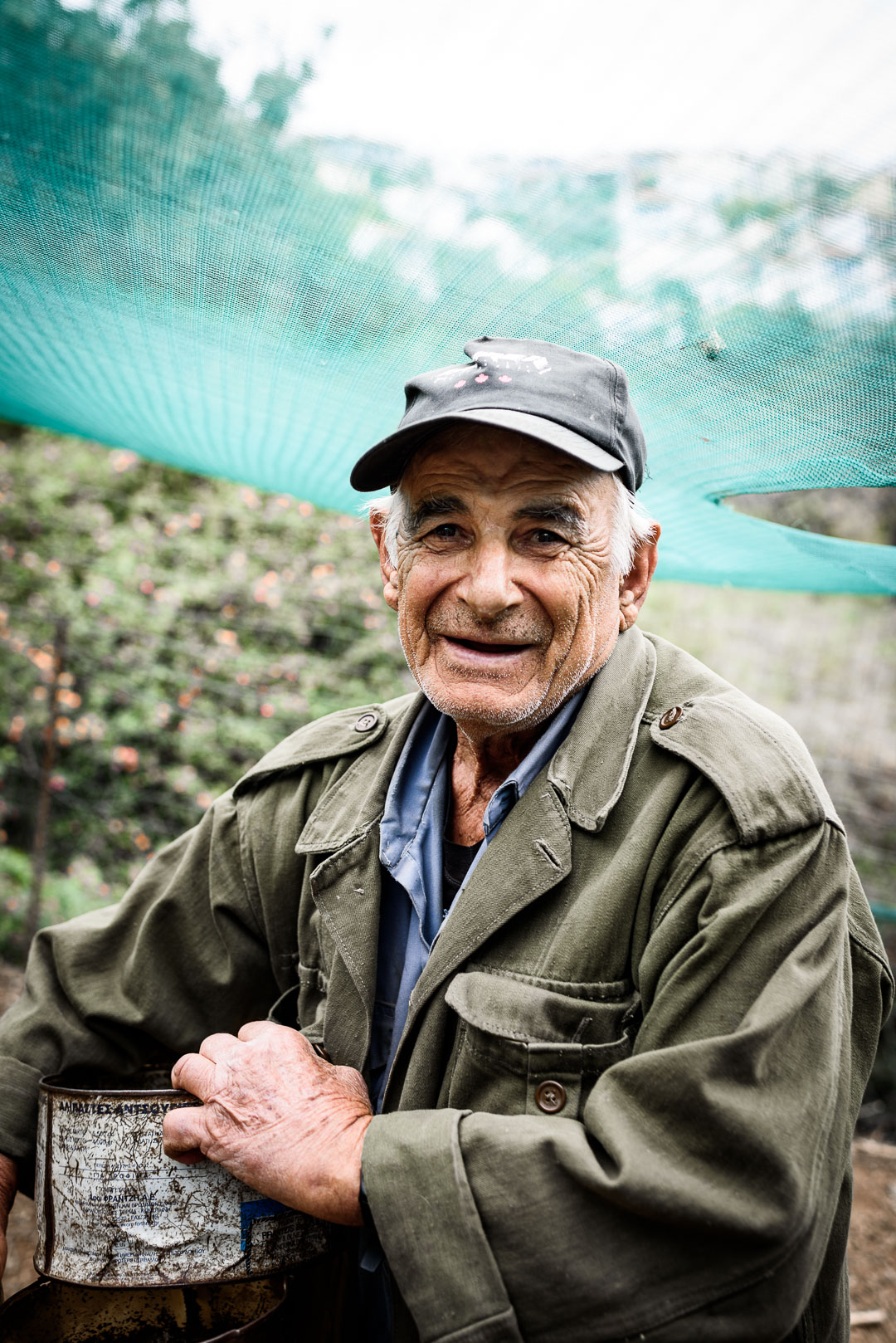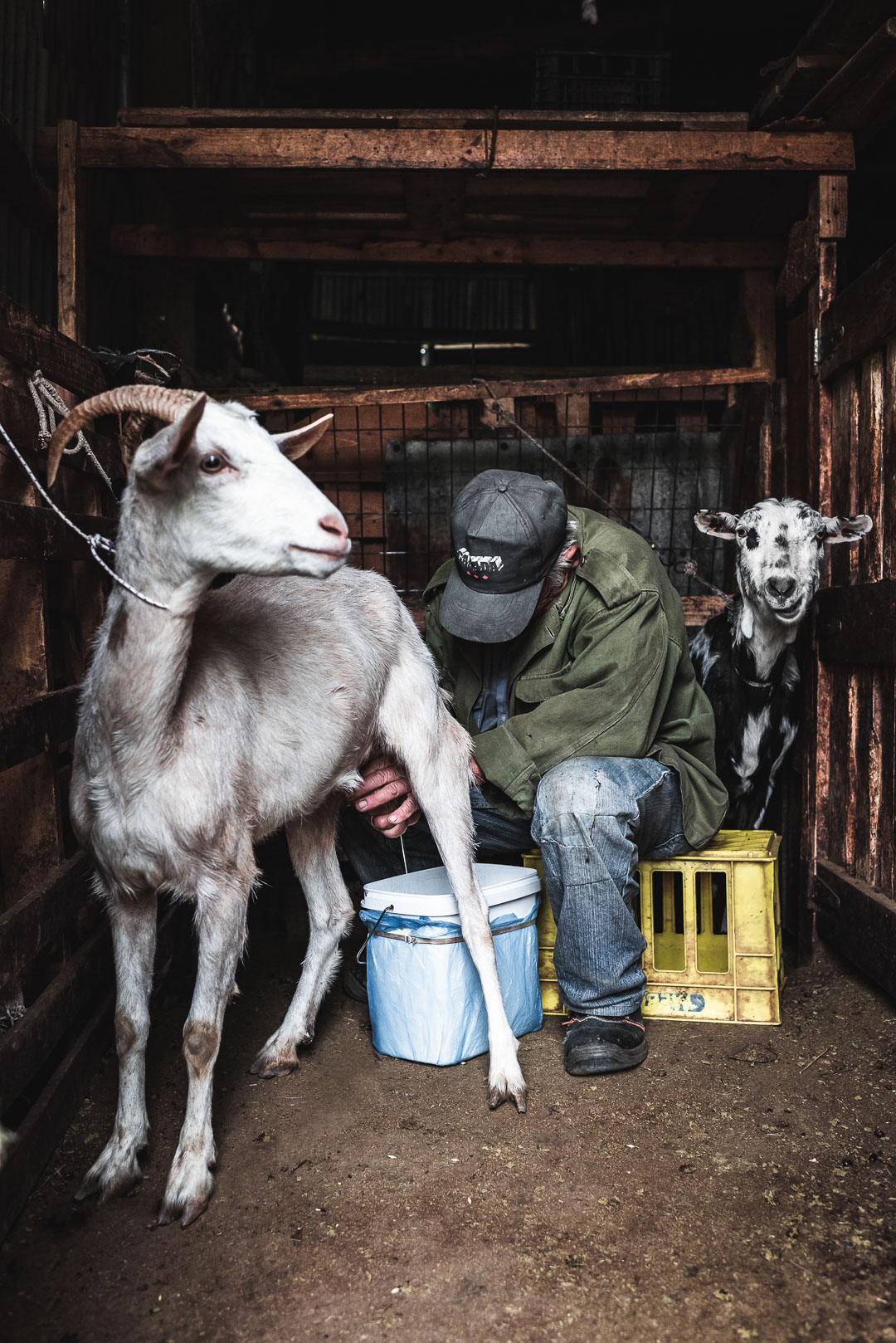 The day our local mailman shouted from the path below our apartment that we had a package from New York, my mouth began to salivate at the thought of experiencing the flavors that New York Shuk incorporates into their spice blends. You see, most regions of Greece do not eat spicy foods, so knowing that there were several blends of NY Shuk's infamous harissa in that package was beyond exciting for us, as our multi-cultural palates had not experienced the heat and flavor of spicy ingredients in so long.
As we opened each jar and smelled the complex aromas, my mind began to swirl with different ways that I could infuse these flavors into traditional Greek recipes. Inspired by the daily bread and fresh cheese eaten in our village, I decided to incorporate a taste of NY Shuk into a very common dish eaten throughout Greece that is called htipiti (pronounced ch-tΕΕ-pee-tee).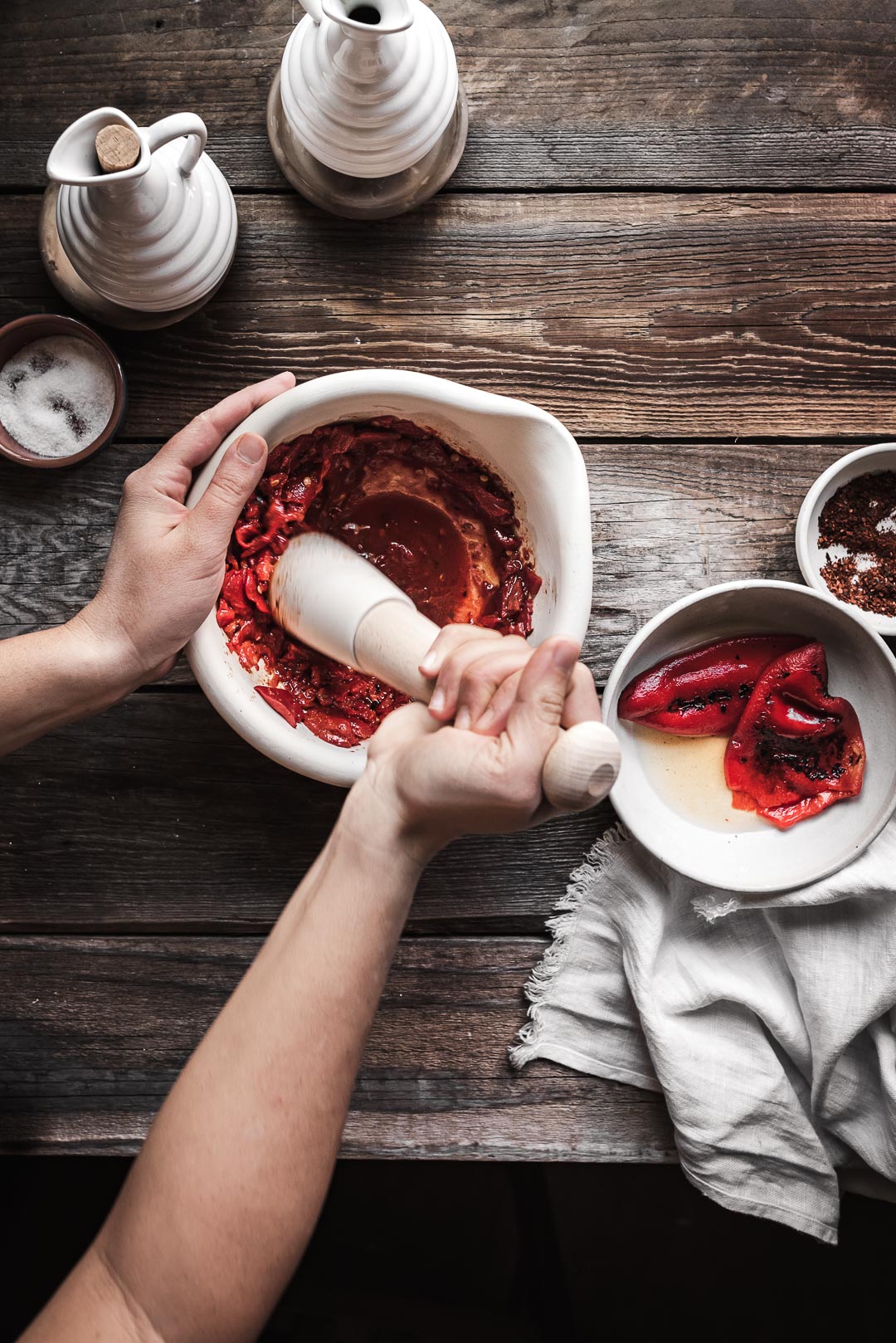 Htipiti (which means 'beaten') is more easily described as a roasted red pepper and feta spread that is traditionally made in a mortar and pestle, hence the name htipti. By adding NY Shuk's fiery harissa spice to the blend of roasted red peppers, olive oil & vinegar, the spread gets infused with a full-bodied flavor and just the right amount of spicy heat.
Once well blended with the mortar and pestle, I like to heat the red pepper mixture in a pan to allow the spices to bloom. Once this blend is heated through, I spread it over a combination of feta and fresh goat's milk cheese called anthotyro (similar to creamy ricotta or farmer's cheese). Finished off with a generous drizzle of olive oil, this classic Greek dish makes a great appetizer or can be enjoyed as a light meal for two.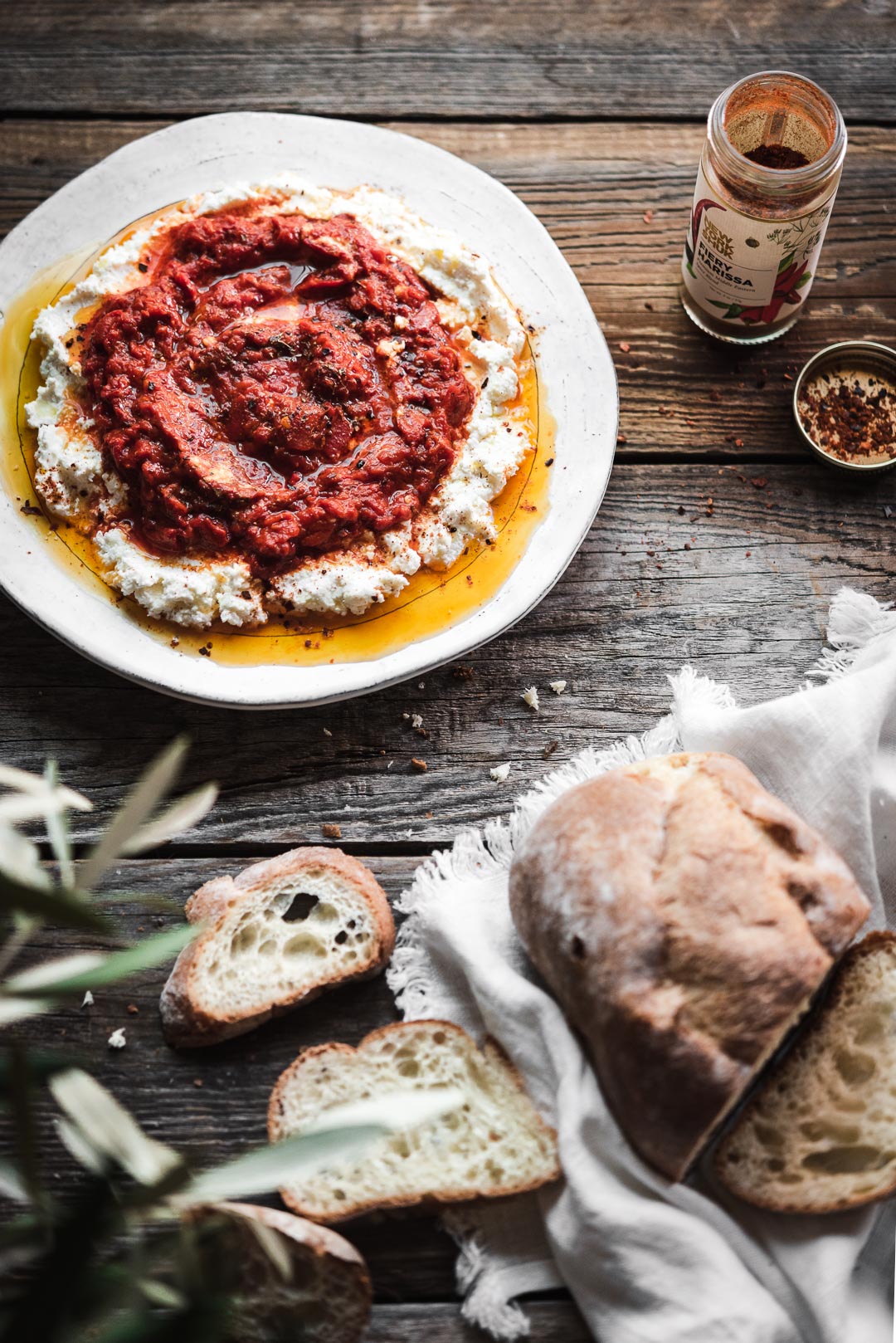 As you swipe your bread into this delicious harissa roasted red pepper feta spread-htipiti, you will get to experience how a handful of simple, high-quality ingredients come together to make for the very best meals, which is the true essence of Greek cooking.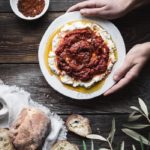 FIERY HARISSA ROASTED RED PEPPER & FETA SPREAD-HTIPITI
---
Total Time:

0 hours

Yield:

4

servings

1

x
4

roasted red bell peppers

1/4

cup

olive oil + more for serving

2 tablespoons

red wine vinegar

2 tbsp

fiery harissa spice
fresh ground black pepper, to taste
salt, to taste

1

cup

fresh soft cheese (ricotta, farmer's cheese, or anthotyro)

5

ounces

Greek feta, crumbled (about 1 cup)
fresh loaf of rustic bread for serving
---
Instructions
Roughly chop the roasted red peppers and add them to a large mortar and pestle (if you don't have a mortar and pestle, then chop your peppers finely). Pound and mix the peppers in the mortar and pestle until peppers are in smallish pieces.
Add the olive oil, red wine vinegar, harissa spice, a bit of fresh ground black pepper and salt to the mortar and pestle and mix until just combined.
Add the pepper mixture to a pan set over medium heat and cook the pepper mixture for about 5 minutes until heated through
On a rimmed plate or low serving bowl, fold the fresh soft cheese and crumbled feta together until well incorporated.
Top the feta cheese mixture with the heated pepper mixture, drizzle with olive oil and serve with slices of fresh rustic bread.
Prep Time:

0 hours

Cook Time:

0 hours