As I sat to write this post, everything felt a little bittersweet. Knowing that this is the last recipe that I will share from the island left me feeling sad, but also gave me a sense of closure. Life is calling us back to the U.S. to be with family and take the steps to make our move to Greece permanent, so what better way to comfort us through this time of transition than with a hot bowl of this creamy spanakopita soup.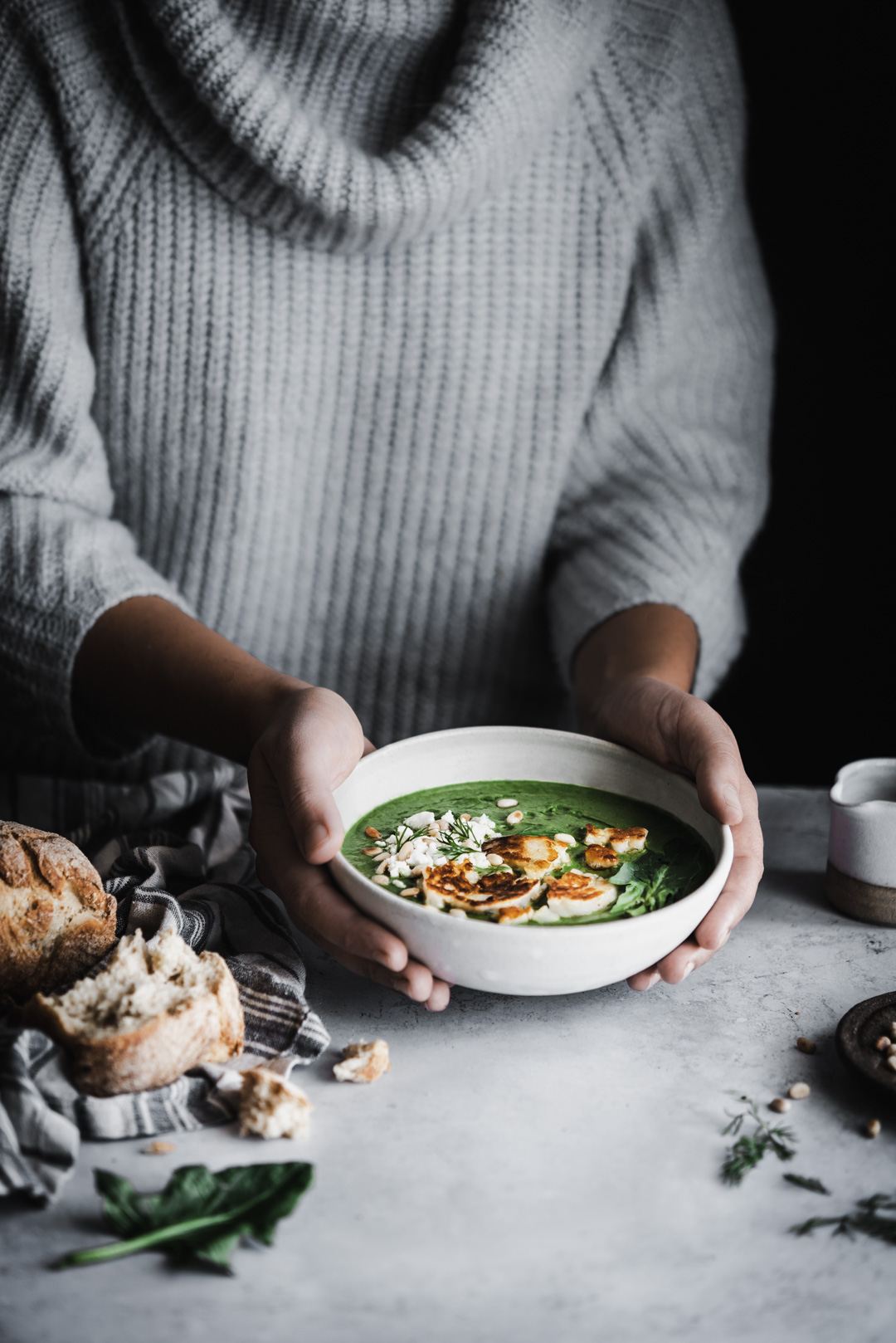 With the onset of cold weather here, we are finally able to enjoy cool season vegetables like cauliflower and spinach, both of which have become almost daily staples in our kitchen. Soups and stews are typical cold weather fare here in Greece and while we have been eating copious amounts of classic Greek soups like fasolada, fakes, and avgolemono – I was craving something green, which got my wheels turning and eventually led to me dreaming up this spanakopita inspired soup.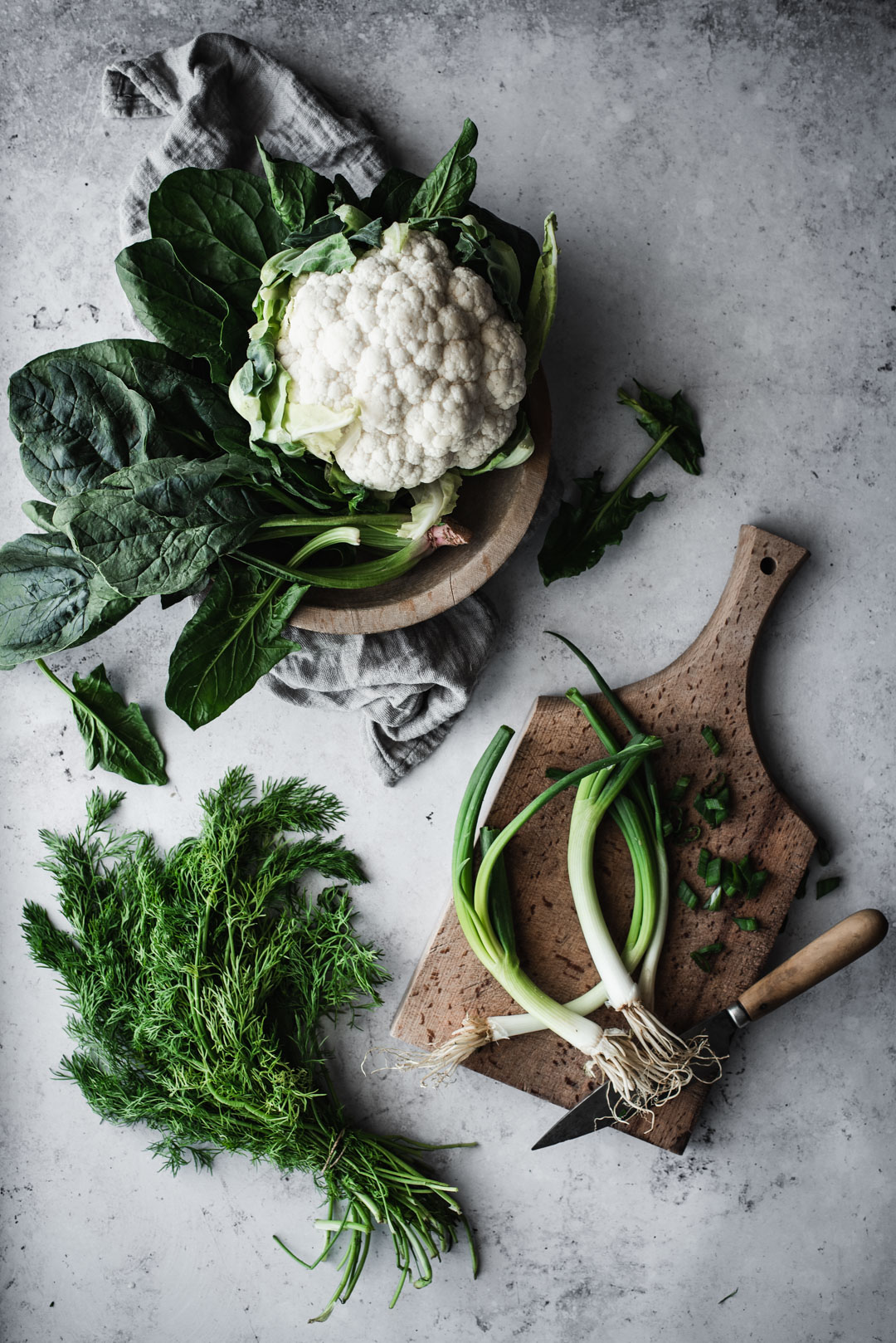 If you're not familiar with spanakopita, it is basically a fillo dough pie filled with spinach, onions, scallions, garlic, herbs and often times feta cheese. While spanakopita is one of our very favorite Greek dishes, it can be a bit time consuming to make, so turning all of those flavors into a soup that comes together in less than 30 minutes is pretty amazing. The only thing creamy spanakopita soup would be missing is the texture of the crispy fillo dough, but don't fret! Crispy halloumi croutons and toasted pine nuts stand in for the fillo and are the perfect textural compliment to the smooth and creamy soup.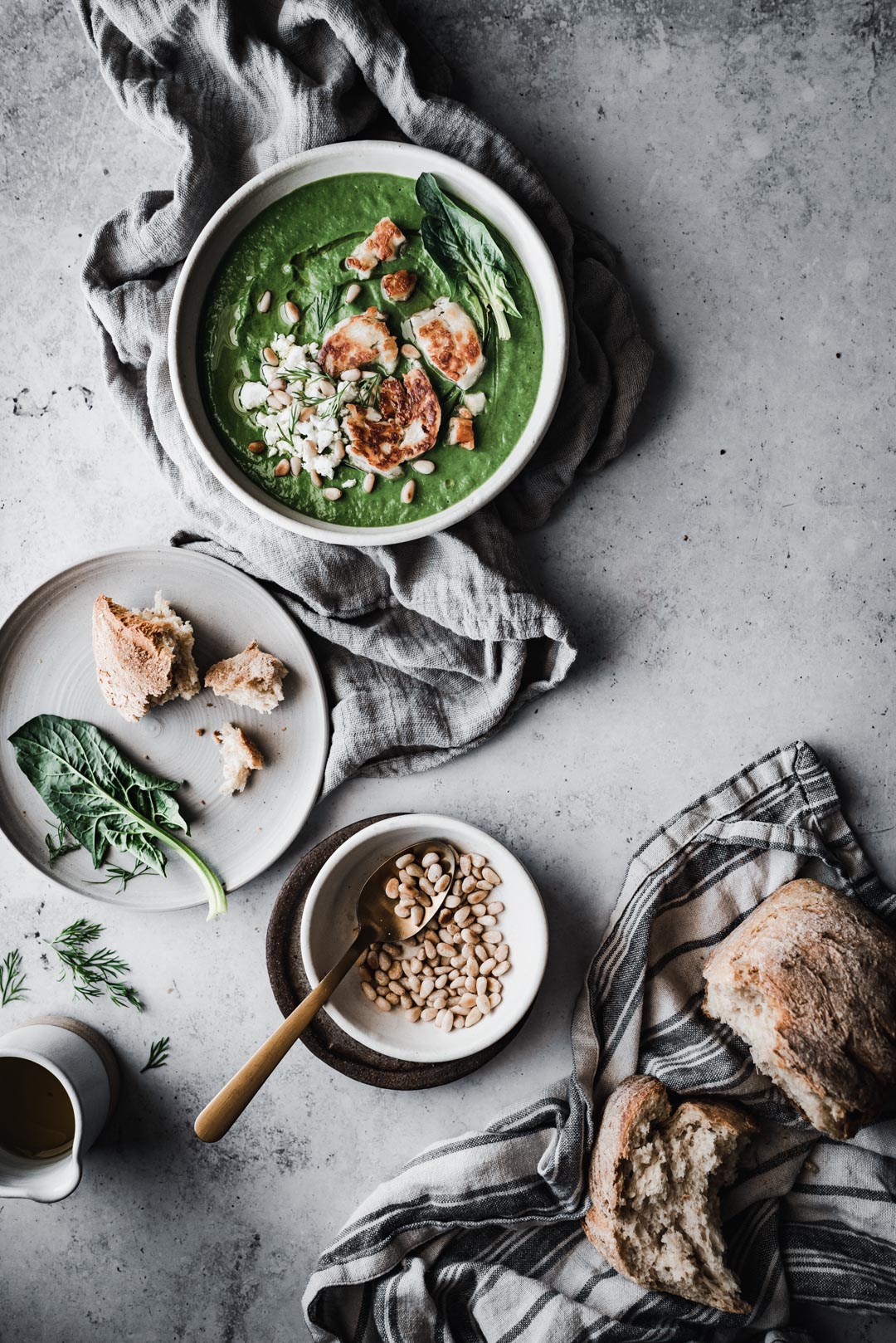 This recipe is super adaptable. For example, you could actually use any seasonal greens along with the spinach (think kale, chard, collards, arugula). The soup can be made vegan by using crispy tofu in place of the halloumi and a soft vegan cheese in place of the feta (we like Kite Hill vegan soft cheese). And because the soup uses cauliflower for creaminess, it doesn't need starchy thickeners to achieve its smooth, creamy texture. Just imagine, all of the flavor of spanakopita in a hot, comforting bowl of soup that comes together with little effort.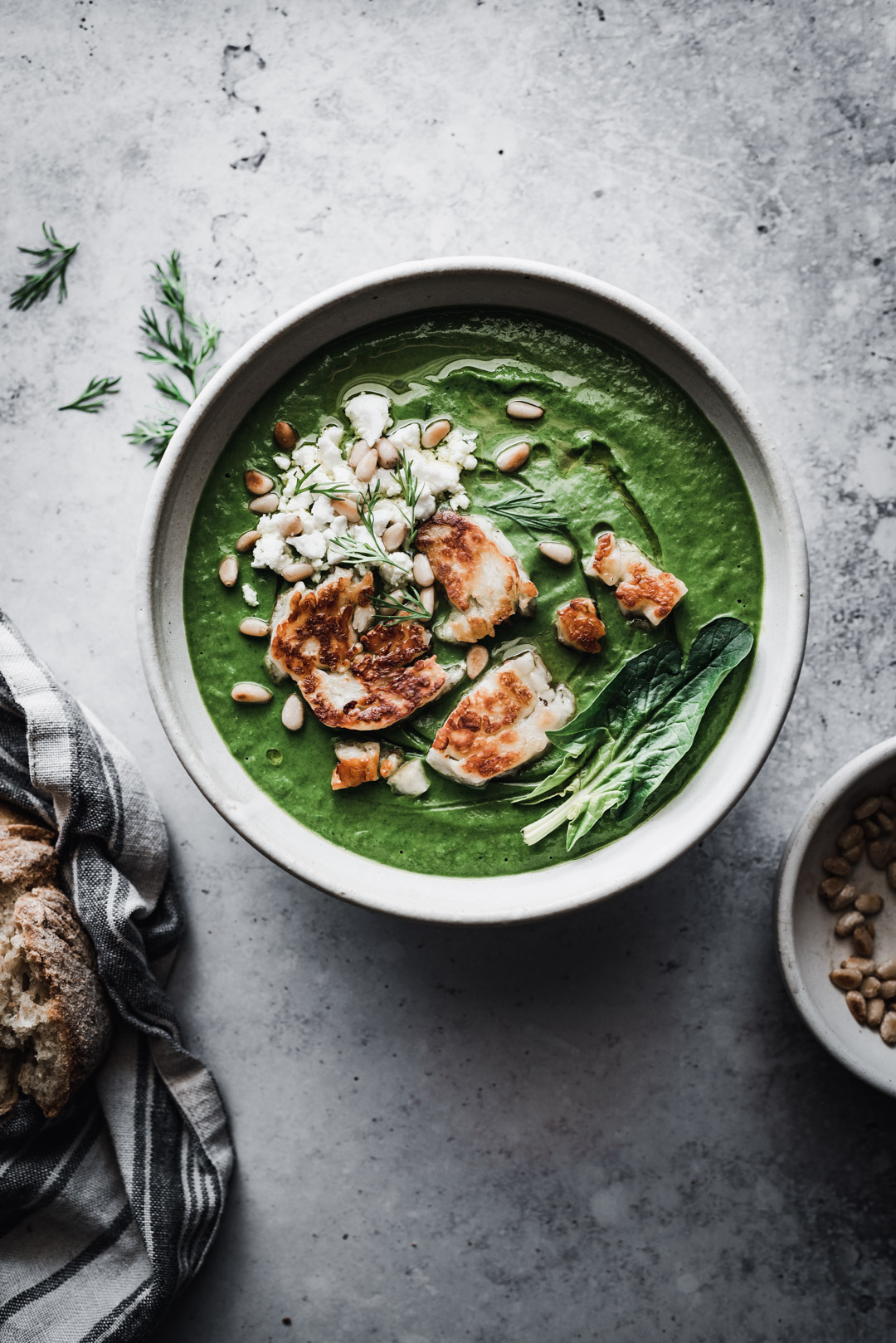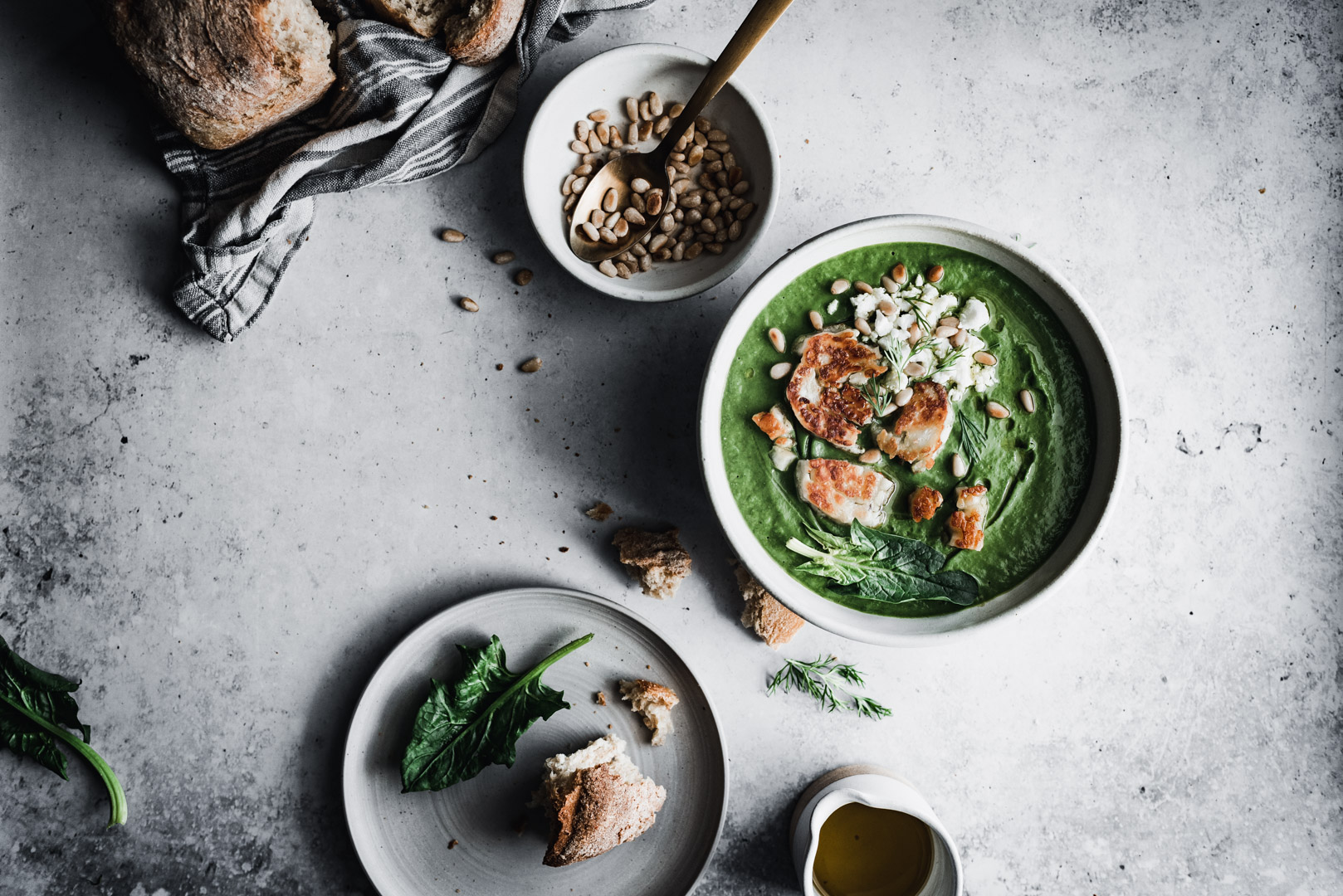 And there we have it, my friends, the final recipe I will be sharing from the island. I have so many more Greek-inspired meals that I want to share here on the blog and I look forward to doing so once we are back in the U.S. Life is unpredictable and filled with ups and downs, but no matter what life brings our way, coming here to share recipes and thoughts with you guys brings me such joy and encouragement, so I just want to say thank you for being here with me through thick and thin. It is such an incredible thing to know that the same recipe that my hubby and I are finding comfort in, may find its way into your bellies and do the same <3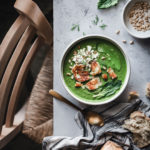 CREAMY SPANAKOPITA SOUP
---
Total Time:

0 hours

Yield:

4

1

x
4 tablespoons

olive oil

3

large cloves garlic, minced

1

medium onion chopped

4

scallions, diced

1/2

cup

fresh dill, chopped

5

cups

cauliflower florets (one medium head of cauliflower)

4

cups

vegetable stock

1/2

pound

fresh spinach leaves

4 tablespoons

raw pine nuts divided

3 tbsp

fresh lemon juice

1/2

cup

feta cheese crumbled

225

g

(8 oz) halloumi cheese, sliced
extra virgin olive oil & fresh dill for garnish
---
Instructions
In a large pot, sauté onion in 3 tbsp of olive oil until fragrant, about 4-5 minutes. Add in scallions, garlic & dill and sauté for a few more minutes.
Add cauliflower and vegetable stock to the pot, bring to a boil then reduce heat to low and cook, covered, until tender, about 20 minutes.
While the soup cooks, toast pine nuts in a dry skillet over medium heat until golden, stirring often and watching closely for about 5 minutes – reserve for garnish.
Add a tbsp of olive oil to the same pan that you toasted the pine nuts in and cook the halloumi slices over medium heat until golden and crispy, about 2 minutes per side.
Add spinach to the pot and cook until just wilted, a minute will do. Pour the soup into a blender along with 1/2 cup of feta, fresh lemon juice and purée until smooth. You may need to do this in two batches if all of the soup does not all fit in your blender. Taste the soup and adjust the seasoning with salt and pepper to taste.
Divide soup into four bowls and garnish with a drizzle of olive oil, crumbled feta cheese, fried halloumi slices, toasted pine nuts and some fresh dill.
Prep Time:

0 hours

Cook Time:

0 hours