Every day of my life here in Greece I feel like I am discovering a whole new world, eyes wide open, I live each day in search of inspiration from my surroundings. It seems like every week something new is coming into season which leaves me in a continual state of discovery. These discoveries combined with the limited foods available at our village grocers have driven my creativity in a whole new direction. Simple, seasonal fare is a continual theme in our kitchen and this week's subject of seasonal discovery are the small green plums that have just come into season here on the island.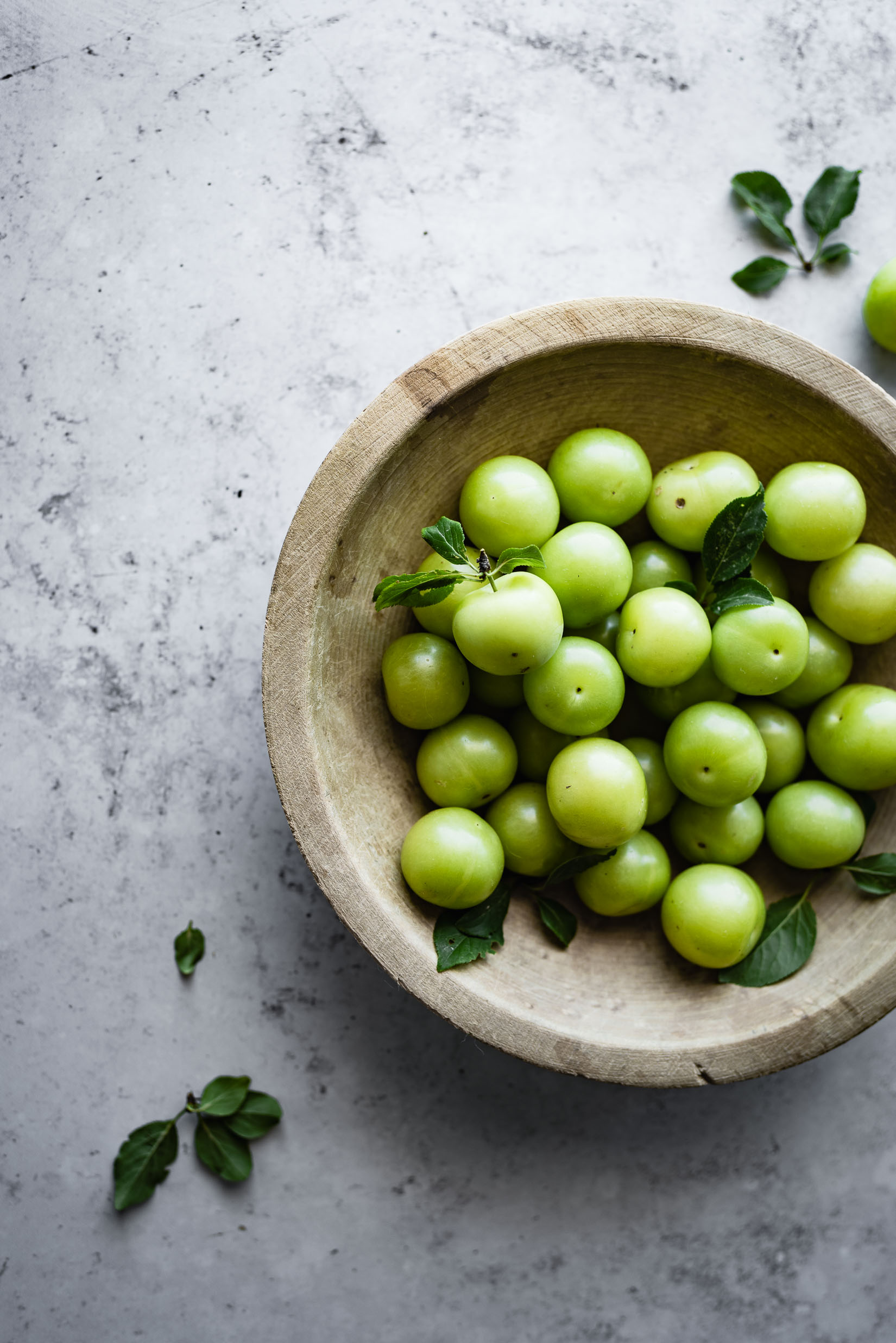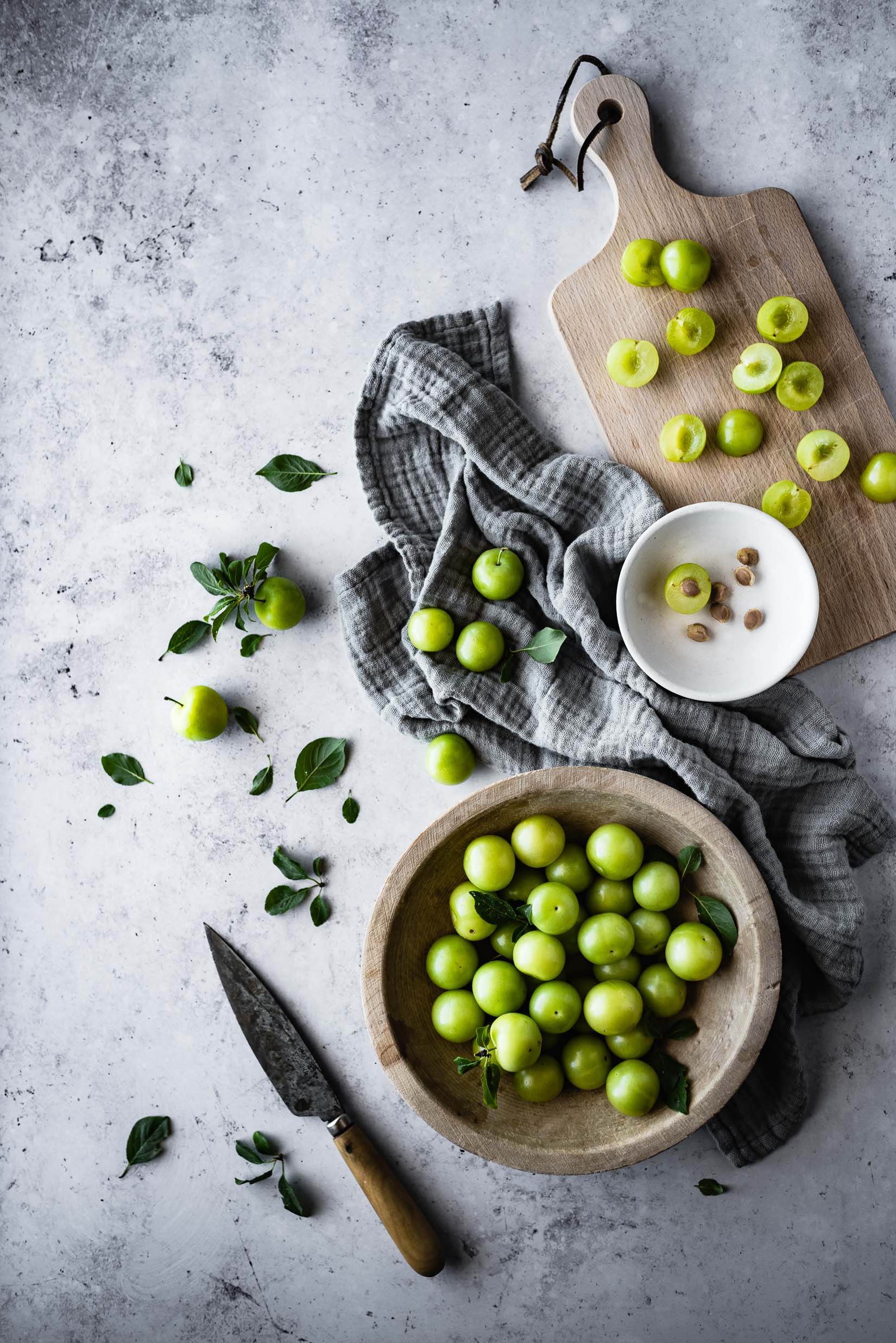 A few days ago, I started seeing women carrying bags full of these small green plums, destined to become jam. But after tasting one of the plums, I decided to do something less traditional with them. Sour when completely green, as the plums ripen to a pale yellow-green they take on a sweetness that reminds me of green grapes. Gently sweet with a satisfying crunch, I knew that these green plums would be perfect in a salad. Combined with cucumber, which is a daily staple for us, fresh Greek basil and mint from our little garden and wheat berries that have been tossed in a so simple, but so delicious lemon tahini dressing, this salad is the type of meal that I could eat every day.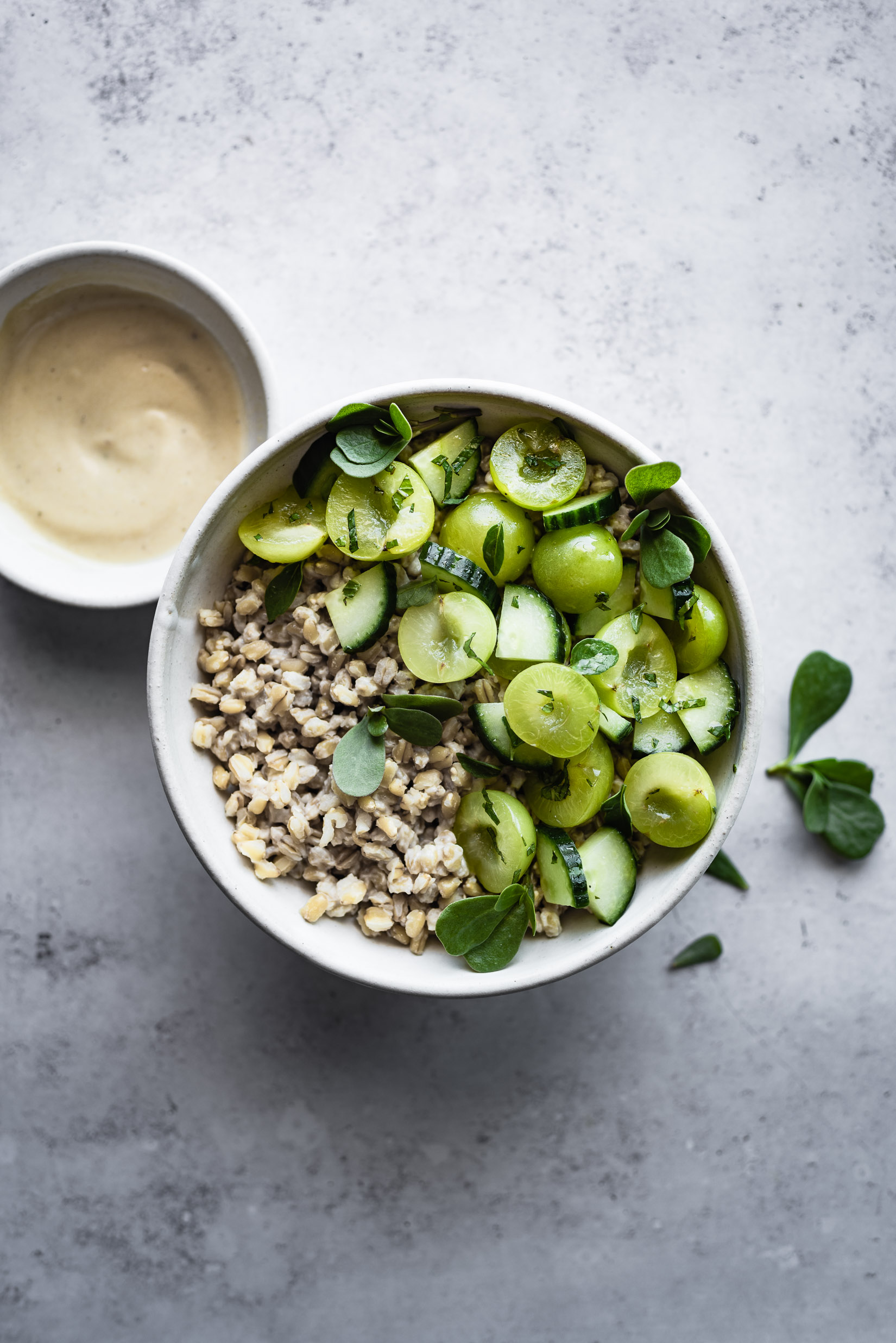 As I was eating this green plum + cucumber + wheat berry salad I found myself completely immersed and focused on each ingredient. The chewy and earthy wheat berries, the creamy  and bright lemon tahini dressing, the crisp cucumbers complimented by the gently sweet plums, the brightness of the herbs fresh from our garden – each element was amazing on its own and in combination with the rest. As a recipe developer, my mind is always analyzing the meals I eat, whether they were made by my own hands or by someone else, it is something that I just cannot turn off. While my mind processed this salad and each of its ingredients, I wondered if I could have done anything differently, added anything else, etc. But by the end of my bowl I was thoroughly convinced that nothing needed to change with this salad.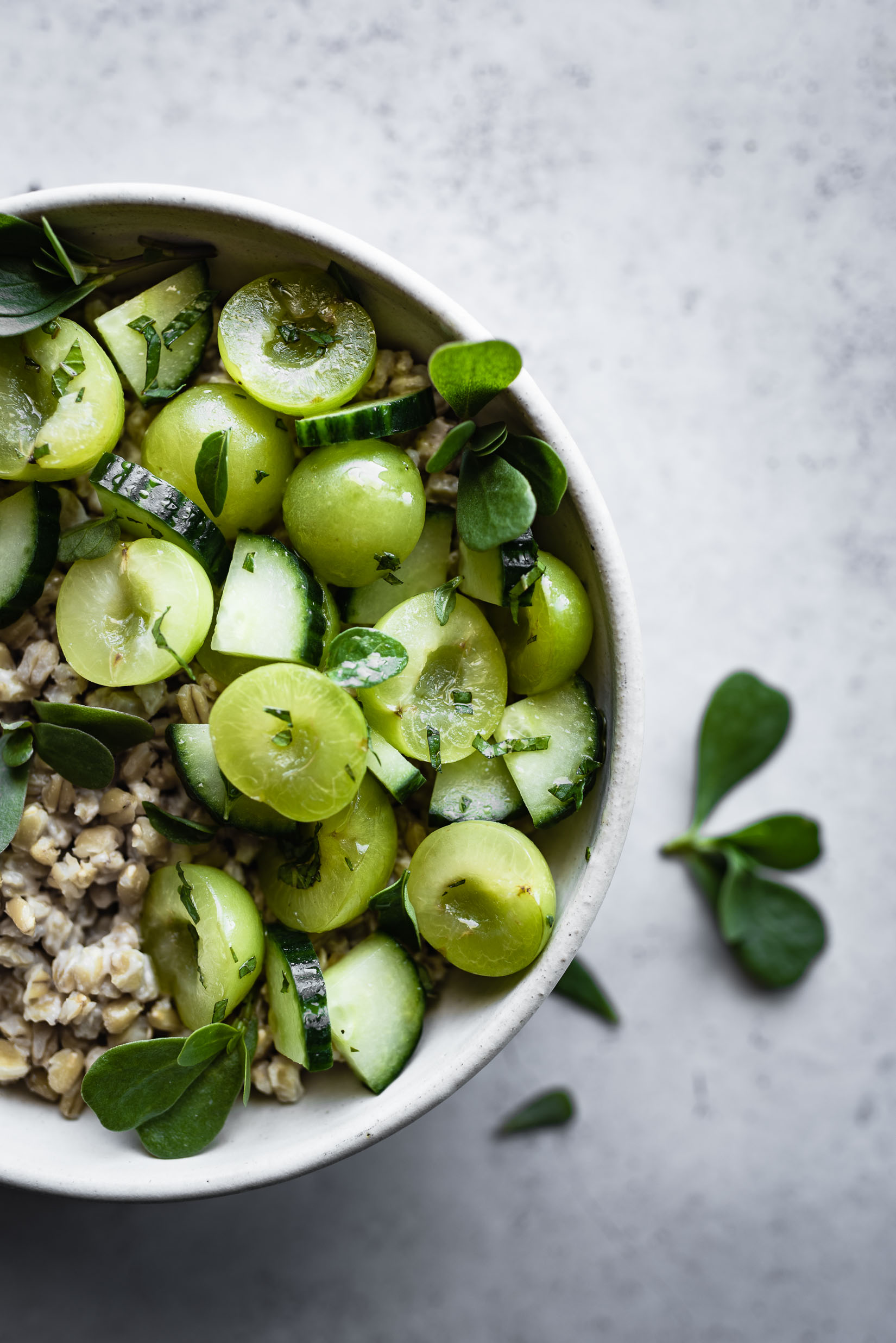 This element of simplicity is becoming a common thread in my recipe development. When the ingredients are at their peak of flavor, its a matter of not over-complicating things in order to thoroughly experience the fullness of each ingredient. Which leads me to this point, my hope in sharing these simple recipes are for them to serve as a source of inspiration for you in your kitchen. If you do not have green plums, substitute green grapes, or even crisp nectarines. If you do not have the herbs I used, try what you can find where you live. In place of the wheat berries you could use quinoa, bulgur, or even couscous – the possibilities are truly endless and hopefully you find inspiration in what is currently in season wherever you may live.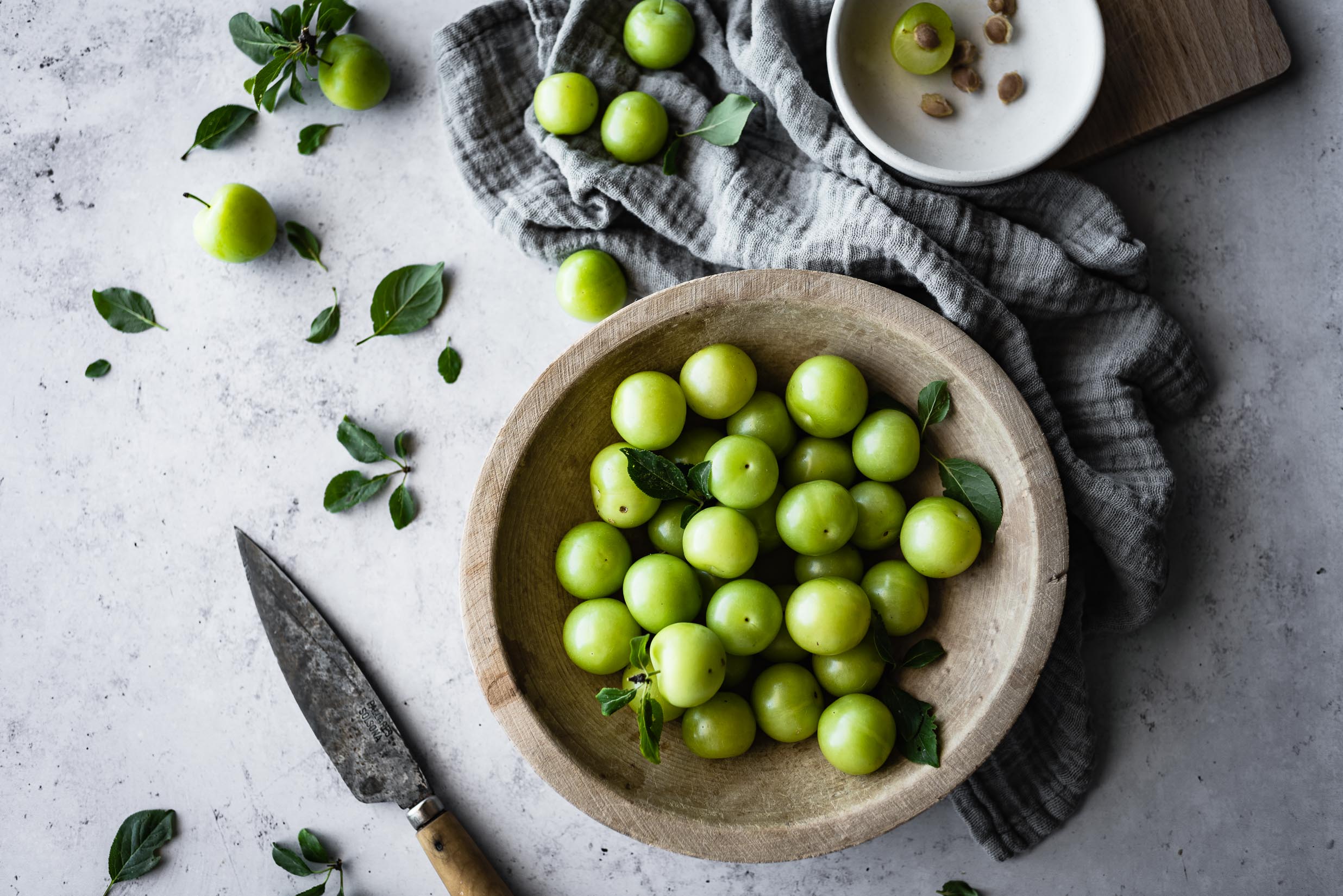 If you do happen to come across green plums I would encourage you try them. While they look nothing like the plums most of us are accustomed to eating, they are worth experiencing. And what better way to enjoy these unconventional plums than in this green plum + cucumber + wheat berry salad? And if you do happen to dream up another way to enjoy these plums, I would love to hear about it ;)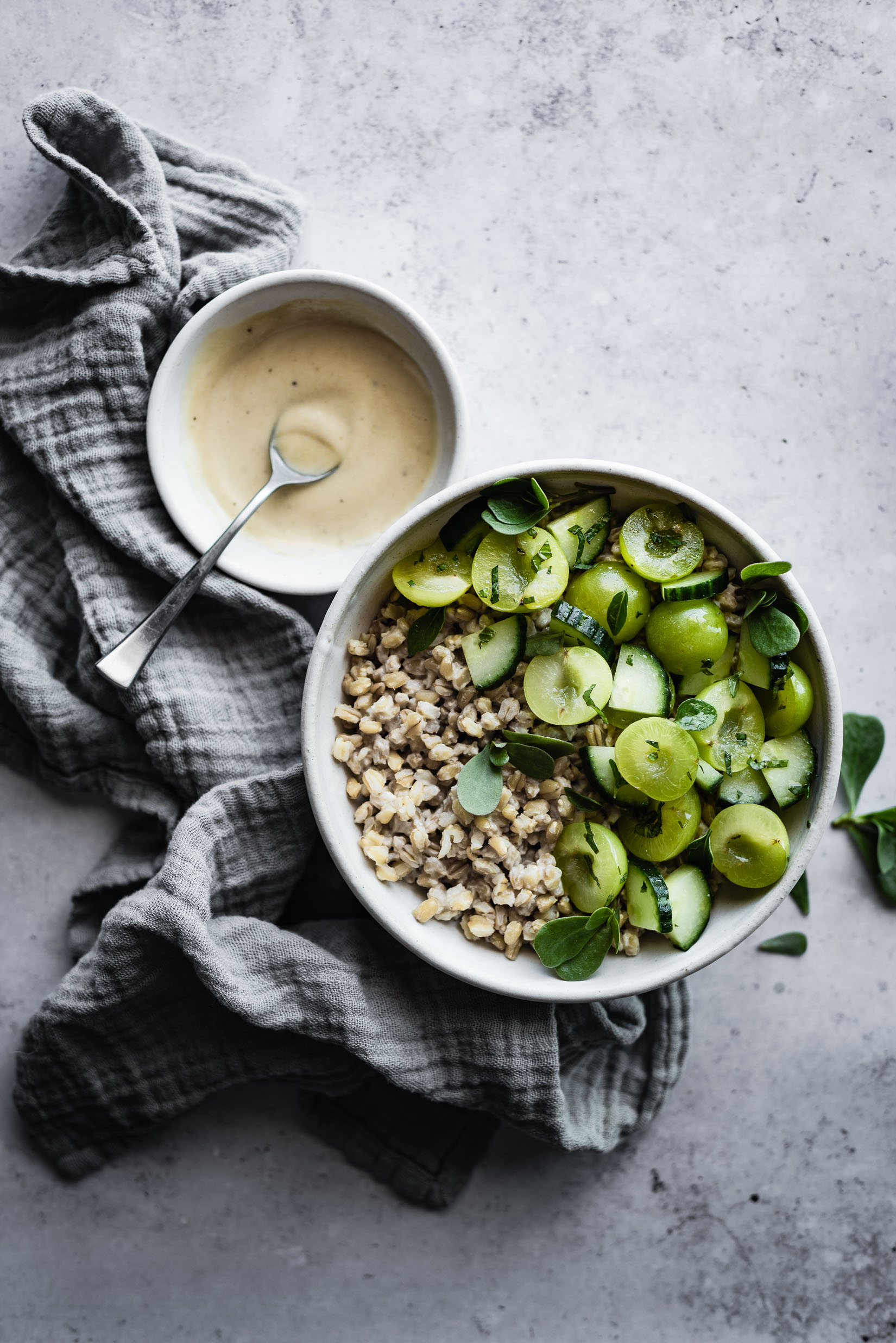 Print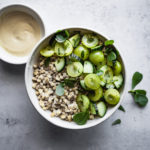 GREEN PLUM + CUCUMBER + WHEAT BERRY SALAD
---
Total Time:

15 minutes

Yield:

2

large servings or

4

small servings

1

x
FOR THE SALAD
3 cups

cooked & cooled wheat berries (quinoa, bulgur, or couscous would work as well)

2 cups

, pitted & halved green plums

1 cup

sliced seedless cucumber

2 tbsp

extra virgin olive oil
juice of

1/2

a lemon
pinch of salt
pinch of fresh cracked pepper
small handful fresh basil
small handful fresh mint
FOR THE DRESSING
1/4 cup

tahini

2 tbsp

olive oil

2 tbsp

honey ( substitute maple syrup or agave for vegan option )
Juice of

1

lemon

2 tbsp

water, or more as needed
salt & pepper to taste
purslane for garnish ( optional )
---
Instructions
Combine the prepared plums & cucumber in a bowl with 2 tbsp olive oil, juice of 1/2 a lemon, pinch of salt & pepper and torn mint & basil leaves. Toss to combine and allow to marinate while you prepare the dressing.
Combine tahini, olive oil, honey, lemon juice and water with a pinch of salt & pepper in a medium bowl and whisk to blend, adding a small bit of water as needed to achieve a smooth but creamy dressing consistency.
Reserve a bit of the dressing in a small bowl for serving and toss the rest of the dressing with the wheat berries.
To serve, fill bowls with prepared wheat berries, top with marinated plum & cucumber salad and garnish with fresh purslane or other seasonal green – add more dressing over the top as desired
Prep Time:

0 hours

Cook Time:

0 hours