This recipe is very similar to something I shared on the blog a couple of years ago, but this latest reiteration was too good not to share with you guys! Tomato garlic confit is a warm weather staple in our house, it is super versatile and so simple to pull together. I found these really beautiful mini-plum tomatoes at the market here in our village the other day and the moment I saw them I knew exactly what I was going to turn them into – this tomato garlic confit over whipped feta yogurt.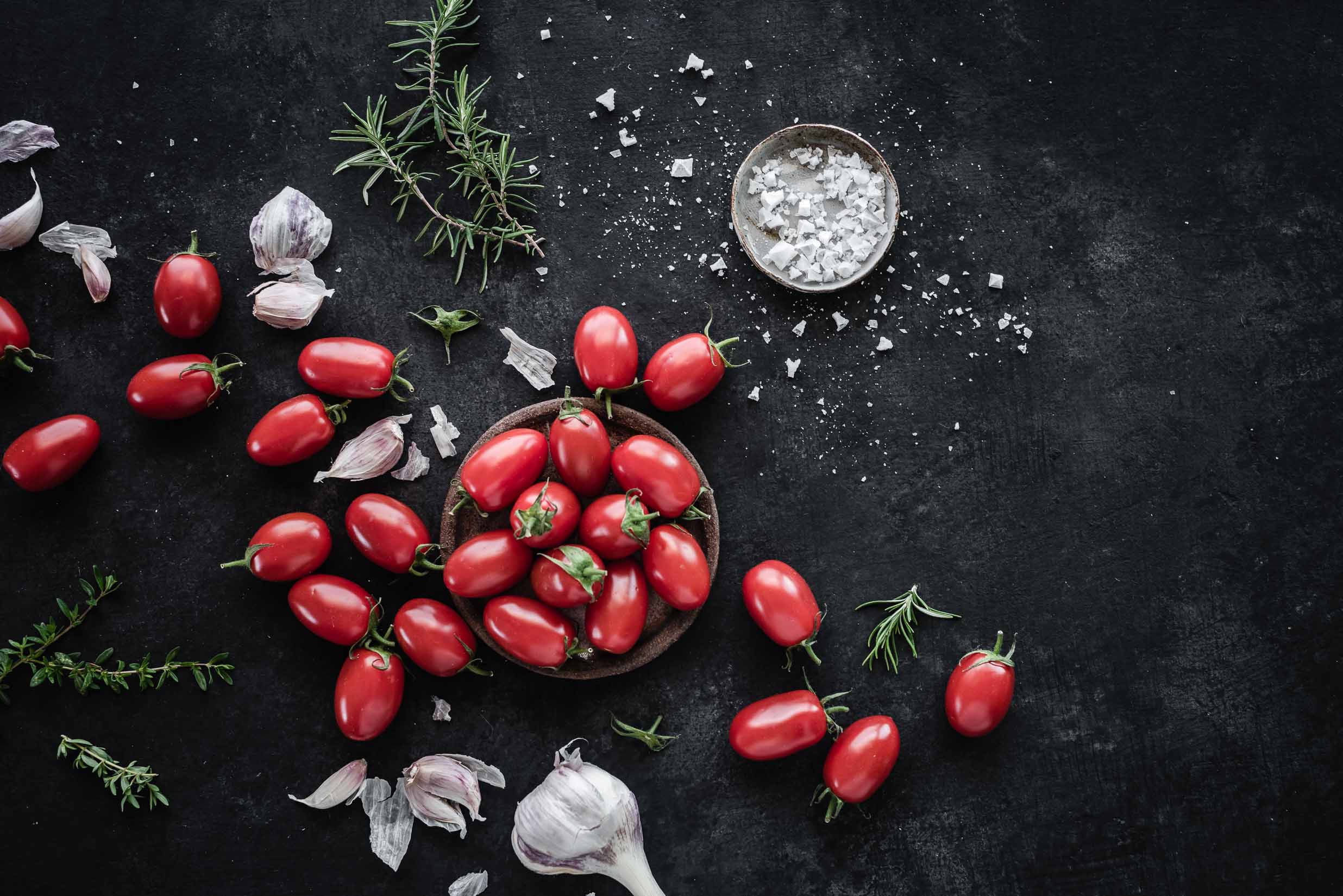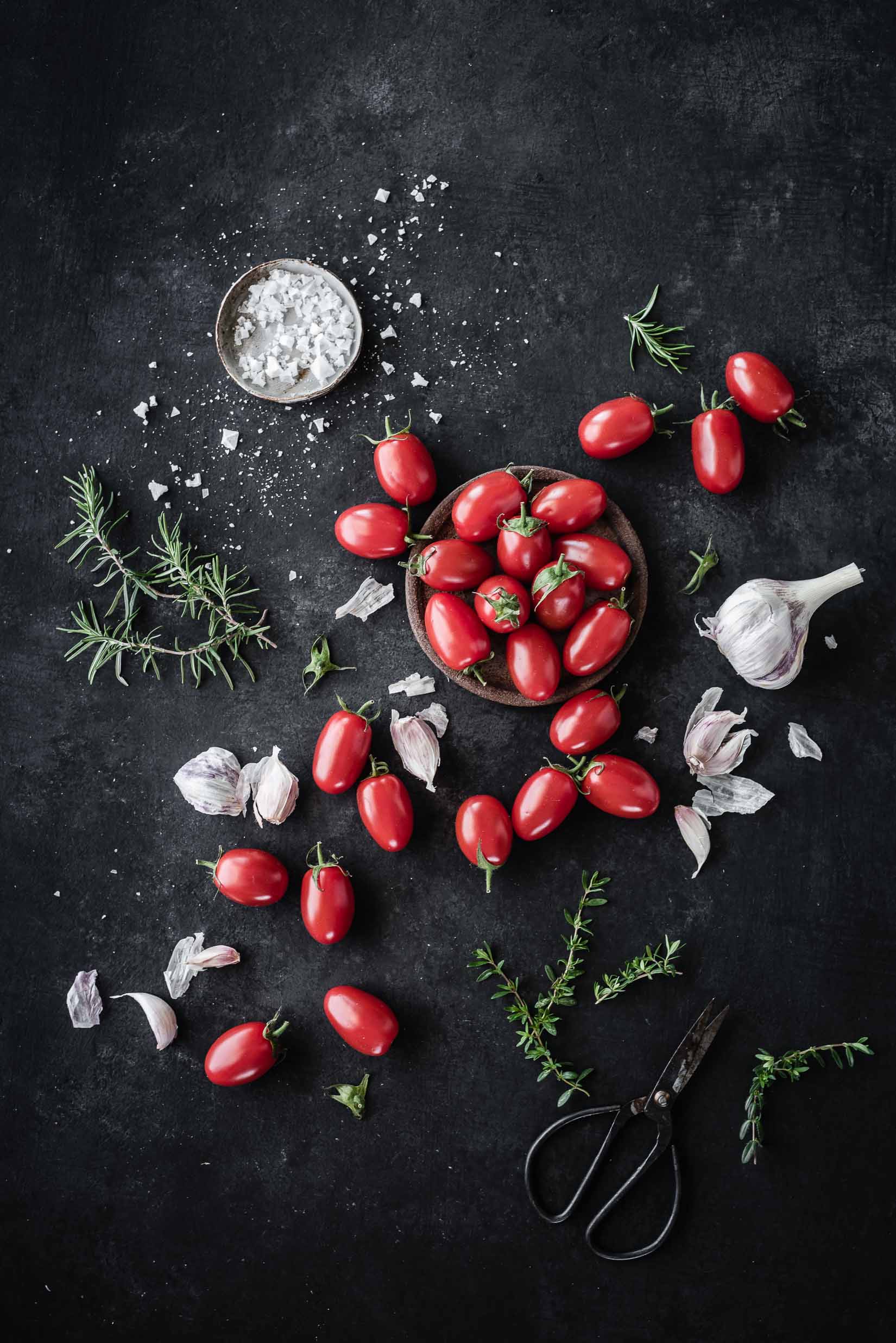 I added a bit more garlic to our cherry tomato confit recipe when I made this dish, because garlic confit is one of the best things ever and once you try it, you will understand why we added more ;) The whipped feta yogurt is simply a combination of crumbled feta and Greek yogurt that gets whipped until light, for being only two ingredients, it really is amazing just how good it is. Which reminds me, that using the best tasting ingredients you can find really makes simple recipes like this shine. Greek yogurt should be thick, but due to the fact that it is naturally strained, avoid yogurts that are labeled "Greek" but have thickening agents in the ingredient list. If you can procure sheep's milk feta (or even goat & sheep milk feta), than you will experience just how creamy and unctuous feta should be.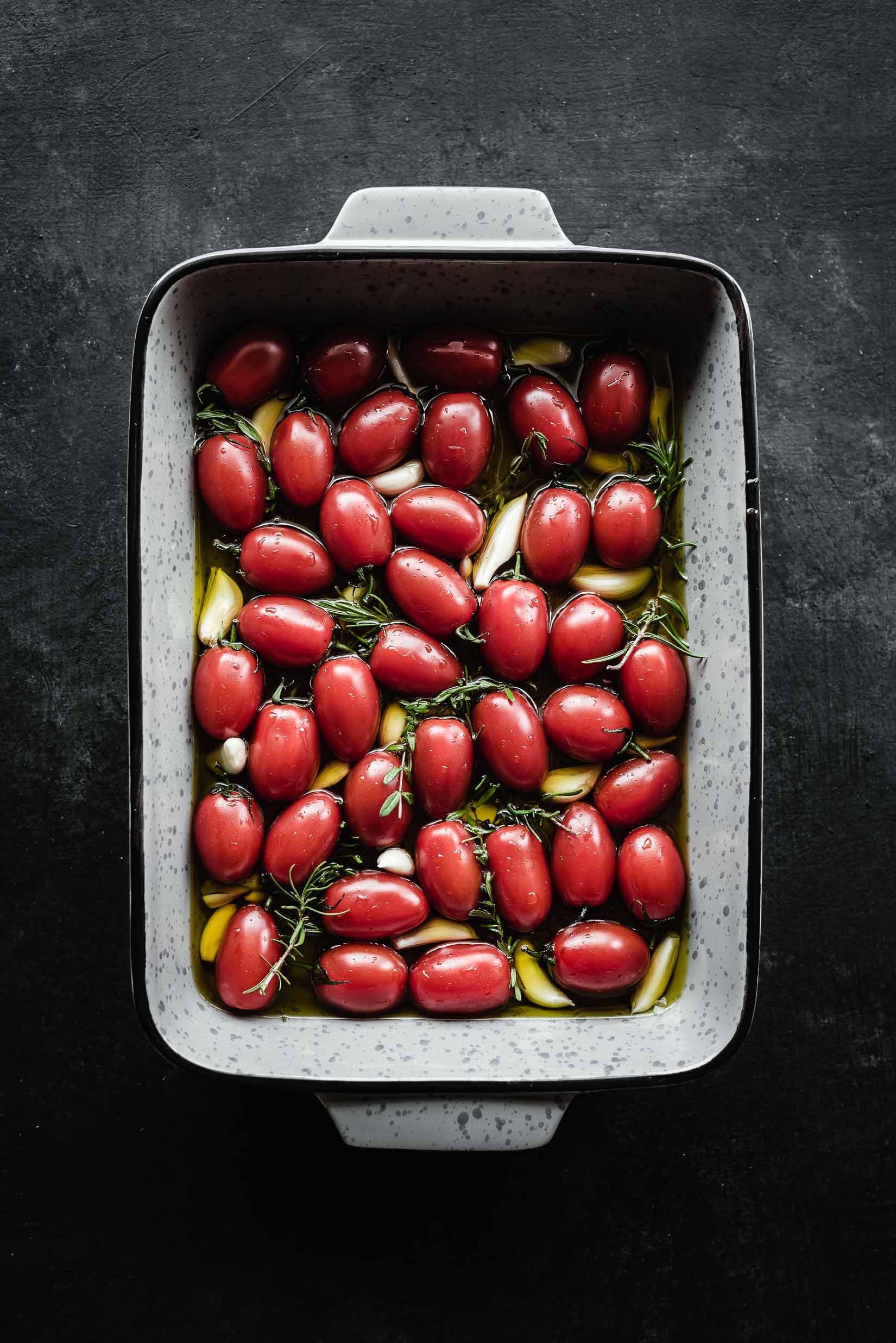 The final ingredient that really stands as the foundation of the whole recipe is extra virgin olive oil. While many people proselytize that extra virgin olive oil should not be cooked with, I very much beg to differ (and so would everyone in Greece, lol!) Not all extra virgin olive oils are created the same and here in Greece, for example, their extra virgin olive oil is typically harvested later in the year, which produces an olive oil very low in acid that is golden and buttery, which works beautifully both in cooked and raw applications. Here is a great article that goes into more detail about why you should not be afraid to cook with extra virgin olive oil ( as well as debunks some other olive oil myths ).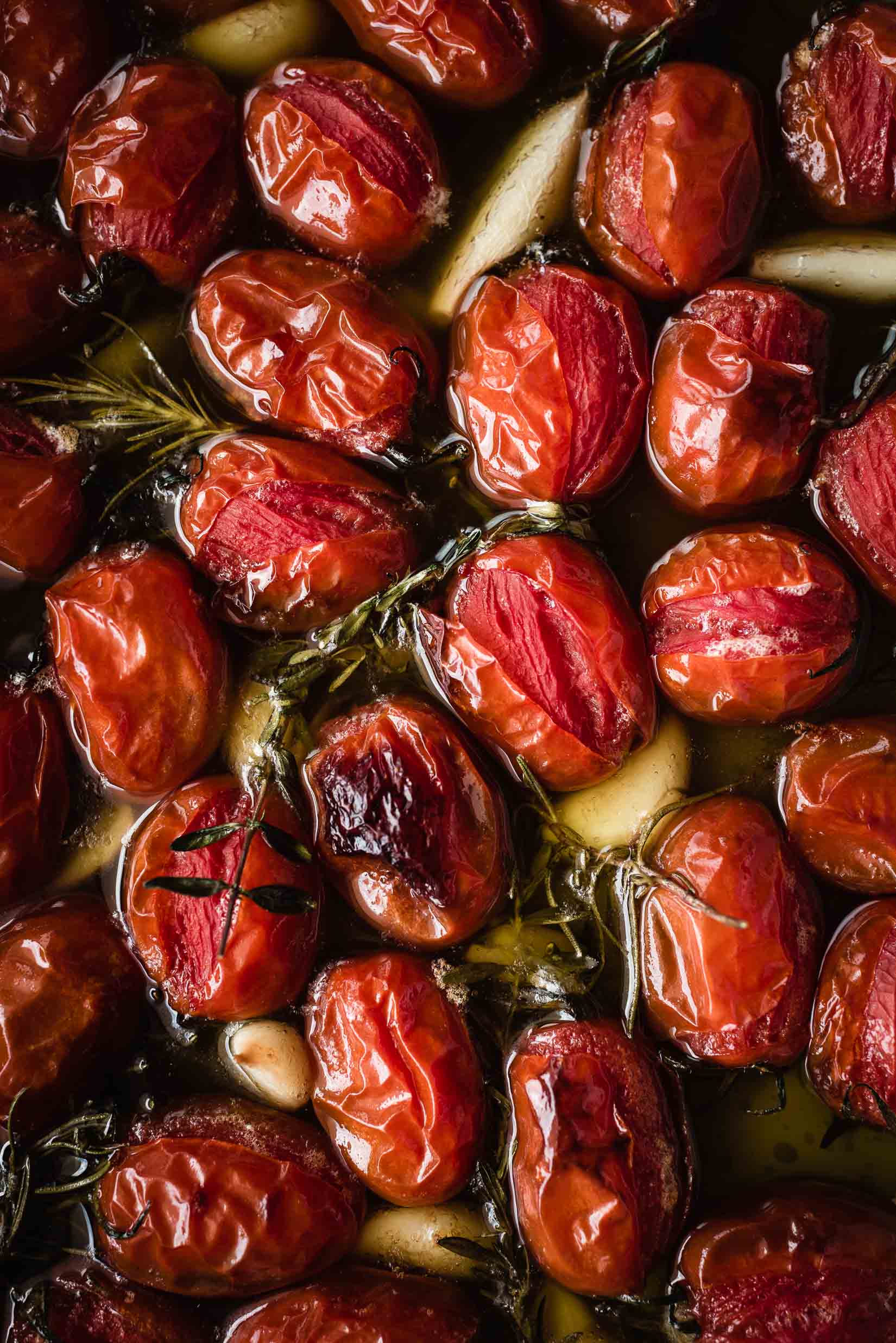 The tomatoes, garlic & herbs take a long hot bath in that liquid gold ( a.k.a. Greek EVOO ) and about an hour later you have the most incredible confit. Served over the whipped feta yogurt with some fresh bread from the baker and you have the perfect meal. Hubby requested some fried eggs with his plate after I finished shooting and I have to say, that they went perfectly!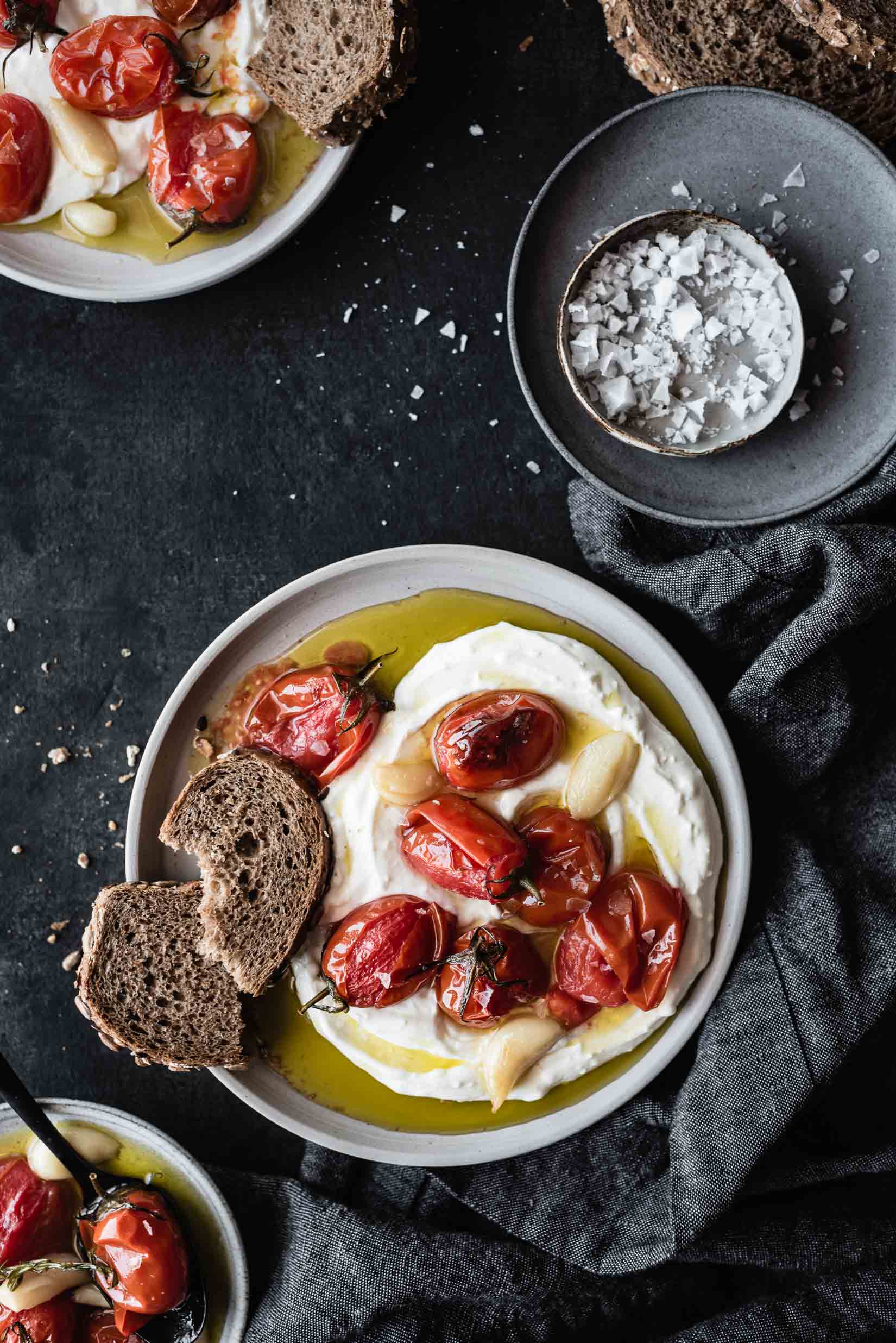 Another reason that I absolutely had to share this reiteration of our cherry tomato confit recipe, is because I styled and shot this post on the brand new background that I just hand painted here in Greece! I am SO in love with how it turned out! If you are interested in seeing the process of how I created this backdrop you can head over to my Instagram profile and watch the Story Highlight titled 'DIY backdrop'.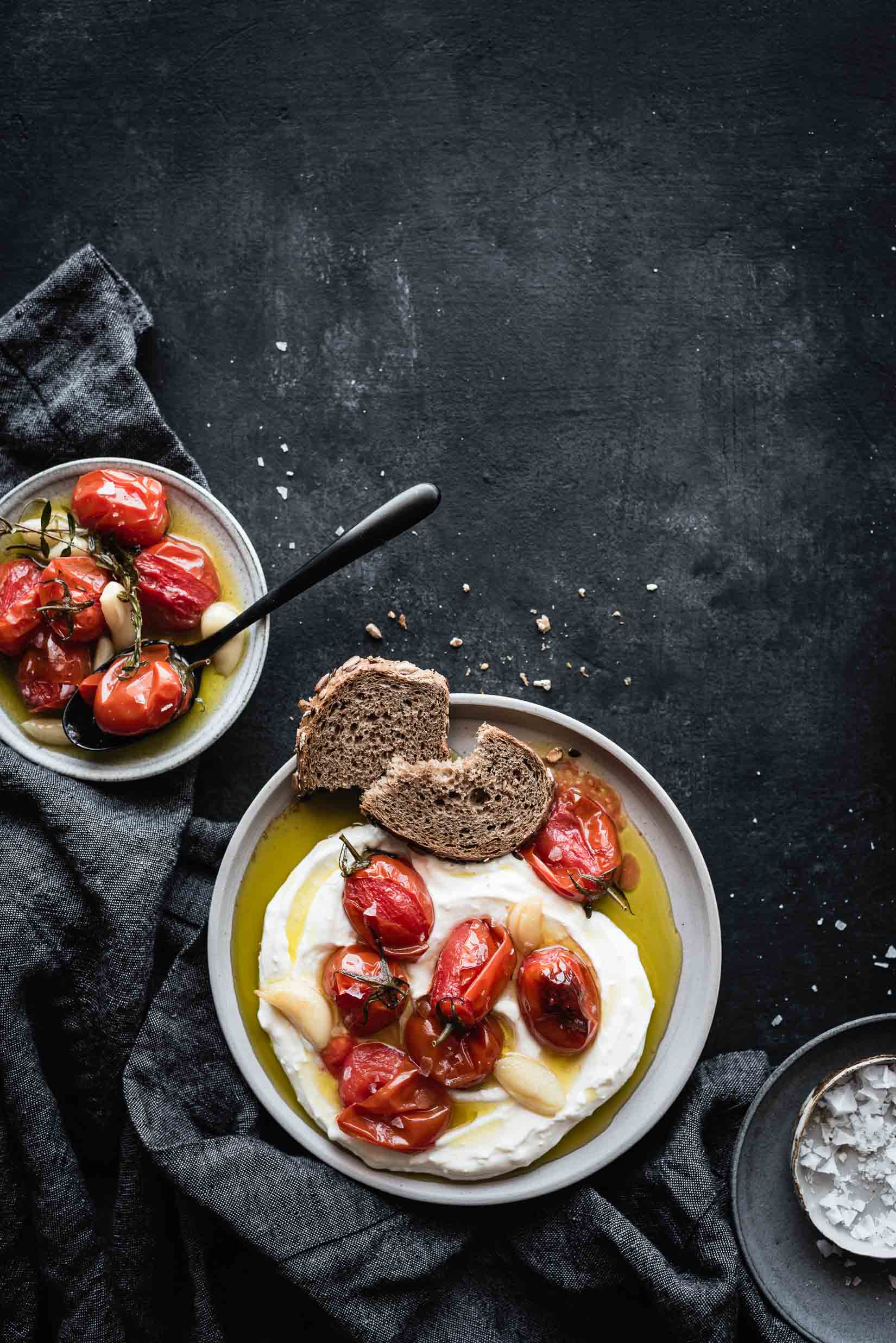 In the mean time, I truly hope that you introduce yourself to this tomato garlic confit over whipped feta yogurt…you will be so glad that you did ;)
Print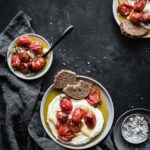 TOMATO & GARLIC CONFIT OVER WHIPPED FETA YOGURT
---
Total Time:

0 hours

Yield:

4

servings

1

x
2

cups

Greek yogurt

1

cup

crumbled feta cheese ( we prefer feta made with sheep's milk )
fresh bread
---
Instructions
Once with confit is finished baking and has cooled down a bit, combine the Greek yogurt and the crumbled feta either in a large bowl or in the bowl of a food processor
Either whip the feta & yogurt by hand with a large whisk until light and fluffy (just a couple of minutes should do) or for a smoother end result, blitz in the food processor until smooth and fluffy
Spread a bed of whipped feta yogurt on each plate, top with tomato & garlic confit ( don't shy away from the olive oil ;) and serve with fresh crusty bread and some fried eggs if that sounds good to you!
Prep Time:

0 hours

Cook Time:

0 hours