The other day on an Instagram post that I shared, I spoke a little bit about the difficulty I have often felt in creating since moving to Greece. The recipes, blog posts and photographs that I have shared so far from our village have not all come easy, in fact, most of them have been quite a challenge. And this vegan summer strata is no different…this recipe came to me after taking a break from everything to re-center. You see, the things that I share with you all here on the blog and on social media come from a deep place of passion within my heart. And because of that, if I am not feeling passionately inspired I am just not able to create. Not to mention, living on a remote island leaves me with far less food options to work with, so I often feel like I am constantly working from a place of limitation. But by taking a break, albeit for just one day, I was able to create something that I am really passionate about from the same limitation that often makes me feel so defeated.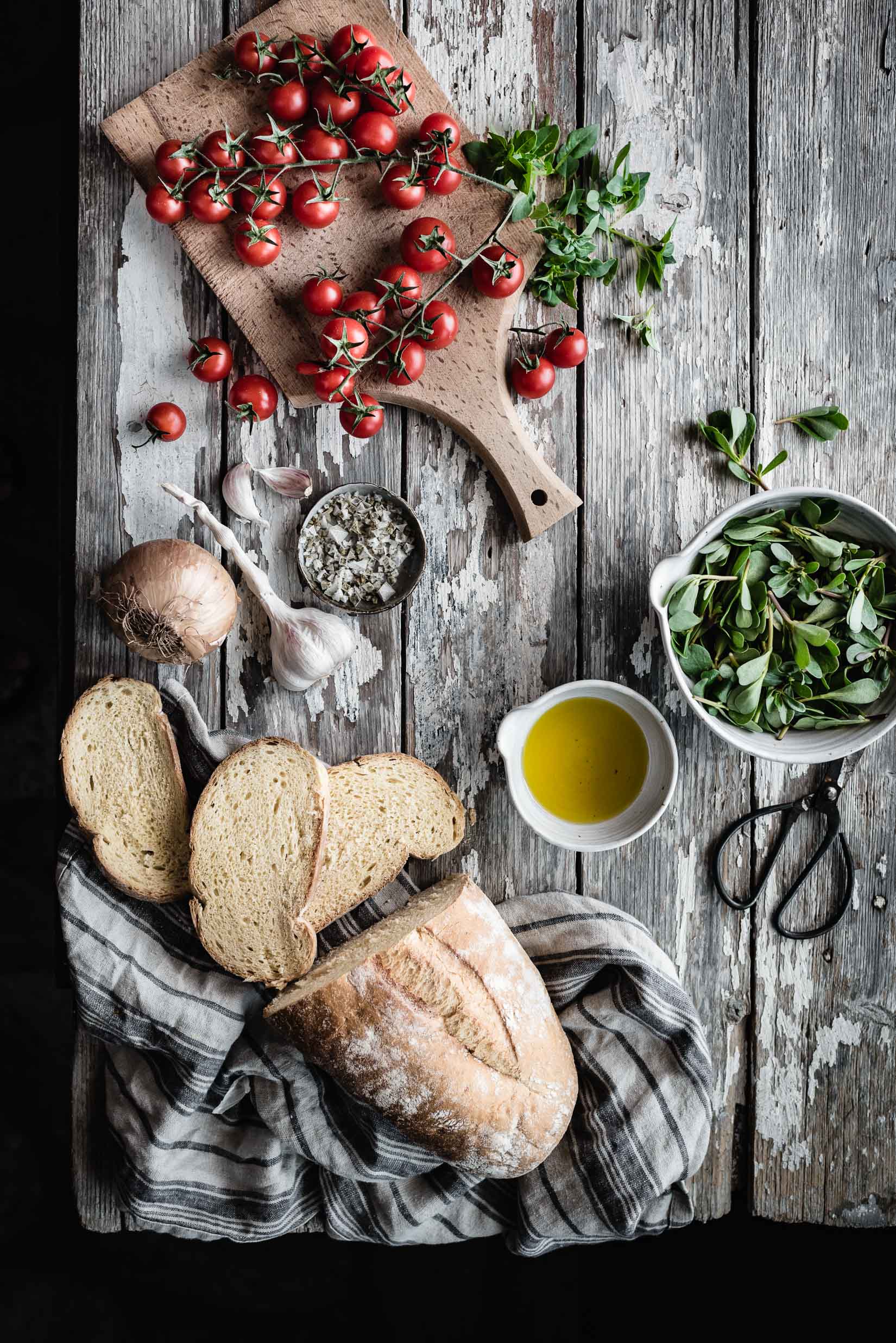 On the day that I took off to recenter last week, I simply looked around me as I was working in the garden and cleaning our little studio. All of sudden when I was not trying to think of what I should create next, I noticed that the makings of this recipe were all around me. A stale loaf a bread in the cupboard, loads of purslane, thyme and basil growing throughout our garden, deep red cherry tomatoes on the vine resting in a bowl on our kitchen counter and finally a bag of vegan scramble that I had brought with me from America – all of the dots connected and I knew that a vegan summer strata was what I was meant to create next.
And since some of you may be wondering why I would bring a bag of vegan scramble all the way from America – it is because I had the opportunity to get to know this awesome plant based egg company called The Vegg during the last two workshops that we held in California before we moved to Greece. The owner Harold had sent me all of his alternative egg products to try and share with our workshop attendees, but I had not had a chance to try their Power Scramble before we moved, so I threw it in one of our suitcases and boy, am I glad that I did!
While my hubby and I are not vegan, we do enjoy eating a diet that is very plant based, so the idea of throwing together a vegan summer strata with a plant-based egg alternative was something that really got me excited. As I developed this recipe I found myself thinking about all of the people out there that either do not have access to pasture raised eggs or are not able to eat eggs due to an allergy. The thought that creating a strata recipe that would be more accessible made me so happy, so if you are one of those people I truly hope that you get to enjoy this recipe this summer! And just to be clear, this post is in no way sponsored…I simply had the chance to finally try a product that ended up really impressing me!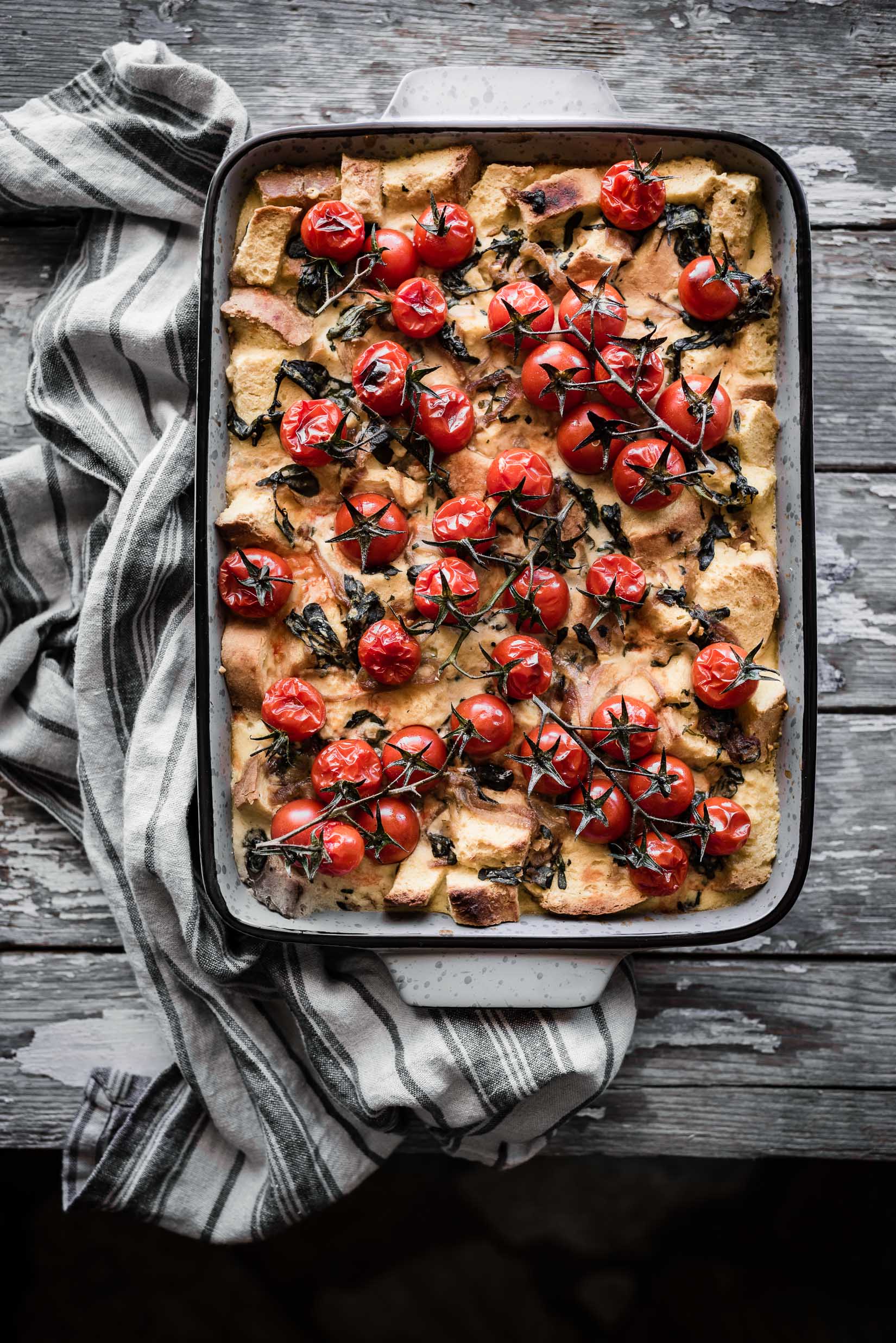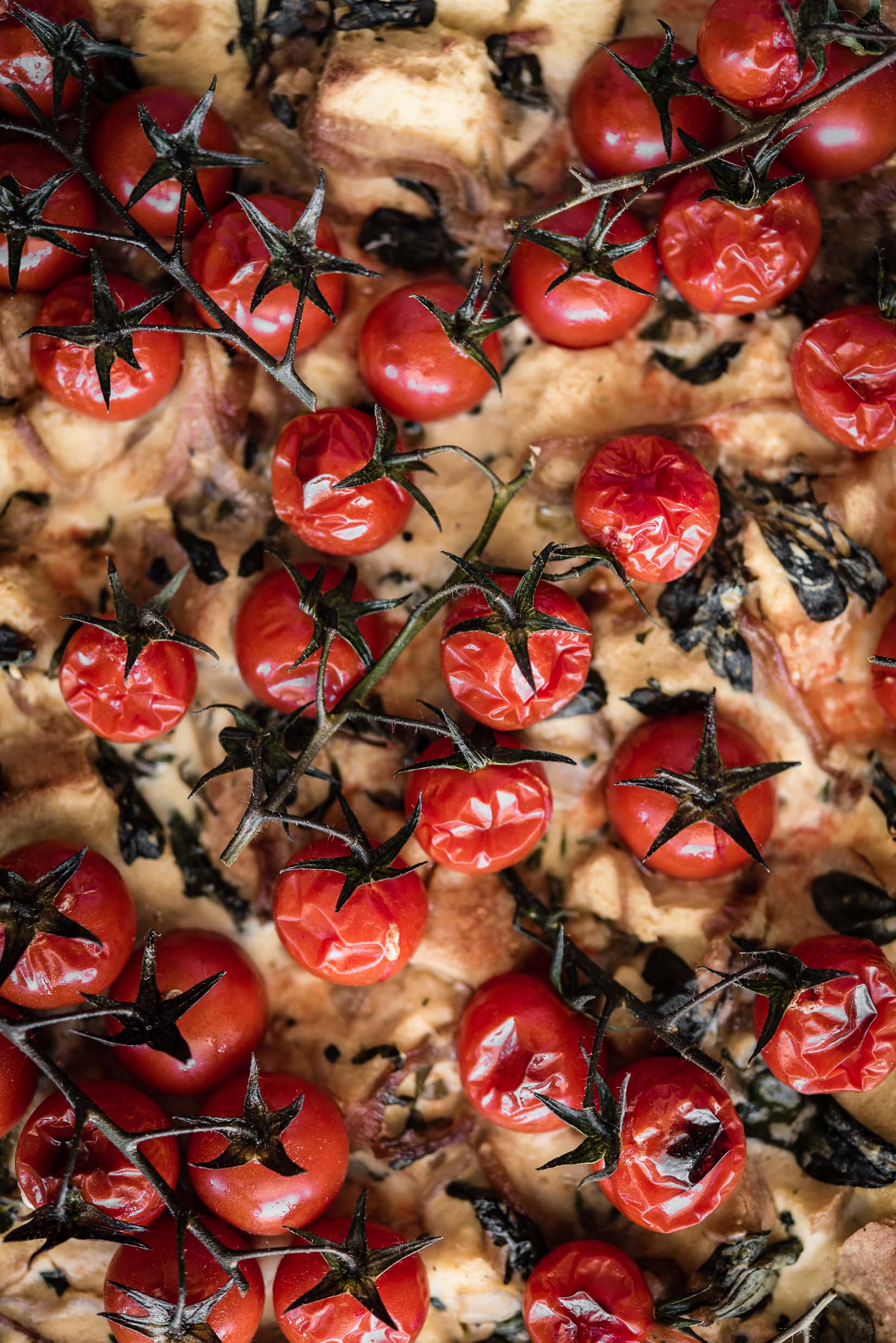 Now, let's talk a little bit more about precisely why we loved this vegan summer strata so much! First off, its a great way to use up leftover bread. Second, it is loaded with caramelized onions, which is probably my favorite part. Third, the garlic combined with fresh thyme and Greek basil is such a winning combo, it could make anything taste incredible! Fourth, those blistered cherry tomatoes release all their ripe juices onto the top of the strata – need I say more? And finally, we are just smitten with purslane – it is a common green that grows like a weed and it just happens to be a nutrition powerhouse, having the highest omega-3 content of any plant in the world! We are finding new ways to enjoy it every day! If you don't have purslane growing in your garden or cannot find it at your local farmers market, feel free to substitute with a different green like spinach, swiss chard or kale.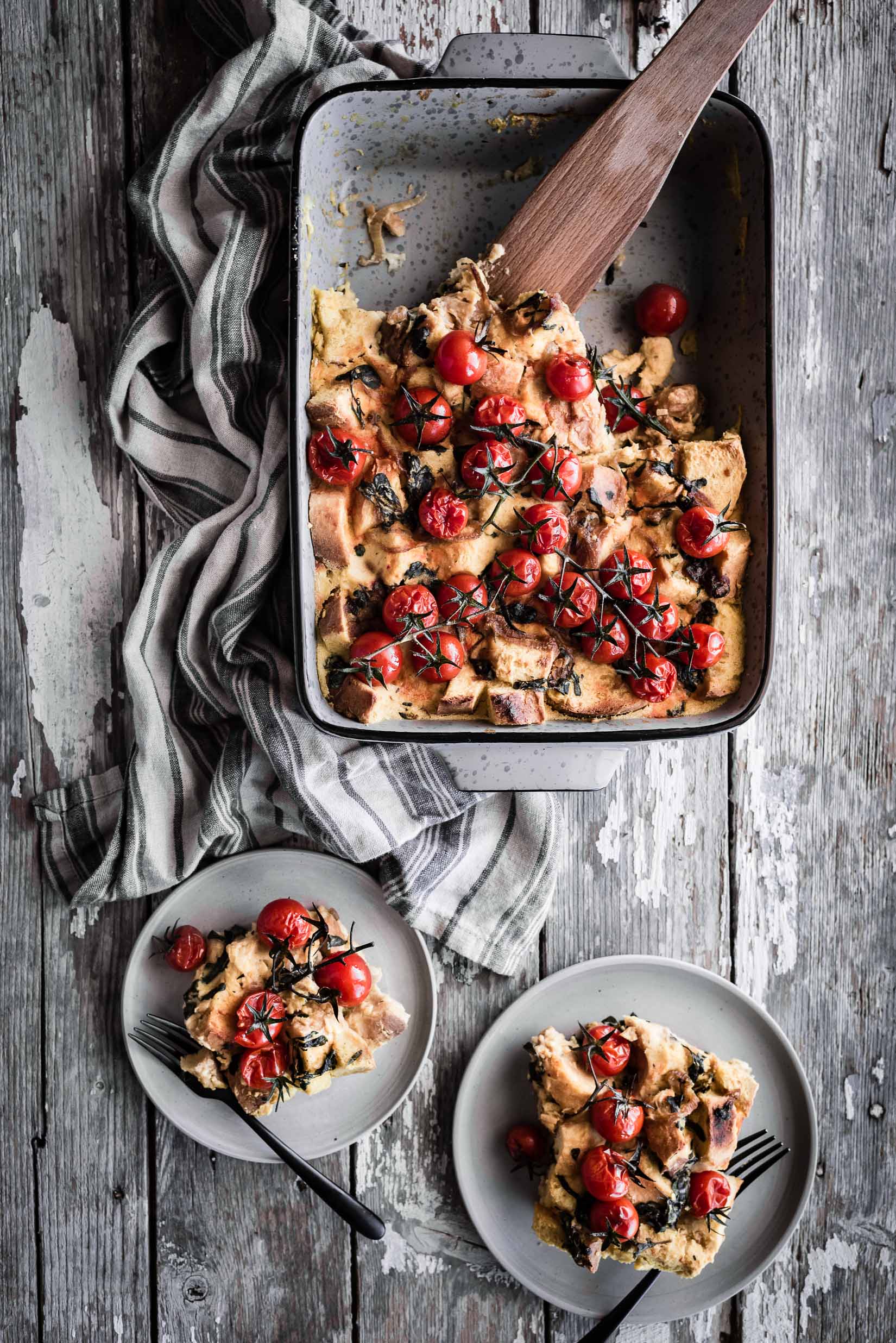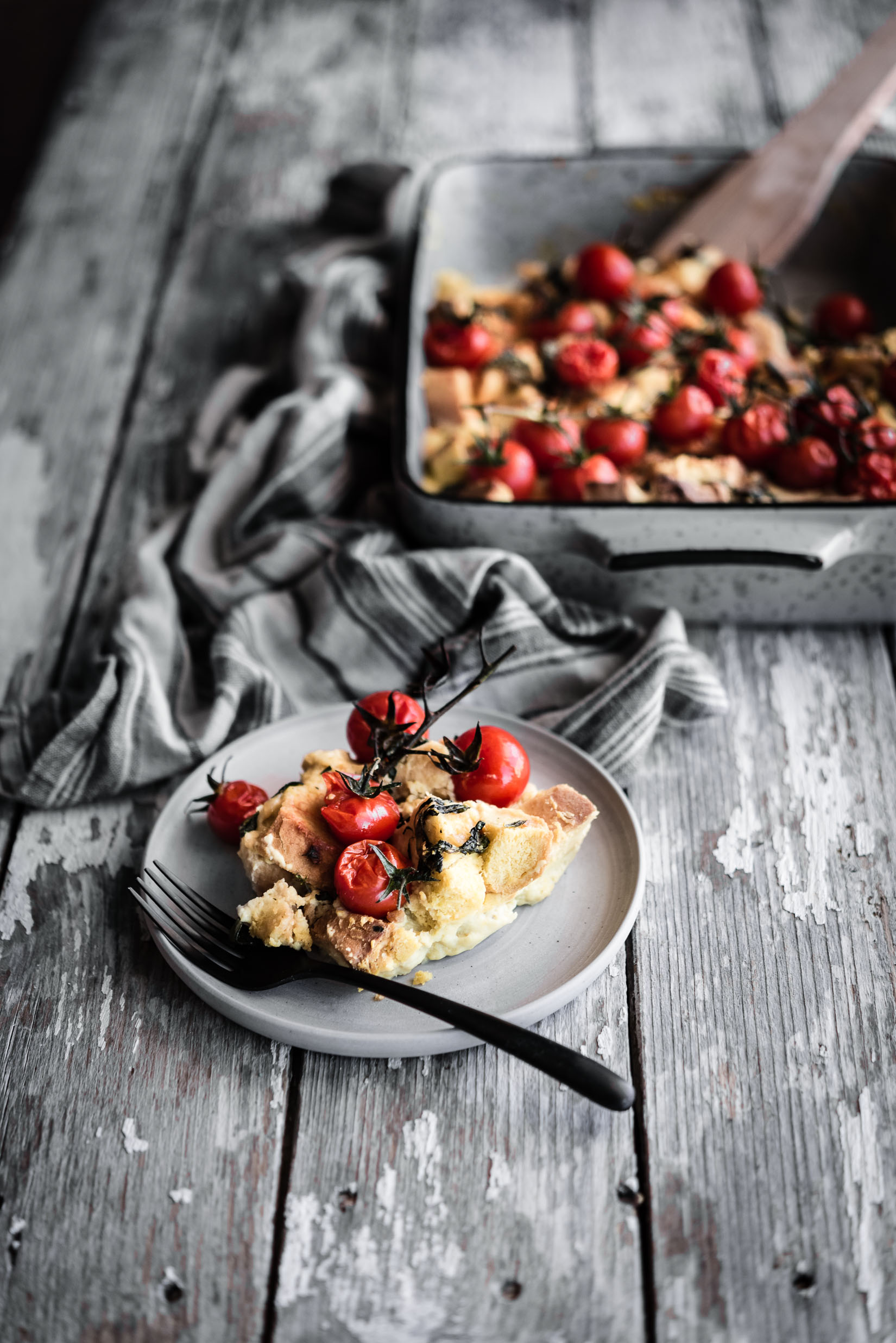 One thing I forgot to mention about this recipe, is that you can prepare it the night before and refrigerate it, which makes it a great make ahead dish for a weekend brunch with friends or family! Just let sit at room temperature for about an hour and then bake according to the recipe. Surprisingly light and full of the flavors of the season, this vegan summer strata is so delicious, you and those you share it with will fall in love with this plant based version of the classic brunch dish.
VEGAN SUMMER STRATA
---
Total Time:

1 hour 30 minutes

Yield:

6

servings

1

x
1

loaf crusty sourdough or french bread

2

large onions – very thinly sliced into rings

1/4

cup

+

2

tbsp

olive oil

4

large cloves of garlic, minced

4

cups

purslane (or other green of your choice)

2 tbsp

fresh basil leaves, torn

1 tbsp

fresh thyme leaves

10

eggs worth of vegan scramble, mixed according to package instructions (I used The Vegg Power Scramble)

2

cups

unsweetened soy milk (or other unsweetened non-dairy milk of your choice)

1 teaspoon

salt

1/2 teaspoon

pepper

1

lb

cherry tomatoes ( on the vine make for a beautiful presentation )
olive oil for brushing tomatoes
---
Instructions
Cut stale bread in to ¾ inch cubes – if your bread is fresh, lay cubes on a baking sheet and toast in the oven at 400f degrees for 10 minutes.
In a large skillet, heat oil over medium high heat. Add thinly sliced onions and sauté, mixing often for 2-3 minutes, then turn heat down to medium low, continuing to cook until golden and tender, about 15 minutes longer.
Once onions are nicely caramelized, add the purslane and garlic. Cook until purslane is tender and garlic is fragrant, about 3-5 minutes.
Add fresh thyme and basil along with a pinch of salt and pepper, stir well to combine.
In a medium bowl, whisk vegan egg mixture with soy milk with remaining 1/4 cup olive oil along with salt and pepper.
In a large bowl, add the cubed bread along with the caramelized onion mixture. Pour in the vegan egg mixture and give a gentle stir. Let stand 5 minutes.
Gently stir again and pour into a well greased 4 quart baking dish. (At this point you could cover and refrigerate overnight).
Bake strata in a 400 F oven for 35 minutes, lower the heat to 375 F and continue baking 20-30 more minutes until puffed and golden.
Allow to cool at room temperature for about 10 minutes before slicing and serving.
Prep Time:

30 minutes

Cook Time:

1 hour