I would like to introduce all of you to someone who has become a dear friend recently – his name is Joshua Weissman and he is the man behind the acclaimed food blog Slim Palate. Joshua and I met through Instagram a few months ago, but I actually already knew of Joshua before he came across my profile on Instagram. See, I came across Joshua years ago, as he was writing his cookbook while he was still in high school. I was immediately drawn to his photography and had so much respect for how hard he was working for his goals at such a young age. What I did not realize at that time, was just how much we actually shared in common then and ultimately, that our paths would cross years later. Joshua and I went through similar phases with our relationships with food, so his honesty in sharing his story of how he healed really resounds with me. What I find to be so incredible is that both of our journeys have led us to the same food beliefs, that a truly healthy way of living has so much more to do than just with the food you put in your mouth. 
I am so incredibly excited to have the opportunity to guest post for Bella! I love being able to collaborate with people who care about food like I do. Food isn't just something that nourishes the body, but it is something that nourishes your mind, your emotions, your being. It's something that often times, transforms our lives in some way or another.
Food has certainly transformed my life in many aspects. The first encounter being that I lost more than 100 pounds at age 16 and then published my first cookbook at 17. I understand that it was a fantastic achievement but I was very rigid during this time period. I never shamed people but I was very hard on myself. I think that I was mentally shaken still by the trauma caused by people who harassed me physically and emotionally when I was overweight. This took me to a place where everything needed to be as paleo as it could get.
I ended up dipping way too low on the weight spectrum for my height (entirely unintended). This put me in a bad spot for many reasons. After a trip to Europe, a lot of my mindset changed very quickly about food and the paleo and "gluten-free" community. That being that there was/is a lot of immense dogmatic, body dysmorphic, and orthorexic behavior going on in that realm. Following that, I gained about 70 pounds of necessary and good mass plus a lot of strength. I finally felt at peace with food, eating plenty of gluten when I wanted it. Baking my own sourdough bread, eating things that I was well aware contained gluten. It was a really important learning piece for me. That being, that you will not die if you eat gluten and do not have celiac disease. Of course, I still care about the food that goes into my mouth, I just don't make a religion out of it anymore. I don't need cheat days, I don't need gluten free pancakes, and I don't need to be stressed about any of those things. For credibility sake, I have kept the weight off for over 5 years now (which is about a quarter of my life).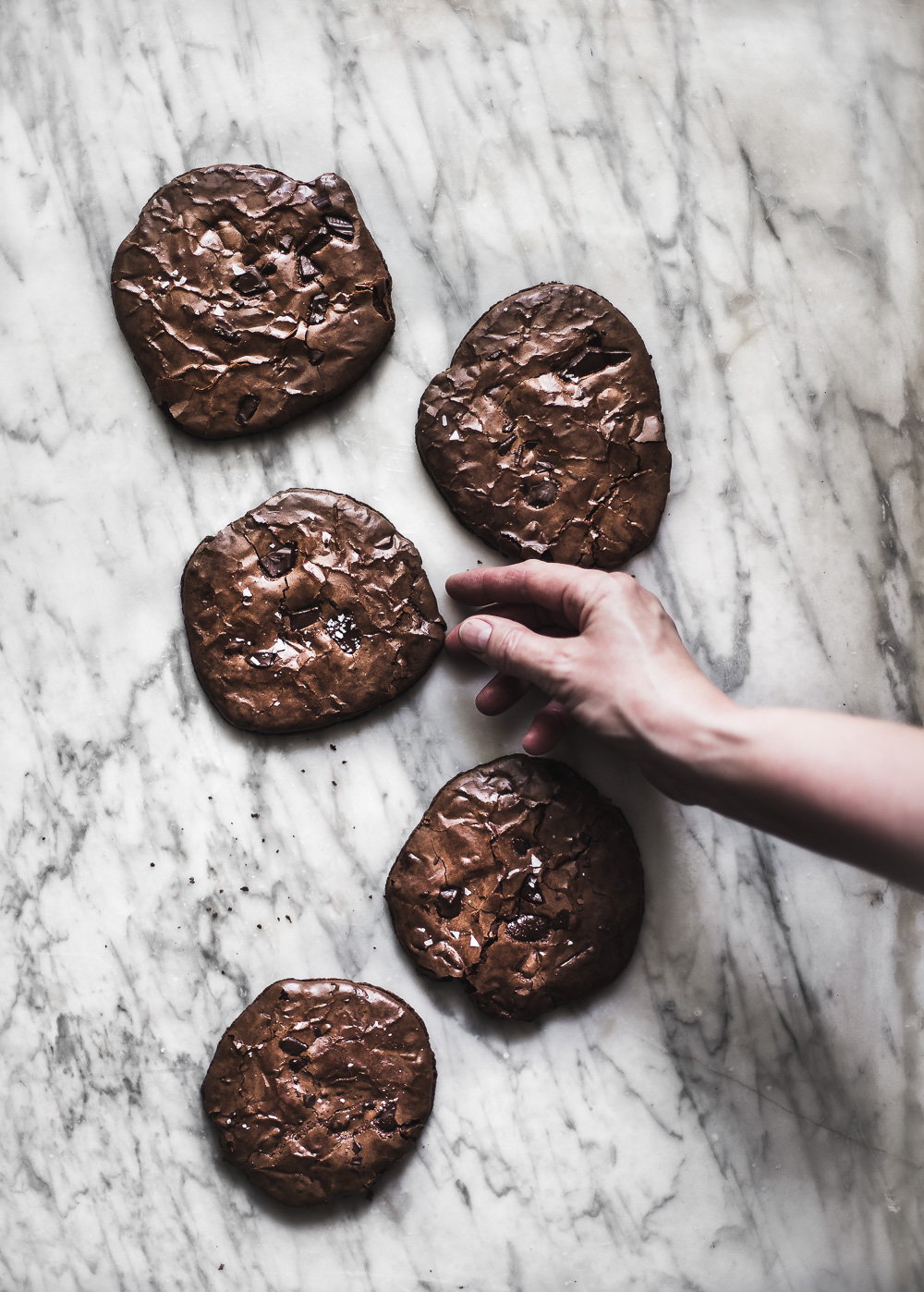 That's where this super sweet treat comes in. Sort of a symbol of letting go of the dogma and accepting real food for what it is. Ironically this recipe ended up gluten free but not by intention. I actually just liked the texture of the cookie without flour. It ended up much more chewy and exciting to eat. Either way, thank you all so much for taking the time to read this. Take a few minutes this week or weekend and bake some of these mind-blowingly easy to make gluten free brownie cookies! These really are throw-together cookies that likely contain ingredients that you already have lying around the house. Either way, thank you again for having me Bella. Hope to see you and everyone here again soon!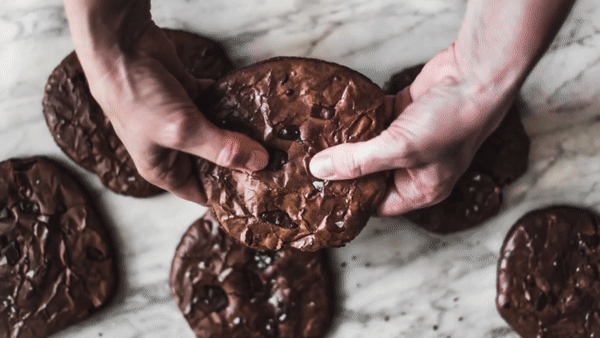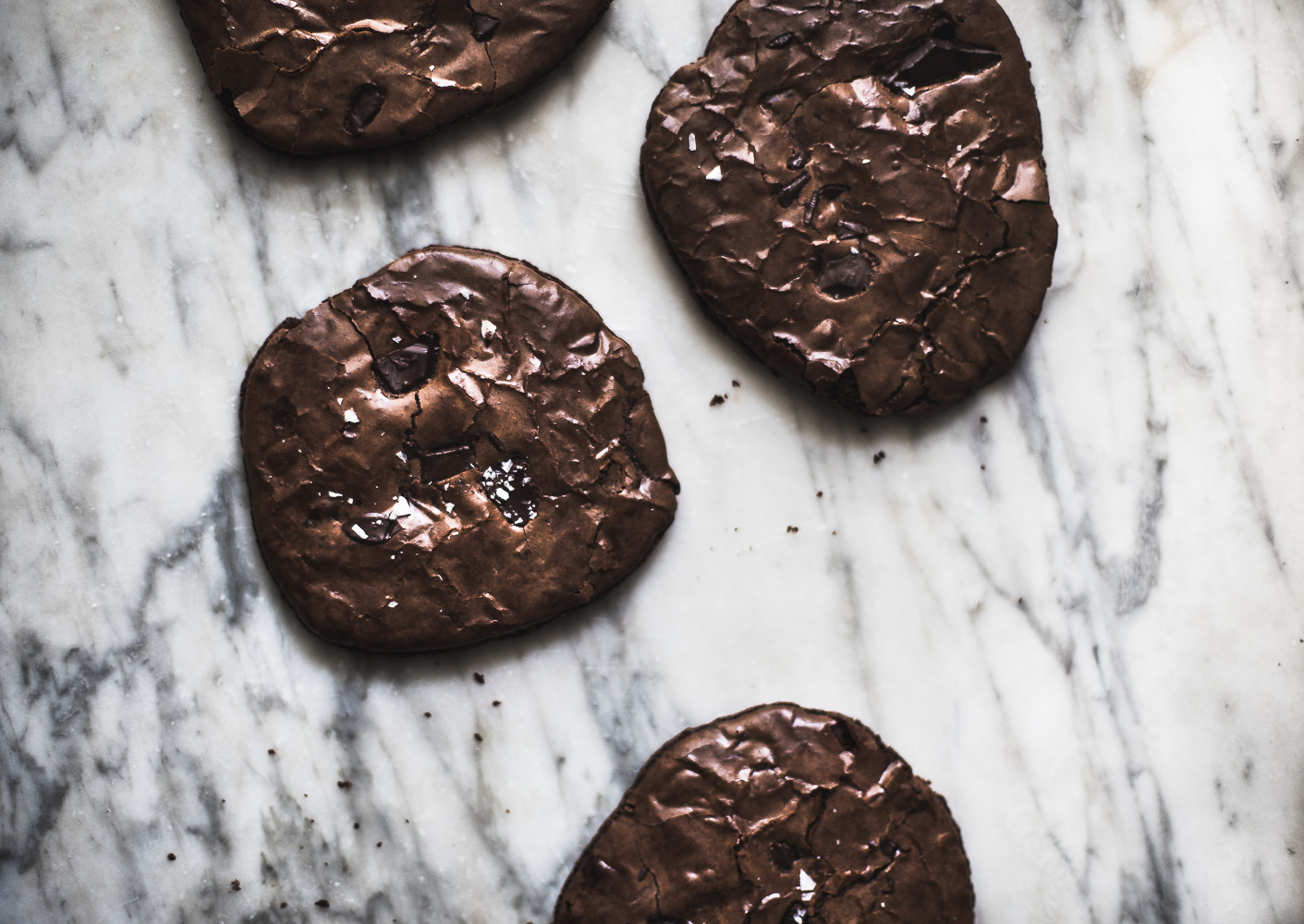 Thank you so much, Joshua, for sharing your story and these delectable gluten free brownie cookies! I think these are the perfect treat to make my dad for Father's Day (he is a total cookie monster!) To follow Joshua you can check him out at his site Slim Palate, on Facebook & on Instagram @joshuaweissman
Print
GLUTEN FREE BROWNIE COOKIES
---
Total Time:

20 minutes

Yield:

8

-

12

cookies

1

x
2 3/4

cup

(390g) powdered sugar (or substitute powdered maple sugar)

2

egg whites (2 egg whites weigh approx.

80g

)

1

whole egg (weighs approx.

60g

)

3/4

cup

(70g)cocoa powder or cacao powder

1 tablespoon

(

8g

) corn starch (or substitute

2 tsp

arrowroot starch)

1/2 teaspoon

salt

1 teaspoon

vanilla

4

oz

roughly chopped dark chocolate (70% or higher)
---
Instructions
Preheat your oven to 360 degrees F and line a baking sheet with parchment.
In a medium bowl add your powdered sugar, cocoa powder, corn starch, and salt. Whisk to combine.
Add in the egg whites and whole egg – whisk until thoroughly incorporated and no lumps remain.
Fold in the chopped chocolate (the dough should be a bit liquid in texture)
Scoop the cookie "dough" onto the parchment lined baking sheet or sheets giving them enough room to spread slightly
Bake for 12-14 minutes or until the tops of the cookies are shiny and are beginning to crackle.
Pull from the oven and let cool slightly until you can remove them without breaking them.(You can loosen them from the parchment if they stick by using a spatula to carefully loosen them from the paper)
Once they've cooled slightly, let them finish cooling on a wire rack until they are almost completely cooled.
Enjoy immediately and within a day of baking for best taste and texture.
Prep Time:

10 minutes

Cook Time:

12 minutes