Jump to recipe
I originally shared this winter squash au gratin recipe on Instagram last year. But it wasn't until the other day that I was reminded of it again. As I scrolled through my photo archives, all it took was seeing the images of this dish to remind me of just how delicious it is and that it belongs here on the blog.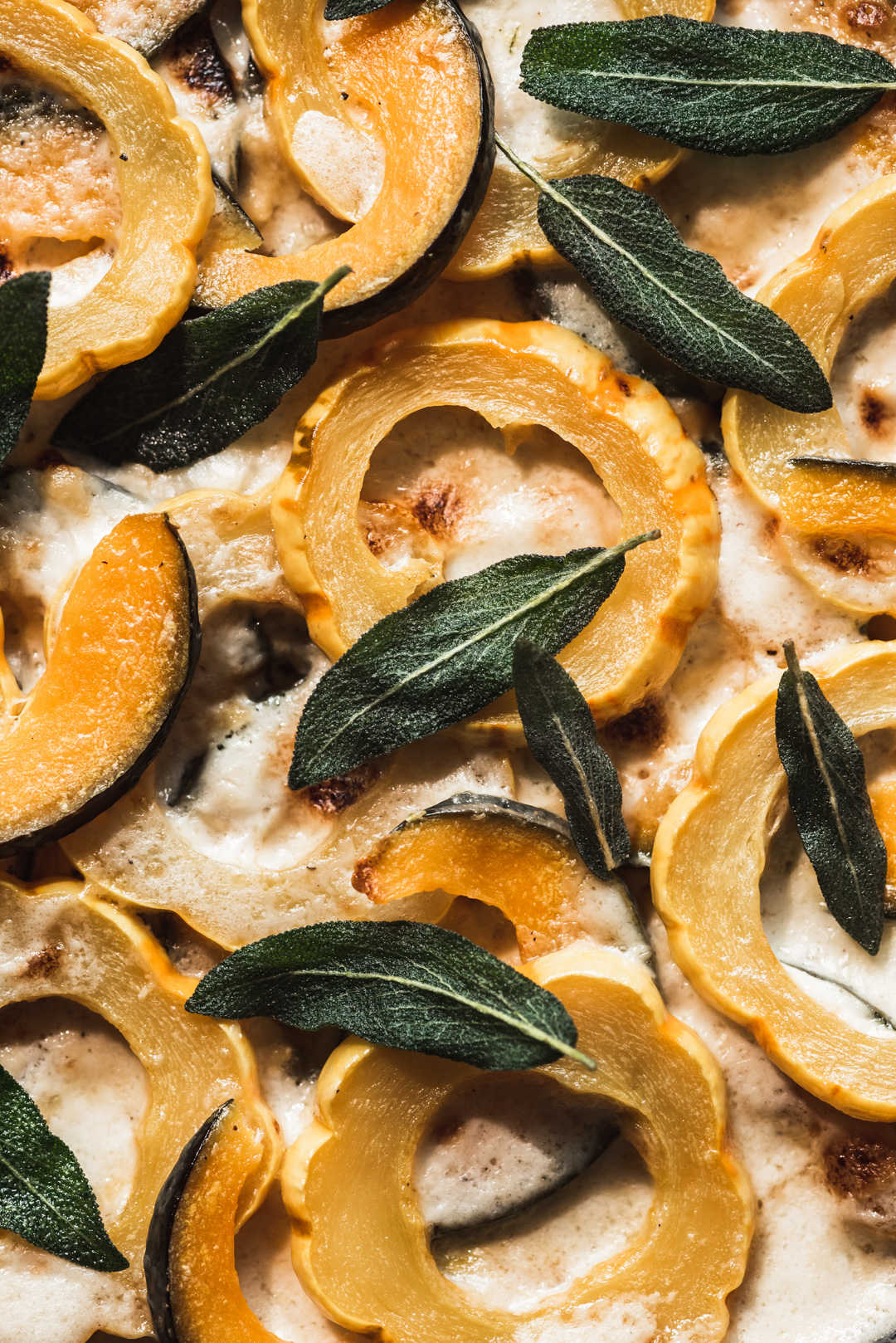 TIPS FOR MAKING WINTER SQUASH AU GRATIN
Firstly, CHOOSE SMALLER WINTER SQUASH. Smaller varieties are easier to work than large winter squash varieties. Butternut, delicata, baby blue hubbard, honeynut, and kabocha squash are some of our favorite small varieties.For this recipe, I use a combination of honeynut, kabocha & delicata squash, but feel free to use whatever varieties you can source.
Secondly, USE A FLAVORFUL CHEESE. The main ingredients of this recipe are winter squash & cheese. So, choosing the right cheese is integral to the recipe's outcome. Choose a rich, nutty cheese like Gouda or Gruyère to compliment the sweet, earthy flavor of the winter squash.
Finally, don't skip the CRISPY SAGE LEAVES. Traditional au gratin is usually topped with cheese and/or breadcrumbs. But, since the filling of this au gratin has lots of cheese, I opted for crispy sage leaves instead of bread crumbs. They add incredible flavor & texture, but they also allow the beauty of the squash to really shine.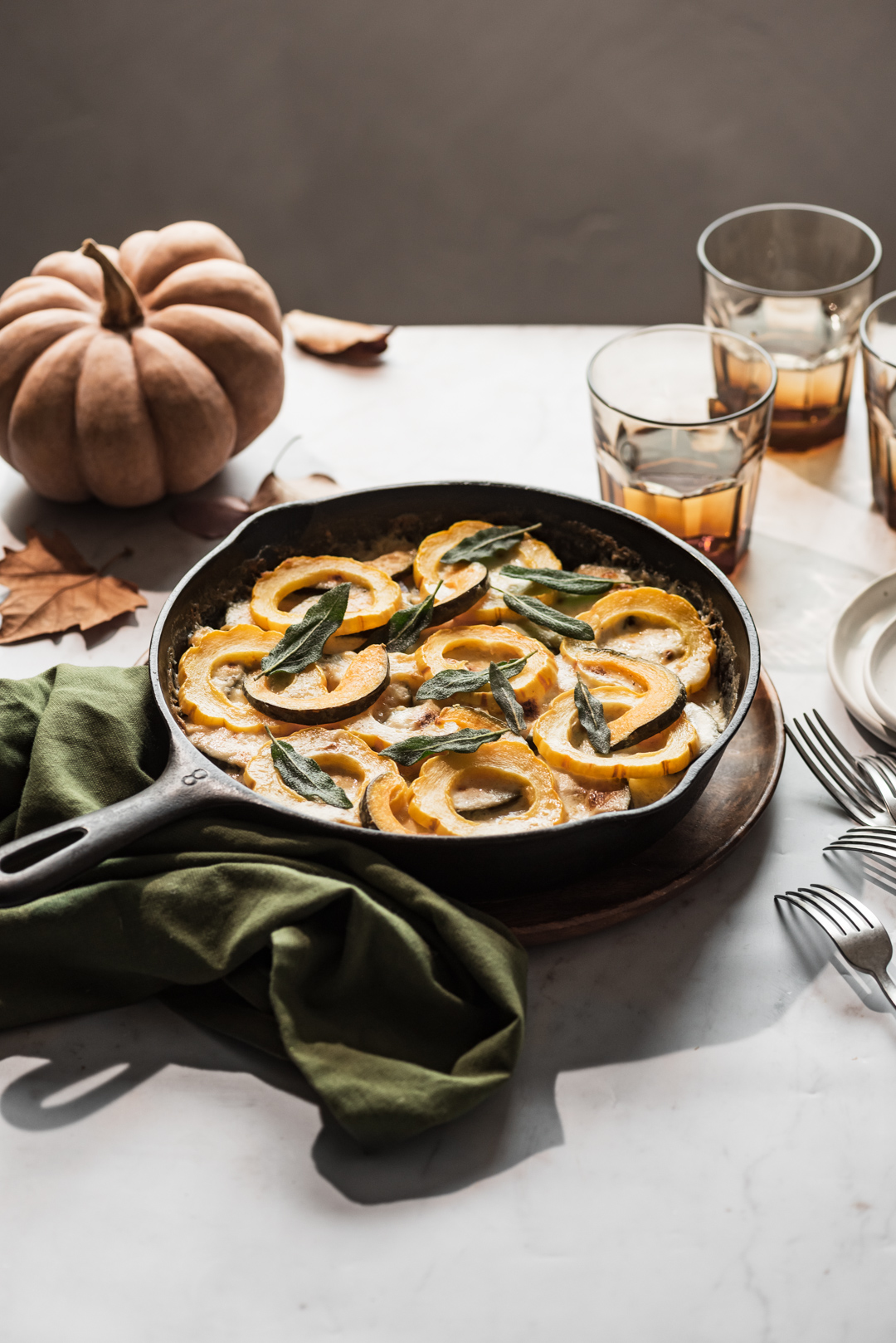 I ALMOST DIDN'T SHARE THIS RECIPE…
Not right now at least. And not because this winter squash au gratin isn't worth sharing, but just because I'm feeling sad. And I've cried a lot over the last few days. With Thanksgiving and the holiday season upon us I find myself feeling a deep nostalgia laced with sorrow. Images of people gathering with family are a painful reminder of the family we have lost. Many years ago, my husband and I chose to protect our peace over attending obligatory family gatherings. But this year, we lost the only close family that we had left. My husband's parents – the ones that we left our life in Greece behind for. And now we find ourselves painfully estranged from them both.
I share my feelings with you not for pity's sake or to summon condolences. But, rather, to normalize being sad. Because I believe that every emotion is worth sharing. For how can we know the sweetness of life without also knowing the pain of sadness? Life, after all, is like a set of scales slowly tipping back and forth between joy and sorrow. However, our modern world revolves around a relentless pursuit of happiness, excitement, and pleasure, in total protest to sorrow. But knowing true contentment is only possible when one fully embraces the entire human experience. Which includes feeling sadness, loneliness and despair. And since our culture hasn't normalized sharing these difficult emotions, most people don't know how to empathize with them.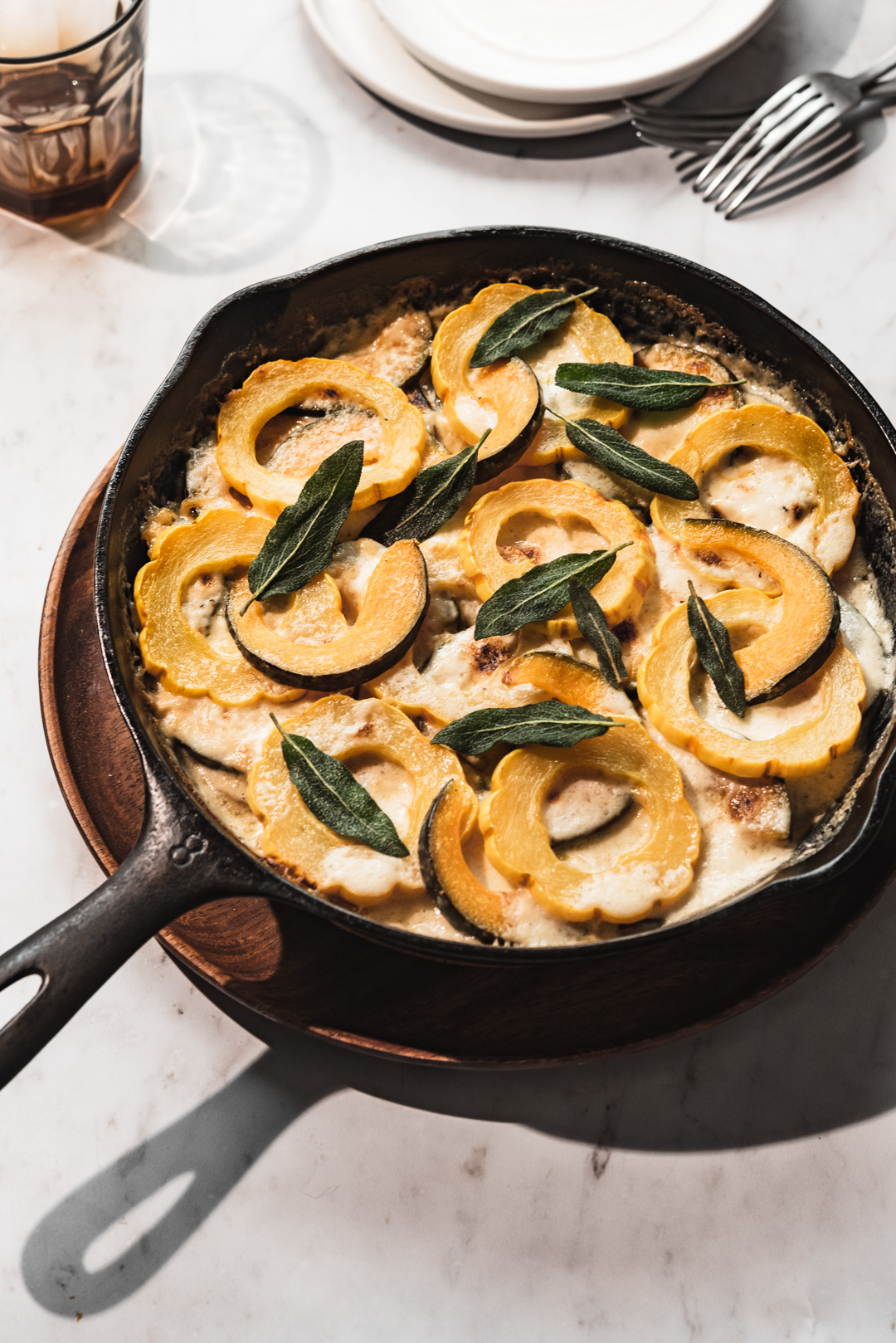 A RECIPE FOR EMPATHY
As a result, we aren't comfortable with embracing other people's suffering. So we respond to it with words of encouragement and hopeful proclamations of impending improvement. We may try to pass this off as helpful, but to the those suffering, it feels dismissive. An offering of positivity feels more like a shield against allowing someone else's darkness touch you. But empathy, in fact, is the complete opposite of this. Empathy is the ability to understand and share the feelings of another. And because abilities are earned, I choose to embrace sadness. For it is only in embracing it that I will earn the ability to know it, understand it, and share in it with another. That being said, I feel honored to finally share this winter squash au gratin recipe along with these words. In hopes that both will comfort anyone that stumbles upon this post.
WINTER SQUASH AU GRATIN
Total Time
1 hour, 20 minutes
Ingredients
2 cups heavy cream
2 tbsp all-purpose flour
2 tsp kosher salt
1/2 teaspoon black pepper
1 small butternut or honeynut squash (about 2 lb.) halved & seeded
1 small kabocha squash (1 lb.), halved & seeded
1 delicata squash (1 lb.)
6 ounces aged gouda or gruyère cheese, shredded (about 2 cups)
1/4 cup butter
8-10 fresh sage leaves
Instructions
Preheat oven to 375F.
Thinly slice all of the squash into 1/4 to 1/8-inch-thick slices using a mandoline or a large sharp knife.
Combine cream, flour, salt & pepper in a medium saucepan. Cook over medium heat, stirring often, until hot and slightly thickened, about 5 minutes (do not boil).
Layer about 1/2 of the squash in a lightly greased (with butter) 12-inch round baking dish. Top with 1/2 of the grated cheese followed by half of the cream sauce. Layer in the remaining squash (reserve a handful of squash for the top) and pour the remaining cream mixture evenly over squash. Arrange the last pieces of squash over the top of the cream.
Cover with foil and bake until bubbly, about 1 hour. Uncover, increase oven temperature to broil, and cook until top begins to brown, about 4 minutes. Remove from oven & let stand at room temperature for 10 minutes.
Meanwhile, heat butter in a small skillet over medium heat. Working in small batches, fry a few sage leaves until edges begin to curl and leaves just begin to brown. Transfer leaves to a plate lined with paper towels to drain and cool. Arrange sage leaves on top of gratin before serving.