Pickled red onions are a summer staple in our kitchen. Bright and zippy, they are the perfect addition to tacos, salads, sandwiches and so much more! Recently we tried cochinita tacos from a local Mexican restaurant that were topped with pickled red onions with habanero peppers. We absolutely loved the depth of flavor that the habanero peppers added. They were so good, I haven't been able to stop thinking about them! I made a huge batch and will be using them for the next couple of recipes that I will be sharing here on the blog. So its only fitting that I share how to make pickled red onion with habaneros first :)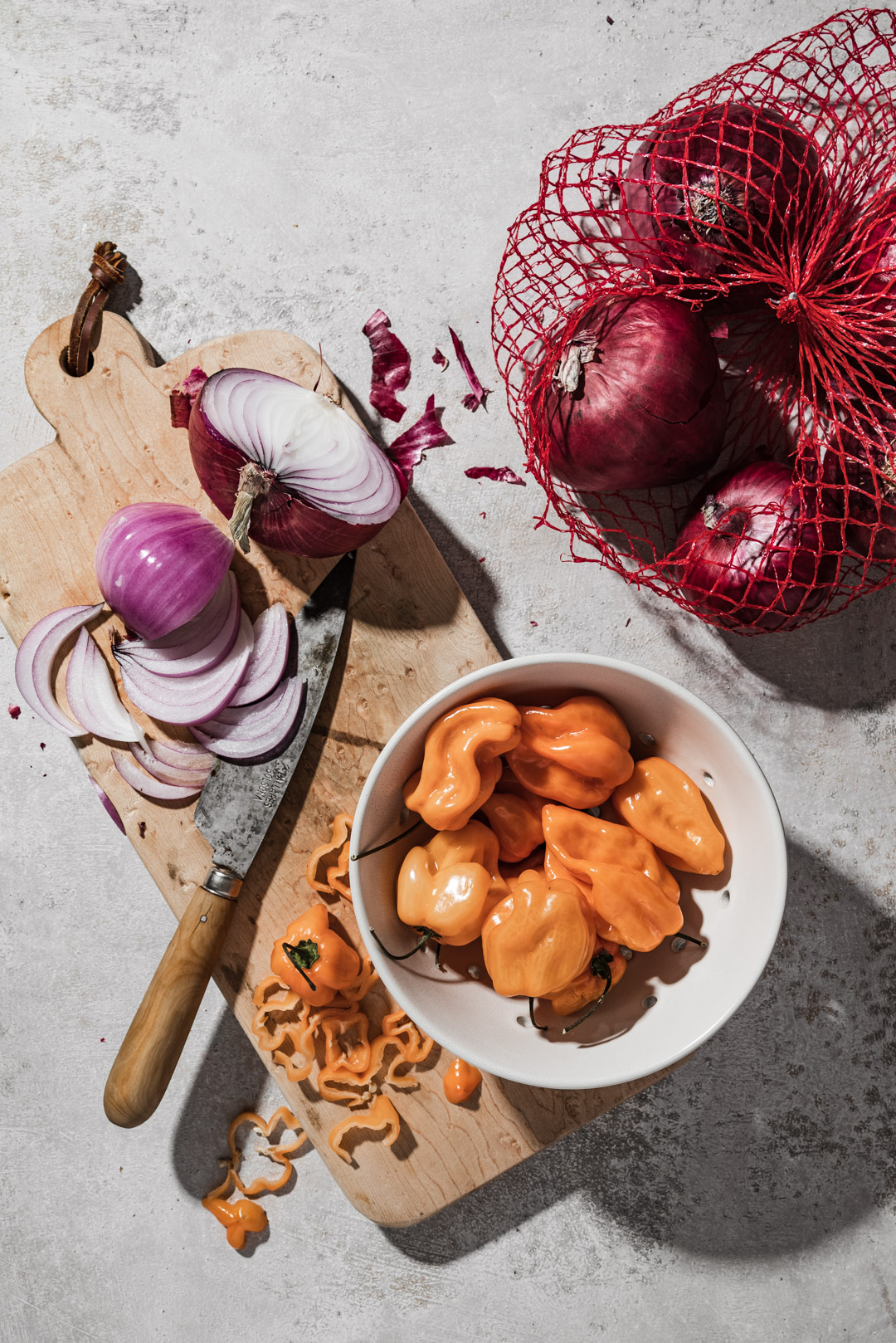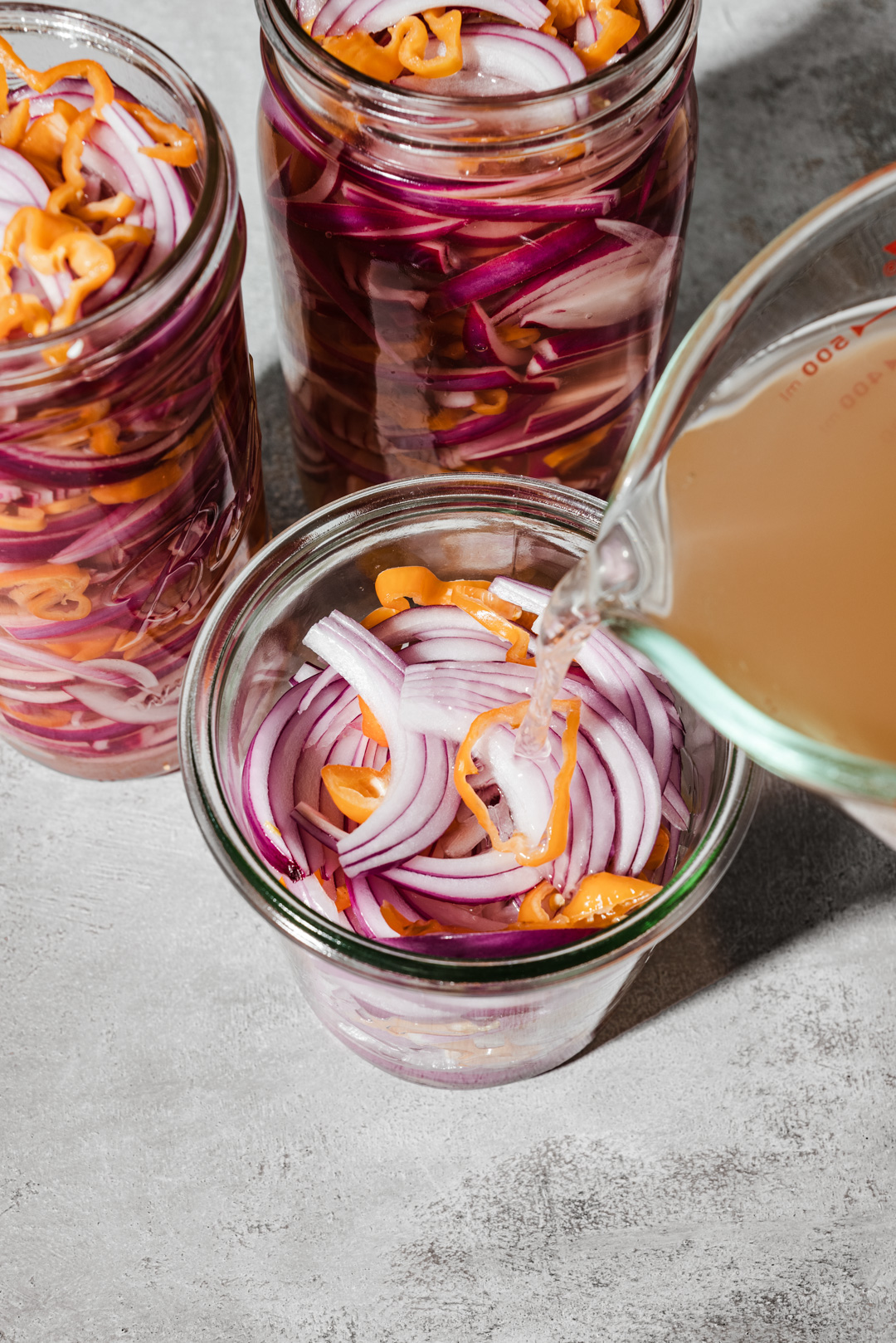 THE CRUNCHY CONDIMENT YOU NEED IN YOUR ARSENAL
If you can't handle spicy heat then adding habanero peppers may not be for you. But if you enjoy heat you will love everything that habaneros add to this lively condiment! Crunchy, fruity, floral, and bursting with pungency, habanero peppers pair so well with pickled red onions. Their apricot orange color also blends in beautifully with the pinkish purple hue of red onions. I like to remove the seeds to calm down the forward, aggressive heat of habaneros. I also find that slightly increasing the amount of sweetener in my basic quick pickling liquid helps mellow the heat.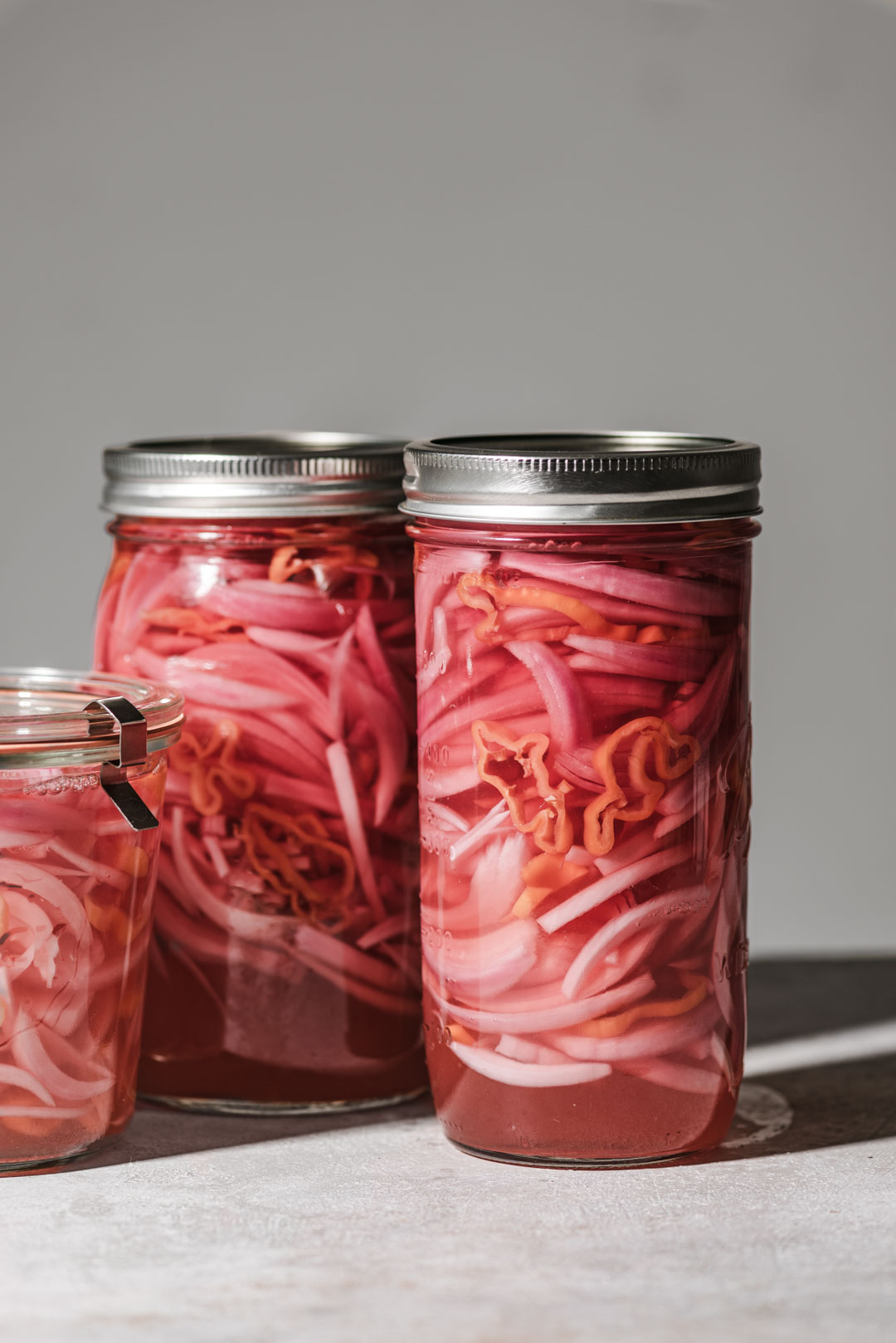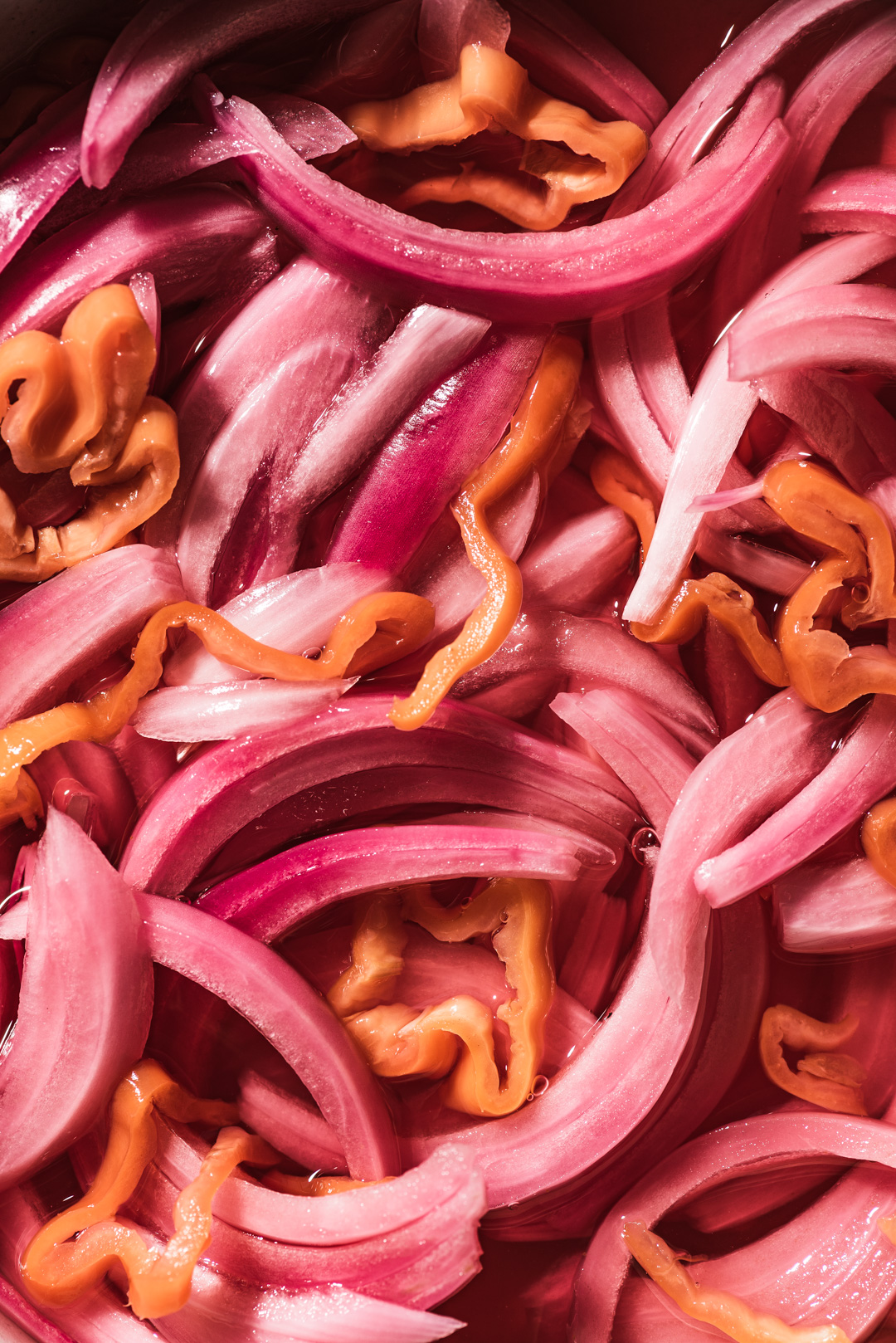 Whether you choose to add habanero peppers or not, you seriously need pickled red onions in your life! They add bright flavor, gorgeous color and crunchy texture to whatever you eat them with. If habaneros are too hot for you, try substituting with a tamer pepper like Fresno chili or red jalapeño. I love making big batches because we like the way they taste the longer that they sit in the fridge. They keep incredibly well if you don't eat them quickly (we had a jar keep 12 months with no issues).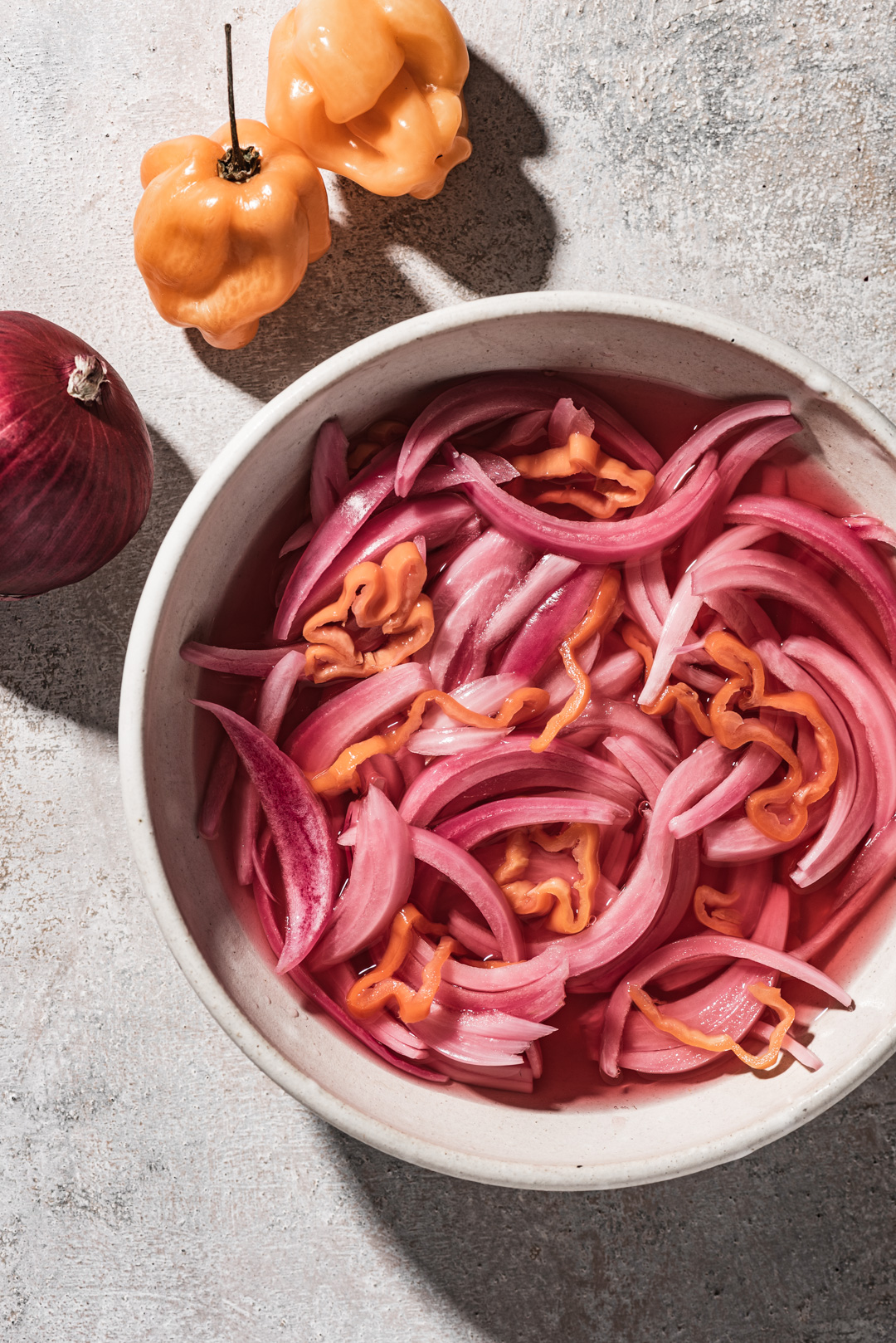 MORE WAYS TO ENJOY PICKLED RED ONIONS: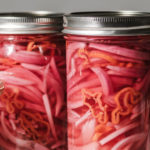 PICKLED RED ONIONS WITH HABANERO PEPPERS
---
Total Time:

15 minutes

Yield:

16

1

x
2

medium-large sized red onions, sliced thin (about 1/4" thick)

1

habanero pepper, de-seeded and sliced thin (about 1/8" thick)

1

cup

water

1/3

cup

sugar (if you are omitting the peppers cut the sugar back to 1/4 cup)

1 tbsp

salt

1

cup

vinegar (apple cider vinegar or white vinegar work well
---
Instructions
Fill a clean 32 oz. glass jar with a handful of sliced red onions and then add a bit of sliced habaneros. Continue layering until the jar is almost full.
Heat water, sugar & salt in a pot, stirring until salt & sugar are dissolved.
Once sugar is dissolved, remove pot from heat and add in the vinegar.
Pour the brine over the prepared onions & peppers, leaving about 1/2" headspace at the top of the jar. Seal with a lid and allow the jar to cool down to room temperature before storing it in the refrigerator.
It's best to wait 24 hours before eating, this will allow all of the flavors to fully develop. But if you want a quicker pickle, wait at least 4 hours.
Prep Time:

10 minutes

Cook Time:

5 minutes