Pascha ( Πάσχα ) is the most revered holy day in the Greek culture. The preparations and customs that take place leading up to Pascha, including traditional foods and large feasts, are an important part of modern Greek life. The remembrance and celebration of Christ's life & death span over a week-long period called Megali Evdomada ( Μεγάλη Εβδομάδα) or Holy Week. There are many traditions and preparations that take place during this week, but there is one day that we especially look forward to, Holy Thursday, which is the day that we get to make Tsoureki – Greek Pascha Bread.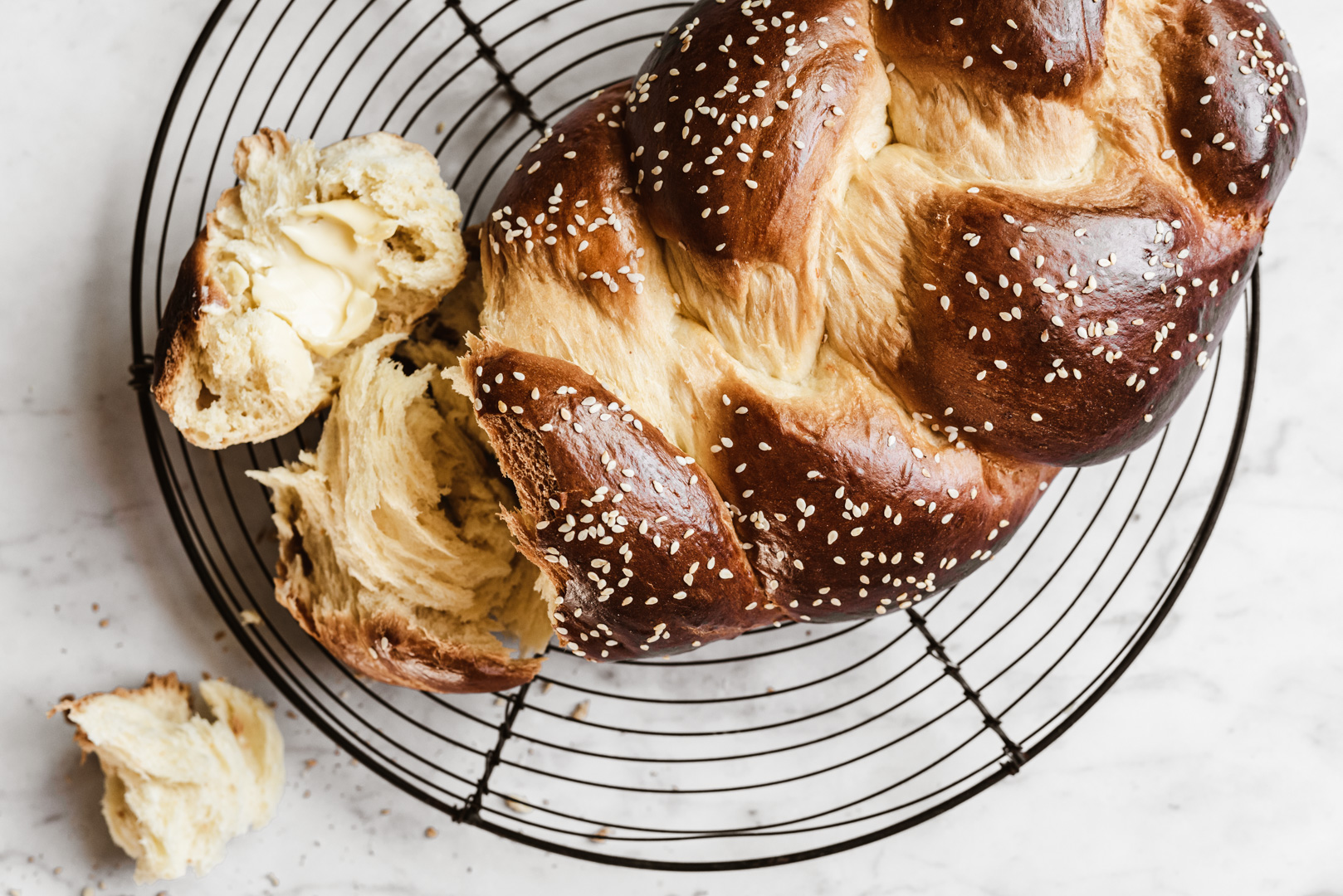 Tsoureki ( pronounced: tsou-REH-key ) is the food we look most forward to making every year for Pascha. Tsoureki is a sweet braided loaf of bread that is infused with some of our most beloved Greek flavors: mastiha, mahlepi & orange. The aroma of tsoureki baking in the oven is one of the greatest smells on earth!
If you have followed along here on ful-filled for some time, then you know that I have a recipe for gluten-free tsoureki here on the blog. Although my hubby and I do not have gluten issues, I have done a lot of gluten-free baking over the years and wanted people with gluten intolerances to be able to experience our most treasured Greek bread recipe. As Pascha approached this year, I knew that it was time for me to finally share our recipe for traditional tsoureki! And I could not be more excited for you to experience this incredible Greek Pascha bread!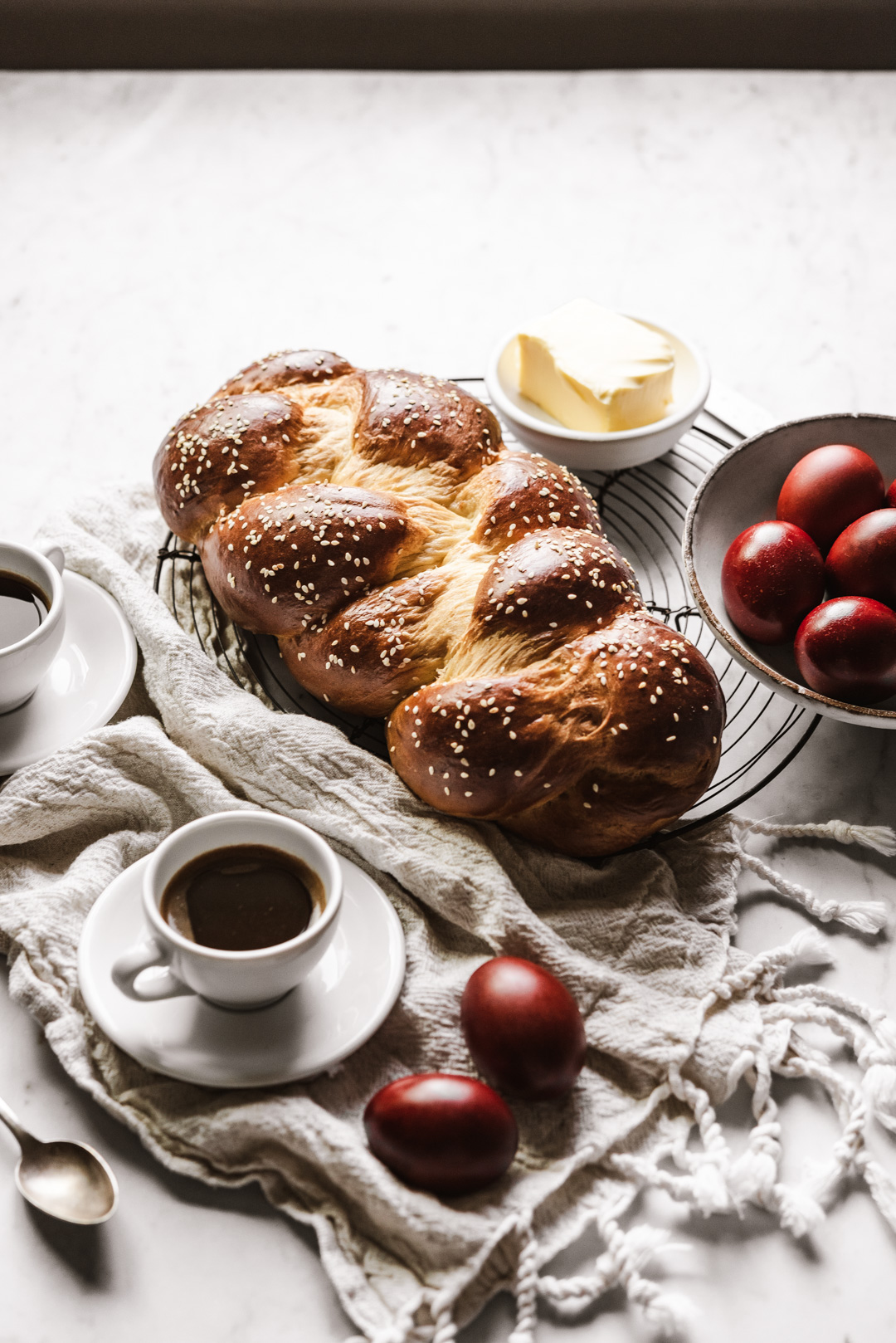 what makes tsoureki so special:
Tsoureki – Greek Pascha bread is very similar to other sweet braided breads, but there are three elements that define tsoureki – Greek Pascha bread:
MASTIHA: (a.k.a. mastic) is the resin that comes from the Pistacia Lentiscus tree, which is grown on the Greek island of Chios in the Northern Aegean sea. The flavor of mastiha is hard to pinpoint, most would describe it as a combination of pine and vanilla, with maybe a touch of fennel or anise. Mastiha is subtle but adds an unexpected complexity to whatever you use it with.
MAHLEPI: (a.k.a. mahlab) is the aromatic spice that comes from the kernel of the black or mahaleb cherry (Prunus mahaleb). The kernels have to be ground or boiled in order to extract the most flavor. The flavor of mahlepi is a combination of cherry, rose, and almond – with a hint of vanilla and something quite floral.
ORANGE ZEST & JUICE: orange is probably the most prominent flavor used in Greek baking. For tsoureki, we like to incorporate both orange zest and juice, but not too much, just enough for it to gently fragrance the loaf.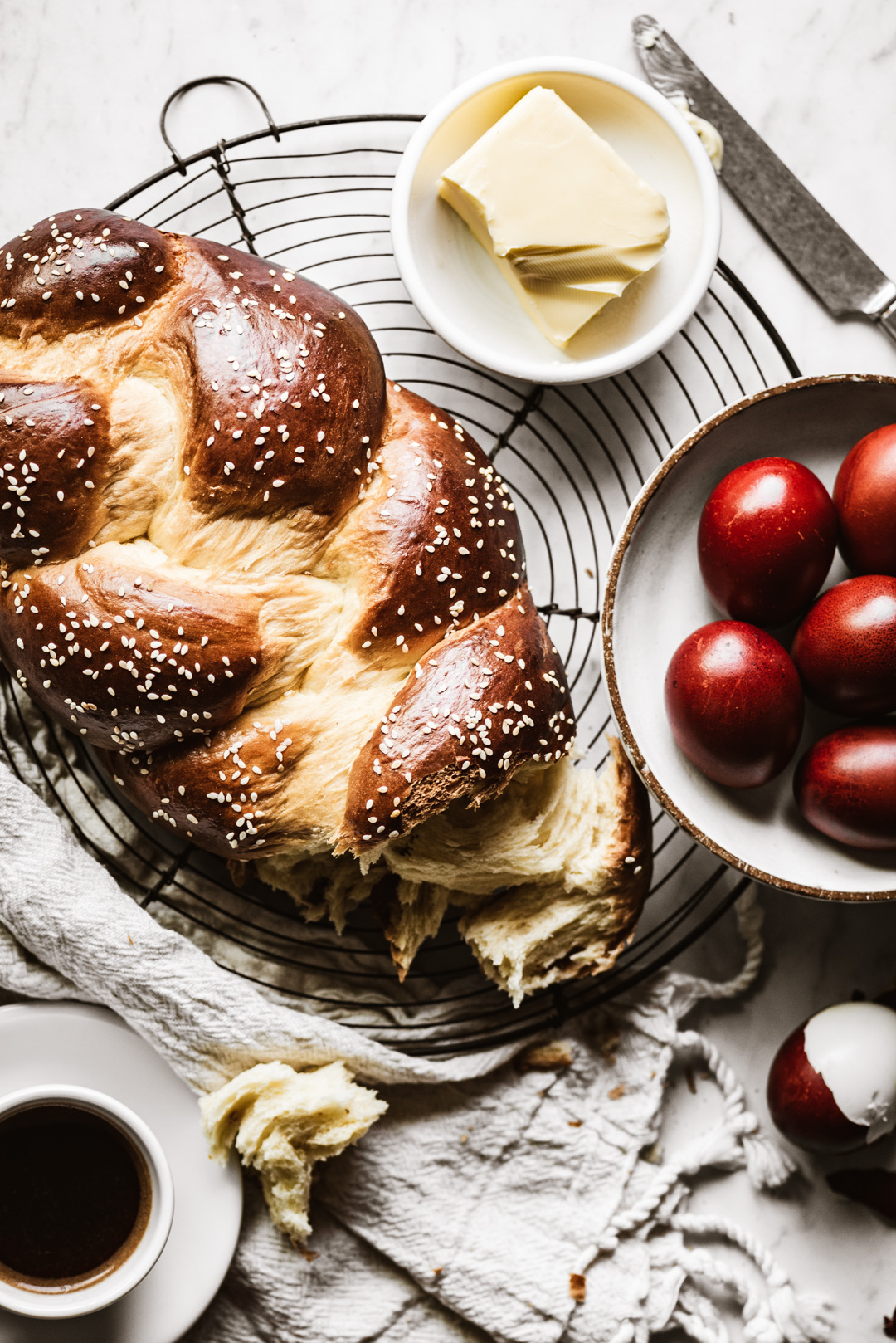 Another reason that tsoureki is so special and greatly anticipated is due to the fact that most Greeks have been fasting from dairy & animal products for 46 days of Lent preceding Pascha. So this sweet braided bread is especially treasured after fasting! We also prepare red-dyed eggs on Holy Thursday, which will be enjoyed with tsoureki on Pascha (you can see a tutorial of how I make them HERE). Their deep red color symbolizes the blood of Christ. We crack these dyed eggs together on Pascha in the traditional game of 'tsougrisma.' Cracking the eggs symbolizes Christ's resurrection from the dead and as we play we say "Xristos Anesti!" (Christ is Risen!)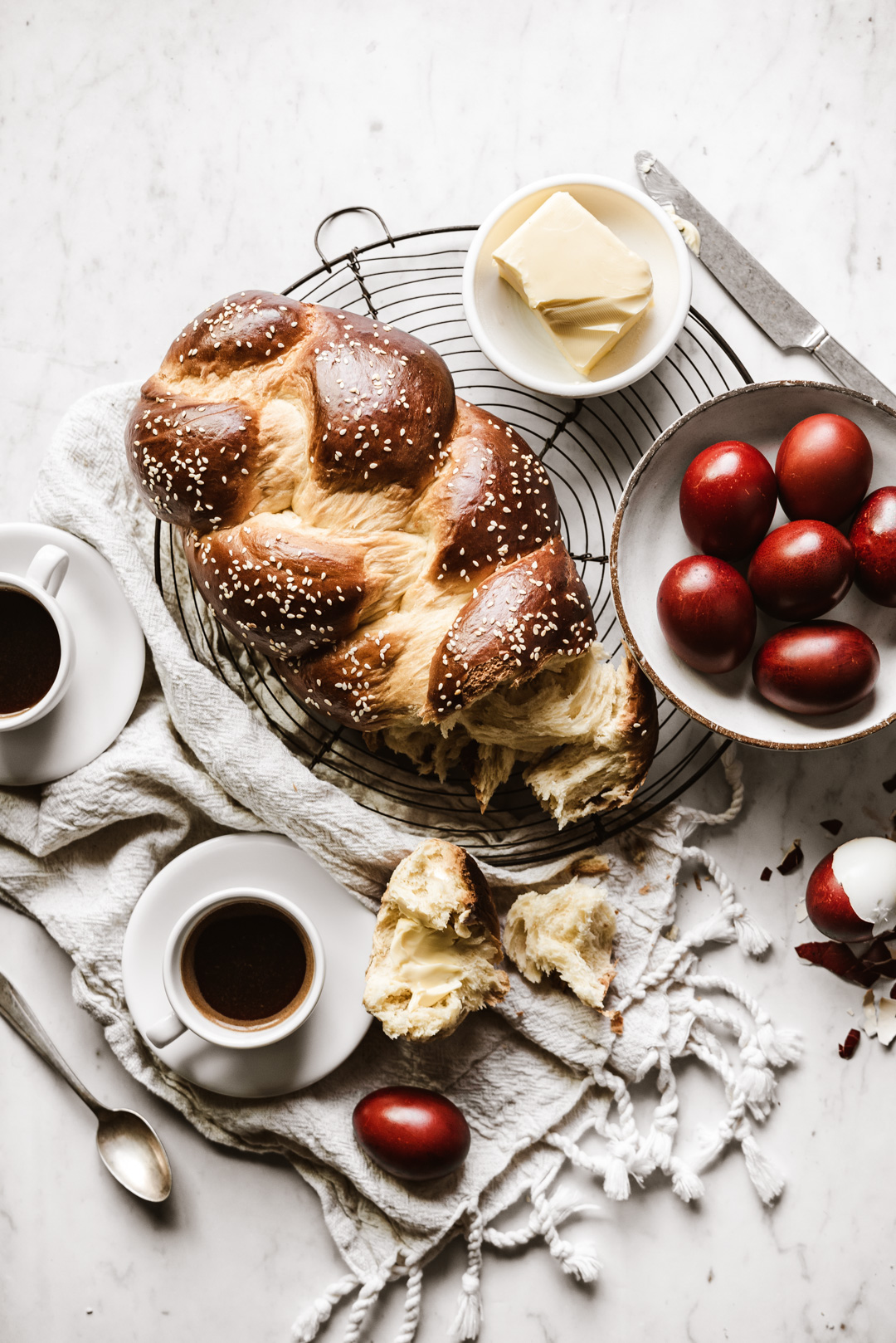 As I write about these traditions and what they mean to us, I cannot help but become emotional. Pascha is a very sacred holy remembrance in the Greek culture and especially so in Greece. When my hubby and I moved to Greece back in 2018, our first day there was Μεγαλή Παρασκευή (Good Friday). The whole country is in a state of mourning, remembering Christ's death – flags are at half-mast and church bells solemnly ring throughout the day. It is a deeply emotional day that was really incredible to experience upon arriving in our new homeland.
Tsoureki – Greek Pascha bread is a recipe that I truly hope you experience at some point in your life. And it can be enjoyed at any time of year, not just during Pascha.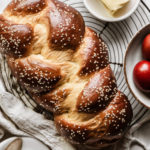 TSOUREKI – GREEK PASCHA BREAD
---
Total Time:

4 hours 35 minutes

Yield:

3

loaves

1

x
FOR THE FLOUR ROUX:
25g

(

3 tbsp

) bread flour

100g

(

7 tbsp

) milk
FOR THE YEAST MIXTURE:
100g

(

7 tbsp

) warm milk

100g

(

7 tbsp

) warm water

9g

(

3 tsp

) active dry yeast (instant will work too)

12g

(

1 tbsp

) sugar

100g

(

7/8 cup

) bread flour
FOR THE DOUGH:
3g

mastiha tears + 12g (

1 tbsp

) sugar
yeast mixture
flour roux

3

eggs

300g

(

1 1/2 cups

) sugar

5g

(

2 tsp

) mahlepi
zest of

one

orange (about

1 tbsp

)

100g

(

4 oz

) orange juice

114g

(

4 oz

) melted butter, cooled

1 tsp

kosher salt

875g

(

7 cups

) bread flour

1/4 cup

flour for dusting hands & surface
egg wash: 1 egg beaten with a splash of milk

2 tbsp

sesame seeds for garnish
---
Instructions
FOR THE FLOUR ROUX:
Add flour and milk to a saucepan set over medium-high heat. Cook the mixture, whisking constantly until it starts to thicken. Once the mixture is a thick slurry, remove pan from heat and scoop roux into a small dish. Cover with plastic wrap to prevent a skin from forming and set aside to cool.
FOR THE YEAST MIXTURE:
Add warm milk & water to a large bowl, whisk in the yeast, followed by the sugar & bread flour. Once mixture is relatively smooth, cover with a damp kitchen cloth and leave to rest in a warm place for 45 minutes.
FOR THE DOUGH:
Once the yeast mixture is done resting, prepare your other ingredients. Add 1 tbsp sugar + 3g mastiha tears to a small mortar and pestle and grind until mastiha is as fine as the sugar.
In a medium sized bowl, whisk 300g of sugar with 3 eggs until fluffy, about 2 minutes.
To your large bowl with the yeast mixture, add the flour roux, whisked eggs & sugar, mastiha sugar, mahlepi, orange zest, orange juice & melted butter. Whisk until well combined.
Slowly add the flour to the bowl, about 2 cups at a time, whisking between each addition. When the mixture, after 4 cups of flour has been whisked in, remove the whisk, add the remaining flour and start to mix by hand.
Once all of the flour is well incorporated, dust your surface with flour, remove the dough from the bowl and begin kneading with floured hands. The dough will seem sticky at first, but resist the urge to add more flour.
After 15 minutes of kneading, the dough will feel nice and smooth.
Place dough back in the bowl, cover with a damp kitchen towel and leave in a warm place to rise until doubled – it should take about 2 hours.
Once the dough is doubled, punch it down and divide it into three evenly sized pieces (you can use a kitchen scale to ensure your pieces are all the same weight).
Cover & reserve two of the portions. Divide the remaining portion into three evenly sized pieces and begin to shape into roughly 14″ long ropes. Bring the three rope ends together and pinch to seal. Braid the loaf by gently wrapping alternating ropes over the middle rope until you reach the other end. Press, fold & tuck the rope ends under each end of the loaf. Move to a parchment lined baking sheet and loosely cover with plastic wrap or a damp kitchen towel. Repeat the above process with the reserved dough portions.
Leave your braided loaves to rise in a warm place until doubled, about 1 hour. Pre-heat your to oven to 350°F 30 minutes into your loaves rise time.
Once your loaves have risen, brush them with egg wash & sprinkle with sesame seeds. Bake in the center of the oven for 35-40 minutes (alternating baking sheets half way through). The loaves should be nicely browned and golden on top.
Place finished loaves on a rack to cool before eating. Enjoy with softened salted butter, hard boiled eggs & coffee :)
Notes
While I have shared instructions for mixing this dough by hand, if you have a stand mixer you can simply use your stand mixer bowl for whisking the eggs and sugar. Then move forward with the rest of the instructions but using your stand mixer to mix and knead.
Prep Time:

4 hours

Cook Time:

35 minutes

Category:

Bread

Cuisine:

Greek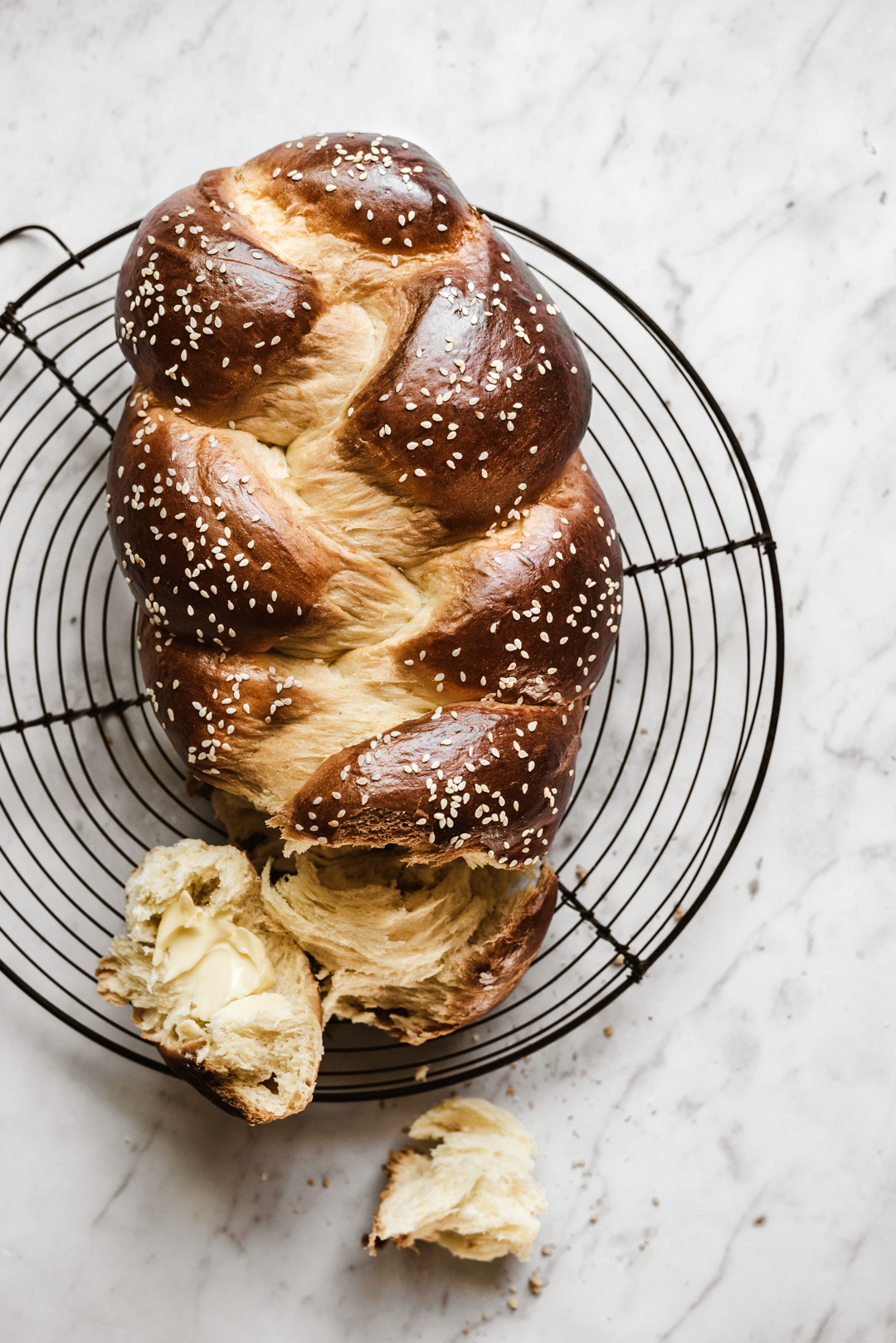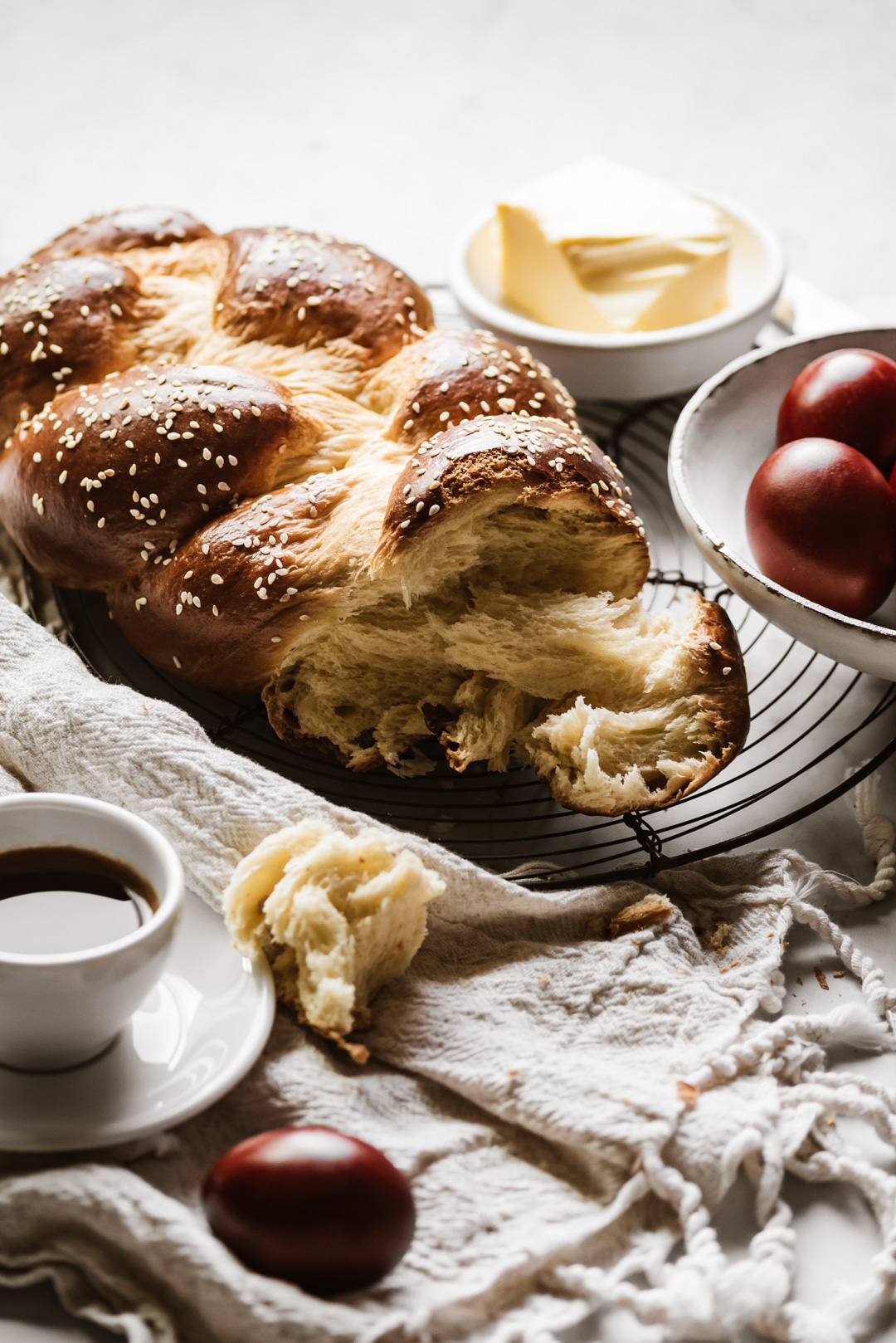 more Greek Pascha recipes: