If you have never heard of the spice blend called hawaij, then allow me to introduce you to this intriguing spice blend that originates from Yemen. Until last summer, I had never tasted hawaij, which means I was completely oblivious to the greatness of this spice blend. But as soon as I experienced it for the first time, I immediately fell in love and started contemplating all of the ways I could use hawaij in the kitchen. One of the very first recipe ideas that I came up with was this hawaij spiced chicken pot pie and I am finally getting to share the recipe with all of you!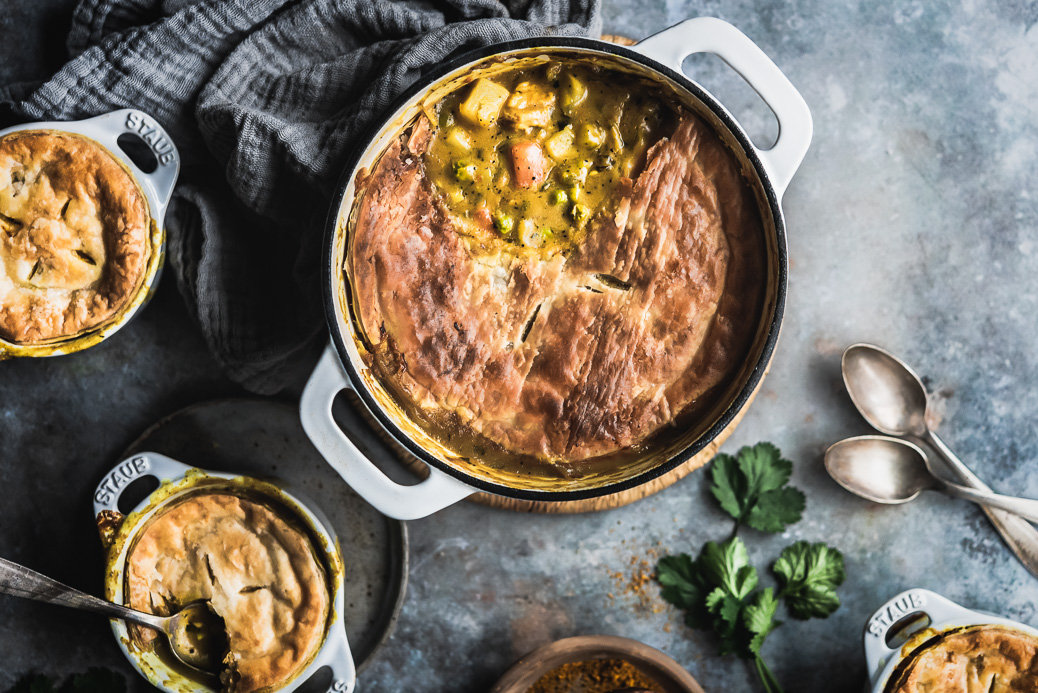 HAWAIJ: a Yemeni spice blend that you will grab for again & again
You know how you come across recipes on the internet that proclaim that they are "the best", "the greatest", "life-changing", etc. (I am not immune to using those terms myself), well, if I am simply being honest about how this recipe should be described then all of those descriptions truly apply. 
Hawaij is an earthy blend of turmeric, cumin, black peppercorn, cardamom, and other spices that really comes to life in slow-simmered dishes. I was introduced to this incredible ingredient by my friends at New York Shuk and ever since I first tasted hawaij, it has become a staple spice blend in our kitchen. As I learned more and more about origins and applications of this unique spice blend and how it is commonly used to flavor chicken soup in Yemen, I imagined just how incredible it would taste in a chicken pot pie – and boy, was I right.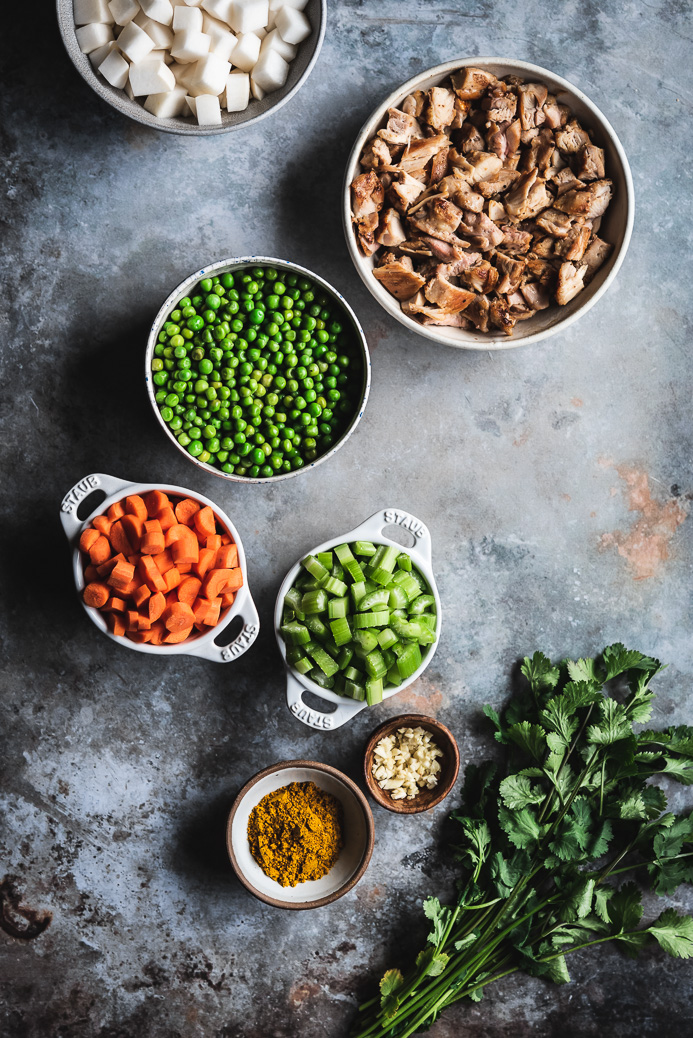 Pot pies are probably one of my very favorite foods. They have all of the comforts of soup concentrated into a creamy filling that gets topped off with a flaky blanket of pastry – pot pies are the coziest of foods. And if you didn't think you could enjoy pot pie any more than you already do, flavoring the filling with hawaij is next level amazing. So much so, that now that we have tried pot pie with hawaij, I don't think I can ever go back to making them without it!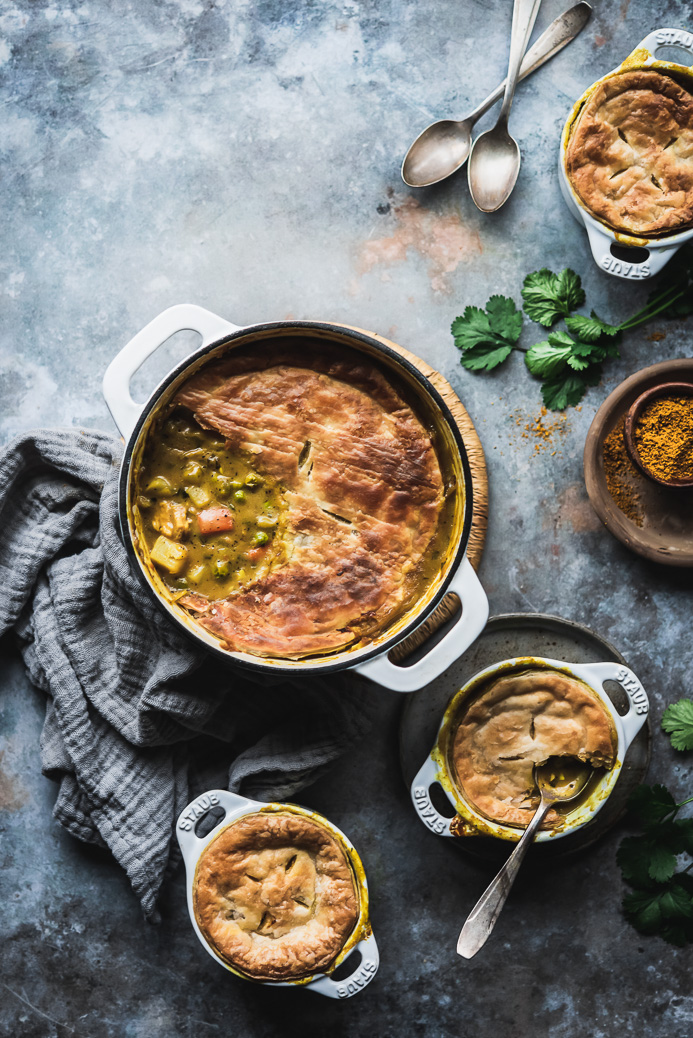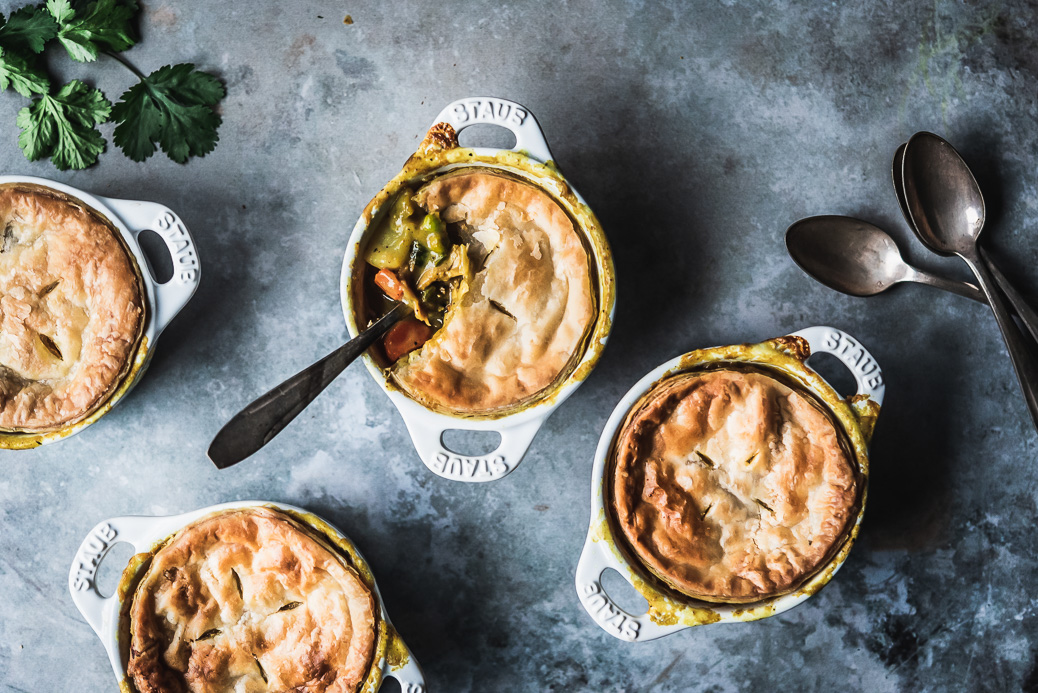 The filling for this recipe is super adaptable. I used pasture-raised chicken thighs, but you could easily substitute a vegan chicken alternative (we like Beyond Meat) or even mushrooms for a plant-based pot pie. One thing I don't recommend substituting are the turnips because they are SO much better than potatoes in a pot pie and they get tender much quicker. To keep things simple, I used store-bought puff pastry to top off our pot pies. But you could substitute pie crust or even make this recipe into double-crusted pot pies, whatever your heart desires ;)
I wish there was a way for you to taste this hawaij spiced chicken pot pie while you were reading this – it really is SO incredible! I source my hawaij from New York Shuk (not sponsored – just love their blend) but I have also included a basic guide in the recipe notes on how to make your own hawaij if you want to try it. And as always, if you make one of my recipes, I would love to hear what you think in the comments (it literally makes my day to hear from you guys!)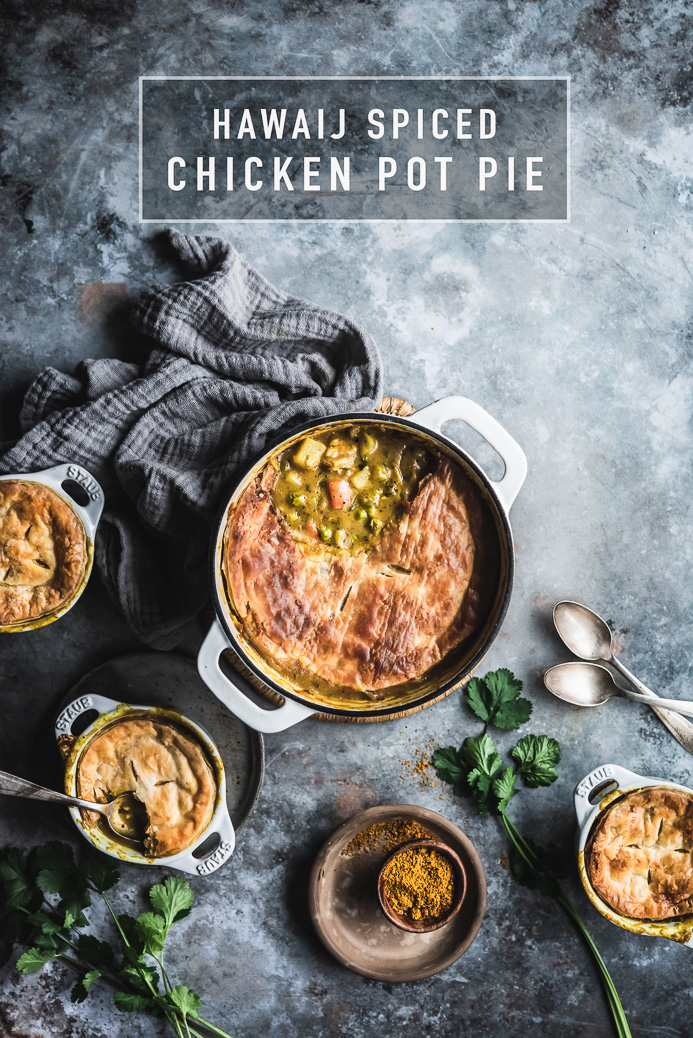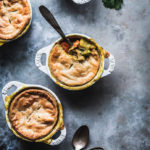 HAWAIJ SPICED CHICKEN POT PIE
---
Total Time:

1 hour 30 minutes

Yield:

6

servings

1

x
4

cups

cooked cubed chicken or vegan alternative (from about 4 boneless thighs or 3 boneless breasts)

2

cups

diced yellow onion (1 large onion)

1

cup

peeled & diced carrot (about 3 medium sized carrots)

1

cup

diced celery (about 3 stalks)

3

cloves of garlic, minced

2

cups

peeled & diced turnip (1 large turnip)

2

cups

(10 oz.) frozen peas

1/2

cup

minced cilantro

1

stick (8tbsp) butter (or substitute plant based butter)

2/3

cup

flour

5

cups

chicken or vegetable stock

1/4

cup

cream (substitute coconut cream or cashew cream for plant based option)

3 tbsp

hawaij spice *see note to make your own

1 tbsp

salt + more to taste
frozen puff pastry sheets (thawed per package instructions) *Pepperidge Farm makes a vegan friendly frozen puff pastry

2 tbsp

butter, melted – for brushing puff pastry
---
Instructions
Melt the butter in a large pot or dutch oven, add the diced onion and cook over medium high heat until onion begins to soften, about 5 minutes. Add the diced celery & carrot and continue to cook for another 10 minutes until onion is translucent.
Add the minced garlic and the hawaij spice to the pot and cook for 1 minute, stirring to combine. Next add in the flour and cook over low heat, stirring constantly for 2 minutes.
Pre-heat your oven to 400f degrees
Add the stock and the diced turnips to the pot and simmer over medium heat for about 10 minutes stirring every couple of minutes, until sauce is thick and turnips have started to soften.
Add the salt, cubed chicken, peas, and minced cilantro, stirring to combine.
Finally, stir in the juice of 1/2 a lemon and taste for seasoning. Finish the filling by adding in the cream and stirring until well combined.
Divide the pot pie filling into your baking vessels (I used mini cocottes and a small dutch oven). You want to fill your vessel about 3/4 of the way, to leave enough room for the filling to bubble while the puff pastry bakes. Cut your puff pastry to fit over the top of your vessels, making sure to add some slits to the pastry to allow venting while the pot pies bake.
Place your finished pot pies on a baking sheet, brush the tops of the pastry with a bit of melted butter and bake for about 30-35 minutes until pastry is puffed and nicely browned.
Allow pot pies to cool for about 10-15 minutes before serving
Notes
Check out this link if you want to make your own hawaij spice blend: https://toriavey.com/toris-kitchen/hawayej-spice-blend/
Prep Time:

20 minutes

Cook Time:

1 hour 10 minutes

Category:

Dinner