Ever since I perfected my shortcake recipe, I have been really wanting to make them again. Although strawberries are the typical choice they are unfortunately long out of season here in Greece, but our shortcakes are so good we would eat them with any fruit to be completely honest! While cherries were in season I thought about going that route, however, I waited a bit too long and cherries were out of season before I knew it. Then along came our neighbor Dina with a basket full of freshly harvested plums from their orchards. I spent a lot of time thinking about what I could do with this beautiful harvest. While I absolutely love plum cakes and tarts, I wanted to do something different. It did not take too much thought before I remembered our shortcakes and that memory soon evolved into making this roasted plum sheet pan shortcake.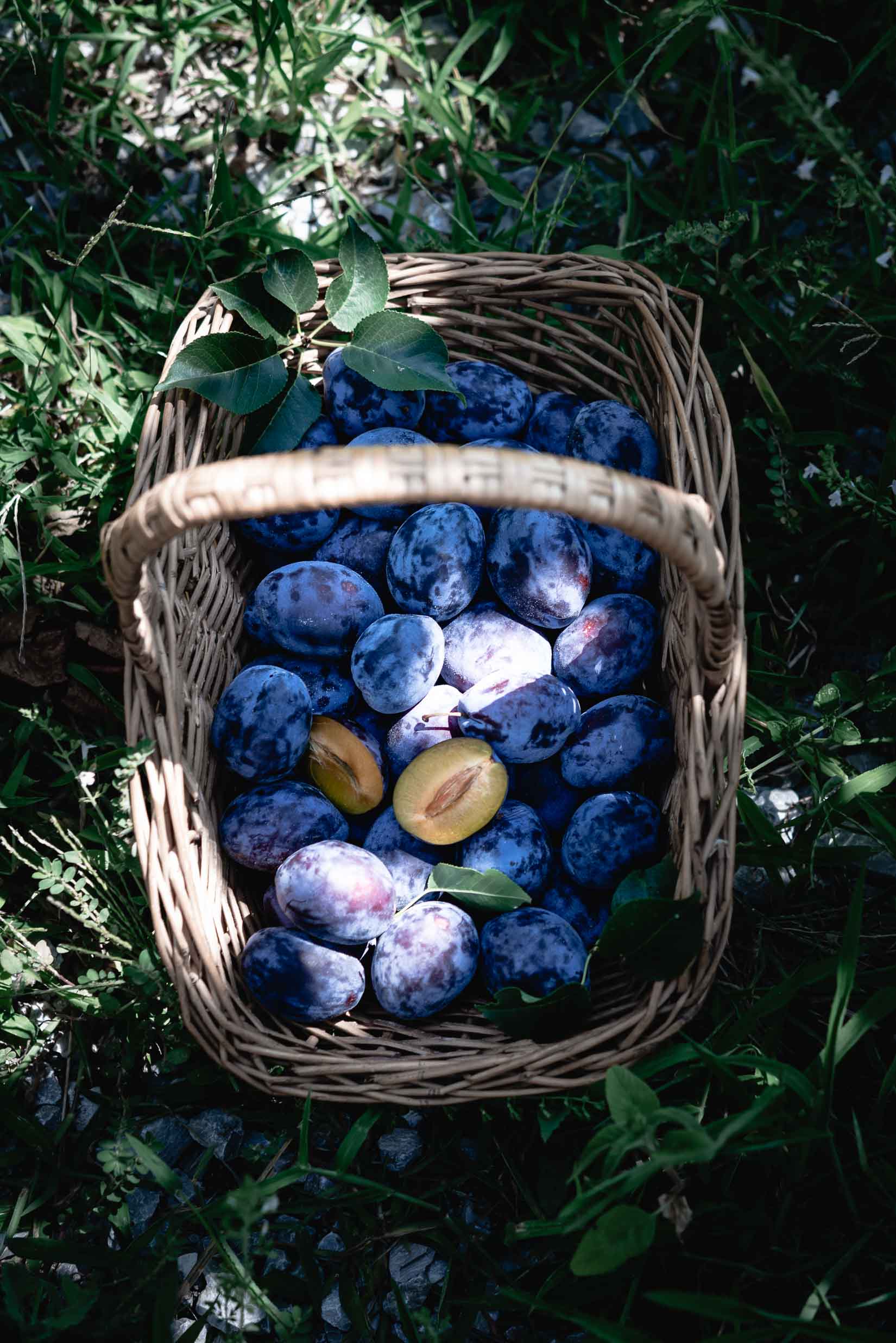 First, let's talk about these plums. These are the local plums that are grown all over our island and they are known as Prunus domestica insititia (common names vary, but Damson is commonly used in English) and are grown all over the Mediterranean, Middle East and beyond. Characterized by their oblong shape, deep indigo skin, and golden flesh; here in Greece they are traditionally dried or turned into jam. I loved the idea of roasting them in the oven with some honey and spices to transform them from their raw golden hue into the brilliant ruby color they become once cooked.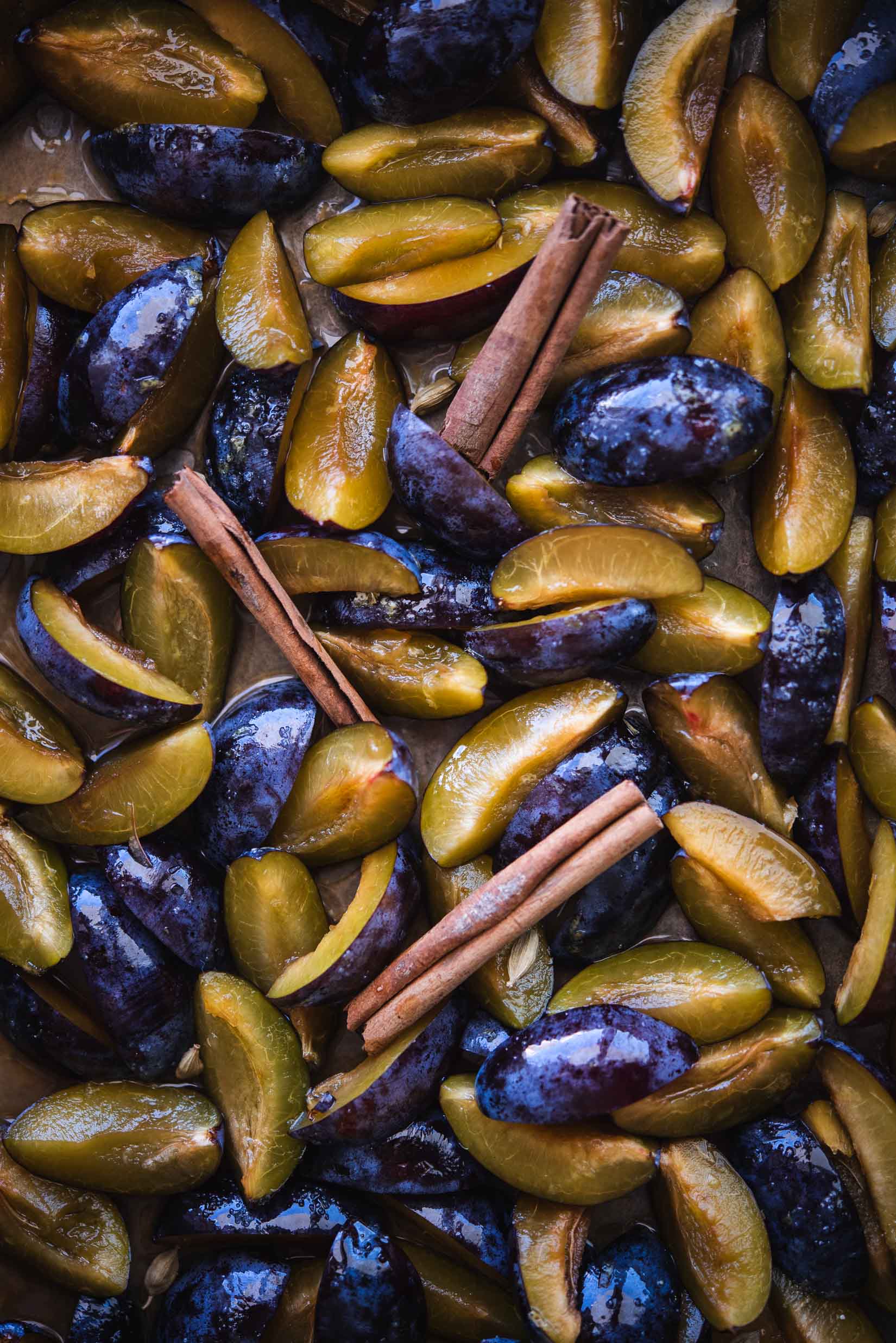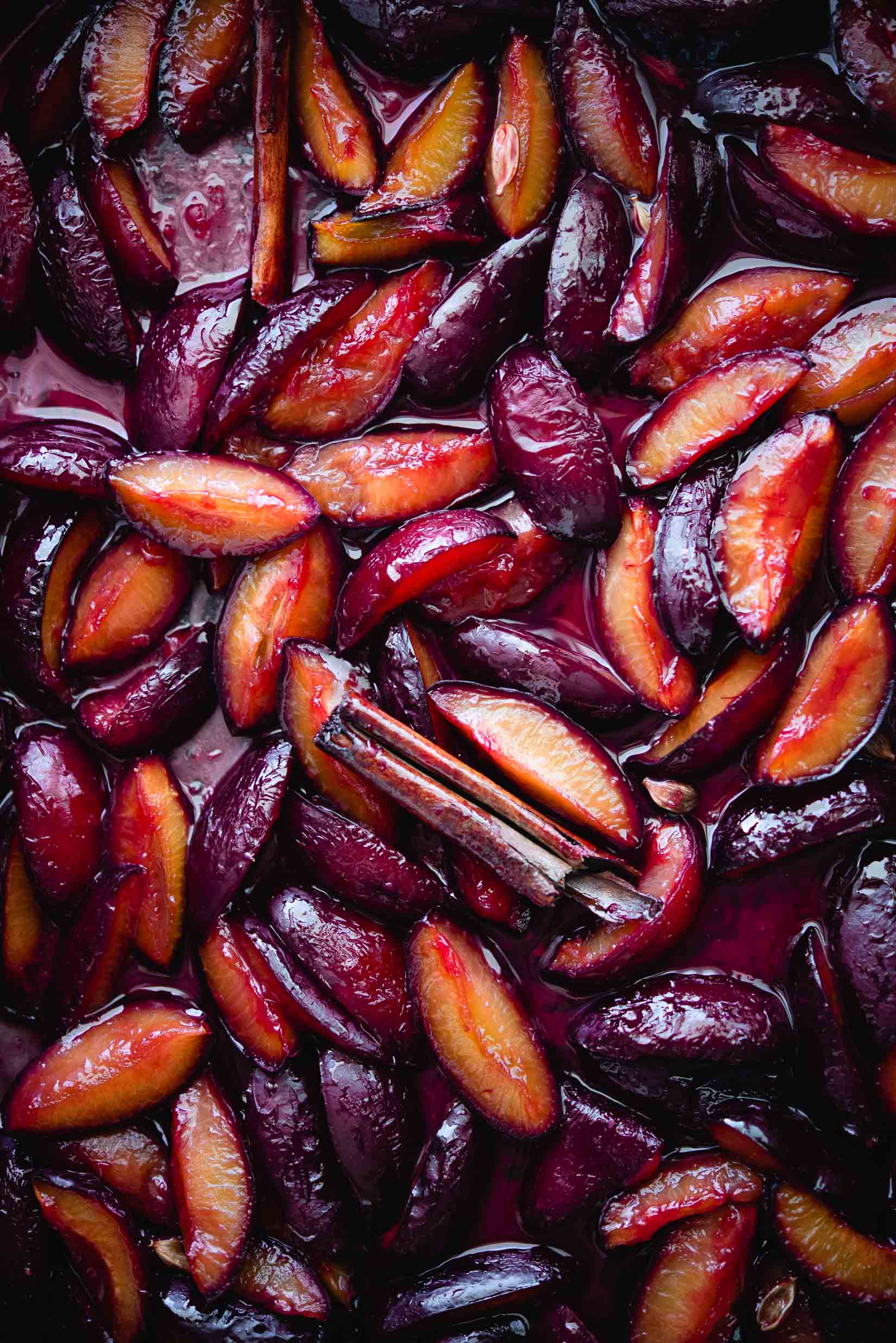 Now, let's talk about this whole sheet pan shortcake situation. I totally could have made these as traditional individual shortcakes, but again, I wanted to do something different! Which led me to the genius idea from Erin McDowell, to bake the shortcake dough on a half sheet pan. Using this sheet pan method makes serving the shortcakes to a crowd so much easier than traditional shortcakes and the final presentation is oh so glamorous! Don't you think?!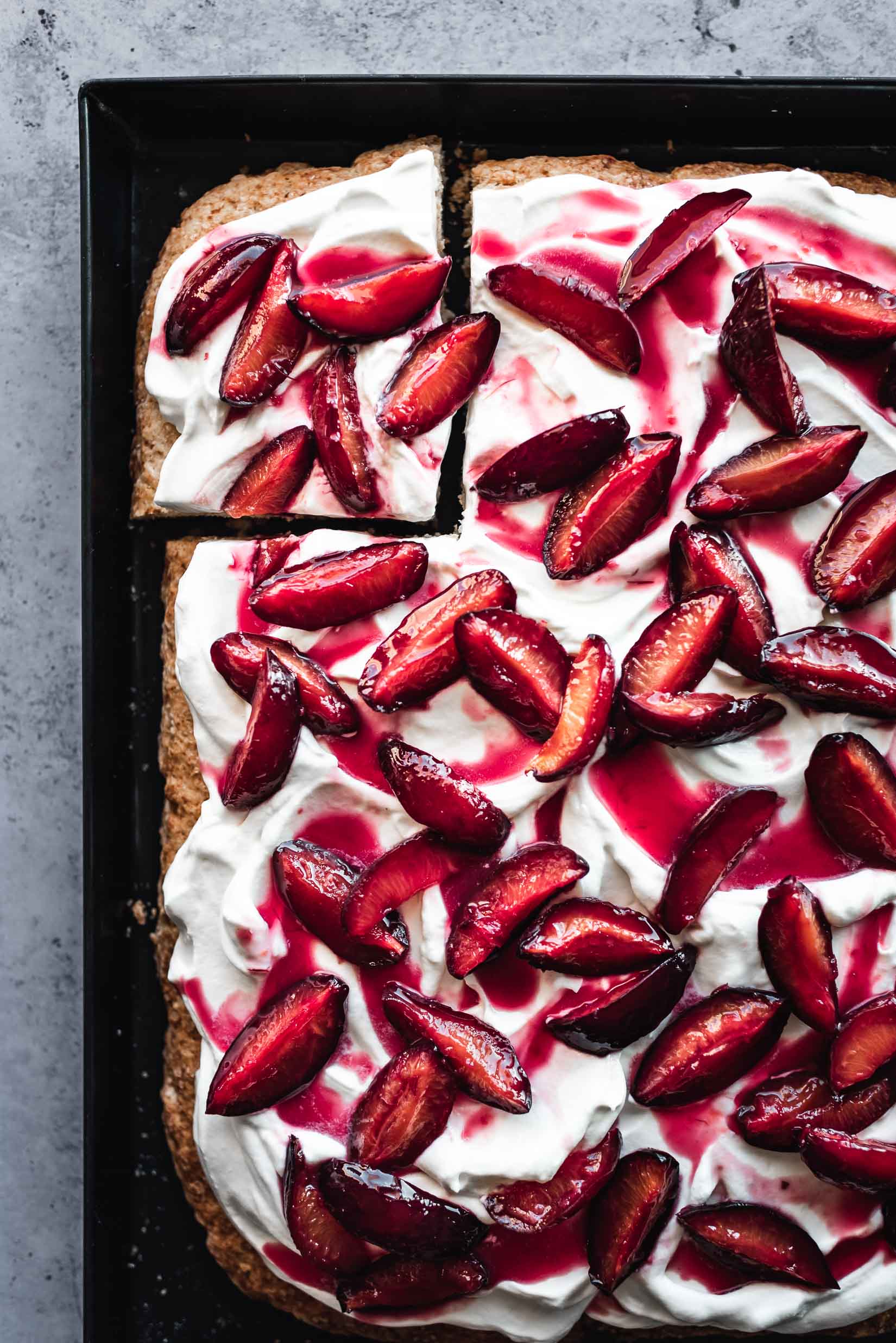 Some things to consider when making this roasted plum sheet pan shortcake: first, you can use any type of plum or pluot that is in season where you live. Secondly, while all of the components can be made ahead of serving, do keep in mind that once assembled the shortcake will start to absorb moisture from the whipped cream and will become softer over time – so I recommend assembling no more than 1 hour before you intend to serve and to keep it refrigerated until that time.
I could not have been happier with the final result of this roasted plum sheet pan shortcake. The plums were bright and jammy, with a just a touch of spice – and while I used lemon juice to roast them, orange juice would have been just a lovely. The edges of the shortcake were my hubby's favorite part, while I loved the center slices ;) And if you are wondering who ate all of this shortcake, we sliced it up and brought it to the staff at the restaurant up the path from our studio that let me use their oven to bake the shortcake <3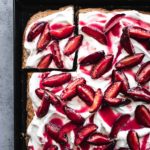 ROASTED PLUM SHEET PAN SHORTCAKE
---
Total Time:

0 hours

Yield:

12

-

16

slices

1

x
FOR THE SHEET PAN SHORTCAKE
4

cups

(250g) all-purpose flour

1 tsp

fine grain salt

2 tbsp

baking powder

1/3

cup

(67g) sugar

2

sticks unsalted butter (

230g

), frozen

2

eggs, beaten

1/2

cup

Greek yogurt

1/2

cup

milk

2 tbsp

heavy cream

2 tbsp

turbinado sugar for sprinkling
FOR THE ROASTED PLUMS
about

750

g

(1 1/2 pounds) plums

1/2

cup

honey (175g) (or substitute sweetener of your choice)
juice and zest of 1 medium lemon (or substitute orange)

3

small cinnamon sticks

5

cardamom pods

2 tsp

vanilla extract or

1/2

vanilla bean
FOR THE GREEK YOGURT WHIPPED CREAM
3

cups

(690g) heavy cream, chilled

1

cup

(125g) powdered sugar

3/4

cup

(215g) Greek yogurt
---
Instructions
FOR THE SHEET PAN SHORTCAKE
Adjust oven rack to lower middle position; heat oven to 200c/400f degrees.
Prepare a half sheet pan by greasing it all over with some butter
Mix flour, salt, baking powder, and sugar in medium bowl.
Using the large holes of a box grater, grate butter into the dry ingredients. Toss butter with flour to coat. Use pastry cutter (or a fork) to finish cutting butter into the flour. Or scoop up coated butter with both hands, then quickly rub butter into dry ingredients with fingertips until most of butter pieces are the size of split peas.
Mix beaten egg with Greek yogurt & milk; pour into flour mixture. Toss with fork until large clumps form.
Transfer the dough to the prepared pan and press into an even layer (you can lightly moisten your hands if necessary), the pressed dough should be about 3/4 inch thick.
Brush dough with heavy cream and sprinkle with turbinado sugar. (Can be covered and refrigerated up to 2 hours before baking.)
Bake until golden brown, about 15 minutes. Place baking sheet on wire rack; cool shortcake until room temperature.
FOR THE ROASTED PLUMS
Preheat the oven to 350°
Line a half sheet pan with parchment paper, making sure the paper goes up the edges of the pan.
Quarter your plums and place them in a bowl. Toss the plums with honey, lemon zest & juice, and vanilla extract if using. Pour plums onto the prepared sheet pan and place cinnamon sticks and cardamom pods here and there about the plums.
Roast the plums for 20 to 25 minutes, turning once, until just softened. Let the plums cool in their syrup, then discard the cinnamon sticks and cardamom. Reserve until serving.
FOR THE GREEK YOGURT WHIPPED CREAM
Chill a non-reactive, deep bowl and beaters mixer in freezer for at least 20 minutes.
Add cream to the chilled bowl; sift in powdered sugar and beat on low speed until small bubbles form, about 30 seconds. Increase speed to medium; continue beating until beaters leave a trail, about 30 seconds more. Increase speed to high; continue beating until cream is smooth, thick, and nearly doubled in volume, about 20 seconds for soft peaks.
Add in the Greek yogurt and whip for another ten seconds or so, until whipped cream is thick. If necessary, finish beating by hand to adjust consistency. Keep chilled until ready to serve
TO SERVE
Spoon the chilled Greek yogurt whipped cream evenly on top of the cooled shortcake. Using your spoon to create swoops in the cream.
Carefully disperse the roasted plums on top of the cream and finish by drizzling the roasted plum juice over the plums.
Slice and serve – this shortcake is best eaten within the first 2 hours. Any leftovers should be covered and stored in the refrigerator.
Prep Time:

0 hours

Cook Time:

0 hours