Fresh, in-season tomatoes are one of my favorite foods on earth, but this was not always the case. In fact, when I was a child, fresh tomatoes were one of my least favorite foods. You could blame it on my immature tastebuds, or the fact that I was never privileged with the opportunity to taste a real tomato, you know, a homegrown tomato. The difference between a homegrown tomato or a tomato you buy freshly harvested from the farmer's market versus a store-bought tomato is unbelievable, they are worlds apart in flavor & texture. Everything about homegrown tomatoes is incredible. But I didn't learn this difference until I married into my hubby's Greek family who introduced me to real tomatoes. I was blown away at what I had been missing out on all of my life. Summer had always been my favorite time of year, but now that I had fallen in love with tomatoes, summertime had just taken on a whole new level of awesomeness.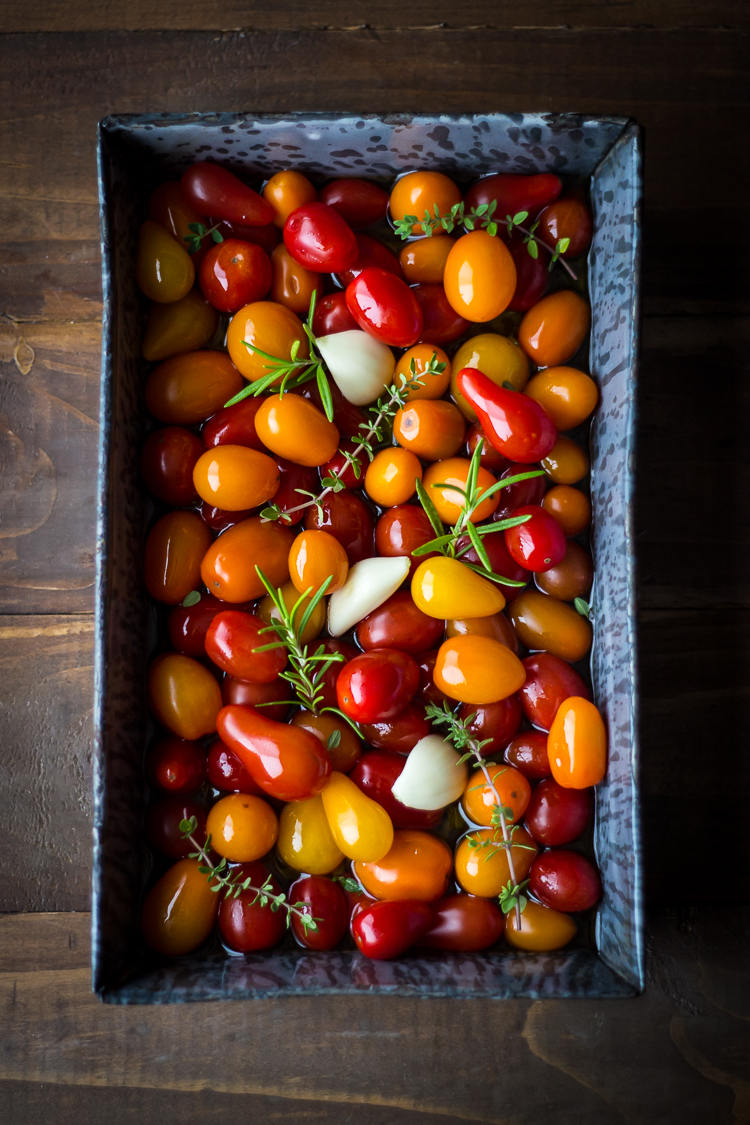 With summertime almost here, I am patiently waiting for tomato season to officially begin. In the mean time, I picked up some early season cherry tomatoes from the farmer's market to tide me over. While delicious, these early season tomatoes just don't have the same concentrated flavor as tomatoes that have been basking in the heat of the summer sun. The good new is, there is a solution for my tomato impatience and that is cherry tomato confit.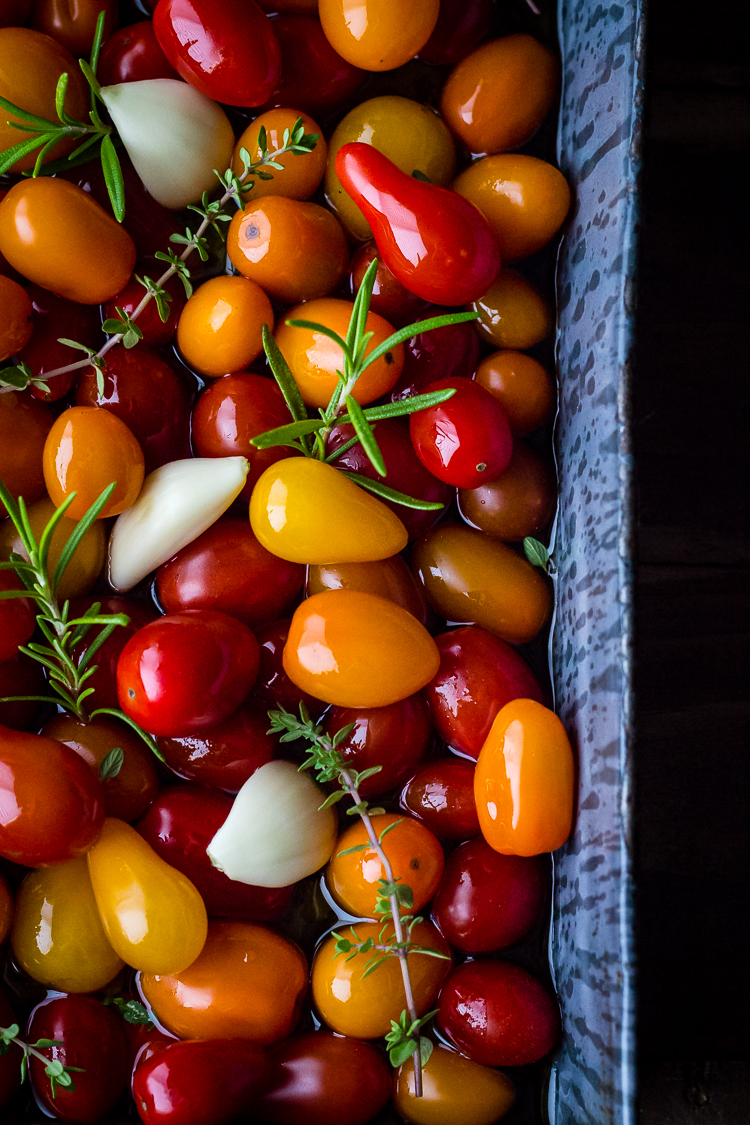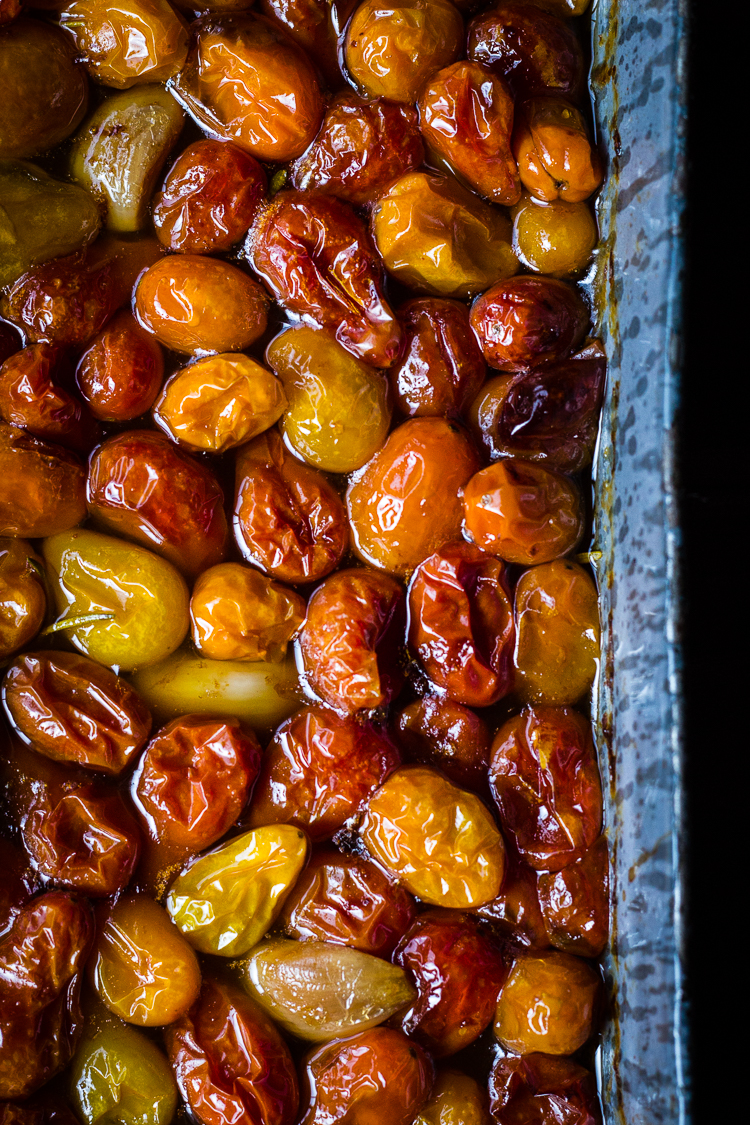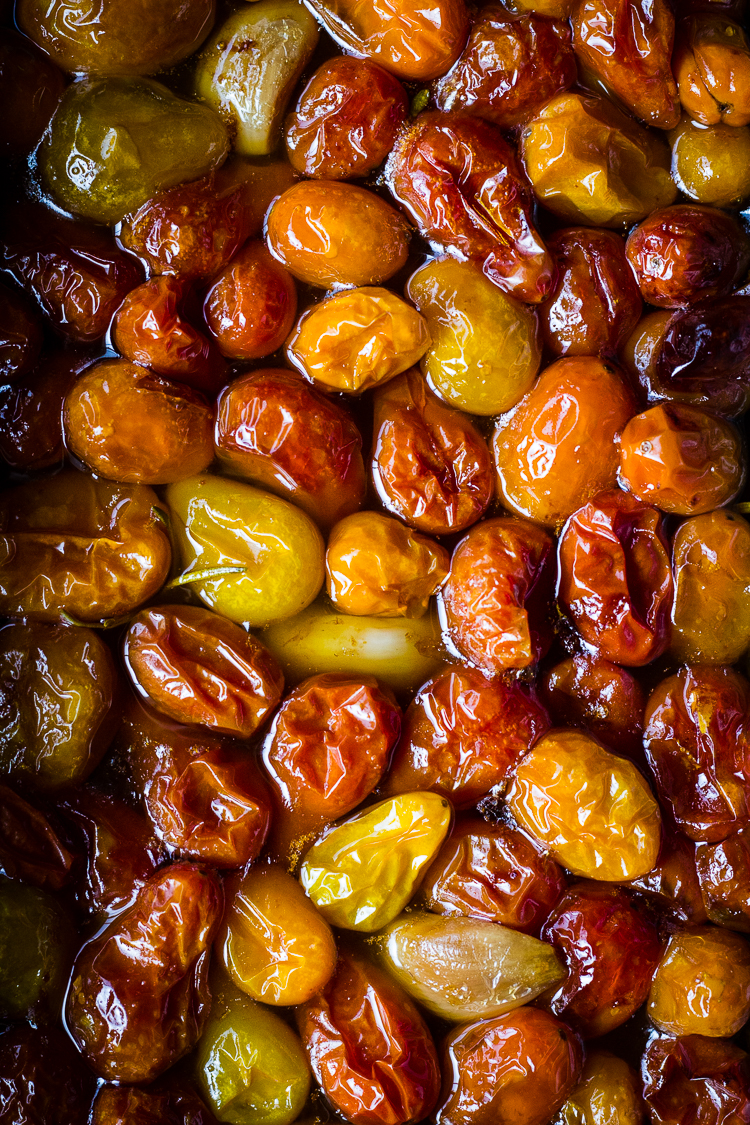 Confit ( pronounced: con-FEE ) is a cooking technique where food is slow cooked in liquid. In this case, cherry tomatoes get slow cooked in a bath of olive oil along with garlic, rosemary, thyme and salt. The process renders them into soft, luscious little jewels that literally melt in your mouth.
The best way for me to describe to you how truly amazing cherry tomato confit is, would be that we will be eating this on repeat all summer. We could literally eat this every day and never grow tired of it. The possibilities of how to use them are really endless, but if we had to choose just one way to eat cherry tomato confit it would be on top of toast that is spread with creamy ricotta and finished off with a garnish of fresh basil.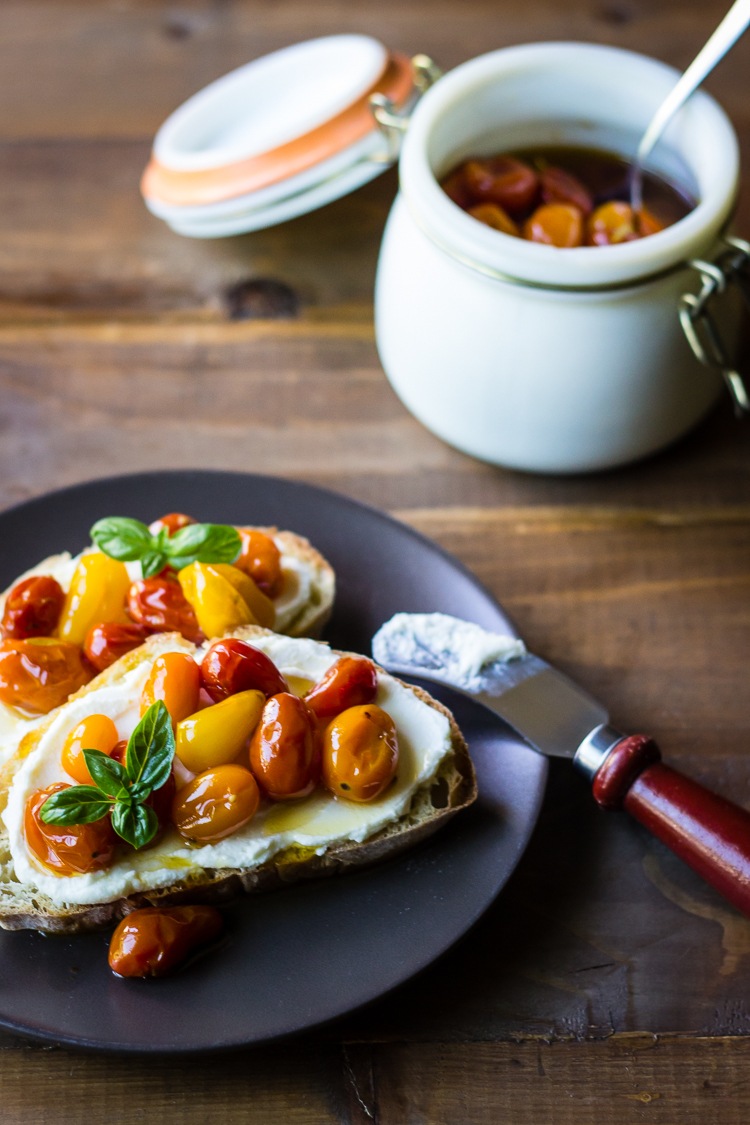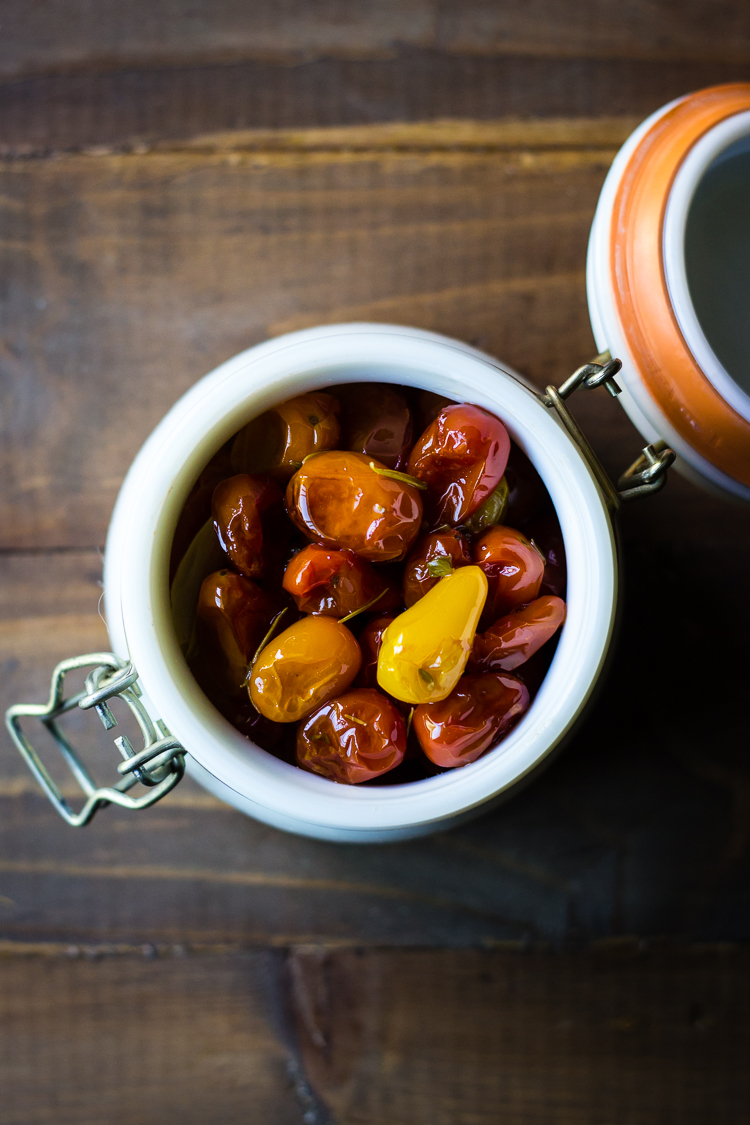 This is literally one of the best things that has ever come out of our kitchen. I know that may seem like a grand statement, but it is absolutely true. Cherry tomato confit is a game changer. Once you introduce yourself to the greatness of cherry tomato confit, you will probably need to double, triple, or even quadruple the recipe so that you can have them on hand and share them with people you love. Simple and straightforward to make and even easier to eat, do yourself a favor and make some cherry tomato confit – your summers will be forever better.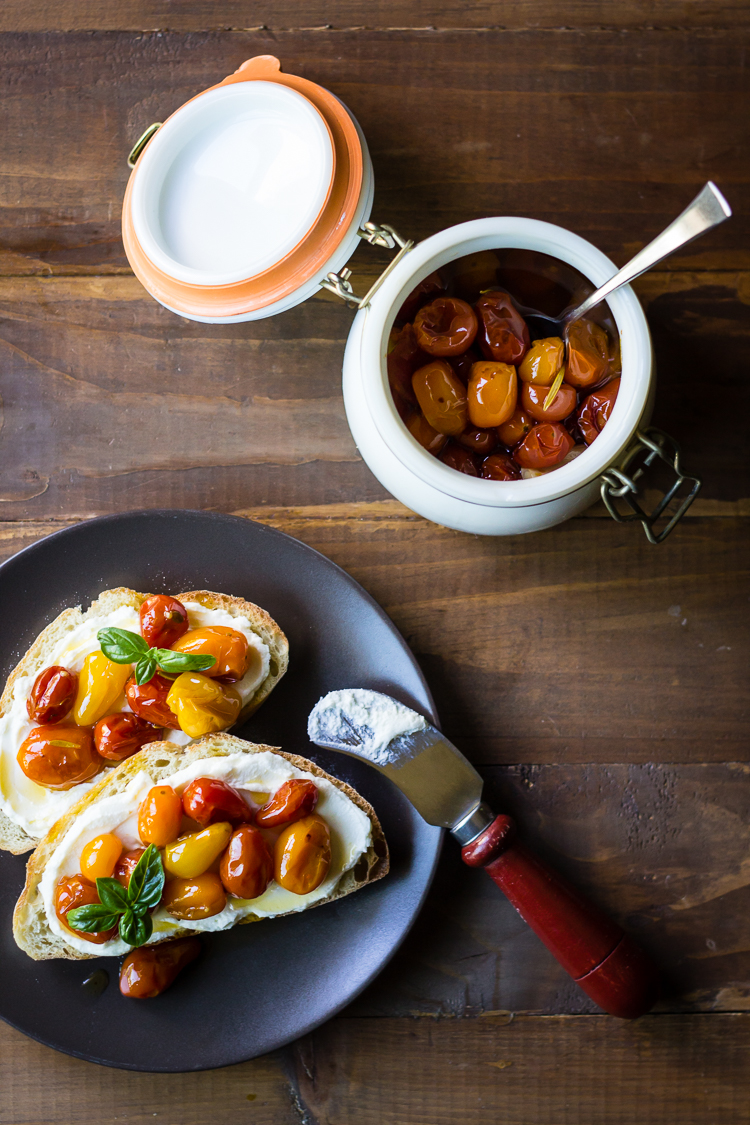 Print
1

lb

cherry tomatoes

1/2

cup

extra virgin olive oil

3

cloves garlic, peeled

3

sprigs fresh rosemary

5

sprigs fresh thyme
flaky salt
---
Instructions
Pre-heat oven to 250F degrees
Fill a baking pan with whole cherry tomatoes – add olive oil, garlic, rosemary, & thyme to the pan and sprinkle the pan contents generously with flaky salt
Cook, uncovered for 2-3 hours until the tomatoes are swollen and the skins are wrinkled (total time depends on the size of your cherry tomatoes)
Let tomatoes cool to room temperature & serve or transfer to a jar if storing
Store tomatoes in the refrigerator & bring to room temperature before serving