This recipe is the marriage of some of our favorite foods as of late. We have been eating roasted pumpkin and squash on the regular. Pasta has been making a weekly appearance in our kitchen. And ever since my friend Timmy @mississippivegan shared his genius recipe for vegan cheese sauce, we have been introducing it in different variations to all kinds of dishes. And that my friends is how this vegan cheesy pumpkin rigatoni pie came to existence.
Our favorite preparation of pumpkin & squash is to roast it until it is nice and caramelized, this brings out the flavor in the best way. For this recipe I used a beautiful Musquee de Provence pumpkin, an heirloom variety that has an amazing deep orange flesh. You could really use any variety pumpkin or squash for this recipe (blue hubbard is another favorite of ours), but I really recommend roasting your own over using canned pumpkin so that the final dish has the richest flavor possible.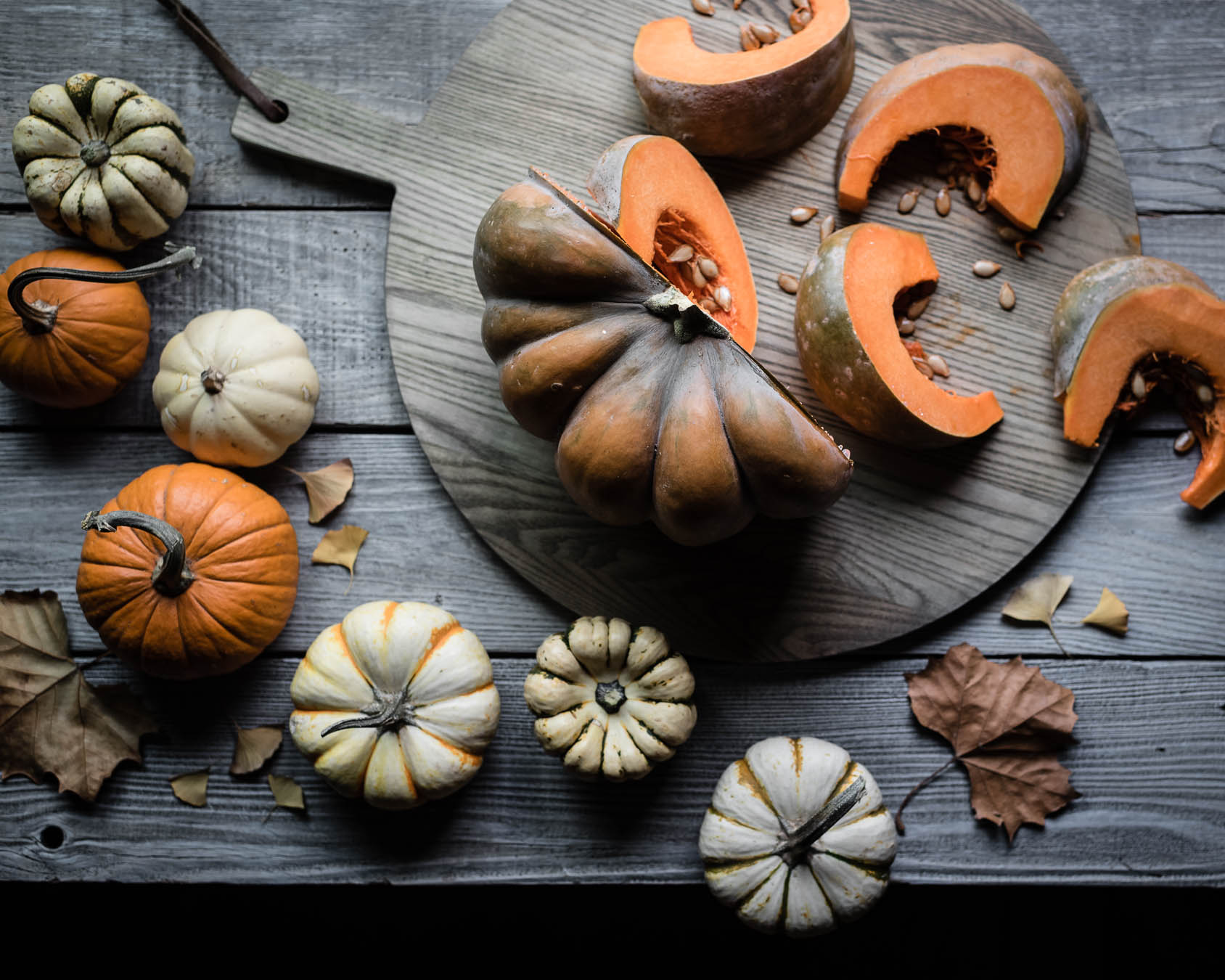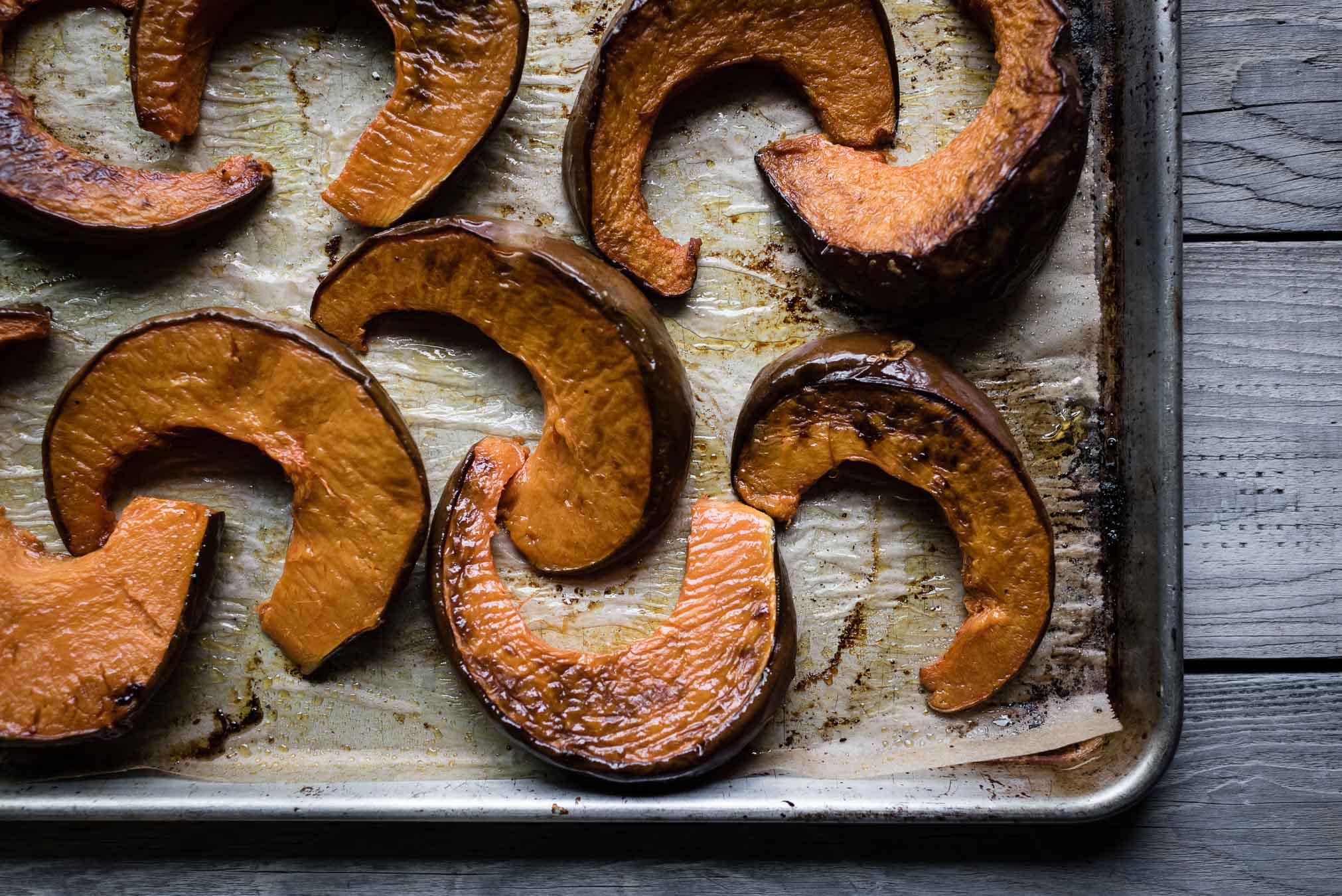 Now, on to this genius vegan cheese sauce. We love making this vegan sauce not only because of how delicious it is, but because of how we feel after we eat it. Don't get me wrong, we do not have any issue eating grass fed dairy, but we have found that when we eat melted cheese in copious amounts we just feel heavy afterward. But we feel no heaviness after eating this vegan cheese sauce, which is why we absolutely love it! For this version, we used vegan provolone & smoked gouda cheeses from Follow Your Heart. Timmy gives a great explanation as to why this particular brand of vegan cheese is his top choice for creating this vegan cheese sauce, but Daiya is another great vegan cheese brand you can use if you cannot procure Follow Your Heart. His post also explains various methods on how to prepare the sauce, but using a high speed blender like a Vitamix makes the process effortless.
We should probably address this rigatoni pie situation. While you could totally just pour the cheesy pumpkin sauce over rigatoni and proceed, that is not how I pictured this recipe in my mind. I had seen rigatoni pie on the interwebs at some point in the past and was intrigued with the idea of those little tubes of pasta being filled with sauce – not to mention, the presentation looks so interesting! And I have to say that after trying it, I think it is worth the bit of extra effort to stand all the rigatoni up to create this pie effect – the end result is cheesy and dreamy.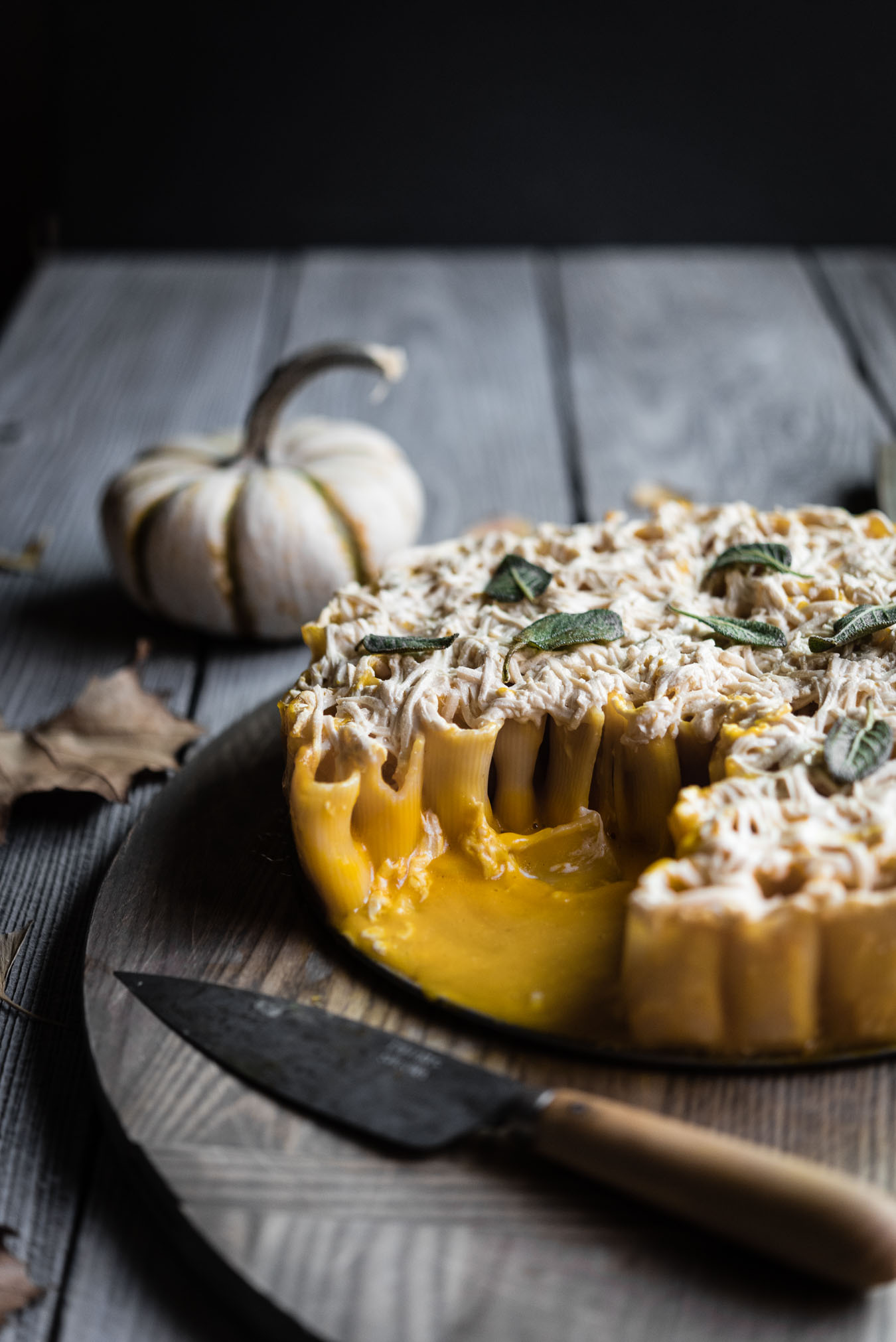 Another great thing about this vegan cheesy pumpkin rigatoni pie, is that it is a great make ahead dish. You an make it ahead and freeze it (the vegan cheese sauce responds very well to being frozen – hello easy vegan Thanksgiving dish ;) and once the pie is baked, the leftovers re-heat beautifully because the vegan cheese does not coagulate, it stays nice and creamy. Oh yeah, this vegan cheese sauce is gluten-free as well, so you can make it friendly for those avoiding gluten if you substitute gluten-free rigatoni.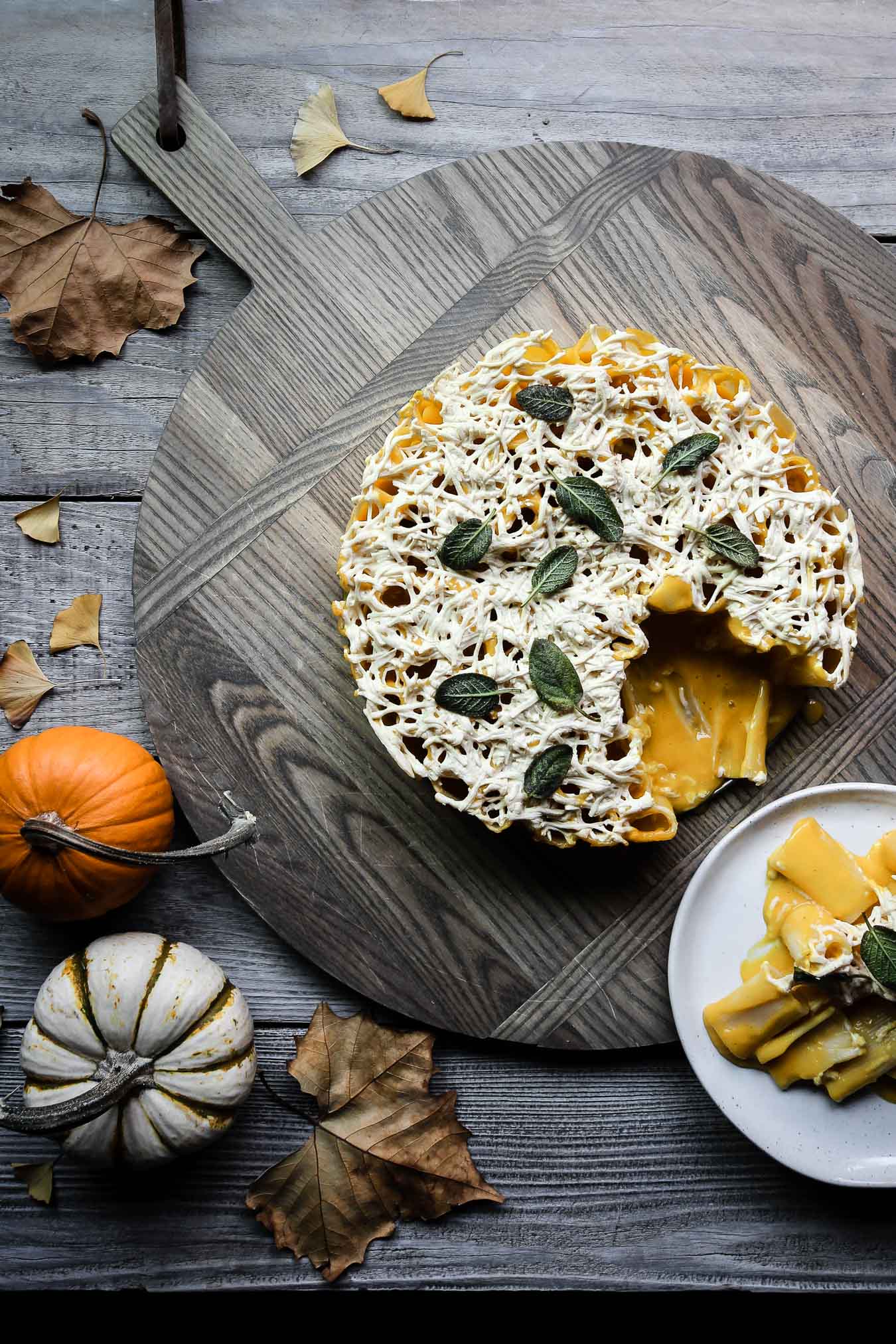 And lets not forget those crispy sage leaves that garnish the top. They are best when they are made right before you are going to serve the pie, this way they stay nice and crispy :)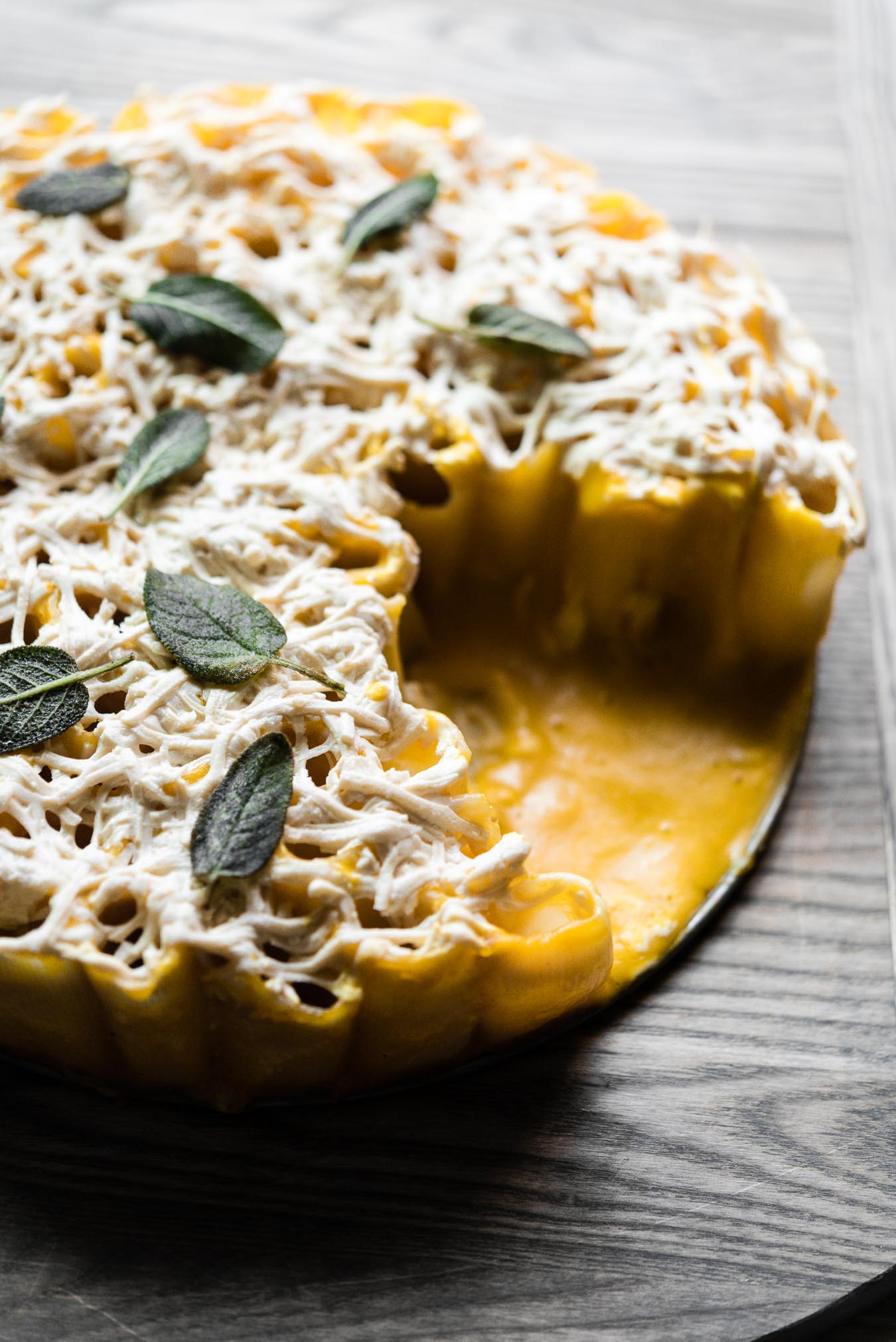 My favorite thing about this vegan cheesy pumpkin rigatoni pie is eating it one noodle at a time. There is something so satisfying in grabbing each cheese filled noodle with your fork and savoring your serving noodle by noodle. Whether you need a vegan dish for Thanksgiving or just want to enjoy a plateful of vegan cheesy pumpkin goodness, this recipe is sure to please.
Print
VEGAN CHEESY PUMPKIN RIGATONI PIE
---
Total Time:

45 minutes

Yield:

8

1

x
1

(16 oz) pack rigatoni noodles, plus water + salt to boil

2

cups

roasted pumpkin

3

cups

filtered water

1/4

cup

vegan butter

1/4 teaspoon

nutmeg

1/2 tsp

salt, to taste

4

sage leaves

2 tablespoons

cornstarch

1

pack mozzarella vegan cheese (we used Follow Your Heart brand)

1

pack provolone vegan cheese (we used Follow Your Heart brand)
FOR THE GARNISH:
1

bag shredded vegan mozzarella shreds (we used Daiya brand)

12

sage leaves

2 tbsp

vegan butter
---
Instructions
Preheat the oven to 375 degrees F
Fill a large pot with water and add a good amount of sea salt. Bring to a boil, add the rigatoni noodles. Follow package instructions & boil until the noodles are al dente. Drain noodles & transfer to a baking sheet, arranging noodles into 1 flat layer so they keep their shape.
In a high speed blender, add the pumpkin and water, blend until smooth and creamy. Add the chopped cheeses, butter, nutmeg, 4 sage leaves, and cornstarch. Start by blending on low and gradually turn up the speed, until you are left with a smooth and creamy sauce, scraping down the sides and moving everything around as needed.
Prepare a 12″ inch springform pan by rubbing with a bit of vegan butter. Arrange the rigatoni noodles vertically in the springform pan. Evenly pour the cheese sauce over the noodles, using a spoon to get all of the sauce out of the blender and to make sure the noodles on the edges get filled as well.
Add the entire bag of shredded cheese to the top of the rigatoni pie and bake, uncovered, for about 30 minutes until pie is hot & bubbling.
Remove the pie from the oven and while it cools at room temperature, melt 2 tbsp of vegan butter in a small saucepan over medium heat, add the sage leaves and cook until crisp, about 2 minutes.
Top rigatoni pie with crispy sage leaves, run a knife along the edge of the springform pan, remove the outer ring of the pan, slice and serve.
Prep Time:

15 minutes

Cook Time:

30 minutes