Dear readers,
There has been so much going on in our life recently, that this is the first time I have sat down to share a recipe with you guys in almost 3 months! It is difficult to put into words just how much our life is changing right now, so while I share the recipe for this beautiful heirloom cattle bean summer salad with you, I am also going to be sharing what is probably one of the most exciting times of our life to date.
Knowing your calling & pursuing it with all your heart is the path to fulfillment…for my hubby, he has known his whole life that he is called to return to Greece – and when we met, my calling to be with him there was realized. For a few of you reading this you already understand what my hubby and I are working toward, but today we felt compelled to give you all some insight into our life and the future of ful-filled. Everything we have been working toward over the last 15 years has been purposed to bring us to the point where we can relocate to Greece and begin the work that we are called to. We are starting a non-profit organization that installs community gardens and farms all over Greece, so that no matter what circumstances plague the people, they will be fed. Giving as many Greeks & war refugees possible the means to feed their family and the opportunity to have a livelihood that is truly enriching for themselves and their community
This my friends, is the future of ful-filled. Our workshops will be held in Greece and the revenue that is generated from each workshop will fund the ministry work to feed not only the people of Greece, but eventually, people all over the world. We are truly grateful to every single one of you for helping us get to where we are today and we cannot wait to share more with you as progress is made to making this calling come to reality. The journey to starting this work has been long, but we are finally starting to see it come into view and we will begin working in Greece next year! Every day my hubby and I look at each other as we ask ourselves if this is really happening, but it is my friends…and as surreal as it feels to be planning to work in Greece next year, it is actually happening! As you can probably imagine, this little space that we share here on the internet is going to change quite a bit. The food and stories I share here will be heavily influenced by our life in Greece, as we immerse ourselves into the culture of the people we have been called to serve.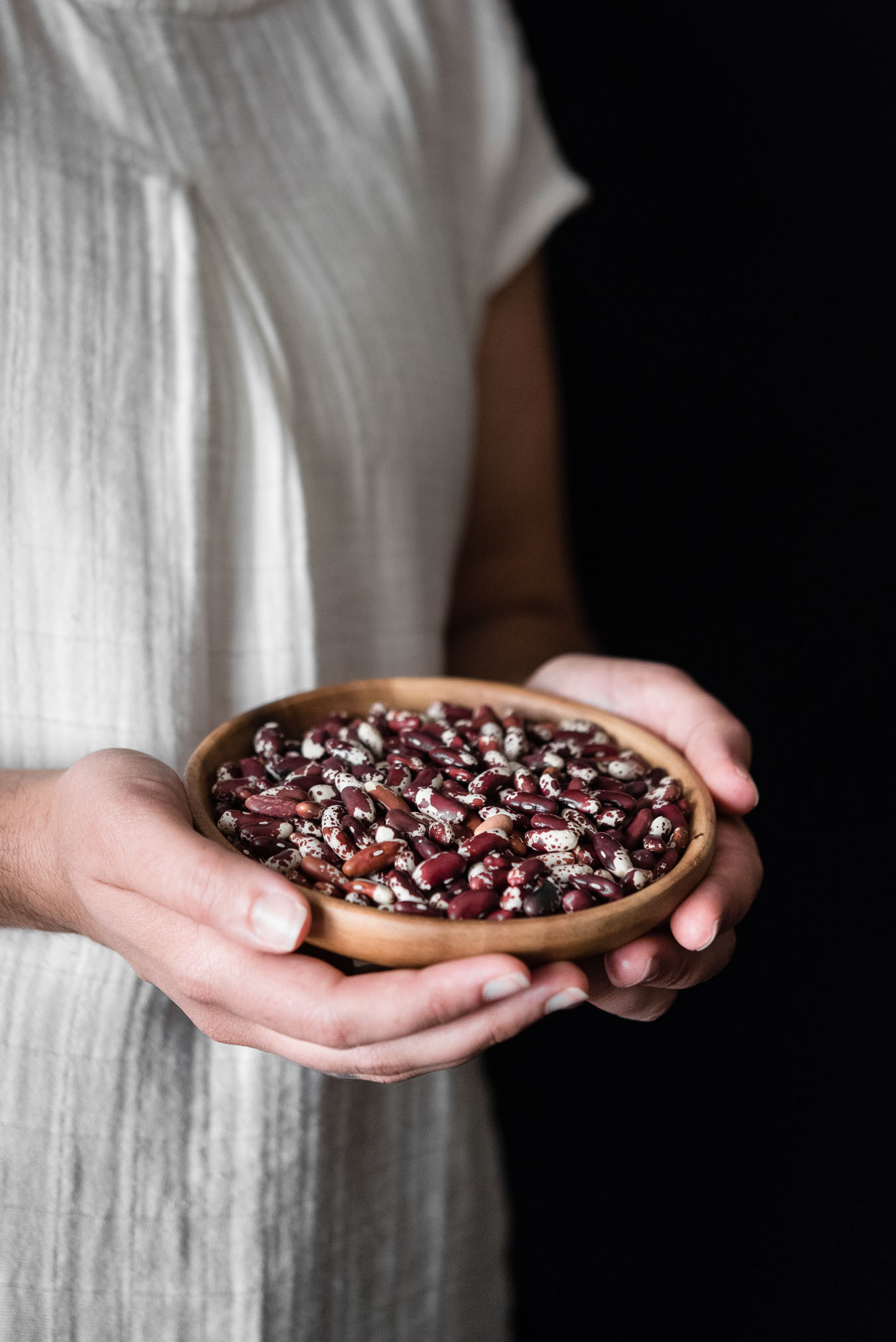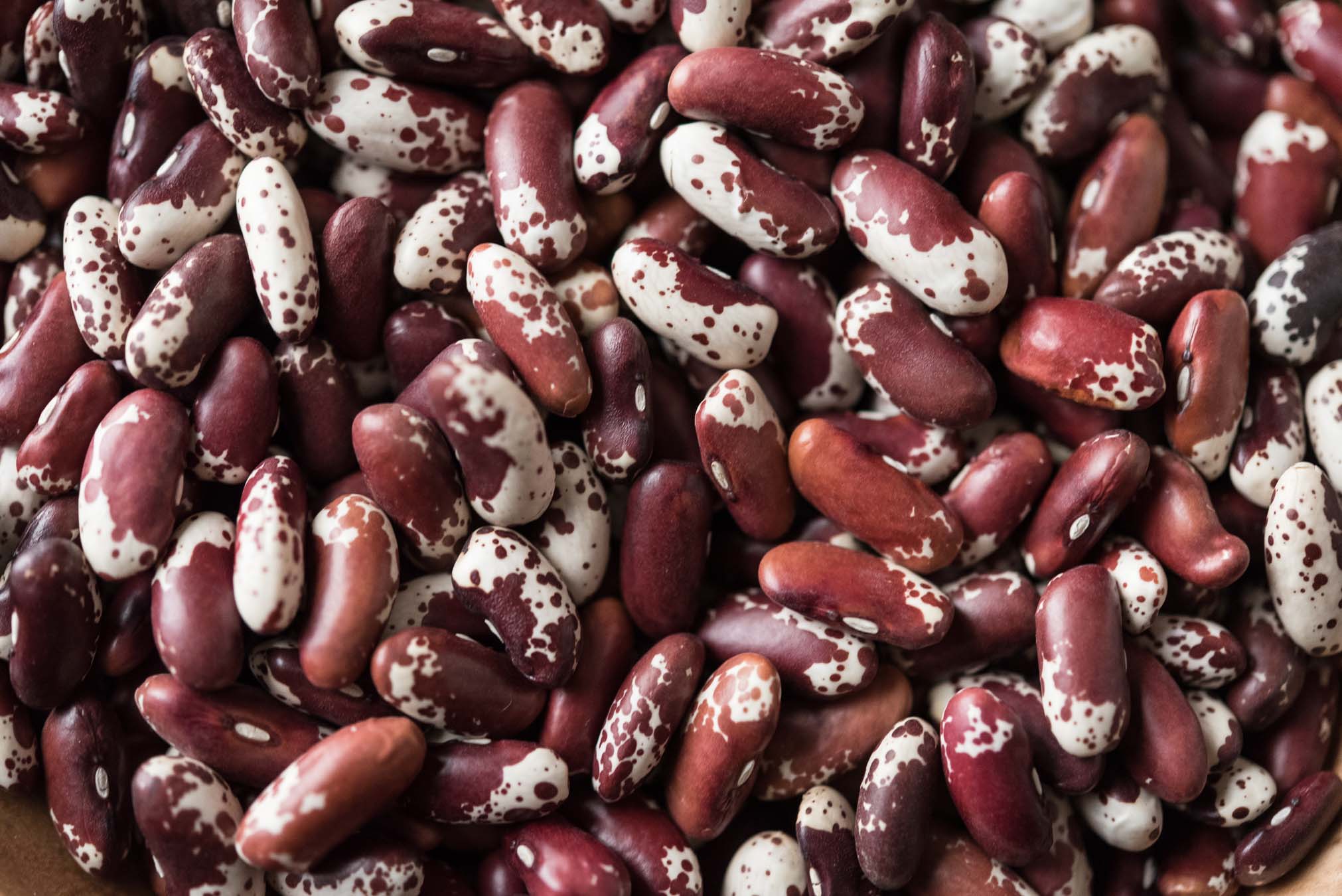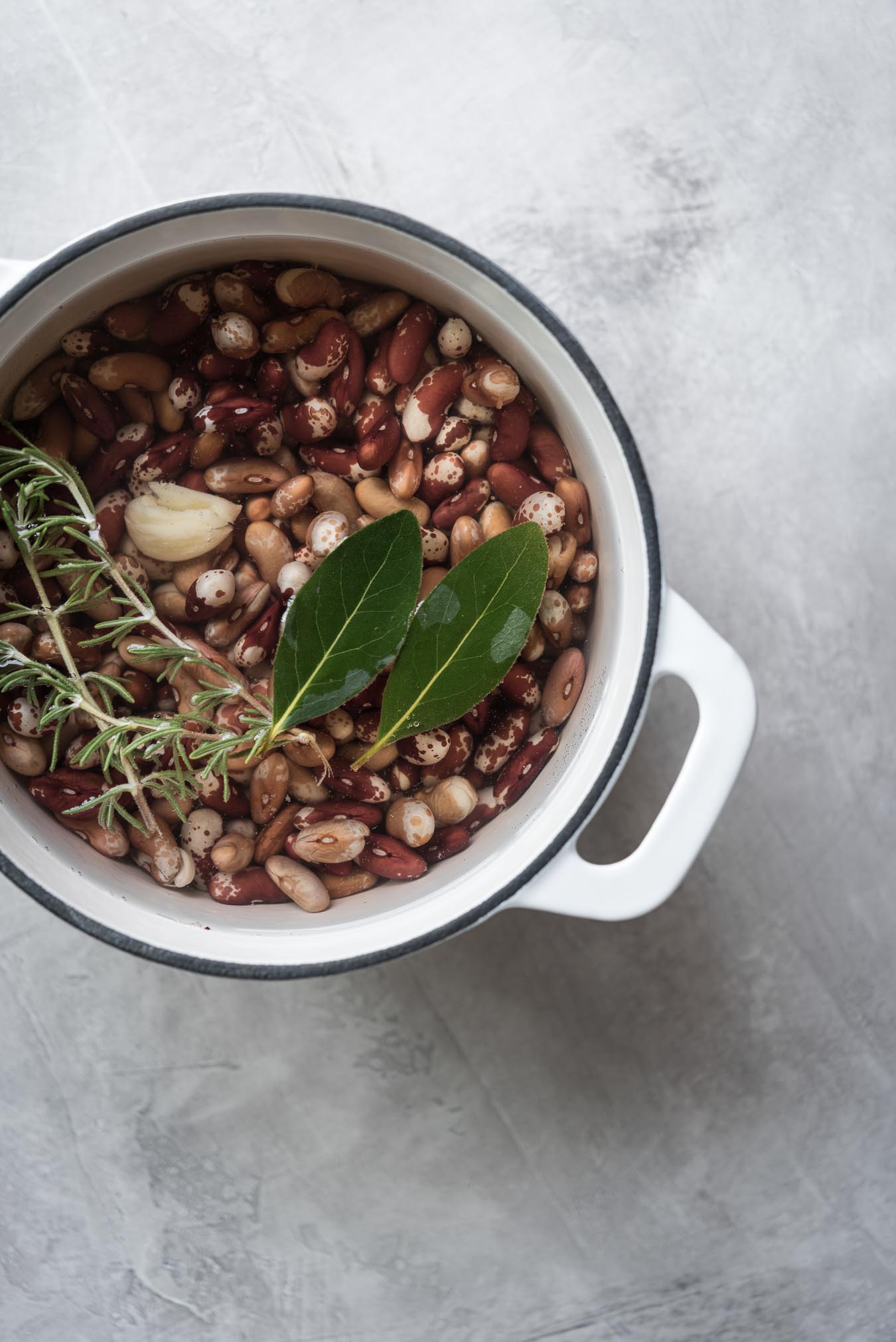 Exciting times right!? Now, lets talk about these beans! When I decided to participate in Slow Food Sacramento's mystery ingredient challenge to kick off Farm to Fork month here in California, I was delighted to receive these beautiful heirloom cattle beans grown by local Northern California farmer Elegant Beans. These cattle beans are part of the Ark of Taste, a campaign that is meant to preserve heritage varieties of produce that are at risk of extinction. I began to imagine what I would create with these unique heirloom beans and because my mind has been seeing things through a Greek perspective recently, I thought about the marinated bean and vegetable salads that my mother-in-law makes every summer.
Simple, seasonal and fresh, this heirloom cattle bean summer salad was born from a stroll through the farmers market for inspiration. The petite green beans, the vibrant cherry tomatoes, and the fresh fennel bulb with gorgeous fronds of greens – every ingredient just felt right in the moment that I laid eyes on them.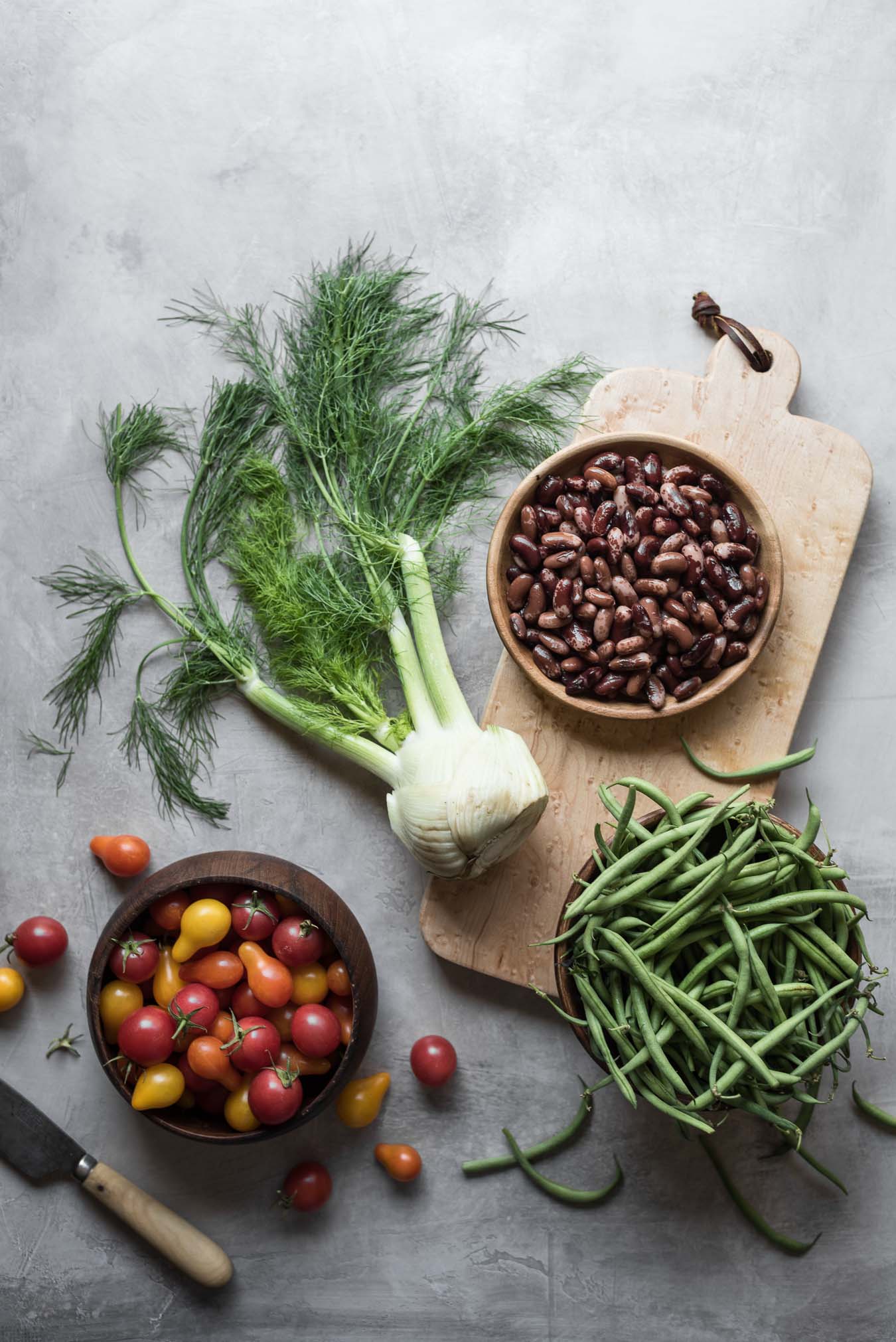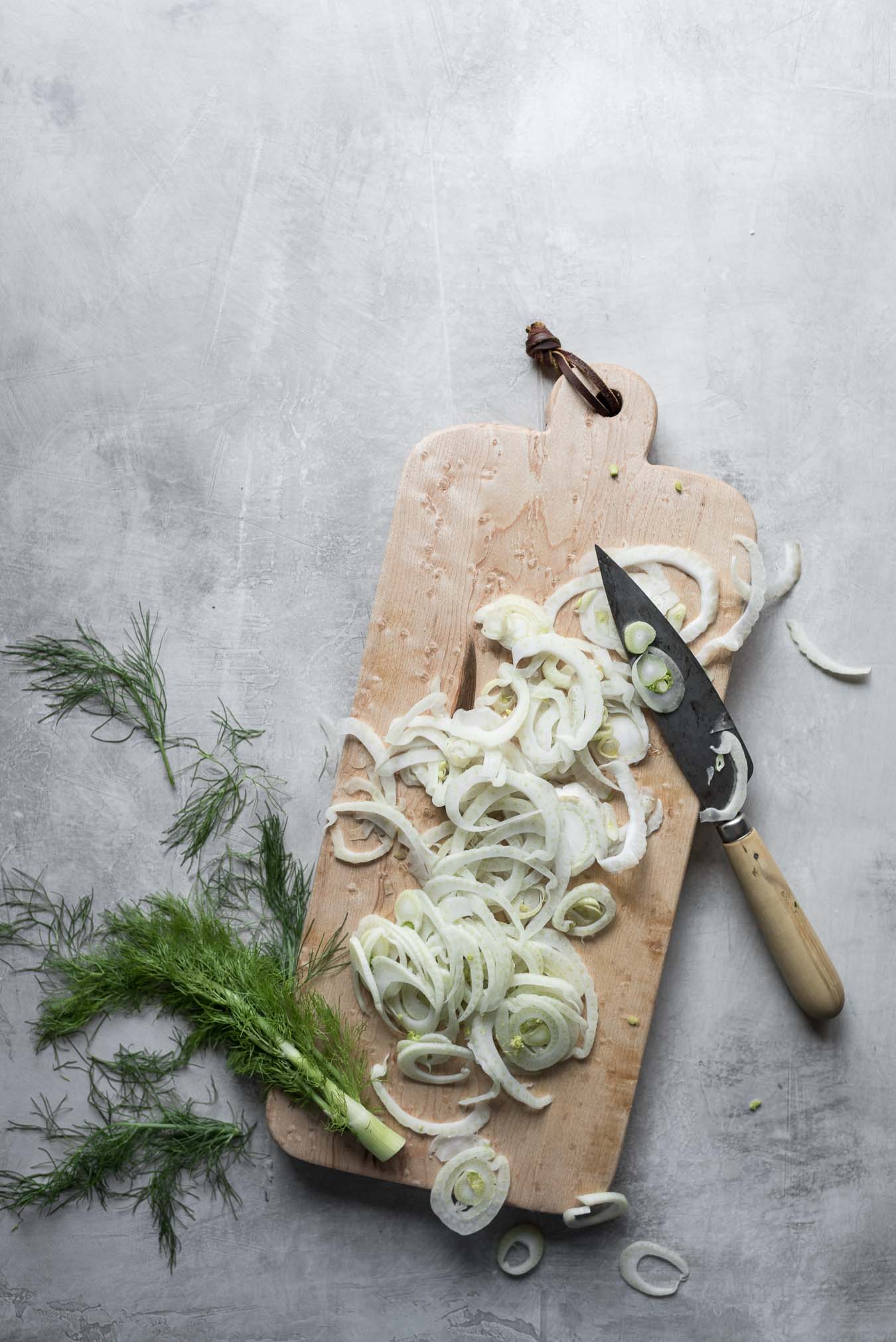 Things I love about this salad: I love that these beans retained their beautiful markings, even after cooking, which was such a wonderful surprise (and if you have never cooked your beans with aromatics, then you are missing out) – I also love that this salad is so flexible, meaning, you can use any combination of vegetables you find in season that inspire you! Dressed simply with a blend of olive oil, lemon juice, garlic & salt, this salad tastes best after it marinates in the fridge for a day or two before eating, making it a great dish to prep over the weekend and enjoy as a quick meal throughout the week.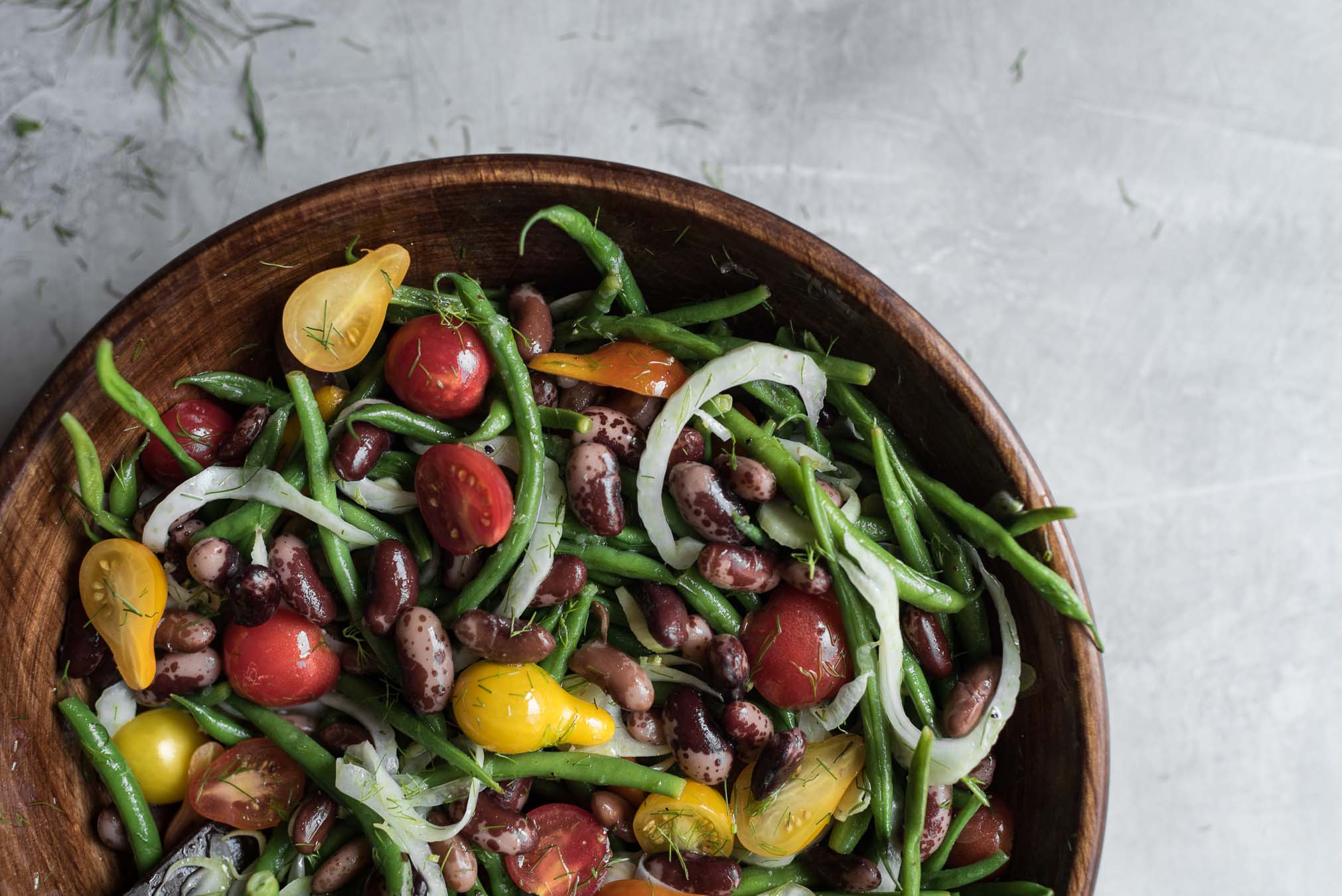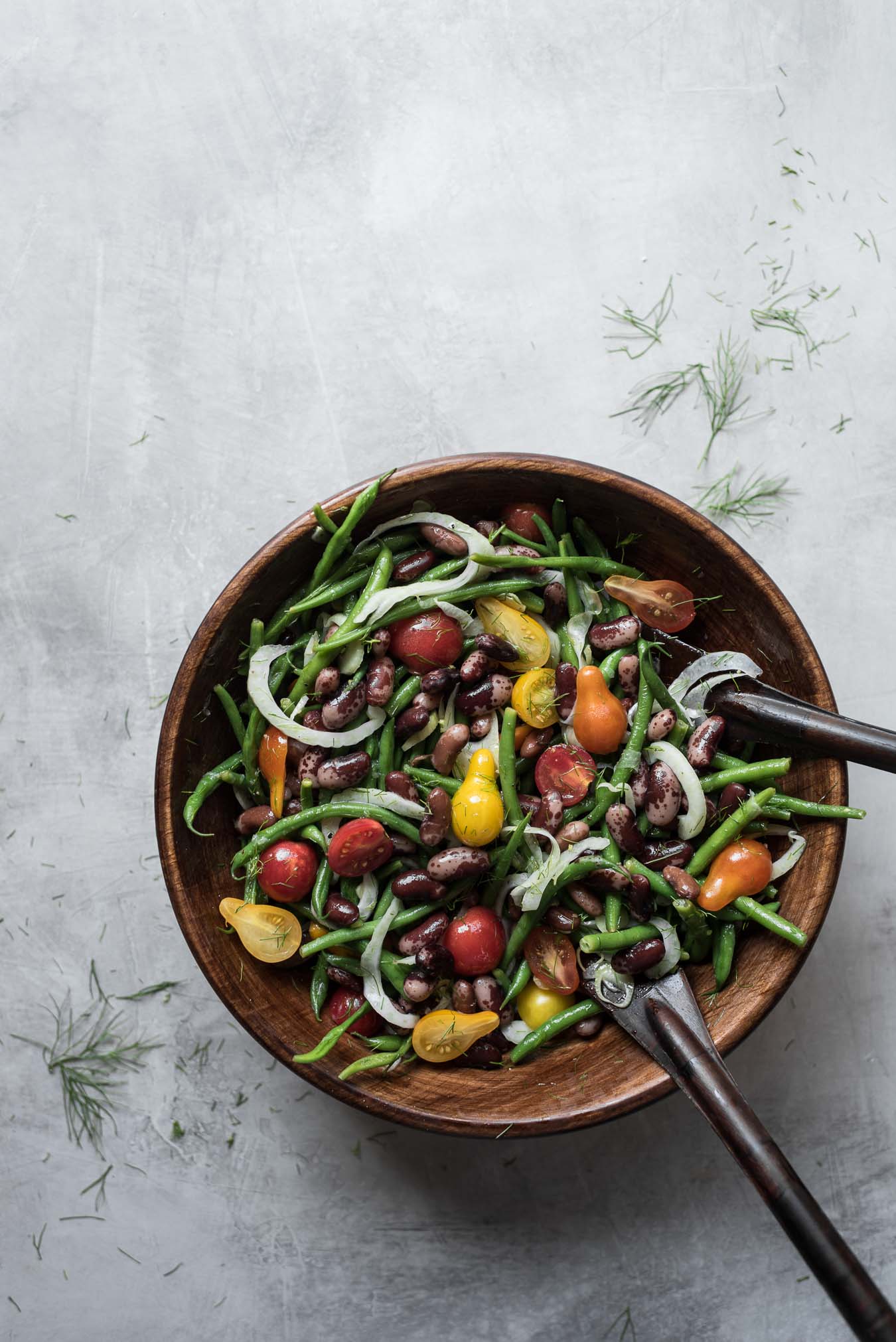 While there is an overwhelming sense of joy and celebration in our hearts as we prepare to work in Greece next year, it is counter-balanced with the reality that there is so…much…to…do! As we wrap up all of our projects for 2017, in the background we are having to plan and prep for the daunting task of living on the other side of the globe next year. So, if my blog posts are far and few between, please understand that it is only because there is just not enough time for me to do blog with all that we have going on. But be assured that this is really just the beginning of what is going to be a beautiful journey that we truly hope you all join us on!
In the mean time, this heirloom cattle bean summer salad is a really good way to enjoy the last bit of summer produce while it is still here, because although it is September, summer is not over quite yet, and you better believe that I am going to eat as much summer produce as possible before its all over…
Until next time,
bella :)
Print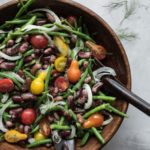 HEIRLOOM CATTLE BEAN SUMMER SALAD
---
Total Time:

2 hours 15 minutes

Yield:

serves

4

as a side salad

1

x
1

cup

dried cattle beans (you can find these at elegantbeans.com)

1 tbsp

+

1 tsp

salt, divided

2

cloves garlic, divided

2

bay leaves

2

or

3

sprigs of fresh rosemary

1/2

lb

cherry tomatoes, halved

1/2

lb

fresh petite french green beans, blanched (or regular green beans cut into pieces – about 3″ in length)

1

bulb fennel with fronds, bulb shaved and fronds reserved for garnish
juice of

1

lemon

1/2

cup

olive oil
salt & pepper
---
Instructions
FOR THE CATTLE BEANS:
Start by rinsing the beans and then soaking them in a bowl with 8 cups of cold water and 1 tbsp of salt, soak the beans overnight (mine soaked for about 12 hours)
Drain soaking liquid from beans, add beans to a medium stockpot with plenty of water to cover them, 1 tsp of salt, 1 clove of garlic, bay leaves and rosemary.
Bring beans to a simmer over medium heat, skim off any foam that accumulates on the surface and then set heat to low and simmer beans for about 2 hours, stirring occasionally until beans are soft (make sure beans stay submerged the whole time)
When beans are finished cooking, they should be soft and creamy on the inside. Drain beans from cooking water, remove garlic clove, bay leaves and rosemary stems
Allow beans to cool to room temperature
While the cattle beans cool, blanch your green beans, halve your cherry tomatoes, and shave the fennel, reserving about 1/2 cup of the fennel greens to be added to the salad
FOR THE DRESSING:
Mince 1 clove of garlic (I use a microplane zester for this) and add to a small bowl with the juice of 1 lemon, olive oil, a pinch of salt and some fresh cracked black pepper – whisk dressing until well combined
FOR THE SALAD:
Combine blanched green beans, cooled cattle beans, halved cherry tomatoes, shaved fennel and dressing to a bowl
Chop the reserved fennel greens and add to salad bowl
Toss the salad until all of the ingredients are well coated in dressing – enjoy immediately or for best results, cover and allow salad to marinate in the fridge for a day or two
Notes
*if you cannot find cattle beans, you can substitute with any other small bean ie; kidney beans, garbanzo beans, canellini beans, etc
Prep Time:

0 hours

Cook Time:

0 hours

Category:

salad