Citrus season is in full swing and we continue to consume it in all ways possible. One of our very favorite seasonal combinations is citrus and fennel, they compliment each other so wonderfully. While at the farmers market the other day, I was fortunate to find one of my farmer friends had a generous amount of freshly harvested fennel bulbs and I could not have been more excited. I immediately knew what I was going to make with the fennel – citrus fennel whole roasted fish.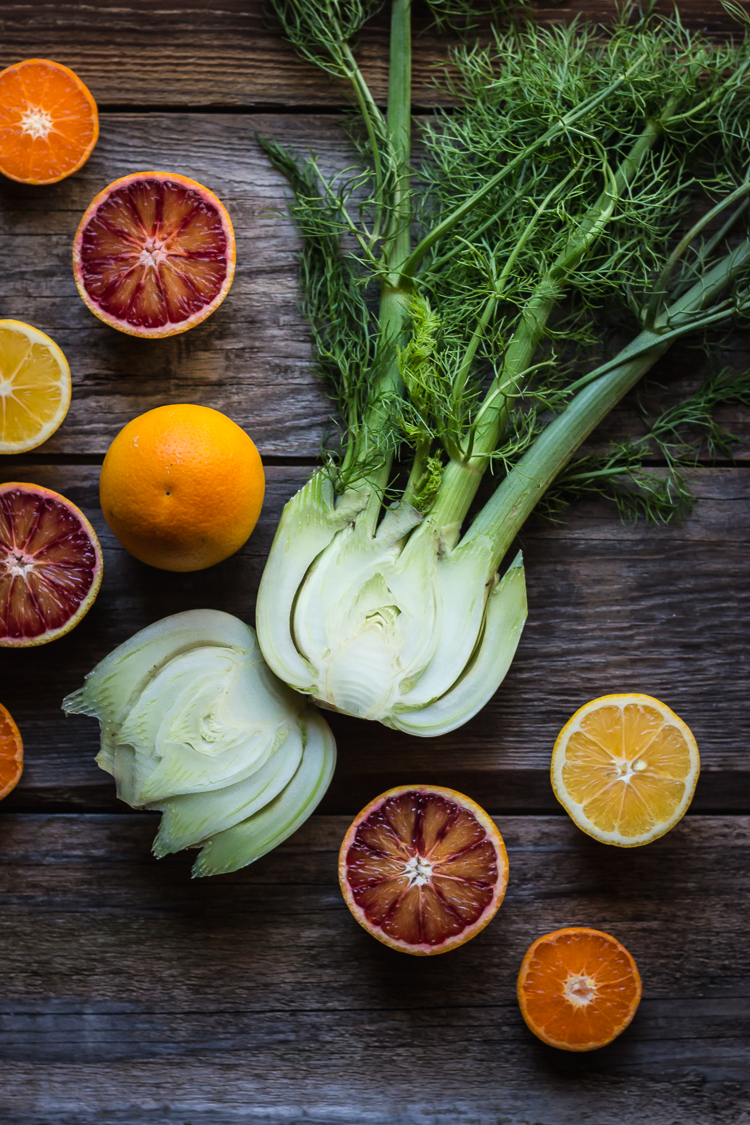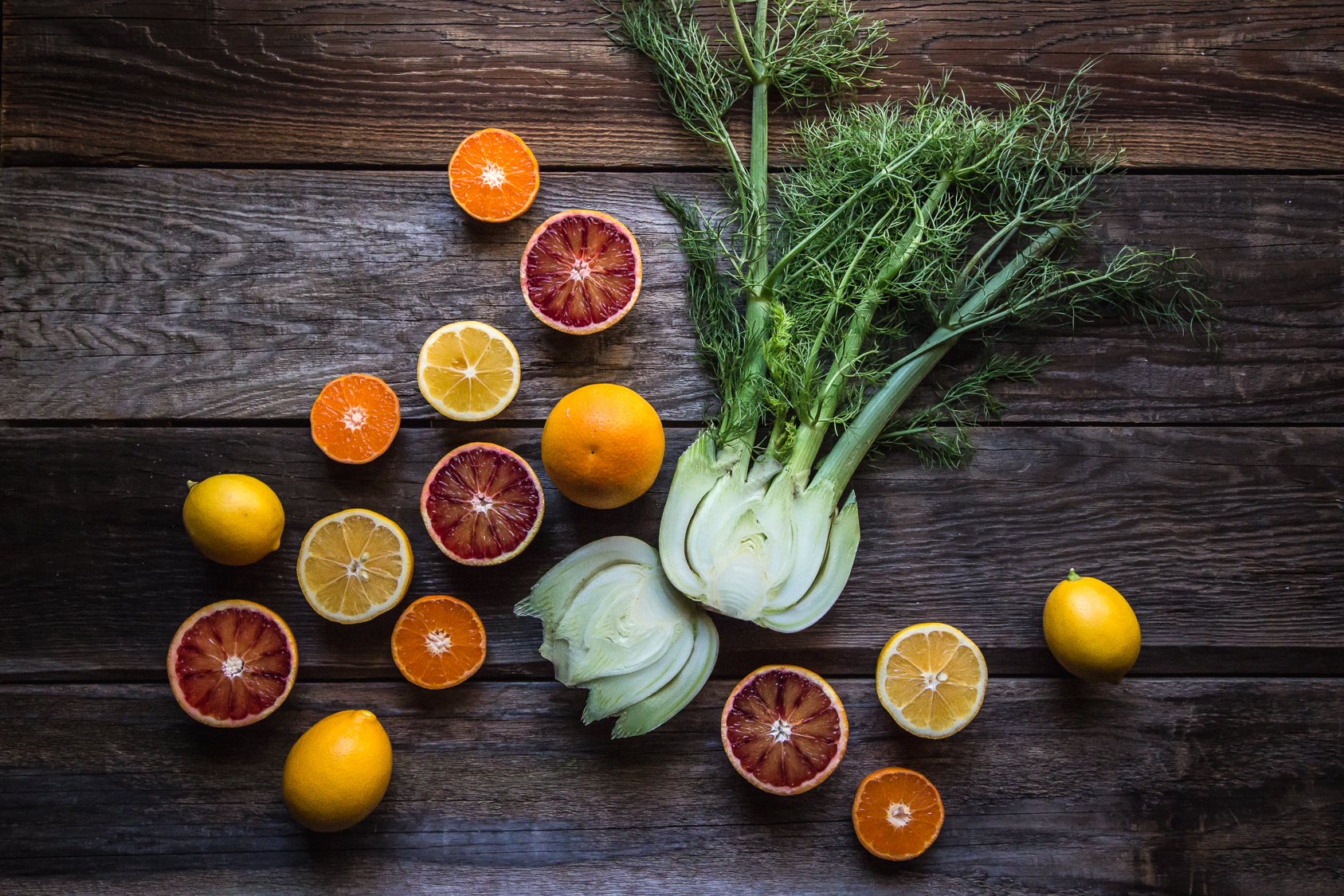 If you have never tried fennel with citrus then you need to do so – it is a combination that we look forward to every winter. While fennel can be shaved into thin slices and eaten raw with a citrus vinaigrette, we greatly prefer to cook fennel because we love the way it softens and caramelizes. In this recipe, the fennel gets cooked in olive oil and then combined with gigantes beans, lemon juice and white wine – you could stop right here and have an incredible meal to be honest – but when I saw the fennel at the farmers market my mind did not stop here, I imagined this as the base for whole roasted fish to create a stunning and delicious one pan meal.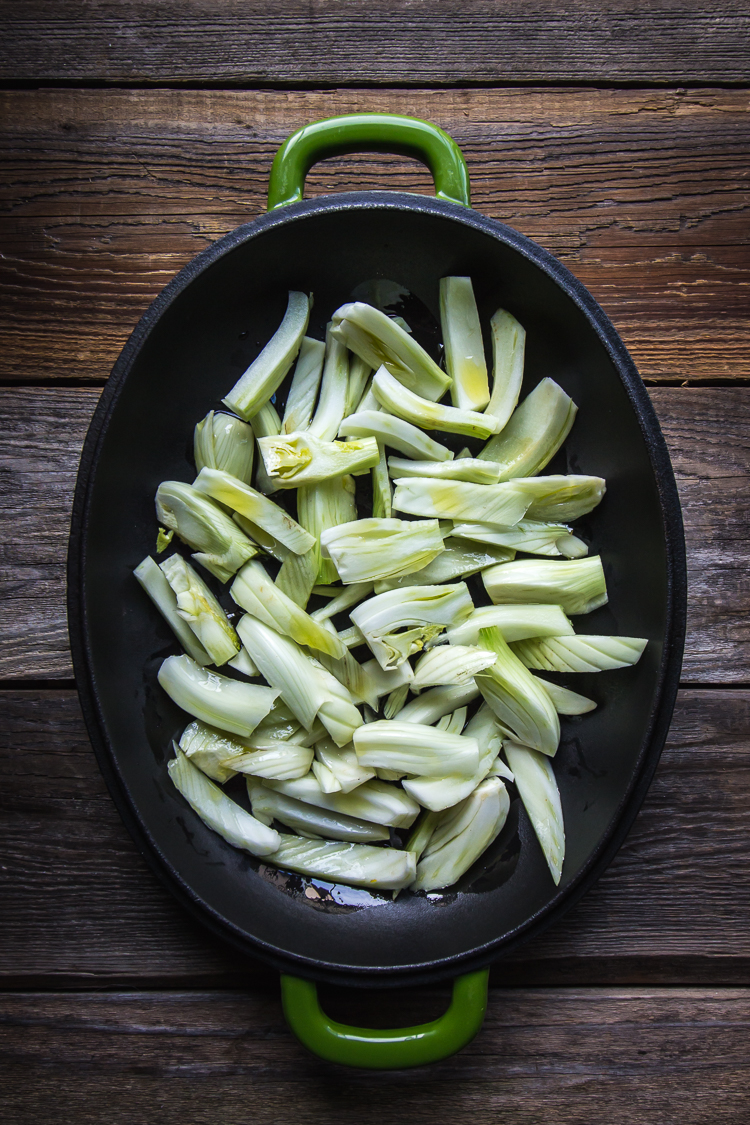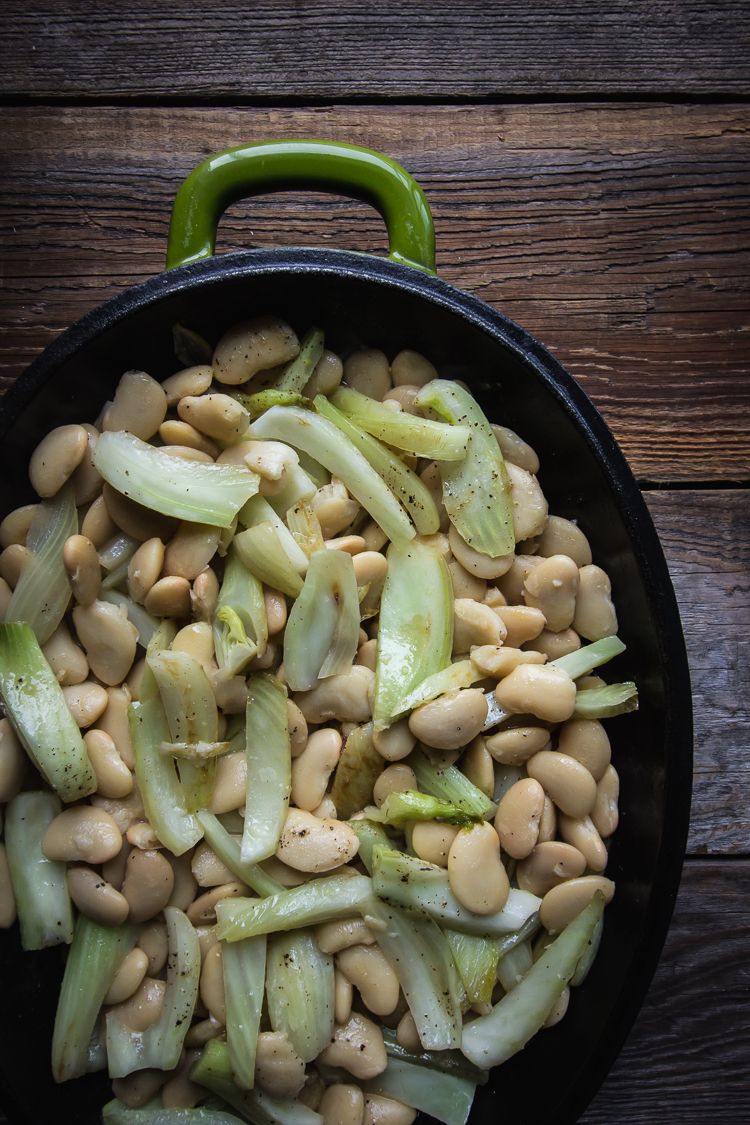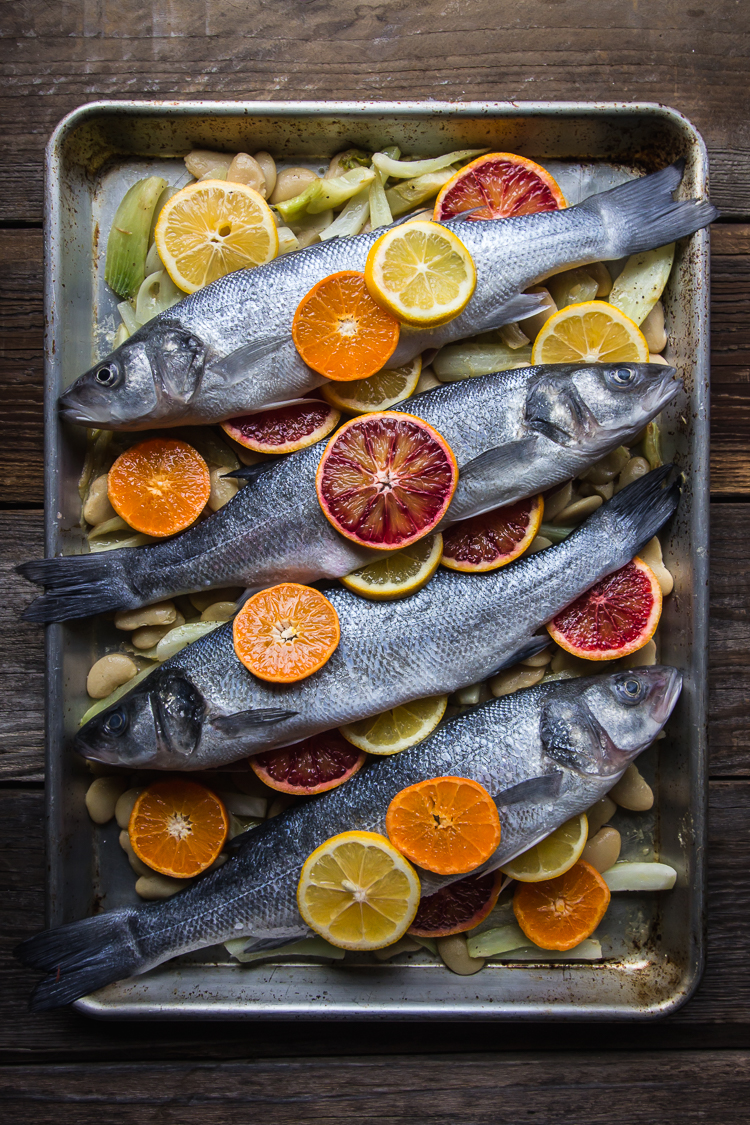 Seafood has always been a part of my life. Growing up, both my mom and dad loved seafood and introduced it to me at a young age. I absolutely loved seafood of all kinds as a child, but I never had the opportunity to clean and prepare whole fish until I married into my hubby's Greek family. My mother-in-law was born and raised on the island of Crete in the seaside town of Chania, where seafood was the staple of her family's diet. She of course is the one who taught me how to clean and prepare whole fish. The times I have spent leaning over the sink with her, hearing about her childhood memories of growing up by the sea in Greece, while we scaled and gutted fish after fish, are very dear to me. Cleaning fish by her side connected me to her in a very intimate way and preparing whole fish is a process that I have come to deeply appreciate.
In Greece, fish are generally procured whole, so preparing them whole is just the way things are done. Preparing whole fish is quite a different experience than buying prepared filets of fish, but it is a process that I feel connects us to the food we are eating on a deeper level. Here in America, people are generally completely separated from the life of the animals that they eat, with many people never wanting to see the steak or chicken breast as the animal that it came from because it makes them feel uncomfortable. For us, eating animal products is a decision that we do not make lightly. We understand that a life was taken for us to nourish our bodies, so seeing that piece of meat for the life that it was brings us to a place of gratitude, appreciation and care that we would not have if we shielded ourselves from seeing the meat we eat as a life that was taken.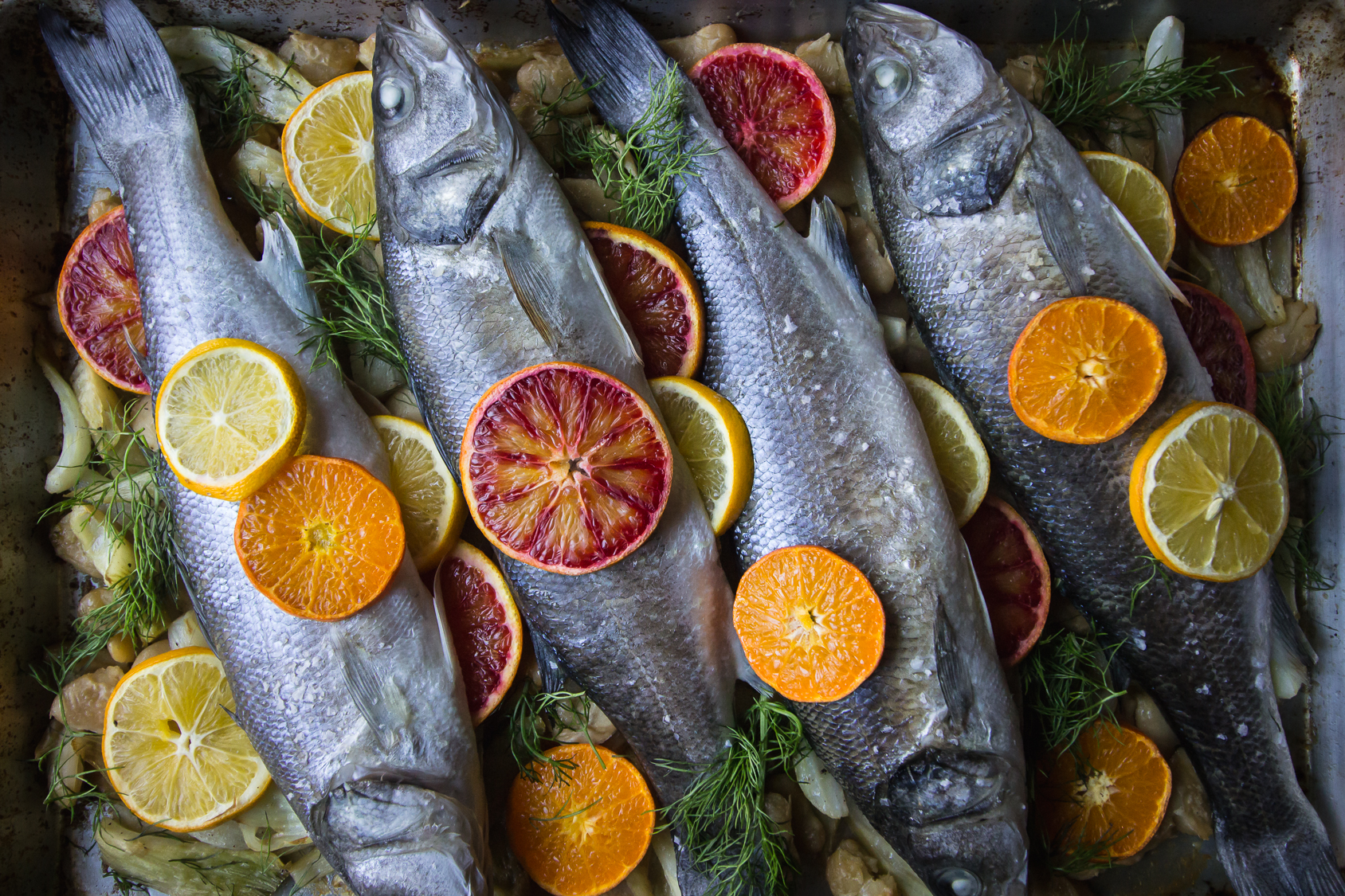 Whether you choose to clean the fish yourself or have your fishmonger clean them for you, eating whole fish is an experience worth having. Combined with the brightness of mixed citrus, creamy white beans and soft caramelized fennel, this citrus fennel whole roasted fish is a feast for the eyes and the palate.
Print
CITRUS FENNEL WHOLE ROASTED FISH
---
Total Time:

35 minutes

Yield:

4

servings

1

x
FOR THE FENNEL & BEANS
3

bulbs of fennel with fronds, cleaned and sliced into thin wedges (about 1/2″ in width) – chopped fennel leaves reserved

3

cups

cooked, large white beans (gigantes, butter beans, or even cannellini beans will work)

1/4

cup

dry white wine
juice of

1

lemon

3 tbsp

olive oil
flaky salt & fresh ground pepper
FOR THE FISH
4

whole fish (we used lavraki/branzini – each fish weighs around

1

lb)
sliced mixed citrus (we used blood oranges, meyer lemons & mandarins, sliced about 1/4″ thick)
olive oil
flaky salt
---
Instructions
Start by cleaning your fish if you did not have them cleaned by your fishmonger (for 4 fish this will take about 20 minutes)
Pre-heat your oven to 425F
Heat a large skillet over medium high heat, add 3 tbsp of olive oil to the pan along with the sliced fennel bulbs & cook the fennel for about 5 minutes before stirring and cooking for another five minutes (you want the fennel to slightly caramelize, so avoid stirring to much)
Once fennel has softened & slightly caramelized, add in the white beans, white wine & lemon juice and cook for about 5 minutes more
Pour the fennel and beans onto a large baking sheet
Rub the skin of each fish with olive oil and then season each fish inside & out with flaky salt – lay each prepared fish atop the fennel and bean mixture on the baking sheet
Stuff each fish with sliced citrus and lay additional slices of citrus atop the fennel and bean mixture
Roast in the oven on the center rack for 20 minutes – remove from the oven and add chopped fresh fennel leaves
Notes
For this citrus fennel whole roasted fish we have used European sea bass, called lavraki in Greek or branzini in Italian. It is by far, our favorite variety of fish that is available in our region. Other varieties of whole fish may be used, but I recommend using fish that weigh no more than 2 lbs for this recipe – (you will need 1 lb of fish per person)
Prep Time:

10 minutes

Cook Time:

35 minutes