Preserved lemons are experiencing quite a moment in the food world, becoming much more commonly used in restaurants and home kitchens nowadays. But this ancient food has filled jars on pantry shelves across the Arab-Mediterranean region for thousands of years. Simply born out of the need to store and preserve lemons past their season, preserved lemons make for a versatile condiment that's uses stretch far beyond the traditional cuisines from where they originate. Considering the season for meyer lemons is quite short compared to the common lemon, and we are up to our ears with them, making preserved meyer lemons is a small investment that will make for a big return come summer, when lemon season is but a memory.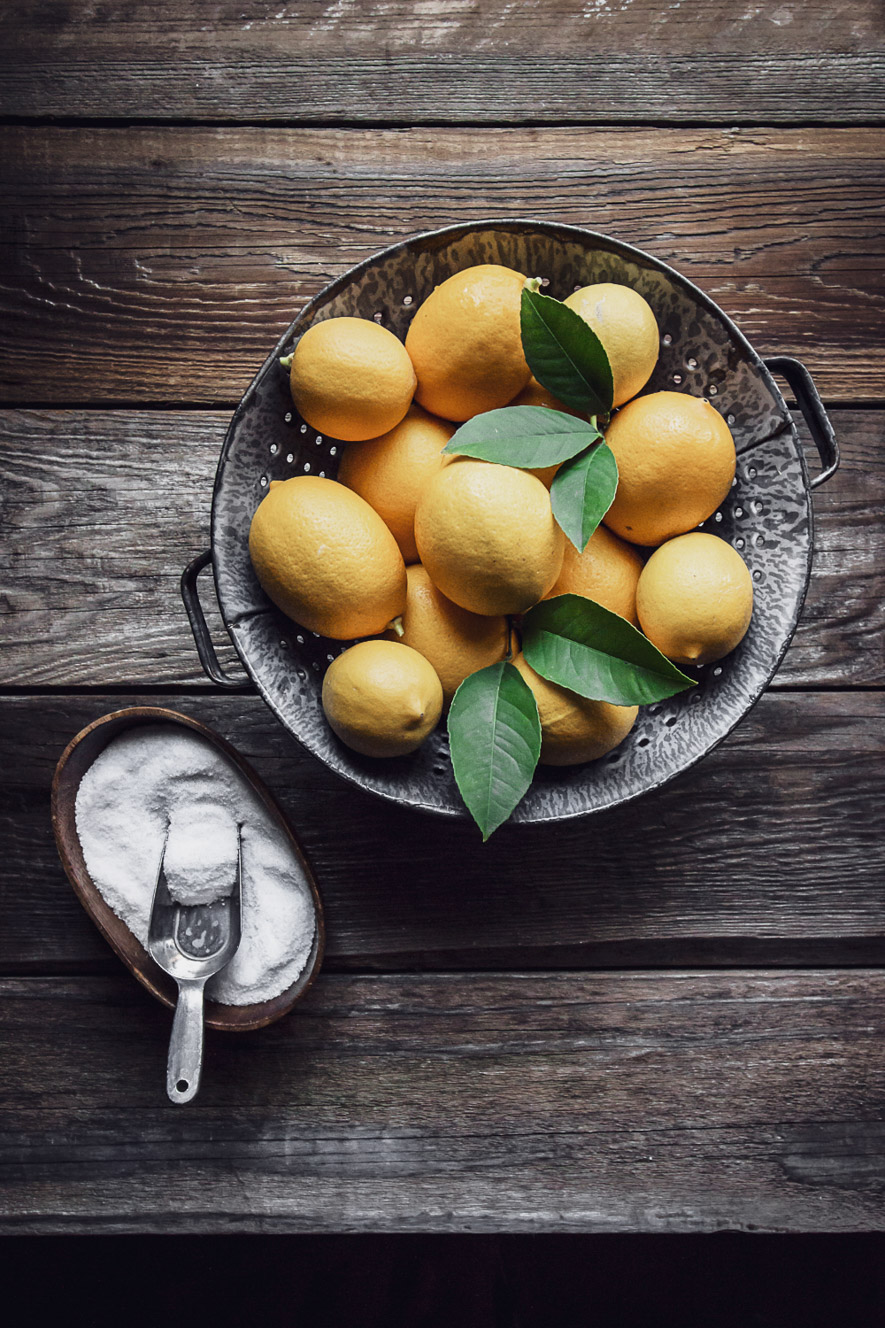 Lemons, salt & patience are all it takes to make this simple, yet intriguing condiment. Similar to olives or capers, preserved lemons add a distinct touch of umami and alluring depth to your cooking. Making preserved lemons with just salt and lemons is the simplest way to approach this traditional food, but you can also add in spices like bay leaf, cinnamon, peppercorns, and cloves to further enhance the flavor profile of your preserved lemons.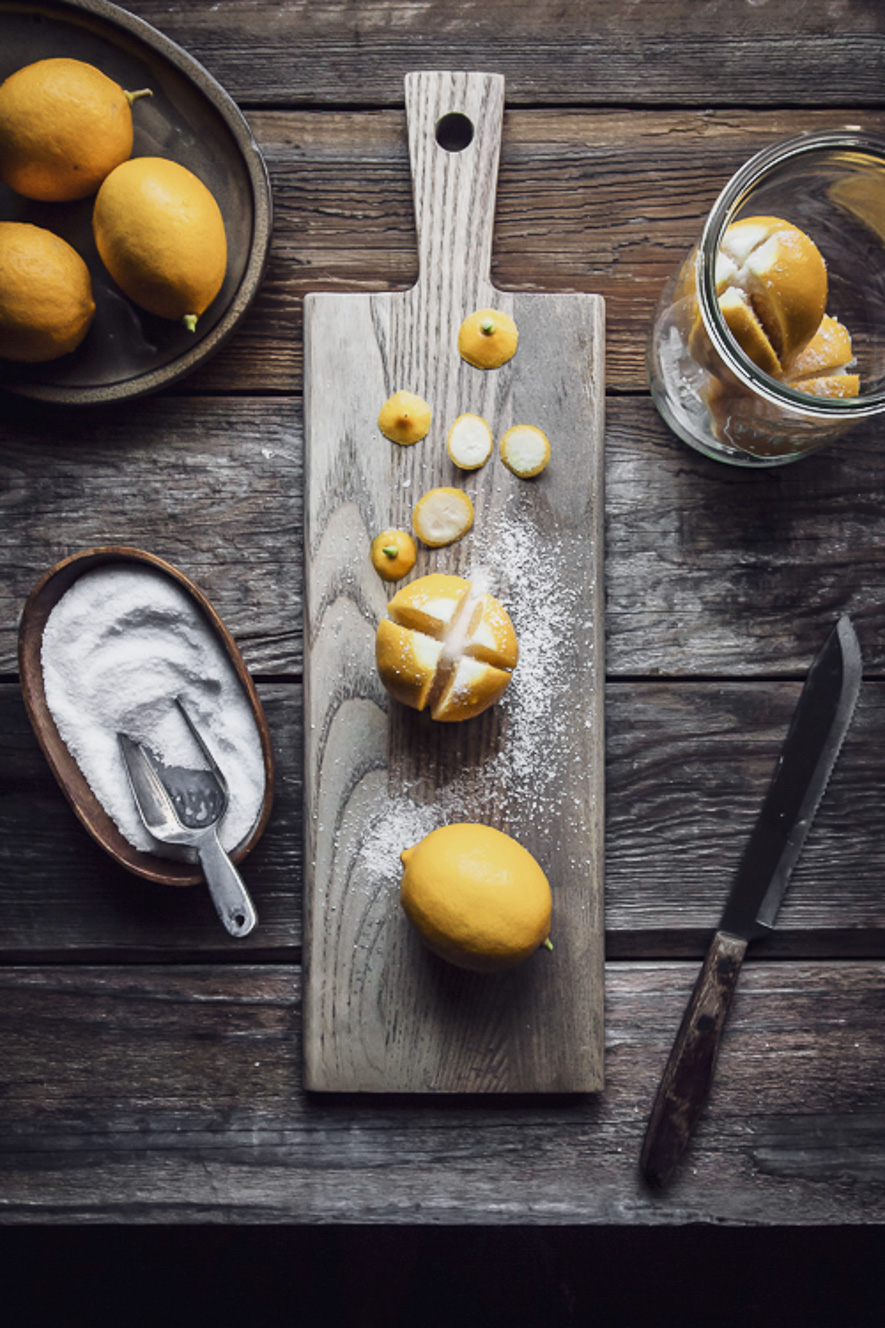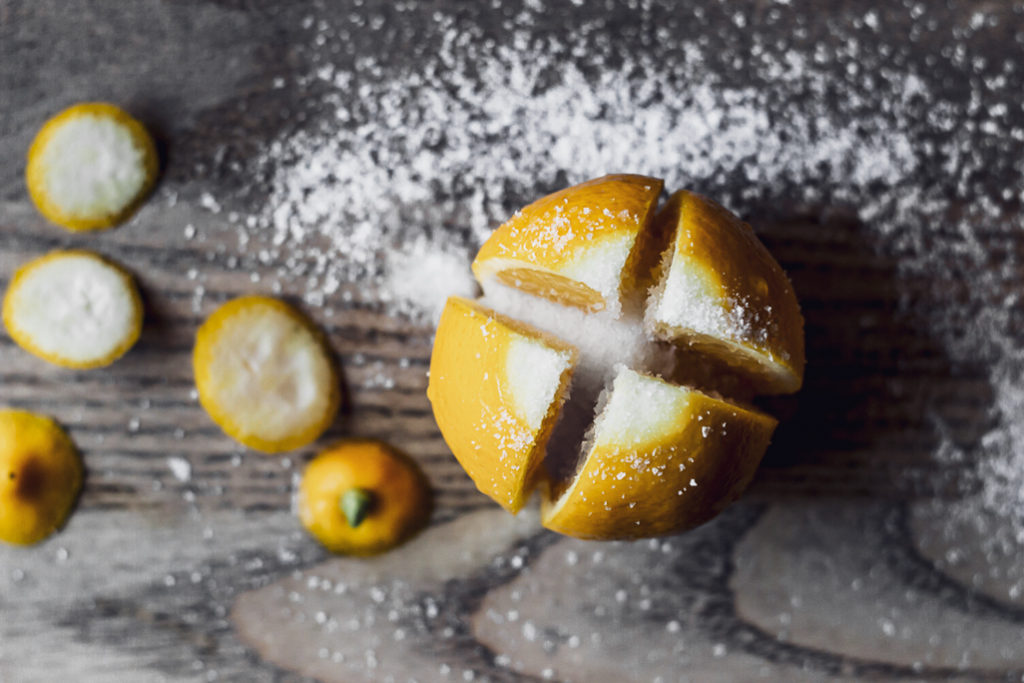 While standard lemon varieties, like 'eureka', are most commonly used to make preserved lemons, meyer lemons make for a delicious preserved lemon by adding their unique fragrance and sweetness. We are incredibly fortunate to be literally surrounded by a sorts of citrus trees, with three meyer lemon trees on our block alone! We absolutely hate to see food go to waste, so in effort to make the best use of all of the bounty around us, we will be preserving a lot of lemons this season!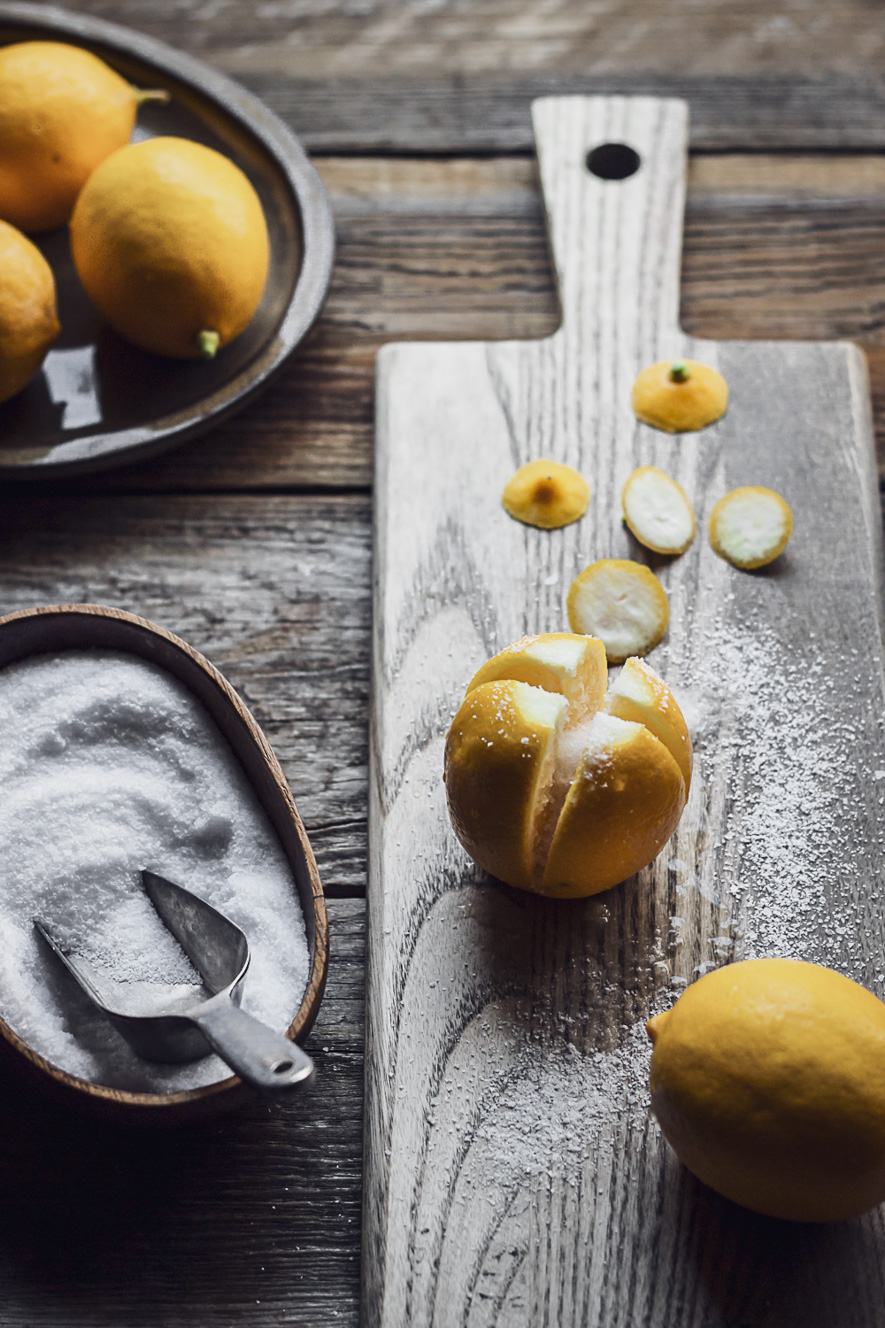 Meyer lemons simply get sliced into intact quarters, sprinkled liberally with salt, packed into sterile jars & then pressed until they are submerged in their now salty juice. Sealed and left to cure in a cool place – a month of patience (or more) reveals a lemon with a soft, velvety peel and a deep, yet mellow lemony character.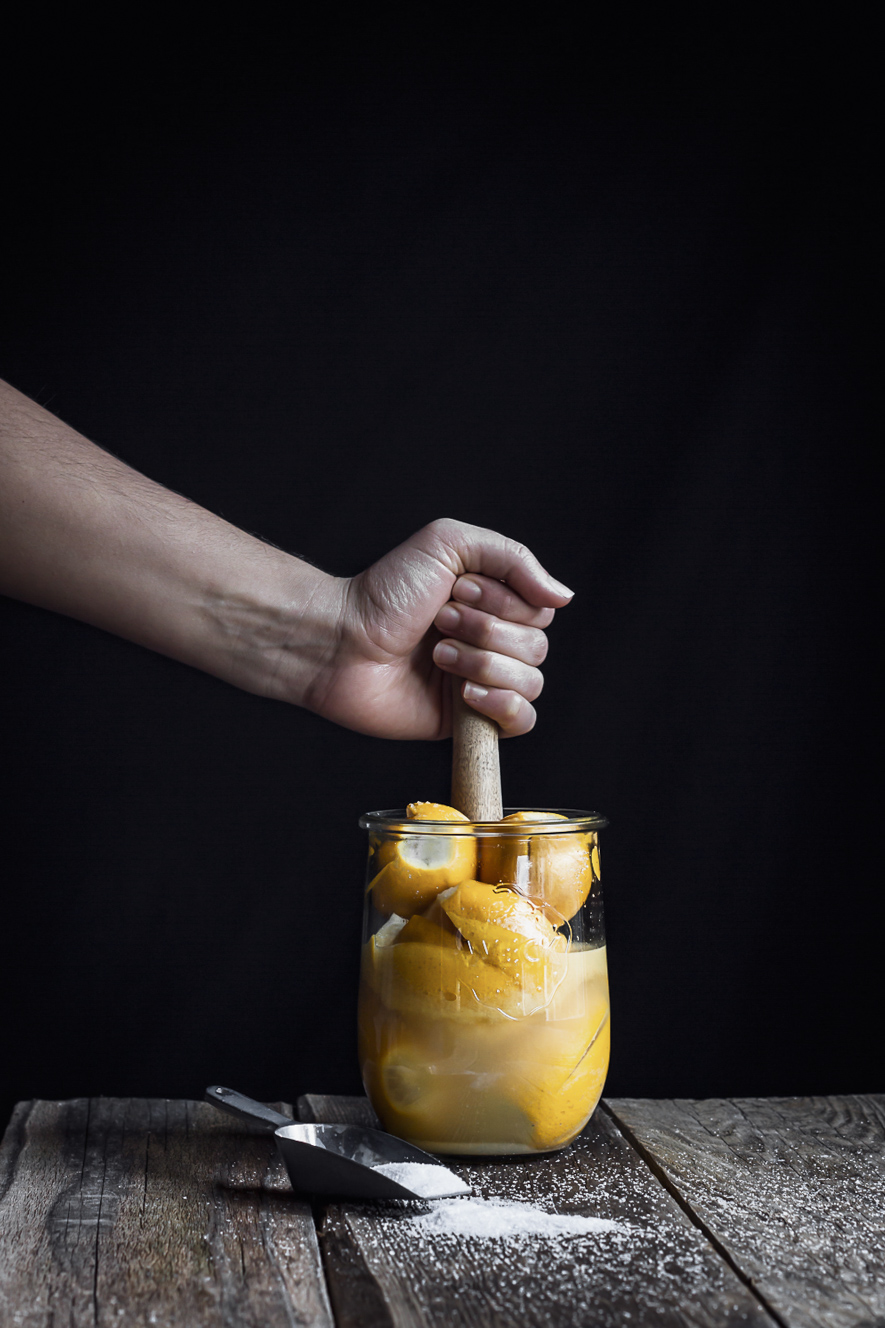 Preserved meyer lemons can be used in many of the ways you would use fresh lemons. Take one from the jar, rinse it off, and add it to an aioli or dressing. Use them in pasta, roasted chicken, or even hummus – the possibilities are really endless. So do yourself a favor and make some preserved meyer lemons so you can join us in making the most of citrus season.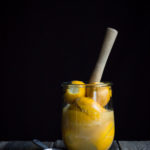 PRESERVED MEYER LEMONS
---
---
Instructions
To begin, make sure your lemons are clean (we simply give them a light scrubbing under cool water)
Slice the ends off the lemons (about a 1/4-inch) just enough to remove the nubs (you shouldn't see the flesh, just the pith)
Stand the lemon on one end & split lengthwise into quarters, keeping quarters connected at base (stopping when you have about 1/2-inch left)
Sprinkle salt all over the inside of the lemon, covering all of the flesh with salt
Place the lemon cut side down into a sterilized jar, and gently press it to flatten and release its juices.
Sprinkle another teaspoon of salt over the top along with a pinch of your desired spices (if using)
Repeat with remaining lemons until the jar is filled & there is about 1″ of headspace left – at this point the lemons should be mostly submerged in their own juices, if not, seal the jar & the lemons will continue to release a lot of liquid over the next 24 hours (press the lemons to fully submerge before putting away to cure)
Seal the jars & let them cure in a cool place for at least 1 month, shaking periodically to evenly distribute the salt.
After a month you can begin using the preserved lemons – Preserved lemons will keep in the refrigerator for up to 6 months
To use, discard the flesh, lightly rinse the peel, dice/slice and enjoy in your favorite recipes!
Prep Time:

0 hours

Cook Time:

0 hours
HERE ARE SOME RECIPES THAT FEATURE PRESERVED LEMONS: