Our backyard is home to several blueberry bushes that burst with blueberries every year from May through July. Being able to walk into our own backyard to harvest fresh blueberries and then turn them into a fresh blueberry pie is like a dream come true that we thankfully get to relive every summer.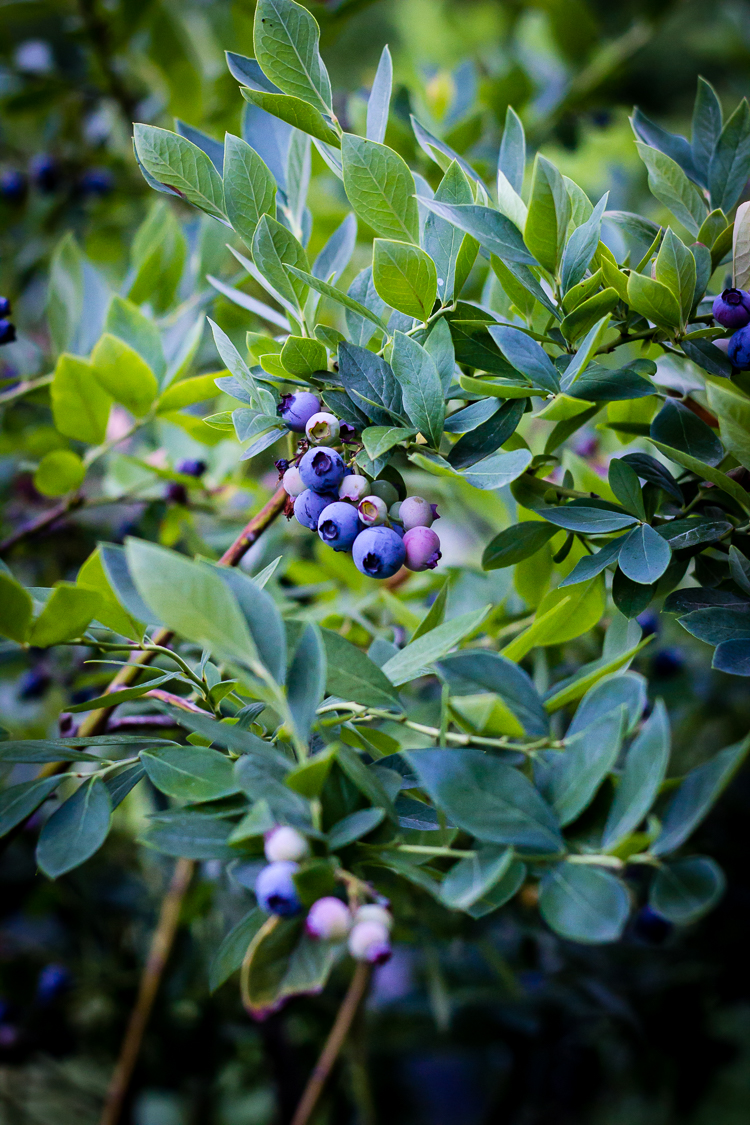 Growing blueberries at home has been a truly rewarding experience. Out of all of the fruit we grow on our property blueberries are by far the easiest to keep and maintain. We planted our bushes in 15 gallon containers when we first bought them and they are still flourishing now, 5 years later.
The key to successfully growing blueberries at home is to plant varieties that are inclined to succeed in your climate. For us, living in Northern California, planting southern high bush varieties was imperative. Blueberries, like many other fruits, require a certain amount of winter chill hours in order to produce fruit. Southern high bush varieties need much less winter chill than standard blueberries so they will successfully produce fruit in climates that most people wouldn't associate with blueberry growing. The varieties we grow are Sunshine Blue & Bountiful Blue, both of which have performed equally well in our backyard year after year.
TIPS FOR GROWING BLUEBERRIES IN CONTAINERS:
VARITEY: Plant at least two different varieties so that your bushes cross pollinate each other, this means your bushes will yield more fruit.
SOIL: Blueberries will thrive if you give them the right foundation. Using an acidic planting medium like E.B. Stone Azalea, Camelia & Gardenia Planting Mix will set your plants up for success.
FERTILIZE: Potted blueberries need to be fed frequently. We use E.B. Stone Organics Azalea, Camellia & Gardenia Food because it is the perfect acidic blend for a blueberry bush's needs (ph 4.5-5.5). For the first year, feed your bushes every few months and for the second year and every year after, feed lightly every month during the growing season.
PRUNE: Every fall I give our bushes a good pruning, eliminating smaller branches from the center of the plants so that harvesting will be easier the next year. When you prune your bushes you will yield larger berries which makes harvesting much easier: less large berries take far less time to harvest than tons of tiny berries.
SUN & WATER: Your bushes will produce the most fruit if they are grown in full sun. This means you will need to make sure your bushes are watered regularly, especially in hot weather. On super hot days (105F or hotter) I water our bushes twice, to ensure they do not get too stressed from the intense heat.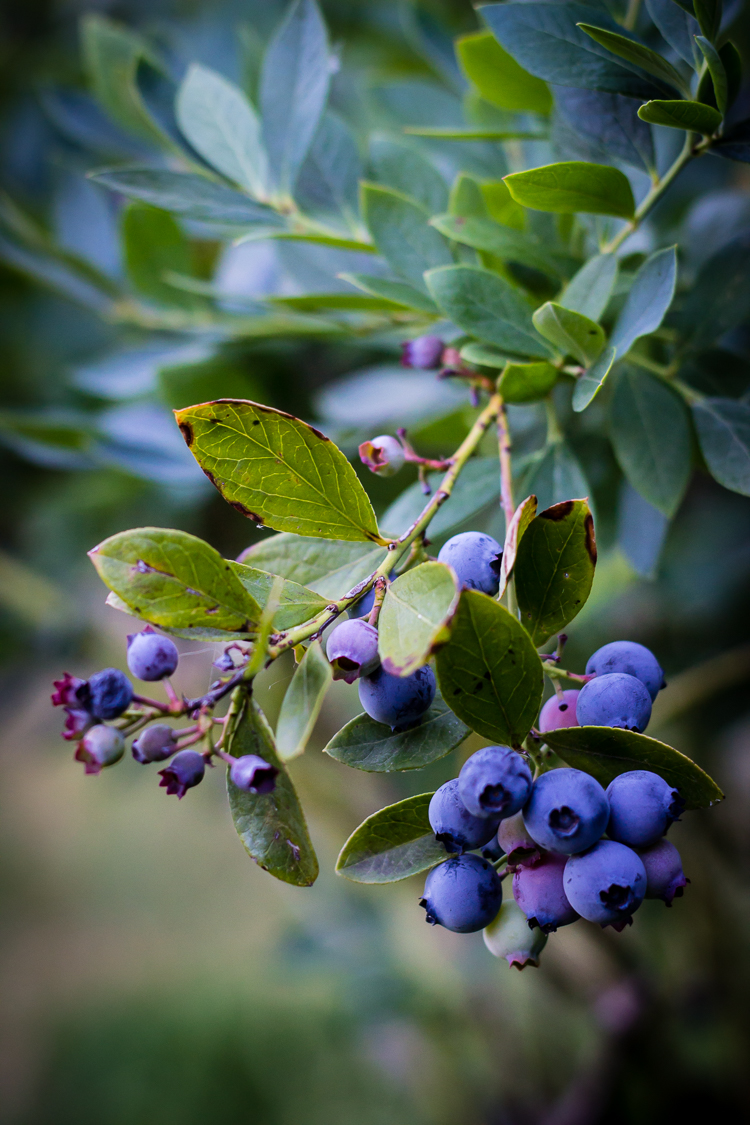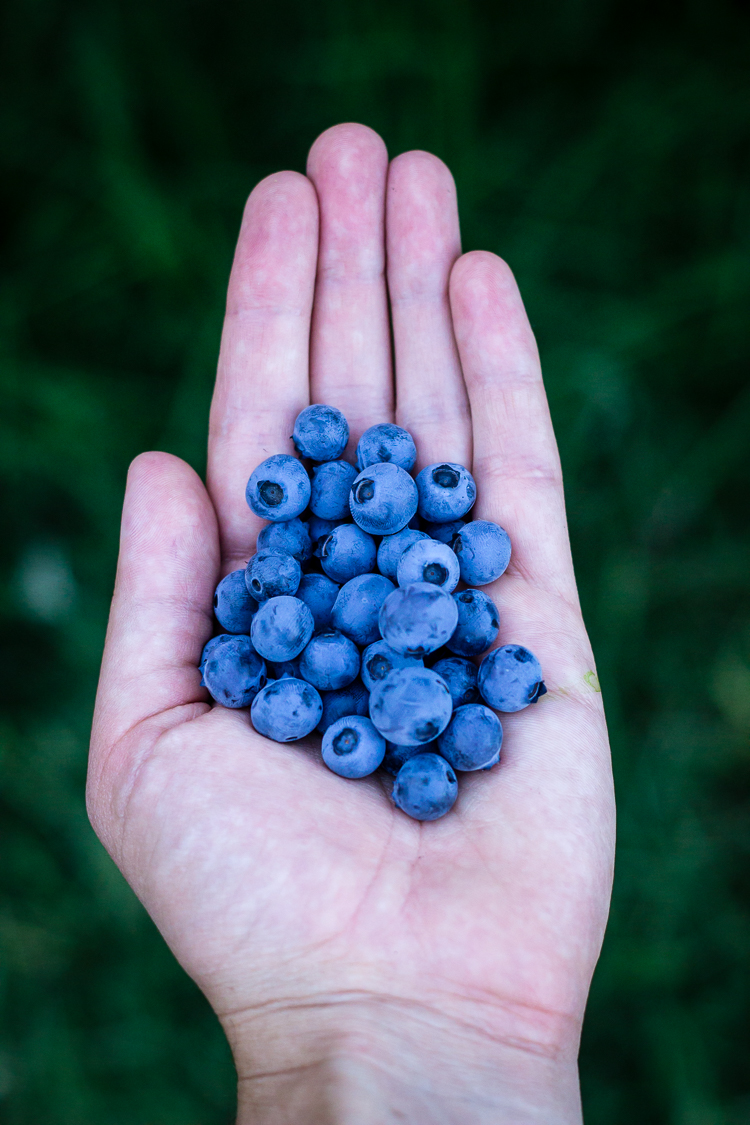 Once you are growing your own blueberries at home, you will absolutely need to make pie. There is no question that summertime and pie go hand in hand and there is no better way to celebrate the amazing natural flavor of blueberries than with a fresh blueberry pie.
When I first laid eyes on fresh blueberry pie via the Food 52 genius recipes column, I knew it would become the crowning glory of our blueberry harvest every summer. I was especially drawn to the fact that more than 75% of the blueberries used in this recipe do not get cooked- which kind of technically makes this fresh blueberry pie a health food (right?!) The other thing I love about this recipe is the small amount of sweetener needed- since we aren't baking the blueberries, we do not need copious amounts of sugar to thicken up the juices that baked blueberries would leach. The low amount of added sweetener also allows the flavor & natural sweetness of the blueberries to really shine. I opt for grade b maple syrup as the sweetener in my adaptation of this recipe, but honey can be substituted if that is what you have on hand.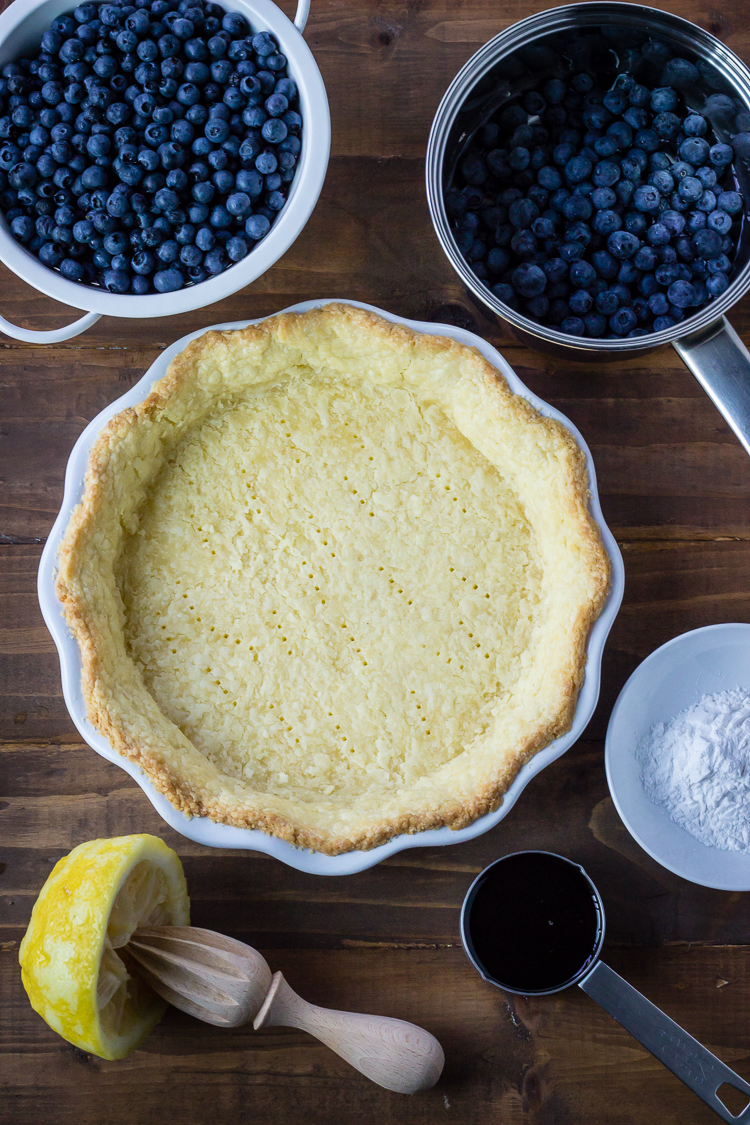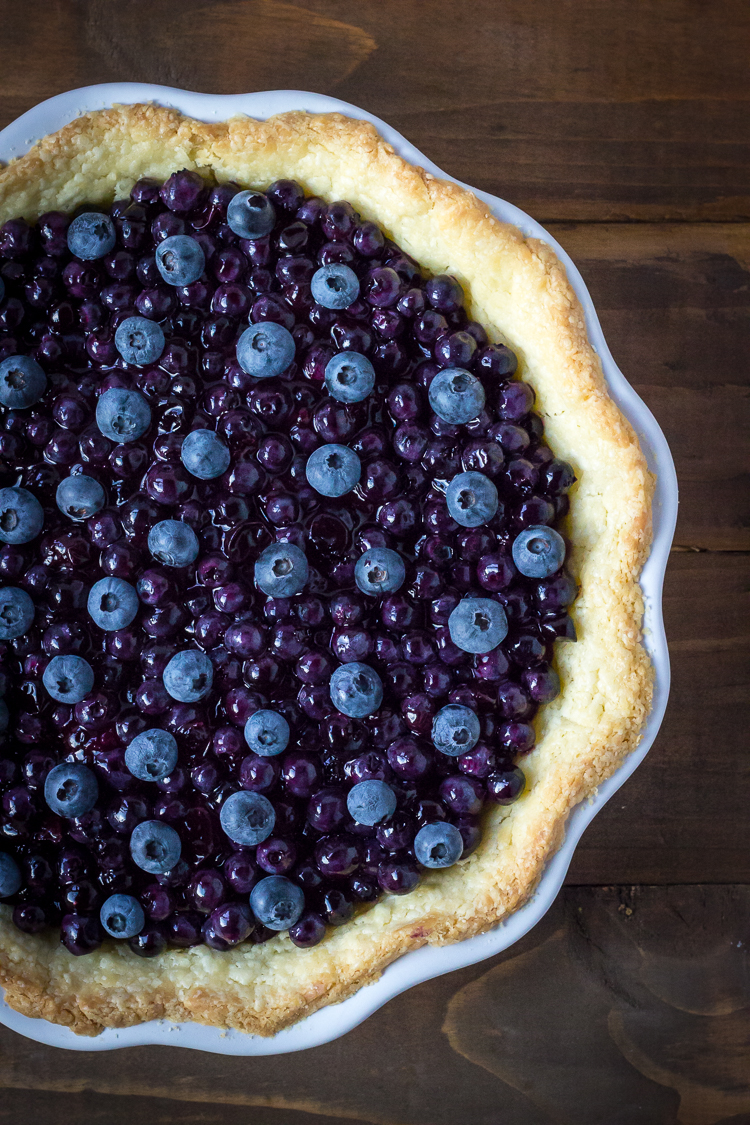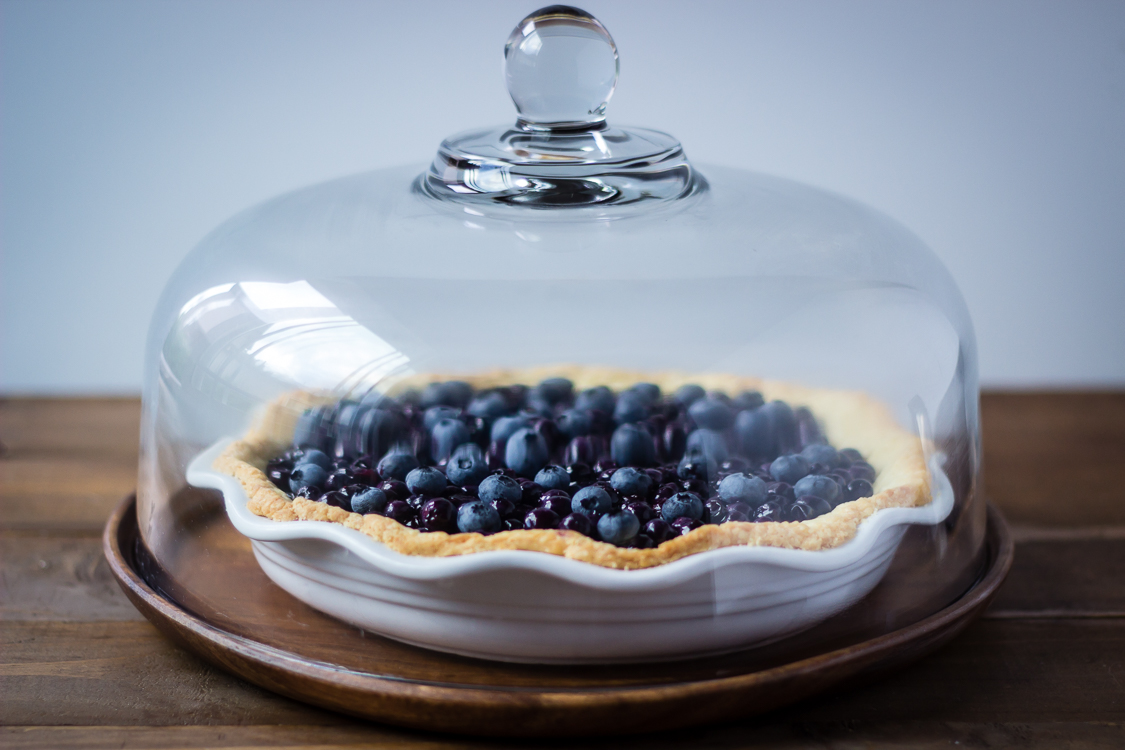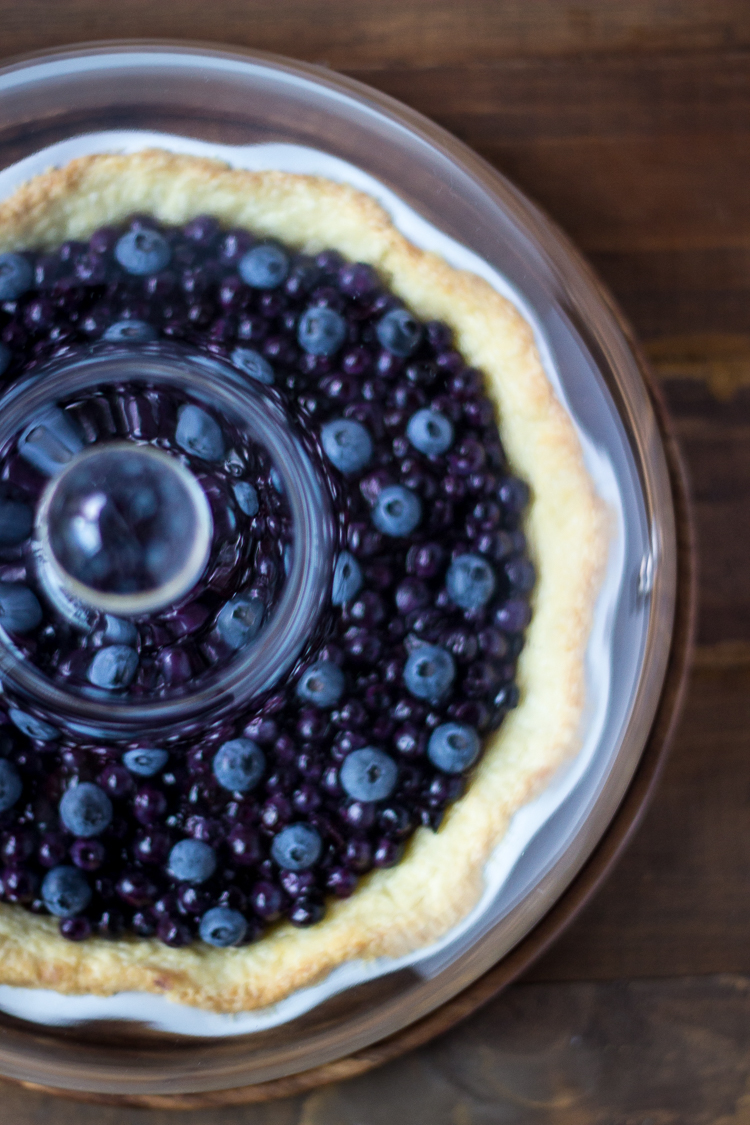 Gluten free pie crust is where our blueberries make their home in this recipe, but you can use your go-to recipe or even use a store-bought pie crust. The fact of the matter is, that once you have tried this fresh blueberry pie, your image of blueberry pie will never be the same. You'll question why blueberries were ever baked into pie in the first place. The consistency & character of the fresh blueberries are retained, making for the most memorable blueberry pie you will ever have the pleasure of eating. In fact, I hope this pie inspires you to plant some blueberry bushes, just so you have direct access to the very best blueberries to turn into fresh blueberry pie every summer.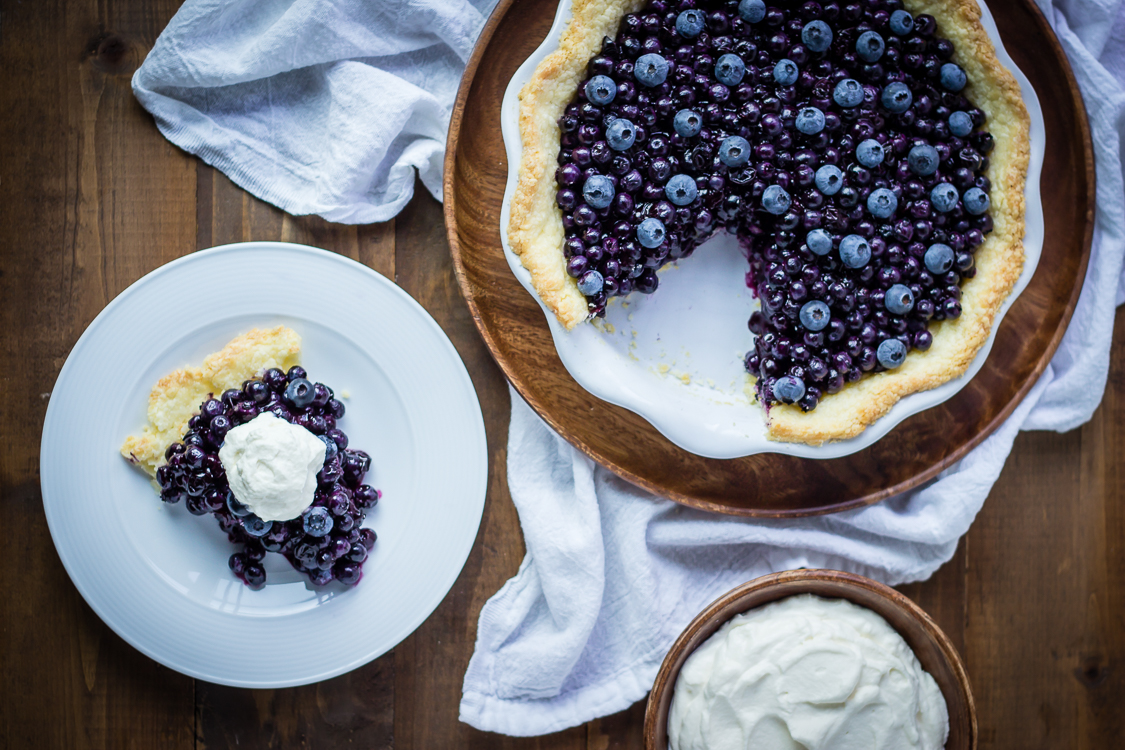 Print