Ever since I was a small child, pistachio has always been my favorite flavor of ice cream. Little did I know, that the "pistachio" ice cream I grew up eating for most of my life did not even contain pistachios – it was green from artificial food coloring and the nuts were actually almonds. I was quite disturbed when I first realized this. How could "they" call it pistachio ice cream when there was not even a trace of pistachio in it?!
Finding real pistachio ice cream is not impossible however and I have tasted some really good ones. The only problem with ice cream is that not everyone can handle conventional dairy. Especially now a days, more and more people are having difficulty digesting conventional dairy and raw dairy is difficult to acquire. So, I set out to make a dairy free pistachio ice cream that is naturally green and chock full of pistachios – because it is called pistachio ice cream after all.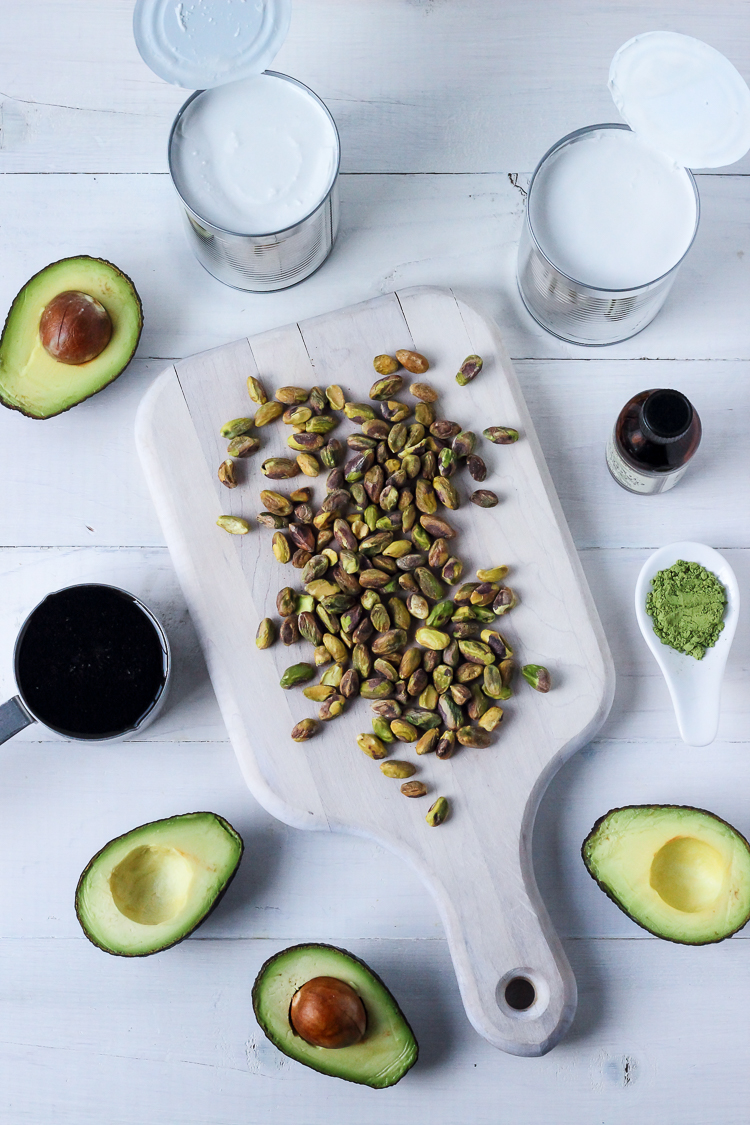 Coconut milk is a natural dairy free candidate for the base, seeing as it is loaded with healthy fat. I used this bpa free canned coconut milk in this recipe. Next we add avocados – do not let this weird you out, the avocados are very simple in flavor and serve as an additional source of fat to get our ice cream to have a really nice mouth feel, as close to dairy ice cream as possible, and they naturally tint the ice cream a slight shade of green. Matcha, fine ground green tea powder, is how we get the ice cream the perfect shade of green- so long artificial food coloring! Organic culinary grade matcha from Encha is the highest quality and is a gorgeous vibrant green. Grade B maple syrup is what we use to sweeten the ice cream – which makes it vegan, but honey can be substituted if that is what you have on hand. A touch of organic almond extract for that classic flavor found in typical "pistachio" ice cream and finally a pinch of fine grain himalayan salt to balance the sweetness.
Blend everything in a high speed blender until creamy and then churn in a 1.5 quart ice cream maker for about 20 minutes. Add in your chopped pistachios, churn a bit more and then you will have the most amazing dairy free ice cream you will ever taste. I was shocked at how delicious it turned out…I could literally eat an entire batch to myself!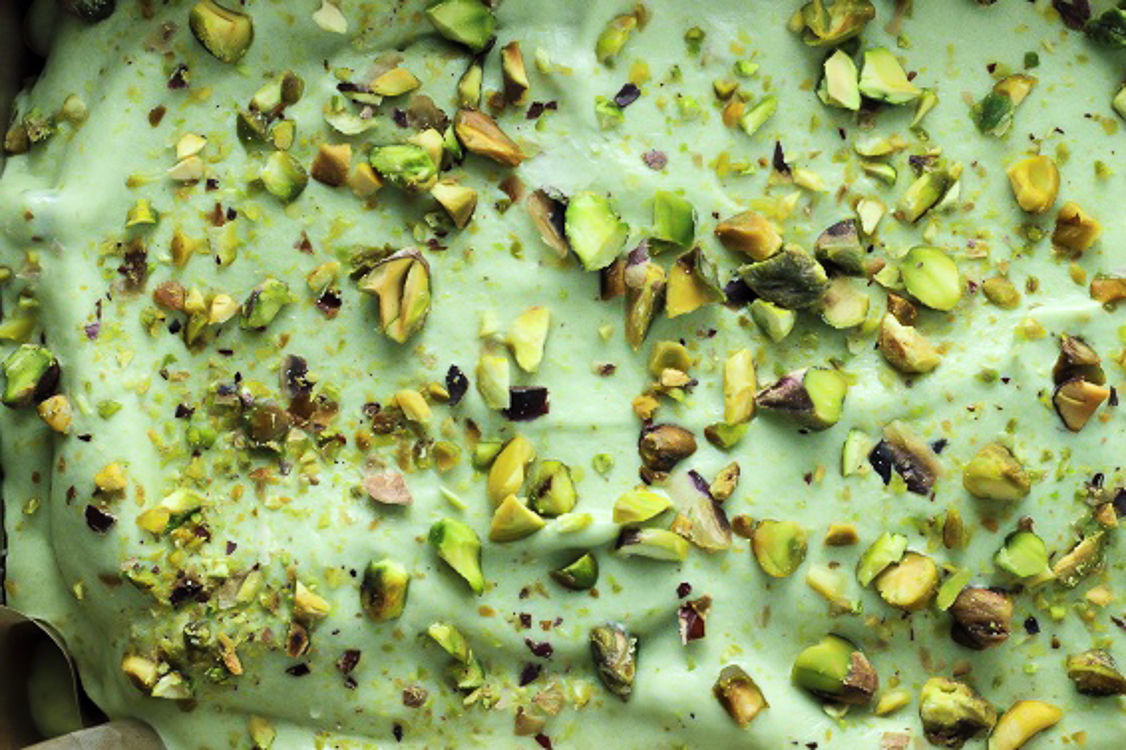 I like to sprinkle some extra chopped pistachios over the top after I serve the ice cream, because pistachios are awesome and because we are re-claiming pistachio ice cream in our kitchens by showing whoever "they" are that it is not pistachio ice cream unless it is brimming with pistachios.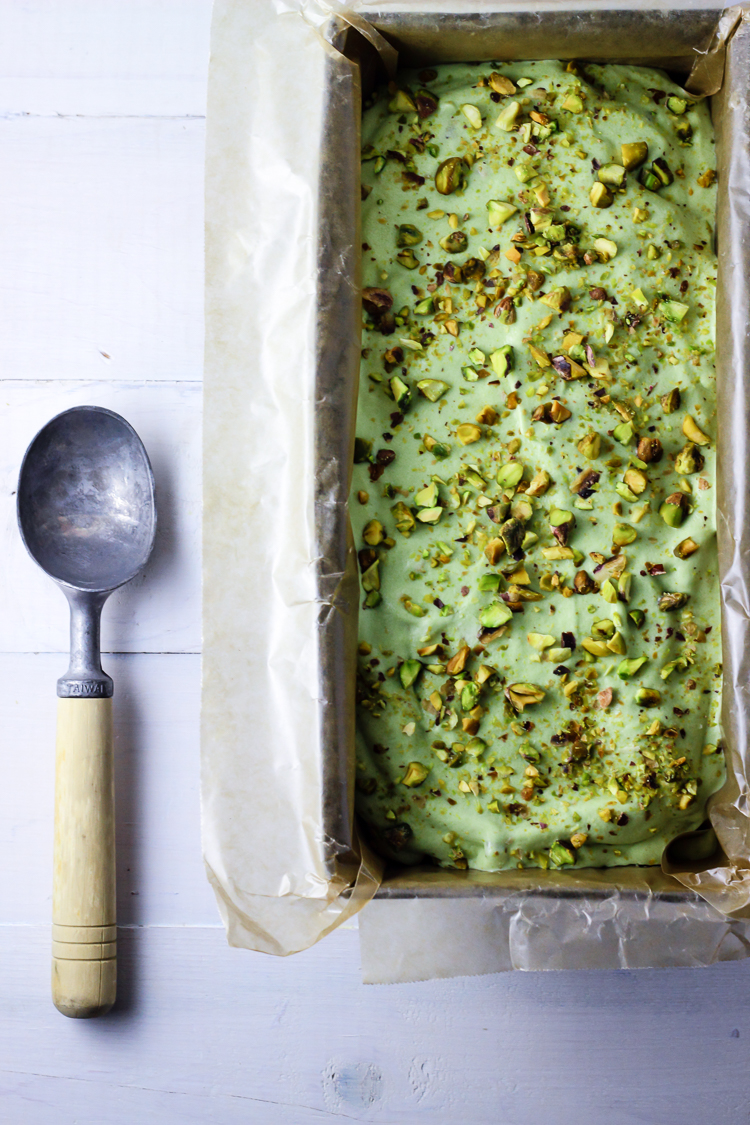 Print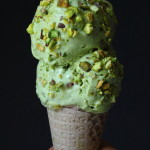 PISTACHIO ICE CREAM
---
Total Time:

30 minutes

Yield:

1.5 quarts

1

x
2

(13.5 oz) cans coconut milk- chilled in refrigerator

2

just ripe avocados- chilled in refrigerator

2/3

cup

grade B maple syrup- chilled in refrigerator

1/4 tsp

almond extract

1/8 tsp

fine grain salt

1/2

cup

raw, unsalted, pistachios
---
Instructions
Make sure your ice cream maker freezer bowl has been in the freezer for 24 hours
Place cans of coconut milk, avocados, and maple syrup in the refrigerator to chill for at least 2 hours
Add chilled coconut milk, peeled & pitted avocados & chilled maple syrup to blender (having the ingredients chilled will help the ice cream set up quicker)
Add matcha, almond extract, & salt to blender
Blend contents, gradually increasing speed to high, until perfectly smooth and creamy
Set up your ice cream maker with your frozen freezer bowl
Add blender contents to ice cream maker and churn for 20 minutes (follow instructions of your ice cream maker- this time can vary from 20-30 minutes depending on the brand)
While ice cream is churning, lightly toast the pistachios in a dry pan over medium heat, until just fragrant, stirring often to prevent burning
Once pistachios are fragrant, pour them onto a cutting board & let cool
Roughly chop cooled pistachios
After ice cream has churned for 20 minutes, add chopped pistachios to ice cream maker and churn for about another 1-2 minutes until pistachios are well incorporated
You can serve the ice cream at this point or put it in a freezer safe container and freeze for another 1-2 hours until you have achieved your preferred consistency
Ice cream can be stored in the freezer for several weeks (it probably will not last that long ;)
Before serving ice cream that has been frozen, set out the ice cream container at room temperature for about 10-15 minutes until easily scoop-able
Prep Time:

0 hours

Cook Time:

0 hours