This feast was inspired by one of the last meals we ate in Greece after living there for the last 6 months. Rich and unctuous slow braised leg of lamb is paired with meltingly tender leek confit and silky sweet potato puree. This combination of textures and flavors makes for a luxurious feast that is surprisingly simple to prepare. Perfect for gracing your holiday table or any occasion that you want to treat yourself and those you love.
Earlier this year, the American Lamb Board asked me to create three lamb recipes inspired by the influence that Greek culture has had on my life and my cooking. Lamb is a staple meat in our kitchen. When you eat American Lamb you support family ranchers that are raising meat with respect for their land and their animals. The first two recipes I created can be found on www.americanlamb.com (recipe one & recipe two). To say that I saved my best recipe for last would be an understatement. This slow braised leg of lamb with leek confit and sweet potato puree is a feast that will haunt your memory in the best way imaginable.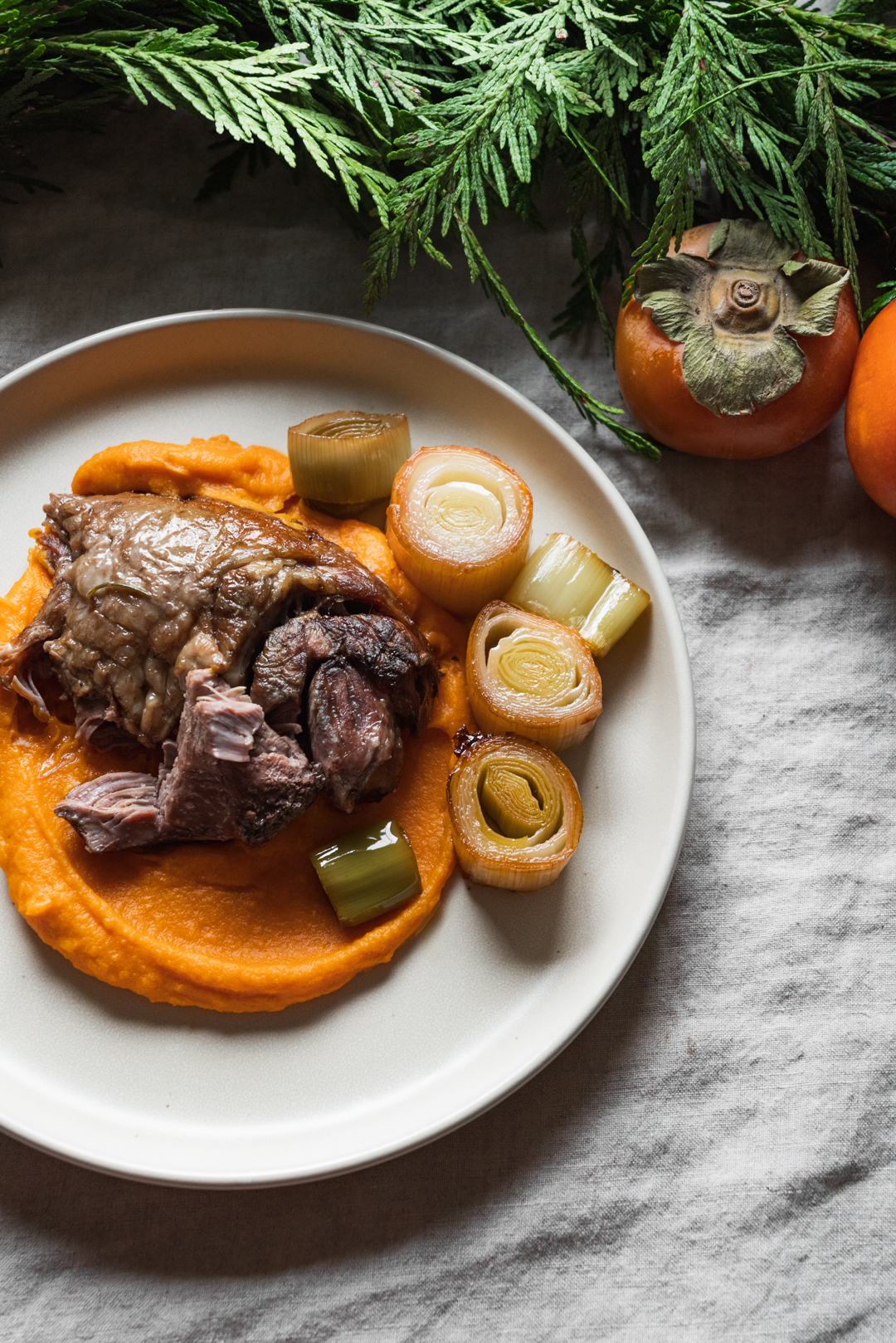 SLOW BRAISED LEG OF LAMB
The most important ingredient in this slow braised leg of lamb recipe is: time. In Greek culture, lamb is most typically eaten well done, but not in a dry or overcooked manner. Lamb is a very revered meat in the Greek culture, so it is always cooked with the utmost care. For this recipe, we sear the leg of lamb that has been studded with garlic cloves until golden brown. We then bathe it in a bath of fruity white wine, stock and fresh rosemary. The lamb slowly braises in this aromatic liquid for the next 4-5 hours. Yielding a tender, juicy and savory main course ideal for any special occasion.
LEEK CONFIT
With their sweet, oniony flavor and tender, melty texture leeks are one of the most important cool season ingredients in Greek kitchens. For this feast, leeks get slow cooked together with lots of olive oil, garlic and fresh thyme. The end result is a simple but delectable side dish that compliments the slow braised leg of lamb and sweet potato puree wonderfully.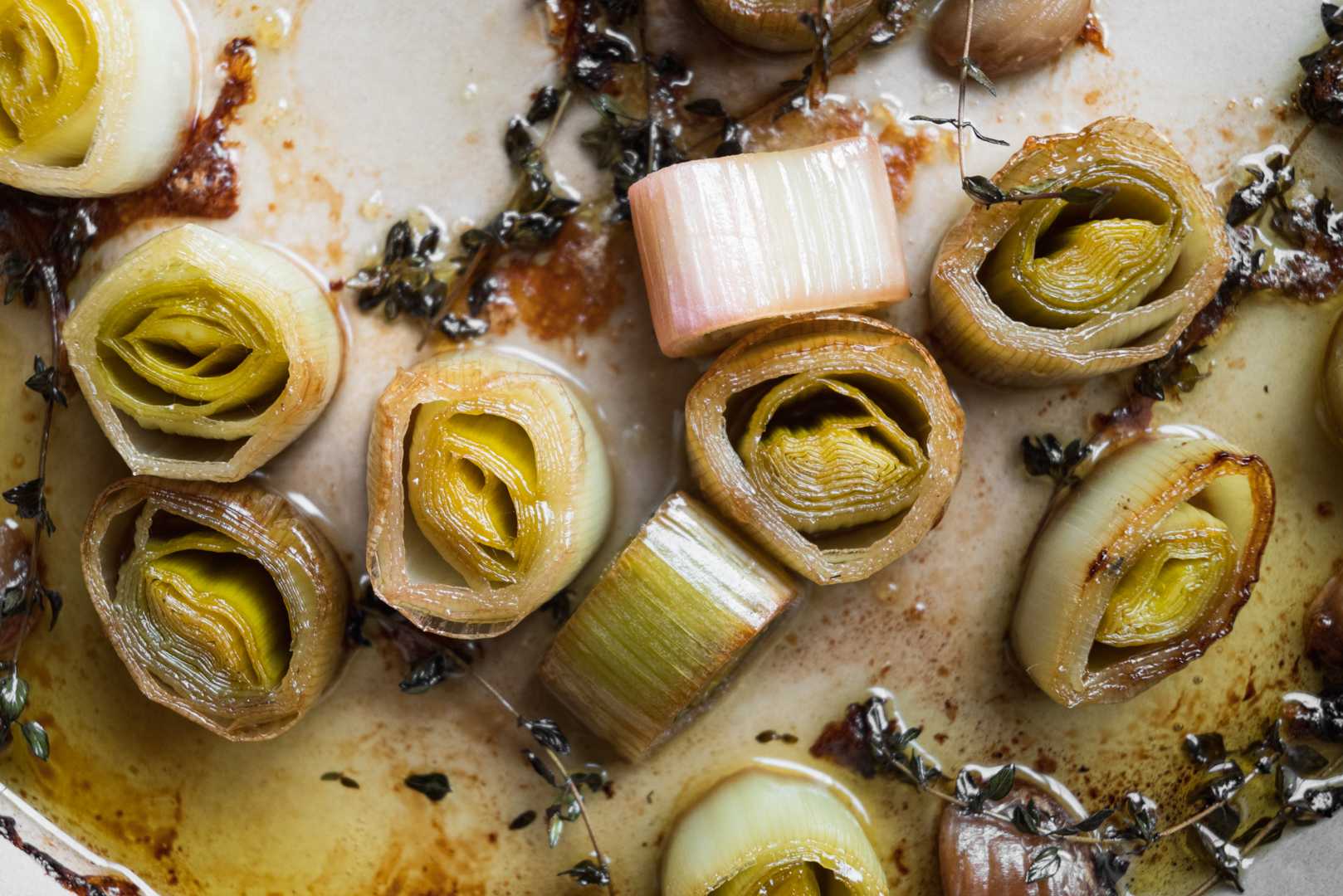 SWEET POTATO PUREE
Utterly simple, but surprisingly luxurious. Sweet potato puree consists of just steamed sweet potatoes, butter, salt & freshly grated nutmeg. To serve, spread a portion of sweet potato puree on a warm plate, top with braised lamb and leek confit.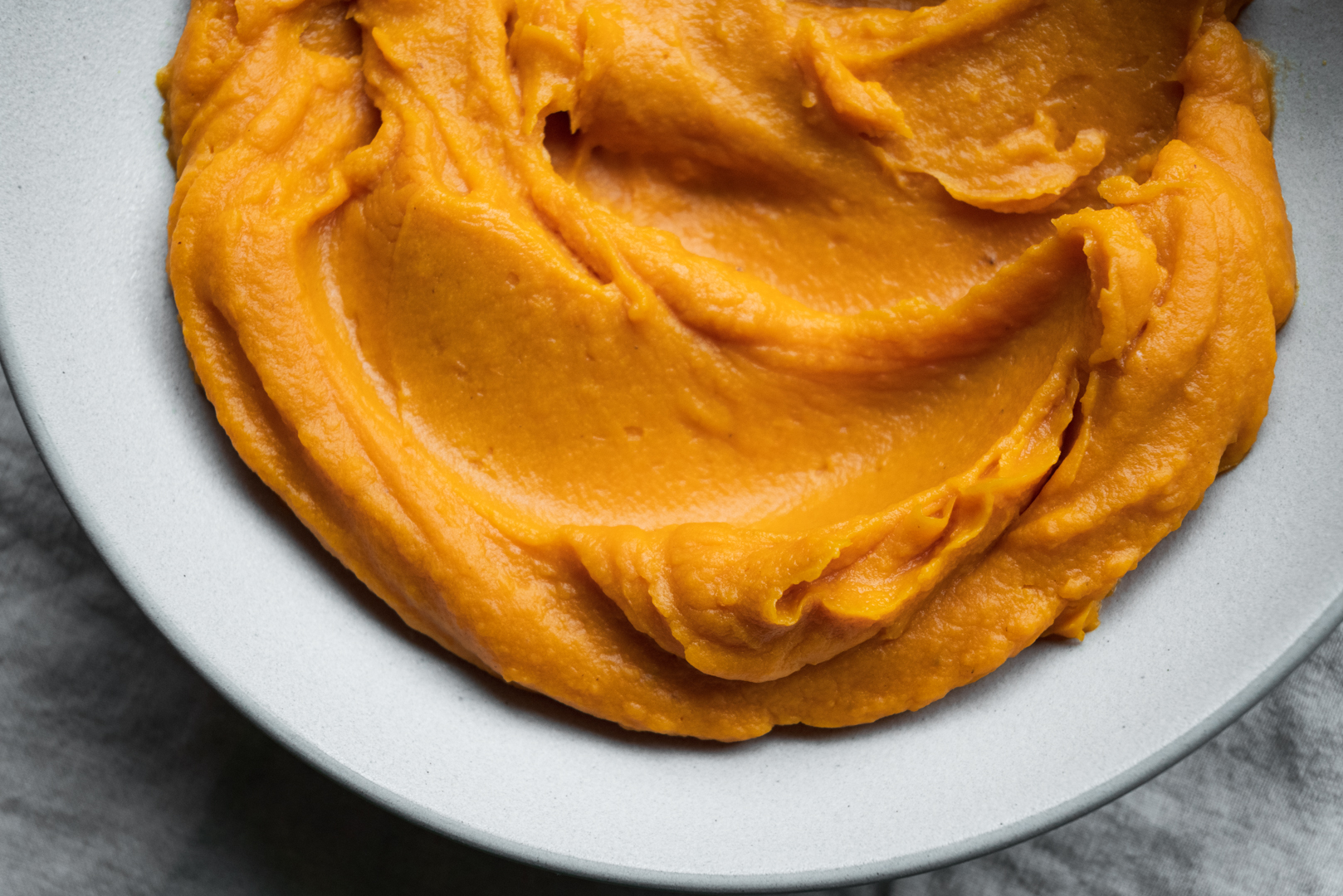 To me, this slow braised leg of lamb feast is perfect for the winter holiday season. Serve with a warm, crusty loaf of bread (may I suggest my no-knead olive loaf) and a crisp mixed green salad for a well rounded feast. 
This post was sponsored by the American Lamb Board – thank you for supporting the businesses that support Ful-filled. As always, all thoughts and opinions are my own.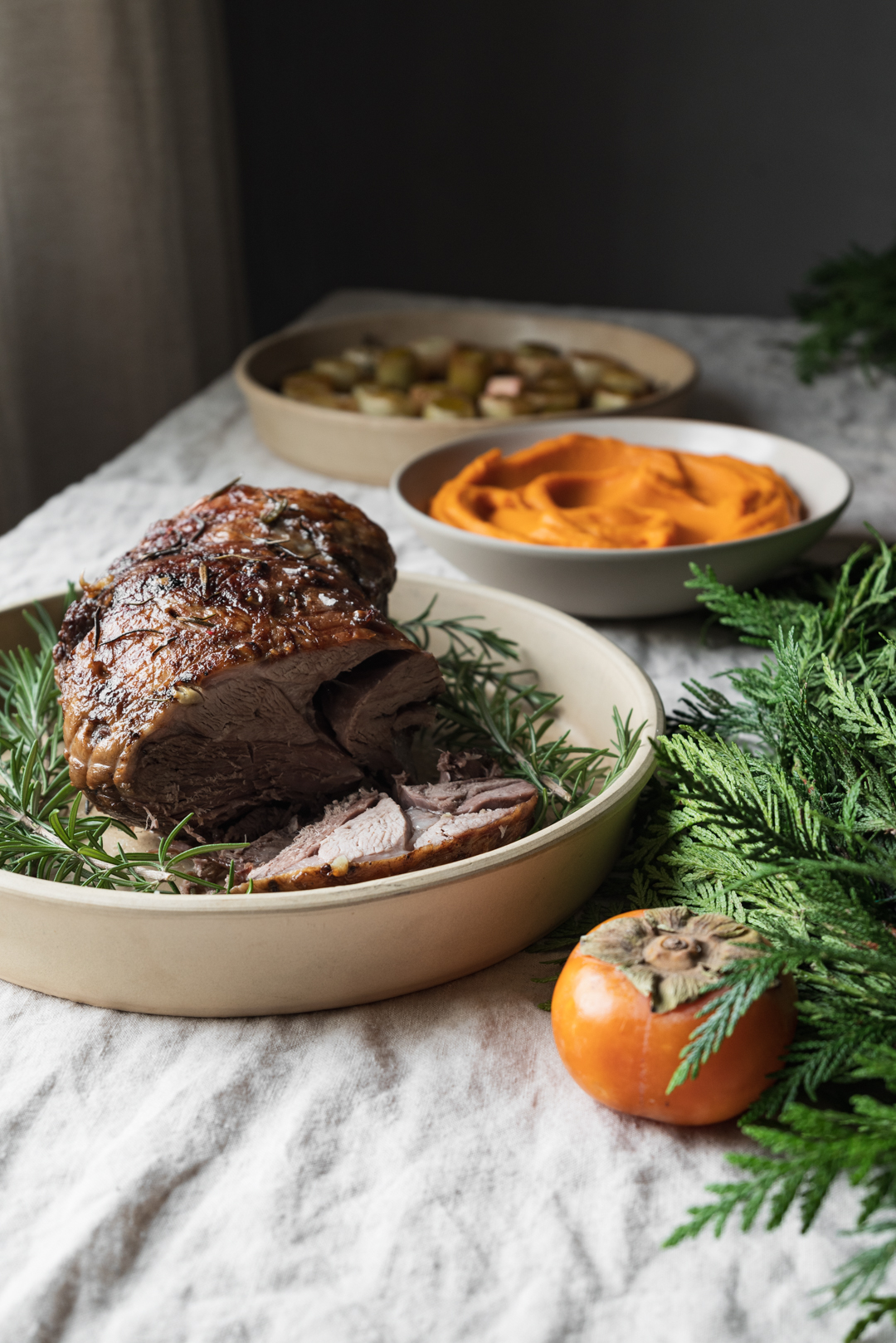 Print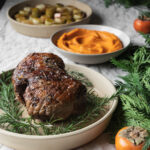 SLOW BRAISED LEG OF LAMB
---
Author:

Total Time:

4 hours 30 minutes

Yield:

4

–

6

persons

1

x
FOR THE SLOW BRAISED LEG OF LAMB:
4–5 lb. boneless leg of lamb
4 tsp kosher salt
Fresh ground black pepper
2 tbsp olive oil
10 cloves of garlic, quartered
2 cups white wine
1 cup chicken or beef stock
4 fresh rosemary sprigs
FOR THE LEEK CONFIT
3 large leeks
1/4 cup olive oil
8 cloves of garlic
1/2 tsp kosher salt
8 fresh thyme sprigs
1/2 tsp kosher salt
FOR THE SWEET POTATO PUREE
2.5 lb. sweet potatoes
3 tbsp butter
1/8 tsp fresh grated nutmeg
Pinch ground white pepper
Salt to taste
---
Instructions
FOR THE SLOW BRAISED LEG OF LAMB:
Preheat oven to 300 degrees. Make slits all around the leg of lamb using a paring knife, and insert a piece of the prepared garlic into each slit. Generously season lamb with salt (1 tsp per pound) and pepper.
Heat a large Dutch oven over medium-high heat add olive oil and sear lamb on all sides until golden brown, about 3 minutes per side. Add wine and simmer for 1 minute.  Add stock and the fresh rosemary sprigs; bring to a boil. Cover dutch oven with lid, and braise the lamb in oven for 4 hours, rotating the leg of lamb every hour.
Transfer lamb to a platter.  Skim fat from the top of the juices in the dutch oven. Simmer remaining juices over medium heat until reduced by half, about 10. Spoon sauce over lamb when serving.
FOR THE LEEK CONFIT:
Remove the outer skin of each leek. Chop leeks into 1/2 inch thick rings, discarding the root end and the dark green tops. Gently rinse any rings that look dirty.
Arrange sliced leeks in a shallow baking pan along with garlic cloves. Drizzle olive oil over the top of the leeks & garlic. Season with salt and add in thyme sprigs.
Roast leeks in the same oven as the lamb. After 30 minutes carefully flip each leek ring  so that they cook evenly. Slow roast for another 30 minutes until lightly golden and melted. Add more oil if leeks begin to dry out and brown.
FOR THE SWEET POTATO PUREE:
Prepare the sweet potatoes by peeling and chopping into large chunks. Prepare a steamer and steam the sweet potatoes until fork tender, about 15-20 minutes.
Add the steamed sweet potatoes to the bowl of a food processor along with butter, salt, freshly grated nutmeg and white pepper. 
Puree for about 1 minute until the puree is light and creamy. Serve immediately.
Notes
If you don't have a Dutch oven, you can braise the lamb in a roasting pan. Heat the oil by setting the pan across 2 stovetop burners, then cover with parchment-lined foil before putting the lamb into the oven.
Prep Time:

30 minutes

Cook Time:

4 hours