THE INSPIRATION BEHIND MY ROSE & RED CURRANT MAHALEPI
I stumbled across red currants (frangostáfila in Greek) at one of the local markets here on our island here in Greece. And even though I knew that red currants are a major crop in Europe, I did not expect to see them here on Skópelos! This serendipitous finding left my mind swirling with possibilities. How to capture and share the beauty of these tart sweet gems here on the blog? At first thought, I dreamt up a panna cotta of sorts. But then I was reminded of the cool and creamy Cypriot/Arab/Persian dessert known as mahalepi or muhallebi. 
Mahalepi is very simple to make as it requires only a handful of ingredients. It can also easily be made vegan as the thickening agent is corn starch rather than gelatin. In Cyprus, this cool & creamy dessert is traditionally topped with a deep pink rose syrup called triantáfyllo in Greek. Since rose cordial (triantáfyllo) is not available here on our island, I was left to make something similar myself. By adding red currants to a homemade rose simple syrup I came up with the perfect pink cordial!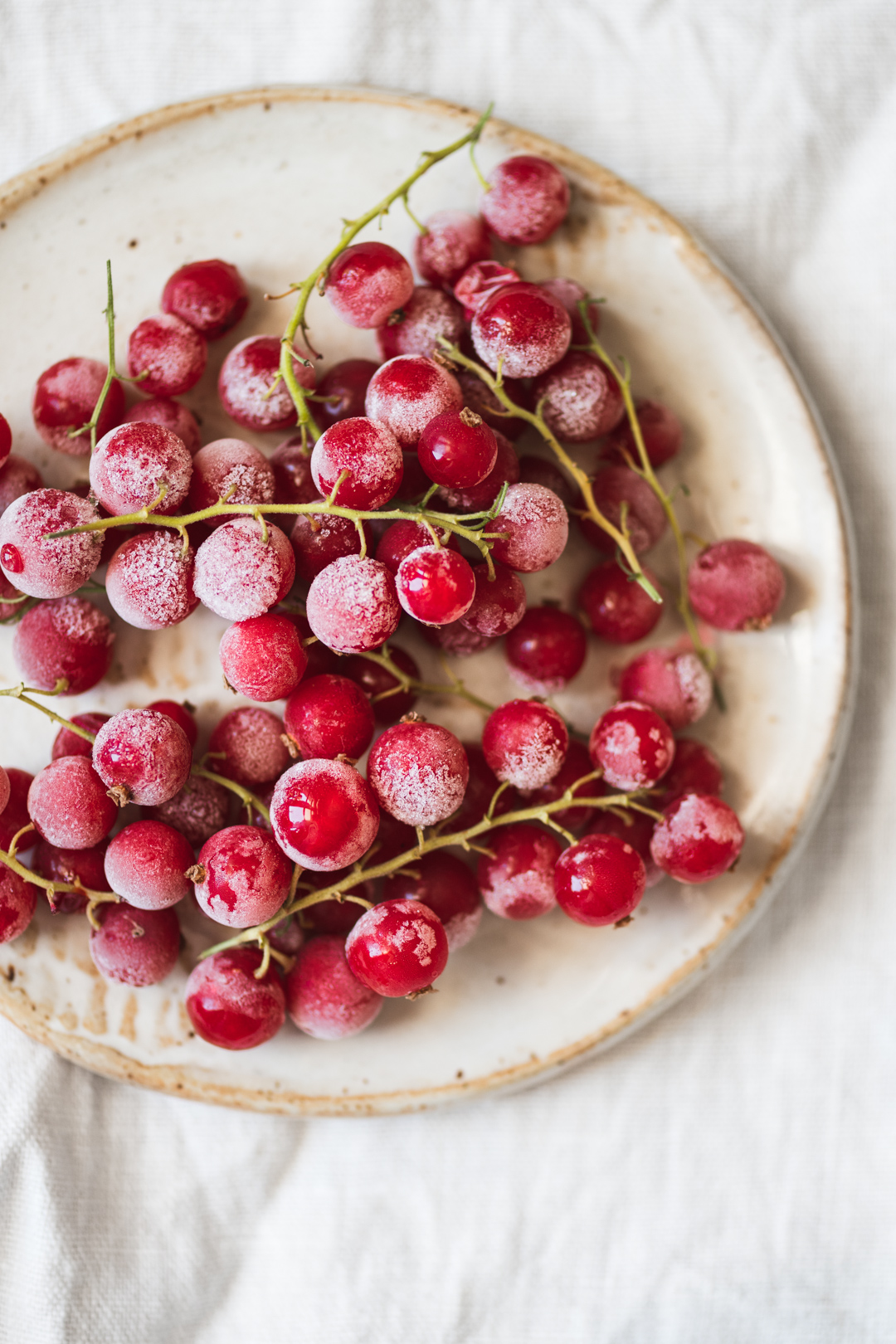 MAHALEPI ORIGINS & VARIATIONS
Greece is the gateway from Europe to the Middle East. So it makes perfect sense that Greek & Cypriot culture share so much in common with Arab & Persian culture. The original Muhallebi that hailed from Persia was a very different dish to what is made today. Modern day muhallebi is typically made with whole milk but sometimes cream is added to make it even richer. Mahalepi in Cyprus is often made with water and/or milk making the end result lighter & more refreshing. Additionally, the thickening agents vary across the region as well, with rice flour and corn starch being most common. It is truly fascinating to learn about all of the iterations of this ancient dessert. From Iran, to Lebanon, to Egypt, to here in Greece – there isn't a right or wrong way to make muhallebi/mahalepi.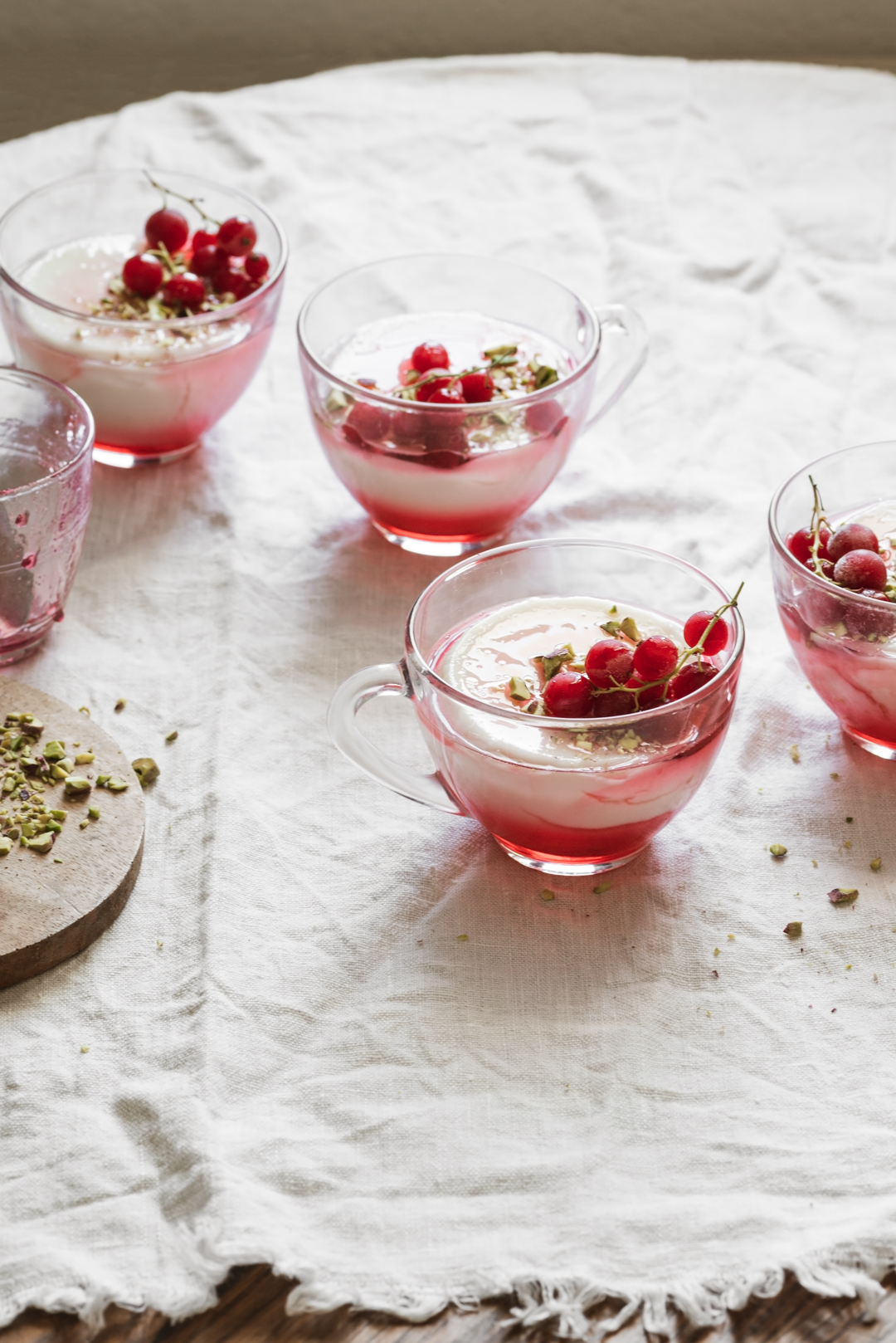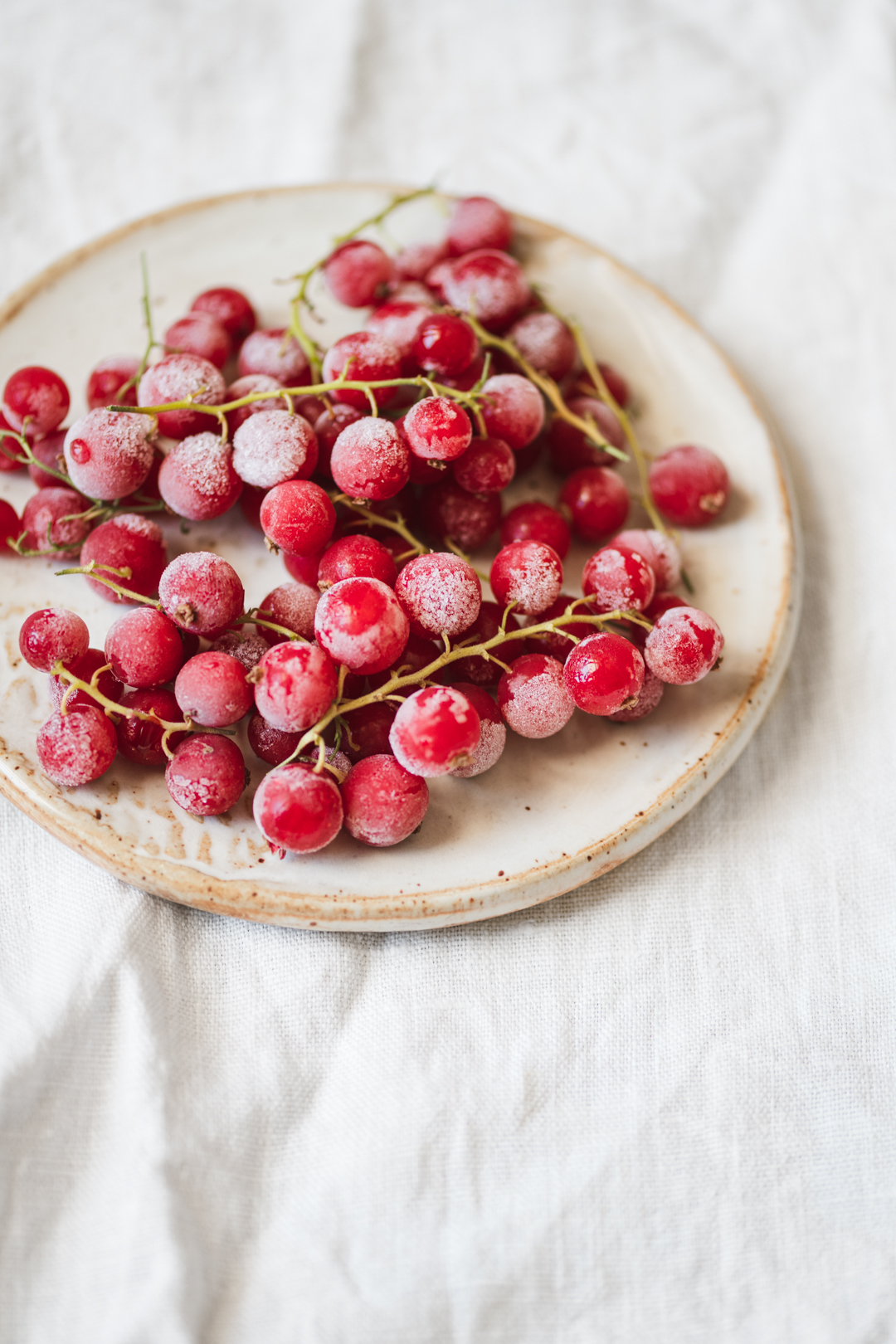 ROSE & RED CURRANT – a perfect pairing
These rose & red currant mahalepi are a truly delightful treat on a hot summer day. Served nice and cold from the refrigerator and the thick milk is like pudding in texture. The deep pink rose & red currant syrup serves as the primary source of sweetness for the mahalepi. But this vibrant syrup also serves as the wow factor for these simple little desserts. You can stop at the rose & red currant syrup or you can also add a bit of chopped pistachios & frozen currants on top. The crunch of the pistachios is a welcome contrast to the smooth creamy milk pudding. And the cold tart currants add a welcome brightness to these sweet treats. So much so, that we could not imagine eating mahalepi without them.
In closing, if you make these mahalepi, please share your experience with me! I would love to hear what you think of this beloved dessert <3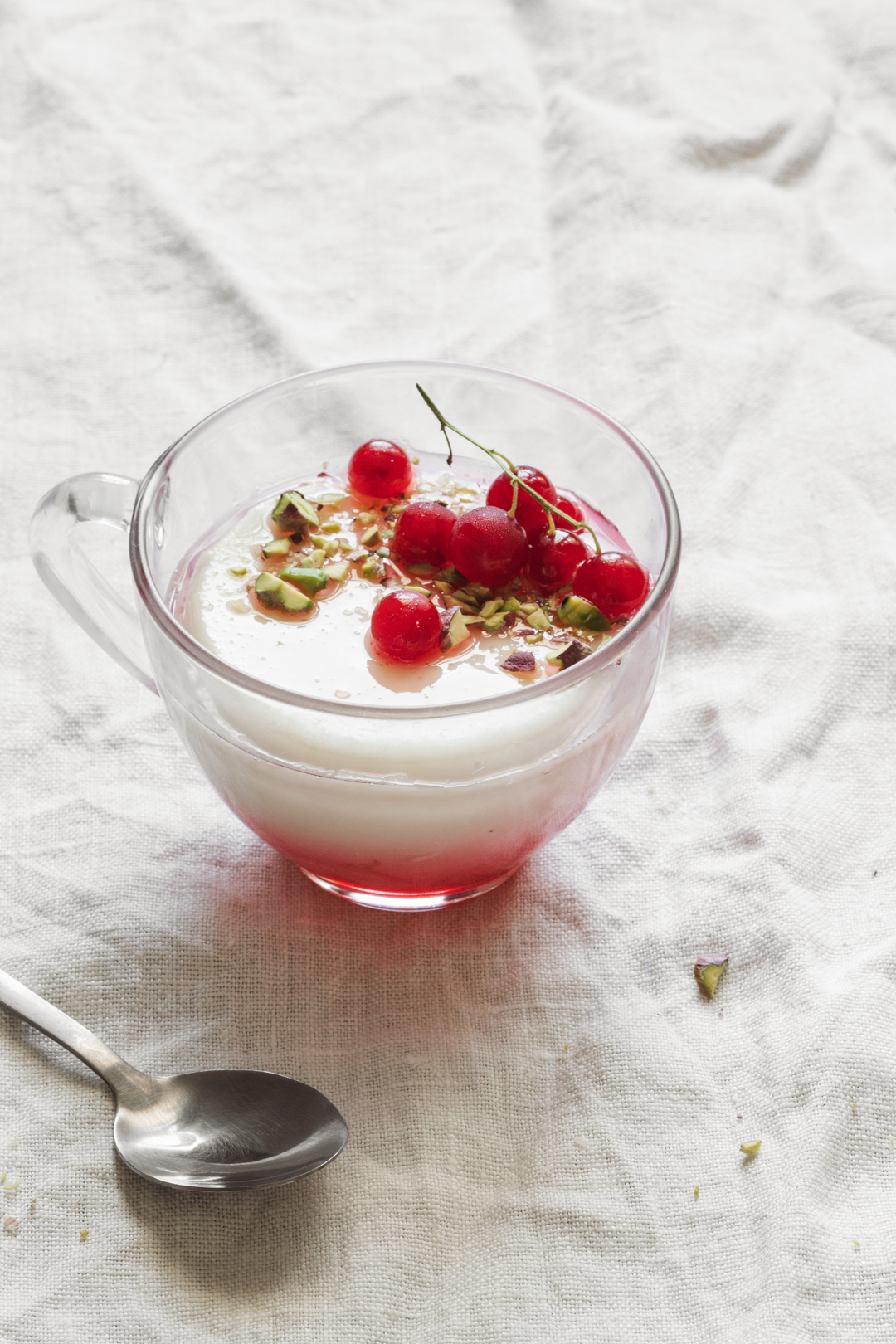 Print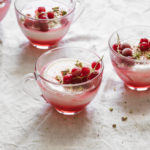 ROSE & RED CURRANT MAHALEPI
---
Author:

Total Time:

20

Yield:

4

1

x
FOR THE MILK PUDDING:
2 cups milk
4 tbsp cornstarch
FOR THE ROSE & RED CURRANT SYRUP:
1/3 cup sugar
1/4 cup water
2 tbsp red currants
1 tsp rose water
TO SERVE:
2 tbsp crushed pistachios
50g red currants, frozen
---
Instructions
FOR THE MAHALEPI:
Add 1 1/2 cups of cold milk to a saucepan set over medium heat. In a small bowl dissolve 4 tbsp of cornstarch into the remaining 1/2 cup of cold milk. When the milk in the saucepan has come to a low simmer, slowly whisk in the cornstarch milk. Cook, whisking continuously for about 5 minutes, until the mixture is thickened & coats the back of a spoon.
Divide the mahalepi milk pudding into 4 serving dishes (ramekins or small glass cups work great here). Allow the milk pudding to cool until they reach room temperature. Once puddings are cooled down, move them to the refrigerator to chill for 6-8 hours, or overnight.
FOR THE ROSE & RED CURRANT SYRUP:
Add 1/3 cup sugar and 1/4 cup water to a saucepan set over medium heat. Cook until sugar is fully dissolved and mixture comes to a slow simmer. Add in the currants & use the back of a spoon to crush the currants into the syrup. Cook for about 5-7 minutes, until the sugar syrup has thickened and you've achieved a nice vibrant color. Remove syrup from heat and stir in the 1 tsp rosewater. Pour syrup through a strainer into a glass cup & allow to cool to room temperature.
TO SERVE:
Once mahalepi have chilled for at least 6 hours they are ready to serve. Divide the rose & red currant syrup amongst the mahalepi. Top each with a bit of crushed pistachios and a small bunch of frozen red currants.
Prep Time:

5

Cook Time:

15