To say that cucumber is a staple in our Greek kitchen would be a huge understatement. We have been eating 1-2 large cucumbers every day since moving here. Why you may ask? Well, here in Greece, produce is extremely seasonal, and I mean hyper extremely seasonal. Which means lettuces are only available in the cool winter & early spring months. Soft mixed greens and crunchy head lettuces were are a major part of our diet back in America, so when we first arrived on the island we were feeling at a bit of a loss.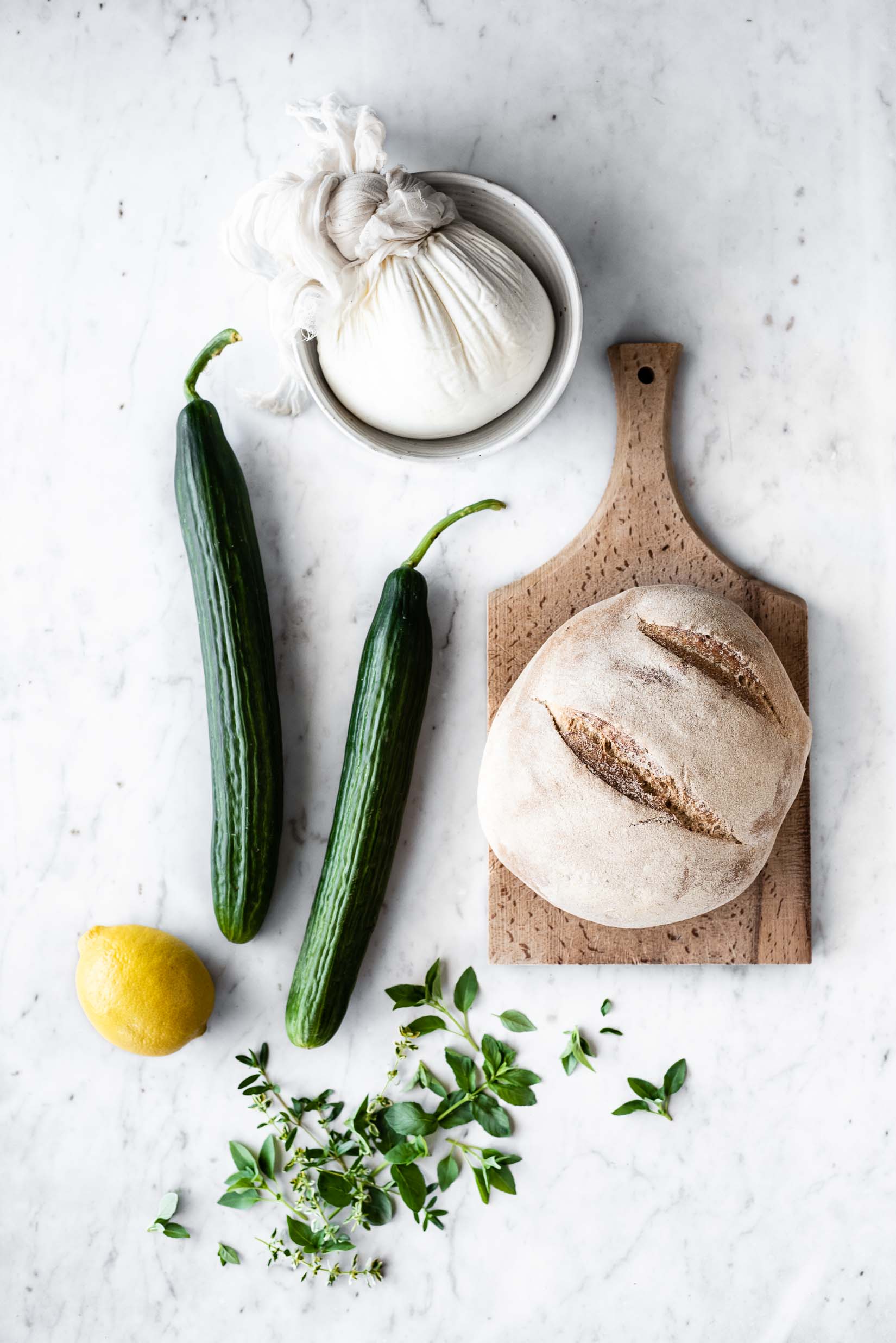 Enter shaved cucumber: this simple, yet genius way of preparing cucumber has completely changed our lives. Shaving cucumber into long, thin strips transforms the humble cucumber into a texture that is reminiscent of the lettuces we longed so deeply for – we are absolutely smitten with shaved cucumber! We have been adding it to everything possible, but this shaved cucumber lemon herb labneh toast has become a favorite quick & easy meal in our kitchen.
My idea for the lemon herb labneh came from what I feel is a classic combination of cucumber and cream cheese. By simply straining some Greek yogurt overnight, you get an even thicker yogurt that transforms into a spread that is almost like cream cheese – which is known as labneh throughout the Mediterranean and the Middle East. Our little village garden is absolutely bursting with fresh thyme, basil & mint at the moment, so I folded some fresh garden herbs & lemon zest into the labneh to brighten the spread with the flavors of summer.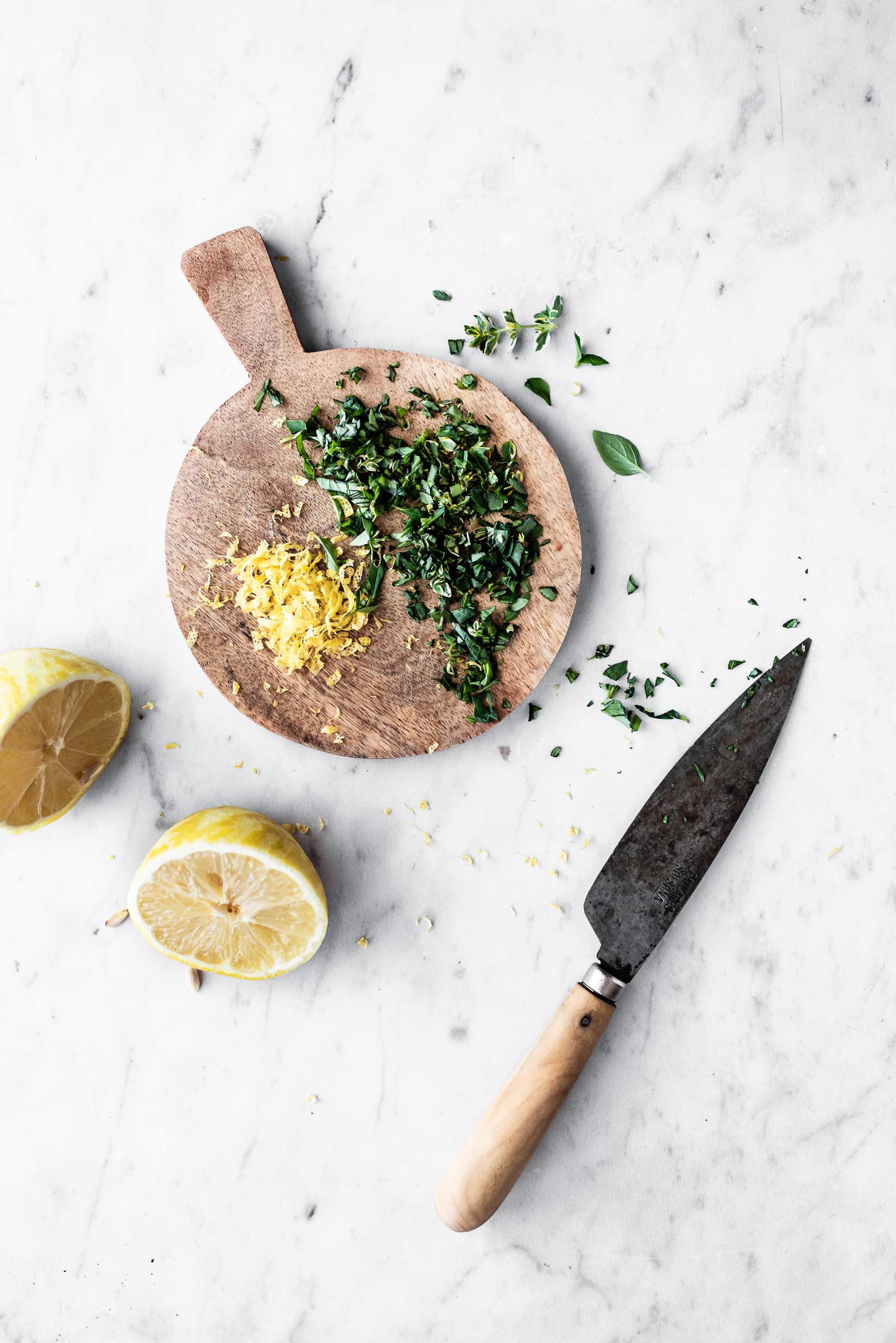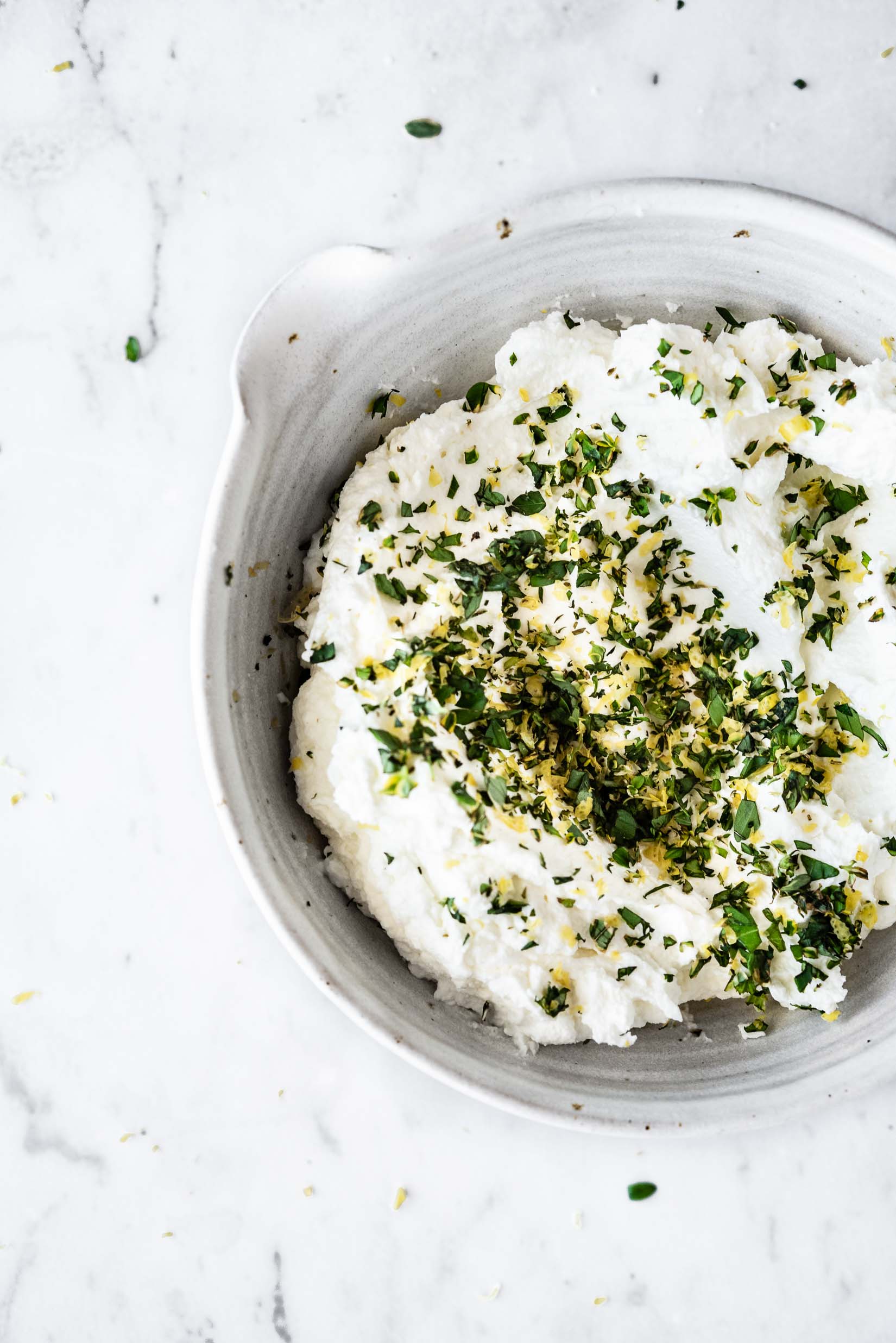 When I walked to our village baker to pick out a fresh loaf of bread, I was so excited to find a loaf of sourdough! Rather than just toasting the bread, I decided to olive oil fry the slices for an even more satisfying crunch. A spread of the lemon herb labneh, a pile of lightly dressed shaved cucumber and a final sprinkle of lemon zest, cayenne flakes & herbs and you have an incredibly satisfying meal that takes almost no effort at all. The possibilities for variations of this toast are endless…are you vegan or dairy free? Then you can try substituting hummus or avocado for the labneh. Don't have fresh herbs on hand? Then try mixing in a spoonful of your favorite spice mix instead.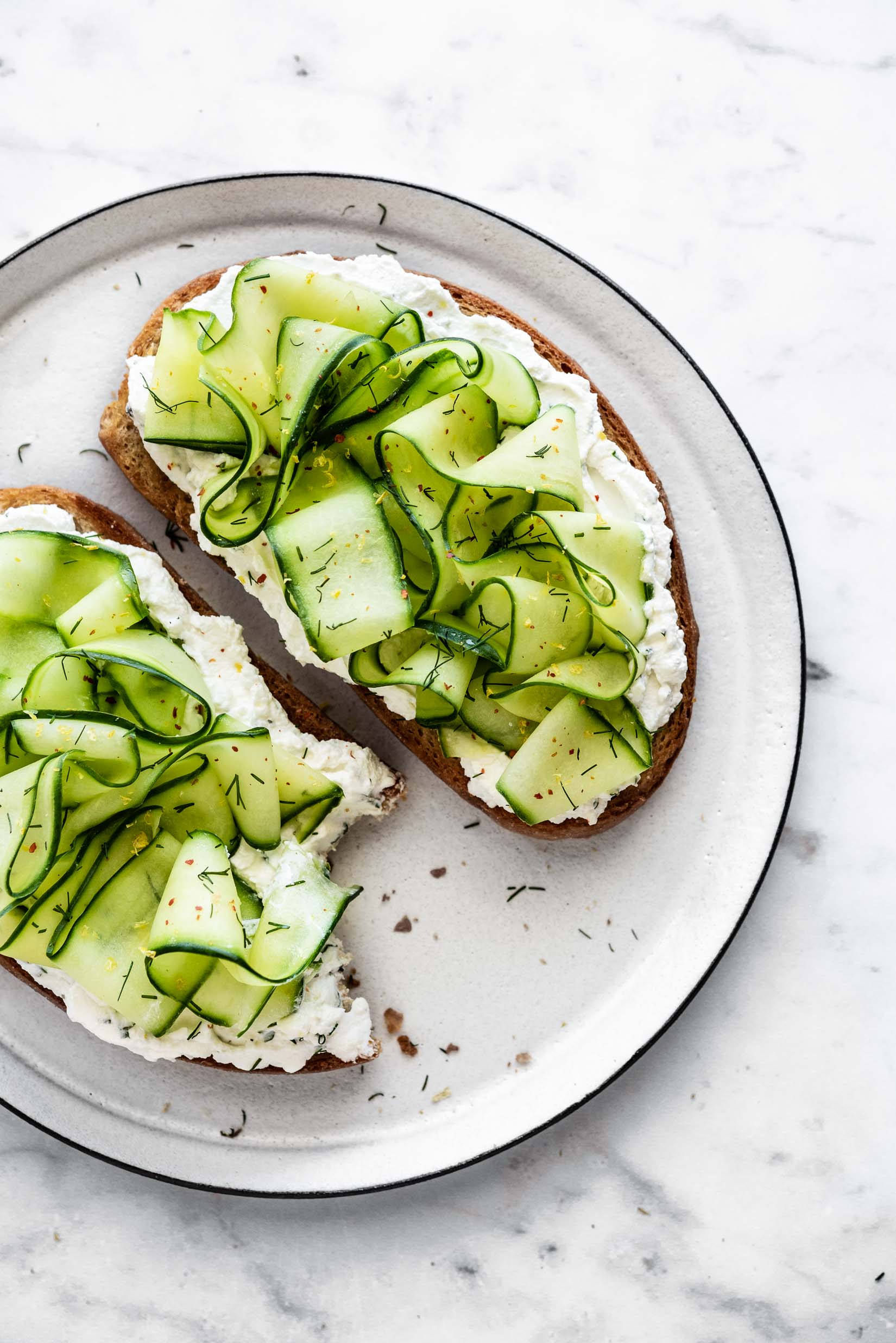 Light and refreshing, this shaved cucumber lemon herb labneh toast is ideal fare for those days when it is just too hot to even think about cooking. We eat it on the regular for breakfast, lunch or even as a light dinner because it is just that good :)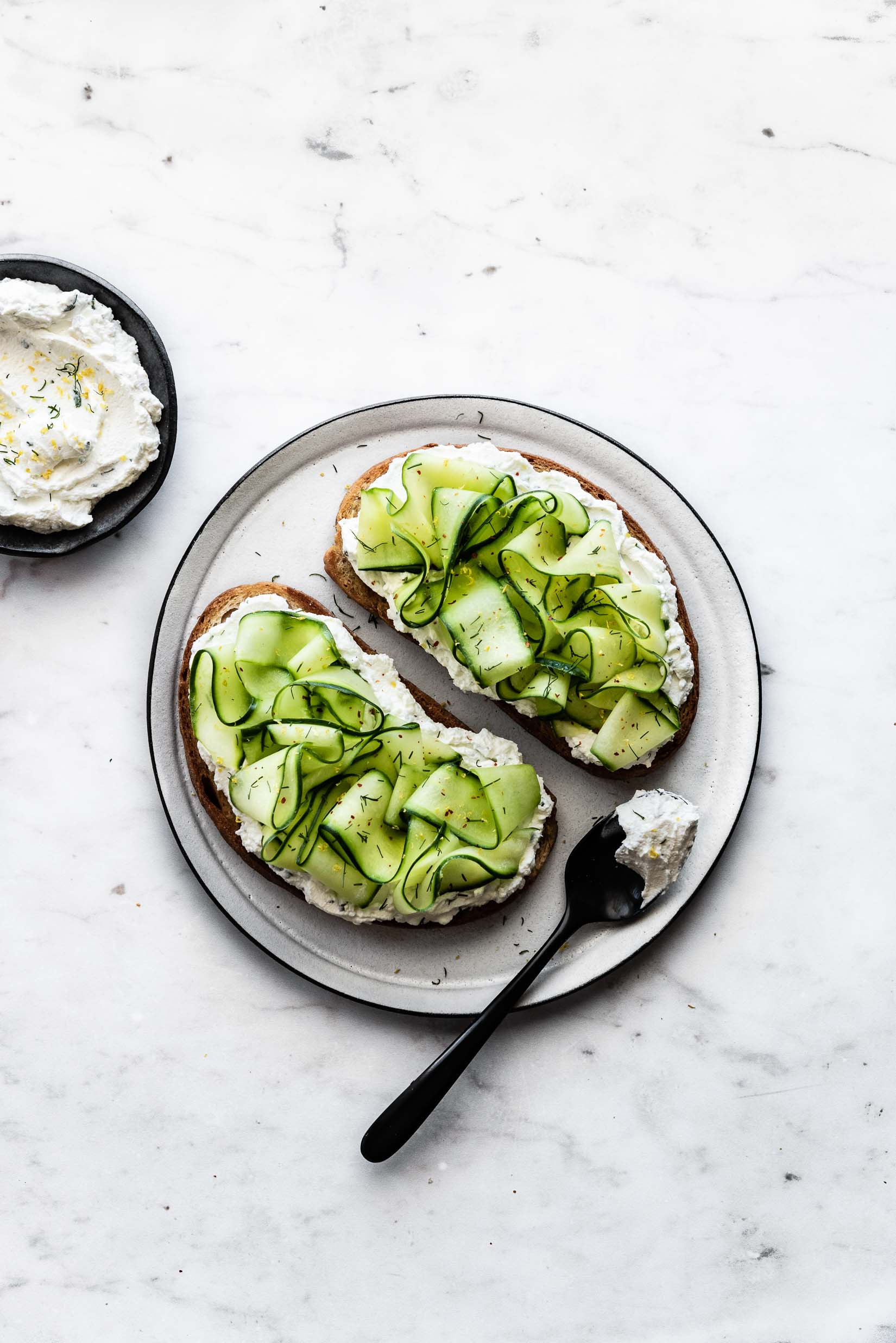 Print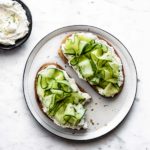 SHAVED CUCUMBER LEMON HERB LABNEH TOAST
---
Total Time:

0 hours

Yield:

approx. 6 large slices of toast
2

cups

labneh ( 32oz/500g Greek yogurt strained overnight + 1 tsp salt )
zest of

1

large lemon, a pinch or

two

reserved for garnish

2 tbsp

fresh basil, minced

1 tbsp

fresh mint, minced

1 tsp

fresh thyme, minced ( we used a combination of common thyme & lemon thyme)

2

medium cucumbers

1 tbsp

olive oil

1 tbsp

lemon juice

6

thick slices of bread ( we used sourdough )
olive oil
red chili flakes to garnish
---
Instructions
Start by using a peeler to shave your cucumbers into approximately 1″ wide pieces, discarding the first shavings of skin. When you reach the seed cavity rotate the cucumber and begin shaving into slices until you reach the seed cavity again, repeat until all that remains is the cucumber seed cavity
Add shaved cucumber to a bowl along with the olive oil and lemon juice – toss to combine and then refrigerate until ready to serve
In a small bowl, combine the labneh with the salt, minced fresh herbs and lemon zest, reserving a bit of the zest for garnish. Mix until well combined, set aside.
Fry slices of bread in olive oil in a pan over medium high heat until each side of the bread is golden and crisp.
To serve: spread each slice of toast generously with the lemon herb labneh, top with shaved cucumber and sprinkle with a bit of chili flakes, lemon zest and a touch of minced fresh herbs
Prep Time:

0 hours

Cook Time:

0 hours