Learning about wild edibles has been a natural progression of our food journey, as we have become deeply invested in getting in touch with the source of where our food comes from. I think it all really started during the first time my hubby took me to Greece. I remember witnessing old women from the village, who had walked out to the countryside, harvesting various wild herbs and greens as they went. Their foraging was a fluid as their slow strolling, they picked each green without the slightest hint of hesitation. The nature that surrounded them was not simply a visual pleasure, but when they looked at their surroundings, they saw sustenance. This experience compelled me to return home to American with a deep desire to study the wild edible foods that could be discovered in our region. One of the many edible plants I learned of on this wild food journey was Redbud. Botanically known as Cercis, the Redbud tree is edible in all stages, from the flower buds to the leaves, to the seed pods – but no part of the redbud tree can quite compare to its flowers that spring forth as the first sign of spring. These vibrant redbud blossoms inspired me to create a recipe that would reflect their beauty, which led me to create this redbud & lemon cornmeal loaf cake.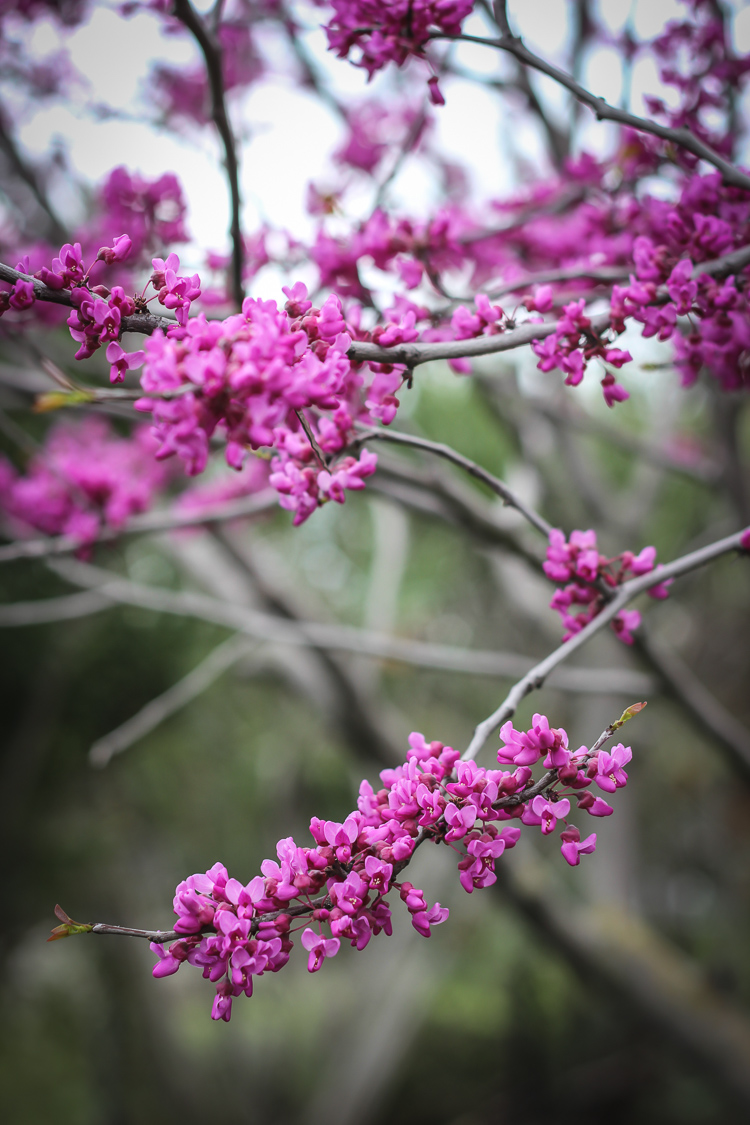 With every new wild edible plant I learn about, comes a brand new excitement for understanding all the ways I can make use of the food it produces. Redbud blossoms are simple in flavor with a slight nectar sweetness with a touch of sour brightness. When you taste a redbud blossom, you have to tune into your senses and take your time to really experience the essence of the flower. Its allure is subtle and subdued. I find that many wild edibles are this way, but that to me is where their value lies. Much of what makes wild edibles special is the nutrition that they hold and the pure act of foraging them from the wild is one of the most gratifying experiences I know. Foraging for food awakens something intrinsically natural inside of you. The experience is grounding and just the feelings it evokes confirms this is something we are meant to do.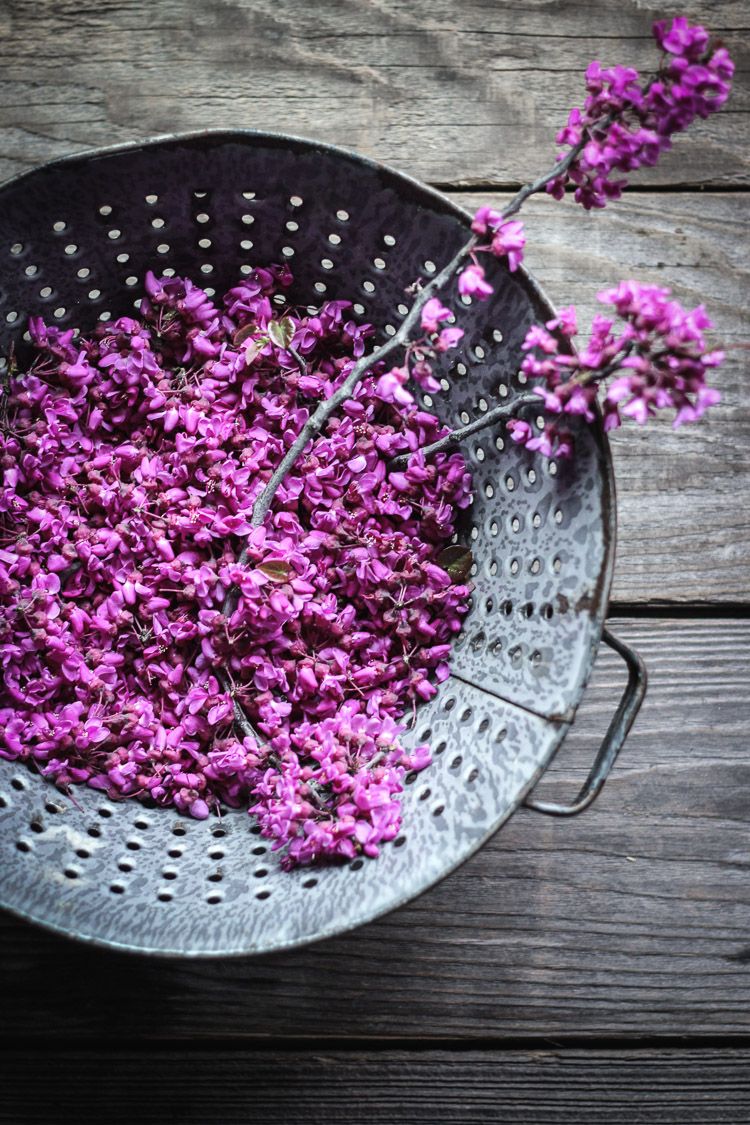 There are a handful of varieties of redbud that grow here in the United States (you can learn more about them here) and while they grow in many parts of the US and some parts of Europe, they do not grow everywhere. The trees require winter chill, which means you are not going to see them in sub-tropical climates. And because the flower blossoms are very fragile, you will not find them in grocery stores. But if you live in a region where redbuds grow, they are most definitely worth seeking out, even if only to marvel at their glorious display at the dawning of spring.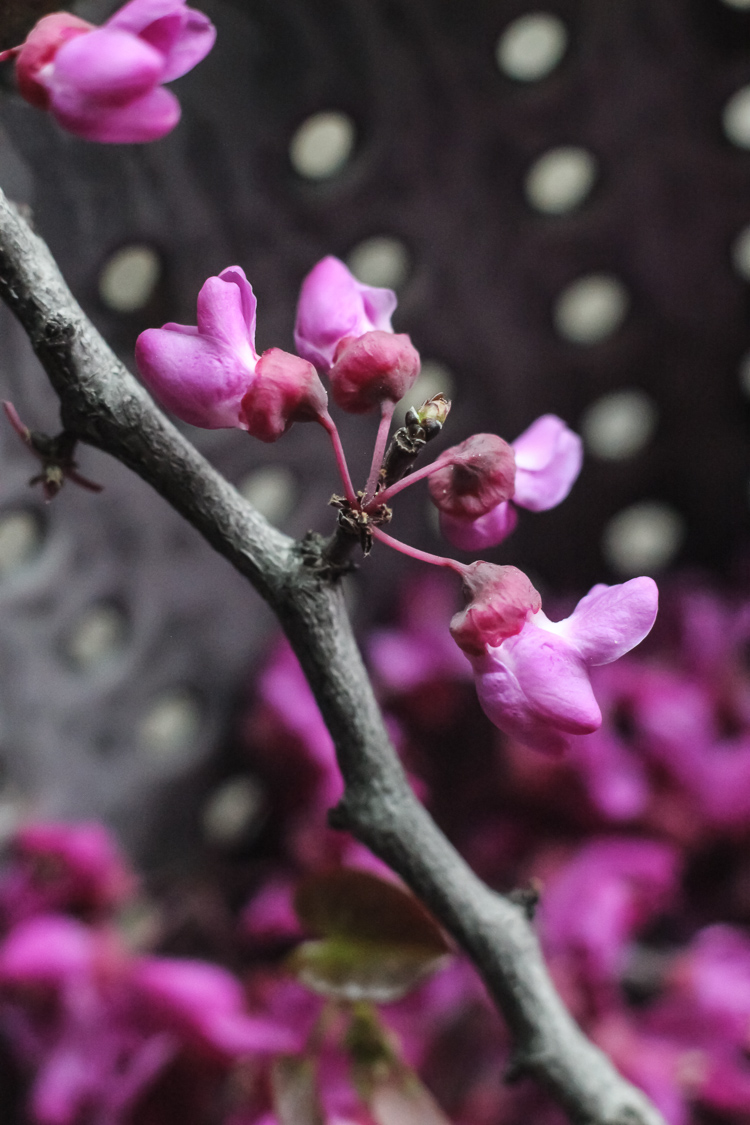 This recipe is the first baked preparation I have ever done with redbud blossoms. In the past, we simply garnished a spring green salads with them. But every year when they are in season (which happens to be pretty short) I have a longing to do something more with them. The unopened flower buds can be pickled into what becomes similar to capers and the blossoms can make a very pretty pink syrup. When I would daydream about cooking with redbuds, however, all I could ever picture was baking them into a redbud & lemon cornmeal loaf cake. Something about the combination of redbud, lemon and cornmeal just felt right. It is really difficult to describe what redbud flowers taste like, but the sweetness of raw corn on the cob combined with the brightness of lemon with a subtle floral essence is as close as I can try to express their flavor with words.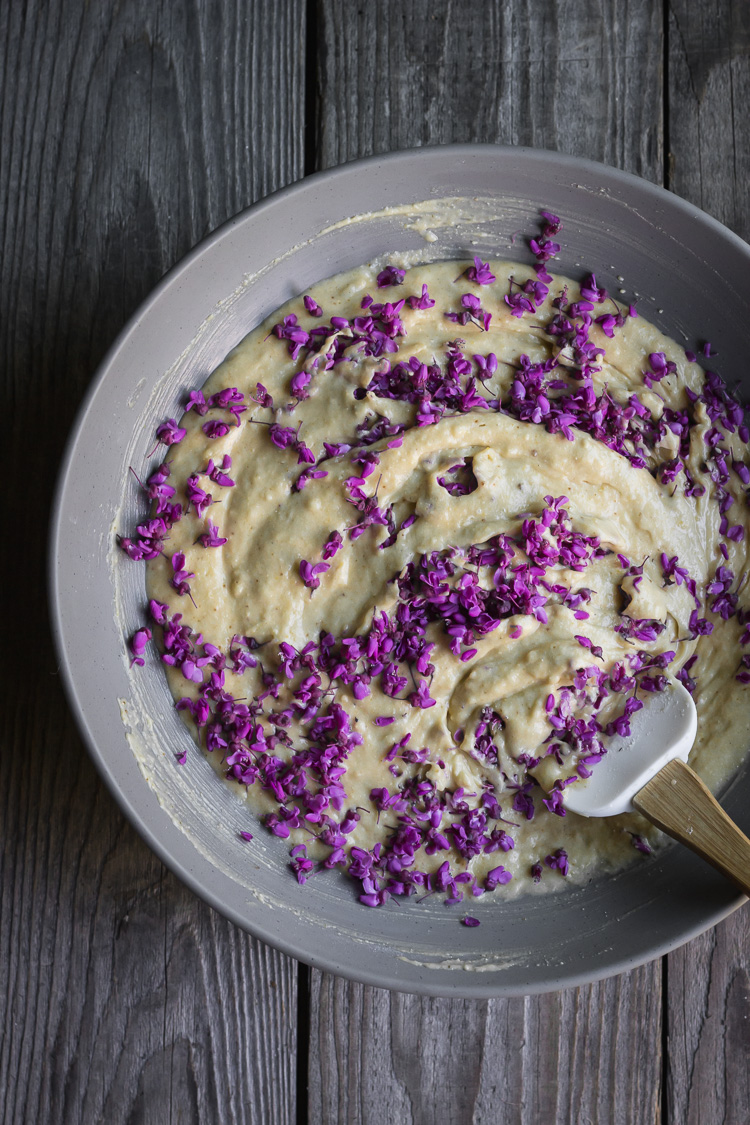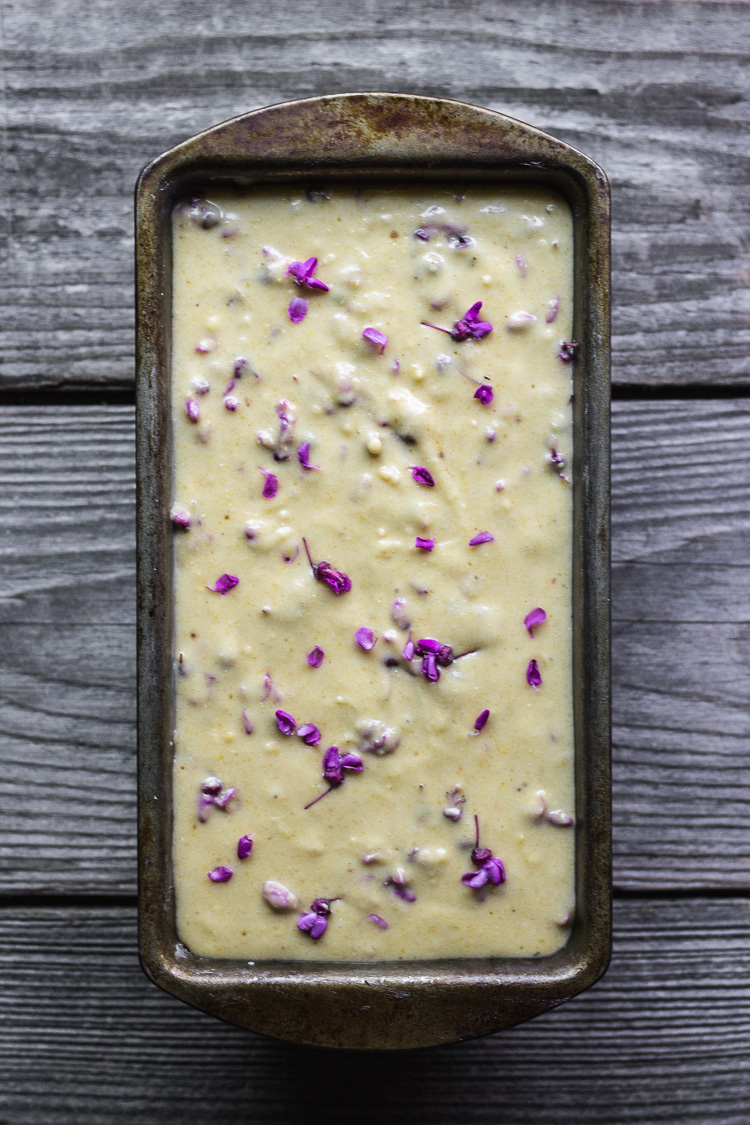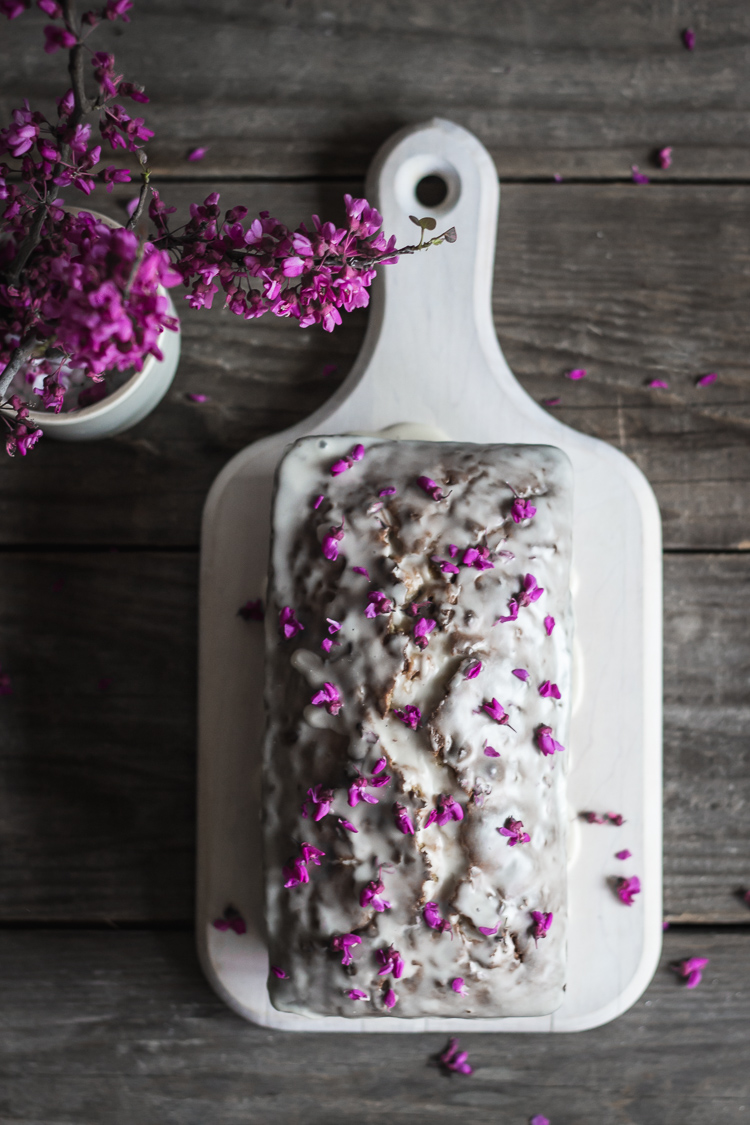 This loaf cake, with its lemon glaze and the sprinkling of fresh redbud blossoms, is everything I could have hoped for. Not only does it show off the vibrant redbud blossom, but the flavors work together perfectly. The texture that the cornmeal and redbud flowers add to the loaf cake work in synergy to produce a result that makes this cake as unique as the flowers that inspired it.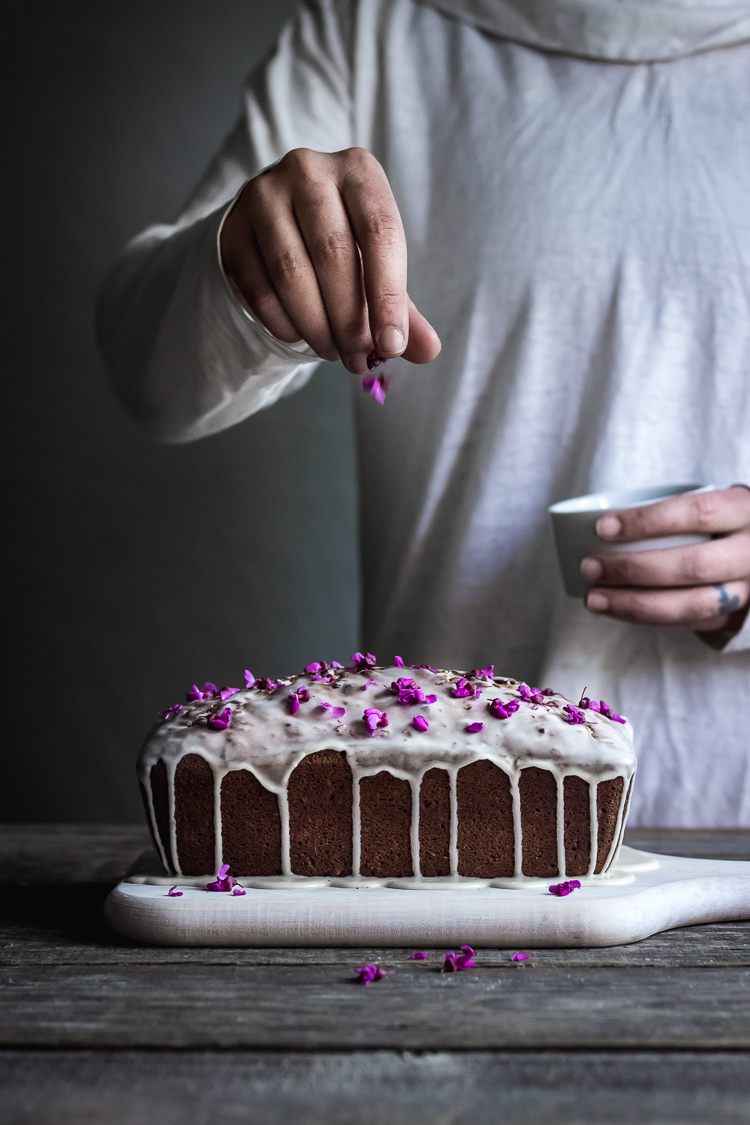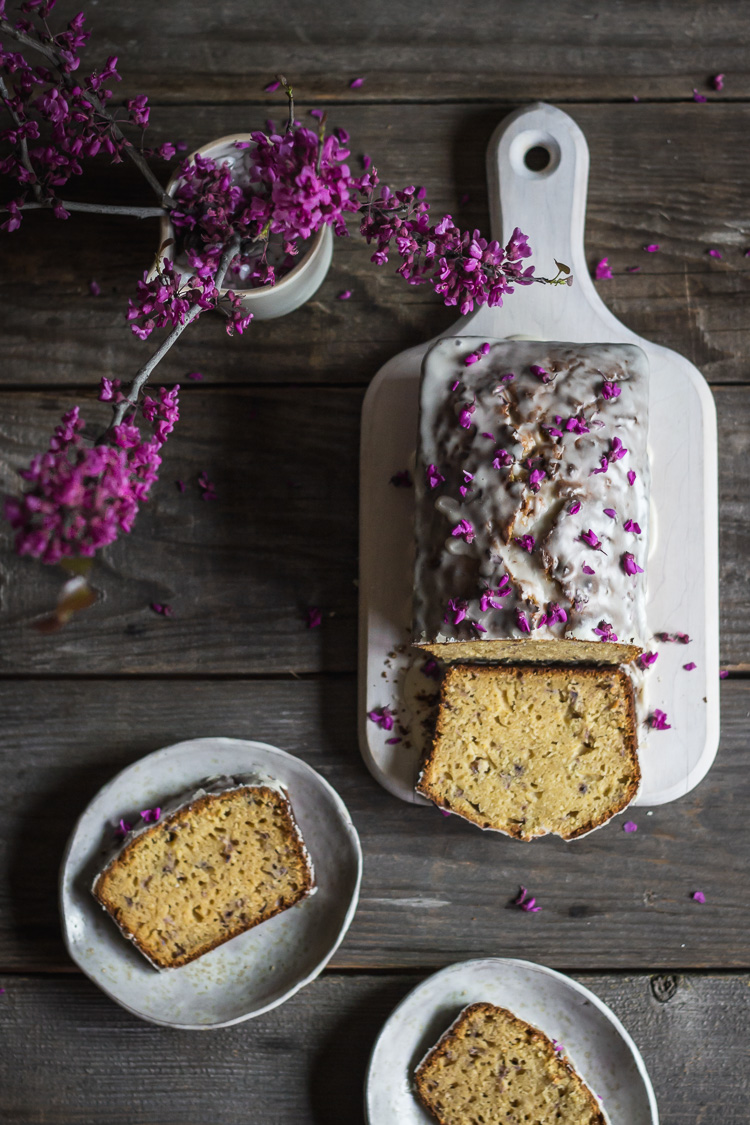 Because this redbud & lemon cornmeal loaf cake is something that can only be made during a very short window of time each year, I feel like it is that much more sacred. One may ask if foraging for all of those flowers was worth all of the effort and all I can say is that if you try it, then the experience alone should answer that question for you.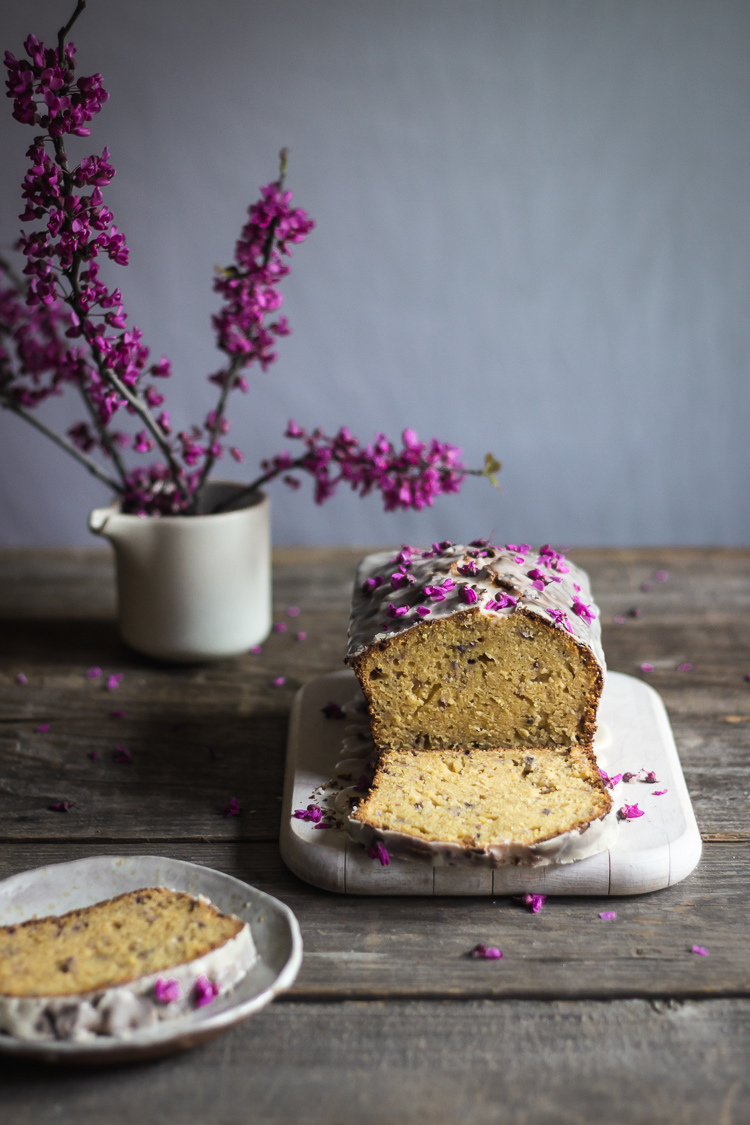 Print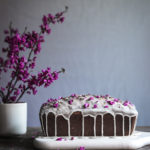 REDBUD AND LEMON CORNMEAL LOAF CAKE
---
Total Time:

1 hour 20 minutes

Yield:

1

loaf cake (approximately

12

slices)

1

x
FOR THE CAKE:
1 2/3

cup

(200g) all purpose flour, sifted (we used einkorn, but all purpose gluten free flour will work as well)

2/3

cup

(100g) fine ground cornmeal

2 tsp

baking powder

1/4 tsp

salt

3

eggs

1/2

cup

(100g) unrefined cane sugar (coconut palm sugar or brown sugar will work as well)

1/2

cup

honey

1

cup

yogurt (or sour cream)

1

stick butter, melted & cooled

2 tbsp

neutral oil (we used avocado oil)

1 tsp

vanilla extract
zest of

1

large lemon, about 1 tbsp (reserve rest of lemon for glaze)

1 1/2

cups

redbud flowers (approx 60g)
FOR THE GLAZE & GARNISH
3/4

(100g)

cup

powdered sugar

1 1/2

–

2

tbsp lemon juice (from reserved lemon)

2 tbsp

redbud flowers
---
Instructions
Pre-heat your oven to 350f degrees
Prepare a 1 lb. loaf pan by greasing it with butter
In a medium bowl, mix together flour, cornmeal, baking powder and salt – set aside
In a medium bowl whisk together the eggs & sugar until blended. Add the honey & whisk together until combined. Add the yogurt, butter, oil, lemon zest, and vanilla, whisking until well combined.
Using a rubber spatula, fold the wet ingredients into the dry ingredients mixing until just blended. Add the redbud flowers to the batter and gently fold until just incorporated.
Pour the batter into the prepared baking pan, smoothing the top with a spatula. Bake in the middle of the oven for about 60 minutes (start checking around 55 minutes, cover the top with foil if cake is getting too much color) or until a cake tester comes out clean. Let the cake cool in the pan for 15 minutes, then invert onto a cooling rack to cool completely.
FOR THE GLAZE & GARNISH
Whisk together the powdered sugar & lemon juice in a small bowl. Drizzle the glaze over the cake & while glaze is still wet, sprinkle top with 2 tbsp redbud flowers.
Prep Time:

20 minutes

Cook Time:

1 hour